| | |
| --- | --- |
| AceNotes Today | Thursday, May 2, 2019 |
SAVE THE DATE: Brand & Identity Platform Overview & Guidelines Open to Campus May 13 & 14
As you know, we launched new University of Evansville institutional and athletic logos on April 12. Now, the campus community is invited to see the next phase of the project—the branding framework and platform that will facilitate how we share the UE story with the world and differentiate ourselves in the marketplace.
Ologie, our branding partner, will offer two opportunities to see the Brand & Identity Platform Overview & Guidelines. Please join us for one of the following sessions:
• Monday, May 13 at 1:00 p.m.
• Tuesday, May 14 at 8:00 a.m.
Each 60-minute session will take place in Eykamp 251 and all University employees are welcome to attend.
Contact Amanda Campbell for more information.
Pancakes are here!!!
TODAY!!! The Pancake Study Break is back! Join some of your favorite Aces for FREE pancakes and other goodies. The event will be held on Thursday, May 2, from 9:00 p.m. to 11:00 p.m. Take a break from studying and enjoy some free food with friends! Music, door prizes, and excitement are all part of the event.
Submitted by Emily Wilderman ew159@evansville.edu
Inspiring Your Team Workshop
Register and join us for the Inspiring Your Team workshop on May 8 from 6:00-8:00 p.m. at the Stone Family Center for Health Sciences, Downtown Evansville.
Curiosity is a driver for innovation and solving problems. If you can spark curiosity in your employees and/or students, you can engage them to be motivated to learn and create. This curiosity rich environment is the basis of innovation and can be a key to long term happiness in the workplace. This workshop will outline the ways to inspire your team using curiosity to fuel innovation. It will be facilitated by Dr. Bethany Huebner.
To register, please visit: www.evansville.edu/centerforlearning/professional-development-register.cfm.
Submitted by Leslie Barton lb261@evansville.edu
UE basketball to host Reading Day Pizza Break
Purple Aces head men's basketball coach Walter McCarty and his staff invite all University of Evansville students, faculty and staff to take a break from finals preparations and head to Ridgway University Center on Thursday for a Reading Day Pizza Break.

The Aces have teamed up with Mister B's to provide pizza for over 100 attendees between 11:00 a.m. and noon on Thursday, May 2. Coach McCarty and his staff will be on hand to meet with everyone who stops by.

Pizza will be available on a first come/first served basis.
Submitted by Bob Pristash rp113@evansville.edu
UE Bookstore Clearance Sale 35% OFF
The UE Bookstore is offering 35% OFF the original price of all UE imprinted clothing and gift items through Thursday, May 2. Items include T-shirts, sweatshirts, caps, mugs, pennants and on and on. However - Harlaxton and graduation related items are NOT ON SALE during this event.
If you have questions, ask store personnel. Come early while size and selections are still in stock.
Sale ends on Thursday, May 2 at 6:00 p.m.
Submitted by Doug Gustwiller dg57@evansville.edu
Reception for Kathy Chandler, Angie Reisetter, and Pengcheng Xiao
Please join us in the Koch Center Atrium on Thursday, May 2 from 3:00-5:00 p.m. to say farewell and wish the best to Kathy Chandler, assistant professor of electrical engineering and computer science; Angie Reisetter, associate professor of physics; and Pengcheng Xiao, assistant professor of mathematics. Refreshments will be served and all are welcome to attend.
Submitted by Jayme Williams jw504@evansville.edu
This Week in Music: Jazz Invitational and Horn Choir
UE Jazz Invitational
Sunday, May 5
4:00 pm, Preston Arts Center, Henderson, KY
On Sunday, May 5 at 4:00pm at the Preston Arts Center in Henderson, KY, UE will host a jazz invitational featuring a variety of high school, college, community and professional jazz bands. The featured guest artist this year is Bazurkas, a Brazilian fusion group that features UE alumnae, Meghan Pund.
Evansville Horn Choir
Sunday, May 5
7:30pm, Wheeler Concert Hall
The Evansville Horn Choir, an ensemble comprised of community members and University of Evansville students, will be presenting a concert on May 5, at 7:30 p.m. in Wheeler Concert Hall. This free event will include works by Beethoven, Beckel, Gounod, Whitacre, and the ever-popular Titanic Fantasy.
Submitted by James Sullivan js820@evansville.edu
Book Buyback at UE Bookstore
Spring semester ending Book Buyback runs Friday, May 3 through Thursday, May 9 at the UE Bookstore during finals week. The Bookstore freely quotes prices on any textbook regardless of where purchased or if used on this campus or not. You must bring your student ID to sell books but you do NOT need your original receipt. If you sell any books you'll get cash. Prices are dependent on a variety of factors including reuse on this campus, edition status, and condition of the book. Make sure workbooks are clean and complete. Bring all components that originally came with the book as it may result in a higher payout. You can sell back books as many times as you want. Look for promotions and discounts during Buyback week as well.
Submitted by Doug Gustwiller dg57@evansville.edu
Purchasing procedures announced for May 2019
As the end of the University's fiscal year approaches on May 31, Administrative Services and Accounting and Audit announce the following procedures related to purchases of goods and services during May.
Pcard Purchases
• Pcard purchases posting on the May statement (cycle end date is May 21) will be paid from FY 2018-2019 funds. Most shipments post on your Pcard within three to four business days. However, vendors have up to nine business days to post transactions.
• Pcard purchases posting from May 22 through May 31 will be paid from FY 2019-2020 (new year) funds, unless the item purchased exceeds $500. Purchases exceeding $500 will be paid from FY 2018-2019 funds.
Office Depot Orders
• Normally, Office Depot orders placed online by 3:00 p.m. for items in stock are delivered the next business day. Upon delivery, the transaction should post on your Pcard within three to four business days.
• Office Depot orders received by May 15 will likely post on the May 21 Pcard Cycle and be paid from FY 2018-2019 funds.
• Office Depot orders placed and received but posting to the Pcard between May 22 and May 31 will be paid from FY 2019-2020 funds, unless the items purchased exceed $500. Purchases exceeding $500 will be paid from FY 2018-2019 funds.
Purchase Orders
• Approved requisitions converted into purchase orders and delivered by May 31 will be paid from FY 2018-2019 funds.
• Approved Requisitions indicating FY 2019-2020 written on them in red ink will be processed with a delivery date of June 1 or later.
• Backordered Purchase Orders not delivered by May 31 will be paid from FY 2019-2020 funds.
Blanket Orders
• All FY 2018-2019 Blanket orders expire on May 31, 2019.
• Approved Requisitions for FY 2019-2020 (new year) Blanket Orders may now be submitted with June 1, 2019 through May 31, 2020 effective dates.
• Backordered Blanket Purchase Order items not delivered by May 31, 2019 will be paid from FY 2019-2020 funds.
Requisitions for Check Request
• All services completed and items purchased (and on campus) by May 31 must be submitted on a WebAdvisor voucher to Accounting and Audit by Monday, June 17 to be paid from FY 2018-2019 funds. Any pre-May 31st purchases submitted for payment after this date will be charged to FY 2019-2020.
Submitted by Kim Winsett km83@evansville.edu
Hiring summer counselors
WHAT is OPTIONS?
• Every summer UE offers camps that introduce middle school boys and girls and high school girls to disciplines within engineering and computer science via hands-on activities and field trips.
WHO can be a counselor?
• Current College of Engineering and Computer Science students (or other STEM majors) who want to participate in an outreach program that supports diversity in STEM, allows you to demonstrate your motivation to hold a leadership position, and encourages people to explore STEM (science, technology, engineering, and mathematics) fields.
WHEN and WHERE are the camps?
• High School Girls - June 9-14 (residential camp)
• Middle School Girls - June 16-19 (residential camp)
• Middle School Boys - June 24-28 (day camp)
• All camps are held on the UE campus
Other Information
• The counselor position is a paid position for all camps.
• All counselors will be helping lead various activities, assisting faculty-led workshops, and inspiring young people.
• The residential camps for girls will include room and board during the duration of the camp. Counselors will be staying in a dorm with the campers.
HOW to apply?
• If you are interested in being a counselor, please apply in person in Koch Center 250 or email kh209@evansville.edu by Friday, May 3.
For more information about the camps, go to: www.evansville.edu/options.
Submitted by Kim Higgins kh209@evansville.edu
Federal loan repayment counseling session required for students graduating or transferring
Students who have used Federal Direct (sub/unsub) Loans and plan to graduate in the spring or summer (or transfer after the spring semester) are required to attend a loan repayment counseling session. The Office of Student Financial Services will hold the next session of the semester on Thursday, May 2, at 2:00 p.m. in Eykamp Hall, Room 251, Ridgway University Center. The last session will be Friday, May 10, at 11:30 a.m. in Neu Chapel's Grabill Lounge.
Submitted by Amy Sowders as560@evansville.edu
Summer school books are ready
For those students taking Summer Session classes, this is a reminder to get your books at the UE Bookstore before you leave for the summer. You can order them online at https://bookstore.evansville.edu or pick them up in the store. During buyback summer books are sectioned off but just ask store staff and they'll be happy to get your book for you. Don't go home without your book!!
Submitted by Doug Gustwiller dg57@evansville.edu
Fitness Center - Finals Week Hours
The Fitness Center hours during Finals Week will be:
Thursday, May 2-Friday, May 3: 8:00 a.m.-7:00 p.m.
Saturday, May 4-Sunday, May 5: 11:30 a.m.-5:30 p.m.
Monday, May 6-Friday, May 10: 8:00 a.m.-7:00 p.m.
Saturday, May 11-Sunday, May 12: Closed
Submitted by Lori Adams la87@evansville.edu
May 2 - Obsolete Electronics Recycling
Obsolete Electronics Recycling is set for May 2 at Hale loop drive from 10:00 a.m.-1:00 p.m. Students and employees (faculty, administrators and staff) can bring the following personal, obsolete electronic equipment to be recycled at no cost:
• LCD displays, LCD TV's and LCD monitors, computers, printers, fax machines, laptops, cell phones, PDAs, cables, circuit boards, connectors, electrical equipment, audio video equipment, DVD players, stereos, radios, calculators, speakers, VCRs. Small quantities of batteries will be accepted.
The following items will NOT be accepted:
• CRT TV's and CRT computer monitors
• Fluorescent light bulbs (including compact bulbs), refrigerators, freezers, microwaves, stoves, vacuum cleaners, dehumidifiers, leaking batteries and any other items C&I deems unallowable
• Electronics owned by the University.
NOTE: The cost of processing CRT TV's and CRT computer monitors has increased significantly, and the University is no longer able to cover these items. However, these items may be brought to the following location: C&I Electronics located at 1700 N Lafayette Ave, Evansville, IN 47711, Monday-Friday, from 9:00 a.m.–5:00 p.m.
For more information or questions contact Amber Elkins at ae152@evansville.edu or ext. 2697.
Submitted by Amber Elkins ae152@evansville.edu
Free Paper Shredding on Thursday, May 2
Free off-site paper shredding by Piranha Mobile Shredding will return to campus once again May 2 (Reading Study Day) from 10:00 a.m.-1:00 p.m. All UE students, faculty, staff, and alumni can take advantage of this free service by bringing paper to the Piranha truck in Koch Center for Engineering and Science parking lot. Paper will be shredded off-site.
So, if mounds of paper are taking over your office, home, or room, this is the time to gather those old files, receipts, cancelled checks, tax forms, etc. No need to take out the staples or paper clips. Avoid identity theft by having confidential information permanently destroyed.
Please - no telephone books, magazines, or newspapers. Also, please note that there is a 100-pound paper limit per visit (number of visits is not limited).
Submitted by Amber Elkins ae152@evansville.edu
Library Hours during Finals
The Libraries hours for the remainder of the semester are:
Sunday, April 28: 10:00 a.m. – 4:00 a.m.*
Monday, April 29: 7:45 a.m. – 4:00 a.m.*
Tuesday, April 30: 7:45 a.m. – 4:00 a.m.*
Wednesday, May 1: 7:45 a.m. – 4:00 a.m.*
Thursday, May 2: 7:45 a.m. – 4:00 a.m.*
Friday, May 3: 7:45 a.m. – 10:00 p.m.**
Saturday, May 4: 10:00 a.m. – 6:00 p.m.
Sunday, May 5: 10:00 a.m. – 4:00 a.m.*
Monday, May 6: 7:45 a.m. – 4:00 a.m.*
Tuesday, May 7: 7:45 a.m. – 4:00 a.m.*
Wednesday, May 8: 7:45 a.m. – 4:00 a.m.*
Thursday, May 9: 7:45 a.m. – 4:00 a.m.*
Friday, May 10: 8:00 a.m. – 5:00 p.m.
* Upper floors close at 11:00 p.m.
** Upper floors close at 6:00 p.m.
Direct any questions to Meg Atwater-Singer at ext. 2487 or ma35@evansville.edu.
Submitted by Meg Atwater-Singer ma35@evansville.edu
Attention seniors: Commencement Video submissions due May 3
Calling all seniors! Send your favorite memories from your years at UE to mw353@evansville.edu by Friday, May 3 to be included in the senior video which will play at commencement on May 11 at the Ford Center.
Photos should be as high-resolution as possible. Videos should be no longer than 30 seconds and horizontal videos are preferred, but not required.
The senior video will also be posted to the UE YouTube channel following the commencement ceremony.
Submitted by Monica Watkins mw353@evansville.edu
Request for official excused absences during finals
Please note that the Dean of Students office will not grant official excused absences during finals except for extreme circumstances (i.e.: death of an immediate family member, emergency surgery, etc.). Students who feel they are unable to take a scheduled final exam should work directly with their professors to discuss other possible options.
Submitted by Carleen Barnes cb131@evansville.edu
New issue of the Crescent is out now
The Crescent, University of Evansville's student magazine, is available for FREE to all students at magazine stands across the campus! This issue, we are celebrating Earth Day! Pick up an issue on magazine racks across campus. The Crescent is a student magazine - by and for the students of the University of Evansville - that is published six times during the academic year. The Crescent serves as an open forum for the UE community. Copies are free to students and the goal is to present relevant content in a fair, accurate, and unbiased manner.
Submitted by Tim Young ty32@evansville.edu
Summer Books at the UE Bookstore
Summer textbooks are available at the UE Bookstore for Summer Sessions 1 & 2. If you're taking a summer classes be sure to stop by the Bookstore and get your required materials before you leave for the summer. You can also order your books online on the UE Bookstore website at bookstore.evansville.edu or on the link at the UE homepage at the bottom. During buyback summer books may be off limit but just ask store staff and they will be happy to assist you and get the required book you desire.
Submitted by Doug Gustwiller dg57@evansville.edu
Mike Zimmer has article published
Mike Zimmer, Professor Emeritus of Economics, has a paper published in the current issue of Cogent Economics and Finance. The paper, coauthored with Robert Nakosteen of the University of Massachusetts, is entitled "Latent Earning Capacity and the Race Marriage Gap". Mike thanks the University of Evansville for a research sabbatical in 2014 that allowed him to complete the foundation work for this research.
Yazdanparast has paper accepted at International Journal of Innovation Management
Atefeh Yazdanparast, associate professor of marketing, has a paper accepted for publication at the International Journal of Innovation Management. The paper titled "Comparing Service, Product, and Process Innovations: Insights from the Internal Supply Chain Network of a European Steel Manufacturing Firm" investigates and compares managerial perceptions of the three types of innovation (service, product, and process innovations) within the context of cross-functional network of a European steel manufacturing firm. The insights result in the development of a typology of innovation projects based on origin, context, scope, benefits, and degree of complexity. The findings embedded in Resource Based View and Service Dominant Logic, reveal divergent aspects of the three types of innovation such as disparate reasons for undertaking each type of innovation and distinct internal and external success factors, as well as convergent aspects of the innovation types such as similar challenges.
Chelsea Gaddis receives the Distinguished Senior Award of the International Studies Program
Chelsea Gaddis has been awarded the 2018-19 Wesley T. Milner Distinguished Senior Award of the International Studies Program. The honor was established in 2016 and is awarded annually to the outstanding senior of the International Studies major. The award is named for the former director of the International Studies Program, Dr. Milner, in honor of his dedication in the IS program at UE for over two decades.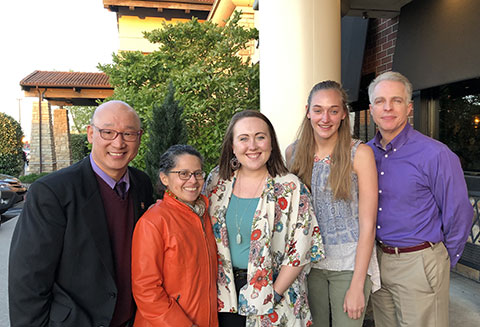 Pictured (from left to right): Young Kim (Professor of Political Science), Diana Rodriguez Quevedo (Associate Professor of Spanish), Chelsea Gaddis (IS & Spanish majors-2019), Hayley Elliot (IS & Sociology majors-2019), and Wesley Milner (Executive Director of the International Programs)
Monarch and Milkweed Changelab Shares Knowledge and Milkweed Plants at Wesselman Woods Nature Preserve
Congratulations to the Monarchs and Milkweed Changelab team, who finished their last event - a milkweed give-away at Wesselman Woods Nature Preserve. While at nature center of WWNP, the team gifted the attendees with native milkweed plants and played a monarch game with kids who attended. In addition, the team shared seeds of native plants that can be grown in people's backyards. The seeds given away came from UE's Native Plant Garden, which provides a venue where over 100 species of native flowers, grasses, shrubs, and trees.
The team hopes that you have found at least one opportunity to plant milkweeds for monarchs. Moreover, we hope you have expanded your perspective, and start to plant natives in your garden. Native plant diversity has great value for several reasons, including beneficial ecosystem services through improved ecosystem function, support for native insects (including insect herbivores and pollinators), and the food resources to other animals (e.g., birds via seeds and/or prey items). Unfortunately, habitat destruction has led to the loss of wetlands, prairies, and forests, resulting in reduced numbers of native plant species. As one would expect, the loss of floral diversity has caused a reduction in the number of herbivores and pollinators, and a reduction in ecosystem services. Every action you take to grow your own native plants will help butterflies, bees, and birds.
To see a video story on this subject, please visit: www.youtube.com/watch?v=wzxPPfSpUEs.
Submitted by Cris Hochwender ch81@evansville.edu
Please Stop by Graves 311 to sign UE Flag for Family of Kelsey Hipp
The University of Evansville Physician Assistant Family invites you to stop by GH311 today until 3 and tomorrow from 8-noon to sign your message to the family of our beloved Kelsey Hipp. Kelsey was an alumni of the University of Evansville and recently completed the UEPA Program with the inaugural cohort of UEPA. Kelsey's mother, Tricia, was employed by the university for several years in the library and her two sisters, Tracy & Julie are also UE alumni.
Softball heads to Drake to complete regular season
For the first time since 2017, the Purple Aces softball team has earned two Missouri Valley Conference sweeps and have a 6-1 stretch as they head to Des Moines, Iowa to complete the regular season against Drake. The regular season weekend finale begins on Friday with a 2 p.m. doubleheader before a noon game on Saturday.
Last Week
- UE earned its second MVC sweep in as many weekends, taking three games against Valparaiso in the final home contests of the season
- In Saturday's opener, the offense erupted for nine runs as Eryn Gould and McKenzie Johnson belted home runs in a 9-1 win
- Johnson went deep once again in game two, leading the Aces to a 6-2 win while Sunday's finale saw Jessica Fehr hit the game-winning 2-RBI single in the bottom of the sixth in a 4-3 triumph
- Gould batted .500 in the series, but reached base 69.2% of the time as she added four walks and was hit by a pitch in the series against the Crusaders
- Haley Woolf also finished at .500, recording five hits in 10 at-bats
- Emily Lockhart and Izzy Vetter combined to finish the three games with a 2.10 ERA; Vetter struck out a career-high 10 batters in Saturday's win
Senior Class
- Prior to Saturday's opener against Valpo, the Aces honored seven seniors for their contributions to the program
- The class included: Olivia Cheatham, Kristin Koepke, McKenzie Johnson, Bailee Bostic, Ashleigh Downing, Emily Lockhart and Danielle Cassidy
Player of the Week
- For the second time in her career, sophomore Eryn Gould earned MVC Player of the Week accolades on April 22; she followed that up with excellent numbers against Indiana State and Valparaiso
- It was another strong week of action for Gould, who hit .500 while slugging .800 in four games versus ISU and Valpo; she drew five walks and was hit by two pitches on her way to a .706 on-base percentage
- Over the previous 11 games, Gould is batting .500 (15-of-30) while raising her average from .247 to .309; she has added four home runs, 14 RBI, 10 runs and 11 walks in that span
Hitting for average
- Over her last six games, freshman Haley Woolf has recorded 10 hits in 23 at-bats while upping her average from .220 to .257; seven of her 18 RBI on the season have also come in the previous six outings
- Woolf finished the Valpo series batting .500 with five hits in 10 at-bats while walking twice
Saving her best for last
- McKenzie Johnson had her best weekend of the season in the Valparaiso series, the final three home games of her career
- Johnson batted .429 with a pair of home runs, four RBI and two runs
- They were her first two homers of the season and accounted for 40% of her RBIs in 2019
Scouting the Opponent
- Drake stands at 37-14 overall and 21-2 in Valley play and have already clinched the regular season conference crown
- The Bulldogs are led by Nicole Newman, who is one of the top pitchers in the country; she has a 1.20 ERA with 334 strikeouts in 179 1/3 innings in 2019
- Offensively, Mandi Roemmich is batting .383 while Macy Johnson checks in at .356
Contribute to AceNotes
To have content considered for inclusion in AceNotes, please submit a Marketing Request Form. Deadline for submission to AceNotes is 10:00 a.m. on the requested date of publication. Only articles concerning UE related/sponsored activities will be accepted. Articles submitted to AceNotes may be edited for length and clarity. Submitter contact information is at the end of each article.