| | |
| --- | --- |
| AceNotes Today | Tuesday, April 23, 2019 |
This Week in Music: Gumberts and Ensemble Performances
41st Annual Gumberts Award Concert
Tuesday, April 23
7:30 p.m., Wheeler Concert Hall
The Department of Music will be celebrating the 41st anniversary of the Gumberts Award Recital on Tuesday, April 23, at 7:30 p.m. in Wheeler Concert Hall on the campus of the University of Evansville. The concert features performances by four of the department's outstanding seniors, and is followed by a reception in the Krannert Gallery and awards presentation.
The Gumberts Music Award is given annually to a senior music major. Over forty years ago Mr. W. A. Gumberts established a trust fund in perpetuity with the University of Evansville for the expressed purpose of giving an award to students in the four areas within the Fine Arts at the University of Evansville: Art, Creative Writing, Drama, and Music.
The awards are to be given based on merit in an activity to be determined by the individual departments. Music faculty select a small handful of senior music majors each year to compete for the prestigious award. The judges selected to adjudicate the concert have no affiliation with the music department but are experts in the music field.
This year's competing seniors are Adam Smith (bass-baritone), Darwi Sandleben (soprano), Logan Tsujji (trumpet), and Melanie Baker (piano). The recital is free and open to the public. For a complete program of works that the competing students perform, visit:
https://www.evansville.edu/majors/music/eventDetails.cfm?eventId=14803
Mixed Choir, Women's Chorus, University Choir, and Kantorei
Sunday, April 28
6:00 pm, Neu Chapel
The University of Evansville choirs, under the direction of Dennis Malfatti, will give a combined concert on Sunday, April 28, at 6:00 p.m. in Neu Chapel. For complete program information, visit:
https://www.evansville.edu/majors/music/eventDetails.cfm?eventId=14804
Brass and Percussion Ensembles
Sunday, April 28
7:30 p.m., Wheeler Concert Hall
The University of Evansville Brass and Percussion ensembles, under the direction of Timothy Zifer, Kenneth Steinsultz, and Ross Erickson, will present their spring concert on Sunday, April 28, at 7:30 p.m. in Wheeler Concert Hall. For complete program information, visit:
https://www.evansville.edu/majors/music/eventDetails.cfm?eventId=14805
Student Recitals
Saturday, April 27
Senior Recital, Blair Bledsoe, voice, 1:00 p.m., Wheeler Concert Hall
Senior Recital, Melanie Baker, piano, 2:30 p.m., Wheeler Concert Hall
Senior Recital, Justin Morrison, guitar, 4:00 p.m., Wheeler Concert Hall
Sunday, April 28
Senior Recital, Katie Lee, voice, 2:30 p.m., Wheeler Concert Hall
Submitted by James Sullivan js820@evansville.edu
Brent Sternberg, CFA, will talk about market outlook
UE 1996 alumnus Brent Sternberg, CFA, senior vice president of German American Wealth Management, will meet with students on Tuesday, April 23, in Room 162 in the Schroeder School of Business Building at 12:15 p.m. He will offer his insights about the future market outlook. Also, he will share thoughts about his experience as a UE finance major and advise current students on preparing for their future professional life. The event is open for public. Please contact professor of finance Walayet A. Khan with any questions.
Submitted by Walayet Khan wk3@evansville.edu
PA class giveback night
Come and support the UE PA program at the Green River Chipotle on April 23 from 5:00-9:00 p.m.! Present this flyer or tell the cashier to make sure 33 percent of the proceeds of your purchase is donated to the UE PA program.
Submitted by Katelyn Sandell ks540@evansville.edu
In Service of Mercy: Evansville Nurses Serving in WWI
Amber D. Gowen, UE alumna and archivist for Vanderburgh County, will present her research on the service of nurses from Evansville during WWI both on the home front and on the frontlines in France. This presentation, sponsored by Gender and Women's Studies, will be held in Koch 100 at 6:00 p.m. on Tuesday, April 30, and is open to the campus and interested members of the public. Please contact Dr. Annette Parks with any questions.
Submitted by Annette Parks ap3@evansville.edu
Newman cookout!
Join the Newman Club this Wednesday, April 24, at 5:00 p.m. for our weekly dinner and discussion. This week, we will be having a cookout and playing games! Kristin Brokaw will join us to talk about stress and college. All are welcome!
Submitted by Michaela Kunkler mk305@evansville.edu
UE partners with YWCA for National Stand Against Racism today
The Office of Diversity Initiatives will partner with the YWCA for its National Stand Against Racism event again this year. The theme this year is "No Hate. No Fear. Immigrant Justice is Racial Justice." There will be a full day of events raising awareness and promoting dialogue about racial justice. All events are FREE.
Please join the YWCA, Mayor Winnecke, Prez P, community leaders, and UE administrators, faculty, staff, and students at 11:15 a.m. in Ridgway University Center in taking the Pledge Against Racism.
Other events include:
Death by a Thousand Bee Stings
Eykamp Hall, Room 251, Ridgway University Center
7:30 a.m. – breakfast
8:00-9:00 a.m. - presentation
This session, presented by LaNeeca Williams, will cover microaggressions and point out how we can better identify them and understand their impact in order to address them. Registration is required by emailing rwhitledge@ywcaevansville.org. Breakfast is sponsored by Berry Global.
Anti-Bias Education
Eykamp Hall, Room 251, Ridgway University Center
11:30 a.m. – lunch
Noon-1:00 p.m. - presentation
The ChangeLab 310: Anti-Bias Education and Training student team will present interactive activities that focus on recognizing your own biases. Registration is required by emailing rwhitledge@ywcaevansville.edu. Lunch sponsored by the YWCA and the Office of Diversity Initiatives.
No Hate. No Fear. Immigrant Justice is Racial Justice Panel Discussion
Eykamp Hall, Room 251, Ridgway University Center
6:00-7:00 p.m.
No registration required.
For more information, please visit www.StandAgainsRacism.org or contact LaNeeca Williams at lw161@evansville.edu.
Submitted by LaNeeca Williams lw161@evansville.edu
I-House: Beyond Malala (Women in Pakistan)
At this week's I-House, you will learn about the past, present, and future of women in Pakistan. Kashaf Oneeb and Amnah Qayyum, two Pakistani students at UE, will tell you about important individuals who have worked hard to overcome gender inequality and to empower women in Pakistan. Don't miss this amazing presentation at 7:00 p.m. on Wednesday, April 24, on the second floor of Ridgway University Center.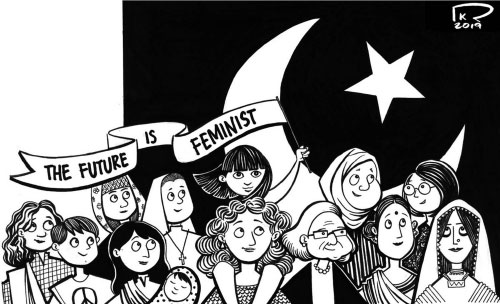 Submitted by Hussam Taj ht70@evansville.edu
You're invited to Columbia Sportswear Employee Store!
The Columbia Sportswear Company has invited all University of Evansville employees to shop at their exclusive employee store May 3-12. The invitation, which is required to shop, is located on MyUE at https://bit.ly/2MtxS9K under Documents and Information Links, Employee Discounts. The store hours and address can be found on the invitation. Happy shopping!
Submitted by Lori LeDuc LL138@evansville.edu
Intercultural Communication Offered ONLINE in Summer Session I
Intercultural Communication (COMM 380) will be offered online in Summer Session I. The main purpose of this course is to improve your communication with individuals from different cultures or subcultures. In today's diverse world these important communication skills will be useful in both your personal and professional life.
COMM 380 meets criteria for General Education Outcome 9 (Understanding of Core Concepts of Society, Human Behavior, and Civic Knowledge) and Overlay Component A (Global Diversity: International Component).
For more information, contact professor emeritus of communication Dean Thomlison at dt4@evansville.edu.
Submitted by Dean Thomlison dt4@evansville.edu
Sills and Welch present at Midwest Sociological Society annual meeting
Seniors Laura Sills, majoring in anthropology, and Ayrlia Welch, majoring in sociology, presented posters at the Midwest Sociological Society annual meeting in Chicago on Thursday. Sills presented findings from her senior research project, entitled: "Student Perceptions of Race and Racial Attitudes." Welch presented her project entitled: "The Different Effects of Gender on Widowhood." Conference participation for both scholars was supported by the University of Evansville Academic Fund Board and Sociology Undergraduate Research Grants.
Submitted by Mari Plikuhn mp168@evansville.edu
PT students and Ace CARE featured in Evansville Living
UE Physical Therapy students and Ace CARE programs are featured in the March/April issue of Evansville Living magazine. Each week, the students use their skills and knowledge to serve the vulnerable populations in our community through our pro bono Ace CARE programs, including the Ace +PT Clinic, ACErcise, and AceBuddies. Congratulations to our UE Changemaker students, faculty and community volunteers! Learn more about the services and read the article at this link http://www.evansvilleliving.com/articles/passion-to-serve.
Rami Malek makes Time magazine's Annual 100 Most Influential People in the World list
UE Theatre alumnus Rami Malek '03 has made Time magazine's annual 100 Most Influential People in the World list! More information can be found in this article on Washington DC's Channel 4's website.
In February, Malek won an Academy Award for Best Actor for his portrayal of Freddie Mercury in the motion picture Bohemian Rhapsody. Malek also won a Golden Globe in January for that performance. Malek had been nominated twice before for a Golden Globe - once in 2016 and 2017 - for his role as Elliot in the series, Mr. Robot. In 2016, he won an Emmy Award for the same role.
Stevenson and students present research at Midwestern Psychological Association Conference
UE psychology majors Luci Hulsman, Katelyn Parmenter, Lilee Robinson, and Allie Winstead, and Associate Professor Margaret Stevenson recently attended the Midwestern Psychological Association conference in Chicago, where they presented four talks within a symposium session.
Specifically, Stevenson developed and chaired a symposium session titled "Applying Psychological Theory to Legal Decisions."
Within this session Molly Elfriech (Holly's House forensic interviewer) and Stevenson presented work entitled "Effects of Abuse Prevention Program on Abuse Disclosure and Substantiation," which reflects analysis of over 400 children who received forensic interviews at Holly's House for sexual abuse investigations. Their promising results reveal that children exposed to an abuse prevention program employed throughout Evansville schools are more likely to disclose abuse during forensic interviews, and in turn, their abuse is more likely to be substantiated in court. UE students Allie Winstead and Katelyn Parmenter co-authored this research presentation.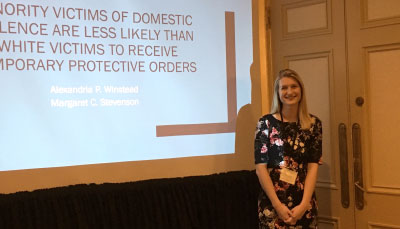 Winstead presented the results of her senior thesis, titled "Effects of Race on Allocation of Protective Orders," which revealed that Black victims of domestic violence are less likely to receive temporary protective orders than White victims, even after controlling for likely confounds, including offense severity, prior offenses, etc.
Stevenson also presented a talk titled, "Understanding How Jurors Deliberate About a Defendant's Coerced Confession," which was co-authored with several UE alum, including Evan McCracken and Tyler Plogher. They found that a substantial proportion of jurors will discuss a coerced (and false) confession in ways favoring conviction, attributing guilt to a defendant who actually confessed to a crime he did not commit.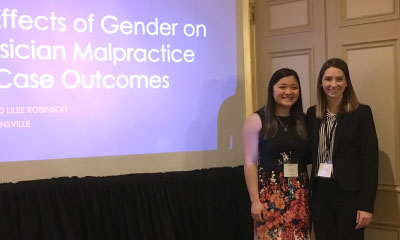 Finally, Hulsman and Robinson presented a talk titled, "Effects of Physician Gender on Medical Malpractice Case Outcomes." This pilot research revealed tentative, possible evidence of bias against female physicians in medical malpractice law suits – effects they are continuing to explore in subsequent grant-funded research.
Bryan Lynch and family
The University community extends sympathy to chemistry professor Bryan Lynch, on the occasion of his father's death. Alexander Lynch, 94, of Richland, Pennsylvania, died Wednesday, April 17, at Arbutus Park Manor in Johnstown, Pennsylvania.
Submitted by Kristy Miller km123@evansville.edu
Eryn Gould named MVC Player of the Week
For the second time in her career, University of Evansville sophomore Eryn Gould has garnered Missouri Valley Conference Player of the Week accolades.
Gould had a stellar week for the Purple Aces, batting .444 with a pair of home runs and a .583 on-base percentage to lead UE to a road sweep at Missouri State. Gould was 4-for-9 with two homers, seven RBI and four runs scored. She added three walks.
"Eryn had a huge weekend at the plate," Aces head softball coach Mat Mundell said. She has been locked in for the past few weeks. It is good to see her getting the hits to fall."
In the weekend opener, Gould was 1-3 with a run and RBI in a close 3-1 win. Gould followed that up with a 2-4 game with a pair of RBI and two runs in an 11-7 win over the Bears. The performance included a home run. Her top game came in a 5-4 win on Saturday as she was 1-2 with a grand slam and two walks. Gould finished the weekend slugging 1.111.
Last season, Gould earned the award on March 26 in a weekend that saw her register six hits in seven at-bats against UNI.
Up next for Gould and the Aces is a trip to Indiana State for a 3:00 p.m. CT game against the Sycamores. This weekend, they welcome Valparaiso to Cooper Stadium for the final home games of the year.

Contribute to AceNotes
To have content considered for inclusion in AceNotes, please submit a Marketing Request Form. Deadline for submission to AceNotes is 10:00 a.m. on the requested date of publication. Only articles concerning UE related/sponsored activities will be accepted. Articles submitted to AceNotes may be edited for length and clarity. Submitter contact information is at the end of each article.