| | |
| --- | --- |
| AceNotes Today | Monday, April 22, 2019 |
UE plans Earth Day Birthday celebration today
The University of Evansville's Environmental Concerns Organization (ECO) will host Earth Day Birthday, a celebration of the earth's 4.6 billionth year of existence, today, Monday, April 22. The public is invited and encouraged to attend the event, which is scheduled from 5:00-7:00 p.m. on the East Terrace Lawn on UE's campus.
The celebration features Earth Day themed food, merchandise, and activities, including:
Build-a-Bin - decorating free recycling bins
Up-cycling T-shirts into reusable shopping bags
Decorating and planting flower pots
Contest for the best chalk drawing of the Earth
Blankets provided to lie on the grass and watch the clouds
Birthday Cake (dirt-cake, cookies, and brownies), Snow cones, and popcorn
Relay game of sorting recycling materials, recycling-themed corn hole game, and water consumption guessing game.
Bi-Sci Club's plant sale
Sale of Earth Day themed T-shirts, water bottles and other items.
Community organizations at the event will include: Wesselman Woods Nature Center, Urban Seeds, Audubon Nature Society, Project Acorn, Norwex, and the Southwestern Indiana Citizens for Quality of Life.
For more information, please contact ob28@evansville.edu.
Monarchs and Milkweeds at Earth Day Birthday
The Monarchs and Milkweeds ChangeLab class will hand out free milkweed plants to those attending Earth Day Birthday to educate the community about the importance of planting native plants to ensure the future of the Monarch butterfly species.
Earth Day Birthday will be held from 5:00-7:00 p.m. on Monday, April 22 on the East Terrace Lawn.
Contact ag263@evansville.edu for more information.
Medical Spanish Practice
Medical Spanish practice is designed to help students practice communication skills in Spanish for medical settings. Students may arrive and leave at any time. The next session is today, Monday, April 22, from 5:30-7:00 p.m. in Room 64 in the Schroeder School of Business Building. Please contact associate professor of Spanish Diana Rodríguez Quevedo at dr130@evansville.edu for more details. ¡Nos vemos el lunes!
Submitted by Diana Rodriguez Quevedo dr130@evansville.edu
This Week in Music: Gumberts and Ensemble Performances
University Band and Jazz Ensemble II
Monday, April 22
7:30 pm, Neu Chapel
The University of Evansville Jazz Ensemble II, under the direction of Timothy Zifer, and University Band, under the direction of Shawn Teichmer, will give a combined concert on Monday, April 22, at 7:30 pm in Neu Chapel. Jazz Ensemble II will open the program with a variety of numbers, from Autumn Leaves to Basin Street Blues. University Band will offer a similarly varied program, featuring works by Susato, Tickeli, and others. UE music student Devyn Haas will be featured as guest conductor with the University Band. The performance is free and open to the public. Full program and concert information can be accessed at:
https://www.evansville.edu/majors/music/eventDetails.cfm?eventId=14802
41st Annual Gumberts Award Concert
Tuesday, April 23
7:30 p.m., Wheeler Concert Hall
The Department of Music will be celebrating the 41st anniversary of the Gumberts Award Recital on Tuesday, April 23, at 7:30 p.m. in Wheeler Concert Hall on the campus of the University of Evansville. The concert features performances by four of the department's outstanding seniors, and is followed by a reception in the Krannert Gallery and awards presentation.
The Gumberts Music Award is given annually to a senior music major. Over forty years ago Mr. W. A. Gumberts established a trust fund in perpetuity with the University of Evansville for the expressed purpose of giving an award to students in the four areas within the Fine Arts at the University of Evansville: Art, Creative Writing, Drama, and Music.
The awards are to be given based on merit in an activity to be determined by the individual departments. Music faculty select a small handful of senior music majors each year to compete for the prestigious award. The judges selected to adjudicate the concert have no affiliation with the music department but are experts in the music field.
This year's competing seniors are Adam Smith (bass-baritone), Darwi Sandleben (soprano), Logan Tsujji (trumpet), and Melanie Baker (piano). The recital is free and open to the public. For a complete program of works that the competing students perform, visit:
https://www.evansville.edu/majors/music/eventDetails.cfm?eventId=14803
Mixed Choir, Women's Chorus, University Choir, and Kantorei
Sunday, April 28
6:00 pm, Neu Chapel
The University of Evansville choirs, under the direction of Dennis Malfatti, will give a combined concert on Sunday, April 28, at 6:00 p.m. in Neu Chapel. For complete program information, visit:
https://www.evansville.edu/majors/music/eventDetails.cfm?eventId=14804
Brass and Percussion Ensembles
Sunday, April 28
7:30 p.m., Wheeler Concert Hall
The University of Evansville Brass and Percussion ensembles, under the direction of Timothy Zifer, Kenneth Steinsultz, and Ross Erickson, will present their spring concert on Sunday, April 28, at 7:30 p.m. in Wheeler Concert Hall. For complete program information, visit:
https://www.evansville.edu/majors/music/eventDetails.cfm?eventId=14805
Student Recitals
Saturday, April 27
Senior Recital, Blair Bledsoe, voice, 1:00 p.m., Wheeler Concert Hall
Senior Recital, Melanie Baker, piano, 2:30 p.m., Wheeler Concert Hall
Senior Recital, Justin Morrison, guitar, 4:00 p.m., Wheeler Concert Hall
Sunday, April 28
Senior Recital, Katie Lee, voice, 2:30 p.m., Wheeler Concert Hall
Submitted by James Sullivan js820@evansville.edu
UE partners with YWCA for National Stand Against Racism today
The Office of Diversity Initiatives will partner with the YWCA for its National Stand Against Racism event again this year. The theme this year is "No Hate. No Fear. Immigrant Justice is Racial Justice." There will be a full day of events raising awareness and promoting dialogue about racial justice. All events are FREE.
Please join the YWCA, Mayor Winnecke, Prez P, community leaders, and UE administrators, faculty, staff, and students at 11:15 a.m. in Ridgway University Center in taking the Pledge Against Racism.
Other events include:
Death by a Thousand Bee Stings
Eykamp Hall, Room 251, Ridgway University Center
7:30 a.m. – breakfast
8:00-9:00 a.m. - presentation
This session, presented by LaNeeca Williams, will cover microaggressions and point out how we can better identify them and understand their impact in order to address them. Registration is required by emailing rwhitledge@ywcaevansville.org. Breakfast is sponsored by Berry Global.
Anti-Bias Education
Eykamp Hall, Room 251, Ridgway University Center
11:30 a.m. – lunch
Noon-1:00 p.m. - presentation
The ChangeLab 310: Anti-Bias Education and Training student team will present interactive activities that focus on recognizing your own biases. Registration is required by emailing rwhitledge@ywcaevansville.edu. Lunch sponsored by the YWCA and the Office of Diversity Initiatives.
No Hate. No Fear. Immigrant Justice is Racial Justice Panel Discussion
Eykamp Hall, Room 251, Ridgway University Center
6:00-7:00 p.m.
No registration required.
For more information, please visit www.StandAgainsRacism.org or contact LaNeeca Williams at lw161@evansville.edu.
Submitted by LaNeeca Williams lw161@evansville.edu
Brent Sternberg, CFA, will talk about market outlook
UE 1996 alumnus Brent Sternberg, CFA, senior vice president of German American Wealth Management, will meet with students on Tuesday, April 23, in Room 162 in the Schroeder School of Business Building at 12:15 p.m. He will offer his insights about the future market outlook. Also, he will share thoughts about his experience as a UE finance major and advise current students on preparing for their future professional life. The event is open for public. Please contact professor of finance Walayet A. Khan with any questions.
Submitted by Walayet Khan wk3@evansville.edu
I-House: Beyond Malala (Women in Pakistan)
At this week's I-House, you will learn about the past, present, and future of women in Pakistan. Kashaf Oneeb and Amnah Qayyum, two Pakistani students at UE, will tell you about important individuals who have worked hard to overcome gender inequality and to empower women in Pakistan. Don't miss this amazing presentation at 7:00 p.m. on Wednesday, April 24, on the second floor of Ridgway University Center.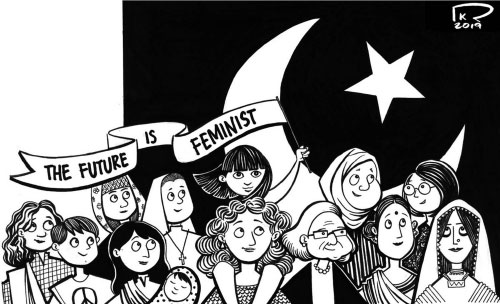 Submitted by Hussam Taj ht70@evansville.edu
Rent-A-Puppy
Come support local humane societies at by buying a ticket to play with dogs! The event will be help on the Grassy Knoll on April 27, from 11:00 a.m.-3:00 p.m. All proceeds made will be given to the humane societies that help us put on this event.
Submitted by Amber Wenos aw405@evansville.edu
PA class giveback night
Come and support the UE PA program at the Green River Chipotle on April 23 from 5:00-9:00 p.m.! Present this flyer or tell the cashier to make sure 33 percent of the proceeds of your purchase is donated to the UE PA program.
Submitted by Katelyn Sandell ks540@evansville.edu
UE Theatre presents Twelfth Night
The University of Evansville Department of Theatre proudly presents its final production of the season, Twelfth Night, by William Shakespeare, opening Friday, April 19, at 7:30 p.m., in Shanklin Theatre. Additional performances are at 7:30 p.m. on Apr. 20, 25, 26, and 27, and at 2:00 p.m. on April 27 and 28.
Teaming with an infectious sense of romantic exuberance, Shakespeare's fascination with mistaken identity is played out in a delightfully complex comedy of love and loss, and more than a little mischief and mayhem.
UE Theatre alumna Amy Attaway '01 guest-directs Twelfth Night. Department chair Eric Renschler serves as the scenic designer; Morgan Severeid, a senior from Westfield, Ind., is the costume designer; Maggie Ste.Marie, a senior from Littleton, Colo., is the lighting designer; Matt McDonald, a senior from Carmel, Ind., is the sound designer; Professor of Theatre Diane Brewer is the dramaturg; Gia Gleason, a sophomore from Sellersburg, Ind., is the stage manager; and Professor Chuck Meacham serves as the technical director.
The cast features senior Alexandra Curren, from McKinney, Texas, as Viola; senior Daniel Stewart, from Fort Worth, Texas, as Orsino; senior Madeline Easley, from Overland Park, Kan., as Olivia; senior Marshall Hopkins, from Baldwin City, Kan., as Sebastian; junior Luke Lowrance, from Arlington, Texas, as Malvolio; senior Kathleen Finch, from College Station, Texas, as Feste; junior JR Scott, from Austin, Texas, as Sir Toby Belch; senior Meredith Ham, from Castle Rock, Colo., as Maria; junior Alexander James Hunter, from Conifer, Colo., as Sir Andrew; senior Isaac Baker, from Bowling Green, Ky, as Antonio; first-year Stephanie Voteau, from St. Louis, Mo., as Fabian; sophomore Liam Johnson, from Wardsboro, Vt., as Curio/Officer; sophomore Luke Moran, from Mount Vernon, Iowa, as Valentine/Officer; sophomore Andrew Flynn, from Lilburn, Ga., as Sea Captain/Priest; and senior Will Esty, from Franklin, Wis., as Musician/Officer.
Ticket prices are $18 for adults and $16 for senior adults, students, and UE faculty/staff. UE students may obtain one free student rush ticket beginning at noon on the day of the performance they wish to attend. Tickets may be purchased by calling 812-488–2031, Monday through Friday, noon-5:00 p.m.
Submitted by Sharla Cowden sc75@evansville.edu
Newman Club Migration Simulation tonight
Please join us in Eykamp Hall, Rooms 251/252, Ridgway University Center TONIGHT - Monday, April 22 - at 7:00 p.m. for our migration simulation! This event will simulate what refugees go through when fleeing their homes and the way refugees are treated at the border. There will be FREE PIZZA, and a discussion will follow the simulation. The first 25 people will receive a free water bottle. In addition, there will be materials available for anyone who wants to write to Congress in support of refugees. Please contact Kristen Sportiello at ks491@evansville.edu for more information or if you'd like to get more involved in the Newman Club's migration initiative.
Submitted by Michaela Kunkler mk305@evansville.edu
2019-20 Letterhead and Envelope Orders due TODAY for 2019-22
The 2019-20 letterhead and envelope orders are due TODAY! If your department uses letterhead or envelopes during the fiscal year, this is the time to order it. We are able to get a substantial price break on boxes of envelopes (500 quantity) and reams of letterhead (500 quantity) due to the size of the order. Smaller orders placed later in the year will be more expensive.
Check your email inbox for a message from the Office of Publications with ordering instructions, or email publications@evansville.edu or call ext. 2561 for more information.
Remember - orders are due today, April 22!
Submitted by publications@evansville.edu
2019-20 Dr. Marvin E. Hartig Memorial Scholarship
Family, friends and loved ones of the late Dr. Marvin E. Hartig are pleased to announce the application process for the Dr. Marvin E. Hartig Memorial Scholarship. This scholarship is dedicated to the loving memory of Dr. Hartig, Dean of Evansville College's Evening College in 1967, and administrator for the Center for Advanced Study, director of the Evansville chapter of the American Institute of Banking (AIB), and the international student advisor. In 1974, Dr. Hartig was appointed Dean of Academic Services. He retired in 1984 after serving his alma mater for thirty-five years and passed away in 2007.
This scholarship will be awarded annually to a deserving sophomore student. Preference will be given to a student working while being enrolled as a full-time student. International students are encouraged to apply.
The application can be found here.
Deadline: Please return all materials to the Office of Student Financial Services by April 26.
The decision will be announced by July 1.
Questions: Trisha Hawkes, administrative assistant to the Office of Student Financial Services, at th187@evansville.edu or 812-488-2364
Submitted by Trisha Hawkes th187@evansville.edu
April Pcard Cycle Ending - Reminder
The April Pcard Cycle which began on March 22 will end at midnight on April 22. As of April 24, cardholders may schedule and run the April Cycle report. April transactions may be reconciled in SDG2 until April 29. On April 29, the general ledger Pcard file will be uploaded and cardholders will be locked out of (unable to make changes) posted transactions for the April Cycle.
Submitted by Kim Winsett kw83@evansville.edu
Sills and Welch present at Midwest Sociological Society annual meeting
Seniors Laura Sills, majoring in anthropology, and Ayrlia Welch, majoring in sociology, presented posters at the Midwest Sociological Society annual meeting in Chicago on Thursday. Sills presented findings from her senior research project, entitled: "Student Perceptions of Race and Racial Attitudes." Welch presented her project entitled: "The Different Effects of Gender on Widowhood." Conference participation for both scholars was supported by the University of Evansville Academic Fund Board and Sociology Undergraduate Research Grants.
Submitted by Mari Plikuhn mp168@evansville.edu
PT students and Ace CARE featured in Evansville Living
UE Physical Therapy students and Ace CARE programs are featured in the March/April issue of Evansville Living magazine. Each week, the students use their skills and knowledge to serve the vulnerable populations in our community through our pro bono Ace CARE programs, including the Ace +PT Clinic, ACErcise, and AceBuddies. Congratulations to our UE Changemaker students, faculty and community volunteers! Learn more about the services and read the article at this link http://www.evansvilleliving.com/articles/passion-to-serve.
Rami Malek makes Time magazine's Annual 100 Most Influential People in the World list
UE Theatre alumnus Rami Malek '03 has made Time magazine's annual 100 Most Influential People in the World list! More information can be found in this article on Washington DC's Channel 4's website.
In February, Malek won an Academy Award for Best Actor for his portrayal of Freddie Mercury in the motion picture Bohemian Rhapsody. Malek also won a Golden Globe in January for that performance. Malek had been nominated twice before for a Golden Globe - once in 2016 and 2017 - for his role as Elliot in the series, Mr. Robot. In 2016, he won an Emmy Award for the same role.
Stevenson and students present research at Midwestern Psychological Association Conference
UE psychology majors Luci Hulsman, Katelyn Parmenter, Lilee Robinson, and Allie Winstead, and Associate Professor Margaret Stevenson recently attended the Midwestern Psychological Association conference in Chicago, where they presented four talks within a symposium session.
Specifically, Stevenson developed and chaired a symposium session titled "Applying Psychological Theory to Legal Decisions."
Within this session Molly Elfriech (Holly's House forensic interviewer) and Stevenson presented work entitled "Effects of Abuse Prevention Program on Abuse Disclosure and Substantiation," which reflects analysis of over 400 children who received forensic interviews at Holly's House for sexual abuse investigations. Their promising results reveal that children exposed to an abuse prevention program employed throughout Evansville schools are more likely to disclose abuse during forensic interviews, and in turn, their abuse is more likely to be substantiated in court. UE students Allie Winstead and Katelyn Parmenter co-authored this research presentation.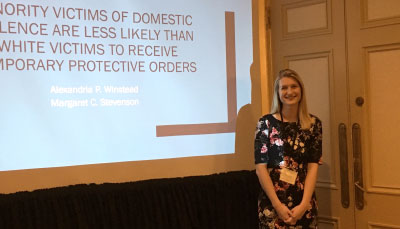 Winstead presented the results of her senior thesis, titled "Effects of Race on Allocation of Protective Orders," which revealed that Black victims of domestic violence are less likely to receive temporary protective orders than White victims, even after controlling for likely confounds, including offense severity, prior offenses, etc.
Stevenson also presented a talk titled, "Understanding How Jurors Deliberate About a Defendant's Coerced Confession," which was co-authored with several UE alum, including Evan McCracken and Tyler Plogher. They found that a substantial proportion of jurors will discuss a coerced (and false) confession in ways favoring conviction, attributing guilt to a defendant who actually confessed to a crime he did not commit.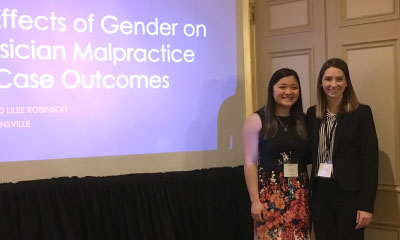 Finally, Hulsman and Robinson presented a talk titled, "Effects of Physician Gender on Medical Malpractice Case Outcomes." This pilot research revealed tentative, possible evidence of bias against female physicians in medical malpractice law suits – effects they are continuing to explore in subsequent grant-funded research.
Bryan Lynch and family
The University community extends sympathy to chemistry professor Bryan Lynch, on the occasion of his father's death. Alexander Lynch, 94, of Richland, Pennsylvania, died Wednesday, April 17, at Arbutus Park Manor in Johnstown, Pennsylvania.
Submitted by Kristy Miller km123@evansville.edu
Aces Baseball falls in doubleheader sweep to Indiana State
With a chance to earn a big series victory over Missouri Valley Conference rival Indiana State, the University of Evansville baseball team suffered doubleheader sweep at the hands of the Sycamores at Charles H. Braun Stadium Sunday afternoon.
In game one, the Aces sent out junior starting pitcher Nathan Croner, who fell behind quickly, 3-0 through the first two innings. However, the southpaw would recover from the rocky start to keep ISU of the scoreboard the next four frames.
Meanwhile, the Evansville bats would finally get to work in the fourth inning, as senior third baseman Sam Troyer would get the Aces on the scoreboard with an RBI double to the gap in right-center, bring in sophomore first baseman Tanner Craig, cutting the deficit to 3-1.
Croner would exit the game after the sixth inning. The junior's final line would be three runs on five hits, while striking out four. Freshman right-hander Shane Gray would come in to relieve Croner, but after tossing a scoreless seventh, Gray would get tagged for five runs in the eighth, putting the Aces in an 8-1 hole.
Freshman right fielder A.J. Fritz would get one more tally for UE in the bottom of the inning, but that was the end of the Evansville offense, as they fell in game one 8-2.
Game two would see the Aces strike first in the bottom of the opening frame, as senior designated hitter Nate Reeder lifted a sacrifice fly to center field, scoring Sam Troyer from third base for the ice breaker.
Senior right-hander Justin Hayden would begin his second straight start by tossing a scoreless first inning, but in the top of the second, Indiana State would knot the game up on an run-scoring single by Dane Tofteland.
Hayden would bounce back to toss a scoreless third, but in the fourth he would run into trouble again, getting touched up for three runs, capped by a Chase Huntley RBI single to center, and when the smoke cleared, the Aces were down 4-1.
However, they didn't stay down for long. In the bottom of the frame, freshman A.J Fritz drilled a two run home run to left, drawing Evansville within one, 4-3. Later in the inning, senior left fielder Matthew Jones would tie the game up on a run-scoring single to left, bringing in junior center fielder Troy Beilsmith for the equalizer, making it 4-4.
Senior left-hander Alex Weigand would take over for Hayden in the fifth inning, and he would go onto toss three scoreless frames, keeping the game knotted up. He would give way to fellow senior right-hander Austin Allinger, who would pitch a shutout eighth. But in the ninth, he would give up a lead-off single, that an ensuing error would place the go-ahead run on second. Allinger would turn the game over to freshman Michael Parks, and the Sycamores would tag him for the go-ahead run and an insurance tally. The Evansville bats could not respond in the bottom og the frame, and UE fell 6-4.
The doubleheader sweep drops Evansville to 19-17 overall and 6-3 in Missouri Valley Conference play, while Indiana State improves to 29-9 on the season, and 6-3 in league play.
The Aces are back in action Wednesday night on the road against Tennessee-Martin. First pitch is at 6:00 p.m.
Submitted by Joseph Downs jd305@evansville.edu

Gould's grand slam helps softball clinch weekend sweep
Sophomore Eryn Gould launched a grand slam in the second inning to propel the University of Evansville softball team to a 5-4 win over Missouri State on Saturday afternoon to help the Aces clinch the weekend sweep.

Evansville (16-25, 6-12 MVC) picked up nine hits on the day with Toni Galas picking up three. Jessica Fehr scored twice. Gould had four of UE's five RBI while Lindsay Renneisen had the other. Missouri State picked up ten hits with Daphne Plummer notching two hits and three runs batted in.

Following a scoreless first inning, the Aces got things started in the second. Halie Fain reached on a 1-out single before Jessica Fehr and Toni Galas each singled with two outs. That brought Eryn Gould to the plate and she launched a grand slam to left field to get the Aces on the board.

Missouri State plated a single run in the bottom of the third, but Evansville got it right back in the fourth. With two outs and the bases loaded, Renneisen drew a walk on a full count that extended the advantage to 5-1.

The Bears made a huge rally in the bottom of the fifth, scoring three times with two crossing the plate on a Plummer double. Emily Lockhart pitched cruised to that point and kept the Aces in contention until Izzy Vetter recorded the final out in relief. Vetter shut the Bears down from there, allowing just one hit in 2 1/3 frames to pick up the save. Lockhart allowed four runs in 4 2/3 innings and picked up the win.

Evansville looks to continue its streak on Wednesday with a road game at Indiana State. Next weekend, UE wraps up the home schedule with a 3-game series against Valparaiso.
Submitted by Bob Pristash rp113@evansville.edu
Contribute to AceNotes
To have content considered for inclusion in AceNotes, please submit a Marketing Request Form. Deadline for submission to AceNotes is 10:00 a.m. on the requested date of publication. Only articles concerning UE related/sponsored activities will be accepted. Articles submitted to AceNotes may be edited for length and clarity. Submitter contact information is at the end of each article.