| | |
| --- | --- |
| AceNotes Today | Monday, April 15, 2019 |
University of Evansville unveils unified logo and branding on Pep and Vim Day of Giving
The University of Evansville unveiled its refreshed institutional marks including logos, updated mascot, and branding platform during an on-campus press conference on Friday. The event was led by president Christopher M. Pietruszkiewicz who was joined by Shane Davidson, vice president for enrollment and marketing; Mark Spencer, athletic director; and Walter McCarty, head men's basketball coach.
"When I began my tenure as president of the University of Evansville just ten months ago, we set into motion several strategic initiatives, including this rebrand," said Pietruszkiewicz. "It was obvious from the beginning that members of the UE family share a deep pride in the history of this place, but we were not all speaking with the same voice. Now, we're equipped with the tools to strategically connect the institution and athletics into one single brand to attract the next generation of Aces."
After a nationwide search that began in August of 2018, the University partnered with Ologie, a marketing and branding firm based in Columbus, OH, for the project.
"So often, an identity project tries to chase the notion of trend, rather than authenticity," said Paul Davis, executive creative director at Ologie. "We were inspired by the university's rich history of previous logos, which led us to this approach that is rooted in legacy, and rallies today's UE community under one strong, simple logo that links together every generation of Aces."
The press conference was held as part of the kick off for the University's annual day of giving.
"As our fight song says, we 'cheer with pep and vim for white and purple'," said Pietruszkiewicz. "Today just happens to be our annual Pep and Vim day of giving-a day when Aces across the country and the world come together to give gifts of support that provide future Aces with the opportunity to have a transformative future. We could not think of a better day to unveil our new, unified look that will only strengthen the message we send to the world about this life-changing place."
Frequently Asked Questions:
Why was a rebrand necessary?
The University of Evansville and its athletics department each had logos and branding that did not resonate in the Evansville community and across the country. There was a lack of a strong and unified brand that did not portray the desired message. An updated, cohesive rebranding initiative was necessary in order to bring the institution and athletics together for one cohesive, modern look that will give the University of Evansville and the athletics department a unified message.
Ologie also created an extensive brand framework that will set the University of Evansville apart in the marketplace by highlighting its transformative education and the unique positioning of the Ashoka U Changemaker Campus designation and the changemaking culture that empowers students to improve the world around them.
Who designed the new look?
Ologie is a branding and marketing agency based in Columbus, OH. The mission of the company is to work "with clients who advance the greater good. We're a team of strategic thinkers, creative problem solvers, and bold storytellers. Together, we help organizations define their purpose, convey their story, and achieve their goals through a full range of media, including print, digital, environmental, social, and video."
What was the process and timeline for the redesign?
In August of 2018, the rebranding committee, co-chaired by vice president for enrollment and marketing Shane Davidson, and athletic director Mark Spencer, was formed. After a nationwide search, the rebranding committee chose to partner with Ologie and their work began in September 2018.
Before they could define UE's brand story and design logos that accurately depict the University's current momentum, Ologie first needed to develop a deep understanding of the University of Evansville. They took a well-rounded research approach that included:
• 6 campus visits
• Review of 131 communications pieces, research documents, and other student surveys
• More than 100 stakeholder interviews
• 2 student discussion groups
• A collaborative working session with staff
• 697 survey respondents 314 students29 board members354 faculty/staff
• 314 students
• 29 board members
• 354 faculty/staff
What is the timeline for use of the new logos?
Today's press conference signified a local launch of the branding and logos. Certain digital platforms including University and athletic websites and social media will adopt the new logos immediately. Signage and publications on the UE campus will utilize the updated logo over the coming months. Athletic uniforms and apparel will reflect the updates as teams enter the next purchase cycle. Fully rebranding the campus and athletic facilities is a time-consuming and expensive endeavor. This process will be completed giving priority to highly visible locations and only as funding is identified.
Where can the new logos be downloaded?
Visit our website to view new marks, updated mascot, and color guidelines. Email uerelations@evansville.edu for more information or questions.
Medical Spanish Practice
Medical Spanish practice is designed to help students practice communication skills in Spanish for medical settings. Students may arrive and leave at any time. The next session is Monday, April 15, from 5:30-7:00 p.m. in Room 64 in the Schroeder School of Business Building. Please contact associate professor of Spanish Diana Rodríguez Quevedo at dr130@evansville.edu for more details. ¡Nos vemos el lunes!
Submitted by Diana Rodriguez Quevedo dr130@evansville.edu
BiSci Plant Sale
Mark your calendars! BiSci Plant Sale will kick off on April 15 and end on April 22 - Earth Day Birthday! Plants for sale will include butterfly milkweed and other flowers, succulents, tomatoes, and herbs, including basil and cilantro, and many more. Prices will range from $1 for cups of seedlings to $15-25 for larger plants and "design-your-own" succulent bowls.
Submitted by Kelly Nixon kn94@evansville.edu
NO Tuesday Night Mass - join us at the Chrism Mass!
There will be NO Tuesday Night Mass in Neu Chapel this week. Instead, join us at the Chrism Mass this Tuesday, April 16. Mass will start at 5:30 p.m. at Holy Redeemer Parish (918 W Mill Rd, Evansville, IN 47710). This is a great way to celebrate Holy Week and spend time with the Newman Community! Contact Annie (as769@evansville.edu) if you're interested or need a ride.
Submitted by Michaela Kunkler mk305@evansville.edu
Save the Date: Health Literacy Panel!
Join us on Wednesday, April 24, from 7:30- 9:00 p.m. in Eykamp Hall, Room 253, Ridgway University Center for a Health Literacy Panel!
The Honors Activity Board is sponsoring this event to spark conversation about the lack of widespread health literacy in numerous different communities. The panel will consist of local experts who will share their experience and research regarding these issues. We will be joined by Mark Shifflet, UE professor of communication, Diana Rodriguez Quevedo, UE associate professor of Spanish, and Cindy Schaefer, UE assistant professor of nursing, as well as Dr. Tom Stratton, family medicine doctor for the Evansville community.
This is a fabulous opportunity for any students considering a career that involves patient care or any individual interested in tackling this topic! We hope to see you there!
Submitted by Blake Elliott be80@evansville.edu
Promotion and Tenure Committee open forum with candidates
The Promotion and Tenure Committee will hold an open forum on Tuesday, April 16, at 4:00 p.m. in Room 209 of the Library. Committee members will answer questions about the promotion/tenure process and offer suggestions to those applying in the 2019-20 academic year. Candidates, their chairs, and all interested faculty are invited to attend.
Submitted by James Berry jb74@evansville.edu
Newman Club Migration Simulation
Please join us in Eykamp Hall, Rooms 251/252, Ridgway University Center on Monday, April 22, at 7:00 p.m. for our migration simulation! This event will simulate what refugees go through when fleeing their homes and the way refugees are treated at the border. There will be FREE PIZZA, and a discussion will follow the simulation. The first 25 people will receive a free water bottle. In addition, there will be materials available for anyone who wants to write to Congress in support of refugees. Please contact Kristen Sportiello at ks491@evansville.edu for more information or if you'd like to get more involved in the Newman Club's migration initiative.
Submitted by Michaela Kunkler mk305@evansville.edu
Baines gives paper at Dublin Joyce Conference
Robert Baines, assistant professor of English, gave a paper at the "Finnegans Wake at 80" conference at Trinity College Dublin on April 11. The conference marked the anniversary of the publication of James Joyce's final novel. Baines' paper was titled "A Portrait of the Ondt as a Young Man."
Student Health Center closed for Easter Break
The Student Health Center will be closed on Thursday and Friday (April 18-19) this week for Easter Break. We will resume normal business hours on Monday, April 22, at 8:00 a.m. Should you require medical attention, please locate the nearest hospital or urgent care. For on-campus emergencies, dial 488-6911.
Submitted by Tara Ulrich tu19@evansville.edu
FAFSA DEADLINE IS TODAY!
Today is the deadline for Indiana residents to file their FAFSA to be considered for state aid! Visit www.fafsa.ed.gov to file the form.
Questions regarding the FAFSA should be directed to the Student Financial Services (Olmsted Hall, Room 105) at 812-488-2364.
Submitted by Trisha Hawkes th187@evansville.edu
2019-20 Letterhead and Envelope Orders due April 22
The 2019-20 letterhead and envelope orders are due April 22. If your department uses letterhead or envelopes during the fiscal year, this is the time to order it. We are able to get a substantial price break on boxes of envelopes (500 quantity) and reams of letterhead (500 quantity) due to the size of the order. Smaller orders placed later in the year will be more expensive.
Check your email inbox for a message from the Office of Publications with ordering instructions, or email publications@evansville.edu or call ext. 2561 for more information.
Remember - orders are due April 22!
Submitted by publications@evansville.edu
Music department hosts EVSC professional development workshops
The Department of Music was honored to be asked by EVSC Fine Arts leaders to host two professional development workshops for their teachers. On March 6 and again on April 10, middle school and high school music teachers from EVSC worked with UE choral students and received coaching on conducting and rehearsal technique from director of choral activities and professor of music Dennis Malfatti. UE choral students served as the laboratory choir for each of the EVSC teachers. Each teacher conducted the laboratory choir followed by coaching from Malfatti with input and constructive comments from our students. These two events were excellent outreach opportunities for the university and gave EVSC teachers a window into instruction at UE.
Ebeling lectures at UCLA
Associate professor of archaeology Jennie Ebeling presented "Feeding the Gods in Ancient Israel" at UCLA on April 11, as part of the Archaeology of Ancient Israel lecture series in the Department of Near Eastern Languages and Cultures. Her talk focused on the archaeological evidence for family rituals in ancient Israelite houses and the biblical references to baking bread for Yahweh and the Queen of Heaven.
Timely adoption returns save students money
This is a reminder that summer and fall textbook adoptions from faculty or departments are now past due. Buyback is quickly approaching and your timely return of textbook adoptions affect students and the money they get for their books. Your adoption return also creates more used book inventory for the UE Bookstore for students to purchase. If you haven't returned your textbook adoption forms, please do so as soon as you can. Contact the UE Bookstore if you have any questions.
Submitted by Doug Gustwiller dg57@evansville.edu
PT Club Meeting
The PT Club is having a meeting at 5:00 p.m. at the Stone Center. If you need a ride, please contact a board member. We will be having a speaker and talking about the rest of the semesters events.
Submitted by Stephanie Snodgrass ss597@evansville.edu
Fitness Center Easter break hours
The Fitness Center will be open on Wednesday (April 17) from 6:30am- 7:00 p.m., and Thursday (April 18) from 8:00 a.m.-7:00 p.m. The Fitness Center will be closed Friday (April 19)-Sunday (April 21).
Submitted by Lori Adams la87@evansville.edu
UE Physical Therapy welcomes Taiwanese students
Welcome to Meng-Ying Li and Chi-Jong Ho from National Yang Ming University, Taiwan, as they visit UE for clinical experiences. During their stay, they will join the first year DPT students in PT 521 Ortho and PT 517 Test and Measurements. They will volunteer at ACE+ PT clinic and ACErcise and complete observations at Progressive Health and other clinical sites. A presentation is scheduled on April 22 at noon in Smythe Auditorium. They will share their clinical experience in Taiwan and how it is different from experiences in the US.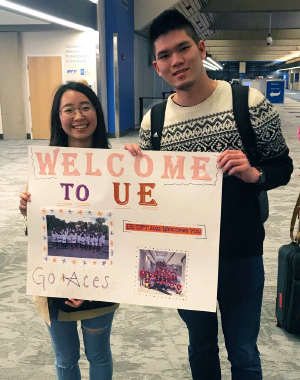 Submitted by Jennifer Simon js698@evansville.edu
Summer 10-Day Harlaxton course on health systems for all majors
All majors are welcome to apply for a 10-day course, June 7-16, focused on a comparison of health care systems in Great Britain and the United States. Students enrolled in HSA 499 will visit historical and modern health care sites. More information is at hsanews.evansville.edu The tentative schedule includes visits to Nottingham, Lincoln, Eyam, Chesterfield and Grantham. Group discussions with British citizens concerning the consumer's view of the British health care system are also scheduled. The course concludes with two nights in London. Please contact Professor Bill Stroube at bs52@evansville.edu for more information. Online application is due April 15 and deposit due on April 30.
Submitted by Cindy Felts cf128@evansville.edu
Earth Day Birthday volunteers needed
ECO invites you and your student-organization to volunteer at Earth Day Birthday 2019 happening on Monday April 22 from 5:00 -7:00 p.m. on the East Terrace Lawn. At this event, there will be environmentally themed activity booths in which we need your help overseeing. Some examples of activities include decorating recycling bins, up-cycling T-shirts into reusable bags, and recycling toss (AKA corn hole). Every volunteer will receive a FREE T-shirt in return for their help at the event.
If you or your organization are interested in volunteering, please sign up on the Earth Day Birthday 2019 SignUpGenius accessed through the following link: https://www.signupgenius.com/go/5080f49a9ac2ba1fb6-earth. Please sign up on behalf of your organization and split the volunteer time among your members.
For more information, please contact Olivia Blasdel at ob28@evansville.edu.
Submitted by Olivia Blasdel ob28@evansville.edu
Earth Day Birthday Recycling Competition
The Earth Day Birthday committee is hosting a recycling competition among all student organizations. The competing organizations are to collect clean, glass jars, and old T-shirts to use at Earth Day Birthday on April 22, from 5:00-7:00 p.m. The competition will last from April 1-17. There will be a table in Ridgway University Center from April 15-17 between 11:00 a.m.-1:00 p.m. for recycled items to be deposited. The winning organization receives free food as a reward!
Submitted by Paige Johnson pj31@evansville.edu
Accounting student presents at a national research conference
The Accounting Program likes to congratulate Emily Schmitt, a senior accounting student, for presenting her research at the National Council Undergraduate Research Conference in Kennesaw State University (Georgia) on Thursday, April 11. Emily's research was chosen among 4,000 submissions. The research titled, the Conundrum of the Singaporean Banking System, examines the high ranking of Singapore on two opposite financial indices: The Financial Secrecy and Transparency Indices. The research also investigates the role of the Monetary Authority and Banking Act to reveal the reason(s) for the contradictory ranking figures. As an honors student, Emily has also presented her paper at UE Student Research and Honors Symposium on April 3. Emily's research is supervised by associate professor of accounting Rania Mousa and was inspired by topics covered in forensic accounting course.
Peters-Margedant House wins a 2019 Preservation Award
Last week, the Peters-Margedant House won a 2019 Preservation Award from the Preservation Alliance of Evansville "for the efforts of preserving and celebrating the region's irreplaceable history and historic places." It was a big week for the little house, which was also one of the field sites for the 2019 Indiana's Statewide Preservation Conference, Preserving Historic Places. The April 9-12 conference was jointly sponsored by Indiana Landmarks, Indiana Division of Historic Preservation and Archaeology, and Indiana University. Our small house is having a big impact on local and Midwestern preservation.
UE education students recognized at IACTE recognition ceremony
Three School of Education students at the University of Evansville were recognized recently at the Indiana Association of Colleges for Teacher Education (IACTE) luncheon. They were Sara Cannaday, special education, Leesa Jing, math education, and Shelby Preston, elementary education. These individuals received awards during the organization's Outstanding Future Educators banquet at the Ritz Charles in Carmel, Indiana.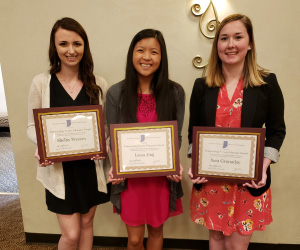 Azarian publishes research paper reviews in Mathematical Reviews of the American Mathematical Society
Mohammad K. Azarian, professor of mathematics, published reviews of two research papers in the Mathematical Reviews of the American Mathematical Society (MathSciNet), the most prestigious and the authoritative gateway to the scholarly literature of mathematics in the world.
The first paper, by Fan Ge, entitled "On the index conjecture in zero-sum theory: singular case," was published in the International Journal of Number Theory 14 (2018). In this paper the author's goal was to make a contribution to the index conjecture by proving that if is a singular sequence, then the index of S is 1.
The second paper, by Dmitriy Shtefan and Irina Dobrovolska, entitled "The sums of the consecutive Fibonacci numbers," appeared in the Fibonacci Quarterly 56 (2018). The authors investigate all integers d>1 such that the sum of any d consecutive Fibonacci numbers is divisible by d. Also, they show that all d-numbers are multiples of their own Pisano period.
Aces drop a heartbreaker in extras to IU
On a dreary, rain-soaked afternoon at Bloomington's Kaufman Field, the University of Evansville baseball team, having blown an early lead and trailing in their final at-bat, could have folded up the tent and headed home. Instead, the Aces battled back to force extra innings, before finally falling 6-5 Sunday afternoon in Bloomington.
"I'm proud of the fight our guys brought to the yard this afternoon", said University of Evansville head coach Wes Carroll. "They showed the competitiveness we lacked in the first for three games of the series. We got a great relief performance from Michael Parks. Craig Shepherd and Nate Reeder had clutch at-bats. We just couldn't get the big hit when we needed it today."
The Aces raced out to their first lead of the series in the opening frame, as junior shortstop Craig Shepherd drew a one-out walk, followed by senior designated hitter Nate Reeder's single to left, putting two aboard. Sophomore first baseman Tanner Craig would cash in with an opposite field double to right, scoring Shepherd from second, making it 1-0 UE. Next, freshman right fielder A.J. Fritz would drive in a second tally on a groundout to third, putting Evansville out in front 2-0.
In the second inning, senior third baseman Sam Troyer would add to the UE pad with a double to left, driving in fellow senior Matthew Jones from first base, extending the Evansville lead to 3-0.
Senior right-hander Justin Hayden, making his first start since March 2 against Eastern Kentucky, tossed a scoreless opening frame. However, in the second IU would tag him for four runs on four doubles, as the Hoosiers took the lead. Those would be Hayden's only blemishes, as he would come back to toss scoreless innings in the third and fourth innings, before giving way to freshman lefty Michael Parks, who would come in to toss three plus innings of shutout work, keeping it a one-run game.
However, the Aces couldn't cash in on several opportunities to tie the game, stranding the tying run in scoring position in the third, fourth, seven and eighth innings. Meanwhile, Indiana would add one more in the eighth inning on a one-out wild pitch from Parks, who would be relieved by senior Austin Allinger, who would get final out, sending the game to the ninth with UE down 5-3.
That's when the rally began. Craig Shepherd started it, battling the Hoosiers top-line closer Matt Lloyd, finally delivering a lead-off single to left. Next, Nate Reeder kept the rally going with a single to right, bringing in Shepherd from first, cutting the deficit to onw. Tanner Craig would follow that up with an opposite field single to right. Then, with two aboard, A.J. Fritz loaded up the bases with no outs, lacing a single to left. Troy Beilsmith drew a bases-loaded walk, bringing in Shepherd to draw Evansville knotting the game up at 5-5. However, just as the Aces were on the verge of taking the lead, Indiana defense would halt the rally, first Craig would get gunned down at home on a Danny Borgstrom fielder's choice. Then, Matthew Jones hit into an inning-ending double play.
In the bottom of the ninth, Austin Allinger kept the Hoosiers off the scoreboard, sending the game to extras.
Craig Shepherd would once again deliver in the top of the tenth with a two-out double to right. However, Sophomore designated hitter Evan Aders struck out to end the threat.
Allinger would come out again in the bottom of the inning, but after getting the first out of the frame, IU would load up the bases, and Drew Ashley would lift a flyball to the fence in left, bringing in the winning run.
The loss drops Evansville to 17-15 and the season, while Indiana improves to 24-12.
Up next for the Aces, a Tuesday night road trip to take on Murray State in a non-conference matchup in Murray, Kentucky.
Submitted by Joseph Downs jd305@evansville.edu
Contribute to AceNotes
To have content considered for inclusion in AceNotes, please submit a Marketing Request Form. Deadline for submission to AceNotes is 10:00 a.m. on the requested date of publication. Only articles concerning UE related/sponsored activities will be accepted. Articles submitted to AceNotes may be edited for length and clarity. Submitter contact information is at the end of each article.