| | |
| --- | --- |
| AceNotes Today | Friday, April 12, 2019 |
Pep and Vim Challenge
What an exciting morning on campus today!
The Pep and Vim challenge is off to a great start with 490 gifts and counting towards our first goal of 750 gifts to unlock the Alumni Board $10,000 challenge gift.
To celebrate the unveiling of our new branding, we will be sending everyone who gives a gift of $100 or more today a new UE logo decal! This is a special offer just for today, Friday, April 12, so don't wait to make your gift!

Stop by the Pep and Vim Headquarters outside of Ridgway University Center to drop off your gift in the Pep and Vim mailbox (we can also accept credit/debit card gifts too!) Don't forget to get your "UE Donor" sticker and wear it proudly!
While you are at the Pep and Vim HQ, spin the wheel to win a prize, drop some change in the Penny Wars jars, and swipe your ID for a chance to win an iPad!
We are all grateful to everyone who has already given and helped make this day so special!
Head over to our secure giving site and make a gift today.
Submitted by Jennifer J. Calderone jj130@evansville.edu
University of Evansville unveils unified logo and branding on Pep and Vim Day of Giving
The University of Evansville unveiled its refreshed institutional marks including logos, updated mascot, and branding platform during an on-campus press conference on Friday. The event was led by president Christopher M. Pietruszkiewicz who was joined by Shane Davidson, vice president for enrollment and marketing; Mark Spencer, athletic director; and Walter McCarty, head men's basketball coach.
"When I began my tenure as president of the University of Evansville just ten months ago, we set into motion several strategic initiatives, including this rebrand," said Pietruszkiewicz. "It was obvious from the beginning that members of the UE family share a deep pride in the history of this place, but we were not all speaking with the same voice. Now, we're equipped with the tools to strategically connect the institution and athletics into one single brand to attract the next generation of Aces."
After a nationwide search that began in August of 2018, the University partnered with Ologie, a marketing and branding firm based in Columbus, OH, for the project.
"So often, an identity project tries to chase the notion of trend, rather than authenticity," said Paul Davis, executive creative director at Ologie. "We were inspired by the university's rich history of previous logos, which led us to this approach that is rooted in legacy, and rallies today's UE community under one strong, simple logo that links together every generation of Aces."
The press conference was held as part of the kick off for the University's annual day of giving.
"As our fight song says, we 'cheer with pep and vim for white and purple'," said Pietruszkiewicz. "Today just happens to be our annual Pep and Vim day of giving-a day when Aces across the country and the world come together to give gifts of support that provide future Aces with the opportunity to have a transformative future. We could not think of a better day to unveil our new, unified look that will only strengthen the message we send to the world about this life-changing place."
Frequently Asked Questions:
Why was a rebrand necessary?
The University of Evansville and its athletics department each had logos and branding that did not resonate in the Evansville community and across the country. There was a lack of a strong and unified brand that did not portray the desired message. An updated, cohesive rebranding initiative was necessary in order to bring the institution and athletics together for one cohesive, modern look that will give the University of Evansville and the athletics department a unified message.
Ologie also created an extensive brand framework that will set the University of Evansville apart in the marketplace by highlighting its transformative education and the unique positioning of the Ashoka U Changemaker Campus designation and the changemaking culture that empowers students to improve the world around them.
Who designed the new look?
Ologie is a branding and marketing agency based in Columbus, OH. The mission of the company is to work "with clients who advance the greater good. We're a team of strategic thinkers, creative problem solvers, and bold storytellers. Together, we help organizations define their purpose, convey their story, and achieve their goals through a full range of media, including print, digital, environmental, social, and video."
What was the process and timeline for the redesign?
In August of 2018, the rebranding committee, co-chaired by vice president for enrollment and marketing Shane Davidson, and athletic director Mark Spencer, was formed. After a nationwide search, the rebranding committee chose to partner with Ologie and their work began in September 2018.
Before they could define UE's brand story and design logos that accurately depict the University's current momentum, Ologie first needed to develop a deep understanding of the University of Evansville. They took a well-rounded research approach that included:
• 6 campus visits
• Review of 131 communications pieces, research documents, and other student surveys
• More than 100 stakeholder interviews
• 2 student discussion groups
• A collaborative working session with staff
• 697 survey respondents 314 students29 board members354 faculty/staff
• 314 students
• 29 board members
• 354 faculty/staff
What is the timeline for use of the new logos?
Today's press conference signified a local launch of the branding and logos. Certain digital platforms including University and athletic websites and social media will adopt the new logos immediately. Signage and publications on the UE campus will utilize the updated logo over the coming months. Athletic uniforms and apparel will reflect the updates as teams enter the next purchase cycle. Fully rebranding the campus and athletic facilities is a time-consuming and expensive endeavor. This process will be completed giving priority to highly visible locations and only as funding is identified.
Where can the new logos be downloaded?
Visit our website to view new marks, updated mascot, and color guidelines. Email uerelations@evansville.edu for more information or questions.
Employee Benefit Open Enrollment
During the period of March 18 through April 12, benefit-eligible employees may enroll or make changes in the University's health, life, long term disability, and dental insurance, and ACES flexible spending account benefit plans. It is the only chance for benefit-eligible employees to enroll or make changes until the next open enrollment period unless you have a qualifying change in status.

Please review the documents in the Open Enrollment section of the MyUE portal at: https://bit.ly/2GcdKph, beginning with the open enrollment memo, for important announcements, reminders, and changes which will occur June 1 to the University's benefits.

We will once again utilize an on-line enrollment process, eliminating all paper enrollment forms for health, life, dental, and long term disability insurance, as well as the ACES flexible spending account. This will ensure the accuracy of your enrollment elections and maintain records electronically regarding your current and future participation. Enrollment/changes to your TIAA and Emeriti VEBA Trust retirement plan salary deferrals will continue to be processed on paper forms available in the Office of Human Resources. Therefore, you do not need to re-enroll in the TIAA or Emeriti retirement plans.
ALL benefit eligible employees (including those who do not want to make any changes to their current coverage) must enter their elections by April 12.
Please review the open enrollment memo and On-Line Benefit Enrollment Documents on the HR Area of the MyUE portal, which should answer many of the questions you might have about this system.

Please contact the Office of Human Resources at ext. 2943 with any questions.
Submitted by Lori LeDuc ll138@evansville.edu
PurplePalooza is back! Join SAB on April 12, 6-10 p.m.
SAB's annual PURPLEPALOOZA is set for Friday, April 12, from 6:30 to 10:00 p.m. on the East Terrace Lawn. This event immediately follows the International Food Festival.
PurplePalooza is free and open to the UE Community.
Attractions include:
Live music
American Ninja Warrior Course
Inflatables
Food trucks
Caricature artists
Giveaways
And much more!
All activities and food are free for students with a valid UE ID. Community members can purchase food truck tickets for a small fee.
Submitted by Megan King mk225@evansville.edu
Inaugural International Food Festival is today!
The University of Evansville's inaugural International Food Festival is Friday, April 12, from 5:00-7:30 p.m. at the Café Court in Ridgway University Center. This celebration of the home cuisine of UE's international students is open to the public. Tickets will be $10 for adults and $5 for children under 12. UE students are admitted free.
The festival food will be prepared by UE international students with the assistance of Chartwells, the University's food service. The menu will include such dishes as poutine, grape leaves, kabsa, biryani, feijoada, matar paneer, and baklava. Entertainment for the event will be provided by the local folk music group, Redwood Preservation Society.
For more information, please contact UE's Office of Cultural Engagement and International Services at 812-488-2279 or internationalstudent@evansville.edu.
Event contact: Megan Sicard
Coffee Hour Senior Reading
Our graduating creative writing majors will read from their poetry and prose, at the Coffee Hour Senior Reading event held on Friday, April 12, at 4:00 p.m. in the Melvin Peterson Gallery. The faculty will also announce the winners of the Virginia Grabill Writing Awards. Please join us for a delightful and often moving send-off to our graduating seniors.
Submitted by Michelle Lehman ml281@evansville.edu
Medical Spanish Practice
Medical Spanish practice is designed to help students practice communication skills in Spanish for medical settings. Students may arrive and leave at any time. The next session is Monday, April 15, from 5:30-7:00 p.m. in Room 64 in the Schroeder School of Business Building. Please contact associate professor of Spanish Diana Rodríguez Quevedo at dr130@evansville.edu for more details. ¡Nos vemos el lunes!
Submitted by Diana Rodriguez Quevedo dr130@evansville.edu
Save the Date: Health Literacy Panel!
Join us on Wednesday, April 24, from 7:30- 9:00 p.m. in Eykamp Hall, Room 253, Ridgway University Center for a Health Literacy Panel!
The Honors Activity Board is sponsoring this event to spark conversation about the lack of widespread health literacy in numerous different communities. The panel will consist of local experts who will share their experience and research regarding these issues. We will be joined by Mark Shifflet, UE professor of communication, Diana Rodriguez Quevedo, UE associate professor of Spanish, and Cindy Schaefer, UE assistant professor of nursing, as well as Dr. Tom Stratton, family medicine doctor for the Evansville community.
This is a fabulous opportunity for any students considering a career that involves patient care or any individual interested in tackling this topic! We hope to see you there!
Submitted by Blake Elliott be80@evansville.edu
Meditation Service in Neu Chapel: Sunday at 9:00 p.m.
The campus community is invited to Neu Chapel's meditation service this Sunday at 9:00 p.m. This service will focus on the sufferings of Jesus Christ as we enter into Holy Week, culminating on Easter Sunday. All are welcome to join this time of reflection and meditation.
Submitted by Keith Turner kt160@evansville.edu
Promotion and Tenure Committee open forum with candidates
The Promotion and Tenure Committee will hold an open forum on Tuesday, April 16, at 4:00 p.m. in Room 209 of the Library. Committee members will answer questions about the promotion/tenure process and offer suggestions to those applying in the 2019-20 academic year. Candidates, their chairs, and all interested faculty are invited to attend.
Submitted by James Berry jb74@evansville.edu
Department of Art 2019 Senior Exhibition and reception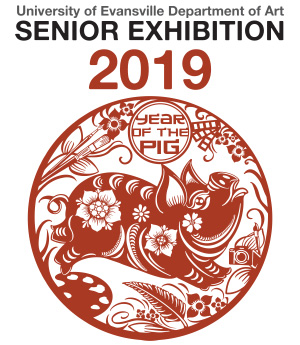 Please help us celebrate the many accomplishments of our Department of Art 2019 seniors! The 2019 Senior Exhibition will be on display in the Melvin Peterson Gallery from April 15 through May 10. The closing reception is May 10 from 6:00-7:30 p.m.
(The image displayed with this article was designed by Ling Lin.)
Submitted by Brooksie Smith bs267@evansville.edu
This Week in Music: Rite of Spring
Rite of Spring
Saturday, April 13
5:45 p.m., Eykamp Hall, Ridgway University Center
Friends of UE Music invite you to join us for this year's Rite of Spring. The event will be held on Saturday, April 13, in Eykamp Hall in the Ridgway University Center on UE's campus. This year's event celebrates the contributions of Kim and Mary Fillingim.
The event includes cocktails, dinner, musical performances, and dancing accompanied by UE's Jazz Ensemble!
For more information and reservations visit: www.evansville.edu/riteofspring or cut and paste evansville.edu/riteofspring into your browser window.
Submitted by James Sullivan js820@evansville.edu
BiSci Plant Sale
Mark your calendars! BiSci Plant Sale will kick off on April 15 and end on April 22 - Earth Day Birthday! Plants for sale will include butterfly milkweed and other flowers, succulents, tomatoes, and herbs, including basil and cilantro, and many more. Prices will range from $1 for cups of seedlings to $15-25 for larger plants and "design-your-own" succulent bowls.
Submitted by Kelly Nixon kn94@evansville.edu
Phi Sigma Iota initiation ceremony
The annual Phi Sigma Iota initiation ceremony will be held Sunday, April 14, at 2:00 p.m. in Eykamp Hall, Rooms 253 and 254, Ridgway University Center.
Phi Sigma Iota, the international foreign language honor society, was founded in 1922 at Allegheny College and recognizes outstanding ability in the fields of foreign languages, literature, and cultures. The University of Evansville has inducted 178 members since it established the Epsilon Beta Chapter in 2000.
This year's initiates include Chelsea Gaddis, Lindsay Langstaff, Erin Leinenbach, and Diana Rodriguez Quevedo. Conducting the initiation ceremony will be PSI officers Lauren Perry, Tatiana Czajkowski, and Caitlin Kaleri, and faculty advisor Cindy Crowe. Dr. Ray Lutgring, Dean of the Ridgway College of Arts and Sciences, will be the featured speaker.
This event is open to the public and free of charge.
Submitted by Cindy Crowe cc109@evansville.edu
Music department hosts EVSC professional development workshops
The Department of Music was honored to be asked by EVSC Fine Arts leaders to host two professional development workshops for their teachers. On March 6 and again on April 10, middle school and high school music teachers from EVSC worked with UE choral students and received coaching on conducting and rehearsal technique from director of choral activities and professor of music Dennis Malfatti. UE choral students served as the laboratory choir for each of the EVSC teachers. Each teacher conducted the laboratory choir followed by coaching from Malfatti with input and constructive comments from our students. These two events were excellent outreach opportunities for the university and gave EVSC teachers a window into instruction at UE.
Ebeling lectures at UCLA
Associate professor of archaeology Jennie Ebeling presented "Feeding the Gods in Ancient Israel" at UCLA on April 11, as part of the Archaeology of Ancient Israel lecture series in the Department of Near Eastern Languages and Cultures. Her talk focused on the archaeological evidence for family rituals in ancient Israelite houses and the biblical references to baking bread for Yahweh and the Queen of Heaven.
Timely adoption returns save students money
This is a reminder that summer and fall textbook adoptions from faculty or departments are now past due. Buyback is quickly approaching and your timely return of textbook adoptions affect students and the money they get for their books. Your adoption return also creates more used book inventory for the UE Bookstore for students to purchase. If you haven't returned your textbook adoption forms, please do so as soon as you can. Contact the UE Bookstore if you have any questions.
Submitted by Doug Gustwiller dg57@evansville.edu
PT Club Meeting
The PT Club is having a meeting at 5:00 p.m. at the Stone Center. If you need a ride, please contact a board member. We will be having a speaker and talking about the rest of the semesters events.
Submitted by Stephanie Snodgrass ss597@evansville.edu
UE Physical Therapy welcomes Taiwanese students
Welcome to Meng-Ying Li and Chi-Jong Ho from National Yang Ming University, Taiwan, as they visit UE for clinical experiences. During their stay, they will join the first year DPT students in PT 521 Ortho and PT 517 Test and Measurements. They will volunteer at ACE+ PT clinic and ACErcise and complete observations at Progressive Health and other clinical sites. A presentation is scheduled on April 22 at noon in Smythe Auditorium. They will share their clinical experience in Taiwan and how it is different from experiences in the US.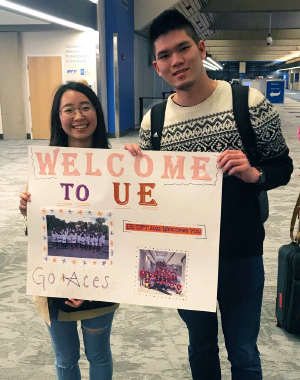 Submitted by Jennifer Simon js698@evansville.edu
Summer 10-Day Harlaxton course on health systems for all majors
All majors are welcome to apply for a 10-day course, June 7-16, focused on a comparison of health care systems in Great Britain and the United States. Students enrolled in HSA 499 will visit historical and modern health care sites. More information is at hsanews.evansville.edu The tentative schedule includes visits to Nottingham, Lincoln, Eyam, Chesterfield and Grantham. Group discussions with British citizens concerning the consumer's view of the British health care system are also scheduled. The course concludes with two nights in London. Please contact Professor Bill Stroube at bs52@evansville.edu for more information. Online application is due April 15 and deposit due on April 30.
Submitted by Cindy Felts cf128@evansville.edu
Hochwender teaches in I-DNR's Community Urban Forestry Program
Professor of biology Cris Hochwender recently taught tree identification to a group of community members at Wesselman Woods Nature Preserve as part of their training to become tree stewards. The Indiana Community Tree Steward Program was offered for the first time in Evansville this year. Participants learn tree identification, the basics of urban tree care, and how to communicate the benefits of urban trees. Attendees are asked to then use their skills by volunteering 15 hours of service to local communities to improve or maintain the urban forest.

Indiana Division of Forestry's Community Urban Forestry Program provides guidance to communities for development and caretaking of urban forests. An urban tree canopy is part of a community's infrastructure and creates valuable environmental, economic, and social benefits. Well-managed urban forests pay back nearly three times the cost to plant and maintain them. More than 80 percent of the urban forest is in our own back yard. As society becomes more urbanized and sprawls into rural areas, forests, wooded edges, and woodlots in urban areas are an increasingly important resource.
Submitted by Brenda Goodin bg42@evansville.edu
Happy Hours at the UE Bookstore
Weather permitting the UE Bookstore will have un-advertised Happy Hours on unannounced days. The events will be outside the UE Bookstore on the west side of Ridgway University Center. There will be special markdowns on different items when the events occur. The event will usually occur for a couple of hours around noon. Keep your eyes out for some great deals.
Submitted by Doug Gustwiller dg57@evansville.edu
Penny Wars
Money will be accepted Monday - Thursday at the Philanthropy Table in Ridgway University Center from 11:00 a.m.-1:00 p.m. and all day Friday at Pep & Vim Headquarters outside of Ridgway University Center.
Submitted by Megan McCombs mm825@evansville.edu
Earth Day Birthday Recycling Competition
The Earth Day Birthday committee is hosting a recycling competition among all student organizations. The competing organizations are to collect clean, glass jars, and old T-shirts to use at Earth Day Birthday on April 22, from 5:00-7:00 p.m. The competition will last from April 1-17. There will be a table in Ridgway University Center from April 15-17 between 11:00 a.m.-1:00 p.m. for recycled items to be deposited. The winning organization receives free food as a reward!
Submitted by Paige Johnson pj31@evansville.edu
File the 2019-20 FAFSA by April 15th
File the 2019-20 FAFSA by April 15 at www.fafsa.ed.gov.
Continuing students should file the 2019-20 Free Application for Federal Student Aid (FAFSA) to apply for federal, state and University need-based financial aid, including all federal student loans. UE's FAFSA code is 001795.
Filing by April 15 is essential for Indiana residents to receive state aid, and highly recommended for all.
Questions regarding the FAFSA should be directed to the Student Financial Services (Olmsted Administration Hall, Room 106) at 812-488-2364.
Submitted by Trisha Hawkes th187@evansville.edu
2019-20 Dr. Marvin E. Hartig Memorial Scholarship
Family, friends and loved ones of the late Dr. Marvin E. Hartig are pleased to announce the application process for the Dr. Marvin E. Hartig Memorial Scholarship. This scholarship is dedicated to the loving memory of Dr. Hartig, Dean of Evansville College's Evening College in 1967, and administrator for the Center for Advanced Study, director of the Evansville chapter of the American Institute of Banking (AIB), and the international student advisor. In 1974, Dr. Hartig was appointed Dean of Academic Services. He retired in 1984 after serving his alma mater for thirty-five years and passed away in 2007.
This scholarship will be awarded annually to a deserving sophomore student. Preference will be given to a student working while being enrolled as a full-time student. International students are encouraged to apply.
The application can be found here.
Deadline: Please return all materials to the Office of Student Financial Services by April 26.
The decision will be announced by July 1.
Questions: Trisha Hawkes, administrative assistant to the Office of Student Financial Services, at th187@evansville.edu or 812-488-2364
Submitted by Trisha Hawkes th187@evansville.edu
2019-20 Margery Florence Kahn Scholarship
2019-20 Margery Florence Kahn Scholarship applications are now available.
It was the desire of the donor, Margery Florence Kahn, that her scholarship be awarded to "dedicated and conscientious students who exhibit a true passion for their chosen fields of study, and who, in the opinion of the members of the University of Evansville faculty, are likely to bring the same enthusiasm into the performance of their jobs or the practice of the professions which they will pursue following graduation."
All University of Evansville full-time undergraduate students who will be juniors or seniors in 2019-20 may apply. An essay of about 300 words must accompany the application, along with two to five faculty recommendation letters.
Applications and recommendation letters are available from the Student Financial Services in Room 106 in Olmsted Hall and should be returned by APRIL 15.
You may also request application materials by emailing th187@evansville.edu.
Questions may be sent via email or call 812-488-2364.
Submitted by Trisha Hawkes th187@evansville.edu
Softball hosts Bradley for 3-game series
Coming off of a doubleheader split against Indiana State on Wednesday, the University of Evansville softball team welcomes Bradley to Cooper Stadium for a 3-game set this weekend. The squads face off in a noon doubleheader on Saturday before wrapping things up on Sunday at 11:00 a.m.; The Valley on ESPN will have live coverage of both games.
Last Week
- After dropping a 5-1 game to open Wednesday's doubleheader against the Sycamores, UE rallied to take a 6-3 victory to split the day.
- Haley Woolf hit a solo home run in each game and scored a total of three runs on the day while Eryn Gould went 3-5 and walked twice over the course of the two games.
- Emily Lockhart started game one and gave up five runs, four earned, in the complete game while Izzy Vetter allowed three runs on six hits to earn the win in game two.
- Last weekend, the Purple Aces wrapped up their road trip with a 3-game series at Southern Illinois.
- The Salukis took the opener by a 6-3 score before finishing the series sweep with 2-1 and 2-0 wins in Saturday's doubleheader.
- Allison Daggett recorded three hits in nine at-bats to lead UE with a .333 average; Halie Fain was just behind with a .300 average, posting three hits.
- Emily Lockhart made three appearances and one start, giving up two earned runs in eight innings of work.
Looking for #200
- UE head coach Mat Mundell sits at 199 victories in his career with the next marking #200.
- In six seasons at Illinois-Springfield, Mundell accumulated 117 wins and sits at 82 with the Aces.
Showing Her Power
- Freshman Haley Woolf has three home runs on the year with each one coming at Cooper Stadium
- Woolf hit a home run in each game of Wednesday's doubleheader and improved her home batting average to .286
- She has eight hits in 28 home at-bats with three home runs, 10 RBI, four doubles and four walks
- Away from Evansville, Woolf is batting .176 with nine hits in 51 at-bats; she has one road RBI and three doubles
Following Up
- Eryn Gould is riding a 4-game hit streak as the Aces enter the Bradley series and has gone 5-of-11 over that span.
- Gould checks in with a .265 average while starting all 36 games at catcher, second base and in the outfield.
- She leads the team with seven home runs, is tied for the team lead with seven doubles and 18 RBI.
- In the March 9 win over Siena, Gould was 2-3 with a home run, two runs scored and four RBI; her RBI tally was a career-high.
- Gould was named the 2018 MVC Freshman of the Year while garnering All-MVC First Team accolades last year.
Scouting the Opponent
- Bradley enters the weekend matchup with a 20-15 overall mark and are 7-5 in the Valley.
- Four Braves are hitting .348 or above, led by Kealia Wysocki, who checks in batting .348 with nine home runs and 28 RBI; just behind her is Allison Apke, who has a team-high 10 homers to go along with 25 runs batted in.
- As a team, the Braves are batting .295 and have hit 51 home runs on the season.
Contribute to AceNotes
To have content considered for inclusion in AceNotes, please submit a Marketing Request Form. Deadline for submission to AceNotes is 10:00 a.m. on the requested date of publication. Only articles concerning UE related/sponsored activities will be accepted. Articles submitted to AceNotes may be edited for length and clarity. Submitter contact information is at the end of each article.