| | |
| --- | --- |
| AceNotes Today | Thursday, April 11, 2019 |
Branding Announcement Press Conference Friday at 9:00 a.m.
The campus community is invited to a press conference on Friday, April 12 at 9:00 a.m. for the unveiling of our refreshed institutional marks including logos, updated mascot, and branding platform. The event will be held in the Class of 1959 Gallery and Lounge on the second floor of Ridgway University Center.
The first 100 people to arrive will receive a T-shirt with the new logo and other swag items (while supplies last) to celebrate the first Purple Friday with our new look!
Prez P will be joined by Shane Davidson, vice president for enrollment and marketing; Mark Spencer, athletic director; and Walter McCarty, head men's basketball coach.
The press conference will be held as part of the kick-off for our annual Pep and Vim Day of Giving. Visit www.evansville.edu/give to make a gift of support during Pep and Vim Day.
Stop and say thanks
Students – stop by the Philanthropy Week table and sign a thank you card for a donor. The goal is to receive 1000 signed cards in only 1 week! Visit the table in Ridgway University Center between 11:00 a.m. - 1:00 p.m.
Submitted by JC Campbell jc603@evansville.edu
Do you know all 190 named spaces on campus?
It takes an entire community of people who believe in the mission and work of the University to continue to support the University with their monetary gifts.
Day 4 of philanthropy week we celebrate the donors who make the University the special place it is by donating their financial gifts. Without our donors, student scholarships would not be possible nor would the 166 spaces on campus named in honor, memory, and recognition of the faculty, staff, alumni, parents, and friends of the University who ensure that the University of Evansville campus is a vibrant, leading edge liberal arts institution. Today as you walk around campus, take a moment to see who made that space possible! Without those names on plaques throughout our campus many of the buildings where classes and offices are housed would not exist.
Submitted by JC Campbell jc603@evansville.edu
Employee Benefit Open Enrollment
During the period of March 18 through April 12, benefit-eligible employees may enroll or make changes in the University's health, life, long term disability, and dental insurance, and ACES flexible spending account benefit plans. It is the only chance for benefit-eligible employees to enroll or make changes until the next open enrollment period unless you have a qualifying change in status.

Please review the documents in the Open Enrollment section of the MyUE portal at: https://bit.ly/2GcdKph, beginning with the open enrollment memo, for important announcements, reminders, and changes which will occur June 1 to the University's benefits.

We will once again utilize an on-line enrollment process, eliminating all paper enrollment forms for health, life, dental, and long term disability insurance, as well as the ACES flexible spending account. This will ensure the accuracy of your enrollment elections and maintain records electronically regarding your current and future participation. Enrollment/changes to your TIAA and Emeriti VEBA Trust retirement plan salary deferrals will continue to be processed on paper forms available in the Office of Human Resources. Therefore, you do not need to re-enroll in the TIAA or Emeriti retirement plans.
ALL benefit eligible employees (including those who do not want to make any changes to their current coverage) must enter their elections by April 12.
Please review the open enrollment memo and On-Line Benefit Enrollment Documents on the HR Area of the MyUE portal, which should answer many of the questions you might have about this system.

Please contact the Office of Human Resources at ext. 2943 with any questions.
Submitted by Lori LeDuc ll138@evansville.edu
Cru at UE callout meeting
A Cru Campus Ministry launch meeting is set for Thursday, April 11, from 6:00-7:00 p.m. Room 125 in the Koch Center for Engineering and Science.
Are you looking for authentic Christianity, seeking to grow in your relationship with God, wanting to connect with other Christians? If so, Cru is for you! Come to find out more about Cru UE!
Submitted by Bailey Kane bk155@evansville.edu
Neu Chapel Forum discusses necessity of community
The Neu Chapel Forum is continuing its series, "Braving the Wilderness," this Thursday at 8:00 p.m. with a discussion about the necessity of community and the importance of trusting relationships in navigating adversity and struggle. All are welcome to join the conversation! The Neu Chapel Forum meets in Grabill Lounge (lower level of Neu Chapel).
Submitted by Keith Turner kt160@evansville.edu
Scholars for Syria Final Lecture: Reconstruction Starts Here: Building a Future for Syrian Youth
Syrian-American architect, writer, and founder and CEO of the Karam Foundation Lina Serge Attar will be the speaker for the final presentation of the Scholars for Syria Lecture series in Evansville. The lecture is set for April 11, at 6:00 p.m. in Room 162 in the Schroeder School of Business Building. Also during the event, we will be additionally proud and excited to celebrate the graduation of Syrian seniors Walid Hasanato and Aya Aljandali as they tell of their journeys from Syria to Indiana. This is a celebration of all that Syrians have contributed to the UE and Evansville community, so we hope to see you there!
The event is free and open to the public, but donations to the Karam Foundation will be accepted at the event to help support the exemplary and inspiring work the foundation is doing on behalf of Syrian youth. UE has welcomed and supported Syrian students since 2012. Let's continue this support to include more future leaders of a free Syria.
How do we imagine a vibrant future for Syrians after the mass devastation and trauma they have endured? How can we rebuild agency and confidence for marginalized refugee communities? What if there was a space created for the most vulnerable of refugees - the youth - where cutting-edge technology, social camaraderie, and expert mentors were available?
Attar is a Syrian-American architect, writer and founder and CEO of the Karam Foundation. During her lecture, Attar will map out an alternative vision for Syrian refugee youth, one that is a world away from war and despair. At her team's Karam Houses in Turkey, hundreds of Syrian teens are building their ideas while gaining world-class critical and creative thinking skills.
"They are on pathways of future success and leadership for their communities and beyond," said Attar. "Within their inspiring stories of resilience and determination, another Syrian narrative emerges about the limitless potential and possibilities for a better future we can create together."
In 2007, Attar developed the vision of Karam (which means generosity in Arabic). Since 2011, she has directed Karam in its focus on the Syrian humanitarian crisis: developing an innovative education program for Syrian refugee youth, distributing aid to Syrian refugee families, and funding projects initiated by Syrians for Syrians. Her articles and essays have appeared in the New York Times and the Chicago Tribune, and she has appeared on CNN, NBC News, the BBC News, NPR and other media outlets. Attar is a graduate of the University of Aleppo, Rhode Island School of Design, and Massachusetts Institute of Technology.
More information on the Karam Foundation can be found at www.karamfoundation.org.
Submitted by Megan King mk225@evansville.edu
Promotion and Tenure Committee open forum with candidates
The Promotion and Tenure Committee will hold an open forum on Tuesday, April 16, at 4:00 p.m. in Room 209 of the Library. Committee members will answer questions about the promotion/tenure process and offer suggestions to those applying in the 2019-20 academic year. Candidates, their chairs, and all interested faculty are invited to attend.
Submitted by James Berry jb74@evansville.edu
Department of Art 2019 Senior Exhibition and reception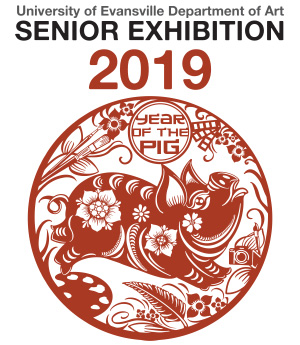 Please help us celebrate the many accomplishments of our Department of Art 2019 seniors! The 2019 Senior Exhibition will be on display in the Melvin Peterson Gallery from April 15 through May 10. The closing reception is May 10 from 6:00-7:30 p.m.
(The image displayed with this article was designed by Ling Lin.)
Submitted by Brooksie Smith bs267@evansville.edu
PurplePalooza is back! Join SAB on April 12, 6-10 p.m.
SAB's annual PURPLEPALOOZA is set for Friday, April 12, from 6:30 to 10:00 p.m. on the East Terrace Lawn. This event immediately follows the International Food Festival.
PurplePalooza is free and open to the UE Community.
Attractions include:
Live music
American Ninja Warrior Course
Inflatables
Food trucks
Caricature artists
Giveaways
And much more!
All activities and food are free for students with a valid UE ID. Community members can purchase food truck tickets for a small fee.
Submitted by Megan King mk225@evansville.edu
UE Physical Therapy welcomes Taiwanese students
Welcome to Meng-Ying Li and Chi-Jong Ho from National Yang Ming University, Taiwan, as they visit UE for clinical experiences. During their stay, they will join the first year DPT students in PT 521 Ortho and PT 517 Test and Measurements. They will volunteer at ACE+ PT clinic and ACErcise and complete observations at Progressive Health and other clinical sites. A presentation is scheduled on April 22 at noon in Smythe Auditorium. They will share their clinical experience in Taiwan and how it is different from experiences in the US.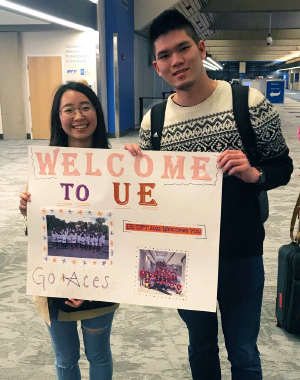 Submitted by Jennifer Simon js698@evansville.edu
Summer 10-Day Harlaxton course on health systems for all majors
All majors are welcome to apply for a 10-day course, June 7-16, focused on a comparison of health care systems in Great Britain and the United States. Students enrolled in HSA 499 will visit historical and modern health care sites. More information is at hsanews.evansville.edu The tentative schedule includes visits to Nottingham, Lincoln, Eyam, Chesterfield and Grantham. Group discussions with British citizens concerning the consumer's view of the British health care system are also scheduled. The course concludes with two nights in London. Please contact Professor Bill Stroube at bs52@evansville.edu for more information. Online application is due April 15 and deposit due on April 30.
Submitted by Cindy Felts cf128@evansville.edu
Hochwender teaches in I-DNR's Community Urban Forestry Program
Professor of biology Cris Hochwender recently taught tree identification to a group of community members at Wesselman Woods Nature Preserve as part of their training to become tree stewards. The Indiana Community Tree Steward Program was offered for the first time in Evansville this year. Participants learn tree identification, the basics of urban tree care, and how to communicate the benefits of urban trees. Attendees are asked to then use their skills by volunteering 15 hours of service to local communities to improve or maintain the urban forest.

Indiana Division of Forestry's Community Urban Forestry Program provides guidance to communities for development and caretaking of urban forests. An urban tree canopy is part of a community's infrastructure and creates valuable environmental, economic, and social benefits. Well-managed urban forests pay back nearly three times the cost to plant and maintain them. More than 80 percent of the urban forest is in our own back yard. As society becomes more urbanized and sprawls into rural areas, forests, wooded edges, and woodlots in urban areas are an increasingly important resource.
Submitted by Brenda Goodin bg42@evansville.edu
Happy Hours at the UE Bookstore
Weather permitting the UE Bookstore will have un-advertised Happy Hours on unannounced days. The events will be outside the UE Bookstore on the west side of Ridgway University Center. There will be special markdowns on different items when the events occur. The event will usually occur for a couple of hours around noon. Keep your eyes out for some great deals.
Submitted by Doug Gustwiller dg57@evansville.edu
Penny Wars
Money will be accepted Monday - Thursday at the Philanthropy Table in Ridgway University Center from 11:00 a.m.-1:00 p.m. and all day Friday at Pep & Vim Headquarters outside of Ridgway University Center.
Submitted by Megan McCombs mm825@evansville.edu
Earth Day Birthday volunteers needed
ECO invites you and your student-organization to volunteer at Earth Day Birthday 2019 happening on Monday April 22 from 5:00 -7:00 p.m. on the East Terrace Lawn. At this event, there will be environmentally themed activity booths in which we need your help overseeing. Some examples of activities include decorating recycling bins, up-cycling T-shirts into reusable bags, and recycling toss (AKA corn hole). Every volunteer will receive a FREE T-shirt in return for their help at the event.
If you or your organization are interested in volunteering, please sign up on the Earth Day Birthday 2019 SignUpGenius accessed through the following link: https://www.signupgenius.com/go/5080f49a9ac2ba1fb6-earth. Please sign up on behalf of your organization and split the volunteer time among your members.
For more information, please contact Olivia Blasdel at ob28@evansville.edu.
Submitted by Olivia Blasdel ob28@evansville.edu
File the 2019-20 FAFSA by April 15th
File the 2019-20 FAFSA by April 15 at www.fafsa.ed.gov.
Continuing students should file the 2019-20 Free Application for Federal Student Aid (FAFSA) to apply for federal, state and University need-based financial aid, including all federal student loans. UE's FAFSA code is 001795.
Filing by April 15 is essential for Indiana residents to receive state aid, and highly recommended for all.
Questions regarding the FAFSA should be directed to the Student Financial Services (Olmsted Administration Hall, Room 106) at 812-488-2364.
Submitted by Trisha Hawkes th187@evansville.edu
2019-20 Margery Florence Kahn Scholarship
2019-20 Margery Florence Kahn Scholarship applications are now available.
It was the desire of the donor, Margery Florence Kahn, that her scholarship be awarded to "dedicated and conscientious students who exhibit a true passion for their chosen fields of study, and who, in the opinion of the members of the University of Evansville faculty, are likely to bring the same enthusiasm into the performance of their jobs or the practice of the professions which they will pursue following graduation."
All University of Evansville full-time undergraduate students who will be juniors or seniors in 2019-20 may apply. An essay of about 300 words must accompany the application, along with two to five faculty recommendation letters.
Applications and recommendation letters are available from the Student Financial Services in Room 106 in Olmsted Hall and should be returned by APRIL 15.
You may also request application materials by emailing th187@evansville.edu.
Questions may be sent via email or call 812-488-2364.
Submitted by Trisha Hawkes th187@evansville.edu
Aces earn doubleheader split against Indiana State
Haley Woolf hit a pair of home runs to lead the University of Evansville softball team to a doubleheader split against Indiana State on Wednesday evening inside Cooper Stadium.
Woolf hit a homer in each game, accounting for UE's (13-23, 3-10 MVC) run in the opener and a big insurance run in the second. Eryn Gould had an excellent doubleheader, posting three hits in five trips to the plate. She also walked twice on the day.
Indiana State (14-24, 2-11 MVC) got on the board first to start the afternoon in game one, plating two in the top of the first while sending eight batters to the plate. Evansville had a pair of baserunners in the first and second innings, but could not get on the board. That changed in the bottom of the third when Haley Woolf hit a 2-out solo home run to left-center.
In the top of the fifth, ISU got the run back on an RBI single by Brooke Mann, but UE threatened again in the bottom of the frame. Toni Galas reached on a walk before Eryn Gould singled to left. The duo advanced to second and third on a sacrifice bunt by Halie Fain, but two quick outs got the Sycamores out of the jam unscathed. ISU took advantage of the missed chance by UE when they added singles runs in both the sixth and seventh. That is where the scoring would be completed as ISU took the 5-1 win. Evansville posted five hits with Galas notching two of them.
Riding the momentum from their game one win, the Sycamores wasted little time getting on the board in the second contest when Leslie Sims led the game off with an inside-the-park home run. Eryn Gould got the run right back for the Aces in the bottom of the first as she hit her team-leading seventh home run to tie it up.
That was just the start for the Aces, who sent eight runners to the plate in the inning while plating four runs. McKenzie Johnson added a sacrifice fly while Katie McLean and Allison Daggett each recorded an RBI single. The pitchers took control at that point and the game remained 4-1 in favor of UE until the bottom of the fifth when Haley Woolf picked up her second home run of the doubleheader, a solo shot, extending the advantage.
The Sycamores got a little closer in the top of the sixth, scoring a pair to make it a 5-3 contest. UE did not allow the momentum to last for long. In the bottom of the inning, McLean led off with her second hit of the game. Pinch runner Mackenzie McFeron would score on a Jessica Fehr double to left-center. That would complete the scoring with the Aces finishing with the 6-3 triumph. Gould and McLean each registered two hits apiece.
Starter Izzy Vetter went the distance, giving up three runs on six hits on the way to her seventh win of the year.
A 3-game set against Bradley is up next this weekend. The Aces host the Braves for a noon doubleheader on Saturday with Sunday's finale slated for an 11:00 a.m. start.
Contribute to AceNotes
To have content considered for inclusion in AceNotes, please submit a Marketing Request Form. Deadline for submission to AceNotes is 10:00 a.m. on the requested date of publication. Only articles concerning UE related/sponsored activities will be accepted. Articles submitted to AceNotes may be edited for length and clarity. Submitter contact information is at the end of each article.