| | |
| --- | --- |
| AceNotes Today | Wednesday, April 10, 2019 |
Branding Announcement Press Conference Friday at 9:00 a.m.
The campus community is invited to a press conference on Friday, April 12 at 9:00 a.m. for the unveiling of our refreshed institutional marks including logos, updated mascot, and branding platform. The event will be held in the Class of 1959 Gallery and Lounge on the second floor of Ridgway University Center.
The first 100 people to arrive will receive a T-shirt with the new logo and other swag items (while supplies last) to celebrate the first Purple Friday with our new look!
Prez P will be joined by Shane Davidson, vice president for enrollment and marketing; Mark Spencer, athletic director; and Walter McCarty, head men's basketball coach.
The press conference will be held as part of the kick-off for our annual Pep and Vim Day of Giving. Visit www.evansville.edu/give to make a gift of support during Pep and Vim Day.
Stop and say thanks
Students – stop by the Philanthropy Week table and sign a thank you card for a donor. The goal is to receive 1000 signed cards in only 1 week! Visit the table in Ridgway University Center between 11:00 a.m. - 1:00 p.m.
Submitted by JC Campbell jc603@evansville.edu
Removal of vehicles for Bike Race
All vehicles must be removed from Lot H by 5:00 p.m. on April 10. Vehicles remaining in the lot after this time may be towed. The removal of vehicles is necessary so that the lot can be prepared for the bike race, which will be on Saturday, April 13. Vehicles must be moved so the lot can be prepared and time trials can be held.
The lot will be reopened for parking by Sunday morning at the latest. Vehicles must be moved to legal parking places for the permit category held by the driver. The use of Lot O, by the Armory, and Lot Q, by the general services building, is recommended.
Submitted by Doug Cook dc2@evansville.edu
Employee Benefit Open Enrollment
During the period of March 18 through April 12, benefit-eligible employees may enroll or make changes in the University's health, life, long term disability, and dental insurance, and ACES flexible spending account benefit plans. It is the only chance for benefit-eligible employees to enroll or make changes until the next open enrollment period unless you have a qualifying change in status.

Please review the documents in the Open Enrollment section of the MyUE portal at: https://bit.ly/2GcdKph, beginning with the open enrollment memo, for important announcements, reminders, and changes which will occur June 1 to the University's benefits.

We will once again utilize an on-line enrollment process, eliminating all paper enrollment forms for health, life, dental, and long term disability insurance, as well as the ACES flexible spending account. This will ensure the accuracy of your enrollment elections and maintain records electronically regarding your current and future participation. Enrollment/changes to your TIAA and Emeriti VEBA Trust retirement plan salary deferrals will continue to be processed on paper forms available in the Office of Human Resources. Therefore, you do not need to re-enroll in the TIAA or Emeriti retirement plans.
ALL benefit eligible employees (including those who do not want to make any changes to their current coverage) must enter their elections by April 12.
Please review the open enrollment memo and On-Line Benefit Enrollment Documents on the HR Area of the MyUE portal, which should answer many of the questions you might have about this system.

Please contact the Office of Human Resources at ext. 2943 with any questions.
Submitted by Lori LeDuc ll138@evansville.edu
I-House: Saudi Arabia
At this week's I-House, we will be traveling to the Middle East! Abdulmajeed Nasib will be presenting I-House: Saudi Arabia. He is a senior from Saudi Arabia, and he is majoring in political science. He loves the international community here at UE especially the group of friends he has made over the years. His hobbies include traveling, playing soccer, and Fortnite. He will be sharing more about himself and his culture at this week's I-House happening on Wednesday (April 10) on the second floor of Ridgway University Center at 7:00 p.m.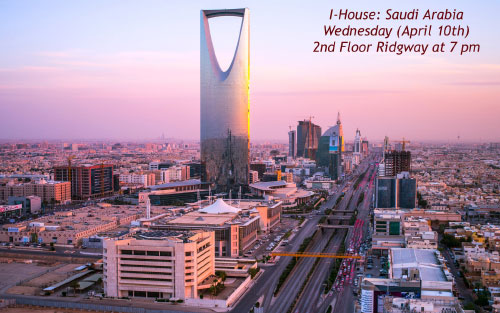 Submitted by Hussam Taj ht70@evansville.edu
Reception for Lindsay Roberts
Please join us in the Phillips Study Alcove on the second floor of Ridgway University Center from 2:00-04:00 p.m. on Wednesday, April 10, to say farewell and wish the best to Lindsay Roberts, director for the advancement of learning. Refreshments will be served and all are welcome.
Submitted by Kim Flowers kf186@evansville.edu
Nursing department presents program on "Sex on Campus"
UE nursing students will be presenting the "Sex on Campus" program on sexual health - Wednesday, April 10 - from 5:00-6:00 p.m. in Eykamp Hall, Room 252, Ridgway University Center. This program, which is sponsored by the office of health education and wellness, will highlight an important issue on college campuses. The program focuses on education about STIs and HIV and the very real risk that this presents for students.
Submitted by Jennifer Hargus jh693@evansville.edu
Neu Chapel Forum discusses necessity of community
The Neu Chapel Forum is continuing its series, "Braving the Wilderness," this Thursday at 8:00 p.m. with a discussion about the necessity of community and the importance of trusting relationships in navigating adversity and struggle. All are welcome to join the conversation! The Neu Chapel Forum meets in Grabill Lounge (lower level of Neu Chapel).
Submitted by Keith Turner kt160@evansville.edu
Department of Art 2019 Senior Exhibition and reception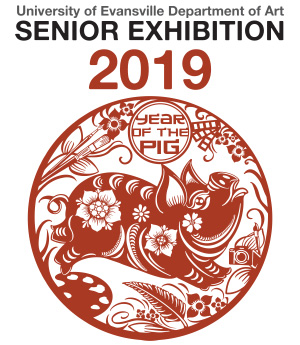 Please help us celebrate the many accomplishments of our Department of Art 2019 seniors! The 2019 Senior Exhibition will be on display in the Melvin Peterson Gallery from April 15 through May 10. The closing reception is May 10 from 6:00-7:30 p.m.
(The image displayed with this article was designed by Ling Lin.)
Submitted by Brooksie Smith bs267@evansville.edu
This Week in Music: String and Woodwind Ensembles and Rite of Spring
UE String Ensemble
Thursday, April 11
6:00 p.m., Wheeler Concert Hall
On Thursday, April 11, at 6:00 pm in Wheeler Concert Hall, the University String Ensemble, under the direction of Chun-Ming Chen, will present their spring concert. The program will feature Leo Weiner's Divertimento No. 2 and Kirt Mosier's Blue Rhythmico.
The concert is free and open to the public. For complete program information, visit the music department concert calendar: https://www.evansville.edu/majors/music/eventDetails.cfm?eventId=14797
Rite of Spring
Saturday, April 13
5:45 p.m., Eykamp Hall, Ridgway University Center
Friends of UE Music invite you to join us for this year's Rite of Spring. The event will be held on Saturday, April 13 in Eykamp Hall in the Ridgway University Center on UE's campus. This year's event celebrates the contributions of Kim and Mary Fillingim.
The event includes cocktails, dinner, musical performances, and dancing accompanied by UE's Jazz Ensemble!
For more information and reservations visit: www.evansville.edu/riteofspring or cut and paste evansville.edu/riteofspring into your browser window.
Submitted by James Sullivan js820@evansville.edu
BiSci Plant Sale
Mark your calendars! BiSci Plant Sale will kick off on April 15 and end on April 22 - Earth Day Birthday! Plants for sale will include butterfly milkweed and other flowers, succulents, tomatoes, and herbs, including basil and cilantro, and many more. Prices will range from $1 for cups of seedlings to $15-25 for larger plants and "design-your-own" succulent bowls.
Submitted by Kelly Nixon kn94@evansville.edu
PurplePalooza is back! Join SAB on April 12, 6-10 p.m.
SAB's annual PURPLEPALOOZA is set for Friday, April 12, from 6:30 to 10:00 p.m. on the East Terrace Lawn. This event immediately follows the International Food Festival.
PurplePalooza is free and open to the UE Community.
Attractions include:
Live music
American Ninja Warrior Course
Inflatables
Food trucks
Caricature artists
Giveaways
And much more!
All activities and food are free for students with a valid UE ID. Community members can purchase food truck tickets for a small fee.
Submitted by Megan King mk225@evansville.edu
Inaugural International Food Festival is set for Friday, April 12
The University of Evansville's inaugural International Food Festival is Friday, April 12, from 5:00-7:30 p.m. at the Café Court in Ridgway University Center. This celebration of the home cuisine of UE's international students is open to the public. Tickets for adults are $7 until April 11, and can be purchased at UE's Office of Cultural Engagement and International Services, located on the second floor of Ridgway University Center. If purchased at the event, tickets will be $10 for adults and $5 for children under 12. UE students are admitted free.
The festival food will be prepared by UE international students with the assistance of Chartwells, the University's food service. The menu will include such dishes as poutine, grape leaves, kabsa, biryani, feijoada, matar paneer, and baklava. Entertainment for the event will be provided by the local folk music group, Redwood Preservation Society.
For more information, please contact UE's Office of Cultural Engagement and International Services at 812-488-2279 or internationalstudent@evansville.edu.
Event contact: Megan Sicard
Coffee Hour Senior Reading
Our graduating creative writing majors will read from their poetry and prose, at the Coffee Hour Senior Reading event held on Friday, April 12, at 4:00 p.m. in the Melvin Peterson Gallery. The faculty will also announce the winners of the Virginia Grabill Writing Awards. Please join us for a delightful and often moving send-off to our graduating seniors.
Submitted by Michelle Lehman ml281@evansville.edu
Phi Sigma Iota initiation ceremony
The annual Phi Sigma Iota initiation ceremony will be held Sunday, April 14, at 2:00 p.m. in Eykamp Hall, Rooms 253 and 254, Ridgway University Center.
Phi Sigma Iota, the international foreign language honor society, was founded in 1922 at Allegheny College and recognizes outstanding ability in the fields of foreign languages, literature, and cultures. The University of Evansville has inducted 178 members since it established the Epsilon Beta Chapter in 2000.
This year's initiates include Chelsea Gaddis, Lindsay Langstaff, Erin Leinenbach, and Diana Rodriguez Quevedo. Conducting the initiation ceremony will be PSI officers Lauren Perry, Tatiana Czajkowski, and Caitlin Kaleri, and faculty advisor Cindy Crowe. Dr. Ray Lutgring, Dean of the Ridgway College of Arts and Sciences, will be the featured speaker.
This event is open to the public and free of charge.
Submitted by Cindy Crowe cc109@evansville.edu
Scholars for Syria Final Lecture: Reconstruction Starts Here: Building a Future for Syrian Youth
Syrian-American architect, writer, and founder and CEO of the Karam Foundation Lina Serge Attar will be the speaker for the final presentation of the Scholars for Syria Lecture series in Evansville. The lecture is set for April 11, at 6:00 p.m. in Room 162 in the Schroeder School of Business Building. Also during the event, we will be additionally proud and excited to celebrate the graduation of Syrian seniors Walid Hasanato and Aya Aljandali as they tell of their journeys from Syria to Indiana. This is a celebration of all that Syrians have contributed to the UE and Evansville community, so we hope to see you there!
The event is free and open to the public, but donations to the Karam Foundation will be accepted at the event to help support the exemplary and inspiring work the foundation is doing on behalf of Syrian youth. UE has welcomed and supported Syrian students since 2012. Let's continue this support to include more future leaders of a free Syria.
How do we imagine a vibrant future for Syrians after the mass devastation and trauma they have endured? How can we rebuild agency and confidence for marginalized refugee communities? What if there was a space created for the most vulnerable of refugees - the youth - where cutting-edge technology, social camaraderie, and expert mentors were available?
Attar is a Syrian-American architect, writer and founder and CEO of the Karam Foundation. During her lecture, Attar will map out an alternative vision for Syrian refugee youth, one that is a world away from war and despair. At her team's Karam Houses in Turkey, hundreds of Syrian teens are building their ideas while gaining world-class critical and creative thinking skills.
"They are on pathways of future success and leadership for their communities and beyond," said Attar. "Within their inspiring stories of resilience and determination, another Syrian narrative emerges about the limitless potential and possibilities for a better future we can create together."
In 2007, Attar developed the vision of Karam (which means generosity in Arabic). Since 2011, she has directed Karam in its focus on the Syrian humanitarian crisis: developing an innovative education program for Syrian refugee youth, distributing aid to Syrian refugee families, and funding projects initiated by Syrians for Syrians. Her articles and essays have appeared in the New York Times and the Chicago Tribune, and she has appeared on CNN, NBC News, the BBC News, NPR and other media outlets. Attar is a graduate of the University of Aleppo, Rhode Island School of Design, and Massachusetts Institute of Technology.
More information on the Karam Foundation can be found at www.karamfoundation.org.
Submitted by Megan King mk225@evansville.edu
Hochwender teaches in I-DNR's Community Urban Forestry Program
Professor of biology Cris Hochwender recently taught tree identification to a group of community members at Wesselman Woods Nature Preserve as part of their training to become tree stewards. The Indiana Community Tree Steward Program was offered for the first time in Evansville this year. Participants learn tree identification, the basics of urban tree care, and how to communicate the benefits of urban trees. Attendees are asked to then use their skills by volunteering 15 hours of service to local communities to improve or maintain the urban forest.

Indiana Division of Forestry's Community Urban Forestry Program provides guidance to communities for development and caretaking of urban forests. An urban tree canopy is part of a community's infrastructure and creates valuable environmental, economic, and social benefits. Well-managed urban forests pay back nearly three times the cost to plant and maintain them. More than 80 percent of the urban forest is in our own back yard. As society becomes more urbanized and sprawls into rural areas, forests, wooded edges, and woodlots in urban areas are an increasingly important resource.
Submitted by Brenda Goodin bg42@evansville.edu
Happy Hours at the UE Bookstore
Weather permitting the UE Bookstore will have un-advertised Happy Hours on unannounced days. The events will be outside the UE Bookstore on the west side of Ridgway University Center. There will be special markdowns on different items when the events occur. The event will usually occur for a couple of hours around noon. Keep your eyes out for some great deals.
Submitted by Doug Gustwiller dg57@evansville.edu
Penny Wars
Money will be accepted Monday - Thursday at the Philanthropy Table in Ridgway University Center from 11:00 a.m.-1:00 p.m. and all day Friday at Pep & Vim Headquarters outside of Ridgway University Center.
Submitted by Megan McCombs mm825@evansville.edu
Swing Dance Fundraiser Tickets
The UE Jazz Ensemble I will present a Swing Dance Fundraiser at 8:00 p.m. in Eykamp Hall in Ridgway University Center on Saturday April 13. Tickets are $10 each and all proceeds go towards the UE jazz program. Tickets are available for purchase by contacting professor of music Timothy Zifer at ext. 2878 or emailing tz3@evansville.edu, or you may purchase tickets at the door. Come swing and dance with us!
Submitted by Timothy J Zifer tz3@evansville.edu
UE's Monarchs and Milkweed Changelab class reaches out to New Tech High School
UE's Monarchs and Milkweed Changelab class visited New Tech High School to educate an environmental science class about declining monarch and milkweed populations. The New Tech students are hoping to create a native plant garden behind the school over the next few years. The UE Changelab team helped them begin the process by planting milkweed with the students, and by consulting with them on management strategies for the garden.
If you are interested in having an opportunity to plant milkweeds for monarchs or if you are interested in having native seeds to grow other plants, look for the two events that the Milkweed and Monarch team will host in the community during April.
Submitted by Cris Hochwender ch81@evansville.edu
Earth Day Birthday Recycling Competition
The Earth Day Birthday committee is hosting a recycling competition among all student organizations. The competing organizations are to collect clean, glass jars, and old T-shirts to use at Earth Day Birthday on April 22, from 5:00-7:00 p.m. The competition will last from April 1-17. There will be a table in Ridgway University Center from April 15-17 between 11:00 a.m.-1:00 p.m. for recycled items to be deposited. The winning organization receives free food as a reward!
Submitted by Paige Johnson pj31@evansville.edu
2019-20 Dr. Marvin E. Hartig Memorial Scholarship
Family, friends and loved ones of the late Dr. Marvin E. Hartig are pleased to announce the application process for the Dr. Marvin E. Hartig Memorial Scholarship. This scholarship is dedicated to the loving memory of Dr. Hartig, Dean of Evansville College's Evening College in 1967, and administrator for the Center for Advanced Study, director of the Evansville chapter of the American Institute of Banking (AIB), and the international student advisor. In 1974, Dr. Hartig was appointed Dean of Academic Services. He retired in 1984 after serving his alma mater for thirty-five years and passed away in 2007.
This scholarship will be awarded annually to a deserving sophomore student. Preference will be given to a student working while being enrolled as a full-time student. International students are encouraged to apply.
The application can be found here.
Deadline: Please return all materials to the Office of Student Financial Services by April 26.
The decision will be announced by July 1.
Questions: Trisha Hawkes, administrative assistant to the Office of Student Financial Services, at th187@evansville.edu or 812-488-2364
Submitted by Trisha Hawkes th187@evansville.edu
Aces Baseball runs into hot Austin Peay squad
The University of Evansville baseball team had its hot streak cooled by Austin Peay in Clarksville, Tennessee Tuesday night, falling 10-2.
The Governors came out swinging on Aces freshman starting pitcher Shane Gray (2-1), putting up three runs on the scoreboard in the opening frame. Freshman Sam Steimel would take over for Gray in the second inning, tossing a scoreless frame. However, in the third Steimel got into trouble, giving up an RBI single, then exiting the game after loading up the bases with one out. Freshman designated hitter A.J. Fritz who come in in relief and make his collegiate debut on the hill, and Austin Peay would put up four more runs in the frame. Fritz would come back out to toss scoreless fourth and fifth innings.
The Evansville offense, after being no hit through the first five innings, came to life in the sixth, beginning with junior right fielder Troy Beilsmith stroking a one-out double to the gap in left-center. Later in the frame, senior center fielder Nate Reeder grounded into what should have been the final out of the inning, but an error allowed Beilsmith to score the Aces first run and extended the inning. Sophomore first baseman Tanner Craig followed that up with a double to right, putting Reeder on third base. A wild pitch would bring home the senior outfielder, cutting the deficit to six.
However, that's all the offense Evansville could manage, as Austin Peay tacked on a pair of late runs to close out the game.
The loss drops UE's record to 17-11, while Austin Peay improves to 16-15.
The Aces are back in action Friday night for the beginning of a home-and-home weekend series against Indiana. The series opens at Charles H. Braun Stadium. First pitch is at 6:00 p.m.
Softball to take on Indiana State on Wednesday at Cooper Stadium
With a 2-week road trip completed, the University of Evansville softball team returns home for its next five games, beginning on Wednesday with a doubleheader against in-state rival Indiana State. ESPN+ will have live coverage of both games.
Last Week
- The Purple Aces wrapped up their road trip with a 3-game series at Southern Illinois
- The Salukis took the opener by a 6-3 score before finishing the series sweep with 2-1 and 2-0 wins in Saturday's doubleheader
- Allison Daggett recorded three hits in nine at-bats to lead UE with a .333 average; Halie Fain was just behind with a .300 average, posting three hits
- Emily Lockhart made three appearances and one start, giving up two earned runs in eight innings of work
Leading the Way
- Allison Daggett picked up three hits in nine at-bats against Southern Illinois to lead the team with a .333 average in the series
- It improved her season average to .303, which is third on the team
- Following the March 16 game against Illinois State, Daggett's average stood at .231, but since then, she has gone 11-of-27 to raise her season tally back above .300
No-No
- Emily Lockhart is enjoying a strong senior season that has seen her pick up a no-hitter and five victories in the circle
- In the 33 1/3 innings entering the weekend series at Southern Illinois, Lockhart gave up 34 earned runs in her previous 33 1/3 innings in the circle
- She did a nice job of getting back on track in Carbondale, allowing two earned runs in eight innings as she appeared in all three games
- In a start on Sunday, Lockhart gave up two runs in six inning
Scouting the Opponent
- Indiana State enters the doubleheader with a 13-23 mark and are 1-10 in league play
- The Sycamores are led by Leslie Sims and Bailey Martin, who are batting .362 and .350, respectively
- Sims has scored a team-best 34 runs while Martin has six doubles and 20 RBI
- The duo has combined for 34 stolen bases
Contribute to AceNotes
To have content considered for inclusion in AceNotes, please submit a Marketing Request Form. Deadline for submission to AceNotes is 10:00 a.m. on the requested date of publication. Only articles concerning UE related/sponsored activities will be accepted. Articles submitted to AceNotes may be edited for length and clarity. Submitter contact information is at the end of each article.