| | |
| --- | --- |
| AceNotes Today | Tuesday, April 9, 2019 |
Don't miss UE'S Annual Day of Giving
Last year the UE community came together to surpass the original one-day fundraising goal of 750 gifts in 24 hours by 4:00 p.m. The final result was a significant fundraising accomplishment that benefitted many students and areas of campus. Show your UE Pep and Vim this year on Friday, April 12, by making a gift online at www.evansville.edu/give #TrueandLoyal #UEPepandVim #ForeverAces.
Submitted by JC Campbell jc603@evansville.edu
Removal of vehicles for Bike Race
All vehicles must be removed from Lot H by 5:00 p.m. on April 10. Vehicles remaining in the lot after this time may be towed. The removal of vehicles is necessary so that the lot can be prepared for the bike race, which will be on Saturday, April 13. Vehicles must be moved so the lot can be prepared and time trials can be held.
The lot will be reopened for parking by Sunday morning at the latest. Vehicles must be moved to legal parking places for the permit category held by the driver. The use of Lot O, by the Armory, and Lot Q, by the general services building, is recommended.
Submitted by Doug Cook dc2@evansville.edu
Employee Benefit Open Enrollment
During the period of March 18 through April 12, benefit-eligible employees may enroll or make changes in the University's health, life, long term disability, and dental insurance, and ACES flexible spending account benefit plans. It is the only chance for benefit-eligible employees to enroll or make changes until the next open enrollment period unless you have a qualifying change in status.

Please review the documents in the Open Enrollment section of the MyUE portal at: https://bit.ly/2GcdKph, beginning with the open enrollment memo, for important announcements, reminders, and changes which will occur June 1 to the University's benefits.

We will once again utilize an on-line enrollment process, eliminating all paper enrollment forms for health, life, dental, and long term disability insurance, as well as the ACES flexible spending account. This will ensure the accuracy of your enrollment elections and maintain records electronically regarding your current and future participation. Enrollment/changes to your TIAA and Emeriti VEBA Trust retirement plan salary deferrals will continue to be processed on paper forms available in the Office of Human Resources. Therefore, you do not need to re-enroll in the TIAA or Emeriti retirement plans.
ALL benefit eligible employees (including those who do not want to make any changes to their current coverage) must enter their elections by April 12.
Please review the open enrollment memo and On-Line Benefit Enrollment Documents on the HR Area of the MyUE portal, which should answer many of the questions you might have about this system.

Please contact the Office of Human Resources at ext. 2943 with any questions.
Submitted by Lori LeDuc ll138@evansville.edu
This Week in Music: Harlaxton Quintet, String and Woodwind Ensembles, and Rite of Spring
Harlaxton Quintet
Tuesday, April 9
7:30 p.m., Wheeler Concert Hall
On Tuesday, April 9, at 7:30 pm in Wheeler Concert Hall, the Harlaxton Quintet will present a wide-reaching program featuring works by Lecuona, Blumer, Rameau, and Ligeti. Quintet members include Leanne Hampton (flute), Elizabeth Robertson (oboe), Thomas Josenhans (clarinet), Ed Lacy (bassoon), and Emily Britton (horn).
The concert is free and open to the public. For complete program information, visit the music department concert calendar: https://www.evansville.edu/majors/music/eventDetails.cfm?eventId=14796
UE String Ensemble
Thursday, April 11
6:00 p.m., Wheeler Concert Hall
On Thursday, April 11, at 6:00 pm in Wheeler Concert Hall, the University String Ensemble, under the direction of Chun-Ming Chen, will present their spring concert. The program will feature Leo Weiner's Divertimento No. 2 and Kirt Mosier's Blue Rhythmico.
The concert is free and open to the public. For complete program information, visit the music department concert calendar: https://www.evansville.edu/majors/music/eventDetails.cfm?eventId=14797
Rite of Spring
Saturday, April 13
5:45 p.m., Eykamp Hall, Ridgway University Center
Friends of UE Music invite you to join us for this year's Rite of Spring. The event will be held on Saturday, April 13 in Eykamp Hall in the Ridgway University Center on UE's campus. This year's event celebrates the contributions of Kim and Mary Fillingim.
The event includes cocktails, dinner, musical performances, and dancing accompanied by UE's Jazz Ensemble!
For more information and reservations visit: www.evansville.edu/riteofspring or cut and paste evansville.edu/riteofspring into your browser window.
Submitted by James Sullivan js820@evansville.edu
Dinner and Mass on campus with the bishop - April 9!
Join Newman Club for dinner and Mass with the bishop on Tuesday, April 9! The Newman Campus Community invites you to a special dinner with Most Reverend Joseph M. Siegel, DD, STL. We will be having a dinner at 6:00 p.m. at the Newman house and then hang out until mass at 8 p.m. at Neu Chapel. All are welcome to come join us for the free dinner and discussion and/or Mass with the bishop!
Submitted by Sam Wallisch sw265@evansville.edu
I-House: Saudi Arabia
At this week's I-House, we will be traveling to the Middle East! Abdulmajeed Nasib will be presenting I-House: Saudi Arabia. He is a senior from Saudi Arabia, and he is majoring in political science. He loves the international community here at UE especially the group of friends he has made over the years. His hobbies include traveling, playing soccer, and Fortnite. He will be sharing more about himself and his culture at this week's I-House happening on Wednesday (April 10) on the second floor of Ridgway University Center at 7:00 p.m.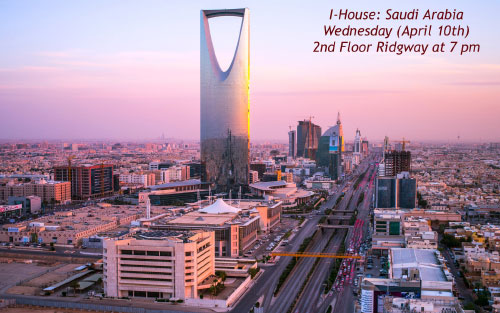 Submitted by Hussam Taj ht70@evansville.edu
BiSci Plant Sale
Mark your calendars! BiSci Plant Sale will kick off on April 15 and end on April 22 - Earth Day Birthday! Plants for sale will include butterfly milkweed and other flowers, succulents, tomatoes, and herbs, including basil and cilantro, and many more. Prices will range from $1 for cups of seedlings to $15-25 for larger plants and "design-your-own" succulent bowls.
Submitted by Kelly Nixon kn94@evansville.edu
PurplePalooza is back! Join SAB on April 12, 6-10 p.m.
SAB's annual PURPLEPALOOZA is set for Friday, April 12, from 6:30 to 10:00 p.m. on the East Terrace Lawn. This event immediately follows the International Food Festival.
PurplePalooza is free and open to the UE Community.
Attractions include:
Live music
American Ninja Warrior Course
Inflatables
Food trucks
Caricature artists
Giveaways
And much more!
All activities and food are free for students with a valid UE ID. Community members can purchase food truck tickets for a small fee.
Submitted by Megan King mk225@evansville.edu
Scholars for Syria Final Lecture: Reconstruction Starts Here: Building a Future for Syrian Youth
Syrian-American architect, writer, and founder and CEO of the Karam Foundation Lina Serge Attar will be the speaker for the final presentation of the Scholars for Syria Lecture series in Evansville. The lecture is set for April 11, at 6:00 p.m. in Room 162 in the Schroeder School of Business Building. Also during the event, we will be additionally proud and excited to celebrate the graduation of Syrian seniors Walid Hasanato and Aya Aljandali as they tell of their journeys from Syria to Indiana. This is a celebration of all that Syrians have contributed to the UE and Evansville community, so we hope to see you there!
The event is free and open to the public, but donations to the Karam Foundation will be accepted at the event to help support the exemplary and inspiring work the foundation is doing on behalf of Syrian youth. UE has welcomed and supported Syrian students since 2012. Let's continue this support to include more future leaders of a free Syria.
How do we imagine a vibrant future for Syrians after the mass devastation and trauma they have endured? How can we rebuild agency and confidence for marginalized refugee communities? What if there was a space created for the most vulnerable of refugees - the youth - where cutting-edge technology, social camaraderie, and expert mentors were available?
Attar is a Syrian-American architect, writer and founder and CEO of the Karam Foundation. During her lecture, Attar will map out an alternative vision for Syrian refugee youth, one that is a world away from war and despair. At her team's Karam Houses in Turkey, hundreds of Syrian teens are building their ideas while gaining world-class critical and creative thinking skills.
"They are on pathways of future success and leadership for their communities and beyond," said Attar. "Within their inspiring stories of resilience and determination, another Syrian narrative emerges about the limitless potential and possibilities for a better future we can create together."
In 2007, Attar developed the vision of Karam (which means generosity in Arabic). Since 2011, she has directed Karam in its focus on the Syrian humanitarian crisis: developing an innovative education program for Syrian refugee youth, distributing aid to Syrian refugee families, and funding projects initiated by Syrians for Syrians. Her articles and essays have appeared in the New York Times and the Chicago Tribune, and she has appeared on CNN, NBC News, the BBC News, NPR and other media outlets. Attar is a graduate of the University of Aleppo, Rhode Island School of Design, and Massachusetts Institute of Technology.
More information on the Karam Foundation can be found at www.karamfoundation.org.
Submitted by Megan King mk225@evansville.edu
Nursing department presents program on "Sex on Campus"
UE nursing students will be presenting the "Sex on Campus" program on sexual health - Wednesday, April 10 - from 5:00-6:00 p.m. in Eykamp Hall, Room 252, Ridgway University Center. This program, which is sponsored by the office of health education and wellness, will highlight an important issue on college campuses. The program focuses on education about STIs and HIV and the very real risk that this presents for students.
Submitted by Jennifer Hargus jh693@evansville.edu
Happy Hours at the UE Bookstore
Weather permitting the UE Bookstore will have un-advertised Happy Hours on unannounced days. The events will be outside the UE Bookstore on the west side of Ridgway University Center. There will be special markdowns on different items when the events occur. The event will usually occur for a couple of hours around noon. Keep your eyes out for some great deals.
Submitted by Doug Gustwiller dg57@evansville.edu
Penny Wars
Money will be accepted Monday - Thursday at the Philanthropy Table in Ridgway University Center from 11:00 a.m.-1:00 p.m. and all day Friday at Pep & Vim Headquarters outside of Ridgway University Center.
Submitted by Megan McCombs mm825@evansville.edu
Swing Dance Fundraiser Tickets
The UE Jazz Ensemble I will present a Swing Dance Fundraiser at 8:00 p.m. in Eykamp Hall in Ridgway University Center on Saturday April 13. Tickets are $10 each and all proceeds go towards the UE jazz program. Tickets are available for purchase by contacting professor of music Timothy Zifer at ext. 2878 or emailing tz3@evansville.edu, or you may purchase tickets at the door. Come swing and dance with us!
Submitted by Timothy J Zifer tz3@evansville.edu
Announcing: New Graduate Program in Engineering
The University of Evansville has announced plans to implement a new Masters of Engineering (M.Eng.) graduate program. Students will be able to enroll in the program beginning in the Fall of 2019. The professional degree program will offer three options: Master of Engineering - Electrical Engineering, Master of Engineering - Computer Engineering, and Master of Engineering - Computer Science. This 12-month graduate program is designed for those with a bachelor's degree in engineering who wish to gain advanced knowledge and experience in their field.
The program's one-year time frame is especially beneficial for undergraduate engineering students as they can extend their studies by one more year and obtain both a bachelor's and a M.Eng. degree.
"Earning a Master of Engineering degree enables students to begin their career at an advanced level," explained Ying Shang, UE dean of the College of Engineering and Computer Science. "Most engineers only have a bachelor's degree, so those who have a M.Eng. stand out in the job market and in their work place. In fact, the salary for an engineer with a M.Eng. degree is typically $20,000 higher than for an engineer who just has a bachelor's degree."
The curriculum of all three degree options in the program follow a similar format but differ in specific course requirements and content. Students take advanced courses in their engineering area option and in related fields.
Admission into the Master of Engineering degree program requires an undergraduate degree in electrical engineering, computer engineering, or computer science. The cost of the program is $525 per hour.
For more information, please contact Professor Dick Blandford at db64@evansville.edu.
UE's Monarchs and Milkweed Changelab class reaches out to New Tech High School
UE's Monarchs and Milkweed Changelab class visited New Tech High School to educate an environmental science class about declining monarch and milkweed populations. The New Tech students are hoping to create a native plant garden behind the school over the next few years. The UE Changelab team helped them begin the process by planting milkweed with the students, and by consulting with them on management strategies for the garden.
If you are interested in having an opportunity to plant milkweeds for monarchs or if you are interested in having native seeds to grow other plants, look for the two events that the Milkweed and Monarch team will host in the community during April.
Submitted by Cris Hochwender ch81@evansville.edu
Earth Day Birthday volunteers needed
ECO invites you and your student-organization to volunteer at Earth Day Birthday 2019 happening on Monday April 22 from 5:00 -7:00 p.m. on the East Terrace Lawn. At this event, there will be environmentally themed activity booths in which we need your help overseeing. Some examples of activities include decorating recycling bins, up-cycling T-shirts into reusable bags, and recycling toss (AKA corn hole). Every volunteer will receive a FREE T-shirt in return for their help at the event.
If you or your organization are interested in volunteering, please sign up on the Earth Day Birthday 2019 SignUpGenius accessed through the following link: https://www.signupgenius.com/go/5080f49a9ac2ba1fb6-earth. Please sign up on behalf of your organization and split the volunteer time among your members.
For more information, please contact Olivia Blasdel at ob28@evansville.edu.
Submitted by Olivia Blasdel ob28@evansville.edu
File the 2019-20 FAFSA by April 15th
File the 2019-20 FAFSA by April 15 at www.fafsa.ed.gov.
Continuing students should file the 2019-20 Free Application for Federal Student Aid (FAFSA) to apply for federal, state and University need-based financial aid, including all federal student loans. UE's FAFSA code is 001795.
Filing by April 15 is essential for Indiana residents to receive state aid, and highly recommended for all.
Questions regarding the FAFSA should be directed to the Student Financial Services (Olmsted Administration Hall, Room 106) at 812-488-2364.
Submitted by Trisha Hawkes th187@evansville.edu
2019-20 Margery Florence Kahn Scholarship
2019-20 Margery Florence Kahn Scholarship applications are now available.
It was the desire of the donor, Margery Florence Kahn, that her scholarship be awarded to "dedicated and conscientious students who exhibit a true passion for their chosen fields of study, and who, in the opinion of the members of the University of Evansville faculty, are likely to bring the same enthusiasm into the performance of their jobs or the practice of the professions which they will pursue following graduation."
All University of Evansville full-time undergraduate students who will be juniors or seniors in 2019-20 may apply. An essay of about 300 words must accompany the application, along with two to five faculty recommendation letters.
Applications and recommendation letters are available from the Student Financial Services in Room 106 in Olmsted Hall and should be returned by APRIL 15.
You may also request application materials by emailing th187@evansville.edu.
Questions may be sent via email or call 812-488-2364.
Submitted by Trisha Hawkes th187@evansville.edu
Yazdanparast named recipient of 2019 Marketing Management Association Master Scholar Award
Atefeh Yazdanparast, associate professor of marketing, was named the 2019 Marketing Management Association (MMA) Master Scholar award recipient at the MMA International Conference in Chicago. The MMA Master Scholar competition recognizes and honors outstanding marketing scholars that have engaged in innovative and impactful practices in research. The engagement of other faculty, students, and/or community in accomplishing research, and a history of effective scholarship with an innovative approach to conducting research are considered by the panel of judges in identifying the recipient of the award.
Contribute to AceNotes
To have content considered for inclusion in AceNotes, please submit a Marketing Request Form. Deadline for submission to AceNotes is 10:00 a.m. on the requested date of publication. Only articles concerning UE related/sponsored activities will be accepted. Articles submitted to AceNotes may be edited for length and clarity. Submitter contact information is at the end of each article.