| | |
| --- | --- |
| AceNotes Today | Thursday, March 28, 2019 |
Run, Hide, Fight Active Shooter Drill - Practice "Hide" Only!
In partnership with the Evansville Police Department, an Active Shooter Drill will take place the week of April 1-5. This drill will focus solely on the HIDE element of the exercise, regardless of whether the fictitious event affects your specific location. The drill will be announced to the campus via Ace Alerts and the active shooter audio sirens will sound signaling there is a threatening event.
During the drill: Find a location to shelter-in-place (HIDE), and lock doors or barricade within a particular space. Members of the Evansville Police Department will be stationed inside various buildings to gauge individual responses to the drill, as well as determine how quickly individuals were able to make a decision regarding the HIDE part of the drill. Once the drill is over, another AceAlert will be sent with the announcement to resume normal duties.
Note: The University invested in the purchase of interior locking mechanisms which have been installed in the majority of classrooms, enabling doors to be locked from the inside of the room. The supplier of the locking mechanisms is scheduled to deliver the rest of the locking mechanisms by the end of the spring semester to complete this project. If you are in a room that does not have the ability to be locked, you should consider other options to barricade the door as part of the "hide" element of the exercise.
The drill will be announced to the campus via Ace Alerts and the active shooter audio sirens will sound signaling there is a threatening event. Additional information about "Run, Hide, Fight" can be found at www.evansville.edu/safety.
Ashley Jordan to speak at Annual History Spring Lecture today
Ashley Jordan, the new executive director of the Evansville African American Museum, will be the speaker for the University of Evansville Department of History's annual History Spring Lecture TODAY - Thursday, March 28. The lecture, which is free and open to the public, begins at 3:00 p.m. in Room 170 (Smythe Lecture Hall), in the Schroeder School of Business Building.
Jordan's lecture will be based on this quote from Winston Churchill: "History will be kind to me, for I intend to write it." She will also discuss the Underground Railroad in the Midwest and the migration of African Americans to Ohio. Both topics are Jordan's research areas and specialties.
Prior to taking on the role of executive director of the Evansville African American Museum, Jordan served as the curator for the National Underground Railroad Freedom Center in Cincinnati, Ohio, as well as the National Afro-American Museum and Cultural Center in Wilberforce, Ohio. In addition to her professional experiences in public history, she has served as an adjunct professor for North Central State College in Mansfield, Ohio.
In May 2017, Jordan graduated with her doctorate in United States History from Howard University. She completed her undergraduate degree at Kent State University and graduated with a bachelor's degree in history with a minor in political science in 2008.
Jordan is also the proud recipient of numerous professional, academic and civic awards including the Pace Setter Award from the Association of African American Museums, a multiple doctoral fellowship recipient for the Filson and the Kentucky Historical Societies and the Black Excellence Award from the National Association for the Advancement of Colored People (NAACP).
James MacLeod, chair of UE's Department of History, said that UE is "very excited to have Dr. Jordan come and deliver this lecture. She is an outstanding scholar and a wonderful communicator, and we are hoping this event will resonate with students of all majors, not just those who study history."
Stop the Bleed event planned for today
The Student Nurse Association of Peers will be hosting Stop the Bleed TODAY - Thursday, March 28 - at 6:00 p.m. in Eykamp Hall, Ridgway University Center. The goal of this event is to teach the public the basic skills needed to stop life threatening bleeding.
Submitted by Traci Burch tb207@evansville.edu
UE Theatre presents "The Wolves"
The University of Evansville Theatre presents Sarah DeLappe's The Wolves. A 2017 Pulitzer Prize finalist, this whip-smart play is a scarily exhilarating look into a soccer team and the rawness of girl power and opens Monday, March 25, at 7:30 p.m. in the May Studio Theatre. Additional performances are at 7:30 p.m. on March 26, 27, 28, 29, 30, and at 2:00 p.m. on March 31.
Bailey Brandvold, a senior theatre studies major from Great Falls, Mont., directs The Wolves; Austin Kuhn, a junior from Evansville, Ind., serves as the scenic designer; Hannah Mattingly, a junior from Louisville, Ky., is the costume designer; Luke Kelly, a senior from Dubuque, Iowa, is the lighting designer; Jamey Rowland, a junior from Durham, N.C., serves as the sound designer; Shannon White, a junior from Rockwall, Texas, is the dramaturg; Michael Chaves, a sophomore from Senoia, Ga., is the stage manager, and Adam Rager serves as the technical director.
The cast features junior Blake Ware, from Evansville, Ind.; sophomore Jordan Williams, from Edmonds, Wash.; first-year student Kelly Walsh, from Hollywood, Fla.; sophomore Emma Tolleson, from Temple, Texas; first-year student Delanie Kitzman, from Tomball, Texas; junior Kate Milazzo, from Carmel, Ind.; sophomore Hannah Stevens, from Arlington, Texas; sophomore Grace Maddux, from Dubuque, Iowa; first-year student Liv Campbell, from Kingwood, Texas, and sophomore Julia Veiga, from Flowery Branch, Ga.
The UE Theatre Society hosts a Pre-Play Chat 30 minutes prior to the show on Saturday, March 30. All are welcome to attend the presentation and discussion with a student designer about their process on the production.
Ticket prices are $11 for adults and $9 for senior adults, students, and UE faculty and staff. UE students may obtain one free student rush ticket beginning at noon on the day of the performance they wish to attend. Seating is limited and tickets are available by calling 812.488.2031.
Free Coffee & Careers event today
Come for free coffee and an informal career chat with alumni and friends of the University today - March 28 - from 4:00 – 5:00 p.m. in the Phillips Study Alcove (across from WUEV) in Ridgway University Center. Learn about their journey to their current job and the skills needed for career success. This month's focus is on careers in non-clinical healthcare.
Submitted by Alison Morris-McDonald am268@evansville.edu
Wallyball this weekend!
The Intramural Wallyball tournament is this Saturday, March 30, beginning at 2:00 p.m. inside the Fitness Center. Wallyball is a fun and unique style of volleyball played inside a racquetball court. Sign up your team on imleagues.com or show up with a student/faculty ID Saturday ready to play. Get out this weekend and come have some competitive fun with us!
Submitted by Drew Hawkins ah519@evansville.edu
Medical Spanish Practice
Medical Spanish practice is designed to help students practice communication skills in Spanish for medical settings. Students may arrive and leave at any time. The next session is Monday, April 1, from 5:30-7:00 p.m. in Room 64 in the Schroeder School of Business Building. Please contact associate professor of Spanish Diana Rodríguez Quevedo at dr130@evansville.edu for more details. ¡Nos vemos el miércoles!
Submitted by Diana Rodríguez Quevedo dr130@evansville.edu
Health Careers Forum 2019
The University of Evansville Exercise and Sport Science Student Organization, in collaboration with the Center for Career Development, cordially invites you to attend its annual Health Careers Forum. The event is planned for Wednesday, April 3, from 6:00-8:00 p.m. in Eykamp Hall, Ridgway University Center.
There will be panelists from different organizations in the health field who will come to share their experiences. This event will be a great opportunity for everyone who would like to make acquaintances with local health care professionals.
Students are expected to RSVP as soon as possible by filling out the registration form. For more information on registration, email ea97@evansville.edu.
Attendees are asked to dress business-casual. All EXSS students are advised to attend.
Submitted by Emily Armstrong ea97@evansville.edu
This Week in Music: UE Opera and Student Recitals
UE Opera Presents Cosi Fan Tutte
Friday, March 29 and Saturday, March 30
7:30 p.m., Preston Arts Center, Henderson, KY
On March 29 and March 30, at 7:30 p.m., the University of Evansville Schmidt Opera Series comes to the Preston Arts Center in Henderson, Kentucky, with Mozart's comedy Così fan tutte: A School for Lovers. In this opera, the cynical Don Alfonso goads his two young friends into making a not-so-friendly wager. Its outcome will either defend the virtue of the women they love or expose an infidelity present in women everywhere. The battle lines have been drawn as the two men set out to test the faithfulness of their unwitting fiancées.
In this production we find our characters in a college town in southern Indiana with visiting guests from a rival Kentucky school. As we wonder who will ultimately prevail in this battle of the sexes, the musical genius of Mozart pervades the arias, ensembles, and choruses of Cosi fan tutte.
Mozart's opera is brought to life by UE students directed by Alanna Keenan, Associate Professor of Music with a professional orchestra under the baton of Dennis Malfatti, professor of music. Henderson native Adam Smith, takes on the role of the scheming Don Alfonso. He efforts are aided by his confidant, Despina, played by Madeline Cox of Gibson County. Rounding out the cast are the four lovers Darwi Sandleben, Kathryn Lee, Isaac Cooper, and Clay Steenbergen, all of Evansville, Indiana.
All are welcome to attend. Admission is a suggested donation of $10. The Henderson Arts Center is located at 2660 South Green Street, Henderson, KY 42420
Student Recitals
Saturday, March 30
Logan Tsuji, trumpet, senior recital, Wheeler Concert Hall, 4:00 p.m.
Sunday, March 31
Gefei Chai, viola, senior recital, Wheeler Concert Hall, 2:30 p.m.
Devyn Haas and Brittany Hildenbrand, saxophone and oboe, senior recital, Wheeler Concert Hall, 4:00 p.m.
Submitted by James Sullivan js820@evansville.edu
Drag Show 2019: Creatures in the Night
Come to PRIDE's annual Drag Show on Saturday, April 6 at 7:00 p.m.!
This year the theme is fairy-tale creatures. Enjoy a mocktail bar and professional drag and student performers!
Ticket proceeds benefit Matthew 25 and AIDS Resource Group. Tickets are $5 in advance and $7 at the door. If you are interested in a "VIP" experience, sitting at an 8-person table that includes a free drink and waiter service from the bar, then you can purchase the VIP Ticket for $6 in advance or $8 at the door (if there are still seats available).
Email uepride@gmail.com for more information or if you have any questions.
And don't forget to come to our Health Fair from 6:00-7:00 p.m. before the show, free of charge!
Submitted by Charlie Hoeg uepride@gmail.com
Newman Club Migration Solidarity Vigil
Please join the Newman Club in Neu Chapel on Wednesday, April 3, at 8:00 p.m. to pray for refugees. This multilingual candlelight service will have music, and there will be an opportunity to write letters in support of refugees at the end. Please contact Kristen Sportiello at ks491@evansville.edu if you'd like to become more involved in the Newman Club's migration initiative.
Submitted by Sam Wallisch sw265@evansville.edu
Taste of Evansville featuring trivia
Chi Omega is hosting a fundraiser event on March 30, and all proceeds will go directly to Albion Fellows Bacon Center, a shelter for victims of domestic violence here in Evansville. This event will feature food from across the Evansville area and several rounds of trivia - ranging from TV shows to Harlaxton-related questions! Ticket price is $5 with a donation of a hygiene item and $7 without a donation. Tickets can be purchased from Chi Omegas, in Ridgway University Center from 11:00 a.m.-1:00 p.m. on March 27-29, or at the door at the event. Doors will open at 5:30 p.m. on Saturday, March 30, and trivia will start at 6:00 p.m. We hope to see you there!
Submitted by Johnna Mitchell jm703@evansville.edu
Civil rights activist Isra Chaker to speak on Thursday
Isra Chaker, civil right activist, campaigning expert, and public speaker, will be at the University of Evansville on Thursday, April 4, to present "College Students Rise Up: Advocation in the Trump Era, Dismantling the Misconceptions of Refugees, the Muslim Ban, and Breaking down Stereotypes on National Television." The event, which is free and open to the public, is from 7:00-8:00 p.m. in Eykamp Hall in Ridgway University Center.
Chaker serves as the refugee campaign lead at Oxfam, one of the leading international NGOs in the world. In this position, she uses her campaign expertise to manage Oxfam's campaign, that advocates for vulnerable people such as refugees, asylees, and temporary protected status (TPS) holders. The campaign also opposes discriminatory policies such as the Muslim bans.
Being personally impacted by the Muslim ban, and not being able to reunite with her extended family in Syria, Chaker is passionate in her work in reuniting families and advocating for vulnerable people. Recently, she was a featured speaker at the national #FamiliesBelongTogether March in Washington, DC, an event which drew over 40,000 people.
One of Chaker's infamous projects that went viral in 2017 was bringing refugees to President Trump's childhood home in Queens, New York, to share their experiences and their "American Dream."
Chaker has been interviewed and featured on Democracy Now with Amy Goodman, NowThis, AJ+, ABC News, Al Jazeera, CNN, the Associated Press, VICE News, the Washington Post, and more.
Chaker was appointed Global Ambassador for the United Nations Relief and Works Agency USA (UNRWA) for her invaluable contributions in raising awareness and funds for their projects supporting refugee assistance.
In addition, Chaker was recently chosen as an ICON for the "We The Future" campaign by Amplifier, which recognizes 10 young activists from across the country in their leading work on current social justice issues affecting humanity. Chakra was chosen to represent the refugee and immigration justice theme, known as "We the Future, will not be Banned." She is the only Muslim in the campaign, and her art work, as well as a curriculum she designed to break down the stereotypes and misconceptions of Muslims, refugees and immigrants, will be taught in over 20,000 schools across the United States this academic year.
Event contact: LaNeeca Williams
Mary Stewart Adams to speak at UE's R. Wayne Perkins Lecture
The University of Evansville's fourth annual R. Wayne Perkins Lecture Series is planned for Friday, March 29 through Monday, April 1. This year's speaker is Mary Stewart Adams, star lore historian, storyteller, author, and global advocate for starry skies.
Adams lectures using a humanities-based approach to understanding the celestial world and the cultural influence of astronomy. She speaks about our relationship to the night sky and why it matters that we are losing direct access to the natural dark. Adams led the team that established the 9th international dark sky park in the world in 2011. She has received numerous honors including Dark Sky Advocate of the Year, Environmentalist of the Year, and Dark Sky Defender.
All of the events listed below are free and open to the public.
Friday, March 29
Room 73, Schroeder School of Business Building, University of Evansville
3:00 p.m.
History 290 class
Saturday, March 30
Koch Planetarium, Evansville Museum of Art, History, and Science
2:00 p.m.
Mary Stewart Adams to speak
Sunday, March 31
Trinity United Methodist Church, 213 SE 3rd Street, Evansville, Indiana
9:30 a.m., Sunday Service and 10:45 a.m., Wesley Advocates Class Session
Monday, April 1
Room 100, Koch Center for Engineering and Science, University of Evansville
Astronomy 101 class
The annual R. Wayne Perkins Lectures, sponsored by UE's Office of Religious Life, bring together religion scholars, theologians, and church leaders to explore biblical and theological questions relevant to our common life together. The lectures are intended to be public in nature, engage a broad gathering of world views, and help inform the complexities of theological understanding within contemporary life. The Perkins Lectures are made possible by the generosity of private donors and the Lilly Endowment Inc., and are designed to generate and foster sustained theological reflection among UE students and alumni, clergy, and the larger community.
Congrats to ChangeLab winners
Congratulations to the ChangeLab presentation competition winners! The Diversity in the Arts team was named "Crowd Favorite," and Data Analytics took first place for "Outstanding Performance!"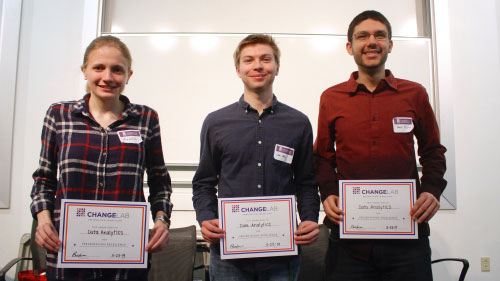 Propose your own ChangeLab

Want to make a difference in your community - or even the world? Start now by proposing your own ChangeLab project. Class credit and financial support is available, and your idea can help nonprofits, for-profit businesses, or civic projects.
Submit your idea for the Spring 2020 semester here by noon on Monday, April 1:
Faculty
Students
Spots are limited, apply early! For more info on ChangeLab, visit www.evansville.edu/changelab.
Submitted by Cindy Kelley ck116@evansville.edu
Tickets now available for International Food Festival
The inaugural International Food Festival, hosted by the International Club, is set for April 12. Tickets can be purchased before the event for $7, starting April 1, at the Office of Cultural Engagement and International Services on the second floor of Ridgway University Center in Student Life.
Submitted by Farrah Beidas fb33@evansville.edu
Grads - get your cap and gowns
Spring graduates are reminded to come to the UE Bookstore and purchase their cap and gown soon, as some sizes are running low. Getting your cap and gown early is important so that you make sure everything fits. Masters and doctoral graduates should have already placed their custom orders for cap, gown and hood as it takes longer for them to come in. If you're a masters or doctoral graduate and have NOT placed your order stop in the UE Bookstore immediately! Graduation announcements are also available for those wanting them.
Submitted by Doug Gustwiller dg57@evansville.edu
A Salute to Women's History: Dr. Gertrude B. Elion
Born in New York in 1918, scientist Gertrude B. Elion had an impressive career, during which she helped develop drugs to treat many major diseases, including malaria and AIDS. She won a Nobel Prize for Medicine in 1988. Gertrude Elion died on February 21, 1999, in Chapel Hill, North Carolina.
Born to immigrant parents in New York City, Gertrude Elion spent her early youth in Manhattan, where her father had a dental practice. When her brother was born, the family moved to the Bronx. She attended high school and excelled with, in her words, an "insatiable thirst for knowledge."
Motivated by the death of her grandfather, who died of cancer, Elion entered Hunter College, in New York City, at age 15 and graduated summa cum laude in chemistry at age 19. She had difficulty finding employment after graduation, because many laboratories refused to hire women chemists. She found part-time jobs as a lab assistant and went back to school at New York University. Elion worked as a substitute high school teacher for a few years while finishing work on her master's degree, which she earned in 1941. Though she never obtained a doctorate degree, she was later awarded an honorary Ph.D. from Polytechnic University of New York and an honorary Doctor of Science degree from Harvard University.
The start of World War II created more opportunities for women in industry. Elion was able to obtain a few quality-control jobs in food and consumer-product companies before being hired at Burroughs-Wellcome (now GlaxoSmithKline) in 1944, where she began a 40-year partnership with Dr. George H. Hitchings. Her thirst for knowledge impressed Dr. Hitchings, and he permitted her to take on more responsibility.
Elion and Hitchings set out on an unorthodox course of creating medicines by studying the chemical composition of diseased cells. Rather than relying on trial-and-error methods, they used the differences in biochemistry between normal human cells and pathogens (disease-causing agents) to design drugs that would block viral infections. Elion and her team developed drugs to combat leukemia, herpes and AIDS. They also discovered treatments to reduce the body's rejection of foreign tissue in kidney transplants between unrelated donors. In all, Elion developed 45 patents in medicine and was awarded 23 honorary degrees.
Elion admitted that her work was her life, but she also enjoyed photography and travel, both products of her curiosity about life. She also enjoyed opera, ballet and theater. Though she never married, she enjoyed being the "favorite aunt" to her brother's children.
Gertrude Elion officially retired in 1983, but she remained active, holding the titles of scientist emeritus and consultant at her old company. She also served as an adviser for the World Health Organization and the American Association for Cancer Research.
In 1988, Elion received the Nobel Prize in Medicine, together with George Hitchings and Sir James Black. She received other awards for her work, including the National Medal of Science in 1991, and that same year, she became the first woman to be inducted into the National Inventors Hall of Fame. In 1997, she was granted the Lemelson-MIT Lifetime Achievement Award.
Submitted by Darrion Culler dc199@evansville.edu
CSML internship opportunity: inference and prediction in linear and non-linear systems
The Cognitive Science Modeling Lab (CSML) is looking for two, possibly three, energetic and self-motivated students to work on a universal vector-processing prediction engine during the 2019-20 academic year. At least one member of the team must have a reasonable mathematics background (at least up through MATH 370) and computer programming skills (at least up through CS 290). Familiarity with artificial intelligence techniques (including neural networks), complex systems, data analytics, infometrics, and/or predictive statistics will be considered a plus for all applicants.
Highly qualified applicants will not only possess technical skills, they must also have a record of reliable commitment and focus, good communication skills, cooperative abilities in working with others on a team, demonstrated responsiveness to following directions, and an ability to deal with unexpected contingencies. (In other words, since this is an open-ended research project it is highly likely that directions and deadlines will change as new discoveries are made.)
Students selected for this internship experience are expected to work on the project for two semesters by enrolling in COGS 492, taking either two or three credit hours in each of the two semesters.
Interested students should email Anthony Beavers, professor of philosophy and director of CSML, at tb2@evansville.edu, with a cover letter, resume, and the names of three UE faculty references to apply. The deadline for applications is April 1. Interviews will be conducted during the first two weeks of April and decisions will be announced on or before April 15.
Please contact Dr. Beavers if you have any questions.
Submitted by Anthony Beavers tb2@evansville.edu
Drag show performers!!
PRIDE is still looking for performers for its annual drag show! This year drag show is April 6 at 7:00 p.m. Please email us at uepride@gmail.com if you would be interested!
Submitted by uepride@gmail.com
Premiere of Habitat for Humanity documentary
Come to see the premiere of a student crafted documentary following the 2018 Habitat for Humanity Build in Guatemala. This build had students from a variety of majors and levels building smokeless stoves, latrines, and a house. Follow the team through the week-long adventure as they work to make a change in the world!
The premiere starts at 7:30 p.m. in Eykamp Hall, Room 251, Ridgway University Center, followed by a talk back from students who were on the build. All welcome.
Submitted by Holly Carter hc110@evansville.edu
File the 2019-20 FAFSA by April 15th
File the 2019-20 FAFSA by April 15 at www.fafsa.ed.gov.
Continuing students should file the 2019-20 Free Application for Federal Student Aid (FAFSA) to apply for federal, state and University need-based financial aid, including all federal student loans. UE's FAFSA code is 001795.
Filing by April 15 is essential for Indiana residents to receive state aid, and highly recommended for all.
Questions regarding the FAFSA should be directed to the Student Financial Services (Olmsted Administration Hall, Room 106) at 812-488-2364.
Submitted by Trisha Hawkes th187@evansville.edu
Anything ACES Sale at UE Bookstore
Now through the end of March! Get 33% OFF all merchandise in the UE Bookstore that has either the ACES logo or the Shooting A logo on it in any form. The logos that qualify are displayed below.

The discount is off the original price of the merchandise and cannot be combined with any other discount. Also check out clearance and other items specially priced for a spring clearance. Items are sure to go fast, so hurry to the UE Bookstore and check out the savings.
Submitted by Doug Gustwiller dg57@evansville.edu
2019-20 Dr. Marvin E. Hartig Memorial Scholarship
Family, friends and loved ones of the late Dr. Marvin E. Hartig are pleased to announce the application process for the Dr. Marvin E. Hartig Memorial Scholarship. This scholarship is dedicated to the loving memory of Dr. Hartig, Dean of Evansville College's Evening College in 1967, and administrator for the Center for Advanced Study, director of the Evansville chapter of the American Institute of Banking (AIB), and the international student advisor. In 1974, Dr. Hartig was appointed Dean of Academic Services. He retired in 1984 after serving his alma mater for thirty-five years and passed away in 2007.
This scholarship will be awarded annually to a deserving sophomore student. Preference will be given to a student working while being enrolled as a full-time student. International students are encouraged to apply.
The application can be found here.
Deadline: Please return all materials to the Office of Student Financial Services by April 26.
The decision will be announced by July 1.
Questions: Trisha Hawkes, administrative assistant to the Office of Student Financial Services, at th187@evansville.edu or 812-488-2364
Submitted by Trisha Hawkes th187@evansville.edu
57th Annual Student Art Exhibition 2019 winners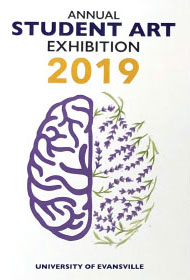 The Department of Art would like to congratulate all the winners and students who had work accepted into the 57th Annual Student Art Exhibition 2019.
We sincerely applaud the hard work and talents of all our students.
The winners are:
Best in Show Purchase Award (This piece will become property of the UE Permanent Collection.)
Michaela Kunkler for "Tessellations"
1st Place Award of Excellence
Ling Lin for "Phoenix"
2nd Place Award of Excellence
Jiashi Ying for "Little Light of Mine"
3rd Place Award of Excellence
Madison Daniels "Like Mother, Like Daughter"
Melvin Peterson Award
Brittany Kerr for "Agate Ware Grey"
Gumbert's Award
Ling Lin
Dorothea Schechte Award
Ling Lin
Dean Long Award
Arleigh Ingram for "Self Portrait"
Les Miley Award
Hunter Camp for "Lidded Jar"
Emeriti Faculty Ward
Michaela Kunkler for "New Orleans"
Pund Award
Madison Daniels for "The Baggage We Carry"
Ashley Gray for "Self-Allusion"
Merit Award
Hope Boren for "Found Things"
Merit Award
Anna Brough for "Helena Forlorn"
Merit Award
Hannah Girten for "Reflection"
Merit Award
Libbey Huffine for "Iguanodon"
Merit Award
Bre-Anna Muller for "Architectural Confusion"
Merit Award
Jessica Peistrup for "Danger"
Program Cover Contest Winner
Ling Lin
Please note that the recipient of the 2019 People's Choice Award will be announced at the conclusion of the UE Student Exhibition. All those who visit the Melvin Peterson Gallery to view the 2019 Student Exhibition have an opportunity to vote once for their favorite piece of artwork. The votes will be tabulated at the end of the 2019 Student Exhibition and the winner announced at that time. Visit the Melvin Peterson Gallery and VOTE!
The 2019 Student Art Exhibition will be on display in the Melvin Peterson Gallery until April 6.
Submitted by Brooksie Smith bs267@evansville.edu
Lunch with the Aces to feature Marcus Wilson on April 12
Lunch with the Aces returns to the University of Evansville campus on Friday, April 12, and will feature one of the all-time greats in UE men's basketball history – Marcus Wilson.
The 1999 Missouri Valley Conference Player of the Year is the keynote speaker at the event. He led the Purple Aces to the 1999 NCAA Tournament along with the MVC Regular Season Championship.
Running from 11:00 a.m. until 1:00 p.m., the event features lunch, a video presentation, half pot, auction items and a UE student-athlete at each table.
Early registration is currently ongoing and is $40 per person. It runs until 5:00 p.m. on April 5. Cost after that date will be $45. Spots may also be purchased at the door on the 12th. Corporate tables are available for $350 and are for eight seats. They include a table at the front of the room, company logo in the event program, logo on the video screen, recognition by the emcee and two student-athletes per table.
Contact Jake Hill at 812-488-2283 or jh690@evansville.edu with any questions.
Aces rally past SIUE in midweek contest
The University of Evansville baseball team stayed hot at the plate and rode some solid relief pitching to a 9-5 victory over SIU-Edwardsville at Charles H. Braun Stadium Wednesday night.
After falling into a 4-0 hole in the second inning, freshman right hand pitcher Sam Steimel came in in to toss a scoreless third and fourth frames, scattering a pair of hits while striking out a batter. For his efforts, Steimel picked up the first victory of his college career.
Meanwhile, the Aces bats ignited. After a bases loaded walk in the bottom of the frame got Evansville on the scoreboard, sophomore first baseman Tanner Craig drilled a one-out solo home run to left in the third, cutting the Cougar lead down to two.
Then in the third, UE overtook SIUE. Tanner Craig continued his sudden warm-up at the plate, drilling a shot to deep left with the bases loaded, just missing out on a grand slam. Instead, it was an RBI single, driving in junior right fielder Troy Beilsmith, cutting the deficit to 4-3. Then, senior center fielder Nate Reeder continued his torrid start to the season with a bases loaded single, driving in both freshman designated hitter A.J. Fritz and junior shortstop Craig Shepherd, giving the Aces the lead, 5-4.
The Cougars would come back to knot the game up in the top of the fifth, but in the bottom of the sixth, the Aces snap the deadlock. Craig Shepherd would tally on a bases loaded wild pitch, giving UE the lead, 6-5. Nate Reeder would follow that up with an RBI single deep in the hole at shortstop, scoring Shepherd for an insurance tally, 7-5.
Freshman left hand reliever Michael Parks would take it from there, tossing three straight shutout frames to close out the game, earning him the third save of his young collegiate career.
The win improves Evansville's record to 11-9 on the season, while SIU-Edwardsville falls to 8-14.
The Aces now head to Peoria, Illinois to open the Missouri Valley Conference schedule on the road at Bradley, beginning Friday at 6:00 p.m.
Contribute to AceNotes
To have content considered for inclusion in AceNotes, please submit a Marketing Request Form. Deadline for submission to AceNotes is 10:00 a.m. on the requested date of publication. Only articles concerning UE related/sponsored activities will be accepted. Articles submitted to AceNotes may be edited for length and clarity. Submitter contact information is at the end of each article.