| | |
| --- | --- |
| AceNotes Today | Tuesday, March 19, 2019 |
Student Financial Services: One-stop for scholarships, financial aid, billing, and payment planning.
In order to better serve our students, offices on the first floor of Olmsted Administration Hall were rearranged over Spring Break.
The Office of the Registrar has moved into the space previously occupied by the Office of Financial Aid at the west end of the first floor of Olmsted Administration Hall, room 116.
Those in the new Student Financial Services division are now housed together in the space at the east end, room 106. This division provides guidance and personalized assistance through the financial aid process and proactively assists families with payment options.
Student Financial Services is a one-stop shop for:
• Financial Aid counseling
• FAFSA filing information
• Scholarships
• Overall tuition and price calculations
• Billing and invoices
• Payment plan options
• Student loans and student loan counseling
• Check cashing
• Loan exit counseling
• Veterans benefits
2019-20 Employee Benefit Open Enrollment
Open enrollment dates for the University's benefit plans are March 18-April 12. During this time, benefit-eligible employees may enroll or make changes in the University's health, life, disability, dental, and ACES flexible spending account benefit plans. It is the only chance for benefit-eligible employees to enroll or make changes until the next open enrollment period unless you have a qualifying change in status.

Below are announcements, important changes, and reminders about the University's benefits (premium changes will be effective May 1 and benefit changes will be effective June 1). Everyone wishing to participate in our benefit plans will be required to enroll, so please read the remainder of this document carefully.
On-line Benefit Enrollment
We will once again be using an on-line enrollment process, eliminating all paper enrollment forms for health, life, dental, and long term disability insurance, as well as the ACES flexible spending account. This ensures the accuracy of your enrollment elections and maintains records electronically regarding your current and future participation. Enrollment/changes to your TIAA and Emeriti VEBA retirement plan salary deferral will continue to be processed on paper forms available in the Office of Human Resources. Therefore, you do not need to re-enroll in either of these benefit plans.
ALL benefit eligible employees (including those who do not want to make any changes to their current coverage) must enter their elections by April 12. As all employees have now utilized this system either during last few years' open enrollments or as a new hire, most should find this to be an easy-to-follow process. Simply log in to WebAdvisor following the instructions below, affirm your current benefit elections (or make changes to coverage if you wish), enter dependent information for family coverage, and beneficiary information for life insurance. If you previously entered your dependents/beneficiaries via online benefit enrollment, those entries will already be pre-populated for you. Please review this information and make changes as necessary. If you do not wish to be enrolled in our insurance plans, please check the "opt out" button for those benefits.

Please review the attached On-line Benefit Enrollment FAQ and Manual, which should answer many of the questions you might have. Also, please consider attending one of our open enrollment meetings or visit the Office of Human Resources (OH 118) if you need assistance with your on-line enrollment.

On-line Benefit Enrollment Log-in Instructions:
• Log in to WebAdvisor at: https://webadvisor.evansville.edu
• Click on the "Employees" button (highlighted in purple)
• Click on the "Benefit Enrollment" link (located in the "Employee Profile" section)
• Follow the instructions in red located at the top of the Benefit Enrollment page.
Health Insurance Premiums
Premiums for the upcoming plan year are attached. The increase in premiums is 5% and premium adjustments will be made beginning with the first payroll in May for coverage beginning June 1.

Health Insurance Plan Design Changes
Please note the following changes that will take effect June 1:
• Employees and dependents in need of a hip, knee or shoulder joint replacement will have access to the services of Christ Hospital Health Network in Cincinnati, OH. The hospital's orthopedic surgeons work with you to develop a treatment plan that is right for your condition and lifestyle. They use the latest technology and advanced techniques to offer minimally invasive surgical options when possible, which means less pain and shorter recovery times. To encourage utilization of Christ Hospital, the University is waiving the deductible for all joint replacement expenses at their facilities, resulting in potentially thousands of dollars in savings for those employees and dependents that need a joint replacement and take advantage of this program. For more information, please review: www.thechristhospital.com/services/joint-and-spine/joint-replacement
• We have partnered with pharmacy benefits manager CRX International to offer more than 300 of the most commonly prescribed brand-name drugs to employees and dependents. These are maintenance medicines for long-term conditions such as high blood pressure, cholesterol, heartburn, arthritis, and diabetes. CRX is a service that connects you with an Australian, British, or Canadian licensed pharmacy that can dispense, at the lowest available price, the same brand-name medicine currently prescribed by your doctor, and arrange for its delivery directly to you. While participation in this program will be voluntary, the University will encourage participation by waiving co-pays for these prescriptions, resulting in significant savings for those employees and dependents who take these drugs. More information regarding the list of available prescriptions and how to enroll in the program will be available before June 1.
• As we shared during last year's open enrollment and have reminded employees in recent months, for employees enrolled in the HRA plan, we will implement the following premium levels based participation in the University's wellness program for coverage effective June 1 (and premiums beginning in May):
1. For members that choose not to participate in a wellness screening at the UE Medical Clinic: premiums will increase $23 per biweekly pay ($50 per month)
2. For members that are tested as tobacco users: premiums will increase $14 per biweekly pay ($30 per month)
3. For members with two or more risk factors: premiums will increase $7 per biweekly pay ($15 per month)

Only the most recent screening results will be used in April 2019 to determine premium charges that will be effective May 2019. Therefore, if you haven't done so already, you are encouraged to get a screening (or an updated screening) by Friday, April 12. As always, screenings are available through the University's employee medical clinic at no cost.

If your spouse is covered on the UE health insurance plan, both of you need to participate and have one or less risk factors to avoid an increased premium. However, if both the employee and spouse choose not to participate, both are tobacco users, etc., there will only be one premium increase.
On-Site Medical Clinic
As a reminder, the UE Medical Clinic is available for employees and family members covered on UE health insurance. It is in the same location as UE's Student Health Center in Sampson Hall. All services offered by the clinic are provided at no cost.

The medical clinic is open 40 hours per week, Monday to Friday, staffed by a registered nurse and certified medical assistant. Eighteen of those hours also include staffing by a nurse practitioner. Along with the Student Health Center and Xtra Care 4U (see below), we will have a nurse practitioner available 32 hours per week. We strongly encourage the scheduling of an appointment at our clinic to ensure the staff is prepared to serve you. However, they will do their best to accommodate walk-ins.
In addition to the UE medical clinic, Tri-State Community Clinics offers Xtra Care 4U. This service provides an additional four hour time period (7:00 a.m.-11:00 a.m.) each Friday for employees and family members who are eligible to use the UE Medical Clinic to obtain care for acute/urgent care needs from a nurse practitioner. Xtra Care 4U is available at Tri-State Community Clinic's main office located at 8601 N. Kentucky Avenue, just off Hwy 41 and Mt. Pleasant Road. Appointments are not required. Patients are seen on a first come, first served basis. Just like the UE Medical Clinic, all services provided by Xtra Care 4U are at no cost. However, this service will not provide refills on any maintenance medications or perform routine physicals or wellness exams.

For more details, please review the UE Medical Clinic documents.
Dental Insurance
There will be no changes to dental insurance premiums or benefits for this year.

Life and Long Term Disability Insurance
There will be no increase in premiums for Group Life, Voluntary Life, or Long Term Disability insurance. You may increase Voluntary Life Insurance coverage by $10,000 per year.

ACES Flexible Spending Account
If you would like to participate in this program for 2019-20, you will need to enter the amount of your annual ACES election in WebAdvisor Benefits Enrollment On-line. A detailed ACES flexible spending account packet and debit card summary are attached. ACES participants may carry over up to $500 in unused health care flexible spending account dollars into the new plan year.

ACES participants can receive reimbursements via direct deposit to their bank account. A flexible spending account direct deposit authorization form is attached.

TIAA Retirement Plan
This is a reminder that eligible employees may enroll, change salary deferrals, change investment elections, or waive participation at any time in the TIAA 403(b) retirement plan. If you wish to enroll, change your salary deferral, or waive participation, please submit the following form to the Office of Human Resources: https://bit.ly/2FjUdkW. If you wish to change your investment elections, please contact TIAA at 1-800-842-2776 or http://www1.tiaa-cref.org/tcm/universityofevansville/.
Dates of Open Enrollment Meetings
To learn more about these benefit changes or to speak with a plan representative, employees are encouraged to attend one of the following open enrollment meetings:
Monday, March 18: 9:00-10:00 a.m., Eykamp Hall, Room 251, Ridgway University Center
Monday, March 18: 11:00 a.m.-noon, Eykamp Hall, Room 251, Ridgway University Center
Monday, March 18: 2:00-3:00 p.m., Eykamp Hall, Room 251, Ridgway University Center
Tuesday, March 19: 9:00-10:00 a.m., Eykamp Hall Room 251, Ridgway University Center
Tuesday, March 19: 11:00 a.m.-noon, Eykamp Hall, Room 251, Ridgway University Center
Tuesday, March 19: 2:00-3:00 p.m., Eykamp Hall, Room 251, Ridgway University Center
Please contact the Office of Human Resources at ext. 2943 with any questions.
Share Your UE Story!
What makes UE special? Yes, we have award-winning programs and a beautiful campus. But it's the people - the members of the UE family - who make the University of Evansville the special place that it is.
Fill out this simple questionnaire to share your UE story or the story of an outstanding student or faculty member you know. Then, we'll feature it on the UE website, social media, and maybe even select print publications to tell the world about all the great things our Aces are doing!
Don't forget to submit a photo, too. We're looking for pics of you in Aces gear, at your favorite spot on campus, or doing anything else that illustrates your UE experience.
Unger to speak at SIAM Student Chapter Talk Series
UE professor of mechanical and civil engineering David Unger will give a talk to the Society for Industrial and Applied Mathematics (SIAM) chapter on March 19. The lecture will begin at noon in Room 126, Koch Center for Engineering and Science. The title of Unger's lecture is "Free Streamline Hydrodynamic Analogy for a Linear Elastic Antiplane Slot Problem with Perfectly Plastic Ligaments at Its Ends.''
The abstract of his talk is as follows:
It is shown that a two-dimensional analogy exists between an inviscid incompressible fluid flow around two finite-length flat plates (Riabouchinsky problem) and that of a straight slot cut in a linear elastic plate having rounded ends that are on the verge of yielding plastically. For the plates, a uniform flow at infinity is assumed in a direction perpendicular to the side-by-side parallel lines that constitute the two-dimensional geometry of the plates. Correspondingly, the slot has a boundary condition at infinity of a uniform shear traction in the antiplane direction. In the fluid flow problem, two free streamlines form at both ends of the flat plates, while in the slotted plate problem, the rounded ends of the traction-free slot surfaces constitute ligaments of perfectly plastic material. The specific shape of the rounded ends of the slot problem can be inferred by analogy with the fluid flow problem.
Submitted by Pengcheng Xiao px3@evansville.edu
Physical Therapy Club Meeting!
Reminder- the Physical Therapy Club is meeting on Tuesday, March 19, at 5:00 p.m. at the Stone Center. We are going to have a great guest speaker that you are not going to want to miss. If you need directions to the Stone Center, please feel free to ask anyone on the board.
Submitted by Stephanie Snodgrass ss597@evansville.edu
This Week in Music: Zifer/Steinsultz Faculty Recital and Student Recitals
Zifer/Steinsultz Faculty Recital
Tuesday, March 19
7:30 p.m., Wheeler Concert Hall
On Tuesday, March 19, at 7:30 pm, UE music professors Timothy Zifer (trumpet) and Kenneth Steinsultz (euphonium) will give a joint recital. The program will feature works by Mahler, Reger, Rachmaninoff, Jacob, Turrin, Ewazen, and Arutiunian. Anne Fiedler (piano) and the Shepard Brass will be joining them on several pieces.
The concert is free and open to the public. For complete program information, visit the music department concert calendar.
Student Recitals
Saturday, March 23
1:00 and 2:30 p.m.
Wheeler Concert Hall
Kierra Haight, flute, senior recital, Wheeler Concert Hall, 1:00 p.m.
Yida Zhong, violin, senior recital, Wheeler Concert Hall, 2:30 p.m.
Submitted by James Sullivan js820@evansville.edu
Jamey Aebersold Quartet in concert at UE
One of the most popular jazz groups in the Mid-west, The Jamey Aebersold Jazz Quartet from Louisville, Kentucky, will return Evansville to appear on the Jazz Guest Artist Concert Series, co-sponsored by the University of Evansville and the Evansville Jazz Society. The concert will be presented in Wheeler Concert Hall on Sunday, March 24, at 4:00 p.m.
Aebersold is one of the world's best known jazz educators, in addition to having established an outstanding reputation as a saxophonist. The National Endowment for the Arts has honored Aebersold by naming him a "Jazz Master" in a ceremony at the Kennedy Center for the Performing Arts in Washington, D.C. Among his many endeavors are the renowned Jamey Aebersold Jazz Camps, held annually at various locations around the US and in other countries, and the Jamey Aebersold Jazz Play-along Records, now numbering over 130 volumes, which are widely used in jazz education all over the world.
In addition to Aebersold on alto and tenor saxophones, the performers will be Gabe Evens, piano; Tyrone Wheeler, bass; and Jonathan Higgins, drums. All are among the most sought-after jazz artists in the Midwest.
Admission to the concert is $15 for adults, $10 for Evansville Jazz Society members and $5 for students with ID. Tickets can be obtained by contacting the UE Department of Music at 812-488-2754 or may be obtained at the door.
For more information, contact Edwin Lacy at EL2@evansville.edu or 812-488-2227.
Submitted by James Sullivan js820@evansville.edu
I-House: Côte d'Ivoire and Study Abroad Info Session
We hope you had amazing spring break and ready for school. We are excited to be back and resume our weekly I-House. This week Adom Kouame is our presenter for I-House: Côte d'Ivoire. She is an accounting major at UE and her favorite part of UE is the diverse student body. Her hobbies include reading, watching movies, learning a new language, and taking walks. She will be sharing more about herself and her culture at I-House this Wednesday, March 20, on the second floor of Ridgway University Center at 7:00 p.m.
Join us before the presentation to meet a representative from ISEP who can help connect you to non-Harlaxton study abroad options all around the world! Current and past ISEP participants will be there to answer your questions beginning at 6:30 p.m.
Submitted by Megan Sicard ms331@evansville.edu
RSA Bingo today
Join RSA for Bingo on Monday, March 25, at 7:00 p.m. in Rademacher's Lounge! There will be really cool prizes, food, and lots of fun!
Submitted by Lily Renfro lr156@evansville.edu
Newman Club Dinner and Discussion: Marriage
Join the Newman Club this Wednesday, March 20, at 5:00 p.m. for our weekly dinner and discussion. This week's topic is "Marriage," and will be hosted by Mr. and Mrs. Wade and Kelly Lowell. We will be serving dinner afterwards. All are welcome!
Submitted by Michaela Kunkler mk305@evansville.edu
Medical Spanish Practice
Medical Spanish practice is designed to help students practice communication skills in Spanish for medical settings. Students may arrive and leave at any time. The next session is this Wednesday, March 20, from 5:30-7:00 p.m. in Room 73 in the Schroeder School of Business Building. Please contact associate professor of Spanish Diana Rodríguez Quevedo at dr130@evansville.edu for more details. ¡Nos vemos el miércoles!
Submitted by Diana Rodríguez Quevedo dr130@evansville.edu
Lolly's Pop Bars at part-time fair
Pop on over to the part-time job fair on the first floor of Ridgway University Center on Wednesday, March 20, from 11:00 a.m.-1:00 p.m. Free Lolly's Pop Bars for students attending the event!
Submitted by Alison Morris-McDonald am268@evansville.edu
Creating a Culture of Empathy workshop
A workshop, "Creating a Culture of Empathy," is set for Wednesday, April 10, from 6:00 - 8:00 p.m. at the Stone Family Center for Health Sciences, Downtown Evansville: Students, faculty, staff, and administrators at UE can attend the workshop at the $45 rate. To register, please select the student rate at: www.evansville.edu/centerforlearning/professional-development.cfm.
Empathy is the ability to understand and communicate the feelings of another. On a daily basis we have interactions with colleagues, clients, patients, employees, cashiers, friends, and family, but do we truly have an understanding of their feelings? Understanding and modeling empathy is vital to making us better leaders and human beings. This workshop introduces the theory through interactive design activities that will enhance the empathy in adults.
Submitted by Lindsay Roberts lr155@evansville.edu
Edwards to speak at Science with a Twist
Dale Edwards, professor of biology, will be the guest speaker at the March Science with a Twist lecture. Science with a Twist is a science outreach program that invites local scientists to speak about a topic in science of interest to them. The lecture is Wednesday, March 20, at 6:30 p.m. at Bokeh Lounge, 1007 Parrett Street at Haynie's Corner. The topic of Edwards' lecture will be "Freshwater Mussels of North America: Stories of Pearls, Peril, and Providence." The event is free and open to the public.
Stephen Crowley to speak at UE's Crick Lecture on March 20
Stephen Crowley, associate professor of philosophy at Boise State University, will be the guest speaker for the University of Evansville's annual Crick Lecture in the Cognitive and Neural Sciences. The lecture is Wednesday, March 20 at 4:00 p.m. in the Vectren Lecture Hall, Room 100, in the Koch Center for Engineering and Science. This event is free and open to the public.
The topic of Crowley's lecture will be "Is There a Virtue in Honesty? Personality Psychology Meets Virtue Ethics."
Crowley's areas of academic interest include epistemology, philosophy of science, history and sociology of science, philosophy of mind/psychology, philosophy of logic, early modern philosophy.
Crowley earned his PhD in Philosophy from Indiana University. He grew up in Adelaide, South Australia, and graduated from the University of Adelaide where he focused on the study of logic. He moved to the United States to pursue graduate studies. His areas of academic interest and study include epistemology, philosophy of science, history and sociology of science, philosophy of mind/psychology, philosophy of logic, early modern philosophy.
Part-time job fair this week
Need a part-time or summer job? Drop by and meet with area employers at the Summer & Part-Time Job Fair set for Wednesday, March 20, from 11:00 a.m. - 1:00 p.m. on the first floor of Ridgway University Center.
Business casual attire recommended. Bring many copies of your résumé.
Submitted by Alison Morris-McDonald am268@evansville.edu
Albion and EPD detective present program on domestic and sexual violence and stalking
Albion Fellows Bacon Center, along with a detective with the Evansville Police Department, will be holding an informative presentation on domestic and sexual violence as well as stalking. These experts in the field will give us information on what these types of violence entail as well as ways to protect ourselves and support those we love.
This program is on Wednesday, March 20, from 5:00-6:00 p.m. in Eykamp Hall, Rooms 253-254, in Ridgway University Center.
Submitted by Jennifer Hargus jh693@evansville.edu
Ethics Lecture speaker to discuss ethics, environmental advocacy and community organizing
The University of Evansville's 10th annual William R. Connolly Ethics Lecture is planned for Monday, March 25. The event, which is free and open to the public, begins at 7:00 p.m. in Room 170 in the Schroeder School of Business Building. Rikki Parker, south coast project manager and legal analyst for the Coastal Conservation League, is the speaker. Her topic will be "Boots on the Ground: Ethics, Environmental Advocacy and Community Organizing."
During her lecture, Parker will tell the story of her road to environmental advocacy, making stops in the worlds of toxic tort litigation and political campaigns (and yoga). She will highlight two campaigns that she led, first describing her ongoing work with the Gullah community on Hilton Head Island to push back against a highway-widening project. This community is concerned that roadway expansion will displace them from their generational homes and businesses. Hilton Head Island's history is one of rampant development and explosive growth in the tourism industry at the expense of Gullah families and the natural environment. This pattern can only change through citizen engagement, political bravery and creative policy solutions. Parker will close by sharing how a citizen-driven campaign to reduce plastic pollution culminated in implementation of South Carolina's first ban on single use plastic bags.
Parker earned her BS in cognitive science from the University of Evansville. She earned her JD from Louisiana State University, where she served as president of the Trial Advocacy Board. After graduation, Parker practiced in the areas of employment discrimination and environmental law. In 2015, she served as policy director to Scott Angelle's campaign for Governor of Louisiana. In 2016, Parker joined the South Carolina Coastal Conservation League, an environmental advocacy nonprofit where she works to protect local farms, prevent pollution from reaching South Carolina's pristine waterways, and ensure all citizen have a say in how their communities look and feel.
Pitch Your idea to Make Evansville more fun and exciting!
The first ever Community Changemaker Challenge is underway, and EVERYONE is invited to pitch their idea on how to improve our city. Folks of all ages and walks of life are welcome to form a team. The top 4 teams will win $1,000 in cash and pitch their idea to a panel of community investors. A 60-second video is due on April 8 by midnight. Learn more.
Submitted by Cindy Kelley ck116@evansville.edu
Want to make a difference? Start now!
Want to make a difference in your community - or even the world? Start now by proposing your own ChangeLab project. Class credit and financial support is available, and your idea can help nonprofits, for-profit businesses, or civic projects.
Submit your idea for the Spring 2020 semester here by noon on Monday, April 1:
Spots are limited, apply early!
For more info on ChangeLab, visit www.evansville.edu/changelab.
Submitted by Cindy Kelley ck116@evansville.edu
A Salute to Women's History: Hedy Lamarr
Hedy Lamarr was an actress during MGM's "Golden Age." Lamarr was also a scientist, co-inventing an early technique for spread spectrum communications - key to many wireless communications of our present day. A recluse later in life, she died in her Florida home in 2000.
Lamarr was born Hedwig Eva Maria Kiesler on November 9, 1913, in Vienna, Austria. Discovered by an Austrian film director as a teenager, she gained international notice in 1933, with her role in the sexually charged Czech film, Ecstasy. After her unhappy marriage ended with Fritz Mandl, a wealthy Austrian munitions manufacturer who sold arms to the Nazis, she fled to the United States and signed a contract with the Metro-Goldwyn-Mayer studio in Hollywood under the name Hedy Lamarr. Upon the release of her first American film, Algiers, co-starring Charles Boyer, Lamarr became an immediate box-office sensation.
Often referred to as one of the most gorgeous and exotic of Hollywood's leading ladies, Lamarr made a number of well-received films during the 1930s and 1940s. Notable among them were Lady of the Tropics (1939), co-starring Robert Taylor; Boom Town (1940), with Clark Gable and Spencer Tracy; Tortilla Flat (1942), co-starring Tracy; and Samson and Delilah (1949), opposite Victor Mature. She was reportedly producer Hal Wallis's first choice for the heroine in his classic 1943 film, Casablanca, a part that eventually went to Ingrid Bergman.
In 1942, during the heyday of her career, Lamarr earned recognition in a field quite different from entertainment. She and her friend, the composer George Antheil, received a patent for an idea of a radio signaling device, or "Secret Communications System," which was a means of changing radio frequencies to keep enemies from decoding messages. Originally designed to defeat the German Nazis, the system became an important step in the development of technology to maintain the security of both military communications and cellular phones.
Lamarr wasn't instantly recognized for her communications invention since its wide ranging impact wasn't understood until decades later. However, in 1997 Lamarr and Antheil were honored with the Electronic Frontier Foundation (EFF) Pioneer Award, and that same year Lamarr became the first female to receive the BULBIE™ Gnass Spirit of Achievement Award, considered the "Oscars" of inventing.
Submitted by Darrion Culler dc199@evansville.edu
Upset by what you've seen on the news? Help immigrants in a concrete way!
Please stop by the Catholic Relief Services table in Ridgway University Center on Thursday, March 21 between 11:00 a.m.-noon or between 5:00-7:00 p.m. to learn about migration issues and write letters to representatives. We'll have supplies and information ready, so it should only take a few minutes. Studies have shown that writing letters to your representatives by hand is the most effective way to communicate with them - writing letters can make a huge difference! There will also be a raffle at the table. Please email ks491@evansville.edu if you'd like to get more involved in the Newman Club's migration initiative.
Submitted by Michaela Kunkler mk305@evansville.edu
File the 2019-20 FAFSA by April 15th
File the 2019-20 FAFSA by April 15 at www.fafsa.ed.gov.
Continuing students should file the 2019-20 Free Application for Federal Student Aid (FAFSA) to apply for federal, state and University need-based financial aid, including all federal student loans. UE's FAFSA code is 001795.
Filing by April 15 is essential for Indiana residents to receive state aid, and highly recommended for all.
Questions regarding the FAFSA should be directed to the Student Financial Services (Olmsted Administration Hall, Room 106) at 812-488-2364.
Submitted by Trisha Hawkes th187@evansville.edu
March 2019 risk management tip!
Travelers Indemnity Company states that slips, trips, and falls are a major cause of injury that occurs to both visitors and employees. The National Safety Council estimates that 25,000 slip, trip, and fall accidents occur daily in the USA. According to the Bureau of Labor Statistics (BLS), slips, trips and falls on the same level are the second leading cause of injury in the workplace. Falls on the same level are estimated by the BLS to cost $6.9 billion annually. Slips, trips and falls can occur in any business, but are of particular concern to businesses with considerable public and employee foot traffic such as those in retail, medical and service industries, such as higher education. In fact, approximately 40% of UE's worker's compensation incidents are due to slips, trips and falls.
So, what can you do to make a positive impact?
1) Be aware of your immediate surroundings
2) Wear comfortable, properly fitting non-slip shoes
3) Be aware of the type of surface you are walking on and its condition
4) Adjust to environmental and walking surface conditions
5) Pay attention to "Wet Floor" warning signs to warn of known hazards
6) Practice Good Housekeeping
7) Keep walkways and hallways free of debris, clutter and obstacles
8) Only carry items that allow you to see clearly where you are going
9) Use handrails when going up or down stairs and not skip steps
10) Eliminate or minimize distractions while walking, such as looking at your cell phone
Report unsafe conditions to Office of Safety and Security (812-488-2051).
Submitted by Kim Winsett kw83@evansville.edu
Anything ACES Sale at UE Bookstore
Now through the end of March! Get 33% OFF all merchandise in the UE Bookstore that has either the ACES logo or the Shooting A logo on it in any form. The logos that qualify are displayed below.

The discount is off the original price of the merchandise and cannot be combined with any other discount. Also check out clearance and other items specially priced for a spring clearance. Items are sure to go fast, so hurry to the UE Bookstore and check out the savings.
Submitted by Doug Gustwiller dg57@evansville.edu
Last chance to register for UE Connect Lunch and Learn: Financial Empowerment
All of campus is invited to attend UE Connect Lunch and Learn: Financial Empowerment on Thursday, March 21, from noon-1:00 p.m. in Eykamp Hall, Rooms 253-255, Ridgway University Center.
Ben Joergens, director of financial empowerment at Old National Bank, will be the speaker.
Joergens is a 2002 graduate of the University of Southern Indiana with a BA in Marketing. He is also a certified financial education instructor and has a demonstrated history of working in the banking industry, with over 19 years of experience with Old National Bank. Currently, Ben is the Director of Financial Empowerment at Old National Bank. In his current role as director of financial empowerment, Joergens is responsible for enhancing the bank's financial literacy initiatives by partnering with schools, colleges, universities, and non-profit and government agencies to address community needs and implement financial empowerment programs based on sound money management skills. Over the years, his many achievements and awards include the 2017 Community Impact Award for ONB's 12 Steps to Financial Success, and the 2017 Financial Education Instructor of the Year.
The session will cover:
• Setting Financial Goals – Learn to set SMART Goals
• Basics of Banking – Top reasons to utilize a financial institution
• Budgeting – Learn how to be in control of your money!
• Saving Money – Who doesn't want more money?
• Credit – The ins and outs of understanding and building a good credit history and score
• Investments – Start investing when you're young so you can retire early!
Register today by going to:
www.uealumnionline.com/lunchandlearnfinance19.
All registrants will receive a complimentary lunch.
Submitted by Nichole Coffey ns50@evansville.edu
New graduate certificates offered this fall!
Beginning Fall 2019, four new graduate certificates geared towards those that would like to further advance their education and gain an edge in the workplace will be offered in a hybrid format.
• Graduate Certificate in Higher Education
• Graduate Certificate in Innovation
• Graduate Certificate in Non-Profit Leadership
• Graduate Certificate in Public Health (fully-online)
The nine credit hour programs are accelerated in nature with six week classes. The cohort will meet on campus twice per six week course on Saturdays with the remainder of the coursework being delivered online. The program is competitively set at $525 per credit hour. A graduate certificate can be completed in one semester.
The graduate certificate in public health is completely online. It is 18 credit hours and is offered during several terms. The format is 12-week modules over the calendar year.
For more information about the graduate certificates and graduate program options visit:
www.evansville.edu/admission/graduate.cfm.
Submitted by Lindsay Roberts lr155@evansville.edu
Summer and fall textbook adoptions
This a reminder to all faculty and departments that Summer I & 2 and Fall 2019 textbook adoptions have been requested by the UE Bookstore with a due date of mid-April. Please submit your adoptions as soon as you can so that the bookstore can begin entering information so that cheaper books can be found. If you have any questions, please contact the UE Bookstore.
Submitted by Doug Gustwiller dg57@evansville.edu
Select a room in your current residence hall
The process for students to select a room in any residence hall for next year takes place on Tuesday, March 19, 9:00-10:30 p.m., in Eykamp Hall, Ridgway University Center. If you are interested in reserving a room in your same residence hall for next year, please go to Eykamp Hall then. The building staff will be ready to assist you during these times. If you would like to switch buildings for next year, submit a housing contract on Self-Service and do not sign up for a room in your same hall. You will receive more information about the March 20 process to select a room in a different hall later in the week.
Submitted by Brian Conner bc32@evansville.edu
Call for nominations: Dean of Students Leadership Awards
Nominations are now being accepted for consideration of The Howard S. Rosenblatt "Dean of Students Leadership Awards." These awards will be presented at the 25th Annual Leadership Awards Reception scheduled for April 24, at 7:00 p.m. Invitations will be prepared by the Center for Student Engagement.
Awards are presented in the following categories:
• Student Organization Advisor of the Year
• Student Organization of the Year
• Student Leader of the Year
Over 80% of UE students participate in at least one student organization or program. These organizations are successful because of the commitment of the student leaders and the advisors who give freely of their time and support. The recipients of these awards are selected based on their commitment to the University of Evansville as well as the development and success of their efforts within their chosen student organization.
The deadline for nominations is March 25.
Click on this link to submit your nomination https://www.surveymonkey.com/r/DOSLeadershipAwards2019.
If you have any questions, please contact the Vice President for Student Affairs/Dean of Students office at 812-488-2500 or by e-mail via cb131@evansville.edu.
Thank you in advance for celebrating our student leaders' achievements!
UE's Mad Hot Ballroom wins Celebration of Leadership Award
UE's Mad Hot Ballroom program won the Sam Featherstone Award for Projects and Programs at the annual Celebration of Leadership Awards last night hosted by Leadership Evansville.
Erin Lewis, associate director for the Center for Innovation and Change at UE, is the club's advisor and Joseph Shoup is president.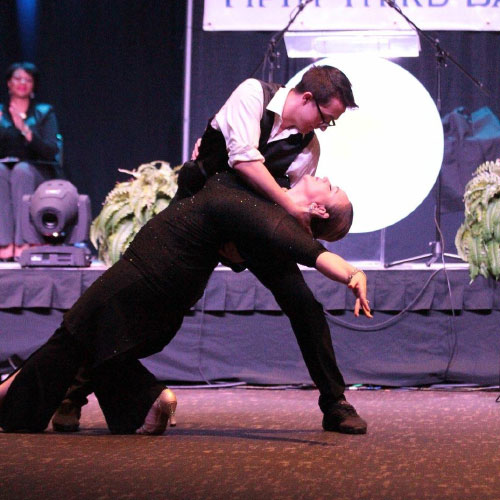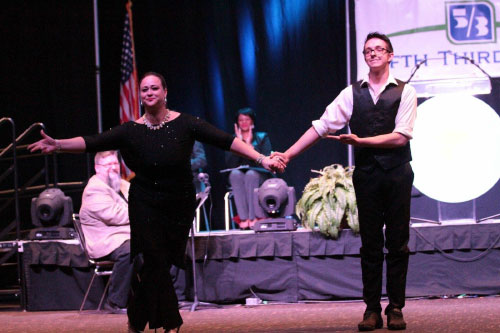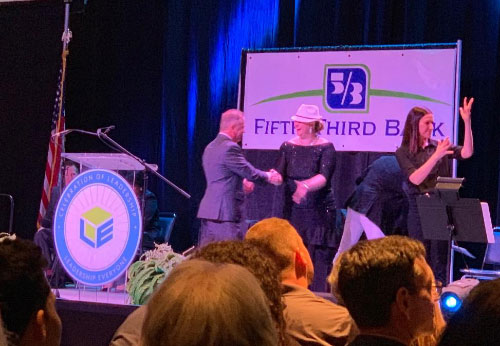 Aces Lukas gives UE back-to-back MVC Pitchers of the Week
For the second week in a row, the University of Evansville baseball team has the Missouri Valley Conference pitcher of the week on their staff. The league has given the honor to junior right-hand pitcher Adam Lukas, who replaces teammate junior left-hand pitcher Nathan Croner, who wore the crown last week.
Lukas turned in a dominating performance against Creighton in last Friday's series opener at Charles H. Braun Stadium, striking out 12, while holding the potent Bluejay lineup to a single hit in the Aces' 7-1 victory. Croner certainly put himself in the running to retain the award, tossing seven shutout frames at Creighton, while striking out seven batters in an 11-0 victory over the Bluejays.
The University of Evansville baseball team is back in action Wednesday night at home against Eastern Illinois University. First pitch is set for 6:00 p.m.
Contribute to AceNotes
To have content considered for inclusion in AceNotes, please submit a Marketing Request Form. Deadline for submission to AceNotes is 10:00 a.m. on the requested date of publication. Only articles concerning UE related/sponsored activities will be accepted. Articles submitted to AceNotes may be edited for length and clarity. Submitter contact information is at the end of each article.