| | |
| --- | --- |
| AceNotes Today | Friday, March 15, 2019 |
Share Your UE Story!
What makes UE special? Yes, we have award-winning programs and a beautiful campus. But it's the people - the members of the UE family - who make the University of Evansville the special place that it is.
Fill out this simple questionnaire to share your UE story or the story of an outstanding student or faculty member you know. Then, we'll feature it on the UE website, social media, and maybe even select print publications to tell the world about all the great things our Aces are doing!
Don't forget to submit a photo, too. We're looking for pics of you in Aces gear, at your favorite spot on campus, or doing anything else that illustrates your UE experience.
UE Connect Lunch and Learn: Financial Empowerment. Register today for complimentary lunch!
UE Connect Lunch and Learn: Financial Empowerment is set for Thursday, March 21, from noon-1:00 p.m. in Eykamp Hall, Rooms 253-255, Ridgway University Center. Ben Joergens, director of financial empowerment at Old National Bank, will be the speaker.
All of campus is invited to attend this session. It will cover:
• Setting Financial Goals – Learn to set SMART Goals
• Basics of Banking – Top reasons to utilize a financial institution
• Budgeting – Learn how to be in control of your money!
• Saving Money – Who doesn't want more money?
• Credit – The ins and outs of understanding and building a good credit history and score
• Investments – Start investing when you're young so you can retire early!
Register today for your complimentary lunch. Deadline to register is Tuesday March 19. Register here:
www.uealumnionline.com/lunchandlearnfinance19.
Submitted by Nichole Coffey ns50@evansville.edu
Edwards to speak at Science with a Twist
Dale Edwards, professor of biology, will be the guest speaker at the March Science with a Twist lecture. Science with a Twist is a science outreach program that invites local scientists to speak about a topic in science of interest to them. The lecture is Wednesday, March 20, at 6:30 p.m. at Bokeh Lounge, 1007 Parrett Street at Haynie's Corner. The topic of Edwards' lecture will be "Freshwater Mussels of North America: Stories of Pearls, Peril, and Providence." The event is free and open to the public.
Stephen Crowley to speak at UE's Crick Lecture on March 20
Stephen Crowley, associate professor of philosophy at Boise State University, will be the guest speaker for the University of Evansville's annual Crick Lecture in the Cognitive and Neural Sciences. The lecture is Wednesday, March 20 at 4:00 p.m. in the Vectren Lecture Hall, Room 100, in the Koch Center for Engineering and Science. This event is free and open to the public.
The topic of Crowley's lecture will be "Is There a Virtue in Honesty? Personality Psychology Meets Virtue Ethics."
Crowley's areas of academic interest include epistemology, philosophy of science, history and sociology of science, philosophy of mind/psychology, philosophy of logic, early modern philosophy.
Crowley earned his PhD in Philosophy from Indiana University. He grew up in Adelaide, South Australia, and graduated from the University of Adelaide where he focused on the study of logic. He moved to the United States to pursue graduate studies. His areas of academic interest and study include epistemology, philosophy of science, history and sociology of science, philosophy of mind/psychology, philosophy of logic, early modern philosophy.
Delta Omega Zeta's Break the Floor
Delta Omega Zeta will be hosting Break the Floor: A 2000's Remix on March 29, at 6:00 p.m. in Room 162 in the Schroeder School of Business Building. Everyone is invited to come partake in a friendly karaoke competition. No skills required! Not comfortable singing in front of a crowd? You can be part of the audience and participate in various mini-games and win prizes that way as well! Come visit our tables in Ridgway University Center on March 25, 27, and 29 from 10:00 a.m.-1:00 p.m. to learn more, or contact Delta Omega Zeta's philanthropy chair, Jessica Elmore, at je146@evansville.edu with any questions.
Submitted by Jessica Elmore je146@evansville.edu
Part-time job fair next week
Need a part-time or summer job? Drop by and meet with area employers at the Summer & Part-Time Job Fair set for Wednesday, March 20, from 11:00 a.m. - 1:00 p.m. on the first floor of Ridgway University Center.
Business casual attire recommended. Bring many copies of your résumé.
Submitted by Alison Morris-McDonald am268@evansville.edu
Ethics Lecture speaker to discuss ethics, environmental advocacy and community organizing
The University of Evansville's 10th annual William R. Connolly Ethics Lecture is planned for Monday, March 25. The event, which is free and open to the public, begins at 7:00 p.m. in Room 170 in the Schroeder School of Business Building. Rikki Parker, south coast project manager and legal analyst for the Coastal Conservation League, is the speaker. Her topic will be "Boots on the Ground: Ethics, Environmental Advocacy and Community Organizing."
During her lecture, Parker will tell the story of her road to environmental advocacy, making stops in the worlds of toxic tort litigation and political campaigns (and yoga). She will highlight two campaigns that she led, first describing her ongoing work with the Gullah community on Hilton Head Island to push back against a highway-widening project. This community is concerned that roadway expansion will displace them from their generational homes and businesses. Hilton Head Island's history is one of rampant development and explosive growth in the tourism industry at the expense of Gullah families and the natural environment. This pattern can only change through citizen engagement, political bravery and creative policy solutions. Parker will close by sharing how a citizen-driven campaign to reduce plastic pollution culminated in implementation of South Carolina's first ban on single use plastic bags.
Parker earned her BS in cognitive science from the University of Evansville. She earned her JD from Louisiana State University, where she served as president of the Trial Advocacy Board. After graduation, Parker practiced in the areas of employment discrimination and environmental law. In 2015, she served as policy director to Scott Angelle's campaign for Governor of Louisiana. In 2016, Parker joined the South Carolina Coastal Conservation League, an environmental advocacy nonprofit where she works to protect local farms, prevent pollution from reaching South Carolina's pristine waterways, and ensure all citizen have a say in how their communities look and feel.
Certified mail return receipt form (3811) reminder
When sending certified mail using the return receipt form (green postcard form 3811), be sure to write your department name or your name on the back of the postcard. Indicating your department name or your name will help to ensure you receive the return receipt following delivery, which includes the date the mail was delivered and the signature of the person who received it, if applicable.
For additional information on the certified mail process, visit the Mail Services website on AceLink called Certified Return/ Receipt/Restricted Mail Instructions.
Submitted by Kim Winsett kw83@evansville.edu
AT Club Clothing Drive
The members of the Athletic Training Club are collecting gently used T-shirts, athletic shorts, and sweatpants from April 2-4, from 11:00 a.m.-3:00 p.m. in Ridgway University Center. The clothes will be donated to Uncharted International and the YWCA in Evansville. Each person who donates can guess the amount of clothes donated and whoever guesses the closest amount will receive a gift card of their choice. Please donate the clothes you no longer wear to help out the clothing drive!
Submitted by Lauren Schnell ls271@evansville.edu
A Salute to Women's History: Dr. Wangari Muta Maathai
Dr. Wangari Muta Maathai was awarded the Nobel Peace Prize in 2004 for her actions to promote sustainable development, democracy and peace and was the first African woman to receive the Nobel Peace Prize. She passed away in September 2011.
The first woman in East and Central Africa to earn a doctorate degree, Professor Maathai was an active member of the National Council of Women of Kenya from 1976 to 1987 and served as its chairman from 1981 to 1987. In 1976 she introduced the idea of community-based tree planting. She continued to develop this idea into a broad-based grassroots organization whose main focus is poverty reduction and environmental conservation through tree planting. The organization eventually became known as the Green Belt Movement (GBM), and to-date has assisted women in planting more than 40 million trees on community lands including farms, schools and church compounds.
In December 2002, Professor Maathai was elected to Kenya's parliament with an overwhelming 98 percent of the vote. Until 2007, she represented the Tetu constituency, Nyeri district in central Kenya (her home region). From 2003 to 2007 Professor Maathai served as Assistant Minister for Environment and Natural Resourcesin Kenya's ninth parliament. In September 1998, Professor Maathai launched and become co-chair of the Jubilee 2000 Africa Campaign, which advocates for canceling the debts of poor African countries. Her campaign against land grabbing (illegal appropriation of public lands by developers) and the rapacious re-allocation of forest land received much attention in Kenya and the region.
In June of 2008 the Congo Basin Forest Fund was launched. The fund protects the forests of the Congo Basin by supporting projects that make the forest worth more as a living resource, than it would be cut down. Professor Maathai acted as co-chair and goodwill ambassador for the initiative.
Professor Maathai addressed the United Nations on several occasions and spoke on behalf of women at special sessions of the General Assembly for the five-year review of the 1992 Earth Summit. In March 2005, she was elected as the first president of the African Union's Economic, Social and Cultural Council.
She authored four books; an autobiography, Unbowed, and an explanation of her organizational method, The Green Belt Movement, Sharing the Approach and the Experience. The Challenge for Africa and Replenishing the Earth were both released in 2010.
Submitted by Darrion Culler dc199@evansville.edu
New office locations for Student Financial Services and Registrar
In January, we announced the consolidation of the Offices of Financial Aid and Student Accounts into the new Student Financial Services division. You'll notice some rearranging of office space on the first floor of Olmsted this week during Spring Break in order to provide a one-stop shop for student needs and give this new division access and functionality as a team.
The Office of the Registrar will move into the space previously occupied by the Office of Financial Aid at the west end of the first floor of Olmsted. Those in the new Student Financial Services division will now be housed together in the space at the east end to improve cross training and customer service to our students.
UE Bookstore Spring Break Hours
The UE Bookstore hours of operation during Spring Break (March 9-17) are:
Monday-Thursday, 8:00 a.m.-5:00 p.m.
Friday 8:00 a.m.-4:30 p.m.
The UE Bookstore will be closed on the Saturdays of March 9 and 16.
Have a restful Spring Break.
Submitted by Doug Gustwiller dg57@evansville.edu
Fitness Center Spring Break hours
The Fitness Center Spring Break hours are:
Friday, March 8: 6:30 a.m. -7:00 p.m.
Saturday and Sunday, March 9 and 10: Closed
Monday through Friday, March 11-15: 8:00 a.m.- 6:00 p.m.
Saturday and Sunday, March 16 and 17: Closed
Submitted by Lori Adams la87@evansville.edu
Eykamp Prize: Call for Nominations
The Eykamp Prize was established by Richard and Rita Eykamp in 2015 to honor faculty achievement at the University of Evansville. Recipients of the prize will receive a one-time award of $10,000 in recognition of extraordinary contributions to the University of Evansville as University Citizens. Examples of such contributions include deep and successful involvement in recruiting students; expanding the number, scope, and competitiveness of grant funding for their department; bringing positive public awareness to the University through scholarship, knowledge, and understanding of their discipline. Up to two prizes a year may be awarded.
Nominations for the Eykamp Award may come from any member of the University of Evansville Community. Nominees should be tenured or tenure-track faculty members at the University of Evansville who have not received the award in the previous five years. Nominations can be submitted in writing or via e-mail to Michael Austin, executive vice president for academic affairs/provost, by March 15, 2019. Nominations should include the name of the faculty member and a brief statement of the reasons that he or she is being nominated.
Recipients of the Eykamp Award will be selected by an Awards Committee, appointed by the EVPAA/provost that includes members of the faculty and staff, academic administrators, and at least one member of the Board of Trustees. Awards will be announced and presented at the May Commencement Ceremony.
Previous Recipients: 2016 – Dr. Mark Valenzuela; 2017 – Dr. Lora Becker; 2018 – Dr. David Dwyer.
2019-20 Dr. Marvin E. Hartig Memorial Scholarship
Family, friends and loved ones of the late Dr. Marvin E. Hartig are pleased to announce the application process for the Dr. Marvin E. Hartig Memorial Scholarship. This scholarship is dedicated to the loving memory of Dr. Hartig, Dean of Evansville College's Evening College in 1967, and administrator for the Center for Advanced Study, director of the Evansville chapter of the American Institute of Banking (AIB), and the international student advisor. In 1974, Dr. Hartig was appointed Dean of Academic Services. He retired in 1984 after serving his alma mater for thirty-five years and passed away in 2007.
This scholarship will be awarded annually to a deserving sophomore student. Preference will be given to a student working while being enrolled as a full-time student. International students are encouraged to apply.
The application can be found here.
Deadline: Please return all materials to the Office of Student Financial Services by April 26.
The decision will be announced by July 1.
Questions: Trisha Hawkes, administrative assistant to the Office of Student Financial Services, at th187@evansville.edu or 812-488-2364
Submitted by Trisha Hawkes th187@evansville.edu
Spring Healthy Behavior Challenge
Sign up today for the Spring Healthy Behavior Challenge! Earn additional HRA's credits by successfully completing the challenge. Participants will be tracking exercise and fruits/vegetables consumed. To sign-up, email ac375@evansville.edu directly or visit the Employee Health Clinic AceLink page. The challenge is March 18-May19.
This is an 8-week competition to support a healthy lifestyle.
HRA credits will be issued upon successful fulfillment of some basic healthy behaviors. Employees and insured spouses enrolled in the HRA health insurance program will earn $150 credit. If a credit was earned previously (Summer 2018, or Fall 2018), no additional credit will be issued. Anyone who finishes in the top 4 will receive a $50 gift card regardless of previous gift-card winning status. The challenge begins March 18 and ends May 19. You must submit 8 weeks of data. You can pick up additional pocket-sized logs from the UE Health and Wellness Center.
Rules:
1. Eat a combination of 5 fruits and vegetables at least 4 days a week and exercise an average of 120 minutes weekly (your log needs at least 160 fruit/veggie boxes checked and 64 exercise boxes checked).
2. Check off boxes daily to avoid "guesstimation" later.
3. Additional logs can be picked up from the UE Health and Wellness Center or on AceLink.
4. Return logs to the collection box at the UE Health and Wellness Clinic or email to ac375@evansville.edu by May 19.
5. HRA credit will be submitted to Meritain by May 19.
Submitted by Ashley Chipps ac375@evansville.edu
Free lunch! Have suggestions for Chartwells?
Have feedback for Chartwells? Join the Food Advisory Board! The Food Advisory Board is a student/staff/faculty board who meets a couple of times a semester to discuss any improvements they would like to see Chartwells make to ensure their best dining experience. We will meet March 26 at 1:00 p.m. in Ridgway University Center and FREE LUNCH will be provided to all participants. If you are interested in signing up, please email Megan King at mk225@evansville.edu to reserve your spot today.
Submitted by Megan King mk252@evansville.edu
2019-20 Margery Florence Kahn Scholarship
2019-20 Margery Florence Kahn Scholarship applications are now available.
It was the desire of the donor, Margery Florence Kahn, that her scholarship be awarded to "dedicated and conscientious students who exhibit a true passion for their chosen fields of study, and who, in the opinion of the members of the University of Evansville faculty, are likely to bring the same enthusiasm into the performance of their jobs or the practice of the professions which they will pursue following graduation."
All University of Evansville full-time undergraduate students who will be juniors or seniors in 2019-20 may apply. An essay of about 300 words must accompany the application, along with two to five faculty recommendation letters.
Applications and recommendation letters are available from the Student Financial Services in Room 106 in Olmsted Hall and should be returned by APRIL 15.
You may also request application materials by emailing th187@evansville.edu.
Questions may be sent via email or call 812-488-2364.
Submitted by Trisha Hawkes th187@evansville.edu
Sign Up for Barn Blitz (BB2)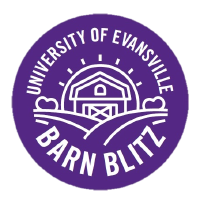 Barn Blitz 2 is happening! We are building backyard barns for Habitat for Humanity! There are several build dates.
February 2: Cutting components (ONLY)
February 9: Cutting components and building components
February 16: Cutting components and building components
February 23: Cutting components and building components
March 2: Cutting components and building components
March 23: Building components (ONLY)
March 30: Building components (ONLY)
April 6: Barn Blitz Day!
Please sign up to participate here: http://signup.com/go/odygOXP.
If you would like to claim a barn for your team or if you would like to be placed on a team for April 6, e-mail Karyssa Vasquez at kv54@evansville.edu. If claiming a barn for your team, please include a team name for your barn in your email.
Submitted by Karyssa Vasquez kv54@evansville.edu
UE's Mad Hot Ballroom wins Celebration of Leadership Award
UE's Mad Hot Ballroom program won the Sam Featherstone Award for Projects and Programs at the annual Celebration of Leadership Awards last night hosted by Leadership Evansville.
Erin Lewis, associate director for the Center for Innovation and Change at UE, is the club's advisor and Joseph Shoup is president.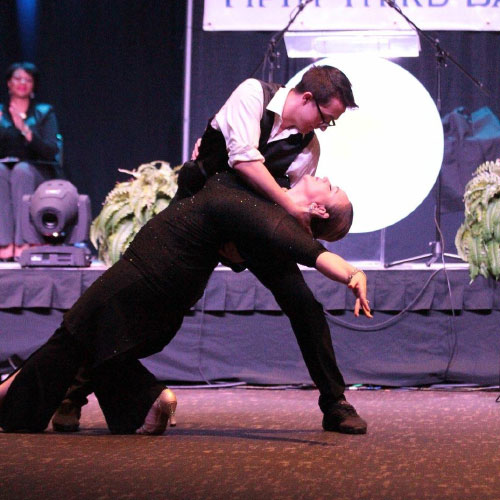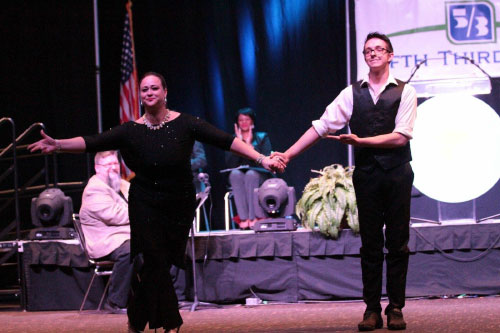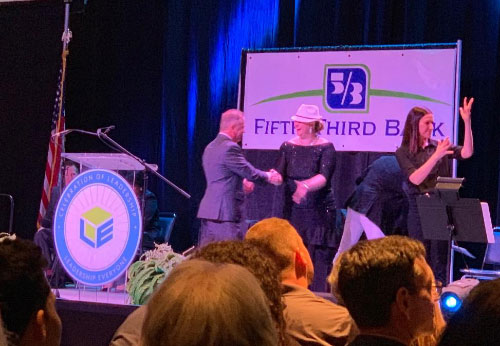 UE Builds: Local to Global Program Receives Senator Paul Simon Spotlight Award
The University of Evansville has been selected to receive a 2019 Senator Paul Simon Spotlight Award in recognition of the University's UE Builds: Local and Global, a program that partners with Habitat for Humanity.
Named after the late Senator Paul Simon of Illinois, the Simon Awards recognize outstanding innovation and accomplishment in campus internationalization. The Spotlight Award recognizes specific international programs or initiatives that contribute to internationalization on campus. UE was one of three schools to be given this award.
"Housing is one of the most important things that an individual or family needs," said Holly Carter, UE director of education abroad and director of Harlaxton College programs. "It promotes health, independence, safety, and belonging. Habitat homes allow children safe places to grow, study, and achieve a better life. Habitat homes improve communities and help those who own them to move forward in life. A house is an important part of our lives, and UE loves to build them!"
The UE Builds: Local to Global program has featured builds in Evansville, Indiana, and such countries as Portugal, Romania, Nicaragua, and Guatemala. The program also held its inaugural Barn Blitz to build 30 backyard barns in one day for Habitat for Humanity. Barn Blitz II is scheduled for later this spring. The UE Builds team is currently working on a project in Oak Ridge, Tennessee, as part of UE's Collegiate Challenge Alternative Spring Break. An upcoming build is also planned in Mexico this summer.
The UE community is very involved with UE Builds. The University's Office of Education Abroad, Center for Innovation and Change, and Student Engagement help operate the program. Participants have included the Habitat for Humanity student club, the Student Government Association, faculty members, staff, vice presidents, trustees, and the UE president.
The Simon Awards are given annually by NAFSA: Association of International Educators.
Aces Baseball moves start time of Friday's opener against Creighton
Due to anticipated inclement weather Friday night, the University of Evansville baseball team has moved up the start time of their series opener against Creighton from 6:00 p.m. to 3:00 p.m. at Braun Stadium. The rest of the series is slated to stay on schedule with game two of the series beginning at 2:00 p.m. on Saturday and Sunday's game three set for a 1:00 p.m. first pitch.
Contribute to AceNotes
To have content considered for inclusion in AceNotes, please submit a Marketing Request Form. Deadline for submission to AceNotes is 10:00 a.m. on the requested date of publication. Only articles concerning UE related/sponsored activities will be accepted. Articles submitted to AceNotes may be edited for length and clarity. Submitter contact information is at the end of each article.