| | |
| --- | --- |
| AceNotes Today | Tuesday, March 5, 2019 |
Important Weinbach Road Diet Schedule Changes
Important Weinbach Road Diet Schedule changes have been announced:
Spring Break - March 11-15
The entrances to the Hale Hall/Powell Hall and Koch Center parking lots will be closed during Spring Break as they are removed and replaced. The exit to the Hale Hall drive is not a part of this work and will be used temporarily to access the Hale Hall parking lot. As such, parking along the drive will not be allowed during this time.
Summer - June 3 - 28
The west and east sidewalks along Weinbach from Lincoln to Walnut will both be replaced and the intersection of Lincoln and Weinbach will be completely closed during this time.
This Week in Music: University Choir performs with Southridge High School Concert Choir
Today - Tuesday, March 5 - at 7:30 pm, the UE University Choir, under the direction of Dennis Malfatti, will give a concert in Neu Chapel featuring Southridge High School Concert Choir. The program is wide ranging, including works by Palestrina, Brahms, and Bruckner, as well as familiar spirituals like "I'll Fly Away." UE music students Hannah Hunt and Darwi Sandleben will be featured as soloist, and Kristin Jones will accompany the choirs.
The concert is free and open to the public.
For complete program information, visit the music department concert calendar.
Contemporary American Indian Artists exhibit
"First Americans: Paintings and Prints by Contemporary American Indian Artists" will be on display at the University of Evansville in the Krannert Gallery in the Krannert Hall of Art and Music from April 8-May 11. The exhibit will feature works from local art collections, curated with the assistance and expertise of Stephen and Sandra Falls of Haubstadt, Indiana. There will be a reception on April 25 at 6:30 p.m. Both the exhibit and the reception are free and open to the public.
This exhibit is part of the Emerging Contemporary Artist Lecture Series sponsored by the Efroymson Family Fund and the University of Evansville's Department of Art.
Gallery hours are Monday through Sunday, 8:00 a.m.-8:00 p.m., and Sunday, noon-8:00 p.m.
For more information, please contact the UE Department of Art at 812-488-2043, email art@evansville.edu, or visit the gallery's Facebook page.
Submitted by Corliss Chastain corlisschastain@gmail.com
"Ashes to Go" available Wednesday afternoon
Is your Wednesday schedule slammed? Don't have time to attend an Ash Wednesday service? Then "Ashes to Go" is the ideal way to begin the season of Lent in a way that fits your schedule. John Wesley Minister and assistant chaplain, Keith Turner, will be in Ridgway University Center Wednesday afternoon between 1:30-2:30 p.m. for the imposition of ashes. Feel free to drop by for this meaningful and quick way to kick off the season of Lent.
Submitted by Keith Turner kt160@evansville.edu
Ash Wednesday Service in Neu Chapel: Wednesday at 12:15 p.m.
The campus community is invited to begin the season of Lent in Neu Chapel at our Ash Wednesday service at 12:15 p.m. This meaningful, 30-minute service will contain beautiful music, inspiring readings and prayers, a brief reflection, and the imposition of ashes. All are welcome to begin this holy season in community as we gather to worship and pray together.
Submitted by Keith Turner kt160@evansville.edu
Medical Spanish Practice
Medical Spanish practice is designed to help students practice communication skills in Spanish for medical settings. Students may arrive and leave at any time. The next session is this Wednesday, March 6, from 5:30-7:00 p.m. in Room 73 in the Schroeder School of Business Building. Please contact associate professor of Spanish Diana Rodríguez Quevedo at dr130@evansville.edu for more details. ¡Nos vemos el miércoles!
Submitted by Diana Rodríguez Quevedo dr130@evansville.edu
Catholic Ash Wednesday Mass
Join the Newman Club this Wednesday, March 6, at 5:00 p.m. in Neu Chapel to celebrate Ash Wednesday Mass! Bishop Siegel will be the celebrant. We will have dinner following Mass. Help us kick off the Lenten season!
Submitted by Michaela Kunkler mk305@evansville.edu
I-House: Inner Peace this Wednesday in Eykamp Hall
Purple Aces! At this week's I-House, you will have the opportunity to relax and find your inner peace, so that you can start Spring Break in the right mindset! There will be yoga and meditation sessions, followed by an origami lesson! We will also be providing tea! We hope to see you on Wednesday, March 6, at 7:00 p.m. in Eykamp Hall, Room 251, on the second floor of Ridgway University Center. If you bring a friend who has not been to I-House before, you have the chance of winning a prize!
Submitted by Megan Sicard ms331@evansville.edu
Professor Byrne to speak at March Andiron Lecture
University of Evansville associate professor of history Daniel Byrne will be the speaker for the Andiron Lecture on Wednesday, March 6, in Eykamp Hall, room 252, Ridgway University Center. The lecture starts at 4:00 p.m. A social gathering with beverages begins at 3:45 p.m. This event is free and open to the public.
Byrne's topic will be "Cautiously Confronting Colonialism: The United States and Decolonizing Africa, 1962-1990."
Byrne focuses his teaching on United States history since the American Civil War, with a focus on the United States in the world. Additionally, he teaches a seminar on African decolonization, which combines his research in United States foreign policy with the nationalist perspectives on the end of European empires in Africa. His original research focused on the United States response to the Algerian war of independence and has expanded to cover the decolonization of French West Africa.
With the conclusion of the Algerian war of independence and the decolonization of much of British and French Africa, the United States sought to reshape its response to the remainder of decolonizing Africa and to confront the white-ruled states of Rhodesia, Namibia, and South Africa. As the American Civil Rights movement scored significant victories at home, it began to place increased pressures on US policy abroad. However, Cold War considerations limited America's willingness to directly confront colonialism or to support nationalist independence movements. Consequently, the United States became slowly drawn into conflicts that placed its foreign policy at odds with its publicly declared support for democracy, self-determination, and racial equality.
For more information, call Annette Parks at 812-488-1070 or the William L. Ridgway College of Arts and Sciences at 812-488-2589.
A Salute to Women's History: Sally K. Ride
Sally Ride was the first American woman in space. She made her journey into history on June 18, 1983. Throughout her life, Ride broke barriers and worked to ensure that girls and women were encouraged to do the same.
Sally Kristen Ride was born on May 26, 1951, in Encino, California to Carol Joyce and Dale Burdell Ride. Growing up, Sally and her sister were encouraged to follow their individual interests and they had a happy, loving home.
As a child, Ride was an avid tennis player, and had dreams of becoming a professional. She began playing tennis at age 10, and subsequently won a scholarship to the Westlake School for Girls in Los Angeles. While in her teens, Ride was ranked in the top 20 nationally on the junior tennis circuit. After graduating from high school, she attended Swarthmore College in Pennsylvania. During her sophomore year, she left Swarthmore to pursue a career in tennis. After three months she determined that college was a better option for her, and enrolled at Stanford University. In 1973, she received a Bachelor of Science in physics and a Bachelor of Arts in English. She continued at Stanford, earning her Master of Science and doctorate degrees in physics in 1975 and 1978.
In 1977, Ride answered a newspaper ad placed by the National Aeronautics and Space Administration (NASA). Realizing that technological and scientific skills were as important to the future of the Space Program as good pilots, NASA began a search for young scientists to serve as "mission specialists" on future space flights. Ride was one of only 5 women selected for NASA's class of '78. Her natural athletic ability was an incredible asset as she trained with NASA in 1977. Parachute jumping and water survival training accompanied her technical and scientific instruction.
Ride was one of five crewmembers aboard the space shuttle Challenger STS-7. On June 18, 1983, she became the first American woman in space, and the youngest American in space. The mission took one week to complete. Before her launch, Dr. Ride was interviewed several times about her preparation for going into space. Among questions about her training, she was also asked questions about how space was going to affect her ability to reproduce, and what kind of makeup she was going to take on the mission. She handled the questions with grace, and later said, "It's too bad this is such a big deal. It's too bad our society isn't further along."
During the mission, Ride was the flight engineer. She launched two communication satellites and operated the shuttle's mechanical arm as well as conducted experiments. During a 2008 interview, Ride recalled, "On launch day, there was so much excitement and so much happening around us in crew quarters, even on the way to the launch pad, I didn't really think about it that much at the time—but I came to appreciate what an honor it was to be selected to be the first to get a chance to go into space."
On October 5, 1984, Ride went on another shuttle mission- the STS-41G. She spent eight days conducting scientific observations of the Earth. She also worked on refueling techniques for shuttles. After her second mission, Ride worked on investigating the 1986 Challenger accident. After the investigation, she took the role of special assistant to the NASA administrator for long range and strategic planning.
Ride served as the director of the California Space Science Institute, a research institute of the University of California. She also worked as a physicist and physics professor at the University of California, San Diego. Ride was a member of the President's Committee of Advisors on Science and Technology and served on the Advisory Board of the National Women's History Museum.
Submitted by Darrion Culler dc199@evansville.edu
TIAA individual counseling sessions
The TIAA-CREF representative will be on the UE campus for individual counseling sessions on Thursday, March 7 and Tuesday, March 19. To schedule an appointment, call TIAA-CREF at 1-800-732-8353.
Please note that the meeting location has been changed to Room 153 (Eades Music Room) in the Schroeder School of Business Building.
Submitted by Lori LeDuc ll138@evansville.edu
Fitness Center Spring Break hours
The Fitness Center Spring Break hours are:
Friday, March 8: 6:30 a.m. -7:00 p.m.
Saturday and Sunday, March 9 and 10: Closed
Monday through Friday, March 11-15: 8:00 a.m.- 6:00 p.m.
Saturday and Sunday, March 16 and 17: Closed
Submitted by Lori Adams la87@evansville.edu
Residence Life summer assistants application now available!
Are you interested in a summer job on-campus? Apply to be a Residence Life summer assistant! We are looking for students who are interested in customer service, event planning, and community building. To apply, go to UEngage under Forms and fill out our application. Our deadline to apply is March 22!
Submitted by Greg O'Connor go26@evansville.edu
Commencement Central for spring grads
This is a reminder to ALL SPRING GRADUATES to attend either of the two Commencement Central event dates. It only takes a few minutes to complete your graduation plans and to ensure that everything is ready for the big day. Graduates can attend either Monday, March 4 from 4:00-6:00 p.m., upstairs in Ridgway University Center on the north end, OR Tuesday, March 5 from 11:00 a.m.-1:00 p.m. in Ridgway University Center starting near the Information Desk and concluding in the UE Bookstore. During this time, you'll meet with the Alumni Office, Career Planning Services, and the Registrar's Office. You can also purchase your cap and gown and/or order graduation announcements. A representative from Josten's Rings will also be present for those interested in purchasing a class ring. On Monday night, there will be food and chance to win a door prize!
Submitted by Doug Gustwiller dg57@evansville.edu
Eykamp Prize: Call for Nominations
The Eykamp Prize was established by Richard and Rita Eykamp in 2015 to honor faculty achievement at the University of Evansville. Recipients of the prize will receive a one-time award of $10,000 in recognition of extraordinary contributions to the University of Evansville as University Citizens. Examples of such contributions include deep and successful involvement in recruiting students; expanding the number, scope, and competitiveness of grant funding for their department; bringing positive public awareness to the University through scholarship, knowledge, and understanding of their discipline. Up to two prizes a year may be awarded.
Nominations for the Eykamp Award may come from any member of the University of Evansville Community. Nominees should be tenured or tenure-track faculty members at the University of Evansville who have not received the award in the previous five years. Nominations can be submitted in writing or via e-mail to Michael Austin, executive vice president for academic affairs/provost, by March 15, 2019. Nominations should include the name of the faculty member and a brief statement of the reasons that he or she is being nominated.
Recipients of the Eykamp Award will be selected by an Awards Committee, appointed by the EVPAA/provost that includes members of the faculty and staff, academic administrators, and at least one member of the Board of Trustees. Awards will be announced and presented at the May Commencement Ceremony.
Previous Recipients: 2016 – Dr. Mark Valenzuela; 2017 – Dr. Lora Becker; 2018 – Dr. David Dwyer.
Hiring summer counselors for Engineering OPTIONS Camps
What is OPTIONS?
• Every summer UE offers camps that introduce middle school boys and girls and high school girls to disciplines within engineering and computer science via hands-on activities and field trips.
WHO can be a counselor?
• Current College of Engineering and Computer Science students (or other STEM majors) who want to participate in an outreach program that supports diversity in STEM, allows you to demonstrate your motivation to hold a leadership position, and encourages people to explore STEM (science, technology, engineering, and mathematics) fields.
WHEN and WHERE are the camps?
• High School Girls - June 9-14 (residential camp)
• Middle School Girls - June 16-19 (residential camp)
• Middle School Boys - June 24-28 (day camp)
• All camps are held on the UE campus
Other Information
• The counselor position is a paid position for all camps.
• All counselors will be helping lead various activities, assisting faculty-led workshops, and inspiring young people.
• The residential camps for girls will include room and board during the duration of the camp. Counselors will be staying in a dorm with the campers.
HOW to apply?
• If you are interested in being a counselor, please apply in person in Koch Center 250 or email kh209@evansville.edu by no later than Friday, March 8.
2019-20 Dr. Marvin E. Hartig Memorial Scholarship
Family, friends and loved ones of the late Dr. Marvin E. Hartig are pleased to announce the application process for the Dr. Marvin E. Hartig Memorial Scholarship. This scholarship is dedicated to the loving memory of Dr. Hartig, Dean of Evansville College's Evening College in 1967, and administrator for the Center for Advanced Study, director of the Evansville chapter of the American Institute of Banking (AIB), and the international student advisor. In 1974, Dr. Hartig was appointed Dean of Academic Services. He retired in 1984 after serving his alma mater for thirty-five years and passed away in 2007.
This scholarship will be awarded annually to a deserving sophomore student. Preference will be given to a student working while being enrolled as a full-time student. International students are encouraged to apply.
The application can be found here.
Deadline: Please return all materials to the Office of Student Financial Services by April 26.
The decision will be announced by July 1.
Questions: Trisha Hawkes, administrative assistant to the Office of Student Financial Services, at th187@evansville.edu or 812-488-2364
Submitted by Trisha Hawkes th187@evansville.edu
Spring Healthy Behavior Challenge
Sign up today for the Spring Healthy Behavior Challenge! Earn additional HRA's credits by successfully completing the challenge. Participants will be tracking exercise and fruits/vegetables consumed. To sign-up, email ac375@evansville.edu directly or visit the Employee Health Clinic AceLink page. The challenge is March 18-May19.
This is an 8-week competition to support a healthy lifestyle.
HRA credits will be issued upon successful fulfillment of some basic healthy behaviors. Employees and insured spouses enrolled in the HRA health insurance program will earn $150 credit. If a credit was earned previously (Summer 2018, or Fall 2018), no additional credit will be issued. Anyone who finishes in the top 4 will receive a $50 gift card regardless of previous gift-card winning status. The challenge begins March 18 and ends May 19. You must submit 8 weeks of data. You can pick up additional pocket-sized logs from the UE Health and Wellness Center.
Rules:
1. Eat a combination of 5 fruits and vegetables at least 4 days a week and exercise an average of 120 minutes weekly (your log needs at least 160 fruit/veggie boxes checked and 64 exercise boxes checked).
2. Check off boxes daily to avoid "guesstimation" later.
3. Additional logs can be picked up from the UE Health and Wellness Center or on AceLink.
4. Return logs to the collection box at the UE Health and Wellness Clinic or email to ac375@evansville.edu by May 19.
5. HRA credit will be submitted to Meritain by May 19.
Submitted by Ashley Chipps ac375@evansville.edu
Newman Club: Last chance to register for Source and Summit
Registration to go to Source and Summit with the Newman Club is now open! Source and Summit is a three-day retreat on April 5-7 at Memorial High School (down the road). Newman is going to send a big group, and you are invited! Talk to Jenny (je46@evansville.edu) or any of the Ministry Team members to get information to sign up for this amazing and formative retreat! Registration ends March 5, so act now!
Submitted by Michaela Kunkler mk305@evansville.edu
Accepting nominations for Outstanding Teacher Alumni Association Award 2019
The UE Alumni Association recognizes an Outstanding Teacher for exemplary instruction and student support at Spring Commencement. UE administrators, faculty, staff, student and alumni may nominate a faculty member who exemplifies the award's criteria for outstanding teaching effectiveness that inspires the intellectual development of students.
Please use this link to nominate a faculty member for the auspicious occasion: www.evansville.edu/alumni/outstandingteacher.cfm.
Full-time faculty who have taught in the classroom at UE for two years or more and hold the rank of lecturer, instructor, assistant professor, associate professor, or professor are eligible for nomination.
Past award recipients are as follows: Dr. James Berry 2011; Dr. Mari Plikuhn 2012; Dr. Mark Valenzuela 2013; Dr. Jennie Ebeling 2014; Dr. Margaret Stevenson 2015; Dr. M. Kevin Gray 2016; Dr. Mary Ellen Wylie 2017, and Dr. Tony Beavers 2018.
The deadline to submit nominations is March 8, at 5:00 p.m. For questions, contact Tracey Folden, assistant vice president of academic affairs-faculty relations, at tf91@evansville.edu.
Submitted by Tracey Folden tf91@evansville.edu
Sign Up for Barn Blitz (BB2)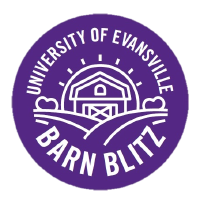 Barn Blitz 2 is happening! We are building backyard barns for Habitat for Humanity! There are several build dates.
February 2: Cutting components (ONLY)
February 9: Cutting components and building components
February 16: Cutting components and building components
February 23: Cutting components and building components
March 2: Cutting components and building components
March 23: Building components (ONLY)
March 30: Building components (ONLY)
April 6: Barn Blitz Day!
Please sign up to participate here: http://signup.com/go/odygOXP.
If you would like to claim a barn for your team or if you would like to be placed on a team for April 6, e-mail Karyssa Vasquez at kv54@evansville.edu. If claiming a barn for your team, please include a team name for your barn in your email.
Submitted by Karyssa Vasquez kv54@evansville.edu
2019 scholarships for United Methodist students
United Methodist students attending UE can apply for the 2019 United Methodist Scholarships at wwwgbhem.org/scholarshipapplication.
United Methodist students attending United Methodist-related institutions can apply for 2019 United Methodist Scholarships from January 3-March 7 at www.gbhem.org/scholarshipapplication for 2019 scholarships.
Applying for individual scholarships now also makes you eligible for the United Methodist Allocation. You must apply now to be considered for both. Late applications will not be accepted. Scholarships range in value from $500 to $5,000. The average amount awarded is about $1,000.
Scholarship eligibility requirements:
•Incoming or current freshmen, sophomores, juniors, seniors or graduate students at one of the United Methodist-related colleges or universities
•Member of any United Methodist Church for at least one year
•Minimum GPA of 2.5
Submitted by Trisha Hawkes th187@evansville.edu
Daryl Buente is March 2019 Employee of the Month!
Daryl Buente has been named the University's March 2019 Employee of the Month!
After over 40 years of service to athletics as the equipment manager, Daryl continues to impact the lives of all student athletes.
His passion for the Aces is evident everyday with his willingness to assist anyone on campus and share his pride for UE! Daryl works mostly behind the scenes, but plays a vital role within the athletics department. He also contributes his time and efforts to support the members of Pi Gamma Mu, the social science honor society of which he was a member when he was a student. He truly inspires everyone to think of the greater good of the university. It would be difficult to find a humbler or more hard-working employee who is so full of purple pride than Daryl Buente.
Please stop by to offer him congratulations of receiving the honor of March 2019 Employee of the Month.
Maass signs with University of Michigan Press
Richard Maass, assistant professor of political science, has signed a contract with the University of Michigan Press for his second book, titled The United States and International Law: Paradoxes of Support across Contemporary Issues. Co-edited with Lucrecia Garcia Iommi of Fairfield University, this volume will examine why the United States leads the creation and enforcement of international law in some areas while refusing to ratify major conventions on others.
Megan King and family
Our hearts go out to Megan King, assistant director of campus programs/residential coordinator for Morton and Brentano Halls, on the loss of her father, Michael King, on March 2. Love and prayers to Megan and her family during this time.
Visitation is Thursday, March 7 from 3:00 - 8:00 p.m. and Friday, March 8 from 9:00 to 10:30 a.m. at Ratterman's Funeral Home in Louisville, KY. Mass is Friday, March 8, at 11:00 a.m. at the Church of the Epiphany in Louisville, KY.
Submitted by Kelly Bargeloh kb396@evansville.edu
Contribute to AceNotes
To have content considered for inclusion in AceNotes, please submit a Marketing Request Form. Deadline for submission to AceNotes is 10:00 a.m. on the requested date of publication. Only articles concerning UE related/sponsored activities will be accepted. Articles submitted to AceNotes may be edited for length and clarity. Submitter contact information is at the end of each article.