| | |
| --- | --- |
| AceNotes Today | Friday, March 1, 2019 |
Watch as we congratulate Rami Malek '03 on big awards season!
The University of Evansville's own Rami Malek won an Academy Award for best actor on Monday night for his portrayal of Freddie Mercury in the award winning film, Bohemian Rhapsody. Malek graduated from the UE Theatre department in 2003 and the entire campus community joined together in a congratulatory video honoring his portrayal of Freddie Mercury.
VIEW THE VIDEO ONLINE HERE.
Set to the familiar "stomp, stomp, clap" rhythm of We Will Rock You by Queen, the video celebrates Malek's successes in a montage of people he knew and places he frequented in his undergraduate years.
The video was produced by current UE students, senior Gina DeLise and junior Jules Iradukunda. The effort was spearheaded by two of Malek's closest friends, Amelia McClain and Wes Grantom. The pair also graduated from UE in 2003 and are currently serving as guest artists in the UE Theatre department.
While at the UE, Malek performed in Death and the King's Horseman, The Kentucky Cycle, Book of Days, Much Ado About Nothing, Othello, and The Real Thing.
Malek has won several other big this awards season for his role in Bohemian Rhapsody, taking home a Golden Globe, SAG Award, and a BAFTA Award.
Vagina Monologues planned for Friday, March 1
A production of the Vagina Monologues is planned for Friday, March 1, at 6:30 p.m. in Room 142 in the Krannert Hall of Art and Music. $10 entry free at the door or look for the table in Ridgway University Center. This event is being hosted by Women's Rights Awareness.
Submitted by Alyssa Lueken al267@evansville.edu
TKE Towers!
Tau Kappa Epsilon is proud to present the 2nd Annual TKE Towers! Teams of three will compete against each other and the clock to build the tallest tower out of the provided materials. This event is free to watch, but donations can be used to help your favorite team with advantages or give disadvantages to other teams. TKE Towers will take place at 6:00 p.m. on Friday, March 1, in Eykamp Hall, Room 252, Ridgway University Center. The cost per team of three will be $15 and all proceeds from this event will go to St. Jude Children's Research Hospital. So come out and help your organization become the best builders on campus!
Submitted by Kenneth Rusk kr187@evansville.edu
Final performances of UE Theatre's "Colony Collapse"
The University of Evansville Theatre proudly presents Stefanie Zadravec's Colony Collapse. Set against the present-day plagues of meth addiction, missing children, and a failing ecology, this edgy new play explores the complex dynamics of a highly dysfunctional family and their attempts to unearth a second chance in a wounded America. Performances are at 7:30 p.m. on March 1 and 2 and at 2:00 p.m. on March 3 in Shanklin Theatre.
Evansville native and UE Theatre alumna Lori Wolter Hudson '05 guest-directs Colony Collapse. Wolter Hudson is the artistic director of the New Harmony Project. John Fujisawa, a senior from Los Alamitos, Calif., is the scenic designer; Gillian Herold, a junior from Spokane, Wash., is the costume designer; Professor Stephen Boulmetis serves as the lighting designer; Sidney McCarty, a junior from Clarksville, Tenn., is the sound designer; professor of theatre Diane Brewer serves as the dramaturg; assistant professor Janel Miley serves as the vocal coach; Blake Elliott, a junior from Cypress, Texas, is the stage manager; and Mason Wilhite, a senior from San Antonio, Texas, is the technical director.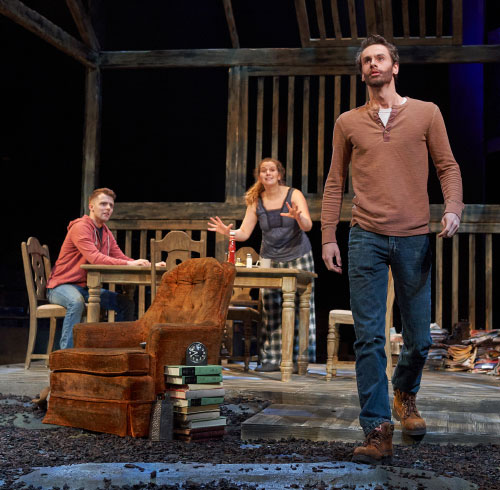 The cast features first-year student Zachary Scalzitti, from Saint John, Ind., as Jason; senior Alexi Lewis, from Seattle, Wash., as Julia; sophomore Jackson Burnham, from Houston, Texas, as Mark; first-year student Kyla Clift, from Arlington, Texas, as Nicky; first-year student Lillie Kolich, from Albuquerque, NM., as The Girl; sophomore Evan Lawson, from Arvada, Colo., as Randy Martin; first-year student Josh Gelman, from Denver, Colo., as Bill Mitchell, and ensemble members include senior Amanda Suggs, from Cedar Park, Texas, sophomore Jack Russell, from Montgomery, Texas, first-year student Cassidy Rogers, from College Station, Texas, first-year student Bailey Lomax, from Great Falls, Mont., and senior Matt McDonald, from Carmel, Ind.
Ticket prices are $18 for adults and $16 for senior adults, students, and UE faculty and staff. UE students may obtain one free student rush ticket beginning at noon on the day of the performance they wish to attend. The UE Theatre Society will host a Pre-Play Chat at 7:00 p.m. on Saturday, February 23. All are welcome to attend the presentation and discussion with a student designer about their process on the production.
Tickets may be purchased by calling 812-488-2031, Monday through Friday, noon to 5:00 p.m.
Panel discussion - "University of Evansville: The First 100 Years"
A panel discussion titled "University of Evansville: The First 100 Years" will be held on March 2, at 3:00 p.m. in Smythe Lecture Hall in the Schroeder School of Business Building on the University of Evansville campus. The event is free and open to the public.
The discussion will reflect on major milestones in UE's history during the 100 years since the institution's move to Evansville from Moores Hill, Indiana in 1919.
The panel will be moderated by Dr. James MacLeod, chair of UE's department of history and panelists include:
• Rose Mays '66
• Richard Werking '66
• Steve Worthington '73
• Julie Williams '85
• Sylvia DeVault '85
• Eloho Okeze '08
The discussion is part of the weekend-long celebration of UE's history and heritage which will culminate with the inauguration ceremony of the institution's 24th president, Christopher M. Pietruszkiewicz.
Relaxation Night with PRIDE
Feeling a little stressed? Need to take a break from all your studying? Come join P.R.I.D.E. on March 4 at 9:00 p.m. in the Schroeder School of Business Building in Room 271 for a relaxing night filled with coloring, music, and more!
Professor Byrne to speak at March Andiron Lecture
University of Evansville associate professor of history Daniel Byrne will be the speaker for the Andiron Lecture on Wednesday, March 6, in Eykamp Hall, room 252, Ridgway University Center. The lecture starts at 4:00 p.m. A social gathering with beverages begins at 3:45 p.m. This event is free and open to the public.
Byrne's topic will be "Cautiously Confronting Colonialism: The United States and Decolonizing Africa, 1962-1990."
Byrne focuses his teaching on United States history since the American Civil War, with a focus on the United States in the world. Additionally, he teaches a seminar on African decolonization, which combines his research in United States foreign policy with the nationalist perspectives on the end of European empires in Africa. His original research focused on the United States response to the Algerian war of independence and has expanded to cover the decolonization of French West Africa.
With the conclusion of the Algerian war of independence and the decolonization of much of British and French Africa, the United States sought to reshape its response to the remainder of decolonizing Africa and to confront the white-ruled states of Rhodesia, Namibia, and South Africa. As the American Civil Rights movement scored significant victories at home, it began to place increased pressures on US policy abroad. However, Cold War considerations limited America's willingness to directly confront colonialism or to support nationalist independence movements. Consequently, the United States became slowly drawn into conflicts that placed its foreign policy at odds with its publicly declared support for democracy, self-determination, and racial equality.
For more information, call Annette Parks at 812-488-1070 or the William L. Ridgway College of Arts and Sciences at 812-488-2589.
A Solute to Women History: Alice Ball
Born in 1892 in Seattle, Washington, Alice Ball broke many barriers before she died at the age of 24. She studied chemistry at the University of Hawaii, where she became the first woman and black American to obtain both her Master's degree as well as a professorship at the university's chemistry department.
While there, Ball studied the properties of chaulmoogra oil, which was a promising treatment for leprosy at the time but difficult to use due to its chemical makeup. Ball developed an injectable form that isolated the active ingredients, rendering a more effective treatment, but she died from an unknown illness before she could publish her findings.
Another scientist took credit for her work, and it would take close to 90 years after Ball's death that the University of Hawaii would officially acknowledge her scientific contributions and declare February 29 as "Alice Ball Day."
Submitted by Darrion Culler dc199@evansville.edu
The Writing on the Wall: A Salute to Women History
The Office of Diversity Initiatives would like to invite all student and staff to celebrate Women's History Month with a new initiative at the Diversity Resource Center. We invite you to bring bios or profiles of events that highlight accomplishments of women to be displayed on the walls in the Diversity House.
Women have made countless contributions to history and we would like everyone to have an opportunity to share their favorite moments.
This project will begin March 4 and posting will be available for display until March 27. The display will stay up until April 1. The Diversity Resource Centers hours are from 9:00 a.m.-8:00 p.m., Mondays through Thursdays, and 9:00 a.m.-5:00 p.m. on Fridays. A volunteer will be there to assist you in your posting. Feel free to come to the house and view any time during business hours.
If you have any questions, please feel free to contact Darrion Culler, assistant director of diversity initiatives.
Submitted by Darrion Culler dc199@evansville.edu
Call out for drag show performers!
P.R.I.D.E. is still looking for performers for its annual drag show on April 6! Please email uepride@gmail.com if you are interested or have any questions!
As always, UE P.R.I.D.E. meets weekly meeting on Mondays in Room 271 in the Schroeder School of Business Building at 9:00 pm.
Submitted by uepride@gmail.com
Commencement Central for spring grads
This is a reminder to ALL SPRING GRADUATES to attend either of the two Commencement Central event dates. It only takes a few minutes to complete your graduation plans and to ensure that everything is ready for the big day. Graduates can attend either Monday, March 4 from 4:00-6:00 p.m., upstairs in Ridgway University Center on the north end, OR Tuesday, March 5 from 11:00 a.m.-1:00 p.m. in Ridgway University Center starting near the Information Desk and concluding in the UE Bookstore. During this time, you'll meet with the Alumni Office, Career Planning Services, and the Registrar's Office. You can also purchase your cap and gown and/or order graduation announcements. A representative from Josten's Rings will also be present for those interested in purchasing a class ring. On Monday night, there will be food and chance to win a door prize!
Submitted by Doug Gustwiller dg57@evansville.edu
MC needed for Drag Show!
P.R.I.D.E. is still looking for at least two people to MC/host its annual drag show on April 6! Please email uepride@gmail.com if you are interested or have any questions!
As always, P.R.I.D.E. meets weekly on Mondays at 9:00 p.m. in Room 271 in the Schroeder School of Business Building.
Submitted by uepride@gmail.com
Eykamp Prize: Call for Nominations
The Eykamp Prize was established by Richard and Rita Eykamp in 2015 to honor faculty achievement at the University of Evansville. Recipients of the prize will receive a one-time award of $10,000 in recognition of extraordinary contributions to the University of Evansville as University Citizens. Examples of such contributions include deep and successful involvement in recruiting students; expanding the number, scope, and competitiveness of grant funding for their department; bringing positive public awareness to the University through scholarship, knowledge, and understanding of their discipline. Up to two prizes a year may be awarded.
Nominations for the Eykamp Award may come from any member of the University of Evansville Community. Nominees should be tenured or tenure-track faculty members at the University of Evansville who have not received the award in the previous five years. Nominations can be submitted in writing or via e-mail to Michael Austin, executive vice president for academic affairs/provost, by March 15, 2019. Nominations should include the name of the faculty member and a brief statement of the reasons that he or she is being nominated.
Recipients of the Eykamp Award will be selected by an Awards Committee, appointed by the EVPAA/provost that includes members of the faculty and staff, academic administrators, and at least one member of the Board of Trustees. Awards will be announced and presented at the May Commencement Ceremony.
Previous Recipients: 2016 – Dr. Mark Valenzuela; 2017 – Dr. Lora Becker; 2018 – Dr. David Dwyer.
Hiring summer counselors for Engineering OPTIONS Camps
What is OPTIONS?
• Every summer UE offers camps that introduce middle school boys and girls and high school girls to disciplines within engineering and computer science via hands-on activities and field trips.
WHO can be a counselor?
• Current College of Engineering and Computer Science students (or other STEM majors) who want to participate in an outreach program that supports diversity in STEM, allows you to demonstrate your motivation to hold a leadership position, and encourages people to explore STEM (science, technology, engineering, and mathematics) fields.
WHEN and WHERE are the camps?
• High School Girls - June 9-14 (residential camp)
• Middle School Girls - June 16-19 (residential camp)
• Middle School Boys - June 24-28 (day camp)
• All camps are held on the UE campus
Other Information
• The counselor position is a paid position for all camps.
• All counselors will be helping lead various activities, assisting faculty-led workshops, and inspiring young people.
• The residential camps for girls will include room and board during the duration of the camp. Counselors will be staying in a dorm with the campers.
HOW to apply?
• If you are interested in being a counselor, please apply in person in Koch Center 250 or email kh209@evansville.edu by no later than Friday, March 8.
2019-20 Dr. Marvin E. Hartig Memorial Scholarship
Family, friends and loved ones of the late Dr. Marvin E. Hartig are pleased to announce the application process for the Dr. Marvin E. Hartig Memorial Scholarship. This scholarship is dedicated to the loving memory of Dr. Hartig, Dean of Evansville College's Evening College in 1967, and administrator for the Center for Advanced Study, director of the Evansville chapter of the American Institute of Banking (AIB), and the international student advisor. In 1974, Dr. Hartig was appointed Dean of Academic Services. He retired in 1984 after serving his alma mater for thirty-five years and passed away in 2007.
This scholarship will be awarded annually to a deserving sophomore student. Preference will be given to a student working while being enrolled as a full-time student. International students are encouraged to apply.
The application can be found here.
Deadline: Please return all materials to the Office of Student Financial Services by April 26.
The decision will be announced by July 1.
Questions: Trisha Hawkes, administrative assistant to the Office of Student Financial Services, at th187@evansville.edu or 812-488-2364
Submitted by Trisha Hawkes th187@evansville.edu
Ace it Forward returns! Look out for Purple Ace doing good deeds on campus
Purple Ace is making his way around campus, spreading good deeds! Look out for Ace it Forward, as you could be next!
If you receive Purple Ace as part of a good deed, spread the UE cheer by passing Purple Ace forward. Follow the steps below.
• Pass Ace it Forward on to another member of the UE campus.
• Do a good deed for that person. Examples of good deeds include:
Show your appreciation for others. (i.e. buy your co-worker a coffee or small gift of appreciation, or write a creative note, telling them why they inspire you to do better.)
Lend a helping hand: (i.e., offer to help a co-worker when their workload starts to overwhelm them. Look for someone in the office who always stays late, or hasn't taken time off in ages. Ask them how you can help out with a project or a deadline, or volunteer to help at an event.)
Take a co-worker out to lunch. (i.e., show your appreciation by inviting a few work mates out for tacos, etc. Not only will the change of scenery spike creativity, but spending time socializing will greatly decrease your chance of having a bad day.
• Share a selfie or a picture of your good deed, and or Ace it Forward! Use #AceItForward and #TrueandLoyal and tag @UEvansville on Twitter and Facebook.
Ace It Forward is brought to you by: UE Staff and Administrators Assembly.
Submitted by Nichole Coffey ns50@evansville.edu
Engineers Week celebrated on campus
The College of Engineering and Computer Science held its annual celebration for Engineers Week at a reception in Eykamp Hall in Ridgway University Center on February 19. Several engineering majors were announced as new inductees in the Tau Delta Kappa engineering honor society by Jared Fulcher, assistant professor of mechanical engineering. Other engineering students were recognized by the college and the Office of Development.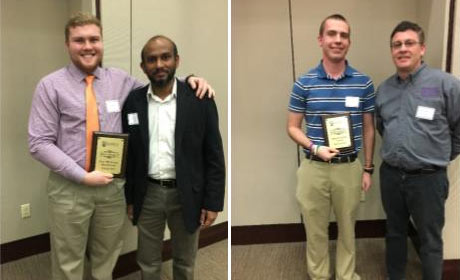 Marcus Gahagen, a junior civil engineering major received the Paul "PR" Brown Spirit Award. This award is presented annually to an engineering major who has been nominated by the faculty and has completed at least four semesters in good academic standing, who is an encouragement and help to his/her fellow students, and who demonstrates leadership in fostering cooperation and camaraderie among the engineering students.
Justin Banks, a junior computer science major received the James M. Hall, Jr. Memorial Award. This award is presented annually to a student of the junior engineering class who is considered by the faculty to be the most outstanding based on scholastic achievement, extra-curricular activities, character, responsibility, attitude, and potential for professional growth.
The Engineers Week Reception was hosted by the UE student chapter of the Society of Women Engineers (SWE) and the Dean's Advisory Council for the College of Engineering and Computer Science. It was sponsored in part by the Evansville-Owensboro Section of IEEE, the College Career Center Consortium, and the UE Center for Career Development.
UE Bookstore closing early on Monday, March 4
The UE Bookstore will be closing early at 3:30 p.m. on Monday, March 4, due to the Commencement Central event scheduled for that day from 4:00-6:00 p.m., upstairs in the Ridgway University Center. Please keep in mind this special closing in case you need to purchase anything from the bookstore on that date. Graduates are reminded to attend one of the Commencement Central events to finalize their graduation plans.
Submitted by Doug Gustwiller dg57@evansville.edu
Spring Healthy Behavior Challenge
Sign up today for the Spring Healthy Behavior Challenge! Earn additional HRA's credits by successfully completing the challenge. Participants will be tracking exercise and fruits/vegetables consumed. To sign-up, email ac375@evansville.edu directly or visit the Employee Health Clinic AceLink page. The challenge is March 18-May19.
This is an 8-week competition to support a healthy lifestyle.
HRA credits will be issued upon successful fulfillment of some basic healthy behaviors. Employees and insured spouses enrolled in the HRA health insurance program will earn $150 credit. If a credit was earned previously (Summer 2018, or Fall 2018), no additional credit will be issued. Anyone who finishes in the top 4 will receive a $50 gift card regardless of previous gift-card winning status. The challenge begins March 18 and ends May 19. You must submit 8 weeks of data. You can pick up additional pocket-sized logs from the UE Health and Wellness Center.
Rules:
1. Eat a combination of 5 fruits and vegetables at least 4 days a week and exercise an average of 120 minutes weekly (your log needs at least 160 fruit/veggie boxes checked and 64 exercise boxes checked).
2. Check off boxes daily to avoid "guesstimation" later.
3. Additional logs can be picked up from the UE Health and Wellness Center or on AceLink.
4. Return logs to the collection box at the UE Health and Wellness Clinic or email to ac375@evansville.edu by May 19.
5. HRA credit will be submitted to Meritain by May 19.
Submitted by Ashley Chipps ac375@evansville.edu
Federal loan repayment counseling session required for students graduating or transferring
Students who have used federal direct (sub/unsub) loans and plan to graduate in the spring or summer (or transfer after the spring semester) are required to attend a loan repayment counseling session. The Office of Student Financial Services will hold the first session of the semester on Monday, March 4 at 6:00 p.m. in Eykamp Hall, Room 252, Ridgway University Center. Additional sessions will be held on May 2 at 2:00 p.m. and May 10 at 11:30 a.m.
Submitted by Amy Sowders as560@evansville.edu
Accepting nominations for Outstanding Teacher Alumni Association Award 2019
The UE Alumni Association recognizes an Outstanding Teacher for exemplary instruction and student support at Spring Commencement. UE administrators, faculty, staff, student and alumni may nominate a faculty member who exemplifies the award's criteria for outstanding teaching effectiveness that inspires the intellectual development of students.
Please use this link to nominate a faculty member for the auspicious occasion: www.evansville.edu/alumni/outstandingteacher.cfm.
Full-time faculty who have taught in the classroom at UE for two years or more and hold the rank of lecturer, instructor, assistant professor, associate professor, or professor are eligible for nomination.
Past award recipients are as follows: Dr. James Berry 2011; Dr. Mari Plikuhn 2012; Dr. Mark Valenzuela 2013; Dr. Jennie Ebeling 2014; Dr. Margaret Stevenson 2015; Dr. M. Kevin Gray 2016; Dr. Mary Ellen Wylie 2017, and Dr. Tony Beavers 2018.
The deadline to submit nominations is March 8, at 5:00 p.m. For questions, contact Tracey Folden, assistant vice president of academic affairs-faculty relations, at tf91@evansville.edu.
Submitted by Tracey Folden tf91@evansville.edu
2019-20 Margery Florence Kahn Scholarship
2019-20 Margery Florence Kahn Scholarship applications are now available.
It was the desire of the donor, Margery Florence Kahn, that her scholarship be awarded to "dedicated and conscientious students who exhibit a true passion for their chosen fields of study, and who, in the opinion of the members of the University of Evansville faculty, are likely to bring the same enthusiasm into the performance of their jobs or the practice of the professions which they will pursue following graduation."
All University of Evansville full-time undergraduate students who will be juniors or seniors in 2019-20 may apply. An essay of about 300 words must accompany the application, along with two to five faculty recommendation letters.
Applications and recommendation letters are available from the Student Financial Services in Room 106 in Olmsted Hall and should be returned by APRIL 15.
You may also request application materials by emailing th187@evansville.edu.
Questions may be sent via email or call 812-488-2364.
Submitted by Trisha Hawkes th187@evansville.edu
Village housing request cards
Students interested in living in the Villages for 2019-20 should pick up Village request cards in the Office of Residence Life.
The Villages are reserved primarily for students with 60 plus credit hours. In order to apply to live in the Villages, each person in your group must have at least 44 credit hours on file with the University by the end of the Fall 2018 semester.
Village request cards are due back to the Office of Residence Life by 5:00 p.m., Friday, March 1.
More information on the housing assignments process can be found on the residence life section of the University website at www.evansville.edu/residencelife/whereWillYouLive.cfm.
Submitted by Brian Conner bc32@evansville.edu
2019 scholarships for United Methodist students
United Methodist students attending UE can apply for the 2019 United Methodist Scholarships at wwwgbhem.org/scholarshipapplication.
United Methodist students attending United Methodist-related institutions can apply for 2019 United Methodist Scholarships from January 3-March 7 at www.gbhem.org/scholarshipapplication for 2019 scholarships.
Applying for individual scholarships now also makes you eligible for the United Methodist Allocation. You must apply now to be considered for both. Late applications will not be accepted. Scholarships range in value from $500 to $5,000. The average amount awarded is about $1,000.
Scholarship eligibility requirements:
•Incoming or current freshmen, sophomores, juniors, seniors or graduate students at one of the United Methodist-related colleges or universities
•Member of any United Methodist Church for at least one year
•Minimum GPA of 2.5
Submitted by Trisha Hawkes th187@evansville.edu
Several recognized at University of Evansville Purple Tam Ceremony
The 2019 Purple Tam Ceremony was held in Neu Chapel at University of Evansville on February 28. The event recognizes those who have achieved full professorship.
Honored during the event were Margaret Atwater-Singer, Lora Becker, Young Choul Kim, Christopher M. Pietruszkiewicz, Gerald Seaman, Ying Shang, Joyce Stamm, Garnet Ungar, and Patricia Vilches. Heidi Strobel and Dennis Malfatti were unable to attend the February 28 ceremony and received their tams at an earlier date.
Historians of academic regalia trace the widespread use of "caps" to Oxford University in England, where the conferring of a cap on a graduate was likened to the Roman practice of using a cap to grant freedom to servants. Academic headwear signified freedom for scholarship and inquiry, and the velvet tam came to be associated particularly with doctoral degrees. The purple velvet tams given to UE's full professors recognize the unique contributions of these individuals to the University's mission.
Professor Margaret Atwater-Singer, University Library, received her master's from Rutgers University and her bachelor's degree from Kean College of New Jersey. Professor Atwater-Singer joined the University in 1997 and came to us from Condé Nast Publications, Inc. where she worked as an assistant librarian. Professor Atwater-Singer has reviewed a multitude of publications, made dozens of presentations, and has also been awarded various scholarships including but not limited to Wheeler Fund Awards, a Faculty Innovation Instruction Grant, and several Alumni Research and Scholarly Activity Fellowship grants. Overshadowing all that she has undertaken is the Libraries' massive renovation project. She contributed to its success at every level, from initial planning in the project Working Group, through logistical planning for stacks management and provision of service before, during, and after renovation, staff training and supervision, and coordination with a host of constituencies who had an interest in the success of the project. In addition to all of the endeavors relating directly to the Libraries' renovation project, Professor Atwater-Singer continues her engagement in other fundamental services of the University Libraries, including her contribution to the Research Assistance Program, and offering on-demand research assistance.
Lora Becker, Department of Psychology, earned her PhD and master's degrees from the State University of New York (Binghamton), and the bachelor's from Wright State University (Dayton, Ohio). Becker joined the UE faculty in 1999 coming from Binghamton University where she was an instructor of psychology. Since joining the University, Becker has written numerous research articles and posters and has won many grants including but not limited to the Ball Brothers Venture Grant the Mead Johnson Nutritional Grant, Global Scholar, numerous UExplore Research Grants, ARSAF grants and ADVANTAGE Undergraduate Research grants. She has also taken on several director positions at UE including the Neuroscience Program, the Summer Reading Program, the Major Discovery Program and the Academic Assessment Committee. She is currently on the Pre-Professional Advisors Committee, the Institutional Care and Use Committee, the Berger Award Committee, and is co-coordinator for the Crick Lecture series for Cognitive and Neural Science. She has also served on the General Education Steering Committee, the Faculty Senate Executive Board, Institutional Diversity Council, and the Strategic Plan Oversight Committee to name just a few. The second recipient of the Eykamp Prize for extraordinary contributions by UE faculty to the University, she was also awarded the Mentor of the Year award from Faculty for Undergraduate Neuroscience (or FUN). Nationally she served as president of Nu Rho Psi, the honor society for neuroscience, overseeing the first Indiana chapter of the organization established at UE and is now treasurer of FUN and serves on the Board of Phi Kappa Phi, the largest interdisciplinary honors society.
Young Choul Kim, Department of Law, Politics, and Society, received his PhD from Texas Tech University (Lubbock), and his master's and bachelor's degrees from Hankuk University of Foreign Studies in Seoul. Kim joined the UE faculty in 2004 and came to us from Texas Tech where he was a graduate instructor of political science. Since 2013, Kim has served as the director of the International Studies Program and also holds the distinction of being the Austin S. Igleheart Endowed Chair in Political Science. Kim has won numerous grants and awards, including but not limited to the Ridgway Faculty Excellence Award, the Global Scholar Award, the Research Grant Award of the ASIANetwork Student-Faculty Fellows Program provided by the ASIANetwork Freeman Foundation and the TriState Global Enterprise in Asia Project Grant. Kim has numerous publications and a multitude of conference presentations and professional activities. Kim serves or has served the University in many areas including the International Programs Committee, the External Study Abroad committee, the Faculty Senate and the Academic Services Committee to name just a few. Kim is a member of the American Political Science Association, the Indiana Political Science Association, the Korean Political Science Association, and the Indiana Academy of the Social Science to name a few.
Dennis Malfatti, Department of Music, received his DMA from Louisiana State University in Baton Rouge, his master's from Pennsylvania State University and his bachelor's (summa cum laude) from the University of the Pacific in Stockton, California. Malfatti joined the UE faculty in 2007 and came to us from Longwood University in Farmville, Virginia, where he was director of choral activities and assistant professor of music. Malfatti has been the conductor of the Evansville Philharmonic Chorus, is the founder/conductor of the Evansville Bach Singers, and is currently serving as the president of the Indiana Choral Directors Association. Under Malfatti's direction, the UE University Choir has been recognized through invitations to perform for the American Choral Directors Association Central Division Conference in 2016 and for the Indiana Music Education Association Conventions in both 2010 and 2013. Also under his leadership, University of Evansville was the only college/university in Indiana chosen to send choral singers to participate in the 2017 National Collegiate Honor Choir. In both 2011 and 2016, Malfatti led concerts at Carnegie Hall in New York City with a conglomerate of choirs from around the country and professional orchestra. Twice he was chosen from an international pool of candidates as a participant in the conducting master class at the Oregon Bach Festival led by renowned conductor Helmut Rilling. In 2018 his article on the music of Handel was a featured cover article in the Choral Journal, and, in 2013 he was the recipient of the "Educator of the Year Award" from the Arts Council of Southwest Indiana.
Christopher M. Pietruszkiewicz is the 24th president of the University of Evansville and professor in the Department of Law, Politics, and Society. Pietruszkiewicz began his academic career at George Mason University School of Law as an adjunct professor of law. Later, he joined the faculty of the Louisiana State University Paul M. Hebert Law Center, where he served as the J.Y. Sanders Professor of Law and vice chancellor for Business and Financial Affairs. For the last six years, he served as dean and professor of law at Stetson University College of Law. Prior to entering academia, Pietruszkiewicz served as a trial attorney in the Tax Division of the United States Department of Justice where he received the Outstanding Attorney Award. He was an attorney/adviser for the United States Department of Education where he received the Assistant Secretary's Award for Team Distinction and the Deputy Secretary's Award for Service. Pietruszkiewicz was a member of the Standards Reviews Committee of the American Bar Association (ABA) Section of Legal Education and Admissions to the Bar and previously served as a member of the ABA's Data Policy and Collection Committee, including a term as chair. He served as president of the Southeastern Association of Law Schools, as deputy corporate compliance officer/secretary, and as a member of the Board of Trustees. Pietruszkiewicz was also a member of the Audit Committee of the Law School Admission Council, a member of the Nominating Committee, chair of the Investment Committee, a liaison to the Finance and Legal Affairs Committees, and a member of the Board of Trustees. In addition, he served on the Florida Supreme Court Commission on Professionalism, the Legal Education Committee of the Florida Bar Vision 2016 Commission, the Florida Bar Special Committee on Legal Education, and a member of the Board of Trustees of the Greater Tampa Chamber of Commerce. An expert in tax law, Pietruszkiewicz co-authored treatises – Mastering Income Tax and Corporate Reorganizations, published numerous law review articles, presented widely on the subject, and held various leadership positions with the ABA's Section of Taxation, including vice chair of the Individual Income Tax Committee and Special Features Editor of ABA's News Quarterly. Pietruszkiewicz was an NCAA and high school basketball official and worked with Special Olympics Virginia and Special Olympics Louisiana. He earned a Bachelor of Science (BS) degree at the University of Scranton, a Juris Doctor (JD) at Loyola University New Orleans College of Law, and a Master of Laws (LLM) in taxation at Georgetown University Law Center in Washington, DC.
Gerald Seaman, Principal at Harlaxton, earned his PhD in French at Stanford University in 1992. He joined the University of Evansville faculty the next fall and was granted tenure and promoted to the rank of associate professor in 1999. He was named Mortar Board Professor of the Year in 2000 and was a Fellow in the Center for Teaching Excellence. He was chair of the Department of Foreign Languages from 1997-2000 and program coordinator for World Cultures 101 in 1996-1997. He served on several committees, including Admissions and Standards and the Patricia H. Snyder Concert and Lecture series. He was a member of Phi Kappa Phi, Phi Sigma Iota, and Phi Beta Delta, and taught at Harlaxton in the summers of 1998-2000. After UE, he was associate dean of faculty and associate professor of French at Lawrence University, in Appleton, Wisconsin, where his portfolio included off-campus programs, faculty mentoring, teaching development, and undergraduate research. Next, in 2006, he became vice president and dean of faculty and was promoted to the rank of professor of romance and classical languages, with tenure, at Ripon College, Wisconsin, where he also served as interim president in 2011-12. At Ripon, he was PI or co-PI on grants totaling nearly $3 million and, as interim president, raised $13 million in 9 months during the silent phase of the Imagine Tomorrow capital campaign. He is co-editor (with Patricia Vilches) of Seeking Real Truths: Multidisciplinary Perspectives on Machiavelli (Brill, 2006) and author of nearly 30 scholarly articles, chapters, and book reviews. He has presented, led roundtables and chaired sessions at the American Conference of Academic Deans, AAC&U and the National Institute for Chief Academic Officers (Council of Independent Colleges) where he has also served as mentor to new CAOs. He has been principal, chief executive, and Scholar in Residence at Harlaxton College since 2014.
Ying Shang is the first female dean of the College of Engineering and Computer Science. She earned her PhD and master's degrees in electrical engineering from the University of Notre Dame, and her bachelor's in control engineering from Shangdong University. Her research areas include discrete-event systems, max-plus linear systems, and hybrid systems with applications in queueing networks, manufacturing systems, and transportation networks. She was the department chair of electrical and computer engineering at Southern Illinois University in Edwardsville from 2015-2018. During Shang's term as the department chair, she fostered faculty growth in teaching and research, improved communication, secured ABET accreditation, established industrial partnerships, and created a process of launching entrepreneurial incubator/accelerator for startups to help Southern Illinois. Shang also served as faculty advisor for the Society of Women Engineers Student Chapter at Southern Illinois University of Edwardsville and initiated the first annual Introduce a Girl to Engineering event at the university.
Joyce Stamm, Department of Biology, earned her PhD from the University of Minnesota-Twin Cities, and bachelor's with honor from Caltech. Stamm joined the UE faculty in 2005 coming to us from the Claremont Colleges where she was a visiting professor. Stamm has made meaningful contributions to both the biology department and the University during her tenure. Most notably, she has served as president of the Faculty Senate and obtained a $610K grant from the National Science Foundation with Adam Salminen PhD, Department of Mathematics, to co-direct the Science and Mathematics Scholarship Program. Stamm has been awarded numerous UE grants, including UExplore Undergraduate Research Program grants, Alumni Research and Scholarly Activity Fellowship grants, and Arts, Research, and Teaching Projects grants. She has engaged numerous students in undergraduate research, both in the classroom and during the summer, and has published 10 reviewed articles during her time at UE, two with student co-authors. She has also served on many committees and working groups, including the Faculty Senate, the Curriculum Committee, the Fiscal Affairs Committee, the Academic Services Committee, the Institutional Review board and the Connections Strategic Planning Working Group.
Heidi Strobel, Department of Archaeology and Art History, earned her master's from the University of Illinois, Urbana-Champaign, and her bachelor's from Kalamazoo College. Strobel joined the faculty at UE in 2004 after serving as assistant professor of art history at Baker College. In addition to her teaching load, Strobel is also the associate dean of the William L. Ridgway College of Arts and Sciences. She serves as department advisor for internships and is faculty advisor to art history majors and minors. Strobel is the author of several books including The Artistic Matronage of Queen Charlotte (1744-1818): How a Queen Promoted Both Art and Female Artists in English Society and has also written numerous journals, encyclopedia, and dictionary articles. Strobel has also won a number of awards and grants that include the John H. Schroeder Faculty Development Fund award, the Paul Mellon Centre for Studies in British Art/Yale University Research Support Grant, and the Indiana Landmarks Historic Preservation Education Grant (Wes Peters/Margedant House) and is also the director of the Wes Peters/Margedant House.
Garnet Ungar earned his DMA from the University of Houston, his master's from the University of Calgary, and his bachelor's degree from the University of Toronto. In addition to performing regularly in Evansville, Ungar appears throughout the world as piano soloist with orchestra, in recitals and masterclasses at major universities, and on radio broadcasts. Highlights of recent seasons were concerts and lectures at Xinghai Conservatory in China, Kwassui University in Japan, Indiana University, the University of Michigan, the University of British Columbia, the Tanglewood Festival in Massachusetts, the American Liszt Society in New York City, and the Arts and Letters Club in Toronto. His regular visits to Hong Kong include three terms as festival judge, a recital at Hong Kong Baptist University, and a broadcast on Hong Kong Public Radio. He has performed in Switzerland, Sweden, England, Bulgaria, and this spring will tour South America playing eight concerts in five countries. He has released two CDs to glowing reviews, and recently completed a book chronicling the life of American pianist Abbey Simon. Recent service contributions include chairing the department's Assessment and Recording Studio Committees, serving on the Faculty Senate, and coordinating the piano portion of the Summer Music Camp. Ungar is a member of the American Liszt Society, the Phi Kappa Phi National Honor Society, the Pi Kappa Lambda National Music Honor Society and the Indiana Music Teachers Association.
Patricia Vilches earned her PhD in romance languages and literatures from the University of Chicago in 1992. The next fall, she became assistant professor of Spanish and Italian at the University of Evansville. In 1998, she was awarded tenure and promoted to the rank of associate professor. While at UE, she received the Dean's Award for Excellence in Teaching in 1998-1999. She served as director of World Cultures, chair of the Faculty Senate (both in 1999-2000) and taught at Harlaxton College (summers 1998-2000). Later, she became associate professor and received tenure at Lawrence University where she was promoted to the rank of full professor in 2014. Since 2014, she has served at Harlaxton College as professor of Spanish and Italian and Scholar in Residence. Her main research subjects include Violeta Parra, the Nueva Canción Movement in Chile, and Salvador Allende. She also studies the transatlantic impact of Machiavelli and Cervantes and the intersections of Machiavelli and Cervantes with nineteenth- and twentieth-century Latin American cultural studies, with a particular focus on the Chilean author Alberto Blest-Gana (1830-1920). She is the author of five books, including Mapping Violeta Parra's Cultural Landscapes (Palgrave McMillan, 2018), editor and contributor; Blest Gana via Machiavelli and Cervantes: National Identity and Social Order in Chile (Cambridge Scholars, 2017) and Seeking Real Truths: Multidisciplinary Perspectives on Machiavelli (Brill, 2006), editor and contributor (with Gerald Seaman). Another book, Negotiating Space in Latin America, is currently under review. In addition, she has published more than 30 scholarly articles, notably: "Cervantes, Lizardi, and the Literary Construction of the Mexican Rogue in Don Catrín de la fachenda." Open Cultural Studies 1 (2017): 428-441; "Andrés Wood's Machuca and Violeta Went to Heaven: The Geographical Spaces of Conflict in Chile." Latin American Perspectives. 43.5 (2016): 45-61; "Monumental Italians: Machiavelli, Giuseppe Rondizzoni and Chilean Independence." Forum Italicum 47 (2013): 346-363. She is widely recognized in her field and regularly reviews essays under consideration at scholarly journals such as Hispanófila and Revue Romane and book manuscripts for academic publishers such as Palgrave MacMillan. In 2015, she was invited by Professor Javier Guerrero of Princeton University to be a guest lecturer on Violeta Parra in his seminar on "Images in Transition, Poetics and Politics of Contemporaneity" which took place in Santiago, Chile.
Aces capture tournament victory at ASU Spring Kickoff
Holding a lead after the first day, the University of Evansville held on in the final round to capture the tournament championship at the Alabama State University Spring Golf Kickoff at Lagoon Park Golf Course in Montgomery, Ala.
After recording a 312 and 314 in the first two rounds on Monday, the Aces turned in a final-round 317 to earn its second victory of the season.
Evansville tallied a pair of podium finishes at the tournament. Sophomore Sophia Rohleder remained consistent throughout the tournament, finishing with a 76 in Tuesday's third round for a second-place finish with a three-round total of 226 (74 - 76 - 76). Just one spot behind Rohleder, senior Sydney Anderson finished in third with a three-day total of 232 (77 - 77 - 78).
Finishing in a tie for seventh, senior Madison Chaney opened the tournament with a 77, followed by a pair of 82s to record a total of 241. Barely missing a top-10 finish, junior Lexie Sollman tallied a two-day total of 245 (84 - 79 - 82), rebounding from an 84 in the first round.
A pair of freshman finished one-after-another in the final standings as Alyssa McMinn (90 - 84 - 81) and Caitlin O'Donnel (89 - 85 - 84) finished in 15th and 16th, respectively.
The Aces look to continue their strong start to the spring season at the Benbow Invitational on March 24 and 25 in Jacksonville, Fla.
ISEA and Kappa Kappa Iota raise money for Cops Connecting with Kids
Members of UE's Indiana Student Education Association (ISEA) and Kappa Kappa Iota (KKI) have raised money for Cops Connecting with Kids at Glenwood Leadership Academy. Cops Connecting with Kids is a program where members of the Evansville Police Department and Vanderburgh County Sheriff's Office take students from the Evansville Vanderburgh School Corporation on an annual trip to Walt Disney World. The trip is funded through sponsorships and fundraisers.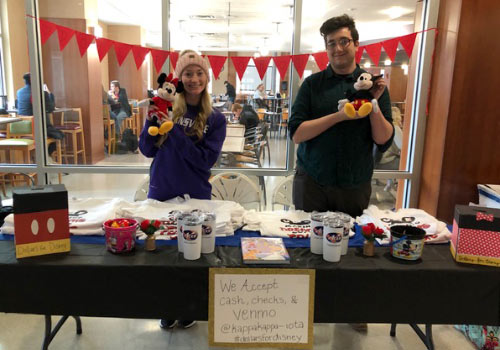 The UE student groups will be presenting a check to Cops Connecting with Kids at Glenwood Leadership Academy on Friday, March 1 at 1:45 p.m. Representing UE will be Megan Hawkins, student president of ISEA, Heather Dougan James, student president of Kappa Kappa Iota, and Sharon Gieselmann, associate professor and chair of UE's School of Education.
Professor Kretz to give Frederick Henry Sykes Lecture
Associate professor of philosophy Lisa Kretz will be giving the Frederick Henry Sykes Lecture at Connecticut College's Goodwin-Niering Center on March 2. The conference theme is "Climate Action from Below: A Cause for Optimism?" Professor Kretz will speak on the topic of "Hope and Activism."
Campus Community makes Nerd Wars 2019 a HUGE success!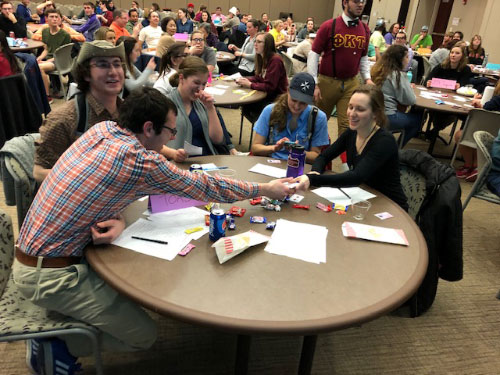 Thank you for making our Honors Program Nerd Wars event a success! Attendees and spectators enjoyed fun and food sponsored by funds from the Student Government Association.
Prizes were awarded to the winning student team, The Plug N' Chug Peaches, and the winning faculty/administrator/staff team, Consilience.
The Nerd Wars trophy grand prize went to Consilience, the team with the most total points.
We generated over $500 from the event this year! The proceeds will be used for Honors Program community service initiatives.
Submitted by Blake Elliott be80@evansville.edu
Evansville to host pro soccer showdown at McCutchan Stadium featuring familiar faces on Saturday
For the fourth-straight season, the University of Evansville will play host to a pair of professional soccer powers when USL Championship sides Nashville SC and Indy Eleven come to Arad McCutchan Stadium at 2:00 p.m. on March 2.
As part of the festivities, a question and answer session featuring former Aces' men's soccer head coach and Nashville SC GM Mike Jacobs, former Aces' men's soccer student-athlete and Nashville SC assistant GM Ally Mackay, and a potential member from the Indy Eleven organization will be held at Doc's Sports Bar at 7:00 p.m. on Friday, March 1 in a family-friendly event.
Aces softball travels to Samford Tournament
Another trip south is up next for the University of Evansville softball team, who travels to Birmingham, Alabama for the Samford Tournament.
Evansville will face Western Kentucky, Houston Baptist, Samford, and Jackson State in the tournament, which goes from today through Sunday. UE was slated to open its home slate next Wednesday against Purdue Fort Wayne, but that game has now been cancelled due to the anticipate weather.
Last weekend, weather also wreaked havoc on the squad. UE was set to travel to a tournament in Chattanooga, Tenn., but rain forced the venue to be changed to Carbondale, Ill. After dropping games to Ohio University and Saint Louis, Evansville rebounded for a 4-2 win over Creighton on Sunday.
Emily Lockhart picked up her third win of the season, going all seven innings while allowing two runs on five hits. Sophomore Eryn Gould had one of her best games of the young season, going 2-4 with two runs scored.
Gould batted .375 over the course of the weekend to lead the Aces. Katie McLean finished at .300 with three hits in 10 at-bats.
UE's first opponent of the weekend is Western Kentucky. The Hilltoppers are 10-2 on the season and picked up two wins over Missouri Valley Conference schools – Missouri State and Indiana State. Houston Baptist is the first game on Saturday. They are 5-6 overall and picked up a pair of wins against Arkansas-Pine Bluff last week.
Saturday's second game will be against the host squad – Samford. The Bulldogs enter the weekend with a record of 5-12. Their top performance this season came two weeks ago at the Samford Classic where they went 3-1 with wins over DePaul, Eastern Illinois and Georgia State. UE wraps up the tournament on Sunday with a game against Jackson State, who is 2-16, but has won two in a row, taking both ends of Tuesday's doubleheader against Belhaven University.
Contribute to AceNotes
To have content considered for inclusion in AceNotes, please submit a Marketing Request Form. Deadline for submission to AceNotes is 10:00 a.m. on the requested date of publication. Only articles concerning UE related/sponsored activities will be accepted. Articles submitted to AceNotes may be edited for length and clarity. Submitter contact information is at the end of each article.