| | |
| --- | --- |
| AceNotes Today | Thursday, February 28, 2019 |
Message to the Campus Community Regarding Recent United Methodist Church Vote
Dear Campus Community,
As you may have read, the United Methodist General Conference voted Tuesday to retain its restrictions on performing marriages and ordaining LGBTQ individuals. Given the University of Evansville's affiliation with the United Methodist Church, I want to reaffirm our commitment to creating an inclusive environment in which all members of the campus community, whatever their backgrounds or beliefs, feel safe, valued and welcome.
Although we are historically affiliated with the United Methodist Church, we operate independently of its governing bodies, and our policies and procedures are not affected by the decisions of the General Conference. We remain unequivocally committed to our policy of inclusiveness, which prohibits harassment or discrimination on the grounds of race, color, gender, gender identity and expression, sexual orientation, creed or religion, national origin, age, disability, or veteran status.
Thank you for your contributions to the University of Evansville family, where all are welcomed and embraced.
President Pietruszkiewicz
It's Inauguration Week! Here are 10 Fun Facts about Prez P
It's presidential inauguration week!
On Sunday, March 3 we will officially welcome Christopher M. Pietruszkiewicz as the University of Evansville's 24th president. Here are the top 10 fun facts about Prez P:
1. Score: 44
There are 15 letters in Pietruszkiewicz and the sum total of those letters in Scrabble tiles equals 44.
2. Dean P
Before his appointment as president of the University of Evansville, Prez P was just as positive and enthusiastic in his role as Dean and Professor of Law at Stetson University's College of Law in Gulfport, Florida.
3. Cow Flop
Prez P grew up in Throop, Penn., home of the annual Cow Flop and a small town where his parents "knew what he did before he got home from school".
4. Michael Scott was his neighbor:
The town of Throop is just outside of Scranton, Penn., home of the popular TV show The Office.
5. Where in the World is Prez P's Office?
Students can expect to see Prez P in Café Court during lunch, on the sidewalk between classes, and on the basketball court as a referee. Though his "office" is the heart of campus and the student experience, the official home of the Office of the President is located in Room 201 on the second floor of Olmsted Administration Hall.
6. Spirit Animal: Otter
In Fall 2018, Prez P met with Orientation Leaders and International Orientation Leaders during an orientation session. When they asked about his spirit animal, Prez P challenged student leaders to connect him with his spirit animal. They determined Prez P's spirit animal is an otter because it presents positive energy; focuses on the future; and uses tools available to achieve bold goals and objectives.
7. Best Supporting Role
The weekly campus video update, Friday Wrap with President Pietruszkiewicz, often features appearances by a special celebrity co-star - the one and only John Pietruszkiewicz, Prez P's youngest son.
8. Refreshing
Prez P's favorite soda or carbonated drink is Diet Coke.
9. Love on the Court
President Pietruszkiewicz and his wife, Siobhan, met in a chance encounter where both were individually committed to referring a high school basketball game.
10. Smores and Nora
Prez P moved to Evansville, Indiana, with his wife, Siobhan; sons, Ryan and John; Nora, the family dog; and Smores, John's pet hamster.
Join us for the inauguration ceremony on March 3 at 2:00 p.m. and view a full schedule of events online.
Watch as we congratulate Rami Malek '03 on big awards season!
The University of Evansville's own Rami Malek won an Academy Award for best actor on Monday night for his portrayal of Freddie Mercury in the award winning film, Bohemian Rhapsody. Malek graduated from the UE Theatre department in 2003 and the entire campus community joined together in a congratulatory video honoring his portrayal of Freddie Mercury.
VIEW THE VIDEO ONLINE HERE.
Set to the familiar "stomp, stomp, clap" rhythm of We Will Rock You by Queen, the video celebrates Malek's successes in a montage of people he knew and places he frequented in his undergraduate years.
The video was produced by current UE students, senior Gina DeLise and junior Jules Iradukunda. The effort was spearheaded by two of Malek's closest friends, Amelia McClain and Wes Grantom. The pair also graduated from UE in 2003 and are currently serving as guest artists in the UE Theatre department.
While at the UE, Malek performed in Death and the King's Horseman, The Kentucky Cycle, Book of Days, Much Ado About Nothing, Othello, and The Real Thing.
Malek has won several other big this awards season for his role in Bohemian Rhapsody, taking home a Golden Globe, SAG Award, and a BAFTA Award.
NPHC Greek Symposium - rescheduled
Due to unforeseen circumstances, the NPHC Greek Symposium will be postponed. Further details on the new time and day will come out soon.
Panel discussion - "University of Evansville: The First 100 Years"
A panel discussion titled "University of Evansville: The First 100 Years" will be held on March 2, at 3:00 p.m. in Smythe Lecture Hall in the Schroeder School of Business Building on the University of Evansville campus. The event is free and open to the public.
The discussion will reflect on major milestones in UE's history during the 100 years since the institution's move to Evansville from Moores Hill, Indiana in 1919.
The panel will be moderated by Dr. James MacLeod, chair of UE's department of history and panelists include:
• Rose Mays '66
• Richard Werking '66
• Steve Worthington '73
• Julie Williams '85
• Sylvia DeVault '85
• Eloho Okeze '08
The discussion is part of the weekend-long celebration of UE's history and heritage which will culminate with the inauguration ceremony of the institution's 24th president, Christopher M. Pietruszkiewicz.
SGA officer callouts
Interested in becoming a Student Government Association officer? Learn more about the positions and how to apply this Thursday, February 28, at 6:00 p.m. in Room 170 in the Schroeder School of Business Building.
Submitted by Andrew Schroder as677@evansville.edu
Vagina Monologues planned for Friday, March 1
A production of the Vagina Monologues is planned for Friday, March 1, at 6:30 p.m. in Room 142 in the Krannert Hall of Art and Music. $10 entry free at the door or look for the table in Ridgway University Center. This event is being hosted by Women's Rights Awareness.
Submitted by Alyssa Lueken al267@evansville.edu
Free Coffee & Careers event this week
Come for free coffee and an informal career chat with alumni and friends of the University on Thursday, February 28, from 4:00-5:00 p.m. in the Phillips Study Alcove (across from WUEV) in Ridgway University Center. Learn about their journey to their current job and the skills needed for career success.
This month's focus is on careers in law and government.
Submitted by Alison Morris-McDonald am268@evansville.edu
Newman Club: Register for Source and Summit!
Registration to go to Source and Summit with the Newman Club is now open! Source and Summit is a three-day retreat on April 5-7 at Memorial High School (down the road). Newman is going to send a big group, and you are invited! Talk to Jenny (je46@evansville.edu) or any of the Ministry Team members to get information to sign up for this amazing and formative retreat! Registration ends March 5, so act now!
Submitted by Michaela Kunkler mk305@evansville.edu
Relaxation Night with PRIDE
Feeling a little stressed? Need to take a break from all your studying? Come join P.R.I.D.E. on March 4 at 9:00 p.m. in the Schroeder School of Business Building in Room 271 for a relaxing night filled with coloring, music, and more!
Movie Night: Men in Black 3
Come join BSU and Race & Ethnicity Studies in watching Men in Black 3 on Thursday, February 28 at 7:00 p.m. in Smythe Lecture Hall (Room 170) in the Schroeder School of Business Building. We will have a short discussion afterward about the movie and its significance for Black History Month. We will have popcorn, candy, and drinks! Everyone is welcome, and feel free to bring a friend!
Submitted by Miranda Huskey mh441@evansville.edu
This Week in Music: Douglas Shadle Lecture and Recital
Lecture and Recital on Diversity and Musical Performance
Thursday, February 28, 7:30 p.m.
Wheeler Concert Hall
Douglas Shadle, assistant professor of musicology at Vanderbilt University, will present a lecture, "Finding a Home on the Concert Stage," on Thursday, February 28 at 7:30 p.m. in Wheeler Concert Hall in Krannert Hall of Art and Music. The lecture addresses the shortage of composers from underrepresented populations on American concert programs. A short recital will follow Shadle's talk, featuring the works of Florence Price, a black female composer of the early 20th century.
Student Recital
Saturday, March 2, 2:30 p.m.
Wheeler Concert Hall
Bailey Alka, soprano, will give a senior recital at 2:30 p.m. on Saturday, March 2 in Wheeler Concert Hall.
Submitted by James Sullivan js820@evansville.edu
Professor Byrne to speak at March Andiron Lecture
University of Evansville associate professor of history Daniel Byrne will be the speaker for the Andiron Lecture on Wednesday, March 6, in Eykamp Hall, room 252, Ridgway University Center. The lecture starts at 4:00 p.m. A social gathering with beverages begins at 3:45 p.m. This event is free and open to the public.
Byrne's topic will be "Cautiously Confronting Colonialism: The United States and Decolonizing Africa, 1962-1990."
Byrne focuses his teaching on United States history since the American Civil War, with a focus on the United States in the world. Additionally, he teaches a seminar on African decolonization, which combines his research in United States foreign policy with the nationalist perspectives on the end of European empires in Africa. His original research focused on the United States response to the Algerian war of independence and has expanded to cover the decolonization of French West Africa.
With the conclusion of the Algerian war of independence and the decolonization of much of British and French Africa, the United States sought to reshape its response to the remainder of decolonizing Africa and to confront the white-ruled states of Rhodesia, Namibia, and South Africa. As the American Civil Rights movement scored significant victories at home, it began to place increased pressures on US policy abroad. However, Cold War considerations limited America's willingness to directly confront colonialism or to support nationalist independence movements. Consequently, the United States became slowly drawn into conflicts that placed its foreign policy at odds with its publicly declared support for democracy, self-determination, and racial equality.
For more information, call Annette Parks at 812-488-1070 or the William L. Ridgway College of Arts and Sciences at 812-488-2589.
Love Your Body Week!
In honor of Eating Disorder Awareness week, the Office of Counseling Services will be hosting a week-long event downstairs in Ridgway University Center. Each day will feature a table with a different activity focused on body-positivity and self-acceptance. Stop by and participate with us to encourage self-love and learn new strategies for body-positive messaging! This event will be Monday - Thursday from 11:00 a.m.-1:00 p.m.
Submitted by Jennifer Hargus jh693@evansville.edu
Free Coffee & Careers event today
Come for free coffee and an informal career chat with alumni and friends of the University today - February 28 - from 4:00 – 5:00 p.m. in the Phillips Study Alcove (across from WUEV) in Ridgway University Center. Learn about their journey to their current job and the skills needed for career success. This month's focus is on careers in law and government.
Submitted by Alison Morris-McDonald am268@evansville.edu
Eykamp Prize: Call for Nominations
The Eykamp Prize was established by Richard and Rita Eykamp in 2015 to honor faculty achievement at the University of Evansville. Recipients of the prize will receive a one-time award of $10,000 in recognition of extraordinary contributions to the University of Evansville as University Citizens. Examples of such contributions include deep and successful involvement in recruiting students; expanding the number, scope, and competitiveness of grant funding for their department; bringing positive public awareness to the University through scholarship, knowledge, and understanding of their discipline. Up to two prizes a year may be awarded.
Nominations for the Eykamp Award may come from any member of the University of Evansville Community. Nominees should be tenured or tenure-track faculty members at the University of Evansville who have not received the award in the previous five years. Nominations can be submitted in writing or via e-mail to Michael Austin, executive vice president for academic affairs/provost, by March 15, 2019. Nominations should include the name of the faculty member and a brief statement of the reasons that he or she is being nominated.
Recipients of the Eykamp Award will be selected by an Awards Committee, appointed by the EVPAA/provost that includes members of the faculty and staff, academic administrators, and at least one member of the Board of Trustees. Awards will be announced and presented at the May Commencement Ceremony.
Previous Recipients: 2016 – Dr. Mark Valenzuela; 2017 – Dr. Lora Becker; 2018 – Dr. David Dwyer.
A Moment in Black History: Melvin B Tolson
Born on February 6, 1898 in Moberly, Missouri, Melvin Beaunorus Tolson is known as one of the most significant African American modernist poets of his time. In addition, Tolson's work as an educator led Langston Hughes to declare him "the most famous Negro Professor in the Southwest" in the mid-twentieth century.
Although Tolson began his college career at Fisk University in the 1920s, he transferred to Lincoln University, where he completed a bachelor's degree in 1924. Shortly after graduating, he accepted a position as an English and Speech instructor at Wiley College in Marshall, Texas. Tolson also served as the football coach, play director, and speech and debate coach. Under his direction, Wiley's speech and debate team maintained a ten year winning steak between 1929 and 1939. In 1935 the team won a National Championship over the University of Southern California (USC).
In 1930, Tolson took time away from his full-time teaching and coaching career to pursue a master's degree at Columbia University in New York City, New York. Tolson resumed his position at Wiley in 1931, but completed his Master's degree from Columbia's department of English and Comparative Literature in 1940. After interviewing significant artists of the Harlem Renaissance for his Master's thesis, Tolson was inspired to write poetry exploring the African American urban experience. His poetry began appearing in African American newspapers such as the Washington, D.C. Tribune in the 1930s. Tolson's first book of poetry, Rendezvous with America, was published in 1944.
After maintaining a successful teaching and coaching career at Wiley, Tolson accepted a position at Langston University in Langston, Oklahoma in 1947. During that same year, he was appointed the Poet Laureate of Liberia, which inspired his second poetry book. Published in 1953, Libretto for the Republic of Liberia, honored the centennial of Liberia's founding. In addition to his professional work, Tolson served two consecutive terms as Mayor of Langston, Oklahoma from 1954 to 1960. Tolson's final poetry book, Harlem Gallery, published in 1965, helped establish him as a widely recognized modernist poet.
Melvin B. Tolson died after undergoing surgery for cancer on August 29, 1966. In the 1970s, Tolson's poetry was displayed in an exhibit known as A Gallery of Harlem Portraits at the University of Virginia. More recently, actor and producer Denzel Washington captured Tolson's work with Wiley College's speech and the debate team in the 2007 film The Great Debaters.
Submitted by Darrion Culler dc199@evansville.edu
A Moment in Black History: Della Reese
Singer and actress Deloreese Patricia Early, better known as Della Reese, was born in Detroit, Michigan, on July 6, 1931. Reese began on the path that would lead her to show business by singing in church at the age of 6. Her talents eventually landed her an opportunity to work with gospel great Mahalia Jackson when Reese was only 13 years old.
Reese went to Wayne State University in Detroit, where she majored in psychology. While in college, Reese formed the Meditation Singers, an all-female gospel group who would become known for being one of the first acts to take gospel music to the nightclubs of Las Vegas, Nevada. Unfortunately, a series of family tragedies put her studies and music on hold for a time. With her mother's death and her father's illness, Reese went to work to help her family financially.
Reese's musical career finally took off in the 1950s as she began making records with the Erskine Hawkins Orchestra. In 1954, Reese signed with Jubilee Records. Her biggest hit for the label was the 1957 song "And That Reminds Me."
Switching to RCA, Reese scored her biggest pop hit with "Don't You Know." The song climbed to the No. 2 spot on the Billboard charts and earned her a Grammy Award nomination. The gifted vocalist also became a popular act on television variety shows, appearing on The Ed Sullivan Show, among other programs.
In 1969, Reese began hosting a TV talk/variety show called Della—becoming the first black woman to host her own variety show. The show was canceled in 1970, after 197 episodes. Around this time, she also became the first woman to serve as guest host of The Tonight Show and branched out into acting, making guest appearances on shows like The Mod Squad and Police Woman.
Later in the 1970s, Reese landed a recurring role on the sitcom Chico and the Man, starring Freddie Prinze. She appeared in more comedy series during the 1980s and 1990s, including Charlie & Co. with Flip Wilson and The Royal Family opposite Redd Foxx. Despite all of her acting, Reese never abandoned music. In 1987, she was nominated for a Grammy Award for best female soloist in the gospel music category.
Reese took on one of her most famous roles beginning in 1994. She played an angel named Tess on the popular TV drama Touched by An Angel, alongside Roma Downey and John Dye. The three actors portrayed angels who try to help the living overcome their challenges and hardships. Reese was even able to showcase her singing talents on the program occasionally. During the show's nine-season run, she received two Emmy Award nominations as well as Golden Globe and Screen Actors Guild nods.
After Touched by An Angel ended in 2003, Reese continued to act while performing live on concert stages and releasing albums like 2006's Give it to God. She appeared in the big-screen film Beauty Shop (2005) with Queen Latifah and in several television movies as well, including 2011's Hallelujah and 2013's Dear Secret Santa. Outside of the entertainment world, Reese is an ordained minister and has written books on spirituality, including Metaphysically Speaking (2013).
The acclaimed singer and actress died at her home in Encino, California, on November 19, 2017, at the age of 86.
Need file folders?
Need file folders? Alumni and Parent Relations has a ton of used file folders that still have life! Stop by the Alumni House (525 S Rotherwood) and grab a few or all before they head to the recycle bin.
Submitted by Megan McCombs mm825@evansville.edu
2019-20 Dr. Marvin E. Hartig Memorial Scholarship
Family, friends and loved ones of the late Dr. Marvin E. Hartig are pleased to announce the application process for the Dr. Marvin E. Hartig Memorial Scholarship. This scholarship is dedicated to the loving memory of Dr. Hartig, Dean of Evansville College's Evening College in 1967, and administrator for the Center for Advanced Study, director of the Evansville chapter of the American Institute of Banking (AIB), and the international student advisor. In 1974, Dr. Hartig was appointed Dean of Academic Services. He retired in 1984 after serving his alma mater for thirty-five years and passed away in 2007.
This scholarship will be awarded annually to a deserving sophomore student. Preference will be given to a student working while being enrolled as a full-time student. International students are encouraged to apply.
The application can be found here.
Deadline: Please return all materials to the Office of Student Financial Services by April 26.
The decision will be announced by July 1.
Questions: Trisha Hawkes, administrative assistant to the Office of Student Financial Services, at th187@evansville.edu or 812-488-2364
Submitted by Trisha Hawkes th187@evansville.edu
Ace it Forward returns! Look out for Purple Ace doing good deeds on campus
Purple Ace is making his way around campus, spreading good deeds! Look out for Ace it Forward, as you could be next!
If you receive Purple Ace as part of a good deed, spread the UE cheer by passing Purple Ace forward. Follow the steps below.
• Pass Ace it Forward on to another member of the UE campus.
• Do a good deed for that person. Examples of good deeds include:
Show your appreciation for others. (i.e. buy your co-worker a coffee or small gift of appreciation, or write a creative note, telling them why they inspire you to do better.)
Lend a helping hand: (i.e., offer to help a co-worker when their workload starts to overwhelm them. Look for someone in the office who always stays late, or hasn't taken time off in ages. Ask them how you can help out with a project or a deadline, or volunteer to help at an event.)
Take a co-worker out to lunch. (i.e., show your appreciation by inviting a few work mates out for tacos, etc. Not only will the change of scenery spike creativity, but spending time socializing will greatly decrease your chance of having a bad day.
• Share a selfie or a picture of your good deed, and or Ace it Forward! Use #AceItForward and #TrueandLoyal and tag @UEvansville on Twitter and Facebook.
Ace It Forward is brought to you by: UE Staff and Administrators Assembly.
Submitted by Nichole Coffey ns50@evansville.edu
UE Bookstore closing early on Monday, March 4
The UE Bookstore will be closing early at 3:30 p.m. on Monday, March 4, due to the Commencement Central event scheduled for that day from 4:00-6:00 p.m., upstairs in the Ridgway University Center. Please keep in mind this special closing in case you need to purchase anything from the bookstore on that date. Graduates are reminded to attend one of the Commencement Central events to finalize their graduation plans.
Submitted by Doug Gustwiller dg57@evansville.edu
Spring Healthy Behavior Challenge
Sign up today for the Spring Healthy Behavior Challenge! Earn additional HRA's credits by successfully completing the challenge. Participants will be tracking exercise and fruits/vegetables consumed. To sign-up, email ac375@evansville.edu directly or visit the Employee Health Clinic AceLink page. The challenge is March 18-May19.
This is an 8-week competition to support a healthy lifestyle.
HRA credits will be issued upon successful fulfillment of some basic healthy behaviors. Employees and insured spouses enrolled in the HRA health insurance program will earn $150 credit. If a credit was earned previously (Summer 2018, or Fall 2018), no additional credit will be issued. Anyone who finishes in the top 4 will receive a $50 gift card regardless of previous gift-card winning status. The challenge begins March 18 and ends May 19. You must submit 8 weeks of data. You can pick up additional pocket-sized logs from the UE Health and Wellness Center.
Rules:
1. Eat a combination of 5 fruits and vegetables at least 4 days a week and exercise an average of 120 minutes weekly (your log needs at least 160 fruit/veggie boxes checked and 64 exercise boxes checked).
2. Check off boxes daily to avoid "guesstimation" later.
3. Additional logs can be picked up from the UE Health and Wellness Center or on AceLink.
4. Return logs to the collection box at the UE Health and Wellness Clinic or email to ac375@evansville.edu by May 19.
5. HRA credit will be submitted to Meritain by May 19.
Submitted by Ashley Chipps ac375@evansville.edu
Federal loan repayment counseling session required for students graduating or transferring
Students who have used federal direct (sub/unsub) loans and plan to graduate in the spring or summer (or transfer after the spring semester) are required to attend a loan repayment counseling session. The Office of Student Financial Services will hold the first session of the semester on Monday, March 4 at 6:00 p.m. in Eykamp Hall, Room 252, Ridgway University Center. Additional sessions will be held on May 2 at 2:00 p.m. and May 10 at 11:30 a.m.
Submitted by Amy Sowders as560@evansville.edu
Pick up your copy of the Crescent today!
The Crescent, University of Evansville's student magazine, is back and available for FREE to all students! Read about local craft beer, Coach Walter McCarty, the Lady Aces, Greek life, and more. And make sure to check out everyone's favorite section - Campus Crime. Pick up an issue on magazine racks across campus. The Crescent is a student magazine - by and for the students of the University of Evansville - that is published six times during the academic year. The Crescent serves as an open forum for the UE community. Copies are free to students and the goal is to present relevant content in a fair, accurate, and unbiased manner.
Submitted by Tim Young ty32@evansville.edu
Village housing request cards
Students interested in living in the Villages for 2019-20 should pick up Village request cards in the Office of Residence Life.
The Villages are reserved primarily for students with 60 plus credit hours. In order to apply to live in the Villages, each person in your group must have at least 44 credit hours on file with the University by the end of the Fall 2018 semester.
Village request cards are due back to the Office of Residence Life by 5:00 p.m., Friday, March 1.
More information on the housing assignments process can be found on the residence life section of the University website at www.evansville.edu/residencelife/whereWillYouLive.cfm.
Submitted by Brian Conner bc32@evansville.edu
twiSTEM and UE hosting 7th Annual Beauty of Engineering
twiSTEM and UE are hosting the 7th annual Beauty of Engineering on March 9, from 7:45-11:15 a.m. This is an exploration opportunity for girls in grades 4 through 8.
The goal of the workshop is to help girls understand engineering and computer science. The workshop is executed in a rotation of activity stations staffed by professional women and college students in the fields of engineering and computer science.
The cost is $10 per participant and registration deadline is March 4, and is limited to the first 120 applicants.
To register your child, please visit our Eventbrite event: https://beautyofengineering2019.eventbrite.com.
If you have a group of girls that you want in the same class rotation, please register them on line together, as you can purchase multiple tickets at one time or if each parent is registering online individually, you can email us the list of the girls names and we'll group them together.
If you have questions, please email us at twistem.evv@gmail.com..
Submitted by Kimberly Higgins kh209@evansville.edu
Sign Up for Barn Blitz (BB2)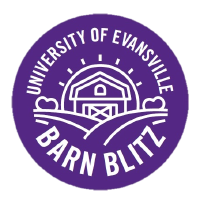 Barn Blitz 2 is happening! We are building backyard barns for Habitat for Humanity! There are several build dates.
February 2: Cutting components (ONLY)
February 9: Cutting components and building components
February 16: Cutting components and building components
February 23: Cutting components and building components
March 2: Cutting components and building components
March 23: Building components (ONLY)
March 30: Building components (ONLY)
April 6: Barn Blitz Day!
Please sign up to participate here: http://signup.com/go/odygOXP.
If you would like to claim a barn for your team or if you would like to be placed on a team for April 6, e-mail Karyssa Vasquez at kv54@evansville.edu. If claiming a barn for your team, please include a team name for your barn in your email.
Submitted by Karyssa Vasquez kv54@evansville.edu
2019 scholarships for United Methodist students
United Methodist students attending UE can apply for the 2019 United Methodist Scholarships at wwwgbhem.org/scholarshipapplication.
United Methodist students attending United Methodist-related institutions can apply for 2019 United Methodist Scholarships from January 3-March 7 at www.gbhem.org/scholarshipapplication for 2019 scholarships.
Applying for individual scholarships now also makes you eligible for the United Methodist Allocation. You must apply now to be considered for both. Late applications will not be accepted. Scholarships range in value from $500 to $5,000. The average amount awarded is about $1,000.
Scholarship eligibility requirements:
•Incoming or current freshmen, sophomores, juniors, seniors or graduate students at one of the United Methodist-related colleges or universities
•Member of any United Methodist Church for at least one year
•Minimum GPA of 2.5
Submitted by Trisha Hawkes th187@evansville.edu
ISEA and Kappa Kappa Iota raise money for Cops Connecting with Kids
Members of UE's Indiana Student Education Association (ISEA) and Kappa Kappa Iota (KKI) have raised money for Cops Connecting with Kids at Glenwood Leadership Academy. Cops Connecting with Kids is a program where members of the Evansville Police Department and Vanderburgh County Sheriff's Office take students from the Evansville Vanderburgh School Corporation on an annual trip to Walt Disney World. The trip is funded through sponsorships and fundraisers.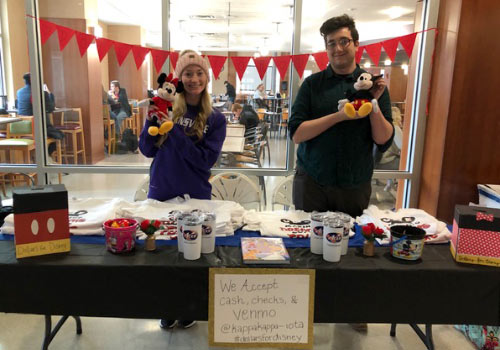 The UE student groups will be presenting a check to Cops Connecting with Kids at Glenwood Leadership Academy on Friday, March 1 at 1:45 p.m. Representing UE will be Megan Hawkins, student president of ISEA, Heather Dougan James, student president of Kappa Kappa Iota, and Sharon Gieselmann, associate professor and chair of UE's School of Education.
Professor Kretz to give Frederick Henry Sykes Lecture
Associate professor of philosophy Lisa Kretz will be giving the Frederick Henry Sykes Lecture at Connecticut College's Goodwin-Niering Center on March 2. The conference theme is "Climate Action from Below: A Cause for Optimism?" Professor Kretz will speak on the topic of "Hope and Activism."
Aces stage another late rally by fall to SIU, 98-91
Six University of Evansville players reached double figures, but a late rally by the Purple Aces men's basketball team came up short with Southern Illinois taking a 98-91 win on Wednesday evening inside the Ford Center.

Leading the Aces (10-20, 4-13 MVC) was Shea Feehan, who posted 17 points. He was 3-for-6 from long range and hit four free throws to remain perfect in league play. K.J. Riley notched 16 while Marty Hill finished with 14. Noah Frederking and Dainius Chatkevicius recorded 11 points apiece. Chatkevicius led everyone with 10 rebounds. Armon Fletcher was the leading scorer in the game, registering 34 points on 12-of-21 shooting for SIU (16-14, 9-8 MVC).

Southern Illinois shot 60.6% in the first half on their way to a 50-36 halftime lead. The Salukis had it going early on, posting the first eight points of the night before extending the advantage to 13-2 just over three minutes in.

Evan Kuhlman helped the Aces get back on track, hitting a three as the Aces cut the deficit to four - 15-11 - at the 14:55 mark. K.J. Riley also added a triple in the run. SIU continued to keep the pressure on, extending the lead to as many as 18 points (35-17) with 7:51 left in the opening half. UE was able to cut the deficit to 47-36 on a John Hall layup in the final minute, but a long triple at the buzzer saw the Salukis take a 14-point lead into the half.

Out of the break, SIU scored the first basket, but the Aces came back with five in a row including a Marty Hill trey that cut the deficit to 52-41. The Salukis rebounded with the next seven tallies to match their largest lead of 18. Kuhlman hit from downtown for the second time to end the stretch.

After SIU pushed the lead to a game high of 19, Evansville kicked it into high gear scoring the next 11 points. Shea Feehan had eight of them with a pair of triples while Shamar Givance added his first long ball of the night to make it a 65-57 game with 12 minutes left. SIU countered with a 9-2 stretch that extended the lead back to 13.

Evansville never gave up and continued to fight back. With under five minutes remaining, another Kuhlman triple cut the deficit to nine and following an SIU miss, Noah Frederking knocked down his third 3-pointer to make it an 81-76 game. With 36 ticks on the clock, the Aces got even closer. Marty Hill hit his second from outside to cut the lead to 93-89, but the comeback came up just short with the Salukis hanging on for the 98-81 win.

SIU finished the game shooting 60.3%, hitting 35 out of 58 tries. Evansville had a solid shooting night, finishing at 50%. The Aces finished the second half hitting 17 out of 29 tries, good for a tally of 58.6%.

The regular season comes to an end on Saturday when the Aces take on Valparaiso in a 1 p.m. contest. UE will open Arch Madness next week on Thursday evening at 8:30 p.m. in St. Louis. The opponent will be determined after all regular season games are completed.
Marty Hill advances to second round of Dark Horse Dunker competition
University of Evansville men's basketball fans came through in a big way and helped Marty Hill advance to the second round of the Darkhorse Dunker competition. Hill is one of the final eight who will battle for a spot in the 2019 State Farm College Slam Dunk & 3-Point Championships at the Final Four.
Voting begins today at www.DarkHorseDunker.com with the second round going until the end of the day next Wednesday, March 6.
Hill is slated to face Quaylon Newton of Southern Nazarene in the second round. If Hill wins the competition, he will participate in the competition at the Final Four in his home town of Minneapolis.
Fans can vote one time per day per device.
Contribute to AceNotes
To have content considered for inclusion in AceNotes, please submit a Marketing Request Form. Deadline for submission to AceNotes is 10:00 a.m. on the requested date of publication. Only articles concerning UE related/sponsored activities will be accepted. Articles submitted to AceNotes may be edited for length and clarity. Submitter contact information is at the end of each article.