| | |
| --- | --- |
| AceNotes Today | Wednesday, February 27, 2019 |
It's Inauguration Week! Here are 10 Fun Facts about Prez P
It's presidential inauguration week!
On Sunday, March 3 we will officially welcome Christopher M. Pietruszkiewicz as the University of Evansville's 24th president. Here are the top 10 fun facts about Prez P:
1. Score: 44
There are 15 letters in Pietruszkiewicz and the sum total of those letters in Scrabble tiles equals 44.
2. Dean P
Before his appointment as president of the University of Evansville, Prez P was just as positive and enthusiastic in his role as Dean and Professor of Law at Stetson University's College of Law in Gulfport, Florida.
3. Cow Flop
Prez P grew up in Throop, Penn., home of the annual Cow Flop and a small town where his parents "knew what he did before he got home from school".
4. Michael Scott was his neighbor:
The town of Throop is just outside of Scranton, Penn., home of the popular TV show The Office.
5. Where in the World is Prez P's Office?
Students can expect to see Prez P in Café Court during lunch, on the sidewalk between classes, and on the basketball court as a referee. Though his "office" is the heart of campus and the student experience, the official home of the Office of the President is located in Room 201 on the second floor of Olmsted Administration Hall.
6. Spirit Animal: Otter
In Fall 2018, Prez P met with Orientation Leaders and International Orientation Leaders during an orientation session. When they asked about his spirit animal, Prez P challenged student leaders to connect him with his spirit animal. They determined Prez P's spirit animal is an otter because it presents positive energy; focuses on the future; and uses tools available to achieve bold goals and objectives.
7. Best Supporting Role
The weekly campus video update, Friday Wrap with President Pietruszkiewicz, often features appearances by a special celebrity co-star - the one and only John Pietruszkiewicz, Prez P's youngest son.
8. Refreshing
Prez P's favorite soda or carbonated drink is Diet Coke.
9. Love on the Court
President Pietruszkiewicz and his wife, Siobhan, met in a chance encounter where both were individually committed to referring a high school basketball game.
10. Smores and Nora
Prez P moved to Evansville, Indiana, with his wife, Siobhan; sons, Ryan and John; Nora, the family dog; and Smores, John's pet hamster.
Join us for the inauguration ceremony on March 3 at 2:00 p.m. and view a full schedule of events online.
Rookie Bike Race Clinic today at 4:15!
Rookie Clinic for 2019 Bike Race will take place today in Room 113 in Carson Center at 4:15 p.m. It is highly encouraged for rookies to come. We understand if there are scheduling conflicts. Seasoned Bike Race riders do not have to come, but everyone is welcome. If team captains could get a rough head count of the number riders that will be there and let Mary Whelan (mw249@evansville.edu) know by today, it'd be greatly appreciated.
Submitted by Drew Hawkins ah519@evansville.edu
Newman Dinner and Discussion: Purgatory
Join the Newman Club this Wednesday, February 27, at 5:00 p.m. for our weekly dinner and discussion. This week's topic is "Purgatory," hosted by Father Tony Ernst. He will be discussing this complex, controversial, and compelling topic. We will be serving beef stew afterwards. All are welcome!
Submitted by Michaela Kunkler mk305@evansville.edu
I-House: United Arab Emirates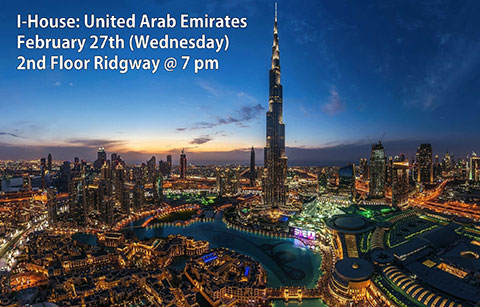 I-House: United Arab Emirates is this week and Hamad Almesmari from UAE is our presenter. His major is electrical engineering and his favorite part of UE is the electrical engineering faculty. His hobbies include working out, cooking, and video games. He will be sharing more about his country and culture, such as national flag and scarf, at his I-House this Wednesday (February 27) on the second floor of Ridgway University Center at 7:00 p.m. There is also an opportunity for you to win a prize if you bring a friend who hasn't been to I-House before.
Megan Sicard ms331@evansville.edu
Love Your Body Week!
In honor of Eating Disorder Awareness week, the Office of Counseling Services will be hosting a week-long event downstairs in Ridgway University Center. Each day will feature a table with a different activity focused on body-positivity and self-acceptance. Stop by and participate with us to encourage self-love and learn new strategies for body-positive messaging! This event will be Monday - Thursday from 11:00 a.m.-1:00 p.m.
Submitted by Jennifer Hargus jh693@evansville.edu
Panel discussion - "University of Evansville: The First 100 Years"
A panel discussion titled "University of Evansville: The First 100 Years" will be held on March 2, at 3:00 p.m. in Smythe Lecture Hall in the Schroeder School of Business Building on the University of Evansville campus. The event is free and open to the public.
The discussion will reflect on major milestones in UE's history during the 100 years since the institution's move to Evansville from Moores Hill, Indiana in 1919.
The panel will be moderated by Dr. James MacLeod, chair of UE's department of history and panelists include:
• Rose Mays '66
• Richard Werking '66
• Steve Worthington '73
• Julie Williams '85
• Sylvia DeVault '85
• Eloho Okeze '08
The discussion is part of the weekend-long celebration of UE's history and heritage which will culminate with the inauguration ceremony of the institution's 24th president, Christopher M. Pietruszkiewicz.
NPHC Greek Information Symposium
A NPHC Information Symposium is planned for Thursday, February 28, from 7:00-8:00 p.m. in Room 100 in Graves Hall. This event is for student and staff, current Greeks and hopeful Greeks, and the campus community as a whole. During this event, general information will be given about all nine of National Pan-Hellenic Council organizations. Introducing new organizations to a campus can raise many questions including questions on how the university will benefit from the organizations, the requirements to join, and adding these organizations could potentially affect the Greek organizations that currently inhabit the campus. We hope answer these questions.
Submitted by Darrion Culler dc199@evansville.edu
SGA officer callouts
Interested in becoming a Student Government Association officer? Learn more about the positions and how to apply this Thursday, February 28, at 6:00 p.m. in Room 170 in the Schroeder School of Business Building.
Submitted by Andrew Schroder as677@evansville.edu
Free Coffee & Careers event this week
Come for free coffee and an informal career chat with alumni and friends of the University on Thursday, February 28, from 4:00-5:00 p.m. in the Phillips Study Alcove (across from WUEV) in Ridgway University Center. Learn about their journey to their current job and the skills needed for career success.
This month's focus is on careers in law and government.
Submitted by Alison Morris-McDonald am268@evansville.edu
Relaxation Night with PRIDE
Feeling a little stressed? Need to take a break from all your studying? Come join P.R.I.D.E. on March 4 at 9:00 p.m. in the Schroeder School of Business Building in Room 271 for a relaxing night filled with coloring, music, and more!
TKE Towers!
Tau Kappa Epsilon is proud to present the 2nd Annual TKE Towers! Teams of three will compete against each other and the clock to build the tallest tower out of the provided materials. This event is free to watch, but donations can be used to help your favorite team with advantages or give disadvantages to other teams. TKE Towers will take place at 6:00 p.m. on Friday, March 1, in Eykamp Hall, Room 252, Ridgway University Center. The cost per team of three will be $15 and all proceeds from this event will go to St. Jude Children's Research Hospital. So come out and help your organization become the best builders on campus!
Submitted by Kenneth Rusk kr187@evansville.edu
Final performances of UE Theatre's "Colony Collapse"
The University of Evansville Theatre proudly presents Stefanie Zadravec's Colony Collapse. Set against the present-day plagues of meth addiction, missing children, and a failing ecology, this edgy new play explores the complex dynamics of a highly dysfunctional family and their attempts to unearth a second chance in a wounded America. Performances are at 7:30 p.m. on March 1 and 2 and at 2:00 p.m. on March 3 in Shanklin Theatre.
Evansville native and UE Theatre alumna Lori Wolter Hudson '05 guest-directs Colony Collapse. Wolter Hudson is the artistic director of the New Harmony Project. John Fujisawa, a senior from Los Alamitos, Calif., is the scenic designer; Gillian Herold, a junior from Spokane, Wash., is the costume designer; Professor Stephen Boulmetis serves as the lighting designer; Sidney McCarty, a junior from Clarksville, Tenn., is the sound designer; professor of theatre Diane Brewer serves as the dramaturg; assistant professor Janel Miley serves as the vocal coach; Blake Elliott, a junior from Cypress, Texas, is the stage manager; and Mason Wilhite, a senior from San Antonio, Texas, is the technical director.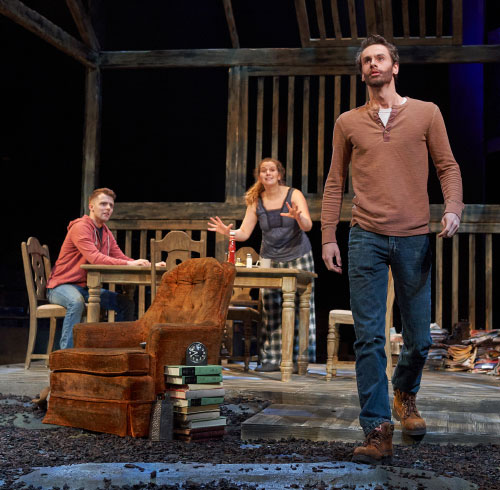 The cast features first-year student Zachary Scalzitti, from Saint John, Ind., as Jason; senior Alexi Lewis, from Seattle, Wash., as Julia; sophomore Jackson Burnham, from Houston, Texas, as Mark; first-year student Kyla Clift, from Arlington, Texas, as Nicky; first-year student Lillie Kolich, from Albuquerque, NM., as The Girl; sophomore Evan Lawson, from Arvada, Colo., as Randy Martin; first-year student Josh Gelman, from Denver, Colo., as Bill Mitchell, and ensemble members include senior Amanda Suggs, from Cedar Park, Texas, sophomore Jack Russell, from Montgomery, Texas, first-year student Cassidy Rogers, from College Station, Texas, first-year student Bailey Lomax, from Great Falls, Mont., and senior Matt McDonald, from Carmel, Ind.
Ticket prices are $18 for adults and $16 for senior adults, students, and UE faculty and staff. UE students may obtain one free student rush ticket beginning at noon on the day of the performance they wish to attend. The UE Theatre Society will host a Pre-Play Chat at 7:00 p.m. on Saturday, February 23. All are welcome to attend the presentation and discussion with a student designer about their process on the production.
Tickets may be purchased by calling 812-488-2031, Monday through Friday, noon to 5:00 p.m.
A Moment in Black History: Gerald Anderson Lawson
Born in New York City on December 1, 1940, Gerald Anderson Lawson is famous for being a video game pioneer, helping develop the first cartridge-based home video game console system. Lawson's father was a longshoreman and his mother worked for New York City. He had one brother, Michael.
Inspired as a child by the work of George Washington Carver, Jerry Lawson dabbled in electronics growing up, repairing televisions to make a little money before enrolling at Queens College, part of the City University of New York. His interest in computing led him in the 1970s to Silicon Valley's Homebrew Computer Club, of which he was the only black member at the time. While with the club, he crossed paths with Steve Jobs and Steve Wozniak. (In an interview, he referred to Jobs as a business-minded "sparkplug" and recalled being unimpressed when he interviewed Wozniak for a job.)
In the mid-1970s, Lawson helped create the Fairchild Channel F, a home entertainment machine that was produced in 1976 by Fairchild Semiconductor, where he worked as director of engineering and marketing. (Only years earlier, Mike Markkula, co-founder of Apple Computers Inc., had headed marketing for the company.) Though basic by today's standards, Lawson's work allowed people to play a variety of games in their homes, and paved the way for systems such as the Atari 2600, Nintendo, Xbox, and Playstation.
One of the few black engineers in his industry, Lawson later said that colleagues were often surprised to find out that he was African American:
"With some people, it's become an issue. I've had people look at me with total shock. Particularly if they hear my voice, because they think that all black people have a voice that sounds a certain way, and they know it. And I sit there and go, 'Oh yeah? Well, sorry, I don't.'"
Need file folders?
Need file folders? Alumni and Parent Relations has a ton of used file folders that still have life! Stop by the Alumni House (525 S Rotherwood) and grab a few or all before they head to the recycle bin.
Submitted by Megan McCombs mm825@evansville.edu
2019-20 Dr. Marvin E. Hartig Memorial Scholarship
Family, friends and loved ones of the late Dr. Marvin E. Hartig are pleased to announce the application process for the Dr. Marvin E. Hartig Memorial Scholarship. This scholarship is dedicated to the loving memory of Dr. Hartig, Dean of Evansville College's Evening College in 1967, and administrator for the Center for Advanced Study, director of the Evansville chapter of the American Institute of Banking (AIB), and the international student advisor. In 1974, Dr. Hartig was appointed Dean of Academic Services. He retired in 1984 after serving his alma mater for thirty-five years and passed away in 2007.
This scholarship will be awarded annually to a deserving sophomore student. Preference will be given to a student working while being enrolled as a full-time student. International students are encouraged to apply.
The application can be found here.
Deadline: Please return all materials to the Office of Student Financial Services by April 26.
The decision will be announced by July 1.
Questions: Trisha Hawkes, administrative assistant to the Office of Student Financial Services, at th187@evansville.edu or 812-488-2364
Submitted by Trisha Hawkes th187@evansville.edu
Ace it Forward returns! Look out for Purple Ace doing good deeds on campus
Purple Ace is making his way around campus, spreading good deeds! Look out for Ace it Forward, as you could be next!
If you receive Purple Ace as part of a good deed, spread the UE cheer by passing Purple Ace forward. Follow the steps below.
• Pass Ace it Forward on to another member of the UE campus.
• Do a good deed for that person. Examples of good deeds include:
Show your appreciation for others. (i.e. buy your co-worker a coffee or small gift of appreciation, or write a creative note, telling them why they inspire you to do better.)
Lend a helping hand: (i.e., offer to help a co-worker when their workload starts to overwhelm them. Look for someone in the office who always stays late, or hasn't taken time off in ages. Ask them how you can help out with a project or a deadline, or volunteer to help at an event.)
Take a co-worker out to lunch. (i.e., show your appreciation by inviting a few work mates out for tacos, etc. Not only will the change of scenery spike creativity, but spending time socializing will greatly decrease your chance of having a bad day.
• Share a selfie or a picture of your good deed, and or Ace it Forward! Use #AceItForward and #TrueandLoyal and tag @UEvansville on Twitter and Facebook.
Ace It Forward is brought to you by: UE Staff and Administrators Assembly.
Submitted by Nichole Coffey ns50@evansville.edu
Engineers Week celebrated on campus
The College of Engineering and Computer Science held its annual celebration for Engineers Week at a reception in Eykamp Hall in Ridgway University Center on February 19. Several engineering majors were announced as new inductees in the Tau Delta Kappa engineering honor society by Jared Fulcher, assistant professor of mechanical engineering. Other engineering students were recognized by the college and the Office of Development.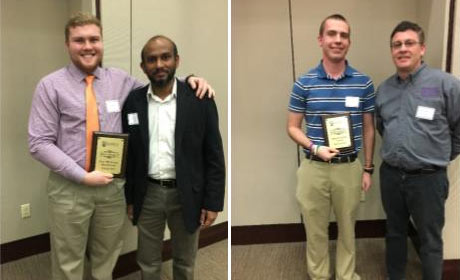 Marcus Gahagen, a junior civil engineering major received the Paul "PR" Brown Spirit Award. This award is presented annually to an engineering major who has been nominated by the faculty and has completed at least four semesters in good academic standing, who is an encouragement and help to his/her fellow students, and who demonstrates leadership in fostering cooperation and camaraderie among the engineering students.
Justin Banks, a junior computer science major received the James M. Hall, Jr. Memorial Award. This award is presented annually to a student of the junior engineering class who is considered by the faculty to be the most outstanding based on scholastic achievement, extra-curricular activities, character, responsibility, attitude, and potential for professional growth.
The Engineers Week Reception was hosted by the UE student chapter of the Society of Women Engineers (SWE) and the Dean's Advisory Council for the College of Engineering and Computer Science. It was sponsored in part by the Evansville-Owensboro Section of IEEE, the College Career Center Consortium, and the UE Center for Career Development.
UE Bookstore closing early on Monday, March 4
The UE Bookstore will be closing early at 3:30 p.m. on Monday, March 4, due to the Commencement Central event scheduled for that day from 4:00-6:00 p.m., upstairs in the Ridgway University Center. Please keep in mind this special closing in case you need to purchase anything from the bookstore on that date. Graduates are reminded to attend one of the Commencement Central events to finalize their graduation plans.
Submitted by Doug Gustwiller dg57@evansville.edu
Newman Club joins St. Ben's "People of Prayer"
Beginning February 27, at 7:00 p.m., Saint Benedict's Cathedral (just down the road) will begin a monthly program called People of Prayer which will focus on different forms of prayer. The first presentation will cover "Eucharistic Adoration." The Newman Club is planning on attending these events, and we will have people driving to St. Ben's. Meet at the Newman House at 6:45! All are welcome!
Submitted by Michaela Kunkler mk305@evansville.edu
Newman Club: Source and Summit registration is now open!
Registration to go to Source and Summit with the Newman Club is now open! Source and Summit is a three-day retreat on April 5-7 at Memorial High School (down the road). Newman is going to send a big group, and you are invited! Talk to Jenny (je46@evansville.edu) or any of the Ministry Team members to get information to sign up for this amazing and formative retreat! Registration ends March 5, so act now!
Submitted by Michaela Kunkler mk305@evansville.edu
Accepting nominations for Outstanding Teacher Alumni Association Award 2019
The UE Alumni Association recognizes an Outstanding Teacher for exemplary instruction and student support at Spring Commencement. UE administrators, faculty, staff, student and alumni may nominate a faculty member who exemplifies the award's criteria for outstanding teaching effectiveness that inspires the intellectual development of students.
Please use this link to nominate a faculty member for the auspicious occasion: www.evansville.edu/alumni/outstandingteacher.cfm.
Full-time faculty who have taught in the classroom at UE for two years or more and hold the rank of lecturer, instructor, assistant professor, associate professor, or professor are eligible for nomination.
Past award recipients are as follows: Dr. James Berry 2011; Dr. Mari Plikuhn 2012; Dr. Mark Valenzuela 2013; Dr. Jennie Ebeling 2014; Dr. Margaret Stevenson 2015; Dr. M. Kevin Gray 2016; Dr. Mary Ellen Wylie 2017, and Dr. Tony Beavers 2018.
The deadline to submit nominations is March 8, at 5:00 p.m. For questions, contact Tracey Folden, assistant vice president of academic affairs-faculty relations, at tf91@evansville.edu.
Submitted by Tracey Folden tf91@evansville.edu
Pick up your copy of the Crescent today!
The Crescent, University of Evansville's student magazine, is back and available for FREE to all students! Read about local craft beer, Coach Walter McCarty, the Lady Aces, Greek life, and more. And make sure to check out everyone's favorite section - Campus Crime. Pick up an issue on magazine racks across campus. The Crescent is a student magazine - by and for the students of the University of Evansville - that is published six times during the academic year. The Crescent serves as an open forum for the UE community. Copies are free to students and the goal is to present relevant content in a fair, accurate, and unbiased manner.
Submitted by Tim Young ty32@evansville.edu
Village housing request cards
Students interested in living in the Villages for 2019-20 should pick up Village request cards in the Office of Residence Life.
The Villages are reserved primarily for students with 60 plus credit hours. In order to apply to live in the Villages, each person in your group must have at least 44 credit hours on file with the University by the end of the Fall 2018 semester.
Village request cards are due back to the Office of Residence Life by 5:00 p.m., Friday, March 1.
More information on the housing assignments process can be found on the residence life section of the University website at www.evansville.edu/residencelife/whereWillYouLive.cfm.
Submitted by Brian Conner bc32@evansville.edu
twiSTEM and UE hosting 7th Annual Beauty of Engineering
twiSTEM and UE are hosting the 7th annual Beauty of Engineering on March 9, from 7:45-11:15 a.m. This is an exploration opportunity for girls in grades 4 through 8.
The goal of the workshop is to help girls understand engineering and computer science. The workshop is executed in a rotation of activity stations staffed by professional women and college students in the fields of engineering and computer science.
The cost is $10 per participant and registration deadline is March 4, and is limited to the first 120 applicants.
To register your child, please visit our Eventbrite event: https://beautyofengineering2019.eventbrite.com.
If you have a group of girls that you want in the same class rotation, please register them on line together, as you can purchase multiple tickets at one time or if each parent is registering online individually, you can email us the list of the girls names and we'll group them together.
If you have questions, please email us at twistem.evv@gmail.com..
Submitted by Kimberly Higgins kh209@evansville.edu
Professor Kretz to give Frederick Henry Sykes Lecture
Associate professor of philosophy Lisa Kretz will be giving the Frederick Henry Sykes Lecture at Connecticut College's Goodwin-Niering Center on March 2. The conference theme is "Climate Action from Below: A Cause for Optimism?" Professor Kretz will speak on the topic of "Hope and Activism."
Biology professor and students publish research
UE assistant professor of biology Katie Aldred '09, UE senior Olivia Voegerl (biology and exercise science double major), and UE sophomore Addie Payne (biology major) recently had their research article titled "A RADAR-based Assay to Isolate Covalent DNA Complexes in Bacteria" accepted for publication in the open access peer-reviewed journal Antibiotics. This work was completed in Summer and Fall 2018 with funding through UExplore. This "bacterial RADAR assay" will be used to study type II topoisomerase-mediated resistance to the quinolone antibacterials in the cellular context. Furthermore, this assay provides a valuable tool to assess quinolone and quinolone-like compounds that may be developed in efforts toward overcoming resistance to this important drug class and can also be used for intracellular studies of other proteins that covalently attach to DNA in bacteria.
Aces baseball weekend schedule changed
With inclement weather forecasted for this coming Sunday in the Richmond, Ky., the Eastern Kentucky University Challenge has made several schedule changes affecting the University of Evansville baseball team.
The tournament will begin, as scheduled, Friday morning at 11:00 a.m. Central Time with the Aces squaring off against Boston College. Saturday will begin bright and early for Evansville, playing the host Colonels of Eastern Kentucky , with a first pitch scheduled for 9 am Central Time. Then, the Aces will turn around and play Boston College again, with a first pitch scheduled for 1:00 p.m. Central Time.
Sunday's tournament finale has been canceled due to the afore-mentioned inclement weather.
Marty Hill advances to second round of Dark Horse Dunker competition
University of Evansville men's basketball fans came through in a big way and helped Marty Hill advance to the second round of the Darkhorse Dunker competition. Hill is one of the final eight who will battle for a spot in the 2019 State Farm College Slam Dunk & 3-Point Championships at the Final Four.
Voting begins today at www.DarkHorseDunker.com with the second round going until the end of the day next Wednesday, March 6.
Hill is slated to face Quaylon Newton of Southern Nazarene in the second round. If Hill wins the competition, he will participate in the competition at the Final Four in his home town of Minneapolis.
Fans can vote one time per day per device.
Senior Day set for today when Aces welcome Salukis
The 2018-19 home schedule will wrap up for the University of Evansville men's basketball team tonight when they take on Southern Illinois in a 6:00 p.m. contest at the Ford Center. It will mark Senior Day where the 2019 class of Jared Chestnut, Dainius Chatkevicius, Shea Feehan and Marty Hill will be honored. ESPN+ and the Purple Aces Radio Network presented by Learfield will have live coverage.
Setting the Scene
- Evansville welcomes the Salukis to the Ford Center for its home finale for the second season in a row; last year, the Aces picked up a 75-44 win over SIU
- On Saturday, the Aces complete the regular season at Valparaiso in a 1 p.m. contest
- With Arch Madness a week away, UE is locked into the 10th spot and will take on the #7 seed at 8:35 p.m. on Thursday, March 7
- The Aces hope to put an end to a recent slide, falling in its last six games and 10 out of 11 overall
Last Time Out
- Trailing by 10 with 4:10 remaining, the Aces staged a huge rally, getting with two points with a chance to get even closer, but Bradley hung on for a 63-61 win on Saturday at Carver Arena
- K.J. Riley registered 13 points and 9 rebounds, both team highs, while Peoria native Shea Feehan scored 11
- UE out-shot the Braves by a 38.6%-32.7% margin, but BU made 23 out of 30 free throws while the Aces made just 12 trips to the line, converting eight of those attempts
Takeaways from Bradley
- Despite falling in its last six games, the Aces have been extremely competitive, especially in the second half; UE has outscored the opposition by 1.5 points in the final 20 minutes over the 6-game skid and has tied or outscored the opponent 4 times
- Evansville trailed Bradley by 5 points at the half; over the last six games, the Aces have averaged a 13.0-point deficit at the end of the first half
- Over the final 10 minutes of the first half, opponents have outscored UE by a 141-74 tally in the last six contests
- Dainius Chatkevicius added another 7-point game; over the last five games, he has posted 9.6 points
Send Marty to Minneapolis
- Senior Marty Hill is one of 16 finalists for the Dark Horse Dunker Competition
- Four rounds of voting will take place with the winner participating in the dunk contest at the Final Four
- This year's Final Four is in Hill's home town of Minneapolis
Scouting the Opponent
- Southern Illinois suffered a 4-game slide in mid-January, but has won six out of ten games since January 23 including a 63-53 win over Loyola on Sunday
- The Salukis defeated the Aces by a final of 78-73 in the first meeting at SIU Arena
- Four Salukis average double figures with Armon Fletcher leading the way with 15.3 points per game; he is also tied for the team high with 5.9 rebounds
- Kavion Pippen averages 12.5 PPG while Aaron Cook and Sean Lloyd average 10.8 and 10.5, respectively
Contribute to AceNotes
To have content considered for inclusion in AceNotes, please submit a Marketing Request Form. Deadline for submission to AceNotes is 10:00 a.m. on the requested date of publication. Only articles concerning UE related/sponsored activities will be accepted. Articles submitted to AceNotes may be edited for length and clarity. Submitter contact information is at the end of each article.