| | |
| --- | --- |
| AceNotes Today | Tuesday, February 26, 2019 |
It's Inauguration Week! Here are 10 Fun Facts about Prez P
It's presidential inauguration week!
On Sunday, March 3 we will officially welcome Christopher M. Pietruszkiewicz as the University of Evansville's 24th president. Here are the top 10 fun facts about Prez P:
1. Score: 44
There are 15 letters in Pietruszkiewicz and the sum total of those letters in Scrabble tiles equals 44.
2. Dean P
Before his appointment as president of the University of Evansville, Prez P was just as positive and enthusiastic in his role as Dean and Professor of Law at Stetson University's College of Law in Gulfport, Florida.
3. Cow Flop
Prez P grew up in Throop, Penn., home of the annual Cow Flop and a small town where his parents "knew what he did before he got home from school".
4. Michael Scott was his neighbor:
The town of Throop is just outside of Scranton, Penn., home of the popular TV show The Office.
5. Where in the World is Prez P's Office?
Students can expect to see Prez P in Café Court during lunch, on the sidewalk between classes, and on the basketball court as a referee. Though his "office" is the heart of campus and the student experience, the official home of the Office of the President is located in Room 201 on the second floor of Olmsted Administration Hall.
6. Spirit Animal: Otter
In Fall 2018, Prez P met with Orientation Leaders and International Orientation Leaders during an orientation session. When they asked about his spirit animal, Prez P challenged student leaders to connect him with his spirit animal. They determined Prez P's spirit animal is an otter because it presents positive energy; focuses on the future; and uses tools available to achieve bold goals and objectives.
7. Best Supporting Role
The weekly campus video update, Friday Wrap with President Pietruszkiewicz, often features appearances by a special celebrity co-star - the one and only John Pietruszkiewicz, Prez P's youngest son.
8. Refreshing
Prez P's favorite soda or carbonated drink is Diet Coke.
9. Love on the Court
President Pietruszkiewicz and his wife, Siobhan, met in a chance encounter where both were individually committed to referring a high school basketball game.
10. Smores and Nora
Prez P moved to Evansville, Indiana, with his wife, Siobhan; sons, Ryan and John; Nora, the family dog; and Smores, John's pet hamster.
Join us for the inauguration ceremony on March 3 at 2:00 p.m. and view a full schedule of events online.
Watch as we congratulate Rami Malek '03 on big awards season!
The University of Evansville's own Rami Malek won an Academy Award for best actor on Monday night for his portrayal of Freddie Mercury in the award winning film, Bohemian Rhapsody. Malek graduated from the UE Theatre department in 2003 and the entire campus community joined together in a congratulatory video honoring his portrayal of Freddie Mercury.
VIEW THE VIDEO ONLINE HERE.
Set to the familiar "stomp, stomp, clap" rhythm of We Will Rock You by Queen, the video celebrates Malek's successes in a montage of people he knew and places he frequented in his undergraduate years.
The video was produced by current UE students, senior Gina DeLise and junior Jules Iradukunda. The effort was spearheaded by two of Malek's closest friends, Amelia McClain and Wes Grantom. The pair also graduated from UE in 2003 and are currently serving as guest artists in the UE Theatre department.
While at the UE, Malek performed in Death and the King's Horseman, The Kentucky Cycle, Book of Days, Much Ado About Nothing, Othello, and The Real Thing.
Malek has won several other big this awards season for his role in Bohemian Rhapsody, taking home a Golden Globe, SAG Award, and a BAFTA Award.
Nerd Wars 2019: Today!
Enjoy FREE Papa John's pizza, popcorn, and drinks at Nerd Wars set for today - Tuesday, February 26 - at 7:00 p.m. in Eykamp Hall in Ridgway University Center Come and watch faculty, administrators, and students duke it out in a trivia-style competition.
Bring your cash! Spectators may also win prizes by entering in the ELFFAR game (this is NOT a raffle, it's a game) for the chance to win gift cards to area restaurants, Bluetooth speakers, Bluetooth headsets, a Google Home Mini, a Roku Streaming Device, and more! ELFFAR tickets are 50 cents or three for $1.
Proceeds go to the Honors Program community service initiatives.
Submitted by Blake Elliott be80@evansville.edu
This Week in Music: Orchestra and Wind Ensemble Concert, Douglas Shadle Lecture and Recital
University Orchestra and Wind Ensemble Concert
Tuesday, February 26, 7:30 p.m.
Preston Arts Center, Henderson, KY
On Tuesday, February 26, at 7:30 p.m., the University Symphony Orchestra, under the direction of Chun-Ming Chen, and the University Wind Ensemble, under the direction of Kenneth Steinsultz, will give a combined concert at the Preston Arts Center in Henderson, KY.
The Wind Ensemble will open the program with works by Karl King, Clifton Williams, Gustav Holst, and David Gillingham. The orchestra will close program with selections by Marcus Maroney, Gustav Mahler, and Georges Bizet. Adam Smith, the 2018 Vukovich Concerto Competition Winner, will perform with the orchestra in Bizet's Carmen Suite. The recital is free and open to the public.
For full program information, visit the music department concert calendar.
Lecture and Recital on Diversity and Musical Performance
Thursday, February 28, 7:30 p.m.
Wheeler Concert Hall
Douglas Shadle, assistant professor of musicology at Vanderbilt University, will present a lecture, "Finding a Home on the Concert Stage," on Thursday, February 28 at 7:30 p.m. in Wheeler Concert Hall in Krannert Hall of Art and Music. The lecture addresses the shortage of composers from underrepresented populations on American concert programs. A short recital will follow Shadle's talk, featuring the works of Florence Price, a black female composer of the early 20th century.
Student Recital
Saturday, March 2, 2:30 p.m.
Wheeler Concert Hall
Bailey Alka, soprano, will give a senior recital at 2:30 p.m. on Saturday, March 2 in Wheeler Concert Hall.
Submitted by James Sullivan js820@evansville.edu
FREE pizza and UE health sciences graduate programs
Please join us for pizza on Tuesday, February 26, at 4:00 p.m. in Room 240 in Graves Hall. Learn why now is the perfect time to consider a graduate degree from UE's School of Health Sciences with the newly launched online Master of Public Health program and the recent graduate tuition reduction in the Master of Sciences in Health Services Administration program.
According to the U.S. Bureau of Labor Statistics, 15.6 million new healthcare positions will be created by 2022. This is more than any other job sector! A master's level degree in public health or healthcare administration is the exact educational experience many healthcare organizations are looking for to lead this fast-growing industry.
Come and hear from UE alumni about how these great graduate programs at UE made a difference in their career opportunities.
Although not required, for planning purposes, please sign-up to attend this event here: www.signupgenius.com/go/5080449ada929a6fd0-shsgraduate.
Submitted by Cindy Felts cf128@evansville.edu
Vagina Monologues planned for Friday, March 1
A production of the Vagina Monologues is planned for Friday, March 1, at 6:30 p.m. in Room 142 in the Krannert Hall of Art and Music. $10 entry free at the door or look for the table in Ridgway University Center. This event is being hosted by Women's Rights Awareness.
Submitted by Alyssa Lueken al267@evansville.edu
Shane White farewell party
Shane White's farewell party will be Tuesday, February 26 at 4:00 p.m. in the J. Henry Schroeder Boardroom (Room 203) in the library. Please join us as we wish him well in all his future endeavors.
Submitted by Meg Atwater-Singer ma35@evansville.edu
Newman Dinner and Discussion: Purgatory
Join the Newman Club this Wednesday, February 27, at 5:00 p.m. for our weekly dinner and discussion. This week's topic is "Purgatory," hosted by Father Tony Ernst. He will be discussing this complex, controversial, and compelling topic. We will be serving beef stew afterwards. All are welcome!
Submitted by Michaela Kunkler mk305@evansville.edu
I-House: United Arab Emirates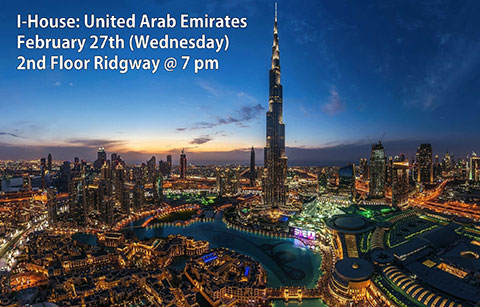 I-House: United Arab Emirates is this week and Hamad Almesmari from UAE is our presenter. His major is electrical engineering and his favorite part of UE is the electrical engineering faculty. His hobbies include working out, cooking, and video games. He will be sharing more about his country and culture, such as national flag and scarf, at his I-House this Wednesday (February 27) on the second floor of Ridgway University Center at 7:00 p.m. There is also an opportunity for you to win a prize if you bring a friend who hasn't been to I-House before.
Megan Sicard ms331@evansville.edu
Lunch Charlas
Wanting to practice Spanish? Join associate professor of Spanish Diana Rodríguez Quevedo for lunch and chat about different topics in Spanish on Wednesdays from noon-1:00 p.m. in the Starbuck's café area in Ridgway University Center. All levels of Spanish are welcome. The next Lunch Charlas is this Wednesday, February 27.
Please contact Professor Rodríguez Quevedo at dr130@evansville.edu if you have any questions. ¡Ahí nos vemos!
Relaxation Night with PRIDE
Feeling a little stressed? Need to take a break from all your studying? Come join P.R.I.D.E. on March 4 at 9:00 p.m. in the Schroeder School of Business Building in Room 271 for a relaxing night filled with coloring, music, and more!
A Moment in Black History: Bessie Coleman
Bessie Coleman born January 26, 1892, was an American aviator and the first black woman to earn a pilot's license. Bessie Coleman was one of 13 children to Susan and George Coleman, who both worked as sharecroppers. Her father, who was of Native American and African-American descent, left the family in search of better opportunities in Oklahoma when Bessie was a child. Her mother did her best to support the family and the children contributed as soon as they were old enough.
At 12 years old, Coleman began attending the Missionary Baptist Church in Texas. After graduating, she embarked on a journey to Oklahoma to attend the Oklahoma Colored Agricultural and Normal University (Langston University), where she completed only one term due to financial constraints. In 1915, at 23 years old, Coleman moved to Chicago, where she lived with her brothers and worked as a manicurist. Not long after her move to Chicago, she began listening to and reading stories of World War I pilots, which sparked her interest in aviation.
In 1922, a time of both gender and racial discrimination, Coleman broke barriers and became the world's first black woman to earn a pilot's license. Because flying schools in the United States denied her entry, she took it upon herself to learn French and move to France to achieve her goal. After only seven months, Coleman earned her license from France's well known Caudron Brother's School of Aviation.
Though she wanted to start a flying school for African Americans when she returned to the U.S., Coleman specialized in stunt flying and parachuting, and earned a living barnstorming and performing aerial tricks. In 1922, she became the first African-American woman in America to make a public flight.
On April 30, 1926, Coleman was tragically killed at only 34 years old when an accident during a rehearsal for an aerial show sent her plummeting to her death. Coleman remains a pioneer of women in the field of aviation.
Ace it Forward returns! Look out for Purple Ace doing good deeds on campus
Purple Ace is making his way around campus, spreading good deeds! Look out for Ace it Forward, as you could be next!
If you receive Purple Ace as part of a good deed, spread the UE cheer by passing Purple Ace forward. Follow the steps below.
• Pass Ace it Forward on to another member of the UE campus.
• Do a good deed for that person. Examples of good deeds include:
Show your appreciation for others. (i.e. buy your co-worker a coffee or small gift of appreciation, or write a creative note, telling them why they inspire you to do better.)
Lend a helping hand: (i.e., offer to help a co-worker when their workload starts to overwhelm them. Look for someone in the office who always stays late, or hasn't taken time off in ages. Ask them how you can help out with a project or a deadline, or volunteer to help at an event.)
Take a co-worker out to lunch. (i.e., show your appreciation by inviting a few work mates out for tacos, etc. Not only will the change of scenery spike creativity, but spending time socializing will greatly decrease your chance of having a bad day.
• Share a selfie or a picture of your good deed, and or Ace it Forward! Use #AceItForward and #TrueandLoyal and tag @UEvansville on Twitter and Facebook.
Ace It Forward is brought to you by: UE Staff and Administrators Assembly.
Submitted by Nichole Coffey ns50@evansville.edu
Engineers Week celebrated on campus
The College of Engineering and Computer Science held its annual celebration for Engineers Week at a reception in Eykamp Hall in Ridgway University Center on February 19. Several engineering majors were announced as new inductees in the Tau Delta Kappa engineering honor society by Jared Fulcher, assistant professor of mechanical engineering. Other engineering students were recognized by the college and the Office of Development.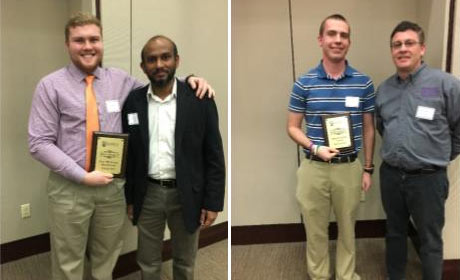 Marcus Gahagen, a junior civil engineering major received the Paul "PR" Brown Spirit Award. This award is presented annually to an engineering major who has been nominated by the faculty and has completed at least four semesters in good academic standing, who is an encouragement and help to his/her fellow students, and who demonstrates leadership in fostering cooperation and camaraderie among the engineering students.
Justin Banks, a junior computer science major received the James M. Hall, Jr. Memorial Award. This award is presented annually to a student of the junior engineering class who is considered by the faculty to be the most outstanding based on scholastic achievement, extra-curricular activities, character, responsibility, attitude, and potential for professional growth.
The Engineers Week Reception was hosted by the UE student chapter of the Society of Women Engineers (SWE) and the Dean's Advisory Council for the College of Engineering and Computer Science. It was sponsored in part by the Evansville-Owensboro Section of IEEE, the College Career Center Consortium, and the UE Center for Career Development.
Spring Healthy Behavior Challenge
Sign up today for the Spring Healthy Behavior Challenge! Earn additional HRA's credits by successfully completing the challenge. Participants will be tracking exercise and fruits/vegetables consumed. To sign-up, email ac375@evansville.edu directly or visit the Employee Health Clinic AceLink page. The challenge is March 18-May19.
This is an 8-week competition to support a healthy lifestyle.
HRA credits will be issued upon successful fulfillment of some basic healthy behaviors. Employees and insured spouses enrolled in the HRA health insurance program will earn $150 credit. If a credit was earned previously (Summer 2018, or Fall 2018), no additional credit will be issued. Anyone who finishes in the top 4 will receive a $50 gift card regardless of previous gift-card winning status. The challenge begins March 18 and ends May 19. You must submit 8 weeks of data. You can pick up additional pocket-sized logs from the UE Health and Wellness Center.
Rules:
1. Eat a combination of 5 fruits and vegetables at least 4 days a week and exercise an average of 120 minutes weekly (your log needs at least 160 fruit/veggie boxes checked and 64 exercise boxes checked).
2. Check off boxes daily to avoid "guesstimation" later.
3. Additional logs can be picked up from the UE Health and Wellness Center or on AceLink.
4. Return logs to the collection box at the UE Health and Wellness Clinic or email to ac375@evansville.edu by May 19.
5. HRA credit will be submitted to Meritain by May 19.
Submitted by Ashley Chipps ac375@evansville.edu
Federal loan repayment counseling session required for students graduating or transferring
Students who have used federal direct (sub/unsub) loans and plan to graduate in the spring or summer (or transfer after the spring semester) are required to attend a loan repayment counseling session. The Office of Student Financial Services will hold the first session of the semester on Monday, March 4 at 6:00 p.m. in Eykamp Hall, Room 252, Ridgway University Center. Additional sessions will be held on May 2 at 2:00 p.m. and May 10 at 11:30 a.m.
Submitted by Amy Sowders as560@evansville.edu
Newman Club joins St. Ben's "People of Prayer"
Beginning February 27, at 7:00 p.m., Saint Benedict's Cathedral (just down the road) will begin a monthly program called People of Prayer which will focus on different forms of prayer. The first presentation will cover "Eucharistic Adoration." The Newman Club is planning on attending these events, and we will have people driving to St. Ben's. Meet at the Newman House at 6:45! All are welcome!
Submitted by Michaela Kunkler mk305@evansville.edu
2019-20 Margery Florence Kahn Scholarship
2019-20 Margery Florence Kahn Scholarship applications are now available.
It was the desire of the donor, Margery Florence Kahn, that her scholarship be awarded to "dedicated and conscientious students who exhibit a true passion for their chosen fields of study, and who, in the opinion of the members of the University of Evansville faculty, are likely to bring the same enthusiasm into the performance of their jobs or the practice of the professions which they will pursue following graduation."
All University of Evansville full-time undergraduate students who will be juniors or seniors in 2019-20 may apply. An essay of about 300 words must accompany the application, along with two to five faculty recommendation letters.
Applications and recommendation letters are available from the Student Financial Services in Room 106 in Olmsted Hall and should be returned by APRIL 15.
You may also request application materials by emailing th187@evansville.edu.
Questions may be sent via email or call 812-488-2364.
Submitted by Trisha Hawkes th187@evansville.edu
Village housing request cards
Students interested in living in the Villages for 2019-20 should pick up Village request cards in the Office of Residence Life.
The Villages are reserved primarily for students with 60 plus credit hours. In order to apply to live in the Villages, each person in your group must have at least 44 credit hours on file with the University by the end of the Fall 2018 semester.
Village request cards are due back to the Office of Residence Life by 5:00 p.m., Friday, March 1.
More information on the housing assignments process can be found on the residence life section of the University website at www.evansville.edu/residencelife/whereWillYouLive.cfm.
Submitted by Brian Conner bc32@evansville.edu
2019 scholarships for United Methodist students
United Methodist students attending UE can apply for the 2019 United Methodist Scholarships at wwwgbhem.org/scholarshipapplication.
United Methodist students attending United Methodist-related institutions can apply for 2019 United Methodist Scholarships from January 3-March 7 at www.gbhem.org/scholarshipapplication for 2019 scholarships.
Applying for individual scholarships now also makes you eligible for the United Methodist Allocation. You must apply now to be considered for both. Late applications will not be accepted. Scholarships range in value from $500 to $5,000. The average amount awarded is about $1,000.
Scholarship eligibility requirements:
•Incoming or current freshmen, sophomores, juniors, seniors or graduate students at one of the United Methodist-related colleges or universities
•Member of any United Methodist Church for at least one year
•Minimum GPA of 2.5
Submitted by Trisha Hawkes th187@evansville.edu
Biology professor and students publish research
UE assistant professor of biology Katie Aldred '09, UE senior Olivia Voegerl (biology and exercise science double major), and UE sophomore Addie Payne (biology major) recently had their research article titled "A RADAR-based Assay to Isolate Covalent DNA Complexes in Bacteria" accepted for publication in the open access peer-reviewed journal Antibiotics. This work was completed in Summer and Fall 2018 with funding through UExplore. This "bacterial RADAR assay" will be used to study type II topoisomerase-mediated resistance to the quinolone antibacterials in the cellular context. Furthermore, this assay provides a valuable tool to assess quinolone and quinolone-like compounds that may be developed in efforts toward overcoming resistance to this important drug class and can also be used for intracellular studies of other proteins that covalently attach to DNA in bacteria.
Khan publishes and mentors research
Walayet A. Khan, professor of finance, published a paper titled, "Interrelations of U.S. market fears and emerging markets returns: global evidence' in the first edition of 2019 of the International Journal of Finance & Economics.
The results of the study underscore the importance of capturing interactions between US stock market uncertainty changes (VIX) and emerging markets (EM) returns through their variance-covariance matrix and have important implications for global diversification, flight- to-safety choices, and hedging the cross market risks.
Professor Khan is also serving as faculty mentor for the UE Purple Aces investment analysts team which will participate in 2018/2019 CFA investment challenge competition in Nashville Tennessee. This experience, as per the CFA Institute, "provides university students with hands-on mentoring and intensive training in financial analysis."
Aces Baseball earn first series victory
Big home runs off the bats of Tanner Craig and Troy Beilsmith early led the University of Evansville to their first series victory since March of last season, outslugging Little Rock 10-5, Monday afternoon.
The Aces wasted little time jumping on Trojans pitching, as an error and freshman second baseman Danny Borgstrom in top of the first set the table for sophomore first baseman Tanner Craig, who blasted his first home run of the season, giving UE an early 3-0 lead.
In the top of the second, the Aces onslaught continued as a one-out double by sophomore shortstop Craig Shepherd was followed by back to back walks, lading up the bases for junior outfielder Troy Beilsmith, who grooved his first round tripper of the year. The grand slam put Evansville in the driver's seat, leading 7-0.
Senior right hand pitcher Justin Hayden made his first start since missing last season rehabbing from labrum surgery, and after a scoreless opening frame, Little Rock would strike for a run in the second and the third. However, the Aces bats would respond in the fourth inning. The rally began with a Troy Beilsmith RBI single to left, scoring Craig Shepherd from second base. Danny Borgstrom would continue the torrid start to his collegiate career with an RBI single to right, tallying senior third baseman Sam Troyer from second. Freshman designated hitter A.J. Fritz capped the three-run rally with a sacrifice fly to right, bringing in Beilsmith, putting Evansville up 10-2.

The Trojans would tag Hayden for one more run before exiting in the fifth inning. For the day, Hayden went four frames, allowing three runs on four hits, striking out three batters, without giving up a walk. Senior southpaw Alex Weigand came in in relief and would give up one run in the fifth. Junior Jake McMahill will take over in the sixth, and was tagged for a single tally as well, as the UE lead got cut to 10-5.
However, that's as close as the Trojans would get, as freshman right hand reliever Michael Parks would shut down Little Rock the rest of the way, allowing one hit and striking out a pair.
"Great effort from our guys this series to get the win," said University of Evansville head coach Wes Carroll. "Justin Hayden has had a long road to recovery so to see him back on the hill competing was outstanding. He answered the call in this important rubber match. We played great defense and got a couple big blast offensively to get the series win."
The victory moves the Aces record to 3-4, dropping Little Rock's record to 1-6.
Evansville is back in action Friday as they take on Boston College in the first game of the EKU Challenge at Eastern Kentucky University.
Contribute to AceNotes
To have content considered for inclusion in AceNotes, please submit a Marketing Request Form. Deadline for submission to AceNotes is 10:00 a.m. on the requested date of publication. Only articles concerning UE related/sponsored activities will be accepted. Articles submitted to AceNotes may be edited for length and clarity. Submitter contact information is at the end of each article.