| | |
| --- | --- |
| AceNotes Today | Wednesday, February 20, 2019 |
AceNotes migrating servers
In order to better serve the UE community, the AceNotes system is migrating to a new server. For a short time during this process, there may be broken links or difficulties viewing articles. Thank you for your patience. Things should be back to normal shortly.
Tax form 1095-C now available to employees
The 2018 tax Form 1095-C is now available to employees.
Those employees that consented to receive them electronically can go to Self Service>tax information>1095-C Information > 2018 to download and print the form.
Employees that did not consent to receive the form electronically are being mailed the form, and should receive it in the coming week.
Submitted by: sf127@evansville.edu
Newman Dinner and Discussion: The Human Story
Join the Newman Club this Wednesday, February 20, at 5:00 p.m. for our weekly dinner and discussion. This week's topic is "The Human Story" hosted by UE History Professor Dan Gahan. He will share his wisdom of "an Irish Catholic Perspective on History." We will be serving stuffed green peppers afterwards. All are welcome!
Submitted by Michaela Kunkler mk305@evansville.edu
Medical Spanish Practice
The Medical Spanish Practice takes place twice a month. These meetings are designed to help students practice communication skills in Spanish. These sessions are open to anyone wanting to improve their medical communication skills in Spanish. The next session is this Wednesday, February 20, from 5:30-7:00 p.m. in Room 73 in the Schroeder School of Business Building. Please contact associate professor of Spanish Diana Rodríguez Quevedo at dr130@evansville.edu for more details. ¡Nos vemos el miércoles!
Charlas: Informal Spanish conversation
Wanting to practice Spanish? Join associate professor of Spanish Diana Rodríguez Quevedo to chat about different topics in Spanish. The next Charlas is this Wednesday, February 20, from 2:30-3:30 p.m. and will take place at the Melvin Peterson Gallery located at 1935 Lincoln Avenue. All levels of Spanish welcome.
Please contact Professor Rodríguez Quevedo at dr130@evansville.edu if you have any questions. ¡Ahí nos vemos!
UE C.A.R.E.S. - UE Conversation About Race & Ethnicity Series starts today
The Office of Diversity Initiatives and the UE Task Force on Race will be continuing the summer series Re-Thinking Diversity Dialogue on Race, this semester on campus, through UE C.A.R.E.S. - UE Conversation About Race & Ethnicity Series. We would like to invite ALL campus members to be a part of the monthly series beginning on February 20. These discussions will be led by UE's assistant director for diversity initiatives Darrion Culler. Bring thoughts and insight or just come and listen. There will be two sessions offered with the same topic to accommodate class schedules. Please feel free to bring your lunch as well to these discussions.
The first of the series will be on February 20 in Eykamp Hall, Room 252, Ridgway University Center. Session One will be from 11:00- noon, and Session Two from noon-1:00 p.m. The topic will be "Blackface on Campus."
Submitted by Darrion Culler dc199@evansville.edu
I-House Myanmar
This week is I-House Myanmar (Burma). Kyaw Kyaw Htet is a freshman civil engineering major from Myanmar. His hobbies include gaming, soccer, basketball, reading, swimming, and learning new languages. His favorite part of UE is that, even though it is a small campus, it is very diverse and everyone is very friendly. He will be sharing more about his country and culture such as Myanmar Milk Tea and national flag at his I-House which is happening this Wednesday (February 20) on the second floor of Ridgway University Center at 7:00 p.m. There will also an opportunity for you to win a prize if you bring a friend who hasn't been to I-House before.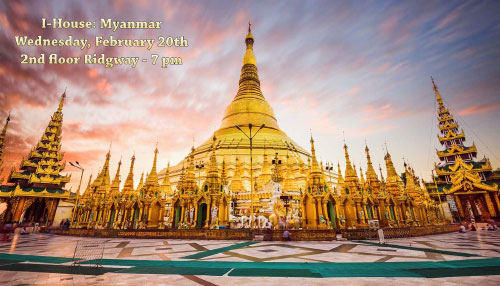 Submitted by Megan Sicard ms331@evansville.edu
Art Exhibit "Celebrating Life" on Display at UE
"Celebrating Life," an exhibit by Cynthia Watson, visiting artist, will be on display at the University of Evansville's Krannert Gallery in the Krannert Hall of Art and Music from February 18-March 31. On Thursday, February 21, there will be a reception at 6:30 p.m. at the gallery. These events are free and open to the public.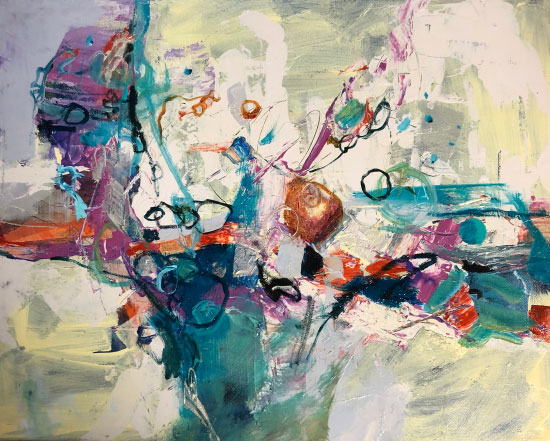 Watson attended the John Herron School of Art and Design from 1980-82, and has studied under several nationally well-known artists during her career as an artist. An award-winning artist, her work has been displayed in many locations, including the Evansville Museum, the Women's Institute, Deaconess Gateway, and the Audubon Museum. Watson lives in Evansville, Indiana, and teaches art to children and adults.
Watson's expertise is mixed media, oil, watercolor, and acrylics, focusing on portraits, landscapes, wildlife, and abstracts. Her inspiration comes from within, evoking emotion, and further capturing interest through her choice of color. She is included in public and private collections, nationally and internationally, has won numerous awards for her art, and continues to exhibit locally. Watson's studio is located at 401 SE Sixth Street, Suite 211, in Evansville, Indiana. She is available by appointment. Her art can also be viewed at Inman's Frame Shop, Stac Gallery, and Facebook.
For more information, contact the UE Art Department of Art at 812-488-2043, email art@evansville.edu or visit the gallery's Facebook page.
Register for Chemo Buddies Hope Run 5K
Chemo Buddies will be hosting Hopefest and Hope Run 5K on April 6 from 8:00 a.m.-1:00 p.m. at Friedman Park in Newburgh to honor all those affected by cancer. At the event, there will be a 1 mile fun run/walk, a survivor's parade, and a timed 5K for trophies. The Hopefest will also include food trucks, a beer garden, pet adoptions, a vendor village, and live music! Register at ChemoBuddies.org.
Submitted by Austin Hopf ah446@evansville.edu
Attend a safe zone workshop - support LGBTQ inclusion in STEM
A Safe Zone Ally Training Workshop will be offered at the upcoming Illinois Indiana Section meeting of the American Society for Engineering Education. The workshop will take place on March 22, starting at 5:00 p.m. While this workshop is geared toward STEM faculty, all are welcome, and you need not register for the ASEE conference to attend!
Sign up to participate today at www.evansville.edu/aseeconference2019/safe-zone.cfm or by emailing ps125@evansville.edu.
Safe Zone Ally Training workshops are interactive training sessions that seek to raise awareness for LGBTQ inclusion in STEM and create a visible network of allies to foster a supportive atmosphere for LGBTQ individuals.
Participants in these research-informed workshops will:
• Develop an understanding of LGBTQ concepts and terminology
• Develop an awareness of biases
• Understand LGBTQ issues
• Recognize discrimination and privilege
Despite recent advances in equality for lesbian, gay, bisexual, transgender, and queer (LGBTQ) individuals in the United States, students and faculty on college campuses still experience harassment, exclusionary behavior and discrimination. Progress in STEM departments has been slower than in other disciplines. Safe Zone Ally Training workshops seek to create a network of engineering and STEM faculty with the awareness, knowledge and skills to create a more inclusive environment for LGBTQ faculty and students.
These workshops are hosted by the American Society for Engineering Education (ASEE) and funded by the National Science Foundation (NSF) through Grant Nos. EEC-1539140 and EEC-1748499. They will be led by principal investigator Stephanie Farrell, current ASEE president and professor and chair of experiential engineering education at Rowan University.
Learn more about ASEE Safe Zone Ally Training workshops and additional efforts to increase LGBTQ equity and inclusion in STEM at https://lgbtq.asee.org.
Submitted by Peter Schmidt ps125@evansville.edu
University Worship in Neu Chapel: Sunday at 9:00 a.m.
The campus community is invited to join the Neu Chapel Community for worship on Sunday morning at 9:00 a.m. We will be concluding our current sermon series "The Awakened Life" with a special focus on "Awakening to Goodness." ALL are welcome, no exceptions! Hope to see you there!
Submitted by Keith Turner kt160@evansville.edu
TKE Towers!
Tau Kappa Epsilon is proud to present the 2nd Annual TKE Towers! Teams of three will compete against each other and the clock to build the tallest tower out of the provided materials. This event is free to watch, but donations can be used to help your favorite team with advantages or give disadvantages to other teams. TKE Towers will take place at 6:00 p.m. on Friday, March 1, in Eykamp Hall, Room 252, Ridgway University Center. The cost per team of three will be $15 and all proceeds from this event will go to St. Jude Children's Research Hospital. So come out and help your organization become the best builders on campus!
Submitted by Kenneth Rusk kr187@evansville.edu
Relay for Life of Vanderburgh Colleges
Please join us for Relay for Life of Vanderburgh Colleges on March 23 from 1:00 p.m.-1L00 a.m. in Carson Center. It will be a day of fun! We will have food, activities, and more! The entire event is surrounded around raising funds for the American Cancer Society to help those in the fight against cancer. You can sign up for the event on the Relay for Life of Vanderburgh Colleges website.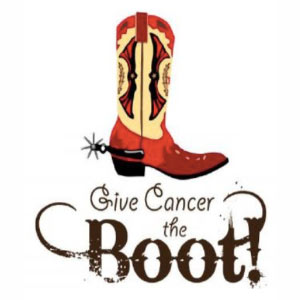 Submitted by Darby Ray dr143@evansville.edu
Final performances of UE Theatre's "Colony Collapse"
The University of Evansville Theatre proudly presents Stefanie Zadravec's Colony Collapse. Set against the present-day plagues of meth addiction, missing children, and a failing ecology, this edgy new play explores the complex dynamics of a highly dysfunctional family and their attempts to unearth a second chance in a wounded America. Performances are at 7:30 p.m. on March 1 and 2 and at 2:00 p.m. on March 3 in Shanklin Theatre.
Evansville native and UE Theatre alumna Lori Wolter Hudson '05 guest-directs Colony Collapse. Wolter Hudson is the artistic director of the New Harmony Project. John Fujisawa, a senior from Los Alamitos, Calif., is the scenic designer; Gillian Herold, a junior from Spokane, Wash., is the costume designer; Professor Stephen Boulmetis serves as the lighting designer; Sidney McCarty, a junior from Clarksville, Tenn., is the sound designer; professor of theatre Diane Brewer serves as the dramaturg; assistant professor Janel Miley serves as the vocal coach; Blake Elliott, a junior from Cypress, Texas, is the stage manager; and Mason Wilhite, a senior from San Antonio, Texas, is the technical director.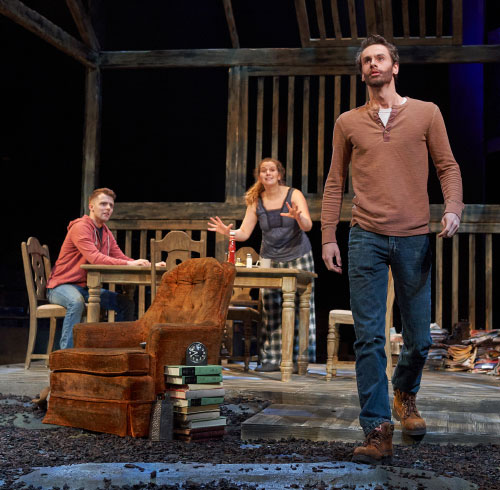 The cast features first-year student Zachary Scalzitti, from Saint John, Ind., as Jason; senior Alexi Lewis, from Seattle, Wash., as Julia; sophomore Jackson Burnham, from Houston, Texas, as Mark; first-year student Kyla Clift, from Arlington, Texas, as Nicky; first-year student Lillie Kolich, from Albuquerque, NM., as The Girl; sophomore Evan Lawson, from Arvada, Colo., as Randy Martin; first-year student Josh Gelman, from Denver, Colo., as Bill Mitchell, and ensemble members include senior Amanda Suggs, from Cedar Park, Texas, sophomore Jack Russell, from Montgomery, Texas, first-year student Cassidy Rogers, from College Station, Texas, first-year student Bailey Lomax, from Great Falls, Mont., and senior Matt McDonald, from Carmel, Ind.
Ticket prices are $18 for adults and $16 for senior adults, students, and UE faculty and staff. UE students may obtain one free student rush ticket beginning at noon on the day of the performance they wish to attend. The UE Theatre Society will host a Pre-Play Chat at 7:00 p.m. on Saturday, February 23. All are welcome to attend the presentation and discussion with a student designer about their process on the production.
Tickets may be purchased by calling 812-488-2031, Monday through Friday, noon to 5:00 p.m.
Oscar watch party - Rooting for Rami
The UE Community is invited to an Oscar watch party - "Rooting for Rami" – on Sunday, February 24. The event is a celebration of the Academy Award nomination received by UE alumnus Rami Malek '03 for his leading role of Freddie Mercury in Bohemian Rhapsody. The party will be at the Sunset Ballroom, CityView at Sterling Square, located at 210 North Fulton Avenue in Evansville. Walk the carpet is at 6:00 p.m., with the live broadcast beginning at 7:00 p.m.
Admission is $100 per person and there are only 100 tickets available. All proceeds go to the John David Lutz Theatre Lab opening in Fall of 2019.
Students, alumni, faculty, staff, and community members will be in attendance and it's open to the public.
Black-tie optional. There will be a cash bar.
You can register for the event online and you can learn more about the event on Facebook.
Robert Dion to be invested as Igleheart Chair in Political Science
The University of Evansville has announced the upcoming investiture of Robert Dion as the newest holder of the Igleheart Chair in Political Science. The ceremony is planned for Saturday, March 2, at 4:30 p.m. in Neu Chapel on the UE campus. It will be part of a weekend of academic celebrations that will also include the inauguration of the University's new president, Christopher M. Pietruszkiewicz.
Dion is the chair of the Department of Law, Politics, and Society in the William L. Ridgway College of Arts and Sciences. He has taught American politics at the University since 2001. Before coming to UE, Dion held full-time teaching positions at the Maxwell School of Citizenship and Public Affairs at Syracuse University and at Wabash College. He earned his doctorate from Indiana University-Bloomington, for a dissertation focused on techniques of persuasive political communication. He also holds a master's degree in American politics from the University of Michigan and a bachelor's degree (magna cum laude) in French and political science from Wabash College.
At the University of Evansville, Dion has received the United Methodist Exemplary Teacher Award and the Sydney and Sadelle Berger Award for Service, and he has been named a Global Scholar by the Institute for Global Enterprise. He serves as an associate researcher for the Observatoire sur les Etats-Unis at the University of Quebec in Montreal.
Outside the classroom, Dion serves as the longtime chair of the Evansville Vanderburgh County Human Relations Commission and is a member of the Indiana State Advisory Committee to the U.S. Commission on Civil Rights. He is quoted regularly in news stories about political developments in Indiana or in the United States, and he has appeared frequently on radio and television news programs, including several French-language broadcast outlets.
The Austin Igleheart Chair in Political Science is the culmination of a long relationship between the Igleheart family and the University of Evansville. John L. Igleheart supported bringing Moore's Hill College to Evansville in 1919. In the late 1950s, the Igleheart's son, Austin S. Igleheart, approached President Melvin Hyde about establishing a chair in government at Evansville College. The result was the establishment of the Igleheart Chair in Political Science, which was created to promote the study of government, particularly local government and political science. The chair is awarded to a faculty member who has demonstrated an understanding of the importance of teaching excellence in the field of political science. The chair is also responsible for promoting student internships and forums of interest to political science majors and the wider community.
Jerrilee LaMar to be invested as holder of White Family Endowed Professorship of Nursing
The University of Evansville's College of Education and Health Sciences has announced the upcoming investiture of Jerrilee LaMar as the holder of the University's White Family Endowed Professorship of Nursing. The ceremony is planned for Saturday, March 2, at 1:30 p.m. in Neu Chapel.
The White Family Endowed Professorship in Nursing was established to promote undergraduate teaching excellence in nursing. The professorship is awarded to a faculty member who has demonstrated a commitment to the education of nursing students at UE, as well as to advancing the University of Evansville Department of Nursing and the practice of nursing education.
The professorship is named for Linda E. White, who completed the Deaconess School of Nursing diploma program earning a Bachelor of Science in nursing from UE in 1976. In addition, she earned her Bachelor of Science degree in mathematics from Indiana State University. White earned her Master in Business Administration from UE in 1983. She is the current chair of the University of Evansville Board of Trustees. White retired as president and CEO of Deaconess Health System in 2017 and took on the position of director of Deaconess Foundation. She joined Deaconess in 1974 and held numerous positions during her tenure. White's civic and community involvement includes an extensive list of local organizations. She is a director for Old National Bancorp and has served as a board member of Leadership Evansville, Operation City Beautiful, Ark Crisis Nursery, and Junior League. She is a fellow in the American College of Healthcare Executives. In 2001, White was recognized as Evansville's Athena Award recipient, and in 2004, was named UE's Delta Sigma Pi Business Leader of the Year. In 2014, she was inducted into the Evansville Business Hall of Fame. She also serves on the Indiana Economic Development Committee.
LaMar joined UE's faculty in 2007 after leaving Deaconess Hospital. She had worked for more than 17 years at Deaconess, beginning her career there as a staff nurse on the Pediatric Unit. As assistant head nurse of the unit, she found her passion for teaching and developed a cross-training program for nurses between pediatrics and the nurseries. She became manager of the Employee Education and Development Department, and while working full-time, earned her master's in nursing from UE and her PhD in curriculum and instruction from ISU, Terre Haute. Her doctoral research centered on clinical nursing education. LaMar helped to develop the nursing intern and extern programs at Deaconess Hospital and eventually left her position as interim vice president and chief nursing officer at Deaconess to teach nursing full-time at the University of Evansville.
LaMar is passionate about access to health care on a global scale and has been active in leading medical mission trips with Deaconess Hospital to impoverished St. Mary's Parrish in northwest Jamaica for almost 25 years. She continues to take nursing students with her on these mission trips in order to provide them with life-transforming experiences.
LaMar has taught nursing at UE's Harlaxton College and has had the opportunity to spend four fall semesters there, as well as visit between semesters to build relationships with healthcare organizations and British Schools of Nursing and secure clinical sites for UE nursing students.
Timothy Zifer to be invested as holder of Oramay Cluthe Eades Distinguished Professorship in Music
The University of Evansville's William L. Ridgway College of Arts and Sciences Department of Music has announced the upcoming investiture of Timothy Zifer, DMA, as the holder of the University's Oramay Cluthe Eades Distinguished Professorship in Music. The ceremony is planned for Saturday, March 2, at 1:30 p.m. in Neu Chapel.
The Oramay Cluthe Eades Distinguished Professorship in Music was established through a generous gift to UE from the Eades Foundation. Oramay Cluthe Eades and her husband, Alvin Q. Eades, were longtime supporters of the University of Evansville and benefactors of its Department of Music.
Cluthe Eades was a graduate of Combs Conservatory in Philadelphia with majors in harp and piano. She was the originator of the Cluthe School of Music in Cluthe Hall in 1924. The Cluthe School became affiliated with Evansville College in 1940. All advanced students matriculated into Evansville College and the young students remained at Cluthe Hall, which later became known as the EC Preparatory School of Music. The Cluthe School was donated to Evansville College by Cluthe Eades in 1942. The prep school moved onto campus in 1962 when Krannert Hall of Art and Music was completed.
Cluthe Eades presented a memo to the Evansville College Board of Trustees with the recommendation to create an Evansville School of Music. She offered to serve as director of the school free of charge for three years until the school was self-sufficient. Her reasoning for transitioning her private school into a civic one was that a civic school would be more permanent; it would gain the support of more people and make possible a larger, more complete school; and that by making the school known as a nonprofit educational institution, public-spirited citizens would make bequests to the school.
Cluthe Eades wanted the new school to have membership in the National Association of Schools of Music. The present faculty has been selected with that end in view and is acceptable to the National Association.
Zifer, a UE professor of music, earned his bachelor's degree in music education from Ohio University, his master's degree in trumpet performance from Louisiana State University, and his doctorate in trumpet performance with a minor in wind conducting from Louisiana State University.
Zifer teaches courses in applied trumpet, UE Jazz Ensembles, UE Trumpet Ensemble, jazz studies, and music management courses. He received the Dean's Teaching Award in 2010. Zifer is the principal trumpet of the Evansville Philharmonic Orchestra and is an active soloist and recitalist. He also serves as the principal trumpet and founding member of the Shepard Brass (UE faculty brass quintet). Most recently, Zifer recorded Robert Russell Bennett's Rose Variations with the UE Wind Ensemble on their CD recording project.
Prior to taking over the jazz studies program, Zifer served as director of bands (1996-2008). During this time the University of Evansville wind ensemble toured over 20 states and appeared at the 2001 International Trumpet Guild Conference, competed in the 2002 International Hawaiian Music Festival, and performed at the 2006 and 2008 Indiana Music Educators Association conventions.
The UE Jazz Ensemble I has performed and competed at the prestigious Elmhurst College Jazz Festival from 2008 to the present, having received two honorable mentions, outstanding soloist award, and recognition for an original composition by a student. The UE Jazz Ensemble I has hosted numerous internationally acclaimed musicians during the past few years, including trumpeters Doc Severinsen and Allen Vizzutti, vocalists Diane Schuur and The New York Voices, and drummer Max Weinberg.
The UE Jazz Ensemble also hosts an annual Jazz Band Invitational bringing in over 13 high school and college jazz bands from across the tri-state area.
The UE Trumpet Ensemble has performed at the 2001 and 2004 International Trumpet Guild Conferences, the 2011 University of Kentucky TrumpetFest, and the 2015 Orvieto TrumpetFest in Orvieto Italy.
In 2001, Zifer served as the conference host for the International Trumpet Guild Conference on the campus of UE. The conference brought in over 800 attendees from around the world and featured recitals, lectures, exhibits, and clinics by some of the world's leading trumpet professionals.
Save the date for benefit open enrollment
During the period of March 18 through April 12, benefit-eligible employees may enroll or make changes in the University's health, life, long term disability, and dental insurance, and ACES flexible spending account benefit plans. It is the only chance for benefit-eligible employees to enroll or make changes until the next open enrollment period unless you have a qualifying change in status.

More information about premiums and plan changes will be available in the coming weeks.
Employees will have the opportunity to learn more about these benefit changes or to speak with a plan representative at one of the following open enrollment meetings in Eykamp Hall, Room 251, Ridgway University Center:
• Monday, March 18 from 9:00-10:00 a.m.
• Monday, March 18 from 11:00 a.m.-noon
• Monday, March 18 from 2:00-3:00 p.m.
• Tuesday, March 19 from 9:00-10:00 a.m.
• Tuesday, March 19 from 11:00 a.m.-noon
• Tuesday, March 19 from 2:00-3:00 p.m.
Please contact the Office of Human Resources at ext. 5045 with any questions.
Submitted by Lori LeDuc LL138@evansville.edu
Spring UE Magazine copies available
The Spring issue of UE Magazine was distributed through campus mail this week. If you have not received a copy by Friday, and would like one, please contact alumni and parent relations at ext. 2586 to get a copy.
Submitted by Megan McCombs mm825@evansville.edu
Now accepting Global Scholar applications for 2019-20
The Global Scholars Program offers support for faculty engaged in scholarship or curriculum development that helps prepare our students and community for global leadership, citizenry, and success. The Global Scholars Program is administered by the Center for Innovation and Change and is made possible by the John H. Schroeder Global Scholar Endowed Fund. Current funding will support 3-4 awards of up to $4000 each. Awards may be used for travel, research materials, conference fees, and/or other related expenses.
The deadline for full consideration is March 18, by 5:00 p.m.
Visit the Global Scholars webpage for more details.
Submitted by Cindy Kelley ck116@evansville.edu
PRIDE!
PRIDE is the LGBT group on campus and is open to everyone (allies included!). PRIDE meets weekly on Mondays at 9:00 p.m. in Room 271 in the Schroeder School of Business Building. We have everything from educational presentations to craft/movie nights and more! Hope to see you there!
Submitted by Sarah Weithers sw266@evansville.edu
Call for drag show performers!
PRIDE is looking for student performers for their annual drag show!! This year's drag show is April 6 at 7:00 p.m. Each person/group can perform up to two songs. We are also looking for people to MC this event! Please contact us at uepride@gmail.com if you are interested in performing/MCing/volunteering or would like more information!
Submitted by uepride@gmail.com
2019-20 Margery Florence Kahn Scholarship
2019-20 Margery Florence Kahn Scholarship applications are now available.
It was the desire of the donor, Margery Florence Kahn, that her scholarship be awarded to "dedicated and conscientious students who exhibit a true passion for their chosen fields of study, and who, in the opinion of the members of the University of Evansville faculty, are likely to bring the same enthusiasm into the performance of their jobs or the practice of the professions which they will pursue following graduation."
All University of Evansville full-time undergraduate students who will be juniors or seniors in 2019-20 may apply. An essay of about 300 words must accompany the application, along with two to five faculty recommendation letters.
Applications and recommendation letters are available from the Student Financial Services in Room 106 in Olmsted Hall and should be returned by APRIL 15.
You may also request application materials by emailing th187@evansville.edu.
Questions may be sent via email or call 812-488-2364.
Submitted by Trisha Hawkes th187@evansville.edu
Last day for student charge in UE Bookstore
The last day to charge books and supplies to your student account in the UE Bookstore is Friday, February 22. If you still need a textbook and would like to charge them to your student account, you need to do so by that date. No charges to student accounts will be allowed after February 22. Also, keep in mind the UE Bookstore will begin returning unsold books soon, so again, if you need a book please purchase one as soon as you can.
Submitted by Doug Gustwiller dg57@evansville.edu
Indiana college substance use survey
On Tuesday, February 19, you will be receiving an email from the Dean of Students requesting your participation in a state wide college substance use survey. This anonymous, web-based survey will be open for participation for two weeks, ending on March 3. Your participation will help us understand alcohol, tobacco and other drug use among University of Evansville students and students' opinions regarding use, which then gives us information on what types of programs to offer our students. This information is tracked year to year, allowing the university to better understand the campus culture and changing dynamics of student choices and opinions. You must be at least 18 years old to participate in this survey and it will take approximately 15 minutes to complete.
As a bonus, one student participant will be chosen at random to receive a UE Bookstore gift certificate!
Submitted by Jennifer Hargus jh693@evansville.edu
Sign Up for Barn Blitz (BB2)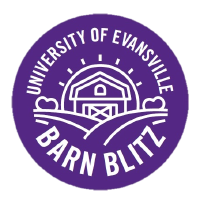 Barn Blitz 2 is happening! We are building backyard barns for Habitat for Humanity! There are several build dates.
February 2: Cutting components (ONLY)
February 9: Cutting components and building components
February 16: Cutting components and building components
February 23: Cutting components and building components
March 2: Cutting components and building components
March 23: Building components (ONLY)
March 30: Building components (ONLY)
April 6: Barn Blitz Day!
Please sign up to participate here: http://signup.com/go/odygOXP.
If you would like to claim a barn for your team or if you would like to be placed on a team for April 6, e-mail Karyssa Vasquez at kv54@evansville.edu. If claiming a barn for your team, please include a team name for your barn in your email.
Submitted by Karyssa Vasquez kv54@evansville.edu
2019 scholarships for United Methodist students
United Methodist students attending UE can apply for the 2019 United Methodist Scholarships at wwwgbhem.org/scholarshipapplication.
United Methodist students attending United Methodist-related institutions can apply for 2019 United Methodist Scholarships from January 3-March 7 at www.gbhem.org/scholarshipapplication for 2019 scholarships.
Applying for individual scholarships now also makes you eligible for the United Methodist Allocation. You must apply now to be considered for both. Late applications will not be accepted. Scholarships range in value from $500 to $5,000. The average amount awarded is about $1,000.
Scholarship eligibility requirements:
•Incoming or current freshmen, sophomores, juniors, seniors or graduate students at one of the United Methodist-related colleges or universities
•Member of any United Methodist Church for at least one year
•Minimum GPA of 2.5
Submitted by Trisha Hawkes th187@evansville.edu
Schedule changes for UE Baseball
Today's baseball game with Vanderbilt has been moved from 4:30 p.m. to 6:30 p.m. due to inclement weather in Nashville.
This weekend's series with Little Rock has also been changed. Sunday is now a doubleheader beginning at 1:00 p.m. CT and Monday is the series finale at 1:00 p.m. CT.
Aces senior Marty Hill to compete in Dark Horse Dunker competition
Intersport, producers of the State Farm College Slam Dunk & 3-Point Championships, today announced that first-round voting for the 2019 "Dark Horse Dunker" competition is now underway. The 16-player field is stacked with under-the-radar players from all levels of college basketball who possess the power, creativity and hops to compete against high-major stars in the Great Clips College Slam Dunk Championship. Fans will determine the winner by voting daily at DarkHorseDunker.com throughout the four-week competition.
Evansville's Marty Hill was named as one of the final 16 participants in the competition. Hill has been one of the Aces best players this season and had two dunks that made the SportsCenter Top 10 in 2018-19.
Video highlight reels of each competitor on the website will help fans determine their choice in a bracket-style competition on DarkHorseDunker.com. The athlete with the most votes in each matchup will move on to the next round. Voting begins today - Feb. 19 - at Noon CT and concludes March 22 at Noon CT. The schedule for each voting round will go as follows:
•Round One: Feb. 19 at Noon CT through Feb. 26 at Noon CT (16 Players)
•Quarterfinals: Feb. 27 at Noon CT through March 6 at Noon CT (8 Players)
•Semifinals: March 7 at Noon CT through March 14 at Noon CT (4 Players)
•Finals: March 15 at Noon CT through March 22 at Noon CT (2 Players)
The player that ultimately receives the most votes in the final round will be selected to compete in the State Farm College Slam Dunk & 3-Point Championships, an event featuring some of the best college dunkers and 3-point shooters in the country. The 2019 State Farm College Slam Dunk & 3-Point Championships will air live on ESPN during college championship weekend in Minneapolis at 8 p.m. CT on April 4.
The following are the 16 "Dark Horse Dunkers" competing in the contest for their chance to showcase their talents in the State Farm College Slam Dunk & 3-Point Championships:
Austin Butler – Whitman College
Cameron Jackson – Wofford
Craig Wilmore – Rocky Mountain College
Deion Evans – Campbellsville University
Devocio Butler – Texas Southern
Emier Bowman – Maryville College
Isaiah Palmer – Ottawa University
Jacob Watts-Jenkins – Huston-Tillotson
Keljin Blevins – Montana State
Kent Garrett – York College
Malik Moore – South Carolina Upstate
Marty Hill – Evansville
Phillip Rankin Jr. – Louisiana State University of Alexandria
Quaylon Newton – Southern Nazarene
Roderick Howell – North Greenville University
Slinky Jones – Florida Southern College
Previous State Farm "Dark Horse Dunker" winners include Max Pearce (Purchase College) in 2018, Antonius Cleveland (Southeast Missouri State) in 2017, Yunio Barrueta (Barry University) in 2016, Davene Carter (Tarleton State) and Antjuan Ball (West Texas A&M) in 2015, Marcus Lewis (Eastern Kentucky) in 2014, Corey Law (High Point) in 2013, James Justice (Martin Methodist College) in 2012, and Jacob Tucker (Illinois College) in 2011. Lewis, Justice and Tucker all went on to win the College Slam Dunk Championship.
UE men head to Loyola today
Three of the final regular season games are on the road for the University of Evansville men's basketball team starting today when the Purple Aces travel to Chicago to play Loyola in a 6:00 p.m. game. The MVC TV Network, ESPN3 and the Purple Aces Radio Network presented by Learfield will have live coverage
Setting the Scene
- Evansville earned a dominant 67-48 win over the Ramblers on January 8 in the Ford Center
- K.J. Riley led the Aces with 15 points while Marty Hill and Shea Feehan registered 13 points apiece
- UE owns a winning road record (11-10) versus the Ramblers but has dropped the last two games inside Gentile Arena
- The Aces hope to put an end to a recent slide, falling in its last four games and eight out of nine overall
Last Time Out
- UNI took a 36-22 halftime lead before cruising to a 73-58 win on Sunday at the Ford Center
- Shea Feehan led UE with 14 points; it marked his first double digit scoring game since January 16 at Missouri State
- The Panthers did their damage inside the arc, hitting 19 of their 30 tries
- Freshmen Shamar Givance and Jawaun Newton were in the starting lineup together for the first time this season; it marked Givance's fourth start of the season and the first for Newton
Takeaways from UNI
- Evansville trailed UNI by 14 points at the half; over the last five games, the Aces have averaged a 14.4-point deficit at the end of the first half
- K.J. Riley added 12 points and has reached double figures in 20 of the last 22 games
- Dainius Chatkevicius had a solid 7-point game; over the last four games, he has posted 10.3 points
- UE dropped to 0-5 this season when scoring 60 points or less
Newcomer of the Week
- Shea Feehan was named the MVC Newcomer of the Week on December 10 following a 29-point game in the home win over Ball State
- Feehan totaled just seven points in the first two MVC games, but has rebounded, pushing his Valley average to 6.8 PPG
- He is solid from the free throw line, hitting 86.7% of his tries; he is 55-61 from the line in the last 22 games and has connected on all 19 free throw tries in MVC games
- The Peoria, Ill. native led the Aces with 14 points against UNI; it marked his first double digit game since January 16 at Missouri State
Scouting the Opponent
- Loyola is one of three teams tied for the MVC lead with a 9-5 conference mark; overall, the Ramblers are 16-11
- They have lost their last two games; a road contest at Bradley before dropping a 65-61 game at home to Missouri State
- Three Loyola players average double figures, led by Marques Townes, who checks in with 15.6 PPG
- Behind him is Cameron Krutwig who has recorded 14.7 points and a team-best 7.5 rebounds per game while Clayton Custer checks in with 11.5 PPG
Dion interviewed by Indy Star and Courier & Press
Robert Dion, University of Evansville department chair for Law, Politics, and Society, was interviewed recently by both the Indianapolis Star and the Evansville Courier & Press.
The Indianapolis Star talked to Dion about Indiana's new senator, Mike Braun, and how he is transitioning to life in Washington, DC. You can read the entire article on the Indianapolis Star website.
Dion was interviewed by the Courier about the recently released Human Rights Campaign's scorecard which placed Indiana in the lowest category. Dion is chair of the Evansville-Vanderburgh County Human Relations Commission. The Courier article is available on the newspaper's website.
Contribute to AceNotes
To have content considered for inclusion in AceNotes, please submit a Marketing Request Form. Deadline for submission to AceNotes is 10:00 a.m. on the requested date of publication. Only articles concerning UE related/sponsored activities will be accepted. Articles submitted to AceNotes may be edited for length and clarity. Submitter contact information is at the end of each article.