| | |
| --- | --- |
| AceNotes Today | Monday, February 18, 2019 |
Tax form 1095-C now available to employees
The 2018 tax Form 1095-C is now available to employees.
Those employees that consented to receive them electronically can go to Self Service>tax information>1095-C Information > 2018 to download and print the form.
Employees that did not consent to receive the form electronically are being mailed the form, and should receive it in the coming week.
Submitted by: sf127@evansville.edu
Professional image presentation
Do you want to sharpen your personal image? Do you want to learn how to sound like a leader? Do you want to bolster your self-confidence? Then come join PRIDE on February 18 at 9:00 p.m. in Room 271 in the Schroeder School of Business Building for a presentation titled "Advertising Yourself: Creating A Professional Image." The presentation will cover improving written communication skills, creating a personal brand, and the strengthening of speaking skills with the ultimate goals of encouraging professionalism and leadership. All are welcome and we encourage you to bring your friends to this informative presentation.
Submitted by uepride@gmail.com
Newman Dinner and Discussion: The Human Story
Join the Newman Club this Wednesday, February 20, at 5:00 p.m. for our weekly dinner and discussion. This week's topic is "The Human Story" hosted by UE History Professor Dan Gahan. He will share his wisdom of "an Irish Catholic Perspective on History." We will be serving stuffed green peppers afterwards. All are welcome!
Submitted by Michaela Kunkler mk305@evansville.edu
Medical Spanish Practice
The Medical Spanish Practice takes place twice a month. These meetings are designed to help students practice communication skills in Spanish. These sessions are open to anyone wanting to improve their medical communication skills in Spanish. The next session is this Wednesday, February 20, from 5:30-7:00 p.m. in Room 73 in the Schroeder School of Business Building. Please contact associate professor of Spanish Diana Rodríguez Quevedo at dr130@evansville.edu for more details. ¡Nos vemos el miércoles!
Charlas: Informal Spanish conversation
Wanting to practice Spanish? Join associate professor of Spanish Diana Rodríguez Quevedo to chat about different topics in Spanish. The next Charlas is this Wednesday, February 20, from 2:30-3:30 p.m. and will take place at the Melvin Peterson Gallery located at 1935 Lincoln Avenue. All levels of Spanish welcome.
Please contact Professor Rodríguez Quevedo at dr130@evansville.edu if you have any questions. ¡Ahí nos vemos!
UE C.A.R.E.S. - UE Conversation About Race & Ethnicity Series starts today
The Office of Diversity Initiatives and the UE Task Force on Race will be continuing the summer series Re-Thinking Diversity Dialogue on Race, this semester on campus, through UE C.A.R.E.S. - UE Conversation About Race & Ethnicity Series. We would like to invite ALL campus members to be a part of the monthly series beginning on February 20. These discussions will be led by UE's assistant director for diversity initiatives Darrion Culler. Bring thoughts and insight or just come and listen. There will be two sessions offered with the same topic to accommodate class schedules. Please feel free to bring your lunch as well to these discussions.
The first of the series will be on February 20 in Eykamp Hall, Room 252, Ridgway University Center. Session One will be from 11:00- noon, and Session Two from noon-1:00 p.m. The topic will be "Blackface on Campus."
Submitted by Darrion Culler dc199@evansville.edu
Relay for Life of Vanderburgh Colleges
Please join us for Relay for Life of Vanderburgh Colleges on March 23 from 1:00 p.m.-1L00 a.m. in Carson Center. It will be a day of fun! We will have food, activities, and more! The entire event is surrounded around raising funds for the American Cancer Society to help those in the fight against cancer. You can sign up for the event on the Relay for Life of Vanderburgh Colleges website.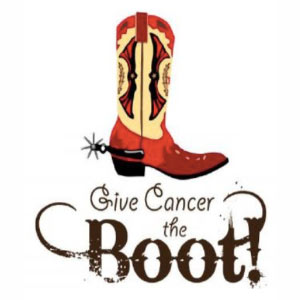 Submitted by Darby Ray dr143@evansville.edu
I-House Myanmar
This week is I-House Myanmar (Burma). Kyaw Kyaw Htet is a freshman civil engineering major from Myanmar. His hobbies include gaming, soccer, basketball, reading, swimming, and learning new languages. His favorite part of UE is that, even though it is a small campus, it is very diverse and everyone is very friendly. He will be sharing more about his country and culture such as Myanmar Milk Tea and national flag at his I-House which is happening this Wednesday (February 20) on the second floor of Ridgway University Center at 7:00 p.m. There will also an opportunity for you to win a prize if you bring a friend who hasn't been to I-House before.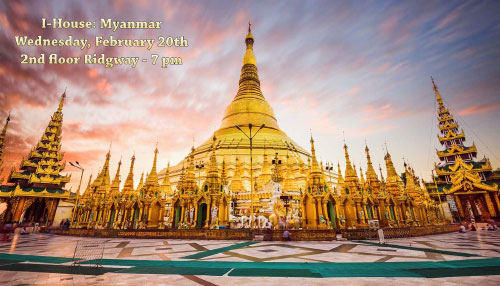 Submitted by Megan Sicard ms331@evansville.edu
Final performances of UE Theatre's "Colony Collapse"
The University of Evansville Theatre proudly presents Stefanie Zadravec's Colony Collapse. Set against the present-day plagues of meth addiction, missing children, and a failing ecology, this edgy new play explores the complex dynamics of a highly dysfunctional family and their attempts to unearth a second chance in a wounded America. Performances are at 7:30 p.m. on March 1 and 2 and at 2:00 p.m. on March 3 in Shanklin Theatre.
Evansville native and UE Theatre alumna Lori Wolter Hudson '05 guest-directs Colony Collapse. Wolter Hudson is the artistic director of the New Harmony Project. John Fujisawa, a senior from Los Alamitos, Calif., is the scenic designer; Gillian Herold, a junior from Spokane, Wash., is the costume designer; Professor Stephen Boulmetis serves as the lighting designer; Sidney McCarty, a junior from Clarksville, Tenn., is the sound designer; professor of theatre Diane Brewer serves as the dramaturg; assistant professor Janel Miley serves as the vocal coach; Blake Elliott, a junior from Cypress, Texas, is the stage manager; and Mason Wilhite, a senior from San Antonio, Texas, is the technical director.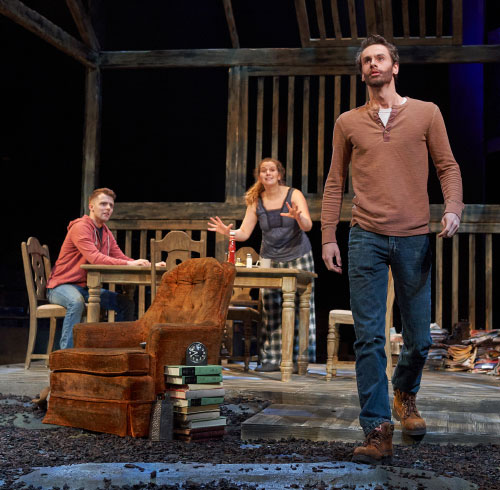 The cast features first-year student Zachary Scalzitti, from Saint John, Ind., as Jason; senior Alexi Lewis, from Seattle, Wash., as Julia; sophomore Jackson Burnham, from Houston, Texas, as Mark; first-year student Kyla Clift, from Arlington, Texas, as Nicky; first-year student Lillie Kolich, from Albuquerque, NM., as The Girl; sophomore Evan Lawson, from Arvada, Colo., as Randy Martin; first-year student Josh Gelman, from Denver, Colo., as Bill Mitchell, and ensemble members include senior Amanda Suggs, from Cedar Park, Texas, sophomore Jack Russell, from Montgomery, Texas, first-year student Cassidy Rogers, from College Station, Texas, first-year student Bailey Lomax, from Great Falls, Mont., and senior Matt McDonald, from Carmel, Ind.
Ticket prices are $18 for adults and $16 for senior adults, students, and UE faculty and staff. UE students may obtain one free student rush ticket beginning at noon on the day of the performance they wish to attend. The UE Theatre Society will host a Pre-Play Chat at 7:00 p.m. on Saturday, February 23. All are welcome to attend the presentation and discussion with a student designer about their process on the production.
Tickets may be purchased by calling 812-488-2031, Monday through Friday, noon to 5:00 p.m.
Oscar watch party - Rooting for Rami
The UE Community is invited to an Oscar watch party - "Rooting for Rami" – on Sunday, February 24. The event is a celebration of the Academy Award nomination received by UE alumnus Rami Malek '03 for his leading role of Freddie Mercury in Bohemian Rhapsody. The party will be at the Sunset Ballroom, CityView at Sterling Square, located at 210 North Fulton Avenue in Evansville. Walk the carpet is at 6:00 p.m., with the live broadcast beginning at 7:00 p.m.
Admission is $100 per person and there are only 100 tickets available. All proceeds go to the John David Lutz Theatre Lab opening in Fall of 2019.
Students, alumni, faculty, staff, and community members will be in attendance and it's open to the public.
Black-tie optional. There will be a cash bar.
You can register for the event online and you can learn more about the event on Facebook.
Art Exhibit "Celebrating Life" on Display at UE
"Celebrating Life," an exhibit by Cynthia Watson, visiting artist, will be on display at the University of Evansville's Krannert Gallery in the Krannert Hall of Art and Music from February 18-March 31. On Thursday, February 21, there will be a reception at 6:30 p.m. at the gallery. These events are free and open to the public.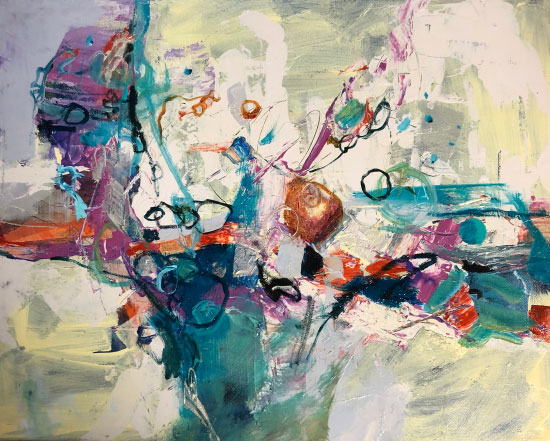 Watson attended the John Herron School of Art and Design from 1980-82, and has studied under several nationally well-known artists during her career as an artist. An award-winning artist, her work has been displayed in many locations, including the Evansville Museum, the Women's Institute, Deaconess Gateway, and the Audubon Museum. Watson lives in Evansville, Indiana, and teaches art to children and adults.
Watson's expertise is mixed media, oil, watercolor, and acrylics, focusing on portraits, landscapes, wildlife, and abstracts. Her inspiration comes from within, evoking emotion, and further capturing interest through her choice of color. She is included in public and private collections, nationally and internationally, has won numerous awards for her art, and continues to exhibit locally. Watson's studio is located at 401 SE Sixth Street, Suite 211, in Evansville, Indiana. She is available by appointment. Her art can also be viewed at Inman's Frame Shop, Stac Gallery, and Facebook.
For more information, contact the UE Art Department of Art at 812-488-2043, email art@evansville.edu or visit the gallery's Facebook page.
A Moment in Black History: Dr. Daniel Hale Williams III
Daniel Hale Williams III was born on January 18, 1856, in Hollidaysburg, Pennsylvania, to Sarah Price Williams and Daniel Hale Williams II. The couple had several children, with the elder Daniel H. Williams inheriting a barber business. He also worked with the Equal Rights League, a black civil rights organization active during the Reconstruction era.
After the elder Williams died, a 10-year-old Daniel was sent to live in Baltimore, Maryland, with family friends. He became a shoemaker's apprentice but disliked the work and decided to return to his family, who had moved to Illinois. Like his father, he took up barbering, but ultimately decided he wanted to pursue his education. He worked as an apprentice with Dr. Henry Palmer, a highly accomplished surgeon, and then completed further training at Chicago Medical College.
Williams set up his own practice in Chicago's South Side and taught anatomy at his alma mater, also becoming the first African-American physician to work for the city's street railway system. Williams - who was called Dr. Dan by patients - adopted sterilization procedures for his office informed by the recent findings on germ transmission and prevention from Louis Pasteur and Joseph Lister.
Due to the discrimination of the day, African-American citizens were still barred from being admitted to hospitals and black doctors were refused staff positions. Firmly believing this needed to change, in May 1891, Williams opened Provident Hospital and Training School for Nurses, the nation's first hospital with a nursing and intern program that had a racially integrated staff. The facility, where Williams worked as a surgeon, was publicly championed by famed abolitionist and writer Frederick Douglass.
In 1893, Williams continued to make history when he operated on James Cornish, a man with a severe stab wound to his chest who was brought to Provident. Without the benefits of a blood transfusion or modern surgical procedures, Williams successfully sutured Cornish's pericardium, the membranous sac enclosing the heart, thus becoming one of the first people to perform open-heart surgery. Cornish lived for many years after the operation.
In 1894, Williams moved to Washington, D.C., where he was appointed the chief surgeon of the Freedmen's Hospital, which provided care for formerly enslaved African Americans. The facility had fallen into neglect and had a high mortality rate. Williams worked diligently on revitalization, improving surgical procedures, increasing specialization, launching ambulance services and continuing to provide opportunities for black medical professionals, among other feats. In 1895, he co-founded the National Medical Association, a professional organization for black medical practitioners, as an alternative to the American Medical Association, which didn't allow African-American membership.
Williams left Freedmen's Hospital in 1898. He married Alice Johnson, and the newlyweds moved to Chicago, where Williams returned to his work at Provident. Soon after the turn of the century, he worked at Cook County Hospital and later at St. Luke's, a large medical institution with ample resources.
Beginning in 1899, Williams also made annual trips to Nashville, Tennessee, where he was a voluntary visiting clinical professor at Meharry Medical College for more than two decades. He became a charter member of the American College of Surgeons in 1913.
Today, Williams's work as a pioneering physician and advocate for an African-American presence in medicine continues to be honored by institutions worldwide.
Submitted by Darrion Culler dc199@evansville.edu
USPS closed today - Monday, President's Day
There is no USPS mail/package delivery on Monday, February 18, President's Day. Delivery will resume on Tuesday, February 19.
For questions, contact distribution services/Mail Services at ext. 1067 or mail services@evansville.edu.
Submitted by Kim Winsett kw83@evansville.edu
Now accepting Global Scholar applications for 2019-20
The Global Scholars Program offers support for faculty engaged in scholarship or curriculum development that helps prepare our students and community for global leadership, citizenry, and success. The Global Scholars Program is administered by the Center for Innovation and Change and is made possible by the John H. Schroeder Global Scholar Endowed Fund. Current funding will support 3-4 awards of up to $4000 each. Awards may be used for travel, research materials, conference fees, and/or other related expenses.
The deadline for full consideration is March 18, by 5:00 p.m.
Visit the Global Scholars webpage for more details.
Submitted by Cindy Kelley ck116@evansville.edu
PRIDE!
PRIDE is the LGBT group on campus and is open to everyone (allies included!). PRIDE meets weekly on Mondays at 9:00 p.m. in Room 271 in the Schroeder School of Business Building. We have everything from educational presentations to craft/movie nights and more! Hope to see you there!
Submitted by Sarah Weithers sw266@evansville.edu
Call for drag show performers!
PRIDE is looking for student performers for their annual drag show!! This year's drag show is April 6 at 7:00 p.m. Each person/group can perform up to two songs. We are also looking for people to MC this event! Please contact us at uepride@gmail.com if you are interested in performing/MCing/volunteering or would like more information!
Submitted by uepride@gmail.com
Wind Ensemble concert date change
The University Wind Ensemble concert originally scheduled for today - February 19 - has been moved and will be part of a combined Wind Ensemble/Orchestra Concert on February 26 at the Preston Arts Center in Henderson, Kentucky.
Submitted by James Sullivan James Sullivan js820@evansville.edu
2019-20 Margery Florence Kahn Scholarship
2019-20 Margery Florence Kahn Scholarship applications are now available.
It was the desire of the donor, Margery Florence Kahn, that her scholarship be awarded to "dedicated and conscientious students who exhibit a true passion for their chosen fields of study, and who, in the opinion of the members of the University of Evansville faculty, are likely to bring the same enthusiasm into the performance of their jobs or the practice of the professions which they will pursue following graduation."
All University of Evansville full-time undergraduate students who will be juniors or seniors in 2019-20 may apply. An essay of about 300 words must accompany the application, along with two to five faculty recommendation letters.
Applications and recommendation letters are available from the Student Financial Services in Room 106 in Olmsted Hall and should be returned by APRIL 15.
You may also request application materials by emailing th187@evansville.edu.
Questions may be sent via email or call 812-488-2364.
Submitted by Trisha Hawkes th187@evansville.edu
Last day for student charge in UE Bookstore
The last day to charge books and supplies to your student account in the UE Bookstore is Friday, February 22. If you still need a textbook and would like to charge them to your student account, you need to do so by that date. No charges to student accounts will be allowed after February 22. Also, keep in mind the UE Bookstore will begin returning unsold books soon, so again, if you need a book please purchase one as soon as you can.
Submitted by Doug Gustwiller dg57@evansville.edu
Proposal Deadline February 20 for UE's Environmental Sustainability Challenge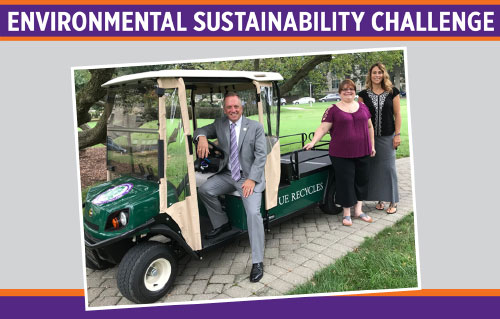 Want to make an impact on environmental sustainability, but need funds to get your ideas off the ground? Submit a proposal for UE's Environmental Sustainability Challenge to have your projects considered for funding from the Green Fund.
Submission deadline: February 20.
The Green Fund began with a $25,000 environmental sustainability grant from Siemens, and additional funds may be generated through fundraising or savings gained through successful Environmental Sustainability Challenge projects.
Learn more about the challenge and submit a proposal online here.
Inaugural Challenge Winner:
The battery operated golf cart proposed as the winning submission to the inaugural Environmental Sustainability Challenge in Spring 2018 is now on campus and in use by UE Recycling. Learn more and see photos on the UE website.
Submitted by: UE's Environmental Sustainability Committee
twiSTEM and UE hosting 7th Annual Beauty of Engineering
twiSTEM and UE are hosting the 7th annual Beauty of Engineering on March 9, from 7:45-11:15 a.m. This is an exploration opportunity for girls in grades 4 through 8.
The goal of the workshop is to help girls understand engineering and computer science. The workshop is executed in a rotation of activity stations staffed by professional women and college students in the fields of engineering and computer science.
The cost is $10 per participant and registration deadline is March 4, and is limited to the first 120 applicants.
To register your child, please visit our Eventbrite event: https://beautyofengineering2019.eventbrite.com.
If you have a group of girls that you want in the same class rotation, please register them on line together, as you can purchase multiple tickets at one time or if each parent is registering online individually, you can email us the list of the girls names and we'll group them together.
If you have questions, please email us at twistem.evv@gmail.com..
Submitted by Kimberly Higgins kh209@evansville.edu
2019 scholarships for United Methodist students
United Methodist students attending UE can apply for the 2019 United Methodist Scholarships at wwwgbhem.org/scholarshipapplication.
United Methodist students attending United Methodist-related institutions can apply for 2019 United Methodist Scholarships from January 3-March 7 at www.gbhem.org/scholarshipapplication for 2019 scholarships.
Applying for individual scholarships now also makes you eligible for the United Methodist Allocation. You must apply now to be considered for both. Late applications will not be accepted. Scholarships range in value from $500 to $5,000. The average amount awarded is about $1,000.
Scholarship eligibility requirements:
•Incoming or current freshmen, sophomores, juniors, seniors or graduate students at one of the United Methodist-related colleges or universities
•Member of any United Methodist Church for at least one year
•Minimum GPA of 2.5
Submitted by Trisha Hawkes th187@evansville.edu
Feehan leads Aces in loss to UNI
Three University of Evansville men's basketball players recorded double figures, but UNI freshman A.J. Green scored a game-high 21 points to give the Panthers a 73-58 win over the Purple Aces on Sunday in the Ford Center.

Shea Feehan scored a team-high 14 points while knocking down three triples. K.J. Riley recorded 12 points and a team-best six boards for UE (10-17, 4-10 MVC) while Shamar Givance had a solid effort with 10 points. Green was the top scorer for UNI (12-15, 7-7 MVC) with his 21 points. He was one of four Panthers to reach double figures. Trae Berhow led everyone with 11 rebounds.
"At some point, we have to let teams stop pushing us around and get to the rim easily," UE head coach Walter McCarty said. "We are not playing with any passion or urgency right now. Until we figure it out, this will continue to happen. We are not doing anything right now that connects us as a team."

Givance got the Aces on the board with a triple on the first possession of the game. The Panthers took their first lead of the day at 6-5. Evansville was able to regain the lead and push it out to 12-8 on a triples by Shea Feehan.

The Panthers responded with a pair of runs that saw them take a double digit lead. UNI notched the next nine points to go up 17-12. A.J. Green had 10 of the Panthers' first 12 points to spearhead the run. After Feehan knocked down three free throws to make it a 2-point game, UNI came right back with a 10-0 stretch that pushed its lead to 27-15 with seven minutes remaining in the first half.

UNI matched its highest lead, taking a 36-22 advantage into the break. Green led UNI with 13 points while Riley paced Evansville with eight.

Riley moved into double figures when he hit the first shot of the second half. Northern Iowa responded with a 5-0 stretch that pushed their lead to a game-high 41-24. Eight minutes into the final period, the Panther lead stood at 49-33. Noah Frederking's triple started a 7-0 run that made it a 49-40 game.

Once again, UNI had the answer as they extended their lead back to 16 points (58-42) with just under seven minutes left and held strong to take the 73-58 win.

"We have to do a better job of knowing the scouting reports and other team's tendencies," Feehan said after the game. "I feel like what we are doing wrong are things we can control."

Freshman Jawaun Newton made his first start of the season on Sunday. He saw 17 minutes of action. Chatkevicius scored seven points while going 3-of-5 from the field. As a team, the Aces shot 41.3% while the Panthers checked in at 46.4%. UNI finished with a 37-25 rebounding edge.
UE baseball: 7-2 victory over Mercer Sunday
After dropping the first two games of the series in heartbreaking one run fashion, the University of Evansville baseball team took no chances in the series finale, as strong pitching combined with a trio of home runs, leading to a 7-2 victory over Mercer Sunday afternoon in Macon, Georgia.
It began on the hill, where senior left-hander Alex Weigand got the start for the Aces, and after giving up a first inning home run, came back to pitch three shutout innings. For the day, the southpaw went five innings, allowing two runs on seven hits, while striking out four.
Trailing 1-0 in the fifth inning, freshman second baseman Danny Borgstrom snapped a no-hitter and a shutout, ripping a double to right-center, driving in senior outfielder Nate Reeder for the game-tying run. Later in the inning, Borgstrom would make it to third base on a single by junior catcher Ben Komonsky, then score on a fielder's choice junior second baseman Craig Shepherd, giving Evansville the lead.
The Bears would come back to knot the game back up in the bottom of the inning, but in the top of the sixth freshman designated hitter A.J. Fritz continued the hot start to his collegiate career with a solo homer to left, putting the Aces back out in front, 3-2.
Weigand would give way to Austin Allinger in the sixth, and the senior righty would deliver, tossing 2 2/3 innings of one-hit shutout work, while striking out three.
In the seventh frame, senior outfielder Nate Reeder, a day removed from blasting a pair home runs, delivered a clutch two-out two-run blast, giving Evansville some much-needed breathing room, leading 5-2.
Kenton Crews would cap the Aces' power burst with a two-run homer in the final frame, giving UE a five run pad they would not relinquish. Junior right-hander Jake McMahill, who took over in the eighth, would close out the game.
"Great team win today," said University of Evansville baseball head coach Wes Carroll. It started on the mound with an outstanding performance from Alex Weigand. Our defense played great behind Weigand, Allinger and McMahill. Then our offense Stepped up late to pull away with a couple of home runs."
Up next for the Aces is a trip to Nashville to take on the top ranked team in the nation, Vanderbilt.
Lockhart tosses no-hitter as Aces sweep 4-game series
Highlighting another exciting day at the ballpark was a no-hitter by University of Evansville senior Emily Lockhart as the Purple Aces softball team clinched a 4-game series sweep over Southern.

Evansville earned a 4-2 win in the opening contest before wrapping up with an 8-0 triumph in five innings in the second game.

"Emily was dominant in the circle this weekend, I am so happy for her as she put together two of the best games she has pitched. She has been working really hard all offseason," Aces head coach Mat Mundell said. "We have a lot to be excited about from this weekend with how we played. We are still looking for the right mix, but it has been great to see some players really step up."

Allison Daggett got the scoring started in the opening game with a sacrifice fly in the top of the first. She scored Katie McLean, who walked to lead off the game before stealing second.

Following a run in the third, the Aces went back to work in the fourth with McKenzie Johnson hitting a leadoff single. Pinch runner Toni Galas stole second and scored on a Mackenzie McFeron base knock. McFeron would cross the plate herself on a sac fly from Eryn Gould. Making the start was Izzy Vetter, who got the job done in the circle, pitching the complete game while allowing two runs on nine hits with UE taking the 4-2 win. Mea Adams led UE with two hits in the game.

In game two, the offense got off to another quick start when a Mea Adams hit scored Gould to give the Aces a 1-0 lead in the first. Katie McLean notched an RBI hit before a Gould 3-run home run saw Evansville push its lead to 5-0 in the second frame.

Bailee Bostic posted an RBI single to extend the lead in the third inning before Johnson put the icing on the cake a few innings later when her 2-RBI hit pushed the lead to 8-0. Lockhart continued to keep the Jaguars hitless as UE picked up the 8-0 victory in five innings. She struck out seven batters.

Another tournament is upcoming for the Aces when they travel to Chattanooga, Tenn., for next weekend's Frost Classic. Evansville will face Creighton, Eastern Kentucky, Western Kentucky, Ohio University, and Chattanooga.
Dion interviewed by Indy Star and Courier & Press
Robert Dion, University of Evansville department chair for Law, Politics, and Society, was interviewed recently by both the Indianapolis Star and the Evansville Courier & Press.
The Indianapolis Star talked to Dion about Indiana's new senator, Mike Braun, and how he is transitioning to life in Washington, DC. You can read the entire article on the Indianapolis Star website.
Dion was interviewed by the Courier about the recently released Human Rights Campaign's scorecard which placed Indiana in the lowest category. Dion is chair of the Evansville-Vanderburgh County Human Relations Commission. The Courier article is available on the newspaper's website.
Contribute to AceNotes
To have content considered for inclusion in AceNotes, please submit a Marketing Request Form. Deadline for submission to AceNotes is 10:00 a.m. on the requested date of publication. Only articles concerning UE related/sponsored activities will be accepted. Articles submitted to AceNotes may be edited for length and clarity. Submitter contact information is at the end of each article.