| | |
| --- | --- |
| AceNotes Today | Thursday, February 14, 2019 |
Admission Road Trip - This Weekend!
The Office of Admission will be hosting Road Trip this Friday, February 15 through Sunday, February 17. Thank you to everyone that has volunteered to assist with the events and hosting this weekend.
We have many activities scheduled for the Road Trippers and would like to invite current UE students to take part in the fun. The following activities are open to both Road Trippers and Current Students:
Friday, February 15
7:15-8:15
Café Court
UE Nerd Wars: Ultimate Trivia
7:30-11:30
Class of 1959 Gallery, second floor of Ridgway University Center
Game Station
10:00-Midnight
Café Court
Karaoke
Saturday, February 16
2:15-5:00 p.m.
Mesker Park Zoo and Botanical Gardens (Buses will leave at 2:00) *
2:30-4:30 p.m.
Evansville Museum of Arts, History, and Science (Buses will leave at 2:15)
5:00- 8:00 p.m.
Children's Museum of Evansville (CMOE) (buses will start running at 5:00 p.m.)*
7:00-8:00 p.m.
Wheeler Concert Hall
Comedian- sponsored by the Student Activities Board
7:00-10:00
Class of 1959 Gallery, second floor of Ridgway University Center
Game Station
10:15-Midnight
Carson Center, Meeks Family Fieldhouse, Large Gym
Hypnotist- sponsored by the Admission Ambassadors and the Student Government Association)
Midnight
Eykamp Hall, Ridgway University Center
Midnight Movie - Incredibles 2
*Indicates activity is off campus. Buses will leave from Walnut Street outside Ridgway University Center
Please help us welcome around 240 Road Trippers to campus this weekend! Enjoy the weekend and Go Road Trip!
Register for UE's 24th Presidential Inauguration Ceremony and Reception
Join us as we celebrate the inauguration of the University of Evansville's 24th president, Christopher M. Pietruszkiewicz, with a weekend of events.
Students, faculty, staff, and friends are welcome to attend any and all inauguration weekend festivities and are asked to register online by Friday, February 15 for the reception and ceremony.
INAUGURATION WEEKEND EVENTS:
Investiture Ceremony: Eades Professorship of Music and the White Family Endowed Professorship in Nursing
Saturday, March 2 at 1:30 p.m.
Neu Chapel
The UE community is invited to celebrate as Timothy Zifer, DMA, professor of music and Jerrilee Lamar, PhD, associate professor and chair of the department of nursing are honored. Registration is not required for this event.
Panel Discussion: University of Evansville: The First 100 Years
Saturday, March 2 at 3:00 p.m.
The discussion will reflect on major milestones in UE's history during the 100 years since the institution's move to Evansville from Moores Hill, Indiana in 1919.The panel will be moderated by Dr. James MacLeod, chair of UE's department of history and panelists include Rose Mays '66, Richard Werking '66, Steve Worthington '73, Julie Williams '85, Sylvia DeVault '85, and Eloho Okeze '08. This event is free and open to the public and registration is not required.
Investiture Ceremony: Igleheart Chair in Political Science
Saturday, March 2 at 4:30 p.m.
Neu Chapel
The UE community is invited to celebrate as Robert Dion, PhD, Associate Professor of Political Science and Chair of the Department of Law, Politics, and Society is honored. Registration is not required for this event.
Inauguration Reception
Saturday, March 2 at 6:00 p.m.
Ridgway University Center, Second Floor
Hors d'oeuvres and beverages will be served. Guests are asked to wear business attire and registration is required.
Inauguration Ceremony
Sunday, March 3 at 2:00 p.m.
Victory Theatre, 600 Main Street in Downtown Evansville
Join us as we welcome the University of Evansville's 24th president, Christopher M. Pietruszkiewicz, and his family as they enter our Evansville community. Guests are asked to wear business attire and registration is required.
Medieval Valentines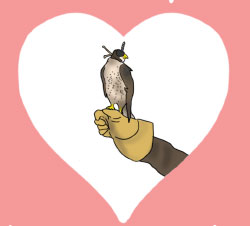 On February 14, professors Annette Parks, Sara Petrosillo, and Tiffany Griffith will present "Medieval Valentines," a discussion of the medieval origins of Valentine's Day, an Old Norse take on love, and the female eagle's choice of suitor. The presentations will be from 4:00-6:00 p.m. in Room 250 in the Schroeder School of Business Building and from 7:00-9:00 p.m. in Room 203 in the library.
Submitted by Marisa Knox mk52@evansville.edu
Thursday Rosary group
Come pray the rosary on Thursday at 12:15 p.m. in Room 209 in the library! This rosary group should last about 20 minutes - it's a great way to get a little prayer in your day! All are welcome.
Submitted by Sam Wallisch sw265@evansville.edu
Diana Rodriguez Quevedo to present "Integrating Humor in the Classroom" on Friday!
Join us Friday, February 15, at 3:00 p.m. in Room 173 in the Schroeder School of Business Building for the February ECTE Lectures on Teaching and Learning. This month's topic is: "Integrating Humor in the Classroom" presented by Diana Rodriguez Quevedo, associate professor of Spanish.
Rodriguez Quevedo will present on how strategic use of humor in the classroom can serve to create a safe and fun learning environment and to engage students by lowering their inhibition and promoting their participation. She will discuss various ways to incorporate humor in the classroom and share a variety of activities that involve humor to develop different communication skills.
We look forward to seeing you for good conversations about good teaching!
Submitted by Eykamp Center for Teaching Excellence ecte@evansville.edu
Final performances of UE Theatre's "Colony Collapse"
The University of Evansville Theatre proudly presents Stefanie Zadravec's Colony Collapse. Set against the present-day plagues of meth addiction, missing children, and a failing ecology, this edgy new play explores the complex dynamics of a highly dysfunctional family and their attempts to unearth a second chance in a wounded America. Performances are at 7:30 p.m. on March 1 and 2 and at 2:00 p.m. on March 3 in Shanklin Theatre.
Evansville native and UE Theatre alumna Lori Wolter Hudson '05 guest-directs Colony Collapse. Wolter Hudson is the artistic director of the New Harmony Project. John Fujisawa, a senior from Los Alamitos, Calif., is the scenic designer; Gillian Herold, a junior from Spokane, Wash., is the costume designer; Professor Stephen Boulmetis serves as the lighting designer; Sidney McCarty, a junior from Clarksville, Tenn., is the sound designer; professor of theatre Diane Brewer serves as the dramaturg; assistant professor Janel Miley serves as the vocal coach; Blake Elliott, a junior from Cypress, Texas, is the stage manager; and Mason Wilhite, a senior from San Antonio, Texas, is the technical director.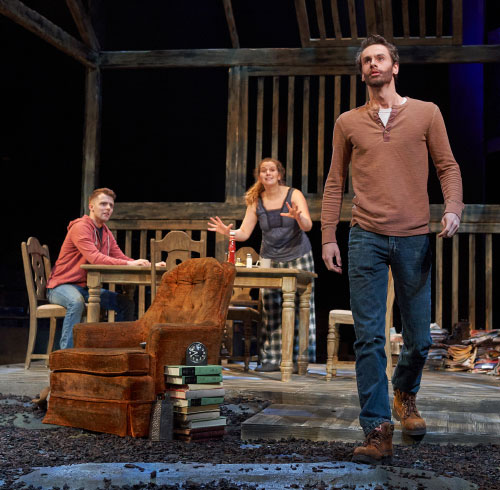 The cast features first-year student Zachary Scalzitti, from Saint John, Ind., as Jason; senior Alexi Lewis, from Seattle, Wash., as Julia; sophomore Jackson Burnham, from Houston, Texas, as Mark; first-year student Kyla Clift, from Arlington, Texas, as Nicky; first-year student Lillie Kolich, from Albuquerque, NM., as The Girl; sophomore Evan Lawson, from Arvada, Colo., as Randy Martin; first-year student Josh Gelman, from Denver, Colo., as Bill Mitchell, and ensemble members include senior Amanda Suggs, from Cedar Park, Texas, sophomore Jack Russell, from Montgomery, Texas, first-year student Cassidy Rogers, from College Station, Texas, first-year student Bailey Lomax, from Great Falls, Mont., and senior Matt McDonald, from Carmel, Ind.
Ticket prices are $18 for adults and $16 for senior adults, students, and UE faculty and staff. UE students may obtain one free student rush ticket beginning at noon on the day of the performance they wish to attend. The UE Theatre Society will host a Pre-Play Chat at 7:00 p.m. on Saturday, February 23. All are welcome to attend the presentation and discussion with a student designer about their process on the production.
Tickets may be purchased by calling 812-488-2031, Monday through Friday, noon to 5:00 p.m.
Road Trip Sale
The UE Bookstore will be offering 15% OFF all purchases of clothing and gift items in the store on Saturday, February 16, as part of Road Trip Saturday. Stop in and save on some UE gear!
Submitted by Doug Gustwiller dg57@evansville.edu
Flamenco Show Friday Night!
Do something unique this Valentine's Day! A Flamenco Show at Lamasco is planned for Friday, February 15 from 6:30- 8:30 p.m. All ages welcome! The UE Ballroom Club has partnered with Dapper Pig, Lamasco Bar, and the Academy of Flamenco Arts to bring you UE trained Flamenco guitarist Gareth Jones, along with live dancing, and a delicious meal in Lamasco's family music room.
**New student ticket option – ONLY $20!**
We have added a new ticket option for students for Friday's Flamenco show that comes with dinner! Any student ages 18 and up with a valid school issued I.D. can purchase tickets to our Flamenco Valentine's dinner for ONLY $20. (Must present a valid student I.D. at the door day of event.)
Tickets for the general public are $50 per person and $90 per couple and includes your meal and the show!
Tickets are available online.
You can watch a promo video of the event on Facebook.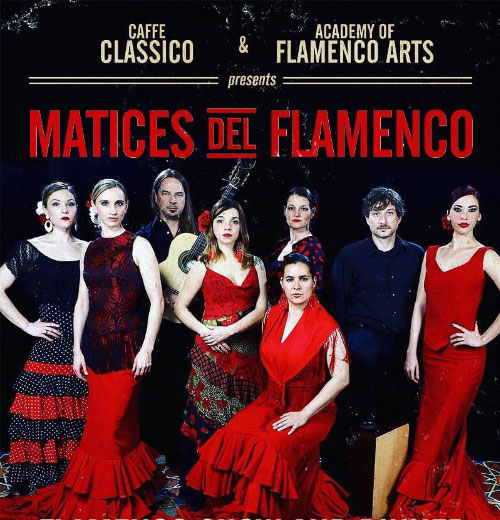 Submitted by Erin Lewis EL131@evansville.edu
Sunday, Feb. 17 at 7:00 a.m. - Traveler's Mass on Campus
This weekend on Sunday, February 17, the Newman Club will be hosting an additional Sunday Mass at 7:00 a.m. to send our Road Trip travelers off! The mass will only last 30 minutes - come celebrate before you leave campus and experience our Newman atmosphere! The celebrant will be Father Steve. All are welcome to come join us bright and early this Sunday to pray!
This mass is in addition to the normal Sunday Mass, which will still be held at 1:00 p.m. that afternoon!
Submitted by Sam Wallisch sw265@evansville.edu
A Moment in Black History: Granville T. Woods
Born in Columbus, Ohio, on April 23, 1856, to free African Americans, Granville T. Woods received little schooling as a young man and, in his early teens, took up a variety of jobs, including as a railroad engineer in a railroad machine shop, as an engineer on a British ship, in a steel mill, and as a railroad worker. From 1876 to 1878, Woods lived in New York City, taking courses in engineering and electricity - a subject that he realized, early on, held the key to the future.
Back in Ohio in the summer of 1878, Woods was employed for eight months by the Springfield, Jackson and Pomeroy Railroad Company to work at the pumping stations and the shifting of cars in the city of Washington Court House, Ohio. He was then employed by the Dayton and Southeastern Railway Company as an engineer for 13 months.
During this period, while traveling between Washington Court House and Dayton, Woods began to form ideas for what would later be credited as his most important invention: the "inductor telegraph." He worked in the area until the spring of 1880, and then moved to Cincinnati.
Living in Cincinnati, Woods eventually set up his own company to develop, manufacture and sell electrical apparatus, and in 1889, he filed his first patent for an improved steam boiler furnace. His later patents were mainly for electrical devices, including his second invention, an improved telephone transmitter.
The patent for his device, which combined the telephone and telegraph, was bought by Alexander Graham Bell, and the payment freed Woods to devote himself to his own research. One of his most important inventions was the "troller," a grooved metal wheel that allowed street cars (later known as "trolleys") to collect electric power from overhead wires.
Woods's most important invention was the multiplex telegraph, also known as the "induction telegraph," or block system, in 1887. The device allowed men to communicate by voice over telegraph wires, ultimately helping to speed up important communications and, subsequently, preventing crucial errors such as train accidents. Woods defeated Thomas Edison's lawsuit that challenged his patent, and turned down Edison's offer to make him a partner. Thereafter, Woods was often known as "Black Edison."
After receiving the patent for the multiplex telegraph, Woods reorganized his Cincinnati company as the Woods Electric Co. In 1890, he moved his own research operations to New York City, where he was joined by a brother, Lyates Woods, who also had several inventions of his own.
Woods's next most important invention was the power pick-up device in 1901, which is the basis of the so-called "third rail" currently used by electric-powered transit systems. From 1902 to 1905, he received patents for an improved air-brake system.
By the time of his death, on January 30, 1910, in New York City, Granville T. Woods had invented 15 appliances for electric railways. received nearly 60 patents, many of which were assigned to the major manufacturers of electrical equipment that are a part of today's daily life.
Final auditions for Vagina Monologues production
Women's Rights Awareness (WRA) will be hosting a presentation of The Vagina Monologues at the end of February, and auditions are Saturday, February 16 from 7:00-9:00 p.m. in Room 142 in the Krannert Hall of Art and Music. The production is set for March 1 in Wheeler Concert Hall.
Any student and faculty member are welcome to audition and experience is not necessary. Please contact ms667@evansville.edu for information regarding the script and the scenes we will be using for the audition.
The Vagina Monologues is a series of monologues, written by Eve Ensler, that is performed globally every February to raise awareness of domestic abuse towards women. WRA will be donating profits from their production to Albion Fellows Bacon Center of Evansville.
Submitted by Alyssa Lueken al267@evansville.edu
2019-20 Margery Florence Kahn Scholarship
2019-20 Margery Florence Kahn Scholarship applications are now available.
It was the desire of the donor, Margery Florence Kahn, that her scholarship be awarded to "dedicated and conscientious students who exhibit a true passion for their chosen fields of study, and who, in the opinion of the members of the University of Evansville faculty, are likely to bring the same enthusiasm into the performance of their jobs or the practice of the professions which they will pursue following graduation."
All University of Evansville full-time undergraduate students who will be juniors or seniors in 2019-20 may apply. An essay of about 300 words must accompany the application, along with two to five faculty recommendation letters.
Applications and recommendation letters are available from the Student Financial Services in Room 106 in Olmsted Hall and should be returned by APRIL 15.
You may also request application materials by emailing th187@evansville.edu.
Questions may be sent via email or call 812-488-2364.
Submitted by Trisha Hawkes th187@evansville.edu
Proposal Deadline February 20 for UE's Environmental Sustainability Challenge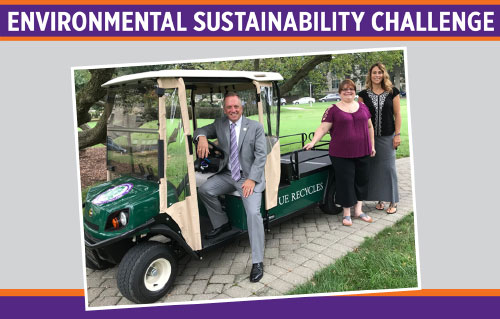 Want to make an impact on environmental sustainability, but need funds to get your ideas off the ground? Submit a proposal for UE's Environmental Sustainability Challenge to have your projects considered for funding from the Green Fund.
Submission deadline: February 20.
The Green Fund began with a $25,000 environmental sustainability grant from Siemens, and additional funds may be generated through fundraising or savings gained through successful Environmental Sustainability Challenge projects.
Learn more about the challenge and submit a proposal online here.
Inaugural Challenge Winner:
The battery operated golf cart proposed as the winning submission to the inaugural Environmental Sustainability Challenge in Spring 2018 is now on campus and in use by UE Recycling. Learn more and see photos on the UE website.
Submitted by: UE's Environmental Sustainability Committee
UE Engineering OPTIONS Camps accepting applications
The College of Engineering and Computer Science at the University of Evansville announces open registration for its 2019 Engineering OPTIONS summer camps.
High School Girls summer career exploration program is a week-long residential opportunity at UE for high school girls currently in grades 9, 10, or 11 who have completed geometry. The program begins Sunday, June 9 and concludes Friday, June 14. Registration deadline is April 1.
Middle School Girls summer career exploration program is a 3 ½ day residential opportunity at UE for middle school girls currently in grades 6, 7, or 8. The program begins Sunday, June 16 and concludes Wednesday, June 19. Registration deadline is April 1.
Middle School Boys summer career exploration program is a week-long day camp opportunity at UE for middle school boys currently in grades 6, 7, or 8 and elementary school boys currently in grade 5. It will be held daily from Monday, June 24-Friday, June 28. Registration deadline is May 1.
Program participants will gain a better understanding of the opportunities available in fields closely related to science, technology, engineering, and mathematics (STEM).
Dependent children of University of Evansville employees are eligible for a $125 discount toward the cost of registration.
For more information, to obtain an application, or apply online, see www.evansville.edu/options.
Eykamp Prize: Call for Nominations
The Eykamp Prize was established by Richard and Rita Eykamp in 2015 to honor Faculty Achievement at the University of Evansville. Recipients of the prize will receive a one-time award of $10,000 in recognition of extraordinary contributions to the University of Evansville as University Citizens. Examples of such contributions include deep and successful involvement in recruiting students; expanding the number, scope, and competitiveness of grant funding for their department; bringing positive public awareness to the University through scholarship, knowledge, and understanding of their discipline. Up to two prizes a year may be awarded.
Nominations for the Eykamp Award may come from any member of the University of Evansville Community. Nominees should be tenured or tenure-track faculty members at the University of Evansville who have not received the award in the previous five years. Nominations can be submitted in writing or via e-mail to Michael Austin, Executive Vice President for Academic Affairs/Provost, by March 15, 2019. Nominations should include the name of the faculty member and a brief statement of the reasons that he or she is being nominated.
Recipients of the Eykamp Award will be selected by an Awards Committee, appointed by the EVPAA/Provost that includes members of the faculty and staff, academic administrators, and at least one member of the Board of Trustees. Awards will be announced and presented at the May Commencement Ceremony.
Previous Recipients: 2016 – Dr. Mark Valenzuela; 2017 – Dr. Lora Becker; 2018 – Dr. David Dwyer.
2019 scholarships for United Methodist students
United Methodist students attending UE can apply for the 2019 United Methodist Scholarships at wwwgbhem.org/scholarshipapplication.
United Methodist students attending United Methodist-related institutions can apply for 2019 United Methodist Scholarships from January 3-March 7 at www.gbhem.org/scholarshipapplication for 2019 scholarships.
Applying for individual scholarships now also makes you eligible for the United Methodist Allocation. You must apply now to be considered for both. Late applications will not be accepted. Scholarships range in value from $500 to $5,000. The average amount awarded is about $1,000.
Scholarship eligibility requirements:
•Incoming or current freshmen, sophomores, juniors, seniors or graduate students at one of the United Methodist-related colleges or universities
•Member of any United Methodist Church for at least one year
•Minimum GPA of 2.5
Submitted by Trisha Hawkes th187@evansville.edu
UE to participate in CIC's Annual Diversity, Civility, and Liberal Arts Institute
The University of Evansville was one of 25 member institutions of the Council of Independent Colleges (CIC) selected to participate in CIC's second annual Diversity, Civility, and the Liberal Arts Institute in Atlanta, Georgia, on June 2–5. The event is designed to help faculty members and administrators address issues of diversity, civility, inclusion, and student unrest on campus more effectively.
Each institution will send a team of two faculty leaders and two senior administrators. Representing UE will be the University's chief diversity officer LaNeeca Williams, dean of the William L. Ridgway College of Arts and Science Ray Lutgring, department chair for philosophy and religion Valerie Stein, and associate professor of psychology Maggie Stevenson. Johnna Denning-Smith, UE director of grants and sponsored programs, facilitated the grant-writing process.
Each participating college will develop plans to incorporate the institute content into specific courses, advising and counseling services, and co-curricular activities at their institutions.
Participants for the 2019 institute were selected through a highly competitive application process.
According to CIC president Richard Ekman, "the volume, quality, and urgency of the proposals reflect the commitment of independent colleges and universities to promoting diversity and civility, not just on their campuses but across the nation."
The institute is supported by a generous grant from the Andrew W. Mellon Foundation.
For more information, visit www.cic.edu/2019DiversityInstitute.
Girl Scout Cookies - UE Women's Basketball on Feb. 15
Come to the UE women's basketball game this Friday at 6:00 p.m. at the Meeks Family Fieldhouse and purchase Girl Scout cookies in the lobby! This is our annual Pink Game supporting the fight against breast cancer, so be sure to wear pink to the game! The Boom Squad will also be performing throughout the night. Faculty, staff, and administrators receive two complimentary tickets to the game by showing their valid UE ID.
Submitted by Scott Peace sp166@evansville.edu
Aces resilient in loss to Missouri State
Marty Hill led the University of Evansville Men's Basketball team with 15 points, but Missouri State led by 18 at the half and hung on for a 68-56 win over the Purple Aces on Wednesday night inside the Ford Center.

Hill led Evansville (10-16, 4-9 MVC) with his 15 tallies. He knocked down 7 of his 12 shots. K.J. Riley scored 10 points while Dainius Chatkevicius posted nine. Riley added five more free throws over six tries in the game while Chatkevicius has at least nine points in each of the last three games. It is the top streak in his time at UE.

"It was disappointing because we had a great crowd come out to support our guys and we just did not compete in the first half. Give MSU credit, they came out ready to play," UE head men's basketball coach Walter McCarty said. "Our guys came out much better and had more fire in the second half, but we need to do that for the whole game. Everyone understands that this game honors the team that plays the hardest and plays with toughness."

Tulio Da Silva was the top scorer in the game, leading Missouri State (14-12, 8-5 MVC) with 17 points. He also had a team-high seven rebounds. Jarred Dixon and Ryan Kreklow finished with 15 points apiece.

In the opening half, Missouri State shot 73.9% on their way to a 42-24 halftime lead. The Bears connected on 17 out of 23 attempts and were 7-of-10 from outside. Evansville took an early 4-3 lead before MSU recorded eight in a row to take an 11-4 advantage at the 15:28 mark. Marty Hill knocked down his first trey of the night to end the run.

Evansville got within a pair at 13-11 on a K.J. Riley jumper before MSU tallied six more in a row to push their lead to eight. With just under eight minutes left, Shea Feehan knocked down a triples to cut the MSU lead to a pair at 24-22. That is when the Bears kicked it into gear. Over the remainder of the half, they outscored the Aces by an 18-2 margin to open up the 18-point halftime lead. Evansville was 1-for-1 from the field with four turnovers over the final 7+ minutes of the period. Marty Hill and K.J. Riley were the top scorers for UE in the opening 20 minutes, registering seven points apiece.

The tenacious Aces bunch regrouped during the break and it showed in early part of the second half. UE opened on a 12-2 run while the defense held the Bears to 0-for-9 from the floor to begin the half. Shamar Givance hit from outside before a Noah Frederking floater cut the deficit to just eight points - 44-36 - with 12 minutes on the clock.

Missouri State regained control with a 7-0 run that pushed the advantage back to 15 points. Evansville never gave up and K.J. Riley helped UE get closer with a pair of free throws that made it a 52-44 game with 6:37 left. From there, the Bears were able to close out and finish with the 68-56 triumph.

"We just did not play two halves tonight, we played much better in the second half but it took so much energy for us to make up that deficit," senior Marty Hill said. "We just have to put two halves together and come out and play hard from the jump."

Both squads had 26 rebounds on the night. After shooting 73.9% in the opening stanza, MSU was 5-of-18 (27.8%) in the second half and finished the game at 53.7%. Evansville shot 40.8% for the game.

On Sunday, UE is back inside the Ford Center with a 3:00 p.m. game against UNI.
Contribute to AceNotes
To have content considered for inclusion in AceNotes, please submit a Marketing Request Form. Deadline for submission to AceNotes is 10:00 a.m. on the requested date of publication. Only articles concerning UE related/sponsored activities will be accepted. Articles submitted to AceNotes may be edited for length and clarity. Submitter contact information is at the end of each article.