| | |
| --- | --- |
| AceNotes Today | Wednesday, February 13, 2019 |
Register for UE's 24th Presidential Inauguration Ceremony and Reception
Join us as we celebrate the inauguration of the University of Evansville's 24th president, Christopher M. Pietruszkiewicz, with a weekend of events.
Students, faculty, staff, and friends are welcome to attend any and all inauguration weekend festivities and are asked to register online by Friday, February 15 for the reception and ceremony.
INAUGURATION WEEKEND EVENTS:
Investiture Ceremony: Eades Professorship of Music and the White Family Endowed Professorship in Nursing
Saturday, March 2 at 1:30 p.m.
Neu Chapel
The UE community is invited to celebrate as Timothy Zifer, DMA, professor of music and Jerrilee Lamar, PhD, associate professor and chair of the department of nursing are honored. Registration is not required for this event.
Panel Discussion: University of Evansville: The First 100 Years
Saturday, March 2 at 3:00 p.m.
The discussion will reflect on major milestones in UE's history during the 100 years since the institution's move to Evansville from Moores Hill, Indiana in 1919.The panel will be moderated by Dr. James MacLeod, chair of UE's department of history and panelists include Rose Mays '66, Richard Werking '66, Steve Worthington '73, Julie Williams '85, Sylvia DeVault '85, and Eloho Okeze '08. This event is free and open to the public and registration is not required.
Investiture Ceremony: Igleheart Chair in Political Science
Saturday, March 2 at 4:30 p.m.
Neu Chapel
The UE community is invited to celebrate as Robert Dion, PhD, Associate Professor of Political Science and Chair of the Department of Law, Politics, and Society is honored. Registration is not required for this event.
Inauguration Reception
Saturday, March 2 at 6:00 p.m.
Ridgway University Center, Second Floor
Hors d'oeuvres and beverages will be served. Guests are asked to wear business attire and registration is required.
Inauguration Ceremony
Sunday, March 3 at 2:00 p.m.
Victory Theatre, 600 Main Street in Downtown Evansville
Join us as we welcome the University of Evansville's 24th president, Christopher M. Pietruszkiewicz, and his family as they enter our Evansville community. Guests are asked to wear business attire and registration is required.
Writing a strong personal statement for professional school
Calling all pre-professional health students! Is the idea of getting started on your personal statement for professional school weighing on your shoulders? Join me this week for a workshop on the ins and outs of writing your personal statement and jump start this sometimes overwhelming step. We will discuss various styles of personal statements, how to get started and even touch upon getting prepared for the application process.
The workshop date, time, and location are as follows:
Wednesday, February 13 at 2:00 p.m. in Room 102 in the Koch Center for Engineering and Science
Submitted by Frances Renschler fr25@evansville.edu
I-House South Korea - bring a friend and have an opportunity to win a prize)
I-House South Korea is this Wednesday, February 13, at 7:00 p.m. on the second floor of Ridgway University Center. Min Hyomin, an exchange student from South Korea, will be making a presentation about her country. She is a psychology major back home. She loves UE and her favorite part is the diversity on campus. She has many hobbies and learning how to play different instruments is one of them. She will be sharing more about herself and her culture at I-House South Korea.
You will also have an opportunity to win a prize if you bring a friend who hasn't been to an I-House before!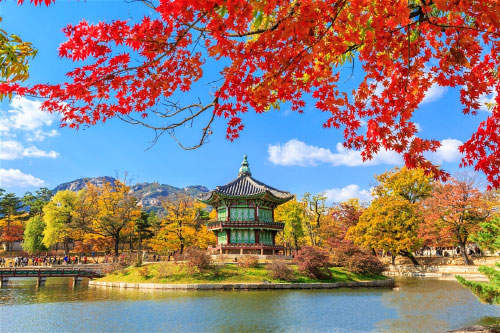 Submitted by Megan Sicard ms331@evansville.edu
Newman Dinner and Discussion: The Eucharist
Join the Newman Club this Wednesday, February 13, at 5:00 p.m. for our weekly dinner and discussion. This week's topic is the source and summit of our faith - the Eucharist. Fr. Mike Schmitz will explain the intimate love of God through the Eucharist. All are welcome!
Submitted by Michaela Kunkler mk305@evansville.edu
Lunch Charlas
Wanting to practice Spanish? Join associate professor of Spanish Diana Rodríguez Quevedo for lunch, and chat about different topics in Spanish on Wednesdays from noon-1:00 p.m. in the Starbuck's café area in Ridgway University Center. All levels of Spanish welcome. The next Lunch Charlas is this Wednesday, February 13.
Please contact Professor Rodríguez Quevedo at dr130@evansville.edu if you have any questions. ¡Ahí nos vemos!
Road Trip Sale
The UE Bookstore will be offering 15% OFF all purchases of clothing and gift items in the store on Saturday, February 16, as part of Road Trip Saturday. Stop in and save on some UE gear!
Submitted by Doug Gustwiller dg57@evansville.edu
Flamenco Show Friday Night!
Do something unique this Valentine's Day! A Flamenco Show at Lamasco is planned for Friday, February 15 from 6:30- 8:30 p.m. All ages welcome! The UE Ballroom Club has partnered with Dapper Pig, Lamasco Bar, and the Academy of Flamenco Arts to bring you UE trained Flamenco guitarist Gareth Jones, along with live dancing, and a delicious meal in Lamasco's family music room.
**New student ticket option – ONLY $20!**
We have added a new ticket option for students for Friday's Flamenco show that comes with dinner! Any student ages 18 and up with a valid school issued I.D. can purchase tickets to our Flamenco Valentine's dinner for ONLY $20. (Must present a valid student I.D. at the door day of event.)
Tickets for the general public are $50 per person and $90 per couple and includes your meal and the show!
Tickets are available online.
You can watch a promo video of the event on Facebook.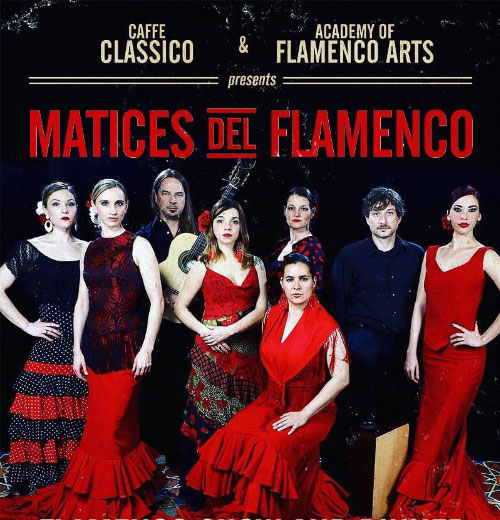 Submitted by Erin Lewis EL131@evansville.edu
Sunday, Feb. 17 at 7:00 a.m. - Traveler's Mass on Campus
This weekend on Sunday, February 17, the Newman Club will be hosting an additional Sunday Mass at 7:00 a.m. to send our Road Trip travelers off! The mass will only last 30 minutes - come celebrate before you leave campus and experience our Newman atmosphere! The celebrant will be Father Steve. All are welcome to come join us bright and early this Sunday to pray!
This mass is in addition to the normal Sunday Mass, which will still be held at 1:00 p.m. that afternoon!
Submitted by Sam Wallisch sw265@evansville.edu
UE Health and Fitness Fair
The 2019 Health and Fitness Fair will be held in the Fitness Center gym on Thursday, February 14, from 11:00 a.m.-2:00 p.m. Win prizes, free giveaways and visit local businesses (Body Works Massage, Vertical Excape, Club Pilates, Ultimate Fit, etc.).
Submitted by Lori Adams la87@evansville.edu
Musical Madness: Love Story
Musical Madness performances are planned for February 15 and February 16 at 8:30 p.m. in Eykamp Hall, Ridgway University Center. Admission is $5. This year's show features five musical love stories produced by our very own Greek Life! Each musical is full of goofing UE humor and portrays a love story that is familiar to us all. They are all based on movies like High School Musical, Shrek, and Mamma Mia! All of the funds raised will go to the Evansville Rescue Mission and I promise the shows and the cause are much worth the entry fee of $5!
Submitted by Jess Rollins jr273@evansville.edu
Oscar watch party - Rooting for Rami
The UE Community is invited to an Oscar watch party - "Rooting for Rami" – on Sunday, February 24. The event is a celebration of the Academy Award nomination received by UE alumnus Rami Malek '03 for his leading role of Freddie Mercury in Bohemian Rhapsody. The party will be at the Sunset Ballroom, CityView at Sterling Square, located at 210 North Fulton Avenue in Evansville. Walk the carpet is at 6:00 p.m., with the live broadcast beginning at 7:00 p.m.
Admission is $100 per person and there are only 100 tickets available. All proceeds go to the John David Lutz Theatre Lab opening in Fall of 2019.
Students, alumni, faculty, staff, and community members will be in attendance and it's open to the public.
Black-tie optional. There will be a cash bar.
You can register for the event online and you can learn more about the event on Facebook.
Need a passport?
Representatives from the US Postal Service will be on campus processing passports on Friday, February 15, from 11:00 a.m.-2:00 p.m. in the Harlaxton Room in the Schroeder School of Business Building! If you bring all the required documents, you can get your passport photos taken and your passport processed at this event right here on campus. You can also bring your current passport to be renewed at this event.
Here is what you will need to bring to the event in order to get your passport processed:
Photo identification: US driver's license, and if not from Indiana, a credit or debit card.
Proof of citizenship: Original or certified copy of long form birth or citizenship certificate.
Passport application: Available online at travel.state.gov, at the study abroad office, or at this event.
Payments: Two checks, money orders, or cashier's checks for $110 to the US Department of State and for $30 to the USPS.
Photos on site: Passport photos can be taken during the event for an additional $15 to the USPS.
All members of the UE community - faculty, staff, and students - are welcome to come to this event! Feel free to contact Kaylynn Carver in the study abroad office at kc205@evansville.edu or 812-488-2039 for more information about the event or requirements.
Submitted by Kaylynn Carver kc205@evansville.edu
Medieval Valentines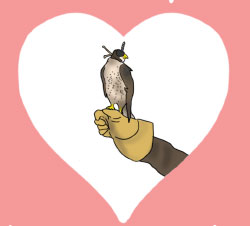 On February 14, professors Annette Parks, Sara Petrosillo, and Tiffany Griffith will present "Medieval Valentines," a discussion of the medieval origins of Valentine's Day, an Old Norse take on love, and the female eagle's choice of suitor. The presentations will be from 4:00-6:00 p.m. in Room 250 in the Schroeder School of Business Building and from 7:00-9:00 p.m. in Room 203 in the library.
Submitted by Marisa Knox mk52@evansville.edu
Thursday Rosary group
Come pray the rosary on Thursday at 12:15 p.m. in Room 209 in the library! This rosary group should last about 20 minutes - it's a great way to get a little prayer in your day! All are welcome.
Submitted by Sam Wallisch sw265@evansville.edu
A Moment in Black History: Dorothy Heights
Born on March 24, 1912, in Richmond, Virginia, African-American activist Dorothy Height spent her life fighting for civil rights and women's rights. The daughter of a building contractor and a nurse, Height moved with her family to Rankin, Pennsylvania, in her youth. There, she attended racially integrated schools.
In high school, Height showed great talent as an orator. She also became socially and politically active, participating in anti-lynching campaigns. Height's skills as a speaker took her all the way to a national oratory competition. Winning the event, she was awarded a college scholarship.
Height had applied to and been accepted to Barnard College in New York, but as the start of school neared, the college changed its mind about her admittance, telling Height that they had already met their quota for black students. Undeterred, she applied to New York University, where she would earn two degrees: a bachelor's degree in education in 1930 and a master's degree in psychology in 1932.
After working for a time as a social worker, Height joined the staff of the Harlem YWCA in 1937. She had a life-changing encounter not long after starting work there. Height met educator and founder of the National Council of Negro Women Mary McLeod Bethune when Bethune and U.S. first lady Eleanor Roosevelt came to visit her facility. Height soon volunteered with the NCNW and became close to McLeod.
One of Height's major accomplishments at the YWCA was directing the integration of all of its centers in 1946. She also established its Center for Racial Justice in 1965, which she ran until 1977. In 1957, Height became the president of the National Council of Negro Women. Through the center and the council, she became one of the leading figures of the Civil Rights Movement. Height worked with Martin Luther King Jr., A. Philip Randolph, Roy Wilkins, Whitney Young, John Lewis and James Farmer - sometimes called the "Big Six" of the Civil Rights Movement - on different campaigns and initiatives.
Height received many honors for her contributions to society. In 1994, President Bill Clinton awarded her the Presidential Medal of Freedom. In 2004, President George W. Bush gave Height the Congressional Gold Medal. She later befriended the first African-American president of the United States, Barack Obama, who called her "the godmother of the Civil Rights Movement," according to The New York Times. Height died in Washington, D.C., on April 20, 2010.
On February 1, 2017, the United States Postal Service kicked off Black History month with the issuance of the Dorothy Height Forever stamp honoring her civil rights legacy.
Submitted by Darrion Culler dc199@evansville.edu
Proposal Deadline February 20 for UE's Environmental Sustainability Challenge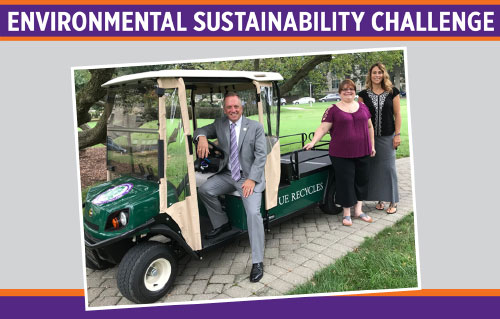 Want to make an impact on environmental sustainability, but need funds to get your ideas off the ground? Submit a proposal for UE's Environmental Sustainability Challenge to have your projects considered for funding from the Green Fund.
Submission deadline: February 20.
The Green Fund began with a $25,000 environmental sustainability grant from Siemens, and additional funds may be generated through fundraising or savings gained through successful Environmental Sustainability Challenge projects.
Learn more about the challenge and submit a proposal online here.
Inaugural Challenge Winner:
The battery operated golf cart proposed as the winning submission to the inaugural Environmental Sustainability Challenge in Spring 2018 is now on campus and in use by UE Recycling. Learn more and see photos on the UE website.
Submitted by: UE's Environmental Sustainability Committee
Enjoy a 2019 UE Calendar compliments of Development
UE employees will be receiving a 2019 UE calendar this week with their office mail. Thank you for all you do for UE; please enjoy and display proudly! If you did not receive one or would like an additional one for your home or to share with family or friends, please contact Jennifer Calderone at jj130@evansville.edu or ext. 2021.
Happy New Year from the Office of Development and Alumni Relations.
Submitted by Jennifer J Calderone jj130@evansville.edu
twiSTEM and UE hosting 7th Annual Beauty of Engineering
twiSTEM and UE are hosting the 7th annual Beauty of Engineering on March 9, from 7:45-11:15 a.m. This is an exploration opportunity for girls in grades 4 through 8.
The goal of the workshop is to help girls understand engineering and computer science. The workshop is executed in a rotation of activity stations staffed by professional women and college students in the fields of engineering and computer science.
The cost is $10 per participant and registration deadline is March 4, and is limited to the first 120 applicants.
To register your child, please visit our Eventbrite event: https://beautyofengineering2019.eventbrite.com.
If you have a group of girls that you want in the same class rotation, please register them on line together, as you can purchase multiple tickets at one time or if each parent is registering online individually, you can email us the list of the girls names and we'll group them together.
If you have questions, please email us at twistem.evv@gmail.com..
Submitted by Kimberly Higgins kh209@evansville.edu
UE Engineering OPTIONS Camps accepting applications
The College of Engineering and Computer Science at the University of Evansville announces open registration for its 2019 Engineering OPTIONS summer camps.
High School Girls summer career exploration program is a week-long residential opportunity at UE for high school girls currently in grades 9, 10, or 11 who have completed geometry. The program begins Sunday, June 9 and concludes Friday, June 14. Registration deadline is April 1.
Middle School Girls summer career exploration program is a 3 ½ day residential opportunity at UE for middle school girls currently in grades 6, 7, or 8. The program begins Sunday, June 16 and concludes Wednesday, June 19. Registration deadline is April 1.
Middle School Boys summer career exploration program is a week-long day camp opportunity at UE for middle school boys currently in grades 6, 7, or 8 and elementary school boys currently in grade 5. It will be held daily from Monday, June 24-Friday, June 28. Registration deadline is May 1.
Program participants will gain a better understanding of the opportunities available in fields closely related to science, technology, engineering, and mathematics (STEM).
Dependent children of University of Evansville employees are eligible for a $125 discount toward the cost of registration.
For more information, to obtain an application, or apply online, see www.evansville.edu/options.
Eykamp Prize: Call for Nominations
The Eykamp Prize was established by Richard and Rita Eykamp in 2015 to honor Faculty Achievement at the University of Evansville. Recipients of the prize will receive a one-time award of $10,000 in recognition of extraordinary contributions to the University of Evansville as University Citizens. Examples of such contributions include deep and successful involvement in recruiting students; expanding the number, scope, and competitiveness of grant funding for their department; bringing positive public awareness to the University through scholarship, knowledge, and understanding of their discipline. Up to two prizes a year may be awarded.
Nominations for the Eykamp Award may come from any member of the University of Evansville Community. Nominees should be tenured or tenure-track faculty members at the University of Evansville who have not received the award in the previous five years. Nominations can be submitted in writing or via e-mail to Michael Austin, Executive Vice President for Academic Affairs/Provost, by March 15, 2019. Nominations should include the name of the faculty member and a brief statement of the reasons that he or she is being nominated.
Recipients of the Eykamp Award will be selected by an Awards Committee, appointed by the EVPAA/Provost that includes members of the faculty and staff, academic administrators, and at least one member of the Board of Trustees. Awards will be announced and presented at the May Commencement Ceremony.
Previous Recipients: 2016 – Dr. Mark Valenzuela; 2017 – Dr. Lora Becker; 2018 – Dr. David Dwyer.
Sign Up for Barn Blitz (BB2)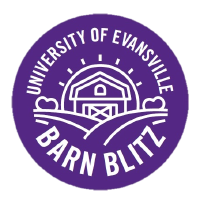 Barn Blitz 2 is happening! We are building backyard barns for Habitat for Humanity! There are several build dates.
February 2: Cutting components (ONLY)
February 9: Cutting components and building components
February 16: Cutting components and building components
February 23: Cutting components and building components
March 2: Cutting components and building components
March 23: Building components (ONLY)
March 30: Building components (ONLY)
April 6: Barn Blitz Day!
Please sign up to participate here: http://signup.com/go/odygOXP.
If you would like to claim a barn for your team or if you would like to be placed on a team for April 6, e-mail Karyssa Vasquez at kv54@evansville.edu. If claiming a barn for your team, please include a team name for your barn in your email.
Submitted by Karyssa Vasquez kv54@evansville.edu
UE CiSM Project Receives $1 Million Grant for Scholarships from the NSF S-STEM Program
The University of Evansville's Computers in Science and Math (CiSM) project has been awarded a grant totaling $999,934 to fund scholarships for academically talented students with financial need majoring in biochemistry, biology, chemistry, environmental science, mathematics, physics, or statistics and data science.
The project, funded by the National Science Foundation's (NSF) Scholarships in Science, Technology, Engineering, and Mathematics (S-STEM) program, is led by UE faculty members Joyce Stamm, professor of biology; Angela Reisetter, associate professor of physics; Adam Salminen, associate professor of mathematics; and Sarah Wilson, assistant professor of chemistry.
The CiSM scholarships will be available beginning in the fall 2020 semester and will provide up to $10,000 per year for four years to two cohorts of seven or eight students. These students will be part of an interdisciplinary learning community established through an all-expenses paid bridge course during the summer before the freshman year, and maintained as the students live together in UE's honors residence hall and enroll together in computational problem-solving courses. CiSM students will also receive summer research and conference attendance funds, and CiSM-specific academic advising, career preparation, and mentoring.
"This interdisciplinary cohort approach will prepare our students for a real work setting, where biologists and mathematicians may work alongside chemists and physicists toward a common goal," said Stamm. "The interpersonal skills developed from living and working together are just as, if not more, important than the technical skills gained through coursework. It allows them to learn to speak the same language."
Reisetter added, "Computational problem-solving skills are not currently emphasized in UE's math and science curriculum, so we're particularly excited to develop additional talents in our students, which will translate into broader career opportunities and workplace success upon graduation."
To develop these skills, the project will introduce a scaffolded curriculum with four interdisciplinary computational problem-solving courses. The first three courses will focus on the power of computational and data visualization skills in the sciences, and introduce students to interesting data-centric scientific projects. The fourth course will be part of the UE ChangeLab program and will pair student and faculty teams with local business or nonprofit clients. Students will work with the clients to solve a problem involving experimental design, data collection, and/or data analysis. Because these courses will be open to all math and science majors at UE, the CiSM project will have impact beyond the scholarship recipients.
"The digital revolution has allowed scientists and businesses to collect vast quantities of data," said Salminen. "Marketing firms, educators, and sports teams have gleaned knowledge and insights from this data for application to business techniques for many years. Of particular importance here is the growing need of these skills in the sciences."
Evansville to host Missouri State today
Just three more home games remain for the University of Evansville men's basketball team, who opens the week today with a 6:00 p.m. home game against Missouri State. The game will be available on ESPN+ and the Purple Aces Radio Network presented by Learfield.
Setting the Scene
- UE is in search of its fifth home win in a row over the Bears; overall the Purple Aces are 7-1 in the last eight home meetings against MSU
- Evansville has dropped five of its last six games including a 78-73 loss at SIU on Saturday
- This season, UE is 9-4 at the Ford Center and picked up a 64-53 win over Valparaiso in its last home game on February 2
Last Time Out
- Southern Illinois picked up a 78-73 win over the Aces on Saturday; SIU led by as many as 12 in the final minutes before UE rallied to get within three with just under 20 seconds remaining
- The teams swapped the lead six times in the first half, but a triple at the buzzer gave SIU a 35-30 halftime lead and they did not look back
- Both squads shot 47.3% in the game, but each SIU starter scored at least 12 points and the starting five combined for 25 free throw tries
Takeaways from Southern Illinois
- Dainius Chatkevicius scored a career-high 13 points; over the last two games, Chatkevicius has averaged 12.5 points and 8.0 rebounds per game while going 10/16 from the field
- Chatkevicius posted the second double-double of his career as he added 10 rebounds
- Making his second start, Shamar Givance finished with 9 points and a career-high 6 assists; he also had his top season tally of 25 minutes played
- Leading the squad was Marty Hill, who recorded 20 points; he was 4-of-5 from long range
Turning the Corner
- Freshman Shamar Givance made his second start of the season at Southern Illinois and played a season-high of 25 minutes
- In the seven games this season where Givance has played over 20 minutes, he is averaging 6.7 points per game; in contests where he plays 20 or fewer minutes, he has averaged 4.4 points
- He has excelled from outside, hitting 6 of his last 9 tries from long range.
- Through his first seven MVC outings, Givance averaged just 2.9 points per game and 14.3 minutes while shooting 23.5%
- In his last five contests, Givance has rebounded in a major way, posting 6.6 points in 19.6 minutes per game while shooting 52.2%.
Finishing on a High Note
- Dainius Chatkevicius had the best week of his Evansville career, averaging 12.5 points per game including a career-high of 13 points at Southern Illinois
- Chatkevicius hit 10 out of 16 field goal tries and chipped in 8.0 rebounds per contest; he began the week by tying his career mark of 12 points in the game at Indiana State
- Chatkevicius recorded 10 rebounds at SIU on the way to his second career double-double.
Scouting the Opponent
- Missouri State improved to 13-12 overall and 7-5 in the Valley when Jarred Dixon banked in a three at the buzzer to give the Bears a 66-65 win over Illinois State on Sunday
- MSU has won five of its last six games including four in a row at JQH Arena
- Tulio Da Silva continues to pace the Bears with 14.8 points per game while Keandre Cook averages 13.4 PPG and Jarred Dixon checks in with 13.0
- Da Silva is their top rebounder with 7.0 per game and is shooting 58.2% on the season
Employee MBB & WBB Tickets: 2/13-2/17
University faculty and staff can now claim their complimentary pair of tickets for this week's Men's Basketball upcoming games. Wednesday tip-off is at 6:00 p.m. and Sunday is scheduled for 3:00 p.m. Women's Basketball will tip-off Friday at 6:00 p.m. and Sunday at 11:00 a.m. inside the Meeks Family Fieldhouse. Tickets for WBB are granted upon entry. *Photo ID required.
Submitted by Jake Hill jh690@evansville.edu
Contribute to AceNotes
To have content considered for inclusion in AceNotes, please submit a Marketing Request Form. Deadline for submission to AceNotes is 10:00 a.m. on the requested date of publication. Only articles concerning UE related/sponsored activities will be accepted. Articles submitted to AceNotes may be edited for length and clarity. Submitter contact information is at the end of each article.