| | |
| --- | --- |
| AceNotes Today | Monday, February 11, 2019 |
UE CiSM Project Receives $1 Million Grant for Scholarships from the NSF S-STEM Program
The University of Evansville's Computers in Science and Math (CiSM) project has been awarded a grant totaling $999,934 to fund scholarships for academically talented students with financial need majoring in biochemistry, biology, chemistry, environmental science, mathematics, physics, or statistics and data science.
The project, funded by the National Science Foundation's (NSF) Scholarships in Science, Technology, Engineering, and Mathematics (S-STEM) program, is led by UE faculty members Joyce Stamm, professor of biology; Angela Reisetter, associate professor of physics; Adam Salminen, associate professor of mathematics; and Sarah Wilson, assistant professor of chemistry.
The CiSM scholarships will be available beginning in the fall 2020 semester and will provide up to $10,000 per year for four years to two cohorts of seven or eight students. These students will be part of an interdisciplinary learning community established through an all-expenses paid bridge course during the summer before the freshman year, and maintained as the students live together in UE's honors residence hall and enroll together in computational problem-solving courses. CiSM students will also receive summer research and conference attendance funds, and CiSM-specific academic advising, career preparation, and mentoring.
"This interdisciplinary cohort approach will prepare our students for a real work setting, where biologists and mathematicians may work alongside chemists and physicists toward a common goal," said Stamm. "The interpersonal skills developed from living and working together are just as, if not more, important than the technical skills gained through coursework. It allows them to learn to speak the same language."
Reisetter added, "Computational problem-solving skills are not currently emphasized in UE's math and science curriculum, so we're particularly excited to develop additional talents in our students, which will translate into broader career opportunities and workplace success upon graduation."
To develop these skills, the project will introduce a scaffolded curriculum with four interdisciplinary computational problem-solving courses. The first three courses will focus on the power of computational and data visualization skills in the sciences, and introduce students to interesting data-centric scientific projects. The fourth course will be part of the UE ChangeLab program and will pair student and faculty teams with local business or nonprofit clients. Students will work with the clients to solve a problem involving experimental design, data collection, and/or data analysis. Because these courses will be open to all math and science majors at UE, the CiSM project will have impact beyond the scholarship recipients.
"The digital revolution has allowed scientists and businesses to collect vast quantities of data," said Salminen. "Marketing firms, educators, and sports teams have gleaned knowledge and insights from this data for application to business techniques for many years. Of particular importance here is the growing need of these skills in the sciences."
Flamenco Show Friday Night!
Do something unique this Valentine's Day! A Flamenco Show at Lamasco is planned for Friday, February 15 from 6:30- 8:30 p.m. All ages welcome! The UE Ballroom Club has partnered with Dapper Pig, Lamasco Bar, and the Academy of Flamenco Arts to bring you UE trained Flamenco guitarist Gareth Jones, along with live dancing, and a delicious meal in Lamasco's family music room.
**New student ticket option – ONLY $20!**
We have added a new ticket option for students for Friday's Flamenco show that comes with dinner! Any student ages 18 and up with a valid school issued I.D. can purchase tickets to our Flamenco Valentine's dinner for ONLY $20. (Must present a valid student I.D. at the door day of event.)
Tickets for the general public are $50 per person and $90 per couple and includes your meal and the show!
Tickets are available online.
You can watch a promo video of the event on Facebook.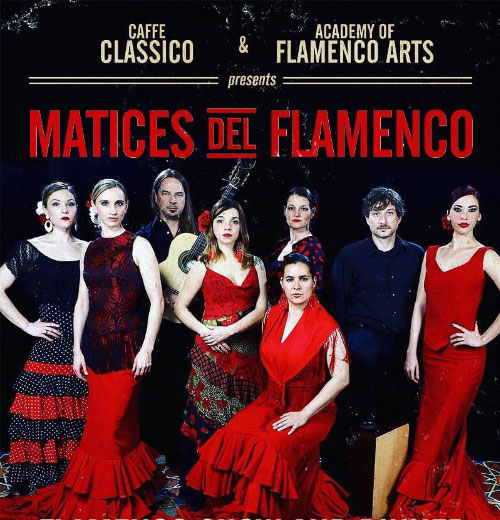 Submitted by Erin Lewis EL131@evansville.edu
Newman Dinner and Discussion: The Eucharist
Join the Newman Club this Wednesday, February 13, at 5:00 p.m. for our weekly dinner and discussion. This week's topic is the source and summit of our faith - the Eucharist. Fr. Mike Schmitz will explain the intimate love of God through the Eucharist. All are welcome!
Submitted by Michaela Kunkler mk305@evansville.edu
This Week in Music: Faculty Recital and Jazz Society Concert
Faculty Recital: Britton, Gan, Keenan, and Ungar
Tuesday, February 12
7:30 p.m., Wheeler Concert Hall
On Tuesday, February 12, at 7:30 p.m. in Wheeler, UE music faculty Emily Britton (horn), Jia-Rong Gan (violin), Alanna Keenan (soprano), and Garnet Ungar (piano) will present a joint faculty recital. Their program will feature works by Schubert, Gounod, Debussy, and Brahms. The recital is free and open to the public.
For full program information, visit the music department concert calendar.
Jazz pianist Stephanie Trick featured in Guest Artist Series
Sunday, February 17
4:00 p.m., Wheeler Concert Hall
Pianist Stephanie Trick, an internationally-recognized master of traditional jazz piano styles, will be featured in the next Jazz Guest Artist Series concert. Co-sponsored by the UE Department of Music and the Evansville Jazz Society, the concert will take place in Wheeler Concert Hall on Sunday, February 17 at 4:00 p.m.
Stephanie is widely recognized as today's most outstanding proponent of the jazz piano styles known as Harlem stride and boogie-woogie. A classically trained pianist, Stephanie discovered piano jazz while still in high school. She has thoroughly incorporated the swinging piano styles of James P. Johnson, Willie "The Lion" Smith, Fats Waller and Meade Lux Lewis. She has performed throughout the USA and Europe, and her exciting performances entertain and engage her audiences with prodigious and amazingly accurate technique. She has recorded seven albums and one DVD. Her "Live" CD was awarded the "New Talent Prize of 2011" by the Hot Club of France.
Admission to the concert is $15 for adults, $10 for Jazz Society members and $5 for students with I.D. Tickets can be obtained by contacting the UE Department of Music at 488-2754, or at the door.
For more information, contact Edwin Lacy at 812-488-2227 or EL2@evansville.edu.
Submitted by James Sullivan js820@evansville.edu
Writing a strong personal statement for professional school
Calling all pre-professional health students! Is the idea of getting started on your personal statement for professional school weighing on your shoulders? Join me this week for a workshop on the ins and outs of writing your personal statement and jump start this sometimes overwhelming step. We will discuss various styles of personal statements, how to get started and even touch upon getting prepared for the application process.
The workshop dates, times, and locations are as follows:
Tuesday, February 12 at 1:00 p.m. in Room 203 (J Henry Schroeder Boardroom) in the library
Wednesday, February 13 at 2:00 p.m. in Room 102 in the Koch Center for Engineering and Science
Submitted by Frances Renschler fr25@evansville.edu
Lunch Charlas
Wanting to practice Spanish? Join associate professor of Spanish Diana Rodríguez Quevedo for lunch, and chat about different topics in Spanish on Wednesdays from noon-1:00 p.m. in the Starbuck's café area in Ridgway University Center. All levels of Spanish welcome. The next Lunch Charlas is this Wednesday, February 13.
Please contact Professor Rodríguez Quevedo at dr130@evansville.edu if you have any questions. ¡Ahí nos vemos!
UE Health and Fitness Fair
The 2019 Health and Fitness Fair will be held in the Fitness Center gym on Thursday, February 14, from 11:00 a.m.-2:00 p.m. Win prizes, free giveaways and visit local businesses (Body Works Massage, Vertical Excape, Club Pilates, Ultimate Fit, etc.).
Submitted by Lori Adams la87@evansville.edu
Musical Madness: Love Story
Musical Madness performances are planned for February 15 and February 16 at 8:30 p.m. in Eykamp Hall, Ridgway University Center. Admission is $5. This year's show features five musical love stories produced by our very own Greek Life! Each musical is full of goofing UE humor and portrays a love story that is familiar to us all. They are all based on movies like High School Musical, Shrek, and Mamma Mia! All of the funds raised will go to the Evansville Rescue Mission and I promise the shows and the cause are much worth the entry fee of $5!
Submitted by Jess Rollins jr273@evansville.edu
Student Career Day challenge – win an Echo Dot!
UE's Center for Career Development challenges you to attend Career Day (it's the career fair for ALL majors) on Tuesday, February 12, from 11:00 a.m.-2:00 p.m. in Carson Center. If you accept this challenge and at least 200 of your peers attend the event, you will be entered into a drawing to win one of three Echo Dots (3rd gen) with a wireless speaker. Dress in your professional attire, show up, and have us swipe your ID, then take advantage of networking with 100+ employers. View registered employers on Handshake.
Submitted by Alison Morris-McDonald am268@evansville.edu
Oscar watch party - Rooting for Rami
The UE Community is invited to an Oscar watch party - "Rooting for Rami" – on Sunday, February 24. The event is a celebration of the Academy Award nomination received by UE alumnus Rami Malek '03 for his leading role of Freddie Mercury in Bohemian Rhapsody. The party will be at the Sunset Ballroom, CityView at Sterling Square, located at 210 North Fulton Avenue in Evansville. Walk the carpet is at 6:00 p.m., with the live broadcast beginning at 7:00 p.m.
Admission is $100 per person and there are only 100 tickets available. All proceeds go to the John David Lutz Theatre Lab opening in Fall of 2019.
Students, alumni, faculty, staff, and community members will be in attendance and it's open to the public.
Black-tie optional. There will be a cash bar.
You can register for the event online and you can learn more about the event on Facebook.
Need a passport?
Representatives from the US Postal Service will be on campus processing passports on Friday, February 15, from 11:00 a.m.-2:00 p.m. in the Harlaxton Room in the Schroeder School of Business Building! If you bring all the required documents, you can get your passport photos taken and your passport processed at this event right here on campus. You can also bring your current passport to be renewed at this event.
Here is what you will need to bring to the event in order to get your passport processed:
Photo identification: US driver's license, and if not from Indiana, a credit or debit card.
Proof of citizenship: Original or certified copy of long form birth or citizenship certificate.
Passport application: Available online at travel.state.gov, at the study abroad office, or at this event.
Payments: Two checks, money orders, or cashier's checks for $110 to the US Department of State and for $30 to the USPS.
Photos on site: Passport photos can be taken during the event for an additional $15 to the USPS.
All members of the UE community - faculty, staff, and students - are welcome to come to this event! Feel free to contact Kaylynn Carver in the study abroad office at kc205@evansville.edu or 812-488-2039 for more information about the event or requirements.
Submitted by Kaylynn Carver kc205@evansville.edu
Medieval Valentines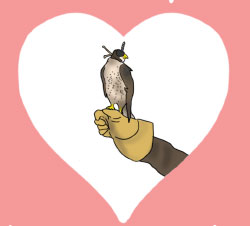 On February 14, professors Annette Parks, Sara Petrosillo, and Tiffany Griffith will present "Medieval Valentines," a discussion of the medieval origins of Valentine's Day, an Old Norse take on love, and the female eagle's choice of suitor. The presentations will be from 4:00-6:00 p.m. in Room 250 in the Schroeder School of Business Building and from 7:00-9:00 p.m. in Room 203 in the library.
Submitted by Marisa Knox mk52@evansville.edu
Today is the deadline for Collegiate Career Expo!
Register by the end of today - Monday, February 11 - for Collegiate Career Expo! This event will provide you with access to over 100 top companies from Indiana and beyond.
Collegiate Career Expo
10:00 a.m. – 3:00 p.m. (Eastern)
Thursday, February 21
Indianapolis Westin
Internship and co-op positions will also be available, so students in all class years are encouraged to attend this event. Don't miss your chance to find a great internship or professional position!
Fair registration is required through Handshake. Click Jobs Tab -> Enter #2217611 in the search bar (this is the posting number). Students must register by Monday, February 11.
The University of Evansville will provide transportation. There is a $10 deposit required that will be refundable upon attendance. Reserve your seat now at: www.evansville.edu/careercenter/students/busReservationForm.cfm.
View registered employers at https://app.careerfairplus.com/cccc_in/fair/1992/employer/178184 or download the Career Fair Plus app today.
Submitted by Alison Morris-McDonald am268@evansville.edu
Last chance! Register for Nerd Wars by end of day today!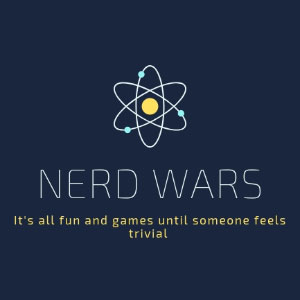 Today is the last day to register your team for Nerd Wars 2019!
The Honors Program is hosting Nerd Wars trivia night on Tuesday, February 26, at 7:00 p.m., in Eykamp Hall, Ridgway University Center. Students, faculty, administrators, and staff can all form teams of up to five people to battle in a competition of wits while enjoying pizza, popcorn, and soda. Winners will receive some incredible prizes!
You can register your team online NOW. The deadline to enter is TODAY, Monday, February 11.
Honors students' registration is FREE! If you are not an honors student, you must pay your $5 per person entry fee to Jayme Williams in Room 238 in the Koch Center for Engineering and Science. Those who are unable to compose a team of five may still register and be matched to make a team.
Submitted by Blake Elliott be80@evansville.edu
Enjoy a 2019 UE Calendar compliments of Development
UE employees will be receiving a 2019 UE calendar this week with their office mail. Thank you for all you do for UE; please enjoy and display proudly! If you did not receive one or would like an additional one for your home or to share with family or friends, please contact Jennifer Calderone at jj130@evansville.edu or ext. 2021.
Happy New Year from the Office of Development and Alumni Relations.
Submitted by Jennifer J Calderone jj130@evansville.edu
A Moment in Black History: Dr. Carter G. Woodson
Carter G. Woodson was Born in 1875 in New Canton, Virginia. After attending Berea College in Kentucky, Woodson worked for the U.S. government as an education superintendent in the Philippines. He undertook more travels before returning stateside to continue his studies, earning his bachelor's and master's degrees from the University of Chicago. Woodson went on to receive a doctorate from Harvard University in 1912, becoming just the second African American to earn a Ph.D. from the prestigious institution, after W.E.B. Du Bois.
After finishing his education, Woodson dedicated himself to the field of African-American history. Known as the "Father of Black History," Woodson lobbied schools and organizations to participate in a special program to encourage the study of African-American history, which began in February 1926 with Negro History Week. The program was later expanded and renamed Black History Month. Woodson had chosen February for the initial weeklong celebration to honor the birth months of abolitionist Frederick Douglass and President Abraham Lincoln.
Woodson wrote more than a dozen books over the course of his career, most notably Mis-Education of the Negro (1933). With its focus on the Western indoctrination system and African-American self-empowerment, Mis-Education has become required reading at numerous colleges and universities. Woodson also penned literature for elementary and secondary school students.
Outside of his writing pursuits, Woodson held down several positions in academia. He served as principal of the Armstrong Manual Training School in Washington, D.C., before becoming a dean at Howard University and the West Virginia Collegiate Institute.
Submitted by Darrion Culler dc199@evansville.edu
Graduation notice correction
All graduating seniors are reminded that Commencement Central will take place on Monday, March 4 upstairs in Ridgway University Center from 4 to 6 p.m. and on Tuesday, March 5 downstairs in Ridgway University Center near the information desk from 11 a.m. to 1 p.m. May graduates should plan on attending either of the events. It only takes a few minutes to finalize your graduation and meet with career planning, the registrar's Office, and the alumni office. You can also purchase your cap/gown and/or order graduation announcements. If you have not filed for graduation you can do that under self-service on the registrar's website.
Submitted by Doug Gustwiller dg57@evansville.edu
Candy Grams
Women of Color and Empowerment is selling Candy Grams for Valentine's Day. Tables will be set up in Ridgway University Center for students and faculty to purchase. Candy grams will be delivered on February 14.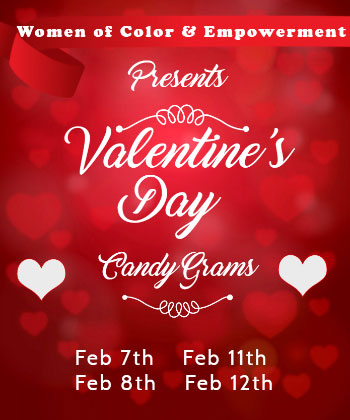 Submitted by Lindsay Sullivan ls292@evansville.edu
twiSTEM and UE hosting 7th Annual Beauty of Engineering
twiSTEM and UE are hosting the 7th annual Beauty of Engineering on March 9, from 7:45-11:15 a.m. This is an exploration opportunity for girls in grades 4 through 8.
The goal of the workshop is to help girls understand engineering and computer science. The workshop is executed in a rotation of activity stations staffed by professional women and college students in the fields of engineering and computer science.
The cost is $10 per participant and registration deadline is March 4, and is limited to the first 120 applicants.
To register your child, please visit our Eventbrite event: https://beautyofengineering2019.eventbrite.com.
If you have a group of girls that you want in the same class rotation, please register them on line together, as you can purchase multiple tickets at one time or if each parent is registering online individually, you can email us the list of the girls names and we'll group them together.
If you have questions, please email us at twistem.evv@gmail.com..
Submitted by Kimberly Higgins kh209@evansville.edu
UE is a charitable organization choice on AmazonSmile
If you shop on AmazonSmile and select the University of Evansville as the charitable organization of your choice, the AmazonSmile Foundation will donate 0.5% of the purchase price of any eligible products that you buy to UE! AmazonSmile is a website operated by Amazon and every item available for purchase on www.amazon.com is also available on AmazonSmile (smile.amazon.com) at the same price. You will see eligible products marked "Eligible for AmazonSmile donation" on their product detail pages. You can find out more about AmazonSmile and its charitable giving program here.
UE Engineering OPTIONS Camps accepting applications
The College of Engineering and Computer Science at the University of Evansville announces open registration for its 2019 Engineering OPTIONS summer camps.
High School Girls summer career exploration program is a week-long residential opportunity at UE for high school girls currently in grades 9, 10, or 11 who have completed geometry. The program begins Sunday, June 9 and concludes Friday, June 14. Registration deadline is April 1.
Middle School Girls summer career exploration program is a 3 ½ day residential opportunity at UE for middle school girls currently in grades 6, 7, or 8. The program begins Sunday, June 16 and concludes Wednesday, June 19. Registration deadline is April 1.
Middle School Boys summer career exploration program is a week-long day camp opportunity at UE for middle school boys currently in grades 6, 7, or 8 and elementary school boys currently in grade 5. It will be held daily from Monday, June 24-Friday, June 28. Registration deadline is May 1.
Program participants will gain a better understanding of the opportunities available in fields closely related to science, technology, engineering, and mathematics (STEM).
Dependent children of University of Evansville employees are eligible for a $125 discount toward the cost of registration.
For more information, to obtain an application, or apply online, see www.evansville.edu/options.
RecycleMania & Recycling at UE
UE is once again participating in RecycleMania, a recycling tournament for universities. The tournament runs from February 4 through the end of March.
At UE, the following items can be placed in an appropriate recycling bin:
• Empty aluminum and steel cans
• Empty plastic containers and drink bottles
• Paper products such as newspapers, office paper, magazines, and empty cereal boxes
• Note: Please place books and used toner cartridges and cardboard next to the recycle bins
Please do NOT put the following items in UE's recycling bins:
• Glass
• Pizza boxes – these can contain food or grease
• Trash such as leftover food and candy wrappers
• Styrofoam
• Full or partially full plastic or aluminum drink containers
• Plastic bags or bubble wrap
• Used tissues and paper towels
To find out where to drop off recyclables at UE, why it's important to recycle and more, check out the UE Recycling Guide at AceLink/Areas/Recycling. Call ext. 2697 or email ae152@evansville.edu with questions.
Submitted by Amber Elkins ae152@evansville.edu
Eykamp Prize: Call for Nominations
The Eykamp Prize was established by Richard and Rita Eykamp in 2015 to honor Faculty Achievement at the University of Evansville. Recipients of the prize will receive a one-time award of $10,000 in recognition of extraordinary contributions to the University of Evansville as University Citizens. Examples of such contributions include deep and successful involvement in recruiting students; expanding the number, scope, and competitiveness of grant funding for their department; bringing positive public awareness to the University through scholarship, knowledge, and understanding of their discipline. Up to two prizes a year may be awarded.
Nominations for the Eykamp Award may come from any member of the University of Evansville Community. Nominees should be tenured or tenure-track faculty members at the University of Evansville who have not received the award in the previous five years. Nominations can be submitted in writing or via e-mail to Michael Austin, Executive Vice President for Academic Affairs/Provost, by March 15, 2019. Nominations should include the name of the faculty member and a brief statement of the reasons that he or she is being nominated.
Recipients of the Eykamp Award will be selected by an Awards Committee, appointed by the EVPAA/Provost that includes members of the faculty and staff, academic administrators, and at least one member of the Board of Trustees. Awards will be announced and presented at the May Commencement Ceremony.
Previous Recipients: 2016 – Dr. Mark Valenzuela; 2017 – Dr. Lora Becker; 2018 – Dr. David Dwyer.
Reminder to register for UE Connect Lunch and Learn by Feb. 11
Campus is invited to attend UE Connect Lunch and Learn - February 2019 on Wednesday, February 13, from noon-1:00 p.m. in Eykamp Hall, Rooms 253-255, Ridgway University Center. A complimentary lunch is provided to those who pre-register. Register online by Monday, February 11, at: www.uealumnionline.com/uecll19.

Are you starting to think about your future, post UE? Maybe you're eager to embark on your career journey or maybe you're nervous about navigating the job market. Regardless of the bucket you fall under, it's important to define your professional values and work towards finding your ideal culture so that you can build a career where you thrive. Beth Hochgesang Kincaid and Lauren Brown Howard are excited to discuss how our experiences and social networking skills helped them land opportunities that they are passionate about at one of the nation's Best Places to Work.
Have a suggestion for future Lunch & Learns? Email a lunch and learn topic to alumni@evansville.edu!
Questions? Contact the Office of Alumni and Parent Relations at 812-488-2586 or alumni@evansville.edu.
Submitted by Nichole Coffey ns50@evansville.edu
Sign Up for Barn Blitz (BB2)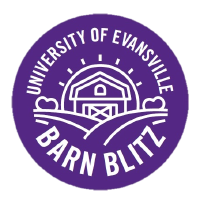 Barn Blitz 2 is happening! We are building backyard barns for Habitat for Humanity! There are several build dates.
February 2: Cutting components (ONLY)
February 9: Cutting components and building components
February 16: Cutting components and building components
February 23: Cutting components and building components
March 2: Cutting components and building components
March 23: Building components (ONLY)
March 30: Building components (ONLY)
April 6: Barn Blitz Day!
Please sign up to participate here: http://signup.com/go/odygOXP.
If you would like to claim a barn for your team or if you would like to be placed on a team for April 6, e-mail Karyssa Vasquez at kv54@evansville.edu. If claiming a barn for your team, please include a team name for your barn in your email.
Submitted by Karyssa Vasquez kv54@evansville.edu
Dean Shang speaks at Vincennes University on Chinese New Year
Ying Shang, dean of the College of Engineering and Computer Science, was the keynote speaker at the Chinese New Year celebration dinner hosted by the Vincennes University Office of International Affairs on February 5 at the Green Activities Center. Shang gave a presentation titled, "Women/Minorities Leadership: Cracking the Glass Ceiling and Bamboo Ceiling." The event was open to the public and was also attended by Michael Austin, UE executive vice president of academic affairs and provost.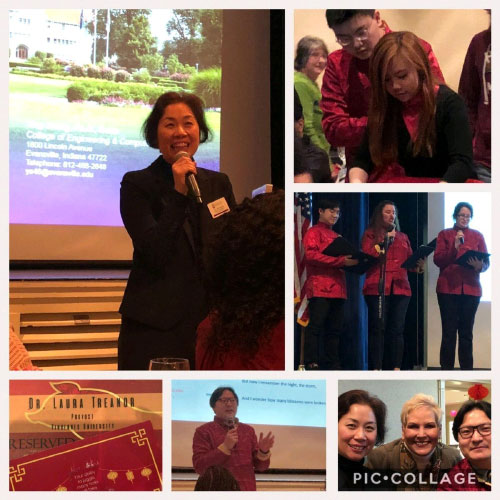 Professor Roslyn Lampkins awarded grant
Roslyn Lampkins, assistant professor in the Department of Chemistry, has been awarded a $10,000 grant from the PCMNCG (Pittsburgh Conference Memorial National College Grants) Program. This is a very competitive program in which grants are awarded to small college science departments for the purchase of scientific equipment, audio-visual or other teaching aids, and/or library materials for use in the teaching of science at the undergraduate level.
Employee MBB & WBB Tickets: 2/13-2/17
University faculty and staff can now claim their complimentary pair of tickets for this week's Men's Basketball upcoming games. Wednesday tip-off is at 6:00 p.m. and Sunday is scheduled for 3:00 p.m. Women's Basketball will tip-off Friday at 6:00 p.m. and Sunday at 11:00 a.m. inside the Meeks Family Fieldhouse. Tickets for WBB are granted upon entry. *Photo ID required.
Submitted by Jake Hill jh690@evansville.edu
Aces battle to the finish against Salukis
Marty Hill scored a game-high 20 points and Dainius Chatkevicius added a career-high of 13 points, but five Southern Illinois players reached double digits with the Salukis hanging on for a 78-73 win over the University of Evansville men's basketball team on Saturday evening inside SIU Arena.

"I loved our fight tonight, we were ready to go. We never gave in and fought to the end. That is what I wanted to see," UE head coach Walter McCarty said. "We were against a really good basketball team tonight and we were able to run our actions; we are growing as a basketball team. We are playing a lot of freshmen and sophomore and I am happy with the way they never gave up."

Hill had an efficient night for the Purple Aces (10-15, 4-8 MVC), posting his 20 points on 5-for-8 shooting and a 6-of-7 effort from the line. Chatkevicius led everyone with his 10 rebounds along with 13 points on the way to his second career double-double and his first of the season. K.J. Riley scored 11 points.

Leading SIU (13-12, 6-6 MVC) was Kavion Pippen, who scored 18 points. Aaron Cook was next with 15.

Evansville utilized the long ball to score its first six points of the game. Shamar Givance knocked down the first before John Hall connected to give UE a 6-5 lead at the 15:39 mark. The teams continued to swap the lead over the opening as four more lead changes led to a 16-15 lead for the Salukis at the midway point of the half.

Over the next five minutes, Southern Illinois used an 11-2 run to take a 27-17 advantage with under five minutes left in the period. They hit five out of eight shots in the run. Evansville made sure the edge for SIU did not get any higher as they scored the next eight points. Started off by a pair of K.J. Riley free throws, the Aces connected on their next three tries and got within a pair at 27-25. The Salukis connected on a triple at the buzzer to take a 35-30 halftime advantage.

Southern Illinois recorded the first six points of the second half, extending their lead to a game-high 41-30. Just as they did in the first half, the Aces came right back. Marty Hill scored five in a row to cut the gap to six before a dunk by Dainius Chatkevicius got UE back within four at 43-39 four minutes in.

Shea Feehan got the Aces even closer. Two minutes later, his triple made it a one-point game – 45-44. Evansville was never able to get the basket to give them the lead during that stretch. Southern Illinois increased its lead to 12 points (66-54) with three minutes on the clock. The Aces did not make things easy for SIU. Hill struck again with his third triple of the night before a Jawaun Newton layup one minute later cut the deficit to 66-60.

Evansville got even closer. In the final 20 seconds, Riley and Hill connected on 3-pointers that made it just a 3-point game, but two late free throws finished off the SIU win, making it a 78-73 final.

Both teams finished the game shooting 47.3%. UE took the rebounding edge by a 35-31 final.

Two home games are upcoming for the Aces when they welcome Missouri State to the Ford Center on Wednesday at 6:00 p.m. before UNI comes to town on Sunday, Feb. 17 for a 3:00 p.m. game.
Evansville defeats Green Bay in final day of opening weekend
Ashleigh Downing and Katie McLean had stellar outings to lead the University of Evansville softball team to a 5-4 victory over Green Bay in Sunday's finale of the Total Control Sports Invitational in Rosemont, Ill.

McLean went 1-4 with a pair of runs and RBIs. Downing tossed 3 2/3 scoreless innings giving up just one hit to earn the win.

Green Bay opened the scoring with a run in the top of the first before Evansville tied the score with a single run in the bottom of the third. McLean reached on a fielder's choice before advancing to third on a double by Eryn Gould. Bailee Bostic reached on an error, which allowed McLean to score the tying run.

In the top of the fourth, the Phoenix took the lead right back with three runs. The score remained 4-1 in favor of Green Bay until the bottom half of the sixth when Evansville took the lead for good.

Allison Daggett reached on a leadoff single before Toni Galas got on base via an error. Haley Woolf reached on a walk to load the bases. With one out, Mackenzie McFeron grounded out to second to bring Galas home. Evansville continued to rally with two outs as McLean notched a 2-RBI double to tie the game up at four. The winning run for UE crossed the plate when Lindsay Renneisen drew a bases loaded walk.

From there, Downing shut the door on Green Bay in the top of the seventh to give Evansville the win. Downing threw the final 3 2/3 frames and gave up just one hit. Izzy Vetter made the start, going two innings and giving up one run. Emily Lockhart was in the circle for 1 1/3 innings.

As a team, the Aces notched five hits. McLean, Gould, Bostic, Daggett, and Woolf had the hits.
Contribute to AceNotes
To have content considered for inclusion in AceNotes, please submit a Marketing Request Form. Deadline for submission to AceNotes is 10:00 a.m. on the requested date of publication. Only articles concerning UE related/sponsored activities will be accepted. Articles submitted to AceNotes may be edited for length and clarity. Submitter contact information is at the end of each article.