| | |
| --- | --- |
| AceNotes Today | Thursday, February 7, 2019 |
Bike Race meeting today
The first Captains/Riders meeting for Bike Race 2019 will be in Room 113 of Carson Center at 4:15 p.m. today. If you plan to or are interested in participating this year, please join us for this quick meeting.
Submitted by Drew Hawkins ah519@evansville.edu
BSU kicks off Black History Month with series of movies and discussions
The Black Student Union (BSU) will kick off Black History Month at UE with a series of movies and discussions. On each Thursday of this month, BSU will co-host with the Race and Ethnicity Minor Studies a movie and discussion. The first movie will be Malcolm X on Thursday, February 7 at 7:00 p.m. in Room 170 in the Schroeder School of Business Building. The next movie will be on Thursday, February 14.
Black History Month, also known as African-American History month, is an annual observance of accomplishments made by people or events in the history of the African diaspora. It is celebrated in the United States from February 1-29 as a way to celebrate the honors and contributions of blacks/African-Americans. It was started by Dr. Carter G. Woodson and has been recognized since 1926.
The event is free and all students, faculty, and staff are welcome to attend.
Submitted by LaNeeca Williams lw161@evansville.edu
Student Mt. Dew AMP Game Fuel Beverage Sampling - FREE
PepsiCo is sponsoring a student beverage promotional sampling event on UE campus on Thursday, February 7, from 11:30 a.m. to 1:00 p.m. (or until the samples run out). This is an opportunity to try a sample of Mt. Dew AMP Game Fuel. Game Fuel is a beverage created for gamers, by gamers. Students be sure to try a sample on Thursday!
When: Thursday, February 7, 11:30 a.m. - 1:00 p.m.
Where: Ridgway University Center under the TV monitor that is outside of the secure dining area.
Submitted by Kim Winsett kw83@evansville.edu
PT Club Meeting!
PT Club will be having its first meeting of the semester on Thursday, February 7 at 5:00 p.m. in Room 100 in Graves Hall. We will be talking about events happening throughout the semester and having a speaker who attended CSM.
Submitted by Stephanie Snodgrass ss597@evansville.edu
Student Career Day challenge – win an Echo Dot!
UE's Center for Career Development challenges you to attend Career Day (it's the career fair for ALL majors) on Tuesday, February 12, from 11:00 a.m.-2:00 p.m. in Carson Center. If you accept this challenge and at least 200 of your peers attend the event, you will be entered into a drawing to win one of three Echo Dots (3rd gen) with a wireless speaker. Dress in your professional attire, show up, and have us swipe your ID, then take advantage of networking with 100+ employers. View registered employers on Handshake.
Submitted by Alison Morris-McDonald am268@evansville.edu
Creative Problem Solving Workshop - February 13
Space is still available for the professional development workshop on February 13. Register online at www.evansville.edu/centerforlearning/professional-development.cfm.
This workshop will provide hands-on opportunities for participants to learn about creativity and problem solving. In advance of the workshop, all participants will take the Basadur Profile, an assessment that identifies their creative problem solving style. The profile includes an individual print out and a scatter diagram for the entire team. Some of the topics addressed include the accelerating rate of change in today's society, how people gain and use knowledge, characteristics of effective creative problem solving teams, and divergent and convergent thinking.
Participants walk away with an enhanced understanding of creative problem solving and how these skills can be applied within their organization. These skills have been applied in all types of organizations, including Fortune 500 companies, nonprofits, universities, government entities, schools, religious institutions, and small businesses.
Submitted by Lindsay Roberts lr155@evansville.edu
Oscar watch party - Rooting for Rami
The UE Community is invited to an Oscar watch party - "Rooting for Rami" – on Sunday, February 24. The event is a celebration of the Academy Award nomination received by UE alumnus Rami Malek '03 for his leading role of Freddie Mercury in Bohemian Rhapsody. The party will be at the Sunset Ballroom, CityView at Sterling Square, located at 210 North Fulton Avenue in Evansville. Walk the carpet is at 6:00 p.m., with the live broadcast beginning at 7:00 p.m.
Admission is $100 per person and there are only 100 tickets available. All proceeds go to the John David Lutz Theatre Lab opening in Fall of 2019.
Students, alumni, faculty, staff, and community members will be in attendance and it's open to the public.
Black-tie optional. There will be a cash bar.
You can register for the event online and you can learn more about the event on Facebook.
Need a passport?
Representatives from the US Postal Service will be on campus processing passports on Friday, February 15, from 11:00 a.m.-2:00 p.m. in the Harlaxton Room in the Schroeder School of Business Building! If you bring all the required documents, you can get your passport photos taken and your passport processed at this event right here on campus. You can also bring your current passport to be renewed at this event.
Here is what you will need to bring to the event in order to get your passport processed:
Photo identification: US driver's license, and if not from Indiana, a credit or debit card.
Proof of citizenship: Original or certified copy of long form birth or citizenship certificate.
Passport application: Available online at travel.state.gov, at the study abroad office, or at this event.
Payments: Two checks, money orders, or cashier's checks for $110 to the US Department of State and for $30 to the USPS.
Photos on site: Passport photos can be taken during the event for an additional $15 to the USPS.
All members of the UE community - faculty, staff, and students - are welcome to come to this event! Feel free to contact Kaylynn Carver in the study abroad office at kc205@evansville.edu or 812-488-2039 for more information about the event or requirements.
Submitted by Kaylynn Carver kc205@evansville.edu
Moore Hall Committees present: Val(anti)ne's Day!
Join us for free snacks and drinks celebrating an Anti-Valentine's event on Sunday, February 10, in Eykamp Hall, Rooms 251/252, Ridgway University Center from 1:00 - 5:30 p.m.! Both couples and singles can take part in speed friending, Trivia and a movie celebrating love and friendship!
Submitted by Pema C. Sherpa ps141@evansville.edu
Saturday auditions for Vagina Monologues production
Women's Rights Awareness (WRA) will be hosting a presentation of The Vagina Monologues at the end of February, and auditions are Saturday at 7:00 p.m. in Room 142 in the Krannert Hall of Art and Music. Any student and faculty member are welcome to audition and experience is not necessary. The Vagina Monologues is a series of monologues, written by Eve Ensler, that is performed globally every February to raise awareness of domestic abuse towards women. WRA will be donating profits from their production to Albion Fellows Bacon Center of Evansville.
Submitted by Alyssa Lueken al267@evansville.edu
A Moment in Black History: Dr. Mary McLeod Bethune
Born Mary Jane Mcleod on July 10, 1875, in Mayesville, South Carolina, Mary Mcleod Bethune grew up in poverty, as one of 17 children born to former slaves. Everyone in the family worked, and many toiled in the fields. Bethune became the only child in her family to go to school when a missionary opened a school nearby for African-American children. Traveling miles each way, she walked to school each day and did her best to share her newfound knowledge with her family.
Bethune later received a scholarship to the Scotia Seminary (now Barber-Scotia College), a school for girls in Concord, North Carolina. After graduating in 1893, she went to the Dwight Moody's Institute for Home and Foreign Missions (Moody Bible Institute) in Chicago. Returning to the South, she began her career as a teacher.
For nearly a decade, Bethune worked as an educator. She married fellow teacher Albertus Bethune in 1898. She believed that education provided the key to racial advancement. To that end, Bethune founded the Daytona Normal and Industrial Institute for Negro Girls in Daytona, Florida, in 1904. Starting out with only five students, she helped grow the school to more 250 students.
Bethune served as the school's president, and she remained its leader even after it was combined with the Cookman Institute for Men in 1923. The merged institution became known as the Bethune-Cookman College. The college was one of the few places that African-American students could pursue a college degree. Bethune stayed with the college until 1942.
In addition to her work at the school, Bethune did much to contribute to American society at large. She served as the president of the Florida chapter of the National Association of Colored Women for many years. In 1924, Bethune became the organization's national leader.
Bethune also became involved in government service, lending her expertise to several presidents. President Calvin Coolidge invited her to participate a conference on child welfare. For President Herbert Hoover, she served on Commission on Home Building and Home Ownership and was appointed to a committee on child health. But her most significant roles in public service came from President Franklin D. Roosevelt.
In 1935, Bethune became a special advisor to President Roosevelt on minority affairs. That same year, she also started up her own civil rights organization, the National Council of Negro Women. Bethune created this organization to represent numerous groups working on critical issues for African-American women. She received another appointment from President Roosevelt the following year. In 1936, she became the director of the Division of Negro Affairs of the National Youth Administration. One of her main concerns in this position was helping young people find job opportunities. In addition to her official role in the Roosevelt administration, Bethune became a trusted friend and adviser to both the president and his wife Eleanor Roosevelt.
Mary McLeod Bethune was an educator and activist, serving as president of the National Association of Colored Women and founding the National Council of Negro Women, believing that education provided the key to racial advancement.
Graduation notice correction
All graduating seniors are reminded that Commencement Central will take place on Monday, March 4 upstairs in Ridgway University Center from 4 to 6 p.m. and on Tuesday, March 5 downstairs in Ridgway University Center near the information desk from 11 a.m. to 1 p.m. May graduates should plan on attending either of the events. It only takes a few minutes to finalize your graduation and meet with career planning, the registrar's Office, and the alumni office. You can also purchase your cap/gown and/or order graduation announcements. If you have not filed for graduation you can do that under self-service on the registrar's website.
Submitted by Doug Gustwiller dg57@evansville.edu
Paoli Peaks Ski Trip
Join Venturing Crew and International Club for their annual trip to Paoli Peaks this Friday from 5:00 p.m.-2:00 a.m.! The cost of this trip is $10 (includes transportation and lessons) and you can reserve your spot by signing up at the tables in Ridgway University Center, Wednesday and Thursday, from 11:00 a.m.-1:00 p.m. and 5:00-7:00 p.m.
Submitted by Katie Mearns km399@evansville.edu
Honors Program students volunteer in the community
Honors students volunteered their time at Ronald McDonald House and United Caring Services through their community service initiative that they call HACER (to do). Thanks to the following honors students for their time and care: Cecilia Thon, Pranav Haran, Zach Eaglin, Lauren Stevenson, Samarth Sheth, Samantha Wallisch, Michaela Kunkler, Jared Bailey, Connor Lubbenhusen, and Meghana Bhaskara.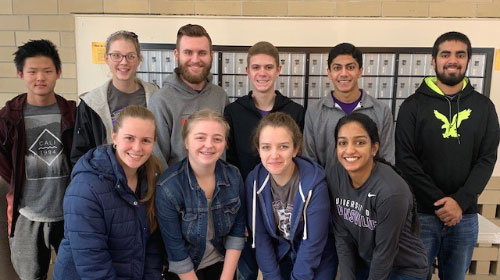 Cherie Leonhardt CL29@evansville.edu
Candy Grams
Women of Color and Empowerment is selling Candy Grams for Valentine's Day. Tables will be set up in Ridgway University Center for students and faculty to purchase. Candy grams will be delivered on February 14.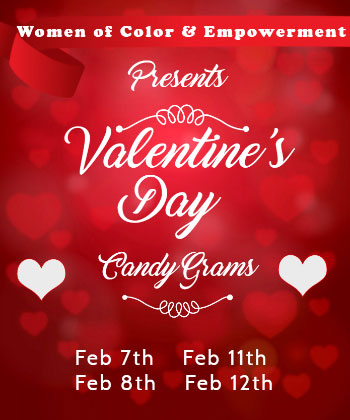 Submitted by Lindsay Sullivan ls292@evansville.edu
Nerd Wars 2019: New registration deadline extension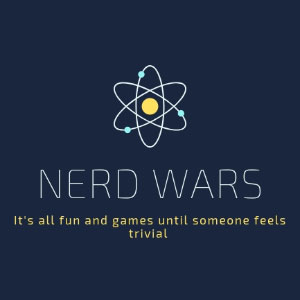 The Honors Program is hosting Nerd Wars trivia night on Tuesday, February 26, at 7:00 p.m., in Eykamp Hall, Ridgway University Center. Students, faculty, administrators, and staff can all form teams of up to five people to battle in a competition of wits while enjoying pizza, popcorn, and soda. Winners will receive some incredible prizes!
You can register your team online NOW. The deadline to enter has now been extended to February 11.
Honors students' registration is FREE! If you are not an honors student, you must pay your $5 per person entry fee to Jayme Williams in Room 238 in the Koch Center for Engineering and Science. Those who are unable to compose a team of five may still register and be matched to make a team.
Submitted by Blake Elliott be80@evansville.edu
twiSTEM and UE hosting 7th Annual Beauty of Engineering
twiSTEM and UE are hosting the 7th annual Beauty of Engineering on March 9, from 7:45-11:15 a.m. This is an exploration opportunity for girls in grades 4 through 8.
The goal of the workshop is to help girls understand engineering and computer science. The workshop is executed in a rotation of activity stations staffed by professional women and college students in the fields of engineering and computer science.
The cost is $10 per participant and registration deadline is March 4, and is limited to the first 120 applicants.
To register your child, please visit our Eventbrite event: https://beautyofengineering2019.eventbrite.com.
If you have a group of girls that you want in the same class rotation, please register them on line together, as you can purchase multiple tickets at one time or if each parent is registering online individually, you can email us the list of the girls names and we'll group them together.
If you have questions, please email us at twistem.evv@gmail.com..
Submitted by Kimberly Higgins kh209@evansville.edu
TIAA-CREF individual counseling appointments
The TIAA-CREF representative will be on the UE campus for individual counseling sessions on Wednesday, February 20. To schedule an appointment, call TIAA-CREF at 1-800-732-8353.
Please note that the meeting location has been changed to Room 153 (Eades Music Room) in the Schroeder School of Business Building.
Submitted by Lori LeDuc LL138@evansville.edu
RecycleMania & Recycling at UE
UE is once again participating in RecycleMania, a recycling tournament for universities. The tournament runs from February 4 through the end of March.
At UE, the following items can be placed in an appropriate recycling bin:
• Empty aluminum and steel cans
• Empty plastic containers and drink bottles
• Paper products such as newspapers, office paper, magazines, and empty cereal boxes
• Note: Please place books and used toner cartridges and cardboard next to the recycle bins
Please do NOT put the following items in UE's recycling bins:
• Glass
• Pizza boxes – these can contain food or grease
• Trash such as leftover food and candy wrappers
• Styrofoam
• Full or partially full plastic or aluminum drink containers
• Plastic bags or bubble wrap
• Used tissues and paper towels
To find out where to drop off recyclables at UE, why it's important to recycle and more, check out the UE Recycling Guide at AceLink/Areas/Recycling. Call ext. 2697 or email ae152@evansville.edu with questions.
Submitted by Amber Elkins ae152@evansville.edu
Now hiring UE Reads Tutors
Students who are eligible for federal work study and are interested in helping children build literacy skills are encouraged to apply as tutors with UE Reads. Tutors go to local schools in after-school daycare programs to provide fun and meaningful lessons to help elementary students build their reading skills. The pay is great and the schedule is typically 2 or 3 days per week between the hours of 2:30-6:00 p.m., Monday through Friday. Please contact Karen Martin at km306@evansville.edu or stop by Graves Hall 310 for additional information.
Eykamp Prize: Call for Nominations
The Eykamp Prize was established by Richard and Rita Eykamp in 2015 to honor Faculty Achievement at the University of Evansville. Recipients of the prize will receive a one-time award of $10,000 in recognition of extraordinary contributions to the University of Evansville as University Citizens. Examples of such contributions include deep and successful involvement in recruiting students; expanding the number, scope, and competitiveness of grant funding for their department; bringing positive public awareness to the University through scholarship, knowledge, and understanding of their discipline. Up to two prizes a year may be awarded.
Nominations for the Eykamp Award may come from any member of the University of Evansville Community. Nominees should be tenured or tenure-track faculty members at the University of Evansville who have not received the award in the previous five years. Nominations can be submitted in writing or via e-mail to Michael Austin, Executive Vice President for Academic Affairs/Provost, by March 15, 2019. Nominations should include the name of the faculty member and a brief statement of the reasons that he or she is being nominated.
Recipients of the Eykamp Award will be selected by an Awards Committee, appointed by the EVPAA/Provost that includes members of the faculty and staff, academic administrators, and at least one member of the Board of Trustees. Awards will be announced and presented at the May Commencement Ceremony.
Previous Recipients: 2016 – Dr. Mark Valenzuela; 2017 – Dr. Lora Becker; 2018 – Dr. David Dwyer.
Reminder to register for UE Connect Lunch and Learn by Feb. 11
Campus is invited to attend UE Connect Lunch and Learn - February 2019 on Wednesday, February 13, from noon-1:00 p.m. in Eykamp Hall, Rooms 253-255, Ridgway University Center. A complimentary lunch is provided to those who pre-register. Register online by Monday, February 11, at: www.uealumnionline.com/uecll19.

Are you starting to think about your future, post UE? Maybe you're eager to embark on your career journey or maybe you're nervous about navigating the job market. Regardless of the bucket you fall under, it's important to define your professional values and work towards finding your ideal culture so that you can build a career where you thrive. Beth Hochgesang Kincaid and Lauren Brown Howard are excited to discuss how our experiences and social networking skills helped them land opportunities that they are passionate about at one of the nation's Best Places to Work.
Have a suggestion for future Lunch & Learns? Email a lunch and learn topic to alumni@evansville.edu!
Questions? Contact the Office of Alumni and Parent Relations at 812-488-2586 or alumni@evansville.edu.
Submitted by Nichole Coffey ns50@evansville.edu
Register for Collegiate Career Expo!
Register by next Monday, February 11, for Collegiate Career Expo! This event will provide you with access to over 100 top companies from Indiana and beyond.
Collegiate Career Expo
10:00 a.m. – 3:00 p.m. (Eastern)
Thursday, February 21
Indianapolis Westin
Internship and co-op positions will also be available, so students in all class years are encouraged to attend this event. Don't miss your chance to find a great internship or professional position!
Fair registration is required through Handshake. Click Jobs Tab -> Enter #2217611 in the search bar (this is the posting number). Students must register by Monday, February 11.
The University of Evansville will provide transportation. There is a $10 deposit required that will be refundable upon attendance. Reserve your seat now at: www.evansville.edu/careercenter/students/busReservationForm.cfm.
View registered employers at https://app.careerfairplus.com/cccc_in/fair/1992/employer/178184 or download the Career Fair Plus app today.
Submitted by Alison Morris-McDonald am268@evansville.edu
Sign Up for Barn Blitz (BB2)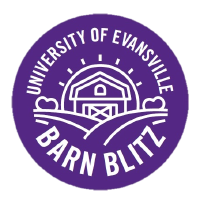 Barn Blitz 2 is happening! We are building backyard barns for Habitat for Humanity! There are several build dates.
February 2: Cutting components (ONLY)
February 9: Cutting components and building components
February 16: Cutting components and building components
February 23: Cutting components and building components
March 2: Cutting components and building components
March 23: Building components (ONLY)
March 30: Building components (ONLY)
April 6: Barn Blitz Day!
Please sign up to participate here: http://signup.com/go/odygOXP.
If you would like to claim a barn for your team or if you would like to be placed on a team for April 6, e-mail Karyssa Vasquez at kv54@evansville.edu. If claiming a barn for your team, please include a team name for your barn in your email.
Submitted by Karyssa Vasquez kv54@evansville.edu
Professor Roslyn Lampkins awarded grant
Roslyn Lampkins, assistant professor in the Department of Chemistry, has been awarded a $10,000 grant from the PCMNCG (Pittsburgh Conference Memorial National College Grants) Program. This is a very competitive program in which grants are awarded to small college science departments for the purchase of scientific equipment, audio-visual or other teaching aids, and/or library materials for use in the teaching of science at the undergraduate level.
Lori LeDuc named February 2019 Employee of the Month
Human resources specialist Lori LeDuc has been named the February 2019 Employee of the Month!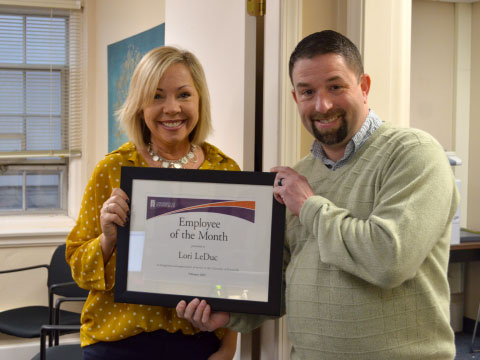 Lori was nominated for her extraordinary efforts over the last several months to ensure the Office of Human Resources continues to meet the needs of employees while the office has taken on a significant number of new projects and responsibilities. During her two years in the HR department, Lori has gained the trust of employees and retirees by not only being knowledgeable and efficient, but most importantly, helping those who sometimes are dealing with significant problems in their professional or personal lives. Known for her professionalism and positive, upbeat personality, Lori is truly a pleasure to work with.
Please drop by the HR office in Olmsted Administration Hall to help us congratulate Lori on this well-deserved recognition!
UE looks to right the ship against Southern Illinois
Dainius Chatkevicius tied his career mark with 12 points on Wednesday evening as the University of Evansville men's basketball team dropped an 85-62 game against Indiana State inside the Hulman Center.

Chatkevicius paced the Purple Aces (10-14, 4-7 MVC) with his 12 points; he was 4-for-6 from the field and knocked down four free throws. K.J. Riley scored 11 while Marty Hill posted 10.

Indiana State (12-11, 4-7 MVC) was led by an 18-point effort from Cooper Neese. Neese was 4-for-5 from long range on the evening. Tyreke Key added 15 for the Sycamores.

It was a slow start on the offensive side for the Purple Aces, who found themselves in a 13-3 hole midway through the first half. Evansville was 1-11 from the field to start the game. Jawaun Newton had UE's first bucket of the night before an and-one by Shea Feehan cut into the deficit, making it a 13-6 game.

From there, the Sycamores took control. Another triple pushed the lead to double figures before the fourth trey of the evening for ISU made it a 26-11 lead. The Sycamores were 4-for-5 from long range to begin the game. Indiana State continued its hot shooting, heading to the break with a 39-17 lead. The 17 points for the Aces was their lowest scoring half of the season.

The first basket of the second half belonged to Indiana State as they drilled their sixth triple of the night and would push the lead out to 27 points (56-29) inside of 14 minutes remaining. Evansville battled back as Marty Hill notched a pair of 3-pointers to get back within 22, but three technical helped ISU push the lead back out and they would cruise to the 85-62 victory.

Evansville finished the night shooting 36.2% while the Sycamores finished at 54.2%. ISU finished the night with a 41-28 edge on the boards and were 9-of-15 from beyond the arc.

UE remains on the road this weekend, facing Southern Illinois on Saturday inside SIU Arena. Tip will be at 7:00 p.m. in Carbondale.
Wells gives expert advice to Building Indiana magazine
Gene Wells, senior director of the Center for Career Development, was recently asked for his expert advice by Building Indiana, the largest statewide business-to-business magazine in Indiana. The magazine wanted to know how employers can develop the types of employees they need by working with a university. You can read the entire article on the Building Indiana website.
Contribute to AceNotes
To have content considered for inclusion in AceNotes, please submit a Marketing Request Form. Deadline for submission to AceNotes is 10:00 a.m. on the requested date of publication. Only articles concerning UE related/sponsored activities will be accepted. Articles submitted to AceNotes may be edited for length and clarity. Submitter contact information is at the end of each article.