| | |
| --- | --- |
| AceNotes Today | Wednesday, February 6, 2019 |
Health Insurance Wellness Program-Premium Changes 2019-20
As previously announced during last year's benefits open enrollment, please note the following changes that will take effect during our upcoming plan year:
For employees enrolled in the HRA health insurance plan, for coverage effective June 1, 2019, the University will implement the following premium levels based participation its wellness program:
1. For members that choose not to participate in a wellness screening at the UE Medical Clinic: premiums will increase $23 per biweekly pay ($50 per month)
2. For members that are tested as tobacco users: premiums will increase $14 per biweekly pay ($30 per month)
3. For members with two or more risk factors: premiums will increase $7 per biweekly pay ($15 per month)
Only the most recent screening results will be used in April 2019 to determine premium charges that will be effective May 2019. Last spring, employees and covered spouses were encouraged to get a screening in the 2018 summer months so that they would have plenty of time lower risk factors, if needed, so that they could get another screening by March 31, 2019. As always, screenings are available any time through the clinic at no cost.
If your spouse is covered on the UE health insurance plan, both of you would need to participate and have one or less risk factors to avoid an increased premium. However, if both the employee and spouse choose not to participate, both are tobacco users, etc., there will only be one premium increase.
This Week in Music: Andiron Lecture/Recital, University Choir, and Dalcroze Workshops
Andiron Lecture and Recital
Wednesday, February 6
Lecture: 4:00 p.m., Eykamp Hall 252, Ridgway University Center
Recital: 7:30 p.m., Wheeler Concert Hall
On Wednesday, February 6, UE music professor James Sullivan will give an Andiron Lecture called "Composing Queer Music: Samuel Barber's Despite and Still." The lecture will take place in Eykamp Hall, Room 252. A social gathering with beverages begins at 3:45 p.m. The lecture abstract is given below.
That evening at 7:30pm, there will be a recital in Wheeler Concert Hall featuring music discussed in the lecture. Performers include guest artists Matthew Valverde (tenor, Adams State University) and Allan Armstrong (piano, Indiana University), as well as UE voice faculty Alanna Keenan. The program will feature works by Schubert, Ireland, Britten, Valverde, Thomson, and Barber.
Both the lecture and the recital are open to the public. Funding for the recital is generously supported by UE's Office of Diversity Initiatives.
Lecture Abstract: What does it mean to compose queer music? Can a piece of music sound gay? In what ways does a composer's, listener's, or performer's sexuality influence the way one composes, listens to, or makes music? This talk will survey some answers to these questions from the fields of musicology and music theory and will show, as a case study, the impact that Samuel Barber's sexuality had on the composition of his late song cycle Despite and Still.
University Choir in Indianapolis
Wednesday, February 6
7:30 p.m., Robert Park United Methodist Church
Join us in Indianapolis on Wednesday, February 6 at 7:30 p.m. for a performance by the University Choir. This special concert will take place at the Robert Park United Methodist Church located at 401 North Delaware Street, and is free and open to the public.
Composed of UE's finest vocal talent, the UE University Choir has built a reputation for performances of a wide range of choral music from various eras. In 2016, the choir performed by invitation for the American Choral Directors Association (ACDA) Central Region Conference in Chicago. The University Choir has also performed at Carnegie Hall in New York City in both 2011 and in 2016.
Dalcroze Workshops with Jeremy Dittus
Friday, February 8 and Saturday February 9
Times vary, see below
Join us for a Dalcorze Eurythmics Workshop with Jeremy Dittus on Friday, February 8, and Saturday, February 9. The workshop will be held in Eykamp Hall in the Ridgway Student Center. Sessions take place between 4:30-6:30 p.m. on Friday, and between 9:00 a.m.-noon and 1:00-3:30 p.m. on Saturday.
Jeremy Dittus enjoys a career as a pianist, theorist, and Dalcroze Education specialist. Dittus is the founder and director of the Dalcroze School of the Rockies in Denver, Colorado, one of the few authorized Dalcroze training centers in the United States.
If you are interested in more information about Jeremy Dittus and Dalcorze Eurythmics, visit https://www.youtube.com/watch?v=UzFJ_8GVjjo
UE Choir on Composer Website
Congratulations to University Choir and director Dennis Malfatti for having their performance of Dominick DiOrio's "You Do Not Walk Alone" appear on the composer's website.
Sexual misconduct awareness program TONIGHT
Join us in Eykamp Hall in Ridgway University Center tonight - Wednesday February 6 - from 7:00-8:00 p.m. for Sex Signals, a sexual awareness program. Sex Signals blends a unique combination of improvisational comedy, education, and audience participation to provide a provocative look at the issues of dating, sex, and consent on college campuses. Please join us for this informative presentation and discussion. All members of the campus community are welcomed to attend.
Submitted by Geoff Edwards ge21@evansville.edu
I-House: Chinese New Year
Chinese New Year will be celebrated during this week's I-House on Wednesday, February 6! UE students Xinyue Bi and Liqianrui Yang will be presenting about themselves, their culture, traditions, and the celebrations on this special day. There will be Chinese food and different activities such as paper cutting, lantern making, writing in Chinese characters and firework videos. Everyone is welcome to attend!
Submitted by Megan Sicard ms331@evansville.edu
Newman Dinner and Discussion: The Man, the Savior, the Question
Join the Newman Club this Wednesday, February 6 at 5:00 p.m. for our weekly dinner and discussion. This week's topic is "The Man, the Savior, the Question" hosted by Father Tyler Tenbarge. He will be talking about who Jesus is and why that matters in our life. We will be serving red pepper soup afterwards. All are welcome!
Submitted by Michaela Kunkler mk305@evansville.edu
James Sullivan to speak at February Andiron Lecture
James Sullivan, University of Evansville assistant professor of music theory and double bass, will be the speaker for the Andiron Lecture on Wednesday, February 6, in Eykamp Hall, Room 252, Ridgway University Center. The lecture starts at 4:00 p.m. Sullivan's topic will be "Composing Queer Music: Samuel Barber's Despite and Still."
A social gathering with beverages will precede the lecture at 3:45 p.m.
In addition to the lecture, there will be an evening recital of works discussed in the lecture at 7:30 p.m. in Wheeler Concert Hall, Krannert Hall of Art and Music. The recital will feature guest tenor Matthew Valverde (Adams State University), guest pianist Allan Armstrong (Indiana University, Bloomington), and UE voice faculty Alanna Keenan.
Sullivan earned a PhD in music theory and a DMA and MM in double bass performance from the Eastman School of Music, as well as a BM in double bass performance and a BS in mathematics from Indiana University. Sullivan presents regularly at conferences, including those of the Society for Music Theory, the Society for Music Perception and Cognition, Music Theory Midwest, and the International Society of Bassists. His research focuses on rhythm and meter perception in post-tonal music.
Sullivan's Andiron Lecture brings together his interest in rhythm and meter with secondary interests in the music of Samuel Barber, queer music theory, and performance and analysis. What does it mean to compose queer music? Can a piece of music sound gay? In what ways does a composer's, listener's, or performer's sexuality influence the way one composes, listens to, or makes music? This talk will survey some answers to these questions from the fields of musicology and music theory and will show, as a case study, the impact that Samuel Barber's sexuality had on the composition of his late song cycle Despite and Still.
For more information, call Annette Parks at 812-488-1070 or the William L. Ridgway College of Arts and Sciences at 812-488-2589.
Medical Spanish Practice
The Medical Spanish Practice Group meets every two weeks to practice communication skills in Spanish. These sessions are open to anyone wanting to practice Spanish for medical settings. The first practice session this semester is this Wednesday, February 6 from 5:30-7:00 p.m. in Room 315 in Graves Hall. Please contact associate professor of Spanish Diana Rodríguez Quevedo at dr130@evansville.edu for more details. ¡Nos vemos el miércoles!
Lunch Charlas
Wanting to practice Spanish? Join associate professor of Spanish Diana Rodríguez Quevedo for lunch, and chat about different topics in Spanish on Wednesdays from noon-1:00 p.m. in the Starbuck's café area in Ridgway University Center. All levels of Spanish welcome. The next Lunch Charlas is this Wednesday, February 6, 2019.
Please contact Professor Rodríguez Quevedo at dr130@evansville.edu if you have any questions. ¡Ahí nos vemos!
BSU kicks off Black History Month with series of movies and discussions
The Black Student Union (BSU) will kick off Black History Month at UE with a series of movies and discussions. On each Thursday of this month, BSU will co-host with the Race and Ethnicity Minor Studies a movie and discussion. The first movie will be Malcolm X on Thursday, February 7 at 7:00 p.m. in Room 170 in the Schroeder School of Business Building. The next movie will be on Thursday, February 14.
Black History Month, also known as African-American History month, is an annual observance of accomplishments made by people or events in the history of the African diaspora. It is celebrated in the United States from February 1-29 as a way to celebrate the honors and contributions of blacks/African-Americans. It was started by Dr. Carter G. Woodson and has been recognized since 1926.
The event is free and all students, faculty, and staff are welcome to attend.
Submitted by LaNeeca Williams lw161@evansville.edu
Student Mt. Dew AMP Game Fuel Beverage Sampling - FREE
PepsiCo is sponsoring a student beverage promotional sampling event on UE campus on Thursday, February 7, from 11:30 a.m. to 1:00 p.m. (or until the samples run out). This is an opportunity to try a sample of Mt. Dew AMP Game Fuel. Game Fuel is a beverage created for gamers, by gamers. Students be sure to try a sample on Thursday!
When: Thursday, February 7, 11:30 a.m. - 1:00 p.m.
Where: Ridgway University Center under the TV monitor that is outside of the secure dining area.
Submitted by Kim Winsett kw83@evansville.edu
Creative Problem Solving Workshop - February 13
Space is still available for the professional development workshop on February 13. Register online at www.evansville.edu/centerforlearning/professional-development.cfm.
This workshop will provide hands-on opportunities for participants to learn about creativity and problem solving. In advance of the workshop, all participants will take the Basadur Profile, an assessment that identifies their creative problem solving style. The profile includes an individual print out and a scatter diagram for the entire team. Some of the topics addressed include the accelerating rate of change in today's society, how people gain and use knowledge, characteristics of effective creative problem solving teams, and divergent and convergent thinking.
Participants walk away with an enhanced understanding of creative problem solving and how these skills can be applied within their organization. These skills have been applied in all types of organizations, including Fortune 500 companies, nonprofits, universities, government entities, schools, religious institutions, and small businesses.
Submitted by Lindsay Roberts lr155@evansville.edu
Need a passport?
Representatives from the US Postal Service will be on campus processing passports on Friday, February 15, from 11:00 a.m.-2:00 p.m. in the Harlaxton Room in the Schroeder School of Business Building! If you bring all the required documents, you can get your passport photos taken and your passport processed at this event right here on campus. You can also bring your current passport to be renewed at this event.
Here is what you will need to bring to the event in order to get your passport processed:
Photo identification: US driver's license, and if not from Indiana, a credit or debit card.
Proof of citizenship: Original or certified copy of long form birth or citizenship certificate.
Passport application: Available online at travel.state.gov, at the study abroad office, or at this event.
Payments: Two checks, money orders, or cashier's checks for $110 to the US Department of State and for $30 to the USPS.
Photos on site: Passport photos can be taken during the event for an additional $15 to the USPS.
All members of the UE community - faculty, staff, and students - are welcome to come to this event! Feel free to contact Kaylynn Carver in the study abroad office at kc205@evansville.edu or 812-488-2039 for more information about the event or requirements.
Submitted by Kaylynn Carver kc205@evansville.edu
PT Club Meeting!
PT Club will be having its first meeting of the semester on Thursday, February 7 at 5:00 p.m. in Room 100 in Graves Hall. We will be talking about events happening throughout the semester and having a speaker who attended CSM.
Submitted by Stephanie Snodgrass ss597@evansville.edu
Medieval Valentines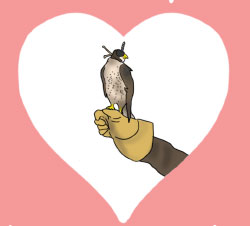 On February 14, professors Annette Parks, Sara Petrosillo, and Tiffany Griffith will present "Medieval Valentines," a discussion of the medieval origins of Valentine's Day, an Old Norse take on love, and the female eagle's choice of suitor. The presentations will be from 4:00-6:00 p.m. in Room 250 in the Schroeder School of Business Building and from 7:00-9:00 p.m. in Room 203 in the library.
Submitted by Marisa Knox mk52@evansville.edu
Moore Hall Committees present: Val(anti)ne's Day!
Join us for free snacks and drinks celebrating an Anti-Valentine's event on Sunday, February 10, in Eykamp Hall, Rooms 251/252, Ridgway University Center from 1:00 - 5:30 p.m.! Both couples and singles can take part in speed friending, Trivia and a movie celebrating love and friendship!
Submitted by Pema C. Sherpa ps141@evansville.edu
Career Day set for February 12
We expect over 100 employers for Career Day 2019!
Looking for a full-time professional position? Cooperative education opportunity? Internship? Summer job? Make plans to attend Career Day on Tuesday, February 12, from 11:00 a.m-2:00 p.m. in Carson Center, Meeks Family Court.
See registered employers in Handshake (https://evansville.joinhandshake.com).
Also, pre-register for the event in Handshake to allow employers to view your resume early!
Submitted by Alison Morris-McDonald am268@evansville.edu
Bowling Night for the Kids!
College Mentors for Kids is hosting a Bowling Night for the Kids! Bowling will commence Saturday, February 9, from 6:00-9:00 p.m. Tickets must be purchased in Ridgway University Center on February 4, 6, or 8. Tickets are $15 per person and include three games and shoes!
Contact jc491@evansville.edu with questions.
Submitted by Chadi Kharouta ck181@evansville.edu
Paoli Peaks Ski Trip
Join Venturing Crew and International Club for their annual trip to Paoli Peaks this Friday from 5:00 p.m.-2:00 a.m.! The cost of this trip is $10 (includes transportation and lessons) and you can reserve your spot by signing up at the tables in Ridgway University Center, Wednesday and Thursday, from 11:00 a.m.-1:00 p.m. and 5:00-7:00 p.m.
Submitted by Katie Mearns km399@evansville.edu
Honors Program students volunteer in the community
Honors students volunteered their time at Ronald McDonald House and United Caring Services through their community service initiative that they call HACER (to do). Thanks to the following honors students for their time and care: Cecilia Thon, Pranav Haran, Zach Eaglin, Lauren Stevenson, Samarth Sheth, Samantha Wallisch, Michaela Kunkler, Jared Bailey, Connor Lubbenhusen, and Meghana Bhaskara.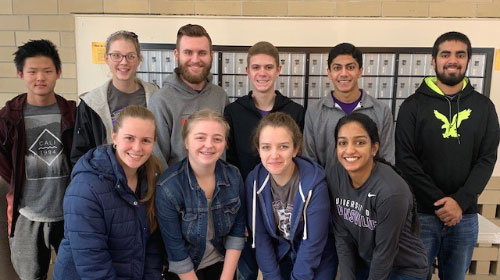 Cherie Leonhardt CL29@evansville.edu
A Moment in Black History: Lewis Latimer
Inventor and engineer Lewis Howard Latimer was born in Chelsea, Massachusetts, on September 4, 1848. Latimer was the youngest of four children born to George and Rebecca Latimer, who had escaped from slavery in Virginia six years before his birth. Captured in Boston and brought to trial as a fugitive, George Latimer was defended by abolitionists Frederick Douglass and William Lloyd Garrison. He was eventually able to purchase his freedom, with the help of a local minister.
In 1864, at the age of 16, Lewis Latimer lied about his age in order to enlist in the United States Navy during the Civil War. Returning to Boston after an honorable discharge, he accepted a menial position at the Crosby and Gould patent law office. He taught himself mechanical drawing and drafting by observing the work of draftsmen at the firm.
Recognizing Latimer's talent and promise, the firm partners promoted him to draftsman. In addition to assisting others, Latimer designed a number of his own inventions, including an improved railroad car bathroom and an early air conditioning unit.
Latimer's talents were well-matched to the post-Civil War period, which saw a large number of scientific and engineering breakthroughs. Latimer was directly involved with one of these inventions: the telephone. Working with Alexander Graham Bell, Latimer helped draft the patent for Bell's design of the telephone. He was also involved in the field of incandescent lighting, a particularly competitive field, working for Hiram Maxim and Thomas Edison.
Lewis Howard Latimer was an inventor and draftsman best known for his contributions to the patenting of the light bulb and the telephone.
Nerd Wars 2019: New registration deadline extension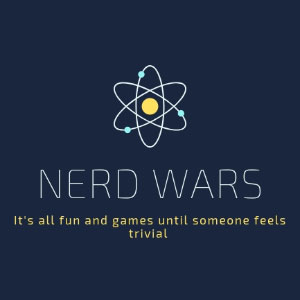 The Honors Program is hosting Nerd Wars trivia night on Tuesday, February 26, at 7:00 p.m., in Eykamp Hall, Ridgway University Center. Students, faculty, administrators, and staff can all form teams of up to five people to battle in a competition of wits while enjoying pizza, popcorn, and soda. Winners will receive some incredible prizes!
You can register your team online NOW. The deadline to enter has now been extended to February 11.
Honors students' registration is FREE! If you are not an honors student, you must pay your $5 per person entry fee to Jayme Williams in Room 238 in the Koch Center for Engineering and Science. Those who are unable to compose a team of five may still register and be matched to make a team.
Submitted by Blake Elliott be80@evansville.edu
UE is a charitable organization choice on AmazonSmile
If you shop on AmazonSmile and select the University of Evansville as the charitable organization of your choice, the AmazonSmile Foundation will donate 0.5% of the purchase price of any eligible products that you buy to UE! AmazonSmile is a website operated by Amazon and every item available for purchase on www.amazon.com is also available on AmazonSmile (smile.amazon.com) at the same price. You will see eligible products marked "Eligible for AmazonSmile donation" on their product detail pages. You can find out more about AmazonSmile and its charitable giving program here.
UE Engineering OPTIONS Camps accepting applications
The College of Engineering and Computer Science at the University of Evansville announces open registration for its 2019 Engineering OPTIONS summer camps.
High School Girls summer career exploration program is a week-long residential opportunity at UE for high school girls currently in grades 9, 10, or 11 who have completed geometry. The program begins Sunday, June 9 and concludes Friday, June 14. Registration deadline is April 1.
Middle School Girls summer career exploration program is a 3 ½ day residential opportunity at UE for middle school girls currently in grades 6, 7, or 8. The program begins Sunday, June 16 and concludes Wednesday, June 19. Registration deadline is April 1.
Middle School Boys summer career exploration program is a week-long day camp opportunity at UE for middle school boys currently in grades 6, 7, or 8 and elementary school boys currently in grade 5. It will be held daily from Monday, June 24-Friday, June 28. Registration deadline is May 1.
Program participants will gain a better understanding of the opportunities available in fields closely related to science, technology, engineering, and mathematics (STEM).
Dependent children of University of Evansville employees are eligible for a $125 discount toward the cost of registration.
For more information, to obtain an application, or apply online, see www.evansville.edu/options.
Now hiring UE Reads Tutors
Students who are eligible for federal work study and are interested in helping children build literacy skills are encouraged to apply as tutors with UE Reads. Tutors go to local schools in after-school daycare programs to provide fun and meaningful lessons to help elementary students build their reading skills. The pay is great and the schedule is typically 2 or 3 days per week between the hours of 2:30-6:00 p.m., Monday through Friday. Please contact Karen Martin at km306@evansville.edu or stop by Graves Hall 310 for additional information.
Eykamp Prize: Call for Nominations
The Eykamp Prize was established by Richard and Rita Eykamp in 2015 to honor Faculty Achievement at the University of Evansville. Recipients of the prize will receive a one-time award of $10,000 in recognition of extraordinary contributions to the University of Evansville as University Citizens. Examples of such contributions include deep and successful involvement in recruiting students; expanding the number, scope, and competitiveness of grant funding for their department; bringing positive public awareness to the University through scholarship, knowledge, and understanding of their discipline. Up to two prizes a year may be awarded.
Nominations for the Eykamp Award may come from any member of the University of Evansville Community. Nominees should be tenured or tenure-track faculty members at the University of Evansville who have not received the award in the previous five years. Nominations can be submitted in writing or via e-mail to Michael Austin, Executive Vice President for Academic Affairs/Provost, by March 15, 2019. Nominations should include the name of the faculty member and a brief statement of the reasons that he or she is being nominated.
Recipients of the Eykamp Award will be selected by an Awards Committee, appointed by the EVPAA/Provost that includes members of the faculty and staff, academic administrators, and at least one member of the Board of Trustees. Awards will be announced and presented at the May Commencement Ceremony.
Previous Recipients: 2016 – Dr. Mark Valenzuela; 2017 – Dr. Lora Becker; 2018 – Dr. David Dwyer.
Early Reminder for Spring Grads
This is an early reminder for ALL SPRING GRADUATES about the upcoming Commencement Central event on March 4 and 5. All graduates should plan to attend EITHER of the days to complete their graduation plans.
On Monday, March 4, the event will be UPSTAIRS in Ridgway University Center on the north end from 4:00-6:00 p.m.
If you can't make it then, you can come on Tuesday, March 5, DOWNSTAIRS in Ridgway University Center, starting at the tables near the Information Desk.
It only takes a few minutes to meet with career planning, the alumni office, and the registrar's office to make sure every is ready to go for the special day. You can also purchase your cap/gown and/or graduation announcements from the UE Bookstore all in one session. You will also be eligible to win an IPAD if you complete the process. If you're interested in a class ring the Josten's representative will be available as well.
So please mark your calendars and put a reminder on your phone of this important event.
If you have not applied for graduation yet you should do so in the registrar's office. If you have any questions about Commencement Central, please contact the UE Bookstore.
Submitted by Doug Gustwiller dg57@evansville.edu
Register for Collegiate Career Expo!
Register by next Monday, February 11, for Collegiate Career Expo! This event will provide you with access to over 100 top companies from Indiana and beyond.
Collegiate Career Expo
10:00 a.m. – 3:00 p.m. (Eastern)
Thursday, February 21
Indianapolis Westin
Internship and co-op positions will also be available, so students in all class years are encouraged to attend this event. Don't miss your chance to find a great internship or professional position!
Fair registration is required through Handshake. Click Jobs Tab -> Enter #2217611 in the search bar (this is the posting number). Students must register by Monday, February 11.
The University of Evansville will provide transportation. There is a $10 deposit required that will be refundable upon attendance. Reserve your seat now at: www.evansville.edu/careercenter/students/busReservationForm.cfm.
View registered employers at https://app.careerfairplus.com/cccc_in/fair/1992/employer/178184 or download the Career Fair Plus app today.
Submitted by Alison Morris-McDonald am268@evansville.edu
Apply to be an RA!
It is with great excitement that the Office of Residence Life announces that its RA application for Fall 2019 is now available on UEngage!
The Resident Assistant position provides opportunities for growth and leadership for both the Resident Assistants and the students on their floors.
Serving in the residence halls or campus "villages," the Resident Assistant is a full-time undergraduate student whose responsibility it is to serve as a student advisor to 15–60 undergraduate students, depending on their placement. The RA is a para-professional staff member of the Residence Life Office and the Division of Student Affairs. In this capacity, the overall responsibility is to provide leadership, assistance, and support to the students living in their area. Each Resident Assistant serves in diverse roles with many different responsibilities. Working in cooperation with the professional staff, the Resident Assistant strives to facilitate and maximize the residential experience.
If you are interested in speaking with a current RA about his or her position, please join us for our Open House on January 28 from 9-9:30 p.m. in Eykamp Hall, Room 252, Ridgway University Center.
You can access the online application by logging on UEngage and finding it under "Forms" or following this link: https://uengage.evansville.edu/submitter/form/start/225623.
Applications are due by February 10 at 11:59 p.m. Interviews will be scheduled on an individual basis on February 21 and 22.
If you have any questions, please contact Megan King at mk225@evansville.edu or Karyssa Vasquez at kv54@evansville.edu.
Submitted by Megan King mk225@evansville.edu
2019 scholarships for United Methodist students
United Methodist students attending UE can apply for the 2019 United Methodist Scholarships at wwwgbhem.org/scholarshipapplication.
United Methodist students attending United Methodist-related institutions can apply for 2019 United Methodist Scholarships from January 3-March 7 at www.gbhem.org/scholarshipapplication for 2019 scholarships.
Applying for individual scholarships now also makes you eligible for the United Methodist Allocation. You must apply now to be considered for both. Late applications will not be accepted. Scholarships range in value from $500 to $5,000. The average amount awarded is about $1,000.
Scholarship eligibility requirements:
•Incoming or current freshmen, sophomores, juniors, seniors or graduate students at one of the United Methodist-related colleges or universities
•Member of any United Methodist Church for at least one year
•Minimum GPA of 2.5
Submitted by Trisha Hawkes th187@evansville.edu
Lori LeDuc named February 2019 Employee of the Month
Human resources specialist Lori LeDuc has been named the February 2019 Employee of the Month!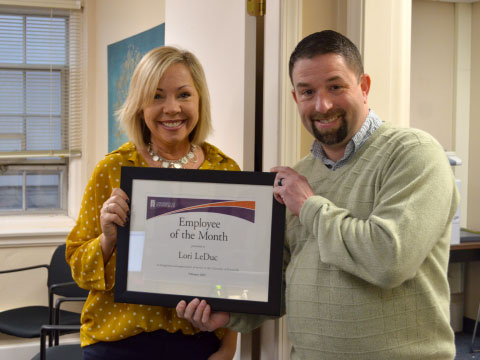 Lori was nominated for her extraordinary efforts over the last several months to ensure the Office of Human Resources continues to meet the needs of employees while the office has taken on a significant number of new projects and responsibilities. During her two years in the HR department, Lori has gained the trust of employees and retirees by not only being knowledgeable and efficient, but most importantly, helping those who sometimes are dealing with significant problems in their professional or personal lives. Known for her professionalism and positive, upbeat personality, Lori is truly a pleasure to work with.
Please drop by the HR office in Olmsted Administration Hall to help us congratulate Lori on this well-deserved recognition!
Dion reelected chairperson for Evansville-Vanderburgh County Human Relations Commission
Robert Dion, department chair for Law, Politics, and Society, was recently reelected as the chairperson for the Evansville - Vanderburgh County Human Relations Commission, the local civil rights agency. Professor Dion has held this position since 2004, making him the longest-serving chair of any city or county civil rights commission in the state of Indiana. During that time, he has served as an appointee of the city government and of the county government and has been named to his post by officeholders of both political parties. The Human Relations Commission has been in Evansville since 1948, and it became part of county government in the 1980s. Among its duties are the investigation and resolution of discrimination complaints and the promotion of harmonious community relations.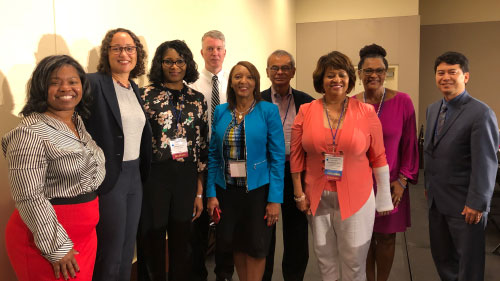 Pictured: Robert Dion (fourth from left) with the chairperson of the U.S. Commission on Civil Rights, Catherine Lhamon (second from left), and a number of civil rights commissioners from all around the US.
Aces travel to Terre Haute today
This week, the University of Evansville men's basketball team will play two road games close to home, beginning today when the Purple Aces head to Terre Haute to face Indiana State in a 6:00 p.m. CT game. The game will be available on ESPN+ and the Purple Aces Radio Network presented by Learfield.
Setting the Scene
- Evansville heads into the final eight games of the regular season in 8th place in the MVC; UE will play four games against the top half of the current standings and four against the bottom half over the final month
- UE is looking to half a 3-game losing
streak to the Sycamores along with a 7-game skid against ISU in the Hulman Center
- Overall, the Aces are 6-13 in the last 19 contests versus Indiana State
Last Time Out
- Trailing by three at the half, the Purple Aces outscored Valparaiso by a 40-26 margin in the second half to earn a 64-53 win on Saturday inside the Ford Center
- The win halted a 4-game losing streak
- Marty Hill, who led all players with 14 points, scored eight in a row by himself in what proved to be the game-winning run in the second half
- K.J. Riley added 10 points and 12 rebounds on the way to his third career double-double
Takeaways from Valparaiso
- Evansville's conference wins this season have come down to their ability to outshoot the opposition; when the Purple Aces are tied or finish with the advantage in shooting percentage, the squad is 4-1; when being outshot in league play, the Aces are 0-5.
- UE connected on 7 3-pointers against the Crusaders; Evansville has connected on at least seven 3-pointers in all ten MVC games; in 18 conference games last year, the Aces did so just six times
Turning the Corner
- Freshman Shamar Givance has rebounded from a tough start in conference play in 2019
- Through his first seven MVC outings, Givance averaged just 2.9 points per game and 14.3 minutes while shooting 23.5%
- In his last three contests, Givance has rebounded in a major way, posting 7.7 points in 17.3 minutes per game while shooting 66.7%.
- Givance recorded 10 points on 4-for-5 shooting at Northern Iowa for his top MVC game
- It was two points off of his career high of 12 points, which came against Wyoming
- Evansville is 7-3 when he scores 6 or more points in a game
Scouting the Opponent
- Indiana State stands at 11-11 overall and are 3-7 in their Valley games in 2019
- ISU has dropped its last three games, including a 68-62 game against Drake on Saturday
- Tyreke Key and Jordan Barnes continue to pace the Sycamores, averaging 16.9 and 16.5 points per game, respectively
- Key is shooting 55.0% on the season while Barnes has a team-best 70 assists
- Christian Williams has 5.1 rebounds per game while Emondre Rickman checks in with 22 blocks
Wells gives expert advice to Building Indiana magazine
Gene Wells, senior director of the Center for Career Development, was recently asked for his expert advice by Building Indiana, the largest statewide business-to-business magazine in Indiana. The magazine wanted to know how employers can develop the types of employees they need by working with a university. You can read the entire article on the Building Indiana website.
Contribute to AceNotes
To have content considered for inclusion in AceNotes, please submit a Marketing Request Form. Deadline for submission to AceNotes is 10:00 a.m. on the requested date of publication. Only articles concerning UE related/sponsored activities will be accepted. Articles submitted to AceNotes may be edited for length and clarity. Submitter contact information is at the end of each article.