| | |
| --- | --- |
| AceNotes Today | Friday, January 25, 2019 |
Students - UE wants to recognize your achievements
The University of Evansville wants you to be recognized for your achievements such as making the dean's list, studying at Harlaxton, winning an award, or attaining an internship. The University publicizes these accomplishments through Merit, an online platform.
Merit allows UE to send news items about your achievements back to your hometown newspapers, notifies your local government representative, and publishes them on the Web. In addition, you can sync your Merit page with popular social networks like Twitter, Facebook, and LinkedIn so that updates to your page will reach your contacts in those networks, too.
The first time UE adds one of your achievements to Merit, you'll receive a Welcome to Merit email with instructions on how to sign into your page and customize it. You can add a profile photo and list on-campus activities and work experience.
As the University issues news stories about your accomplishments, you'll receive e-mails with links to view your story online.
Your online reputation is important – most employers Google an applicant's name during the hiring process for jobs and internships. By using Merit, UE helps you create a positive online profile.
If you have questions about Merit and how it can work for you, contact University Relations at ext. 2236 or uerelations@evansville.edu.
Kickoff the Semester Workshop today
Start this semester on top of your game!
Need to get organized, stay focused, study more effectively? Want to lower your stress and raise your grades? Then you should attend one of the "Kick Off the Semester" Workshops today - Friday, January 25 - in the Writing Center in Clifford Memorial Library. Workshop sessions are scheduled at 2:00, 3:00 and 4:00 p.m. No reservation is necessary.
The Office of Academic Advising/Resource Center, along with our student academic coaches, will offer tips to help you get and stay organized this spring. Effective reading, note-taking, and study techniques will be shared. Learn how to access this spring semester's support services, such as supplemental instruction, the Student Success Lab, and the Writing Center.
If you have questions, e-mail academicresourcecenter@evansville.edu.
Submitted by Francie Renschler fr25@evansville.edu
Faculty Scholarship Display and reception
The Libraries are currently hosting the Faculty Scholarship Display until January 26. Works produced or published or grants received from August 2017 until July 2018 were eligible for inclusion. You should wander over and take a look at your colleagues' impressive scholarship!
A reception in honor of all Faculty Scholars will be held during the Fridays@5 on January 25 from 4:30 – 7:00 p.m. in the Melvin Peterson Gallery.
Submitted by Meg Atwater-Singer ma35@evansville.edu
Art exhibit "Furnitur(ish)" on display at UE
"Furnitur(ish)," an exhibit by Katie Hudnall, visiting artist, will be on display at the University of Evansville's Melvin Peterson Gallery from January 14-February 23. This is free and open to the public.
The Melvin Peterson Gallery is located at 1935 Lincoln Avenue on the corner of Lincoln and Weinbach Avenues in Evansville. Gallery hours are Monday, Tuesday, Friday and Saturday from noon-3:00 p.m., and Wednesday and Thursday from noon-6:00 p.m.
For more information, contact the UE Art Department of Art at 812-488-2043, email art@evansville.edu or visit the gallery's Facebook page.
Volunteer Opportunity Monday- St. Vincent DePaul
Come volunteer with the Newman Club on Monday, January 28. We will go to St. Vincent DePaul to help with their store from 5:00-7:00 p.m.
A carpool will leave from the Newman house at 4:55 p.m. If you'd like to come straight from class and you want us to wait for you, email sw265@evansville.edu before noon that day! All are welcome to come help volunteer!
Submitted by Sa, Wallisch sw265@evansville.edu
Vonnegut Reading Group last call
Our Vonnegut Reading Group will meet Friday, February 1 at 4:00 p.m. in Olmsted Hall 400. We still have a few copies of "Mother Night" left, so come join us if you are interested! E-mail assistant professor of English Sara Petrosillo at sp220@evansville.edu for more information, or just show up!
Submitted by Sara Petrosillo sp220@evansville.edu
A Time to Gather (Native American Student Event)
UE students who identify as Native American are invited to join us for a casual evening of refreshments and mingling Tuesday, January 29 at 5:00 p.m. in Room 271 in the Schroeder School of Business Building. At this gathering, relevant issues on campus and in the news may be discussed, all while celebrating Indigenous heritage and culture. Introductions to one's Nation, history, and community traditions are welcome, but not expected of anyone who attends this gathering. As students may come from different communities, cultural competence across Tribal Nations will be kept at the forefront of this event.
Although we do not seek to qualify someone's personal history, we do ask that you consider your connection to Native communities through Tribal affiliation or strong community attachment if you choose to attend in order to maintain a supportive Indigenous space. However, space for reclamation is also welcome.
Moving forward, we hope to establish a permanent organization for Indigenous students on UE's campus.
Feel free to bring your beadwork to show off!
Please email the Office of Diversity Initiatives with questions at lw161@evansville.edu.
Submitted by Maddie Easley me119@evansville.edu
This Week in Music: Woodwind Day
Woodwind Day
Sunday, January 27, Noon -7:00 p.m., Krannert Hall of Art and Music
UE Department of Music's is pleased to host Woodwind Day 2019 on Sunday, January 27 from noon - 7 pm in the Krannert Hall of Art and Music. This year's event features special guests the Cumberland Woodwind Quintet and saxophonist Eric Scales, as well as members of the UE Department of Music faculty. The event provides concerts, exhibits, and clinics for flute, oboe, clarinet, saxophone and bassoonists of all ages!
Early bird registration is available through January 25.
For more information, and to register for the event, visit: www.evansville.edu/majors/music/outreachWoodwindDayPayment.cfm.
Submitted by James Sullivan js820@evansville.edu
Help Newman help your neighbors
There are currently 25 TSA agents and 15 air-traffic controllers stationed at the Evansville Regional Airport.
Along with St. Benedict Cathedral and the other One God, One Community Congregations, we will collect gift cards to Schnucks or Wal-mart in either $20 or $50 denominations by Wednesday (January 30). These can be dropped in the collection basket this weekend at 1:00 p.m. Mass at Neu Chapel. St Benedict Cathedral will deliver the gifts Wednesday.
Together, we can help meet some real needs to help those who continue to work without pay to keep us safe!
If you have questions, please contact Catholic Campus Minister Jenny Koch at je46@evansville.edu.
Submitted by Michaela Kunkler mk305@evansville.edu
Alumni and Parent Relations has immediate opening for student worker
Student workers are a part of the development and alumni relations team, freely sharing new ideas, holding themselves accountable for their work, and preparing themselves for a real-world work experience. The department of DAR has dedicated itself to aiding students reach this goal. Student duties include typing, filing, copying, organizing, preparing mailings, maintaining the alumni database with regards to email addresses, telephone number, and event attendance. Student workers may be asked to write class notes for the UE Magazine, answer phones, and prepare nametags, labels, table tents, and supplies for events. Student workers may also attend and work at alumni events.
Skills needed are attention to detail, good manners, good understanding of English, typing, Excel and Word experience, dependability, and a desire for more than a basic work experience.
Any major is welcome to apply. Applicants must be eligible for work study.
Please fill out an application and e-mail to mm825@evansville.edu for consideration.
Submitted by Megan McCombs mm825@evansville.edu
Habitat for Humanity Alternative Spring Break! Free opportunity for students!
Looking for a way to give back this spring break? Why not join us on the Habitat for Humanity Alternative Spring Break trip? And the best part - it is completely funded, so there is no cost to you!
We are looking for ten dedicated students to pick up hammers and join a group of community volunteers in Oak Ridge, Tennessee, over spring break. You will help build a house for a family that is realizing the dream of home ownership, while developing your own skills and making the world a better place!
Everything is included, transportation, accommodation, all meals, and a few visits to local museums and sites. There is no cost to the student for this trip, we are just looking for students with an open mind and a heart to help others!
Please apply on UEngage or contact Karyssa Vasquez (kv54@evansville.edu) or Holly Carter (hc110@evansville.edu) for more information.
Submitted by Holly Carter hc110@evansville.edu
Sign Up for Barn Blitz (BB2)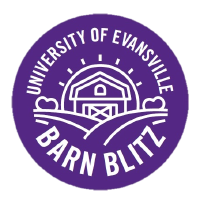 Barn Blitz 2 is happening! We are building backyard barns for Habitat for Humanity! There are several build dates.
February 2: Cutting components (ONLY)
February 9: Cutting components and building components
February 16: Cutting components and building components
February 23: Cutting components and building components
March 2: Cutting components and building components
March 23: Building components (ONLY)
March 30: Building components (ONLY)
April 6: Barn Blitz Day!
Please sign up to participate here: http://signup.com/go/odygOXP.
If you would like to claim a barn for your team or if you would like to be placed on a team for April 6, e-mail Karyssa Vasquez at kv54@evansville.edu. If claiming a barn for your team, please include a team name for your barn in your email.
Submitted by Karyssa Vasquez kv54@evansville.edu
Apply to be an RA!
It is with great excitement that the Office of Residence Life announces that its RA application for Fall 2019 is now available on UEngage!
The Resident Assistant position provides opportunities for growth and leadership for both the Resident Assistants and the students on their floors.
Serving in the residence halls or campus "villages," the Resident Assistant is a full-time undergraduate student whose responsibility it is to serve as a student advisor to 15–60 undergraduate students, depending on their placement. The RA is a para-professional staff member of the Residence Life Office and the Division of Student Affairs. In this capacity, the overall responsibility is to provide leadership, assistance, and support to the students living in their area. Each Resident Assistant serves in diverse roles with many different responsibilities. Working in cooperation with the professional staff, the Resident Assistant strives to facilitate and maximize the residential experience.
If you are interested in speaking with a current RA about his or her position, please join us for our Open House on January 28 from 9-9:30 p.m. in Eykamp Hall, Room 252, Ridgway University Center.
You can access the online application by logging on UEngage and finding it under "Forms" or following this link: https://uengage.evansville.edu/submitter/form/start/225623.
Applications are due by February 10 at 11:59 p.m. Interviews will be scheduled on an individual basis on February 21 and 22.
If you have any questions, please contact Megan King at mk225@evansville.edu or Karyssa Vasquez at kv54@evansville.edu.
Submitted by Megan King mk225@evansville.edu
Now recruiting Harlaxton Ambassadors
Are you a recent Harlaxton alumna or alumnus who loves to share your experience with others? Or do you know a student who fits that description?
The Harlaxton office is currently taking applications for students who want to volunteer as Harlaxton Ambassadors to recruit, prepare, and encourage Harlaxton applicants and to represent Harlaxton at various recruitment events and other campus activities. Harlaxton Ambassadors have the opportunity to develop professional skills, stay connected with Harlaxton, and receive exclusive Harlaxton apparel.
More information and applications are available on the Harlaxton website here: https://studyabroad.evansville.edu/index.cfm?FuseAction=Programs.ViewProgram&Program_ID=11522
Submitted by Kaylynn Carver kc205@evansville.edu
International Orientation applications closing February 1
Apply to be an International Orientation Leader for the 2019-20 school year! The IOLs are a dynamic group of students who work to welcome new international students to UE in August and throughout the year. Develop your leadership skills, share your UE experiences, and meet new UE students from all over the world! We encourage both international students and students from the United States to apply.
Applications are available in the Forms section of UEngage or by going to: https://uengage.evansville.edu/submitter/form/start/239510.
More information is available in the Office of Cultural Engagement and International Services on the second floor of Ridgway University Center in the Student Life Center. Questions can be directed to ms331@evansville.edu.
Submitted by Megan Sicard ms331@evansville.edu
Ready to quit? The time is now!
Ready to quit smoking cigarettes or using e-cigarettes but don't know where to start? Smokefree Evansville will be here Friday to help! Stop by their table on the first floor of Ridgway University Center between 11:00 a.m.-1:00 p.m. to get helpful information and resources. There's no better time than now!
Submitted by Jennifer Hargus jh693@evansville.edu
Do you want to be an Orientation Leader (OL)?
Orientation Leader (OL) applications are now available! Visit our website at www.evansville.edu/orientation/welcomeweek.cfm to complete an electronic application before the deadline date of January 29.
Information on "What It Takes to be an Orientation Leader" and the "OL Code of Conduct" can be found on the website along with the application and reference form.
Current Orientation Leaders will be available in the Ridgway University Center Lobby on January 21-25, if you have any questions. You can also contact VPSA/Dean of Students office at 812-488-2500 or stop by Ridgway University Center, Room 230, during business hours.
Submitted by Carleen Barnes cb131@evansville.edu
Purple Friday Patrol
Purple Friday Patrol: Wear Purple—Get Prizes!
Be on the lookout for the Purple Friday Patrol every week and sign up here to pass out the purple praise!
On Fridays, we wear purple, and each week, the PFP will reward students to promote school spirit both on campus and online through the use of the hashtag, #UEPurpleFriday.
Purple Friday Patrol Teams are made up of members of the campus community including faculty, administrators, and other interested parties, usually from the same department or group.
PFP Teams can sign up for one or more Fridays per semester and the Office of University Relations will supply Purple Swag Packs to the designated PFP Team for the week. PFP Teams are invited to add a personal touch to the swag packs, if desired. (ex. departmental swag, promo for an upcoming event, etc.)
Purple Friday Patrol Teams: What's my responsibility?
1. Sign up for at least one Friday per semester.
2. Visit the office of University Relations in Sampson Hall during the week of your assigned Friday to pick up your Purple Swag Packs
3. Pass out the purple praise. The distribution format is up to you. You can pass out swag packs to the first few purple people you see, or you can stagger the rewards throughout the day. If you'd prefer to reward online participants, you're free to promote on official UE social media accounts.
4. Pics or it didn't happen. Remember, we're trying to promote school spirit both on campus and online through the use of the hashtag, #UEPurpleFriday, so be sure to snap a picture with your purple people. You can either share them online through an official UE social media account if you run one, or send them to Amanda Campbell at uerelations@evansville.edu to post on the main UE social media accounts.

SIGN UP ONLINE HERE
2019 scholarships for United Methodist students
United Methodist students attending UE can apply for the 2019 United Methodist Scholarships at wwwgbhem.org/scholarshipapplication.
United Methodist students attending United Methodist-related institutions can apply for 2019 United Methodist Scholarships from January 3-March 7 at www.gbhem.org/scholarshipapplication for 2019 scholarships.
Applying for individual scholarships now also makes you eligible for the United Methodist Allocation. You must apply now to be considered for both. Late applications will not be accepted. Scholarships range in value from $500 to $5,000. The average amount awarded is about $1,000.
Scholarship eligibility requirements:
•Incoming or current freshmen, sophomores, juniors, seniors or graduate students at one of the United Methodist-related colleges or universities
•Member of any United Methodist Church for at least one year
•Minimum GPA of 2.5
Submitted by Trisha Hawkes th187@evansville.edu
Ware Publishes Book on Paul's Letters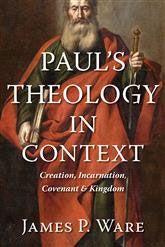 UE professor of religion James Ware has published a new book, Paul's Theology in Context: Creation, Incarnation, Covenant, and Kingdom (Eerdmans, 2019).
Intended as a guide to Paul's theology for students, pastors, and laypeople, the book is available at Amazon, Barnes and Noble, and all major bookstores and online book sellers.
UE receives 2019 IIE Andrew Heiskell Award for Innovation in International Education
The Institute of International Education (IIE) has announced the winners of its annual IIE Andrew Heiskell Awards for Innovation in International Education. The University of Evansville received an award in the Higher Education in Emergencies category for its Scholars for Syria initiative.
This award is given in recognition of successful approaches and strategies for supporting students and scholars who have been displaced from their home country due to violence, political persecution, or other emergent circumstances. UE has provided scholarships for 25 displaced Syrian students since 2016 and engages the larger community in dialogue around the Syrian crisis to change perceptions about the region.
The IIE Andrew Heiskell Awards honor outstanding international education initiatives conducted by universities and colleges from among the 1,300 member institutions of the IIENetwork. UE will be presented the Heiskell Award at the 2019 IIE Summit in New York City on February 19. As a premier international organization celebrating its 100th anniversary, IIE is known for administering the Fulbright Student and Scholar Programs, Open Doors annual survey of international educational exchange, the Gilman Scholarships, Humphrey Fellowships, and Boren Scholarships for Critical Regions.
"To thrive in the global economy, students need access to international experiences during their college career," said Clare Overmann, head of IIE's Higher Education Initiatives. "We congratulate this year's Heiskell Award winners for their outstanding success in providing new and innovative international education opportunities to their students."
Since 2002, IIE has given the awards to ground-breaking institutions pursuing the most innovative and impactful models for internationalization of campuses, study abroad, and international partnership programs with these ultimate goals:
To foster innovative ideas that will help international education professionals create and sustain new opportunities for students and faculty
To bring international education to the forefront of education policy
To stimulate public awareness of the benefits of study abroad and international educational exchange
This year, the seven winning programs embody five key themes: scholars as drivers of innovation, student mobility, international partnerships, access and equity, and higher education in emergencies. These categories were chosen to reflect the themes and values of the 2019 IIE Summit.
In-depth profiles of this year's winning initiatives and honorable mentions are available on IIE's Best Practices Resource website.
Da Vinci Institute event at UE covered by Eyewitness News
Eyewitness News aired a story during both the 5:00 and 9:00 p.m. newscasts on the Da Vinci Institute event held at the University of Evansville on Tuesday. At this event, local students learned to connect music with planetary science. The Da Vinci Institute is a network of community leaders in Evansville, who facilitate creative and collaborative opportunities for K-12 learners, teachers, artists, scientists, and community members. This is the third year for the project, which has the support of the University of Evansville, the Arts Council of Southwestern Indiana, and the Public Education Foundation. You can watch the Eyewitness news story about the event on the station's website.
Contribute to AceNotes
To have content considered for inclusion in AceNotes, please submit a Marketing Request Form. Deadline for submission to AceNotes is 10:00 a.m. on the requested date of publication. Only articles concerning UE related/sponsored activities will be accepted. Articles submitted to AceNotes may be edited for length and clarity. Submitter contact information is at the end of each article.