| | |
| --- | --- |
| AceNotes Today | Thursday, January 24, 2019 |
Press Conference TODAY at 11 a.m. to announce details of new Community Changemaker Challenge
The campus community is invited to a press conference to announce UE's new Community Changemaker Challenge and partnership with WNIN, the City of Evansville, and others.
Community Changemaker Challenge Press Conference
TODAY, Thursday, January 24
11:00 a.m.
Bernhardt Atrium within the Schroeder School of Business Building.
UE president Christopher M. Pietruszkiewicz, WNIN president Brad Kimmel, Evansville Mayor Lloyd Winnecke, and executive director for UE's Center for Innovation and Change Jill Griffin will all speak at the press conference.
Learn about this year's theme, prizes, and ways to get involved during the press conference. UE students, faculty, staff, and community members of all ages and backgrounds are invited to form a team.
Road Trip hosts needed
The Office of Admission needs current UE students who live in the residence halls to host prospective high school seniors for Road Trip on February 15-17. If you are available, you can apply to host through Acelink, by emailing Ashley Ross (aj53@evansville.edu) or Jordan Hall (jh590@evansville.edu), or stopping by the Office of Admission, located in Room 104, Olmsted Administration Hall. The deadline to sign up has been extended to February 6.
Submitted by Ashley Ross aj53@evansville.edu
Mindfulness Group in Neu Chapel: Tonight at 8:00 p.m.
For the next six weeks, the Neu Chapel Forum will be journeying through a series called "The Awakened Life." Together, we will discover the sacred in all aspects of life. Join the Neu Chapel Community on Thursdays at 8:00 p.m. in Grabill Lounge for a time of guided meditation, poetry readings, journaling, and deep listening. This 50-minute time is a wonderful opportunity to hit the "Pause" button on the busyness of life, learn how to handle stress, and be all God has created you to be. This is an open group and all are welcome!
Submitted by Keith Turner kt160@evansville.edu
Today - welcome back event for Fall 2018 Harlaxton Class
If you were at Harlaxton last semester, come by the Dunigan Lounge in the Schroeder School of Business Building today - Thursday, January 24 - anytime from 3:00-5:00 p.m. for a sweet treat and official welcome back from the Harlaxton office and Harlaxton Society! This will be an opportunity to tell us about your experience at Harlaxton and share your best advice by writing postcards to future Harlaxton students as well. We hope to see you there!
Submitted by Kaylynn Carver kc205@evansville.edu
Faculty Scholarship Display and reception
The Libraries are currently hosting the Faculty Scholarship Display until January 26. Works produced or published or grants received from August 2017 until July 2018 were eligible for inclusion. You should wander over and take a look at your colleagues' impressive scholarship!
A reception in honor of all Faculty Scholars will be held during the Fridays@5 on January 25 from 4:30 – 7:00 p.m. in the Melvin Peterson Gallery.
Submitted by Meg Atwater-Singer ma35@evansville.edu
Art exhibit "Furnitur(ish)" on display at UE
"Furnitur(ish)," an exhibit by Katie Hudnall, visiting artist, will be on display at the University of Evansville's Melvin Peterson Gallery from January 14-February 23. This is free and open to the public.
The Melvin Peterson Gallery is located at 1935 Lincoln Avenue on the corner of Lincoln and Weinbach Avenues in Evansville. Gallery hours are Monday, Tuesday, Friday and Saturday from noon-3:00 p.m., and Wednesday and Thursday from noon-6:00 p.m.
For more information, contact the UE Art Department of Art at 812-488-2043, email art@evansville.edu or visit the gallery's Facebook page.
A Time to Gather (Native American Student Event)
UE students who identify as Native American are invited to join us for a casual evening of refreshments and mingling Tuesday, January 29 at 5:00 p.m. in Room 271 in the Schroeder School of Business Building. At this gathering, relevant issues on campus and in the news may be discussed, all while celebrating Indigenous heritage and culture. Introductions to one's Nation, history, and community traditions are welcome, but not expected of anyone who attends this gathering. As students may come from different communities, cultural competence across Tribal Nations will be kept at the forefront of this event.
Although we do not seek to qualify someone's personal history, we do ask that you consider your connection to Native communities through Tribal affiliation or strong community attachment if you choose to attend in order to maintain a supportive Indigenous space. However, space for reclamation is also welcome.
Moving forward, we hope to establish a permanent organization for Indigenous students on UE's campus.
Feel free to bring your beadwork to show off!
Please email the Office of Diversity Initiatives with questions at lw161@evansville.edu.
Submitted by Maddie Easley me119@evansville.edu
Venturing Crew Winter Camp Out
Join Venturing Crew for its annual Winter Camp Out from Saturday, January 26 to Sunday, January 27.
On Saturday, we will hike at Lusk Creek Wilderness as well as Burden Falls. On Sunday we will explore Garden of the Gods.
You MUST be a registered member of Venturing Crew to participate in this event.
This trip will cost $25 and sign up tables will be in Ridgway University Center on January 22, 23, and 24 from 10 a.m.-noon and 5:00-7:00 p.m. If you are unable to make it to the tables, but would still like to attend this event, please contact Katie Mearns at km399@evansville.edu
Submitted by Katie Mearns km399@evansville.edu
Kickoff the Semester Workshop
Start this semester on top of your game!
Need to get organized, stay focused, study more effectively? Want to lower your stress and raise your grades? Then you should attend one of the "Kick Off the Semester" Workshops on Friday, January 25, in the Writing Center in Clifford Memorial Library. Workshop sessions are scheduled at 2:00, 3:00 and 4:00 p.m. No reservation is necessary.
The Office of Academic Advising/Resource Center, along with our student academic coaches, will offer tips to help you get and stay organized this spring. Effective reading, note-taking, and study techniques will be shared. Learn how to access this spring semester's support services, such as supplemental instruction, the Student Success Lab, and the Writing Center.
If you have questions, e-mail academicresourcecenter@evansville.edu.
Submitted by Francie Renschler fr25@evansville.edu
This Week in Music: Woodwind Day
Woodwind Day
Sunday, January 27, Noon -7:00 p.m., Krannert Hall of Art and Music
UE Department of Music's is pleased to host Woodwind Day 2019 on Sunday, January 27 from noon - 7 pm in the Krannert Hall of Art and Music. This year's event features special guests the Cumberland Woodwind Quintet and saxophonist Eric Scales, as well as members of the UE Department of Music faculty. The event provides concerts, exhibits, and clinics for flute, oboe, clarinet, saxophone and bassoonists of all ages!
Early bird registration is available through January 25.
For more information, and to register for the event, visit: www.evansville.edu/majors/music/outreachWoodwindDayPayment.cfm.
Submitted by James Sullivan js820@evansville.edu
Habitat for Humanity Alternative Spring Break! Free opportunity for students!
Looking for a way to give back this spring break? Why not join us on the Habitat for Humanity Alternative Spring Break trip? And the best part - it is completely funded, so there is no cost to you!
We are looking for ten dedicated students to pick up hammers and join a group of community volunteers in Oak Ridge, Tennessee, over spring break. You will help build a house for a family that is realizing the dream of home ownership, while developing your own skills and making the world a better place!
Everything is included, transportation, accommodation, all meals, and a few visits to local museums and sites. There is no cost to the student for this trip, we are just looking for students with an open mind and a heart to help others!
Please apply on UEngage or contact Karyssa Vasquez (kv54@evansville.edu) or Holly Carter (hc110@evansville.edu) for more information.
Submitted by Holly Carter hc110@evansville.edu
Sign Up for Barn Blitz (BB2)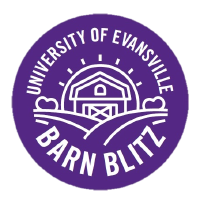 Barn Blitz 2 is happening! We are building backyard barns for Habitat for Humanity! There are several build dates.
February 2: Cutting components (ONLY)
February 9: Cutting components and building components
February 16: Cutting components and building components
February 23: Cutting components and building components
March 2: Cutting components and building components
March 23: Building components (ONLY)
March 30: Building components (ONLY)
April 6: Barn Blitz Day!
Please sign up to participate here: http://signup.com/go/odygOXP.
If you would like to claim a barn for your team or if you would like to be placed on a team for April 6, e-mail Karyssa Vasquez at kv54@evansville.edu. If claiming a barn for your team, please include a team name for your barn in your email.
Submitted by Karyssa Vasquez kv54@evansville.edu
Call for child models!
Child models between late primary school age through middle school age are needed for ART 325 Life Drawing. The portrait days will start Thursday, March 21.
Please contact Nancy Lockyear at nl51@evansville.edu as soon as possible. Space is limited.
Submitted by Brooksie Smith bs267@evansville.edu
Ready to quit? The time is now!
Ready to quit smoking cigarettes or using e-cigarettes but don't know where to start? Smokefree Evansville will be here Friday to help! Stop by their table on the first floor of Ridgway University Center between 11:00 a.m.-1:00 p.m. to get helpful information and resources. There's no better time than now!
Submitted by Jennifer Hargus jh693@evansville.edu
2019 scholarships for United Methodist students
United Methodist students attending UE can apply for the 2019 United Methodist Scholarships at wwwgbhem.org/scholarshipapplication.
United Methodist students attending United Methodist-related institutions can apply for 2019 United Methodist Scholarships from January 3-March 7 at www.gbhem.org/scholarshipapplication for 2019 scholarships.
Applying for individual scholarships now also makes you eligible for the United Methodist Allocation. You must apply now to be considered for both. Late applications will not be accepted. Scholarships range in value from $500 to $5,000. The average amount awarded is about $1,000.
Scholarship eligibility requirements:
•Incoming or current freshmen, sophomores, juniors, seniors or graduate students at one of the United Methodist-related colleges or universities
•Member of any United Methodist Church for at least one year
•Minimum GPA of 2.5
Submitted by Trisha Hawkes th187@evansville.edu
Ware Publishes Book on Paul's Letters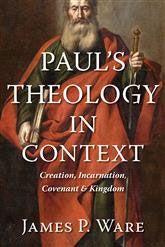 UE professor of religion James Ware has published a new book, Paul's Theology in Context: Creation, Incarnation, Covenant, and Kingdom (Eerdmans, 2019).
Intended as a guide to Paul's theology for students, pastors, and laypeople, the book is available at Amazon, Barnes and Noble, and all major bookstores and online book sellers.
Kopta's CelestHealth Research Group opens third research site at University of Wisconsin
The CelestHealth Research Group, whose Founder and executive director is University of Evansville professor of psychology Mark Kopta, has opened its third research site at the University of Wisconsin-Madison. The other two sites are located at Johns Hopkins University and the University of Denver. The CHRG is studying the mental health outcomes of psychotherapy and psychiatric medication. At Johns Hopkins University, they are beta testing the CelestHealth System-MD which assesses the effects of psychiatric medication. This instrument was recently awarded a patent by the U. S. Patent and Trademark Office.
Yazdanparast has paper accepted by Journal of Retailing & Consumer Services
Atefeh Yazdanparast, associate professor of marketing, has had a paper accepted by the Journal of Retailing & Consumer Services. The paper, titled "Does Parasocial Interaction with Weight Loss Vloggers Affect Compliance?," draws on parasocial interaction theory and social comparison theory and follows an experimental research design. The research examines the role of video blogger (vlogger) characteristics, consumer readiness, and health consciousness among white Caucasians and Mexican Americans using structural equation modeling and mediation analysis techniques.
Womens Basketball home games this weekend
Come cheer on your Evansville Women's Basketball team in Meeks Family Fieldhouse as they take on UNI and Drake this weekend. Friday's game is at 6"00 p.m. and Sundays game is at 1:00 p.m. (With free yoga following the game).
Drake defeats UE basketball, 78-66, in Des Moines
John Hall and Marty Hill posted 13 points apiece as the University of Evansville men's basketball team fell by a final of 78-66 on Wednesday night inside the Knapp Center.

"Our guys had to fight an uphill battle tonight, they played really hard," UE head coach Walter McCarty said. "I told them to hold their heads up, I was proud of their effort."

Hall and Hill paced the Purple Aces (9-11, 3-4 MVC) with their final tallies. Both also led the squad with seven rebounds. K.J. Riley finished the evening with 12 points while going a perfect 6-of-6 from the line. Leading the way for Drake (15-5, 4-3 MVC) was Nick McGlynn, who posted 20 points and 10 rebounds.

Triples were falling early for the Aces, who jumped out to a 6-2 lead in the first minute of play. The Bulldogs responded with eight in a row to open up a 10-6 lead. Noah Thomas registered the first six points of the game for Drake. Kuhlman got the Aces right back on track with his second from outside to make it a 10-9 game in favor of the Bulldogs at the 4-minute mark.

Drake pushed its lead to the largest of the half at 26-18 with 6:19 remaining in the half, but the Aces were able to close in. Marty Hill and Shamar Givance his consecutive buckets to get the deficit back to four points and that is where it would stand at the break with the Bulldogs taking a 35-31 lead into the break.

In the first minute of the second half, Drake pushed its lead to 40-31 as they scored the opening five tallies. Just as they have all season, UE pushed back as baskets by Hall and Hill made it a 40-35 game just over three minutes into the final 20 minutes. Evansville was able to stay within five to seven points, but midway through the second half, Drake took a 58-46 lead on a D.J. Wilkins layup. It was the final spurt in a 6-0 run.

K.J. Riley knocked down a pair of free throws to cut the DU lead to ten points, but Drake rallied right back with seven in a row as their 15-2 run put them up by a score of 67-48 with eight minutes left in the contest. That was the largest lead for the Bulldogs before they finished the night with the 78-66 win.

UE will remain in Iowa until Saturday evening when they take on UNI in a 7:00 p.m. contest in Cedar Falls.

Da Vinci Institute event at UE covered by Eyewitness News
Eyewitness News aired a story during both the 5:00 and 9:00 p.m. newscasts on the Da Vinci Institute event held at the University of Evansville on Tuesday. At this event, local students learned to connect music with planetary science. The Da Vinci Institute is a network of community leaders in Evansville, who facilitate creative and collaborative opportunities for K-12 learners, teachers, artists, scientists, and community members. This is the third year for the project, which has the support of the University of Evansville, the Arts Council of Southwestern Indiana, and the Public Education Foundation. You can watch the Eyewitness news story about the event on the station's website.
"Purple Reign" featured in Courier & Press article
Purple Reign, the Purple Aces' Student Section Association, was the subject of a recent article in the Evansville Courier & Press. The article is headlined "'Purple Reign' helping University of Evansville students get excited about basketball" and includes quotes from UE students and staff. You can read the entire article on the Courier & Press website.
Contribute to AceNotes
To have content considered for inclusion in AceNotes, please submit a Marketing Request Form. Deadline for submission to AceNotes is 10:00 a.m. on the requested date of publication. Only articles concerning UE related/sponsored activities will be accepted. Articles submitted to AceNotes may be edited for length and clarity. Submitter contact information is at the end of each article.