| | |
| --- | --- |
| AceNotes Today | Wednesday, January 23, 2019 |
Students - UE wants to recognize your achievements
The University of Evansville wants you to be recognized for your achievements such as making the dean's list, studying at Harlaxton, winning an award, or attaining an internship. The University publicizes these accomplishments through Merit, an online platform.
Merit allows UE to send news items about your achievements back to your hometown newspapers, notifies your local government representative, and publishes them on the Web. In addition, you can sync your Merit page with popular social networks like Twitter, Facebook, and LinkedIn so that updates to your page will reach your contacts in those networks, too.
The first time UE adds one of your achievements to Merit, you'll receive a Welcome to Merit email with instructions on how to sign into your page and customize it. You can add a profile photo and list on-campus activities and work experience.
As the University issues news stories about your accomplishments, you'll receive e-mails with links to view your story online.
Your online reputation is important – most employers Google an applicant's name during the hiring process for jobs and internships. By using Merit, UE helps you create a positive online profile.
If you have questions about Merit and how it can work for you, contact University Relations at ext. 2236 or uerelations@evansville.edu.
Road Trip hosts needed
The Office of Admission needs current UE students who live in the residence halls to host prospective high school seniors for Road Trip on February 15-17. If you are available, you can apply to host through Acelink, by emailing Ashley Ross (aj53@evansville.edu) or Jordan Hall (jh590@evansville.edu), or stopping by the Office of Admission, located in Room 104, Olmsted Administration Hall. The deadline to sign up has been extended to February 6.
Submitted by Ashley Ross aj53@evansville.edu
I-House Canada
Kelsey Preocanin, a freshman nursing major at UE, will present I-House: Canada at 7:00 p.m. on Wednesday, January 23, on the second floor of Ridgway University Center. Kelsey is a full-time student from Canada. She is part of many organizations on campus, including International Club, SNAP, and College Mentors for Kids. Her favorite part of UE is that she has made many new friends here. I-House is an opportunity to meet new people and learn about new cultures. Kelsey will share more about herself and her country at I-House Canada!
Submitted by Megan Sicard ms331@evansville.edu
Newman Dinner and Discussion: St. Vincent de Paul Thrift Store
Join the Newman Club this Wednesday, January 23 at 5:00 p.m. for our weekly dinner and discussion. This week, John Payne will be joining us from the St. Vincent de Paul thrift store. He'll be talking to us about the thrift store's efforts and how students can volunteer to help others. All are welcome!
Submitted by Michaela Kunkler mk305@evansville.edu
Mindfulness Group in Neu Chapel: Thursday at 8:00 p.m.
For the next six weeks, the Neu Chapel Forum will be journeying through a series called "The Awakened Life." Together, we will discover the sacred in all aspects of life. Join the Neu Chapel Community on Thursdays at 8:00 p.m. in Grabill Lounge for a time of guided meditation, poetry readings, journaling, and deep listening. This 50-minute time is a wonderful opportunity to hit the "Pause" button on the busyness of life, learn how to handle stress, and be all God has created you to be. This is an open group and all are welcome!
Submitted by Keith Turner kt160@evansville.edu
Venturing Crew Winter Camp Out
Join Venturing Crew for its annual Winter Camp Out from Saturday, January 26 to Sunday, January 27.
On Saturday, we will hike at Lusk Creek Wilderness as well as Burden Falls. On Sunday we will explore Garden of the Gods.
You MUST be a registered member of Venturing Crew to participate in this event.
This trip will cost $25 and sign up tables will be in Ridgway University Center on January 22, 23, and 24 from 10 a.m.-noon and 5:00-7:00 p.m. If you are unable to make it to the tables, but would still like to attend this event, please contact Katie Mearns at km399@evansville.edu
Submitted by Katie Mearns km399@evansville.edu
Welcome back event for Fall 2018 Harlaxton Class
If you were at Harlaxton last semester, come by the Dunigan Lounge in the Schroeder School of Business Building this Thursday, January 24, anytime from 3:00-5:00 p.m. for a sweet treat and official welcome back from the Harlaxton office and Harlaxton Society! This will be an opportunity to tell us about your experience at Harlaxton and share your best advice by writing postcards to future Harlaxton students as well. We hope to see you there!
Submitted by Kaylynn Carver kc205@evansville.edu
Apply to be an RA!
It is with great excitement that the Office of Residence Life announces that its RA application for Fall 2019 is now available on UEngage!
The Resident Assistant position provides opportunities for growth and leadership for both the Resident Assistants and the students on their floors.
Serving in the residence halls or campus "villages," the Resident Assistant is a full-time undergraduate student whose responsibility it is to serve as a student advisor to 15–60 undergraduate students, depending on their placement. The RA is a para-professional staff member of the Residence Life Office and the Division of Student Affairs. In this capacity, the overall responsibility is to provide leadership, assistance, and support to the students living in their area. Each Resident Assistant serves in diverse roles with many different responsibilities. Working in cooperation with the professional staff, the Resident Assistant strives to facilitate and maximize the residential experience.
If you are interested in speaking with a current RA about his or her position, please join us for our Open House on January 28 from 9-9:30 p.m. in Eykamp Hall, Room 252, Ridgway University Center.
You can access the online application by logging on UEngage and finding it under "Forms" or following this link: https://uengage.evansville.edu/submitter/form/start/225623.
Applications are due by February 10 at 11:59 p.m. Interviews will be scheduled on an individual basis on February 21 and 22.
If you have any questions, please contact Megan King at mk225@evansville.edu or Karyssa Vasquez at kv54@evansville.edu.
Submitted by Megan King mk225@evansville.edu
Now recruiting Harlaxton Ambassadors
Are you a recent Harlaxton alumna or alumnus who loves to share your experience with others? Or do you know a student who fits that description?
The Harlaxton office is currently taking applications for students who want to volunteer as Harlaxton Ambassadors to recruit, prepare, and encourage Harlaxton applicants and to represent Harlaxton at various recruitment events and other campus activities. Harlaxton Ambassadors have the opportunity to develop professional skills, stay connected with Harlaxton, and receive exclusive Harlaxton apparel.
More information and applications are available on the Harlaxton website here: https://studyabroad.evansville.edu/index.cfm?FuseAction=Programs.ViewProgram&Program_ID=11522
Submitted by Kaylynn Carver kc205@evansville.edu
Call for child models!
Child models between late primary school age through middle school age are needed for ART 325 Life Drawing. The portrait days will start Thursday, March 21.
Please contact Nancy Lockyear at nl51@evansville.edu as soon as possible. Space is limited.
Submitted by Brooksie Smith bs267@evansville.edu
Writing Center will open Monday, January 28
The Writing Center will open Monday, January 28. Our hours are Monday through Thursday, 10:00 a.m.-9:00 p.m. and Friday, 10:00 a.m.-1:00 p.m.
Here are instructions on how to use the writing center.
Make an appointment! It's really easy! Go to: Acelink … Areas … Writing Center … Appointments … Create an Appointment.
Register for an account - or sign in if you have used the Writing Center before - you can then access the center from any mobile device to schedule or cancel a session. This site manages your appointments, cancellations, and reports.
You will receive an email reminder before your appointment and your professor will receive feedback from your tutor afterward.
Next - bring the assignment (writing prompt) or draft of your paper.
Prepare questions for your tutor to get the most out of a session. For example, "Can you help me to see if my thesis statement is clear?"
Plan to visit the Writing Center well in advance of an assignment due date. If you come in the day an assignment is due, you may not have enough time to make the revisions discussed during a session. Seems obvious, but…
Arrive a few minutes early for appointments and don't be late. If another student is waiting, that student will be helped first if you are over five minutes late.
Professors - please encourage your students to utilize UE's Writing Center for their papers. If you would like to have a representative of the Writing Center visit your class to give a brief presentation of our services, or if you would like to visit to the center with your class, please e-mail im30@evansville.edu to arrange it.
Submitted by Ian McDonald im30@evansville.edu
Do you want to be an Orientation Leader (OL)?
Orientation Leader (OL) applications are now available! Visit our website at www.evansville.edu/orientation/welcomeweek.cfm to complete an electronic application before the deadline date of January 29.
Information on "What It Takes to be an Orientation Leader" and the "OL Code of Conduct" can be found on the website along with the application and reference form.
Current Orientation Leaders will be available in the Ridgway University Center Lobby on January 21-25, if you have any questions. You can also contact VPSA/Dean of Students office at 812-488-2500 or stop by Ridgway University Center, Room 230, during business hours.
Submitted by Carleen Barnes cb131@evansville.edu
Ware Publishes Book on Paul's Letters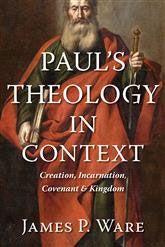 UE professor of religion James Ware has published a new book, Paul's Theology in Context: Creation, Incarnation, Covenant, and Kingdom (Eerdmans, 2019).
Intended as a guide to Paul's theology for students, pastors, and laypeople, the book is available at Amazon, Barnes and Noble, and all major bookstores and online book sellers.
Kopta's CelestHealth Research Group opens third research site at University of Wisconsin
The CelestHealth Research Group, whose Founder and executive director is University of Evansville professor of psychology Mark Kopta, has opened its third research site at the University of Wisconsin-Madison. The other two sites are located at Johns Hopkins University and the University of Denver. The CHRG is studying the mental health outcomes of psychotherapy and psychiatric medication. At Johns Hopkins University, they are beta testing the CelestHealth System-MD which assesses the effects of psychiatric medication. This instrument was recently awarded a patent by the U. S. Patent and Trademark Office.
UE Softball unveils 2019 schedule
Purple Aces head softball coach Mat Mundell has announced the 2019 schedule for the University of Evansville.
In just over two weeks, the season gets under way at the Total Control Sports Invitational in Rosemont, Ill. Set for Friday, February 8 through the 10th, the Aces will take on Purdue Fort Wayne, DePaul, Detroit, Butler, and Green Bay. DePaul is the top squad in the tournament, coming off of a Big East Championship last season along with 34 wins and a berth in the Fayetteville Regional in the NCAA Tournament.
UE is finalizing its opponent for the second weekend of action, details will be announced as soon as they are available. On February 22, the Aces travel to Chattanooga, Tennessee for the Frost Classic. Participating squads include Creighton, Eastern Kentucky, Western Michigan, Ohio University, and Chattanooga. Ohio U. won the Mid-American Conference Championship in 2018, going 40-17 and 20-3 in the MAC on their way to the Knoxville Regional, where they won two games. The Colonels of EKU picked up 45 wins last year and advanced to the postseason, taking part in the National Invitational Softball Championship (NISC). Creighton won 28 games and played DePaul in the Big East Championship game.
Next up for the Aces is the Samford Tournament in Birmingham, Alabama. Set for March 1-3, UE will face Western Kentucky, Houston Baptist, Samford, and Jackson State.
Home play commences on Wednesday, March 6 when the Aces welcome Purdue Fort Wayne to Cooper Stadium for a 5 p.m. game. UE heads back on the road from March 9-11 at the East Tennessee State Tournament in Johnson City, Tenn. Tennessee Tech, Rutgers, Siena, and East Tennessee State will be playing in the event. On March 13, UE will play a road contest at Tennessee Tech on their way back to Evansville.
That is the final non-conference tune-up before Missouri Valley Conference play begins. The Aces open up the league slate on March 16 at home against Illinois State. After opening MVC action, the Aces take on UT Martin inside Cooper Stadium on March 20 for a doubleheader. An 8-game homestand continues on the weekend of March 23 with three games against Loyola before a single game against Butler on the 26th.
After the long streak at home, the Aces take to the road for their next six games, beginning with three games at UNI on March 30-31. The month of April begins in Carbondale with three games at Southern Illinois on April 6-7. On Wednesday, April 10, the Aces return home for a doubleheader against travel partner Indiana State before welcoming Bradley on the 13th and 14th.
Seven of the final ten games will take place on the road, starting with a trip to Springfield, Mo. to face Missouri State on April 19-20. The Bears won 32 games last year and were 17-8 in the Valley. Following a single game against the Sycamores on April 24, UE wraps up the home schedule with a 3-game series against Valparaiso on April 27-28.
The final weekend of the season will see the Aces travel to Des Moines to take on defending league champion Drake. The Bulldogs were 45-11 overall and 24-1 in the conference in 2018 on their way to a berth in the NCAA Tournament where they played in the Eugene, Oregon Regional. The MVC Championship is set for May 9-11 in Peoria, Illinois.
Aces set for 2-game road trip to Iowa
A five-day trip to Iowa commences tonight – Wednesday, January 23, when the University of Evansville men's basketball team takes on Drake in a 7:00 p.m. game inside the Knapp Center. The game will be carried live on ESPN+ and can be heard on radio with the Purple Aces Sports Network by Learfield.
Setting the Scene
- The Purple Aces travel to Drake with a 9-10 mark and a 3-3 record in the MVC
- In the first meeting against the Bulldogs, the Aces pulled off an 82-77 win in double overtime as K.J. Riley scored 25 points and Marty Hill had 24
- UE is 1-6 in its last seven trips to the Knapp Center; their win came in 2016 by a final of 80-74
- Following Wednesday's game, the Aces will remain in Iowa until Saturday's contest at UNI
Last Time Out
- Illinois State shot 51.9% overall and 52.6% from long range as they took a 78-70 win over UE on Saturday
- Riley was 13-of-18 from the line on his way to 19 points while John Hall recorded his 4th double-double of the season, totaling 18 points and 11 rebounds
- Evansville led in the early moments with the teams swapping the lead six times before ISU took a 35-30 halftime lead and hung on for the 8-point win
- Free throw shooting plagued the Aces as they finished at 63% (17/27)
Takeaways from Illinois State
- UE finished with just seven turnovers against the Redbirds, it is tied for the lowest tally this season as UE had just seven against Kentucky Wesleyan
- K.J. Riley has now finished in double figures in 11 of the last 13 games; he is 5th in the nation in free throw attempts and 13th in free throw makes
- John Hall added 11 rebounds and leads the MVC with 8.3/game; his 7.21 defensive caroms per contest ranks 26th in the NCAA
- UE hauled in 26 defensive boards and now ranks 15th in the nation with 29.47 per game
Near the Top
- Over his last two games, K.J. Riley went to the line 26 times, connecting on 18 of those attempts
- For the season, Riley ranks in the top 15 in the NCAA in free throw attempts and makes; his 152 free throw tries is 5th in the country while his 112 makes are 13th.
- Riley now has scored 10+ points in 11 of the last 13 games; he reset his scoring high with 25 points against Drake in the MVC opener
- He ranks 8th in the country with 7.5 fouls drawn per game
- For the season, Riley leads the Aces with 14.2 points per game; his tally is tied for 9th in the Valley
Scouting the Opponent
- Drake enters Wednesday's game with a 14-5 record and an even 3-3 mark in MVC play
- The Bulldogs have won their last two games including a 69-52 win at Bradley and a 74-63 home triumph over Missouri State on Saturday at the Knapp Center
- Leading the way is Nick McGlynn, who has posted 16 points and 8.1 rebounds per game, both team highs
- McGlynn is shooting 54.6% and has 22 blocks
- Brady Ellingson and D.J. Wilkins average 11.4 and 11.1 points per game, respectively.
Women's Basketball Mental Health Awareness Day with Post Game Yoga
The UE women's basketball team faces Drake on Sunday, January 27 at 1:00 p.m. as part of Mental Health Awareness Day! Come grab a stress ball and pen courtesy of Counseling Services and stick around post game for a FREE yoga session on the floor led by Stacey Shanks! Please call 812-488-2237 for more information.
Da Vinci Institute event at UE covered by Eyewitness News
Eyewitness News aired a story during both the 5:00 and 9:00 p.m. newscasts on the Da Vinci Institute event held at the University of Evansville on Tuesday. At this event, local students learned to connect music with planetary science. The Da Vinci Institute is a network of community leaders in Evansville, who facilitate creative and collaborative opportunities for K-12 learners, teachers, artists, scientists, and community members. This is the third year for the project, which has the support of the University of Evansville, the Arts Council of Southwestern Indiana, and the Public Education Foundation. You can watch the Eyewitness news story about the event on the station's website.
"Purple Reign" featured in Courier & Press article
Purple Reign, the Purple Aces' Student Section Association, was the subject of a recent article in the Evansville Courier & Press. The article is headlined "'Purple Reign' helping University of Evansville students get excited about basketball" and includes quotes from UE students and staff. You can read the entire article on the Courier & Press website.
Contribute to AceNotes
To have content considered for inclusion in AceNotes, please submit a Marketing Request Form. Deadline for submission to AceNotes is 10:00 a.m. on the requested date of publication. Only articles concerning UE related/sponsored activities will be accepted. Articles submitted to AceNotes may be edited for length and clarity. Submitter contact information is at the end of each article.