| | |
| --- | --- |
| AceNotes Today | Wednesday, January 16, 2019 |
Road Trip hosts needed
The Office of Admission needs current UE students who live in the residence halls to host prospective high school seniors for Road Trip on February 15-17. If you are available, you can apply to host through Acelink, by emailing Ashley Ross (aj53@evansville.edu) or Jordan Hall (jh590@evansville.edu), or stopping by the Office of Admission, located in Room 104, Olmsted Administration Hall. The deadline to sign up has been extended to February 6.
Submitted by Ashley Ross aj53@evansville.edu
Venturing Crew Spring Open House today
UE Venturing Crew is hosting its Spring 2019 open house today - Wednesday, January 16 - in Room 162 in the Schroeder School of Business Building at 8:00 p.m. If you paid the $25 registration fee last semester you will not need to pay that again, but can still come to learn about all of the exciting events planned for the upcoming semester! If you cannot attend the open house, but would like to join or learn more about Venturing Crew, you can contact Katie Mearns at km399@evansville.edu for more information.
Submitted by Katie Mearns km399@evansville.edu
Newman Dinner and Discussion: Why Study Theology?
Did you know you can study theology online and in the classroom right down the road? Join the Newman Club today - Wednesday, January 16 - at 5:00 p.m. for our weekly dinner and discussion. This week's topic is "Why Study Theology?" John Schlacter, director of Admissions for Saint Meinrad Seminary and School of Theology, discusses the various opportunities for continued faith formation at St. Meinrad through lay degree programs. All are welcome!
Submitted by Michaela Kunkler mk305@evansville.edu
This Week in Music - Brass and Percussion Day, Woodwind Da
Brass and Percussion Day
Sunday, January 20, 9:30 a.m. - 9:30 p.m., Krannert Hall of Art and Music
UE Department of Music's annual Brass and Percussion Day takes place on Sunday, January 20 in the Krannert Hall of Art and Music. UE faculty and ensembles will be featured in concerts and recitals. The event also includes Master Classes and a solo competition.
Area middle and high school students, and brass and percussion enthusiasts are encouraged to attend to share a day of great music and learning opportunities. Students will have an opportunity to work with members of the UE faculty, including Timothy Zifer, Emily Britton, Kenneth Steinsultz, and Ross Erickson.
Early bird registration is available through January 12. For more information, and to register for the event, visit: www.evansville.edu/majors/music/outreachBrassDayPayment.cfm.
Woodwind Day
Sunday, January 27, noon - 7:00 p.m., Krannert Hall of Art and Music
UE Department of Music's is pleased to host Woodwind Day 2019 on Sunday, January 27 from noon - 7 p.m. in the Krannert Hall of Art and Music. This year's event features special guests the Cumberland Woodwind Quintet and saxophonist Eric Scales, as well as members of the UE Department of Music faculty. The event provides concerts, exhibits, and clinics for flute, oboe, clarinet, saxophone and bassoonists of all ages!
Early bird registration is available through January 25.
For more information, and to register for the event, visit: www.evansville.edu/majors/music/outreachWoodwindDayPayment.cfm.
Submitted by James Michael Sullivan js820@evansville.edu
Mindfulness practice this Sunday at 9:00 p.m. in Neu Chapel
The Neu Chapel community is excited to resume its mindfulness service on Sunday evenings at 9:00 p.m. This brief, 25-minute service is filled with beautiful music, candle lighting, prayers, reflection, and guided meditation. It is a wonderful way pause and care for ourselves as we begin a new week together. All are welcome! We hope to see you there!
Submitted by Keith Turner kt160@evansville.edu
University Worship resumes Sunday at 9:00 a.m. in Neu Chapel
All are invited to join the Neu Chapel community this Sunday morning at 9:00 as we begin a new semester of University Worship services. We will begin a new sermon series entitled "The Awakened Life" in which we will consider how we can be awakened to the presence of God in our lives and world. This week, we will consider "Awakening to God's Dream" as we also intentionally remember the life and legacy of the Rev. Dr. Martin Luther King, Jr. All are welcome! We hope to see you there!
Submitted by Keith Turner kt160@evansville.edu
Women's March Evansville – Saturday, January 19, 2 p.m.
We are meeting at 2:00 pm Saturday, January 19, in the middle of the oval at the University of Evansville for the Evansville Women's March 2019. Feel free to bring posters! We'll be walking the block around the UE campus (approximately 1 mile). Family friendly event. All orientations and identities welcome. We will be marching rain or shine.
Submitted by Lisa Marie Kretz lk102@evansville.edu
UE to celebrate life and legacy of Dr. Martin Luther King, Jr.
The University of Evansville will celebrate Martin Luther King Jr. Day 2019 on January 21. This year's theme is a "Labor of Love." The schedule of events follows. All events are free and open to the public.
Monday, January 21
11:45 a.m.-1:00 p.m., Student Fitness Center
Symbolic March: Civil Rights March on Washington and Pre-March rally
Speakers include Christopher M. Pietruszkiewicz, UE president; LaNeeca Williams, UE chief diversity officer; Aaron Cochran, Black Student Union outreach liaison; and Keith Turner, UE John Wesley Minister and assistant chaplain. The march then leaves campus and returns by 1:00 p.m.
1:00-2:30 p.m., Student Fitness Center
Labor of Love: UE Gives Back
UE students and community members, including students from Evansville Day School, will stuff care bags for foster children as part of the Value Every Child program from the Lutheran Church of our Redeemer.
1:30 p.m. and 2:00 p.m., Student Fitness Center
Labor of Love: Panel Discussion hosted by UE's Black Student Union
Local black professionals discuss why they chose their field, professional advice, and how they manage work-life balance at two 30-minute sessions. The audience will be encouraged to ask questions of the panelists.
6:00-7:00 p.m. Eykamp Hall, Room 251, Ridgway University Center
William G. and Rose M. Mays Martin Luther King Jr. Lectureship and Reception
Keynote speaker is Cynthia E. Nance, dean emeritus and Nathan G. Gordon Professor at the University of Arkansas School of Law.
Nance serves as the law school's director of pro bono and community engagement. She teaches labor law, employment law, workplace legislation and poverty law. Nance's articles appear in journals including the Iowa Law Review, Berkeley Journal of Employment and Labor Law, Iowa Law Review, Rutgers Law Review, and Brandeis Law Review.
The generosity of William G. and Rose M. Mays funds the keynote speaker during UE's Martin Luther King Jr. Day celebration.
UE Partners with Habitat for Humanity for Barn Blitz II
Habitat for Humanity Evansville provides an 8x8 yard barn for every house they build in Evansville and Posey County. Last year, University of Evansville faculty, staff, and students took the challenge to build all of the yard barns needed for the entire year of Habitat construction in just one morning.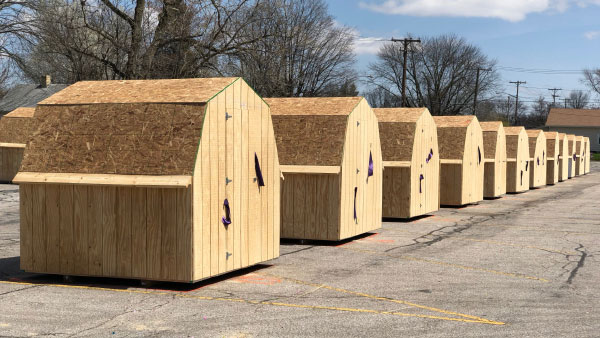 Holly Carter, UE director of education abroad and Harlaxton College programs, noted that the event "was a first of its kind for a university in the US, and we did it! We built 30 yard barns in just three hours! With student teams, alumni teams, faculty teams, and staff teams, the barns came together in record time. Some teams broke records for the fastest barn, while others broke records for the most inventive T-shirts and the most spirit. We worked with future homeowners, Habitat volunteers, and the UE community to make this amazing event a huge success!"
With overwhelming demand from our student body, Barn Blitz II has been scheduled for April 6, and Carter would like to invite you to become involved.
There are many options to be involved. Components for the barns will be built from January 26-March 30. The event will be staged on the 5th of April, and the barns will be built on the 6th of April.
Every kind of help and support is needed. We are looking for volunteers to help with the following:
• Being part of a team that builds a barn. (You can create a team for your department or organization or join a team)
• Building components on our build days at UE. (February 9, 16, and 23, and March 2, 23, and 30)
• Supervising at one of the build days at UE. (Faculty and staff)
• Providing snacks for our build days or Barn Blitz morning.
• Helping set up the event on the evening of the 5th of April at the Habitat office.
If you are a faculty or staff member and interested in getting involved, please send an email to Carter at hc110@evansville.edu.
"I would be happy to chat with you more about the event," said Carter, "or get you lined up to work with us as a supervisor or builder on our component days, or register your team to build a barn. If you are a student, more information will be coming from student engagement soon. Barn Blitz II is going to be an amazing event! You don't want to miss this opportunity to help the entire community and spread some purple power to our friends realizing the dream of home ownership!"
Submitted by Holly Carter hc110@evansville.edu
Art exhibit "Furnitur(ish)" on display at UE
"Furnitur(ish)," an exhibit by Katie Hudnall, visiting artist, will be on display at the University of Evansville's Melvin Peterson Gallery from January 14-February 23. This is free and open to the public.
The Melvin Peterson Gallery is located at 1935 Lincoln Avenue on the corner of Lincoln and Weinbach Avenues in Evansville. Gallery hours are Monday, Tuesday, Friday and Saturday from noon-3:00 p.m., and Wednesday and Thursday from noon-6:00 p.m.
For more information, contact the UE Art Department of Art at 812-488-2043, email art@evansville.edu or visit the gallery's Facebook page.
UE's Institute for Banking and Finance in the news for Promise Zone partnership
The University of Evansville's Institute for Banking and Finance's partnership with the Promise Zone to support small businesses has had some nice news coverage.
UE associate professor of finance Yasser Alhenawi was recently interviewed by 14 WFIE (NBC) about the partnership. You can watch that interview on the WFIE website.
WTVW also did a story on the partnership. You can watch that story here.
Join the Change Team!
Ever wonder how you can get involved with changemaking at UE? Join the Change team! Administrators, faculty, and staff are invited to join us at the next Change Team meeting on Friday, January 18 from 11:00 a.m.-noon in the Bower-Suhrheinrich Board (Room 203) in the library. To be added to the Change Team mailing list, contact Cindy at ck116@evansville.edu or call ext. 2455.
Submitted by Cindy Kelley ck116@evansville.edu
Attention Vonnegut fans! Free books for reading group members!
Assistant professors Sara Petrosillo (English) and Julie Merkle (Biology) will be leading a Vonnegut reading group this semester for students from all disciplines. The group will be reading Vonnegut's 1962 novel Mother Night in preparation for the English department's Chutney Literary Conference, featuring a Vonnegut scholar who will be discussing the novel. The reading group will meet for about an hour each month leading up to the conference on April 4-5. The first eight students to join will be given free copies of the book! Contact Petrosillo (sp220@evansville.edu) by January 20, to reserve your spot or for more information!
Submitted by Sara Petrosillo sp220@evansville.edu
Proposal Deadline February 20 for UE's Environmental Sustainability Challenge
Want to make an impact on environmental sustainability, but need funds to get your ideas off the ground? Submit a proposal for UE's Environmental Sustainability Challenge to have your projects considered for funding from the Green Fund.
Submission Deadline: February 20.
The Green Fund began with a $25,000 environmental sustainability grant from Siemens, and additional funds may be generated through fundraising or savings gained through successful Environmental Sustainability Challenge projects.
Learn more about the challenge and submit a proposal online here.
Inaugural Challenge Winner:
The battery operated golf cart proposed as the winning submission to the inaugural Environmental Sustainability Challenge in Spring 2018 is now on campus and in use by UE Recycling. Learn more and see photos on the UE website.
Submitted by: UE's Environmental Sustainability Committee
International Orientation Leader applications available!
Apply to be an International Orientation Leader for the 2019-20 school year! The IOLs are a dynamic group of students who work to welcome new international students to UE in August and throughout the year. Develop your leadership skills, share your UE experiences, and meet new UE students from all over the world! We encourage both international students and students from the United States to apply.
Applications are available in the Forms section of UEngage or by following this link https://uengage.evansville.edu/submitter/form/start/239510.
More information is available in the Office of Cultural Engagement and International Services on the second floor of Ridgway University Center in the Student Life Center. Questions can be directed to ms331@evansville.edu.
Submitted by Megan Sicard ms331@evansville.edu
Great on-campus job!
The Office of Annual Giving is looking for student callers for the spring Phonathon campaign. This is a paid position with flexible hours, mostly evening. Hourly pay starts at $8.25. Freshman are encouraged to apply! If you are interested, please email Erika Johnson at ej51@evansville.edu.
Submitted by Erika Johnson ej51@evansville.edu
Hiring - basketball officials
The intramural department is hiring basketball officials. Pay is $8-$10/hour based on years of experience and certifications. Training for officials will take place Tuesday, January 15; Wednesday, January 16; and Thursday, January 17. Meet in Carson Center in Room 113 at 5:30 p.m. or contact the intramural director Drew Hawkins with any questions.
Submitted by Drew Hawkins ah519@evansville.edu
Purple Friday Patrol starts this Friday: Sign up now!
Purple Friday Patrol: Wear Purple—Get Prizes!
Be on the lookout for the Purple Friday Patrol every week and sign up here to pass out the purple praise!
On Fridays, we wear purple, and each week, the PFP will reward students to promote school spirit both on campus and online through the use of the hashtag, #UEPurpleFriday.
Purple Friday Patrol Teams are made up of members of the campus community including faculty, administrators, and other interested parties, usually from the same department or group.
PFP Teams can sign up for one or more Fridays per semester and the Office of University Relations will supply Purple Swag Packs to the designated PFP Team for the week. PFP Teams are invited to add a personal touch to the swag packs, if desired. (ex. departmental swag, promo for an upcoming event, etc.)
Purple Friday Patrol Teams: What's my responsibility?
1. Sign up for at least one Friday per semester.
2. Visit the office of University Relations in Sampson Hall during the week of your assigned Friday to pick up your Purple Swag Packs
3. Pass out the purple praise. The distribution format is up to you. You can pass out swag packs to the first few purple people you see, or you can stagger the rewards throughout the day. If you'd prefer to reward online participants, you're free to promote on official UE social media accounts.
4. Pics or it didn't happen. Remember, we're trying to promote school spirit both on campus and online through the use of the hashtag, #UEPurpleFriday, so be sure to snap a picture with your purple people. You can either share them online through an official UE social media account if you run one, or send them to Amanda Campbell at uerelations@evansville.edu to post on the main UE social media accounts.

SIGN UP ONLINE HERE
W-2 notice for 2018
The Office of Accounting/Payroll will be issuing W-2's for 2018 no later than January 31, 2019.
We are pleased to announce that you can choose one of two options to receive your W-2:
• Electronic W-2 – If you provide your consent, you will receive an e-mail notification via AceNotes Extra that your W-2 is ready to view/print on Self-Service.
• Paper W-2 – If you prefer, you can continue to receive a paper W-2 in the mail, as you have in the past.
Among the advantages of electronic W-2's: (1) you will have access to your W-2 a couple of days earlier than a paper copy that is mailed to your home; (2) you can print as many copies of the W-2 as you need. The electronic W-2 is IRS compliant and can be submitted with your tax return. To take advantage of the electronic W-2 option, you must log onto Self-Service (https://selfservice.evansville.edu), locate the item titled "Tax Information" either on the main page, or in the left-hand menu under "Financial Information". Click the option "W-2 Information." Click the "Change Preferences" button and then click the first radio button to give your consent. Then click "Save." You will not receive a paper W-2 in the mail if you select the electronic W-2 option.
Again this year, employees that are eligible to participate in the University's health plans, will receive a 1095-C form. This form will be used to complete questions regarding health insurance offers and coverage on your 2018 tax return. Like the W-2 consent, the 1095-C form will need a consent as well. This is done by clicking on the "1095-C Information" tab (on the same screen as the W-2 Information option – "Tax Information" in Self-Service) and giving your consent.
If you choose to withhold your consent to view/print your online W-2 and 1095-C, a paper copy will be prepared and mailed to you at your home address.
If you have any questions, please feel free to contact Gloria Spencer at ext. 2159.
Professional development workshops for faculty, staff and students!
The Center for the Advancement of Learning is offering professional development opportunities this spring for the community and UE faculty, staff, and students. Online registration is open for both of the professional development workshops this spring.
The first workshop will be February 13 from 6:00-8:00 p.m., titled Enhancing Creativity and Building Collaborative Teams to Solve Complex Problems.
The second workshop will be offered on April 10 from 6:00-8:00 p.m., titled Creating a Culture of Empathy.
Register today!
Cost:
$75 for community, faculty, and staff
$45 for UE students
For more information, go to this webpage: www.evansville.edu/centerforlearning/professional-development.cfm.
Submitted by Lindsay Roberts lr155@evansville.edu
Outside scholarship opportunities
Students, are you looking for outside scholarship opportunities? Be sure to log into your UE portal and in the left hand side menu under the departments tab, go to Financial Aid - then you will see the additional scholarship opportunities. Many new scholarships have just been posted and deadlines are approaching!
Submitted by Trisha Hawkes th187@evansville.edu
UE Jazz auditions
UE Jazz Auditions will be Wednesday January 16 beginning at 7:00 p.m. in Room 144 in the Krannert Hall of Art and Music. Excerpts are located at www.evansville.edu/majors/music/ensIntro.cfm and clicking on Jazz Bands. The audition sign-up sheet is located on the door of Room 144. Contact professor of music Timothy Zifer (tz3@evansville.edu) if you have any questions. Instruments in the band include saxophones, trumpets, trombones, piano, bass, guitar, and set drum. Come swing with us!
Submitted by Timothy Zifer tz3@evansville.edu
UE Bookstore Hours for Spring Rush
The UE Bookstore will have revised hours for the first week of classes January 12-18. The bookstore will be CLOSED both Saturday and Sunday, January 12 and 13. Hours for Monday and Tuesday, January 14 and15 will be 9:30 a.m.-6:00 p.m. Hours for Wednesday and Thursday, January 16 and17 will be 9:00 a.m.-6:00 p.m. Hours for Friday, January 18 will be 9:00 a.m.-4:30 p.m. We will resume normal store hours for the semester on Saturday, January 19.
Submitted by Doug Gustwiller dg57@evansville.edu
UE Orchestras seeking for new members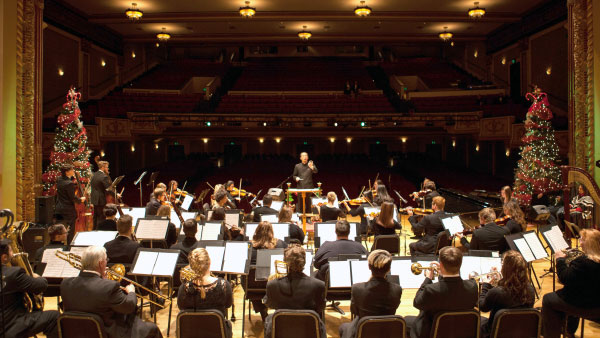 Students, staff, faculty, and administrators are invited to play in the University Symphony Orchestra and String Chamber Ensemble. The University Symphony Orchestra meets on Monday at 5:30 p.m. and Wednesday at 4:00 p.m. The String Chamber Ensemble meets on Thursday at 4:00 p.m. in the Krannert Hall of Art and Music. Join us!
E-mail Chun-Ming Chen, director of orchestral activities at cc319@evansville.edu for more information.
Submitted by Chun-Ming Chen cc319@evansville.edu
UE Bookstore Bookrush Hours
UE Bookstore hours for the first week of classes starting January 14 are Monday-Thursday from 9:00 a.m.to 6:00 p.m., Friday from 9:00 a.m.to 6:00 p.m., Saturday from 10:00 a.m.to 2:00 p.m., and CLOSED on Sunday. Regular store hours resume on Monday, January 21. Please plan your store visit accordingly. Please note we will NOT be open the weekend (Saturday and Sunday) before classes start.
Submitted by Doug Gustwiller dg57@evansville.edu
2019 scholarships for United Methodist students
United Methodist students attending UE can apply for the 2019 United Methodist Scholarships at wwwgbhem.org/scholarshipapplication.
United Methodist students attending United Methodist-related institutions can apply for 2019 United Methodist Scholarships from January 3-March 7 at www.gbhem.org/scholarshipapplication for 2019 scholarships.
Applying for individual scholarships now also makes you eligible for the United Methodist Allocation. You must apply now to be considered for both. Late applications will not be accepted. Scholarships range in value from $500 to $5,000. The average amount awarded is about $1,000.
Scholarship eligibility requirements:
•Incoming or current freshmen, sophomores, juniors, seniors or graduate students at one of the United Methodist-related colleges or universities
•Member of any United Methodist Church for at least one year
•Minimum GPA of 2.5
Submitted by Trisha Hawkes th187@evansville.edu
UE team to participate at 2019 Diversity, Civility, and Liberal Arts Institute
An Institute for Faculty and Administrators at Independent Colleges and Universities has selected the University of Evansville to participate in the Diversity, Civility, and the Liberal Arts Institute to be held in Atlanta, Georgia, on June 2–5. The institute is made possible by a generous grant from the Andrew W. Mellon Foundation. CIC received many more proposals than the number of spaces available in the Institute. The volume, quality, and urgency of the proposals reflect the commitment of independent colleges and universities to promoting diversity and civility, not just on their campuses but across the nation. The selection committee was especially impressed by the high quality of the proposal written by UE. Team members are as follows: Ray Lutgring, LaNeeca Williams, Valerie Stein, and Maggie Stevenson Special thanks to Johnna Denning-Smith for helping the team submit the proposal.
Petrosillo presents paper at MLA convention in Chicago
Sara Petrosillo, assistant professor of English, presented her research on medieval poetry and animals titled, "Species, Gender, and Falconry: Sexual Dimorphism as Poetic Form" at a science and literature session at the Modern Language Association convention in Chicago on January 3. Her presentation included original manuscript research conducted at the Vatican and University of Bologna, as well as observations from teaching literature about hawks and falconry in her fall 2018 FYS.
Harlaxton College receives Historic England Angel Award
Harlaxton College has received a certificate of commendation from Andrew Lloyd Webber and Historic England's Chief Executive Duncan Wilson in the 'Best Rescue of an Historic Building or Place (under £5 million)' category of Historic England's Angel Awards 2018.
It was received in recognition of the 'time, effort and determination' of the College to repair and restore the South-West and North-East Gazebos and Retaining Wall which form part of the entrance forecourt group of structures which significantly contribute to the framed setting of Harlaxton Manor and is highly visible from the main approach to the Manor and contributes to its theatrical silhouette.
In receiving the award, Harlaxton College would like to acknowledge the dedication and skill of Skillingtons Workshop (main contractor), the generous financial support of our donors and Historic England, and the support of the University as a whole.
Aces travel to Missouri State tonight
Three of the next four games are on the road as the University of Evansville men's basketball team begins the stretch on tonight with a 7:00 p.m. contest at Missouri State. UE is home on Saturday to take on Illinois State before traveling to Drake and UNI next week.
Setting the Scene
- UE has won 7 of the last 9 games against the Bears and are 2-2 in their last four trips to JQH Arena
- Evansville has dropped its first seven road games of the season; the last time UE started out with seven road losses was in 2005-06 when the Aces were 0-10 to star the year on the road
- Through four MVC games in 2019, UE has played in overtime twice
Last Time Out
- Trailing by five with five minutes to go in regulation, Indiana State rallied to take a 72-66 win in overtime on Saturday over UE
- Evansville trailed ISU by four inside of 20 seconds remaining, but five points from Shea Feehan helped to force overtime
- Feehan was the lone double digit scorer for UE, tallying 12 points; three players totaled nine points apiece
Takeaways from Indiana State
- John Hall had another solid game with 9 points and 9 rebounds; he continues to pace the MVC with 8.4 rebounds per game
- UE hauled in 36 defensive boards and now ranks 16th in the nation with 29.76 per game
- With 44 rebounds against ISU; the Aces have hauled in at least 35 boards in all four MVC games; in non-conference play, Evansville had 35+ rebounds in nine out of 13 games
- After posting a total of 7 points in his first two MVC games, Shea Feehan has rebounded with 13 against Loyola and 12 versus the Sycamores
Rebounding Machine
- John Hall added to his conference-leading rebound tally and continues to pace the league with 8.4 per game
- In home games, Hall has averaged 9.7 points and 9.8 rebounds per game; he also has three double-doubles at the Ford Center
- In the game against Jacksonville State, Hall grabbed a career-high 14 boards
- The Philadelphia native leads the MVC with 8.4 rebounds per game while his total of 7.4 defensive caroms is 20th in the country
Scouting the Opponent
- Under the direction of new head coach Dana Ford, Missouri State is 8-9 overall and 2-2 through their first four conference games
- MSU has won its last two games, both on the road, at Indiana State and Bradley; on Saturday, they defeated the Braves, 69-64
- Tulio Da Silva leads the Bears with 16.2 points per game, 6.9 rebounds and an unbelievable 63.1 shooting percentage
- Jarred Dixon has 14.6 PPG while Keandre Cook has posted 13 points
Contribute to AceNotes
To have content considered for inclusion in AceNotes, please submit a Marketing Request Form. Deadline for submission to AceNotes is 10:00 a.m. on the requested date of publication. Only articles concerning UE related/sponsored activities will be accepted. Articles submitted to AceNotes may be edited for length and clarity. Submitter contact information is at the end of each article.