| | |
| --- | --- |
| AceNotes Today | Monday, January 7, 2019 |
Reception for Cathleen Wright
Please join us in the Office of Financial Aid (Olmsted Hall 116) from 1:00-2:00 p.m. on Wednesday, January 9, to say farewell and wish the best to Cathleen Wright, director of financial aid. Refreshments will be served and all are welcome.
Submitted by Trisha Hawkes th187@evansville.edu
New Year's Yoga
Please join us for New Year's Yoga in Carson Center!
Wednesday, January 9: REST & RELAX Yin Yoga, noon-1:00 p.m.
Wednesday, January 16: New Year/New You Yoga, noon-1:00 p.m.
Please RSVP to Stacey Shanks at ss581@evansville.edu.
Submitted by Stacey Shanks ss581@evansville.edu
TIAA-CREF individual counseling appointments
The TIAA-CREF representative will be on the UE campus for individual counseling sessions on Tuesday, January 15. To schedule an appointment, call TIAA-CREF at 1-800-732-8353.
Please note that the meeting location has been changed to Room 153 (Eades Music Room) in the Schroeder School of Business Building.
Submitted by Lori LeDuc LL138@evansville.edu
Nominations being accepted for February Employee of the Month
The University of Evansville, in pursuit of excellence in service, wishes to recognize monthly a non-faculty employee displaying records of achievement as a leader. Leadership may be demonstrated in any of the following categories:
• Service to the University community
• Service to students
• Job performance and attitude to fellow employees
One award is presented each month. To be eligible, an employee must be a full-time member of the administration or staff. Nominations are due before the 15th of each month. Nominations are now being accepted for the month of February!
To nominate someone, or to find out more information about the Employee Excellence Award, go to http://acelink.evansville.edu/Tools/EmployeeAward/
Submitted by Lori LeDuc LL138@evansville.edu
UE Orchestras seeking for new members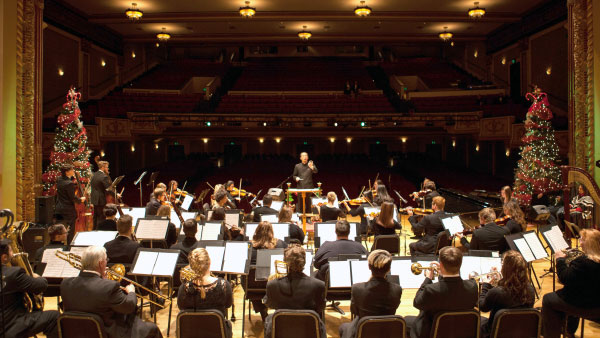 Students, staff, faculty, and administrators are invited to play in the University Symphony Orchestra and String Chamber Ensemble. The University Symphony Orchestra meets on Monday at 5:30 p.m. and Wednesday at 4:00 p.m. The String Chamber Ensemble meets on Thursday at 4:00 p.m. in the Krannert Hall of Art and Music. Join us!
E-mail Chun-Ming Chen, director of orchestral activities at cc319@evansville.edu for more information.
Submitted by Chun-Ming Chen cc319@evansville.edu
UE Bookstore Hours through January 13
The UE Bookstore will be open Monday-Thursday from 8:00 a.m.to 5:00 p.m., Friday from 8:00 a.m.to 4:30 p.m., and CLOSED on Saturday and Sunday through January 13. We will have special hours for Bookrush starting January 14. We will not be open on Saturday until January 19. Please plan your store visit accordingly.
Submitted by Doug Gustwiller dg57@evansville.edu
UE phone directory updates
A marketing request has been added for all changes/updates to the UE easy-to-use telephone directory of academic departments and administrative offices.
A pdf of this directory is located on AceLink at acelink.evansville.edu/Directory/PublishedDirectories/UE_Phone_Directory_2017-2018.pdf.
Whenever you have additions or changes that you want made to the directory, please complete a marketing request and we will update the directory throughout the year as changes are submitted. The first set of changes will be made on or around January 15.
Submitted by the Office of Content Design mh270@evansville.edu
2019 Pcard Monthly Cycle Calendar is posted!
The 2019 Pcard Monthly Cycle Calendar is now available and posted on the Pcard AceLink website under Training Materials, Dates to Remember. This information is also available in SDG2. Be sure to check the various Pcard dates on the calendar and keep this information handy.
Submitted by Kim Winsett kw83@evansville.edu
Student Health Clinic closed for Winter Break
The Student Health Center will be closed for Winter Break starting Saturday, December 15 through Sunday, January 13. The Student Health Center will resume normal business hours on Monday, January 14 at 8:00 a.m. We wish everyone a safe and healthy holiday season. If you have an emergency, call campus security at 812-488-2051 or dial 911.
Submitted by Tara Ulrich tu19@evansville.edu
UE Theatre Alumnus Rami Malek wins Golden Globe
University of Evansville alumnus Rami Malek '03, won his first Golden Globe award for Best Performance by an Actor in a Motion Picture for his portrayal of Freddie Mercury in the film, Bohemian Rhapsody.
The film was also awarded a Golden Globe for the Best Motion Picture in the drama category during the 2019 ceremony on Sunday, January 6.
This year marks Malek's first Golden Globe win. He has been nominated twice before in 2016 and 2017, both for his role as Elliot in the series, Mr. Robot. In 2016, he won an Emmy Award for the same role.
Malek studied theatre at the University of Evansville and graduated in 2003.
The January 2019 Employee of the Month is Billie Chandler!
Billie Chandler has been selected as the January 2019 Employee of the Month!
As the Physician Assistant Program administrator, Billie Chandler always goes above and beyond to help others. She is an amazing role model and mentor for the students within the PA program. Her excitement is contagious and she finds the best in everything with her positive attitude. Billie spends countless hours to make sure that every student or co-worker has what they need to be successful. She regularly meets with prospective students and their families, adding value to their visit. Her attention to detail and the drive to help people is impressive.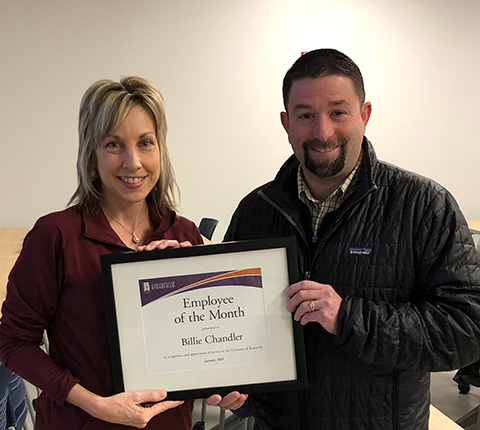 Evan Kuhlman scores career-high at Illinois State
Sophomore Evan Kuhlman scored a career-high 14 points while Marty Hill matched that mark as the University of Evansville men's basketball team dropped a 58-46 game to Illinois State on Saturday afternoon inside Redbird Arena.

The effort for Kuhlman eclipsed his previous mark of 12 points, which came at Xavier earlier this season. He was 4-8 from the field and 3-6 from long range. Hill knocked down six buckets and a pair of triples for the Aces (7-8, 1-1 MVC). Phil Fayne scored a game-high 20 points to pace Illinois State (8-7, 1-1 MVC).

"I thought we did pretty well today in some ways, but we turned the ball over too much and could not get in a nice rhythm," Aces head coach Walter McCarty said. "We had a lot of opportunities to shoot the basketball, but just did not make shots."

John Hall gave Evansville its first lead of the day when his triple gave UE a 7-4 lead three minutes in. Marty Hill made it 2-for-2 from outside to start the game when his three pushed the lead to 10-6. The Aces were scoreless for six minutes, going 0-5 with five turnovers in that span. Shea Feehan got UE back on track when his layup cut the ISU lead to 13-12 midway through the half.

Evan Kuhlman knocked down a triple with 6:06 on the clock to get UE within a possession (17-15) before Illinois State reeled off the next four to take their largest lead at 21-15 with under five minutes remaining. Hill and K.J. Riley hit buckets in the final minutes to make it a 23-19 game in favor of the Redbirds at the break.

Kuhlman was true from outside for the second time in the game to get UE on the board in the second half to cut the ISU lead to a pair at 24-22. On the next possession, the Aces had a chance to take the lead but a triple spun around the rim before going out. ISU took advantage, posting the next five to open up a 29-22 lead three minutes in.

Evansville was 1-for-8 from the field to begin the final half, but Marty Hill scored on a nice feed from Kuhlman to cut the gap to five once again. A few possessions later, Riley attacked the basket with his second field goal of the day to make it a one-possession game at 31-28. After two ISU buckets, Kuhlman continued his solid day, getting fouled on a 3-point attempt before converting all three free throw attempts to make it a 35-31 game with under 12 minutes left in the game.

The Aces continued to fight back as Kuhlman reached his career scoring high when his 13th point cut the gap to a pair – 35-33 – near the midway point of the half. Just as fast as UE got within a possession, Illinois State responded with a 7-0 run that gave them their largest lead at 42-34. Hill was the hero on the other end, nailing his second 3-pointer to end the run.

ISU quickly rebounded, extending their lead to 11 with six minutes left. An 11-2 run saw them put the game out of reach, going up 54-39 with three minutes left before winning by a final of 58-46.

Both defenses played outstanding as the Aces held ISU to 39% shooting and Evansville finished the game shooting 32.7%. Hall was the leading rebounder for UE, hauling in eight. UE was on the losing end of the rebounding battle by a 39-35 final.

On Tuesday, UE welcomes Loyola to the Ford Center in a 7:00 p.m. game before hosting Indiana State on Saturday, January 12 at 1:00 p.m.
Contribute to AceNotes
To have content considered for inclusion in AceNotes, please submit a Marketing Request Form. Deadline for submission to AceNotes is 10:00 a.m. on the requested date of publication. Only articles concerning UE related/sponsored activities will be accepted. Articles submitted to AceNotes may be edited for length and clarity. Submitter contact information is at the end of each article.