| | |
| --- | --- |
| AceNotes Today | Wednesday, December 12, 2018 |
Campus invited to press conference announcing UE and Ivy Tech partnership
The University of Evansville and Ivy Tech Community College will hold a joint press conference today - Wednesday, December 12 - at 11:00 a.m. to announce the details of a new collaborative partnership benefitting students from both institutions.
The press conference will be held in the Bernhardt Atrium in the Schroeder School of Business Building. Members of the campus community as well as the public are invited.
Interfaith Peace Bell to ring Thursday in remembrance of 1977 UE plane crash
On December 13, 1977, Air Indiana Flight 216 crashed shortly after takeoff from the Evansville airport. All on board died in the crash or from crash-related injuries, including the University of Evansville basketball team and coaches, two fans, five members of the UE staff, and the flight crew.
This Thursday, December 13 at noon, the UE community is invited to honor those who perished. The UE Interfaith Peace Bell will be rung 29 times by Interfaith Peace Bell steward Hayley Elliott, then those gathered will observe a moment of silence and peace in remembrance.
Please join us to observe the bell-ringing and honor our history this Thursday.
UE Winter Commencement set for Thursday, December 13
The University of Evansville's Winter Commencement ceremony is set for Thursday, December 13. The event begins at 3:00 p.m. in Meeks Family Fieldhouse, Carson Center, on UE's campus. The ceremony will include the announcement of the recipient of the 2018 Exemplary Teacher Award, given by the University to an exceptional member of the faculty in acknowledgment of his or her teaching excellence.
Dave Dwyer, chair of UE's Department of Mathematics, will be this year's Winter Commencement speaker. Dwyer was given the Eykamp Prize during UE's May 2018 commencement ceremony. This annual award, made possible by the generosity the Eykamp Family, recognizes UE faculty who have displayed extraordinary service to the University.
Dwyer has received the Dean's Teaching Award, the Alumni Association's Outstanding Teacher Award, and the Berger Award for Scholarship. He has been a member, chair, and co-chair of numerous campus committees. Most recently he was a faculty representative on the Presidential Search Committee. Notably, Dwyer spearheaded the Moonshot group of arts and sciences faculty who have put additional effort into assisting the Office of Admission. He secured two NSF grants totaling over $700,000, which funded the development of a textbook that is currently used in the University's calculus sequence. Dwyer was instrumental in the decision to create a statistics and data science program, and sought grants to fund its development.
For those who cannot attend Winter Commencement in person, a video of the ceremony will stream live at www.evansville.edu/live.
Holiday SALE at the UE Bookstore
The UE Bookstore is offering 20% OFF all clothing and gift purchases during Buyback for the holidays, December 7 - 13 (Friday-Thursday). Discount is open to anyone and will be taken from the original price of the item. Items on clearance or already on sale are exempted from this sale amount. Stop in the UE Bookstore and get some holiday shopping done before you leave for the semester.
Submitted by Doug Gustwiller dg57@evansville.edu
Timecard entry for December 28, 2018 payroll
In order to process the payroll before the holiday break for the December 28th bi-weekly payroll, the Office of Fiscal Affairs/Payroll is asking all staff to enter their time on Web Advisor for the pay period December 9-22 by Friday, December 14. Supervisors are asked to approve by Monday, December 17.
If you have any questions, please contact Gloria Spencer at ext. 2159 or email gs55@evansville.edu.
University Symphony Orchestra/String Ensemble calling for musicians
Students, staff, faculty, and administrators are invited to play in the University Symphony Orchestra and String Ensemble. The University Symphony Orchestra meets on Monday at 5:30 p.m. and Wednesday at 4:00 p.m. The String Ensemble meets on Thursday at 4:00 p.m. in the Krannert Hall of Fine Arts. Join us!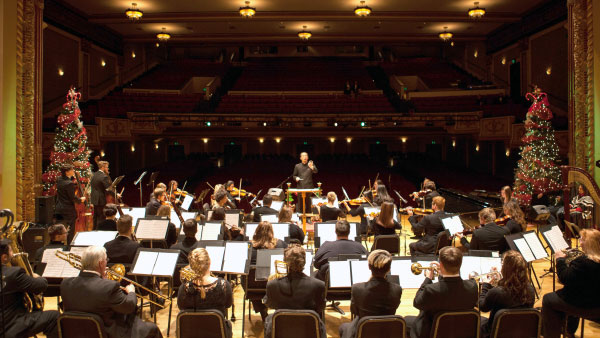 E-mail Chun-Ming Chen, director of orchestral activities, at cc319@evansville.edu for more information.
UE surplus property wish list requests
Does your department need something that doesn't have to be brand new like a piece of furniture or equipment? Check out the surplus (property disposal) website on AceLink Areas at acelink.evansville.edu/Areas/PropertyDisposal/ and complete a Wish List Email Request for Surplus Property to let your need be known.
Once on the surplus website, click on the Wish List Email Request for Surplus Property link and save the request form. After completing your Wish request, copy and paste it into an e-mail to centralreceiving@evansville.edu. Surplus requests will be matched to surplus property as it becomes available on a first come, first served basis.
Now is a great time to make your request known.
For questions, contact Kim Winsett, Director of Administrative Services, at kw83@evansville.edu or ext. 2940.
Submitted by Kim Winsett kw83@evansville.edu
2018-19 student consumer information
The U.S. Department of Education requires universities to disclose consumer information to prospective and enrolled students, parents, and employees. This information is available on the University of Evansville website at www.evansville.edu/financialaid/studentConsumerInfo.cfm. Questions may be directed to the Office of Financial Aid at 800-424-8634, 812-488-2364, or financialaid@evansville.edu. A paper copy of this information is available upon request.
Information included on the Consumer Information page include these topics:
• Academic Programs
• Accrediting and Licensing Agencies
• Alcohol and Drug Policy/Prevention Programs
• Athletics Program Participation Rates and Financial Support Data
• Code of Conduct
• Copyright Infringement Policy and Peer to Peer File Sharing Information
• Cost of Attendance
• Diversity – Student Body Diversity by Gender, Ethnicity, and Pell Grant Status
• Emergency Response and Evacuation Information
• Employment and Graduate School Information for Recent UE Graduates
• Family Educational Rights and Privacy Act (FERPA)
• Federal Student Financial Aid Penalties for Drug Law Violations
• Financial Aid Credit Balance Refund Policy
• Financial Aid Information
• General Information
• Graduation Rates by gender, race and ethnicity, and selected financial aid groups
• Graduation Rates for General Student Body
• Graduation Rates for Student-Athletes
• Grievance and Complaint Procedures
• Health Insurance Portability and Accountability Act (HIPAA)
• Missing Person Protocol
• Net Price Calculator
• Program Closure Policy
• Refund Policy and Return of Title IV Funds
• Retention and Graduation Rates of Degree-Seeking, First-Time, Undergraduate Students
• Satisfactory Academic Progress Policy
• Security and Fire Safety Report
Submitted by Amy Sowders as560@evansville.edu
Rental books due back by December 13
Rental books rented through the UE Bookstore are due back at the bookstore by Thursday, December 13 at 5:00 p.m. Please make sure you return your rentals on time to avoid late charges. Rental books should be returned to the Rental Return station at the bookstore to ensure they are properly checked in. Please bring your student ID as well. If you have any questions, please contact the UE Bookstore.
Submitted by Doug Gustwiller dg57@evansville.edu
Book Buyback at UE Bookstore
Book Buyback at the UE Bookstore starts Friday, December 7 and runs through Thursday, December 13. The UE Bookstore freely quotes any book you might want to sell regardless of where purchased or if used on this campus or not. You'll get CASH on the spot. You will need to bring your student ID to sell books. We have a new vendor this buyback with more titles and better prices. You can sell books as many times as you want but bringing them early might get you more money if we're buying the book for the store. Also bring any and all components that came with your book and make sure you do not need the book for the spring term before selling them. If you have questions, please contact the UE Bookstore.
Submitted by Doug Gustwiller dg57@evansville.edu
Excused absences during finals
Please note that the Dean of Students' office will not grant official excused absences during finals except for extreme circumstances (i.e.: death of an immediate family member, emergency surgery, etc.). Students who feel they are unable to take a scheduled final exam should work directly with their professors to discuss other possible options.
Submitted by Carleen Barnes cb131@evansville.edu
UE honors Lyndia Hayes with Realizing the Dream Scholarship
This year, the Independent Colleges of Indiana, through a grant provided by the Lilly Endowment, Inc., offered Indiana independent colleges the opportunity to award a $2,500 scholarship to one of their outstanding students. The Scholarship criteria are:
Student is from Indiana and is considered a first-generation college student
Sophomore
Academically successful
Displays leadership
Lyndia Hayes was selected as UE's recipient for 2018-19. Lyndia is a sophomore from Monrovia, Indiana, majoring in both psychology and criminal justice Her activities include Morton/Brentano Hall Council (programming chair), Quidditch Club vice president, and Phi Mu sorority. She is also one of the after-hours manager at the UE Library, a position of great responsibility.
The scholarship program also allows the winning student to select an influential former teacher to receive a $1,000 stipend.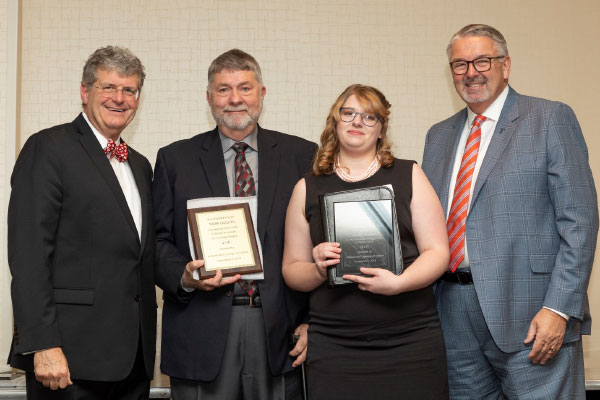 Pictured at the Realizing the Dream banquet, held in Indianapolis on November 3 are (from left): David Wantz, President of ICI; Mark Gullion, Lyndia's most influential high school teacher; Lyndia; and Rick James, keynote speaker at the banquet.
Aces student-athletes spread Christmas cheer
In a full effort from the University of Evansville athletic programs, the Purple Aces spread holiday cheer around Evansville last week.
"Our student-athletes have a long annual tradition of partnering with Toys for Tots. Shopping for toys for the Evansville youth is one of our favorite initiatives each year. This year approximately $1,000 worth of toys were purchased by the s/a's," UE Senior Associate AD for Internal Operations Sarah Solinsky said.
"The tremendous response from our student-athletes to take a break from studying for their final exams to spread some holiday cheer with Evansville youth says a lot about the quality young men and women representing UE athletics."
Ninety student-athletes from 14 UE sports volunteered to take part in 2018 Holiday Reading Day. Student-athletes visited and read books to over 400 students ranging from preschool to 3rd grade.
The crew visited Lodge Community School, St. Benedict Cathedral School and Hebron Elementary School.
Toys were also purchased by the student-athletes as part of a continuing partnership with Toys for Tots.
Contribute to AceNotes
To have content considered for inclusion in AceNotes, please submit a Marketing Request Form. Deadline for submission to AceNotes is 10:00 a.m. on the requested date of publication. Only articles concerning UE related/sponsored activities will be accepted. Articles submitted to AceNotes may be edited for length and clarity. Submitter contact information is at the end of each article.