| | |
| --- | --- |
| AceNotes Today | Tuesday, December 11, 2018 |
Campus invited: UE and Ivy Tech announcing partnership at December 12 press conference
The University of Evansville and Ivy Tech Community College will hold a joint press conference on Wednesday, December 12, at 11:00 a.m. to announce the details of a new collaborative partnership benefitting students from both institutions.
The press conference will be held in the Bernhardt Atrium in the Schroeder School of Business Building. Members of the campus community as well as the public are invited.
Interfaith Peace Bell to ring Thursday in remembrance of 1977 UE plane crash
On December 13, 1977, Air Indiana Flight 216 crashed shortly after takeoff from the Evansville airport. All on board died in the crash or from crash-related injuries, including the University of Evansville basketball team and coaches, two fans, five members of the UE staff, and the flight crew.
This Thursday, December 13 at noon, the UE community is invited to honor those who perished. The UE Interfaith Peace Bell will be rung 29 times by Interfaith Peace Bell steward Hayley Elliott, then those gathered will observe a moment of silence and peace in remembrance.
Please join us to observe the bell-ringing and honor our history this Thursday.
UE Winter Commencement set for Thursday, December 13
The University of Evansville's Winter Commencement ceremony is set for Thursday, December 13. The event begins at 3:00 p.m. in Meeks Family Fieldhouse, Carson Center, on UE's campus. The ceremony will include the announcement of the recipient of the 2018 Exemplary Teacher Award, given by the University to an exceptional member of the faculty in acknowledgment of his or her teaching excellence.
Dave Dwyer, chair of UE's Department of Mathematics, will be this year's Winter Commencement speaker. Dwyer was given the Eykamp Prize during UE's May 2018 commencement ceremony. This annual award, made possible by the generosity the Eykamp Family, recognizes UE faculty who have displayed extraordinary service to the University.
Dwyer has received the Dean's Teaching Award, the Alumni Association's Outstanding Teacher Award, and the Berger Award for Scholarship. He has been a member, chair, and co-chair of numerous campus committees. Most recently he was a faculty representative on the Presidential Search Committee. Notably, Dwyer spearheaded the Moonshot group of arts and sciences faculty who have put additional effort into assisting the Office of Admission. He secured two NSF grants totaling over $700,000, which funded the development of a textbook that is currently used in the University's calculus sequence. Dwyer was instrumental in the decision to create a statistics and data science program, and sought grants to fund its development.
For those who cannot attend Winter Commencement in person, a video of the ceremony will stream live at www.evansville.edu/live.
Yoga Study Break Tuesday at 5!
Don't let finals steal your calm! Get through the last days of exams with a 45-minute yoga break Tuesday at 5:00 p.m. Come to Eykamp Hall, Room 251, Ridgway University Center to stretch, breathe, and relieve stress and tension. Dress comfortably. Yoga mats will be provided for those who do not have their own.
Submitted by Megan Sicard ms331@evansville.edu
Take a break from studying - you're invited!
You're invited to the Alternative Energy- Puerto Rico change lab presentation on December 11 at 5:00 p.m. in Room 100 in the Koch Center for Engineering and Science. This will be an interactive presentation where you will be informed about our project in Puerto Rico this summer and get the chance to join in on the conversation of climate change! There will be food, trivia, and prizes. So take a break from the stresses of final weeks and join in on the fun!
Submitted by Patricia Joseph vj20@evansville.edu
Student Health Clinic closed for Winter Break
The Student Health Center will be closed for Winter Break starting Saturday, December 15 through Sunday, January 13. The Student Health Center will resume normal business hours on Monday, January 14 at 8:00 a.m. We wish everyone a safe and healthy holiday season. If you have an emergency, call campus security at 812-488-2051 or dial 911.
Submitted by Tara Ulrich tu19@evansville.edu
Employee Health Clinic open for Winter Break
The Employee Health Clinic will remain open during Winter Break. The clinic will run on normal business hours with the following exceptions: closed on Christmas Eve and Christmas Day, reduced hours on New Year's Eve, and closed New Year's Day. If you need assistance, please call Tri-State Community Clinics at 888-492-8722.
Submitted by Tara Ulrich tu19@evansville.edu
2018-19 student consumer information
The U.S. Department of Education requires universities to disclose consumer information to prospective and enrolled students, parents, and employees. This information is available on the University of Evansville website at www.evansville.edu/financialaid/studentConsumerInfo.cfm. Questions may be directed to the Office of Financial Aid at 800-424-8634, 812-488-2364, or financialaid@evansville.edu. A paper copy of this information is available upon request.
Information included on the Consumer Information page include these topics:
• Academic Programs
• Accrediting and Licensing Agencies
• Alcohol and Drug Policy/Prevention Programs
• Athletics Program Participation Rates and Financial Support Data
• Code of Conduct
• Copyright Infringement Policy and Peer to Peer File Sharing Information
• Cost of Attendance
• Diversity – Student Body Diversity by Gender, Ethnicity, and Pell Grant Status
• Emergency Response and Evacuation Information
• Employment and Graduate School Information for Recent UE Graduates
• Family Educational Rights and Privacy Act (FERPA)
• Federal Student Financial Aid Penalties for Drug Law Violations
• Financial Aid Credit Balance Refund Policy
• Financial Aid Information
• General Information
• Graduation Rates by gender, race and ethnicity, and selected financial aid groups
• Graduation Rates for General Student Body
• Graduation Rates for Student-Athletes
• Grievance and Complaint Procedures
• Health Insurance Portability and Accountability Act (HIPAA)
• Missing Person Protocol
• Net Price Calculator
• Program Closure Policy
• Refund Policy and Return of Title IV Funds
• Retention and Graduation Rates of Degree-Seeking, First-Time, Undergraduate Students
• Satisfactory Academic Progress Policy
• Security and Fire Safety Report
Submitted by Amy Sowders as560@evansville.edu
Distribution services mail/parcel reminder
Just a friendly reminder that, as the Christmas season arrives, UE distribution services only receives and processes mail and packages that are UE business related. Distribution services does not accept personal packages and mail for UE employees from carriers. For liability reasons and UE policy, employees should have personal mail and packages delivered to their home address.
Submitted by Kim Winsett kw83@evansville.edu
Excused absences during finals
Please note that the Dean of Students' office will not grant official excused absences during finals except for extreme circumstances (i.e.: death of an immediate family member, emergency surgery, etc.). Students who feel they are unable to take a scheduled final exam should work directly with their professors to discuss other possible options.
Submitted by Carleen Barnes cb131@evansville.edu
UE honors Lyndia Hayes with Realizing the Dream Scholarship
This year, the Independent Colleges of Indiana, through a grant provided by the Lilly Endowment, Inc., offered Indiana independent colleges the opportunity to award a $2,500 scholarship to one of their outstanding students. The Scholarship criteria are:
Student is from Indiana and is considered a first-generation college student
Sophomore
Academically successful
Displays leadership
Lyndia Hayes was selected as UE's recipient for 2018-19. Lyndia is a sophomore from Monrovia, Indiana, majoring in both psychology and criminal justice Her activities include Morton/Brentano Hall Council (programming chair), Quidditch Club vice president, and Phi Mu sorority. She is also one of the after-hours manager at the UE Library, a position of great responsibility.
The scholarship program also allows the winning student to select an influential former teacher to receive a $1,000 stipend.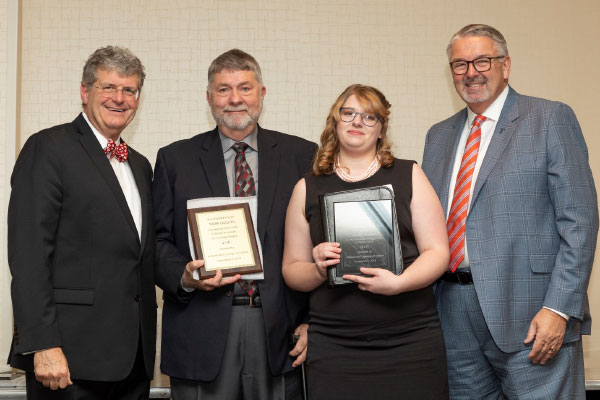 Pictured at the Realizing the Dream banquet, held in Indianapolis on November 3 are (from left): David Wantz, President of ICI; Mark Gullion, Lyndia's most influential high school teacher; Lyndia; and Rick James, keynote speaker at the banquet.
Shea Feehan named MVC Newcomer of the Week
University of Evansville graduate transfer Shea Feehan has been named the Missouri Valley Conference Newcomer of the Week.
Feehan averaged 25 points per game while adding four rebounds per contest for the Purple Aces in the last week of action as he reset his Evansville scoring mark in each game. In Tuesday's game at Arkansas State, Feehan was 6-of-13 from the field while going 4/10 from outside to finish with 21 points.
On Sunday, he erupted for a career-high 29 points in a huge win over Ball State. Trailing by as many as 17 points in the first half, Feehan helped his team embark on a 44-11 run to lead the Aces to an 89-77 win. He hit four more 3-pointers while going 13-of-14 from the line. He was a 90% shooter from the line (18-of-20) and played 36 minutes per game.
"Shea did a great job. Before Sunday's game, I met with him and asked how we could get him off to better starts," UE head coach Walter McCarty said. "I asked him what I could do or if there were some plays that he wanted to run. We had a great discussion and it really translated into the game."
Feehan and the Aces return home on Saturday to face off against Jacksonville State in a 1:00 p.m. game.
Contribute to AceNotes
To have content considered for inclusion in AceNotes, please submit a Marketing Request Form. Deadline for submission to AceNotes is 10:00 a.m. on the requested date of publication. Only articles concerning UE related/sponsored activities will be accepted. Articles submitted to AceNotes may be edited for length and clarity. Submitter contact information is at the end of each article.