| | |
| --- | --- |
| AceNotes Today | Monday, December 10, 2018 |
Campus invited: UE and Ivy Tech announcing partnership at December 12 press conference
The University of Evansville and Ivy Tech Community College will hold a joint press conference on Wednesday, December 12, at 11:00 a.m. to announce the details of a new collaborative partnership benefitting students from both institutions.
The press conference will be held in the Bernhardt Atrium in the Schroeder School of Business Building. Members of the campus community as well as the public are invited.
Holiday SALE at the UE Bookstore
The UE Bookstore is offering 20% OFF all clothing and gift purchases during Buyback for the holidays, December 7 - 13 (Friday-Thursday). Discount is open to anyone and will be taken from the original price of the item. Items on clearance or already on sale are exempted from this sale amount. Stop in the UE Bookstore and get some holiday shopping done before you leave for the semester.
Submitted by Doug Gustwiller dg57@evansville.edu
Yoga Study Break Tuesday at 5!
Don't let finals steal your calm! Get through the last days of exams with a 45-minute yoga break Tuesday at 5:00 p.m. Come to Eykamp Hall, Room 251, Ridgway University Center to stretch, breathe, and relieve stress and tension. Dress comfortably. Yoga mats will be provided for those who do not have their own.
Submitted by Megan Sicard ms331@evansville.edu
Take a break from studying - you're invited!
You're invited to the Alternative Energy- Puerto Rico change lab presentation on December 11 at 5:00 p.m. in Room 100 in the Koch Center for Engineering and Science. This will be an interactive presentation where you will be informed about our project in Puerto Rico this summer and get the chance to join in on the conversation of climate change! There will be food, trivia, and prizes. So take a break from the stresses of final weeks and join in on the fun!
Submitted by Patricia Joseph vj20@evansville.edu
UE surplus property wish list requests
Does your department need something that doesn't have to be brand new like a piece of furniture or equipment? Check out the surplus (property disposal) website on AceLink Areas at acelink.evansville.edu/Areas/PropertyDisposal/ and complete a Wish List Email Request for Surplus Property to let your need be known.
Once on the surplus website, click on the Wish List Email Request for Surplus Property link and save the request form. After completing your Wish request, copy and paste it into an e-mail to centralreceiving@evansville.edu. Surplus requests will be matched to surplus property as it becomes available on a first come, first served basis.
Now is a great time to make your request known.
For questions, contact Kim Winsett, Director of Administrative Services, at kw83@evansville.edu or ext. 2940.
Submitted by Kim Winsett kw83@evansville.edu
2018-19 student consumer information
The U.S. Department of Education requires universities to disclose consumer information to prospective and enrolled students, parents, and employees. This information is available on the University of Evansville website at www.evansville.edu/financialaid/studentConsumerInfo.cfm. Questions may be directed to the Office of Financial Aid at 800-424-8634, 812-488-2364, or financialaid@evansville.edu. A paper copy of this information is available upon request.
Information included on the Consumer Information page include these topics:
• Academic Programs
• Accrediting and Licensing Agencies
• Alcohol and Drug Policy/Prevention Programs
• Athletics Program Participation Rates and Financial Support Data
• Code of Conduct
• Copyright Infringement Policy and Peer to Peer File Sharing Information
• Cost of Attendance
• Diversity – Student Body Diversity by Gender, Ethnicity, and Pell Grant Status
• Emergency Response and Evacuation Information
• Employment and Graduate School Information for Recent UE Graduates
• Family Educational Rights and Privacy Act (FERPA)
• Federal Student Financial Aid Penalties for Drug Law Violations
• Financial Aid Credit Balance Refund Policy
• Financial Aid Information
• General Information
• Graduation Rates by gender, race and ethnicity, and selected financial aid groups
• Graduation Rates for General Student Body
• Graduation Rates for Student-Athletes
• Grievance and Complaint Procedures
• Health Insurance Portability and Accountability Act (HIPAA)
• Missing Person Protocol
• Net Price Calculator
• Program Closure Policy
• Refund Policy and Return of Title IV Funds
• Retention and Graduation Rates of Degree-Seeking, First-Time, Undergraduate Students
• Satisfactory Academic Progress Policy
• Security and Fire Safety Report
Submitted by Amy Sowders as560@evansville.edu
Nominate an excellent employee for January Employee of the Month
The University of Evansville, in pursuit of excellence in service, wishes to recognize monthly a non-faculty employee displaying records of achievement as a leader. Leadership may be demonstrated in any of the following categories:
• Service to the University community
• Service to students
• Job performance and attitude to fellow employees
One award is presented each month. To be eligible, an employee must be a full-time member of the administration or staff. Nominations are due before the 15th of each month. Nominations are now being accepted for the month of January!
To nominate someone, or to find out more information about the Employee Excellence Award, go to acelink.evansville.edu/Tools/EmployeeAward.
Submitted by Lori LeDuc LL138@evansville.edu

Rental books due back by December 13
Rental books rented through the UE Bookstore are due back at the bookstore by Thursday, December 13 at 5:00 p.m. Please make sure you return your rentals on time to avoid late charges. Rental books should be returned to the Rental Return station at the bookstore to ensure they are properly checked in. Please bring your student ID as well. If you have any questions, please contact the UE Bookstore.
Submitted by Doug Gustwiller dg57@evansville.edu
Book Buyback at UE Bookstore
Book Buyback at the UE Bookstore starts Friday, December 7 and runs through Thursday, December 13. The UE Bookstore freely quotes any book you might want to sell regardless of where purchased or if used on this campus or not. You'll get CASH on the spot. You will need to bring your student ID to sell books. We have a new vendor this buyback with more titles and better prices. You can sell books as many times as you want but bringing them early might get you more money if we're buying the book for the store. Also bring any and all components that came with your book and make sure you do not need the book for the spring term before selling them. If you have questions, please contact the UE Bookstore.
Submitted by Doug Gustwiller dg57@evansville.edu
Distribution services mail/parcel reminder
Just a friendly reminder that, as the Christmas season arrives, UE distribution services only receives and processes mail and packages that are UE business related. Distribution services does not accept personal packages and mail for UE employees from carriers. For liability reasons and UE policy, employees should have personal mail and packages delivered to their home address.
Submitted by Kim Winsett kw83@evansville.edu
Excused absences during finals
Please note that the Dean of Students' office will not grant official excused absences during finals except for extreme circumstances (i.e.: death of an immediate family member, emergency surgery, etc.). Students who feel they are unable to take a scheduled final exam should work directly with their professors to discuss other possible options.
Submitted by Carleen Barnes cb131@evansville.edu
UE honors Lyndia Hayes with Realizing the Dream Scholarship
This year, the Independent Colleges of Indiana, through a grant provided by the Lilly Endowment, Inc., offered Indiana independent colleges the opportunity to award a $2,500 scholarship to one of their outstanding students. The Scholarship criteria are:
Student is from Indiana and is considered a first-generation college student
Sophomore
Academically successful
Displays leadership
Lyndia Hayes was selected as UE's recipient for 2018-19. Lyndia is a sophomore from Monrovia, Indiana, majoring in both psychology and criminal justice Her activities include Morton/Brentano Hall Council (programming chair), Quidditch Club vice president, and Phi Mu sorority. She is also one of the after-hours manager at the UE Library, a position of great responsibility.
The scholarship program also allows the winning student to select an influential former teacher to receive a $1,000 stipend.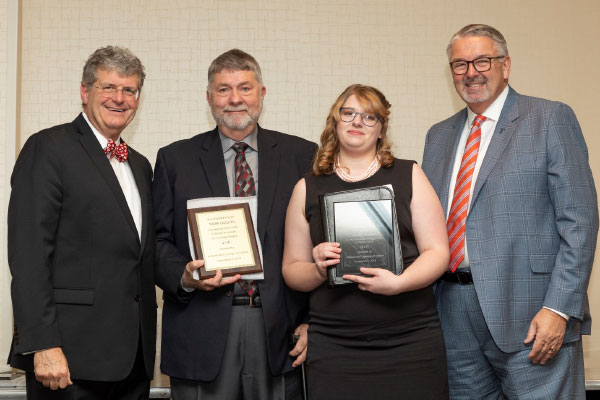 Pictured at the Realizing the Dream banquet, held in Indianapolis on November 3 are (from left): David Wantz, President of ICI; Mark Gullion, Lyndia's most influential high school teacher; Lyndia; and Rick James, keynote speaker at the banquet.
Huge rally lifts Aces to 89-77 win over Ball State
Just five days after setting his University of Evansville scoring mark with 21 points, graduate transfer Shea Feehan erupted for 29 points as the Purple Aces erased a 17-point deficit in the first half to defeat Ball State by a final of 89-77 on Sunday afternoon in the Ford Center.

"I hit a few shots in the first half and tried to stay aggressive and keep it going in the second half," Feehan said.

Feehan went 13-of-14 from the free throw line while adding four 3-pointers in the UE (5-4) win. He was one of five double figure scorers for UE. K.J. Riley finished with 14 while Marty Hill scored 12, Evan Kuhlman posted 11 and John Hall recorded 10. Hall also led all players with 10 rebounds as he had his second double-double of the season.

"We showed some fight today and that made me feel good. The crowd was awesome. I noticed that from the beginning of the game, we are grateful to them; it helps our energy and really helps our players. These guys are playing hard and the way we are playing is fun to watch. We're building something really special," Aces head coach Walter McCarty said. "It feels good. I tell the guys we are good enough. We have enough to be successful. If we play our style, feel connected and play the way we are capable of, we can beat anybody. This win definitely helps our confidence."

Four Ball State (6-4) players recorded double figures, led by Tahjai Teague, who had 17. Tayler Persons, Trey Moses and K.J. Walton finished with 16, 15 and 14 points, respectively.

Evansville notched the opening basket of the game before Ball State scored nine straight to open up a 9-2 lead. Shea Feehan, who had 16 points in the opening 20 minutes, hit four in a row for the Aces to get within a possession. With the Cardinals up 13-8, the Aces posted five in a row including a trey from John Hall.

Ball State went on another big run, reeling off nine in a row in a run that began with a Kyle Mallers three. They shot 58.6% in the opening period and led by as many as 17 at 43-26 with 2:46 remaining. At that point, UE changed course. Over the final moments of the half, the Aces went on an 11-2 run to cut the BSU lead to eight (45-37) at the break. Feehan drilled a three with a minute left and was able to draw a foul on another long range attempt with one second remaining. He hit all three tries to make it a manageable 8-point game at the break.

Feehan explained how the coaching staff helped their mindset to make that run.

"We came together, got a stop and played better as a team," he explained. "In the under 4 timeout of the first half, we were down 14-15 points and Coach McCarty said let's get it down to 7 or 8 at the half and we were able to do that."

John Hall said that his team took the first meeting this season along with the opening moments of today's game to heart and used that to their advantage.

"They punched us in the face at their place two weeks ago and we lost," Hall stated. "This week - they punched us in the face and we punched back even harder."

Out of the half, Evansville kept the pressure on. Feehan hit three more from the line as the Aces scored the first six of the period to cut their gap to just two at 45-43. Following a Cardinal bucket, the Aces scored four more to tie it up at 47-47. Four minutes in, Evan Kuhlman connected on a field goal to give the Aces a 49-47 lead, their first lead since 2-0.

The run continued. Feehan's big day continued when another trey capped off an 11-0 run that gave the Aces a 54-47 lead. John Hall got in on the outside shooting when hit triple pushed the Evansville lead to double figures at 60-49. Shamar Givance helped it balloon to 16 points when his back-to-back field goals made it a 70-54 contest with 8:42 left in the game. In total, the Evansville run was a 44-11 stretch, going back to the first half.

"We went on a really good run as a team," Feehan commented after the game. "I don't know if I have ever been on a team that made a run like that. We battled back."

UE's lead reached as many as 17 at 73-56, but more importantly - it never got below 11 - over the final portion of the game. The Aces stood tall and finished with the 89-77 victory.

One stat that jumps out is the rebounding - which went in UE's favor by a 42-34 final. In the earlier meeting in Muncie, it went Ball State's way by a 42-30 tally.

"I told our guys that we are tougher than what we have shown. We do a lot of tough things in practice, but have not shown that in the games," Coach McCarty said. "We need our team to be all in on the defensive end. Our guys were really connected defensively today. We made it tough on Ball State."

After shooting 26.5% in the first half, the Aces scorched the nets in the final 20 minutes, hitting 18 out of 31 shots (58.1%). For the game, UE shot 41.5% while Ball State finished out at 47.5%. Free throw shooting by Evansville was tremendous as the squad finished at 90% - 27 out of 30.

Evansville is now 5-0 at home and has another big contest at the Ford Center next weekend with Jacksonville State coming to town on Saturday for a 1 p.m. match-up.

"I have been telling the coaching staff that we have not seen what we can do yet. We are going to have a night where we really make all of our shots," McCarty added.
Contribute to AceNotes
To have content considered for inclusion in AceNotes, please submit a Marketing Request Form. Deadline for submission to AceNotes is 10:00 a.m. on the requested date of publication. Only articles concerning UE related/sponsored activities will be accepted. Articles submitted to AceNotes may be edited for length and clarity. Submitter contact information is at the end of each article.