| | |
| --- | --- |
| AceNotes Today | Wednesday, December 5, 2018 |
Mary Kessler Named as a 2019 ATHENA Award Finalist
Mary Kessler, dean of the College of Education and Health Sciences at UE, has been named one of the 2019 ATHENA Award® finalists.
Recipients of the ATHENA Award® are exceptional leaders in the Evansville-area community that have actively and generously assisted others in the attainment of professional excellence and leadership skills.
Those who nominated Kessler for the award cited many personal traits and professional accomplishments:
"From assisting in career decisions, to helping advance careers, Mary encourages women to pursue their full potential and continually helps them along the way."
"While achieving a high level in her own career, Mary serves as a role model to many women, both young and mature. Regardless of her professional demands, Mary is devoted to guiding women in their pursuits through many fields including engineering, law, health and other professions, is an advocate for women in our community, and inspires women to attain the highest level within their careers. Most importantly, Mary promotes work-life balance and the importance of professional women finding time to care for themselves in order to be their personal best at home and work."
"Mary has been the recipient of UE's Global Scholar Award, as well as the Dean's Outstanding Professor Award for her work with students, and the Student's Award for Advisor of the Year. She has mentored physical therapy students in the research process and has had several studies presented at national professional conferences. Mary has also been recognized for her leadership role in bringing the [Stone Family Center for Health Sciences] to completion."
The ATHENA Awards® have been hosted by the Southwest Indiana Chamber annual since the 1990s. The 2019 recipient will be announced at the annual ATHENA Award® Luncheon on February 22, 2019.
Other finalists include: Gina Gibson, executive director at Evansville Christian Life Center; Deena Laska Lewis, founder and choreographer at Children's Center for Dance Education; Millie Marshall, president of Toyota Motor Manufacturing Indiana; Susan Parsons, CFO at Koch Enterprises; and Carrie Roelle, partner at Kahn, Dees, Donovan, & Kahn, LLP.
Chicago-based ATHENA International is a nonprofit organization founded in 1982 by Martha Mertz. In addition to supporting, developing, and honoring women leaders, the organization seeks to create balance in leadership worldwide and inspire women to achieve their full potential. Since the program's inception in 1982, nearly 6,000 leaders in more than 500 communities have received the ATHENA Award®.
UE Winter Commencement set for Thursday, December 13
The University of Evansville's Winter Commencement ceremony is set for Thursday, December 13. The event begins at 3:00 p.m. in Meeks Family Fieldhouse, Carson Center, on UE's campus. The ceremony will include the announcement of the recipient of the 2018 Exemplary Teacher Award, given by the University to an exceptional member of the faculty in acknowledgment of his or her teaching excellence.
Dave Dwyer, chair of UE's Department of Mathematics, will be this year's Winter Commencement speaker. Dwyer was given the Eykamp Prize during UE's May 2018 commencement ceremony. This annual award, made possible by the generosity the Eykamp Family, recognizes UE faculty who have displayed extraordinary service to the University.
Dwyer has received the Dean's Teaching Award, the Alumni Association's Outstanding Teacher Award, and the Berger Award for Scholarship. He has been a member, chair, and co-chair of numerous campus committees. Most recently he was a faculty representative on the Presidential Search Committee. Notably, Dwyer spearheaded the Moonshot group of arts and sciences faculty who have put additional effort into assisting the Office of Admission. He secured two NSF grants totaling over $700,000, which funded the development of a textbook that is currently used in the University's calculus sequence. Dwyer was instrumental in the decision to create a statistics and data science program, and sought grants to fund its development.
For those who cannot attend Winter Commencement in person, a video of the ceremony will stream live at www.evansville.edu/live.
USPS suspends mail delivery today - December 5
President Donald J. Trump has proclaimed Wednesday, December 5 as a National Day of Mourning in remembrance of former President George H.W. Bush. Out of respect for the 41st President of the United States and to honor his vast contributions to our country during his lifetime, and consistent with the Presidential Proclamation, the United States Postal Service will suspend regular mail deliveries, retail services and administrative office activity on December 5. Mail activities will resume on Thursday, December 6.
Submitted by Kim Winsett kw83@evansville.edu
Lunch Charlas today
Wanting to practice your Spanish? Join assistant professor of Spanish Edward Curran and associate professor of Spanish Diana Rodríguez Quevedo for lunch, and chat about different topics in Spanish on Wednesdays from noon-1:00 p.m. in the Starbuck's café area in Ridgway University Center. All levels of Spanish welcome. The last Lunch Charlas of the semester is today - Wednesday, December 5.
Please contact Professor Rodríguez Quevedo at dr130@evansville.edu if you have any questions. ¡Ahí nos vemos!
Submitted by Diana Rodriguez Quevedo dr130@evansville.edu
Take a break from studying - you're invited!
You're invited to the Alternative Energy- Puerto Rico change lab presentation on December 11 at 5:00 p.m. in Room 100 in the Koch Center for Engineering and Science. This will be an interactive presentation where you will be informed about our project in Puerto Rico this summer and get the chance to join in on the conversation of climate change! There will be food, trivia, and prizes. So take a break from the stresses of final weeks and join in on the fun!
Submitted by Patricia Joseph vj20@evansville.edu
Workshop presentation of Q2: A New Musical in Shanklin Theatre
The New Harmony Project is proud to feature University of Evansville Theatre students in a workshop reading of Q2: A New Musical, with book and lyrics by James Lecesne and Ryan Amador and music by Ryan Amador. Q2 tells the story of LGBTQ youth coming-of-age and finding their community in a digital world. The event is set for Wednesday, December 5, from 7:30-10:30 p.m.
Lecesne wrote the short film Trevor, which won the 1995 Academy Award for Best Live Action Short and inspired the founding of The Trevor Project, the only nationwide 24-hour suicide prevention and crisis intervention lifeline for LGBT and questioning youth.
Amador is a singer, songwriter, and theater director who has released two full-length albums and five EP's of original music to date. He is best known for his queer-related music videos Define Me and Spectrum, as well as his song Instead, which has over 3 million listens on Spotify.
The New Harmony Project continues its commitment to this project following support at its 32nd annual spring conference in May. For ten days, Lecesne, Amador and students from the University of Evansville Department of Theatre will collaborate and workshop this piece, strengthening the book and music as it continues on its path to eventual production. The New Harmony Project will again workshop Q2 in Indianapolis in April of 2019.
Free ticket link: www.newharmonyproject.org/tickets.
Submitted by Sharla Cowden sc75@evansville.edu
Hesburgh Lecture is set for Thursday, December 6
Michael Desch will give the sixth annual Hesburgh Lecture at 7:00 p.m. on Thursday, December 6 in Room 170 in the Schroeder School of Business Building. Desch's talk is entitled "America and the World in the Age of Trump: The Donald vs. the System."
Desch is the Packey J. Dee Professor of Political Science at the University of Notre Dame and director of the Notre Dame International Security Center (NDISC).
The event is cosponsored by the Notre Dame Alumni Club of the Tri-State and the University of Evansville's William L. Ridgway College of Arts and Sciences.
Any questions about the talk should be directed to associate professor of history Daniel Byrne at db89@evansville.edu or ext. 2798.
Submitted by Daniel Byrne db89@evansville.edu
Blessing of the Brains this Friday!
Join the Newman Club for our traditional Blessing of the Brains Mass this Friday, December 7 at 8:00!
This year's Blessing Mass also counts as your Holy Day of Obligation Mass for The Feast of the Immaculate Conception (which is observed on Saturday the 8th). We can't promise that it'll help you on your finals, but we do promise fellowship and faith!
Submitted by Sam Wallisch sw265@evansville.edu
This Week in Music: Horn Choir
Evansville Horn Choir
Sunday, December 9, 7:30 p.m., Wheeler Concert Hall
The Evansville Horn Choir, an ensemble comprised of community members and University of Evansville students, will be presenting a concert on December 9, at 7:30 p.m. in Wheeler Concert Hall. This free event will include Holst's perennial favorite, The Planets, several student soloists, and holiday classics – with a twist!
Submitted by James Sullivan js820@evansville.edu
Counterpoint Recital
Today, Wednesday, December 5, the students of Professor James Sullivan's Counterpoint class will give an informal recital in Wheeler from 1:00-2:00 p.m. The recital will feature several model compositions that students wrote over the course of the semester, with students of the class performing each other's pieces.
Submitted by James Sullivan js820@evansville.edu
Newman Christmas Party is today!
Join the Newman Club today - Wednesday, December 5 - from 5:00-7:00 p.m. at the Newman house for our Christmas Party! We will be decorating and eating winter treats! If you have an ugly Christmas sweater, feel free to wear it. All are welcome!
Submitted by Michaela Kunkler mk305@evansville.edu
I-House: American Cultural Christmas is today
As this semester is almost over, I-House has decided to have an I-House: American Cultural Christmas to wind up the year on a happy, throwback note. We will be playing the American classic clay animation movie Rudolph the Red-Nosed Reindeer from 1964 today - December 5 - on the second floor of Ridgway at 7:00 p.m. Before finals, we will relax in traditional American Christmas style with a holiday movie and Christmas snacks. We hope to see you there!
Submitted by Megan Sicard ms331@evansville.edu
Pancakes are coming!
Take a break from studying for finals to join some of your favorite Aces at this fall's Pancake Study Break! This event is free of charge for UE students. A UE ID is required. Pancakes and more will be available on Thursday, December 6 from 9:00-11:00 p.m. in the Cafe Court. Door prizes will be given out throughout the event.
Submitted by Emily Wilderman ew159@evansville.edu
Reading Study Day Relaxation Event
Finals got you stressed? Counseling services, with the help of SAB, is having our bi-annual relaxation event before finals! The event is held on Reading Study Day where we'll have chair massage from Bodyworks Massage, aromatherapy, yoga, coloring, puzzles, and other relaxing activities. Come and go as you like and move at your own pace. We always have a great time and hope you'll join us!
The event is set for Thursday, December 6 from 1:00-4:00 p.m. in Eykamp Hall, Rooms 253-255, Ridgway University Center.
Submitted by Jennifer Hargus jh693@evansville.edu
Fitness Center Winter Break Hours
The Fitness Center winter hours:
Thursday, December 6 and Friday, December 7 from 8:00 a.m.- 7:00 p.m.
Saturday, December 8 and Sunday, December 9 from 11:30 a.m.- 5:30 p.m.
Monday, December 10- Wednesday, December 12 from 8:00 a.m.- 7:00 p.m.
Thursday, December 13- Friday, December 14 from 8:00 a.m.- 6:00 p.m.
Closed Saturday, December 15 and Sunday, December 16
Monday, December 17- Thursday, December 20 from 8:00 a.m.- 6:00 p.m.
Friday, December 21 from 8:00 a.m.-5:00 p.m.
Closed Saturday, December 22-Tuesday, January 1
Wednesday, January 2- Friday, January 4 from 8:00 a.m.- 6:00 p.m.
Starting Thursday, December 6 - Open swim from 11:00 a.m.-1:00 p.m., pending guard availability.
Submitted by Lori Adams la87@evansville.edu
Nominate an excellent employee for January Employee of the Month
The University of Evansville, in pursuit of excellence in service, wishes to recognize monthly a non-faculty employee displaying records of achievement as a leader. Leadership may be demonstrated in any of the following categories:
• Service to the University community
• Service to students
• Job performance and attitude to fellow employees
One award is presented each month. To be eligible, an employee must be a full-time member of the administration or staff. Nominations are due before the 15th of each month. Nominations are now being accepted for the month of January!
To nominate someone, or to find out more information about the Employee Excellence Award, go to acelink.evansville.edu/Tools/EmployeeAward.
Submitted by Lori LeDuc LL138@evansville.edu

Book Buyback at UE Bookstore
Book Buyback at the UE Bookstore starts Friday, December 7 and runs through Thursday, December 13. The UE Bookstore freely quotes any book you might want to sell regardless of where purchased or if used on this campus or not. You'll get CASH on the spot. You will need to bring your student ID to sell books. We have a new vendor this buyback with more titles and better prices. You can sell books as many times as you want but bringing them early might get you more money if we're buying the book for the store. Also bring any and all components that came with your book and make sure you do not need the book for the spring term before selling them. If you have questions, please contact the UE Bookstore.
Submitted by Doug Gustwiller dg57@evansville.edu
Excused absences during finals
Please note that the Dean of Students' office will not grant official excused absences during finals except for extreme circumstances (i.e.: death of an immediate family member, emergency surgery, etc.). Students who feel they are unable to take a scheduled final exam should work directly with their professors to discuss other possible options.
Submitted by Carleen Barnes cb131@evansville.edu
Flu vaccines
Prevent getting the flu this year by stopping by the Student Health Clinic to receive your flu vaccination! Flu vaccines are available at the Student Health Center for $20. Cash or card is accepted. No appointment needed!
Submitted by Tara Ulrich tu19@evansville.edu
Last call for official transcripts!
Any current student needing their official transcript must submit an order no later than 5:00 p.m. on Thursday, December 6. Orders placed after 5:00 p.m. will not be processed until after grades are "official."
Orders must be placed through www.evansville.edu/transcripts.
If you have questions, please contact the registrar's office for assistance.
Submitted by Teresa Haller th227@evansville.edu
Winter housing
Residence hall students - do you need a place to stay this winter? The residence life office has limited winter housing available. Only students participating in official University functions or with approved reasons will be considered for winter housing.
Winter housing is located on the fourth floor of Morton Residence Hall. Students will not have access to their permanent rooms during winter break. Approvals are subject to room availability. Students are charged a flat fee of $400 for winter housing.
Students seeking winter housing must submit a Winter Housing Request Form by noon on Reading and Study Day, available through this link - www.surveymonkey.com/r/WinterHousing.
Students who live in Village housing can stay in their apartment or house at no additional cost but we do ask that you let us know when you will be on campus by filling out this form - www.surveymonkey.com/r/villagewinterhousing.
Submitted by Brian Conner bc32@evansville.edu
Graves Hall Tree Decorations for Children
Please consider donating new gloves, mittens, socks, hats, or scarves for community children grades K-12 this season. These items can be placed on the tree in the Graves Hall lobby from now until December 14. The Center for Family, School and Community Partnerships will then distribute them to EVSC schools. Thank you.
Submitted by Karen Doss kd56@evansville.edu
Schroeder seniors place at the 92nd percentile on Major Field Test
Schroeder seniors recently placed at the 92nd percentile on the Business Major Field Test (MFT). This year's performance was headlined by management (97th percentile) and marketing (96th percentile), however international business, accounting, and economics were also above the 90th percentile. Additionally, accounting majors placed at the 99th percentile on the accounting portion of the exam.

The MFT is taken by over 500 business schools.
The Schroeder School is ranked #3 nationally among small private universities by 2019 US News and World Report, with specialty rankings among all business schools of #37 (#1 among small private schools) in accounting and #36 (#2 among small private schools) in finance.
Sarah O'Leary is the December 2018 Employee of the Month!
Sarah does an incredible job as senior administrative assistant in counseling and disability services. She does an outstanding job managing the duties of both Counseling and Disability Services, with five very busy administrators. Sarah also schedules and proctors over 1,000 exams each year for students with disability. Her office credits her with keeping the office running like a well-oiled machine and maintaining a calm, professional manner in what can be a very chaotic environment. Sarah is a valued member of the counseling services team and completes any task handed to her with excellence and a positive attitude. If you are in the area of Student Life, please stop by and offer Sarah well-deserved congratulations!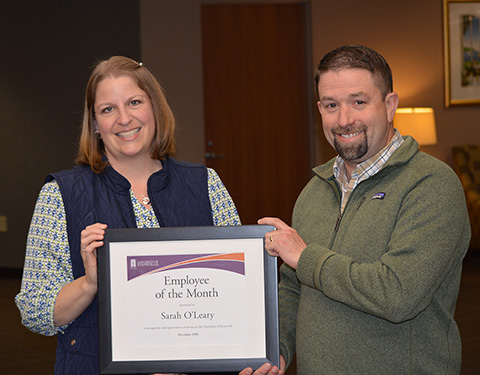 Aces fall to Arkansas State in road contest
Marty Hill had a career night on Tuesday, scoring 16 points while hauling in 6 rebounds, but 10-0 run by Arkansas State in the first half was key to the Red Wolves earning an 87-77 win over the University of Evansville men's basketball team inside First National Bank Arena.

Hill was 5-of-10 from the field in the game before fouling out with 44 seconds left. Leading the Purple Aces (4-4) was Shea Feehan. He hit six field goals, including four triples, to score 21 points; the final tally was also his career mark. K.J. Riley scored 15. Ty Cockfield scored a game-high 24 points for Arkansas State (3-5).

"I thought we came out and played well offensively, but could not carry that over to the defensive end," UE head coach Walter McCarty said. "I thought we missed some opportunities out there and have some things to improve on."

Evansville knocked down its first three shots, including a pair from Shea Feehan, to jump out to a 7-2 advantage. Arkansas State responded with back-to-back triples to go up 8-7. UE wrestled the lead back by a score of 15-13, but ASU countered with an 8-0 stretch to go up 21-15.

The back-and-forth action continued with a pair of Marty Hill free throws put UE up 29-28 with 4:30 remaining in the first half. That is when the Red Wolves had a 10-0 run that saw them take a 38-29 lead. Jawaun Newton got the Aces back on track with a pair of free throws, but the rally by ASU continued. The fifth trey of the game saw ASU go up 43-31 inside the final minutes. Shea Feehan, who led the team with 10 first-half points, connected on two free throws to trim the ASU lead to 43-33 at the half.

Evan Kuhlman connected on a triple on Evansville's first possession of the second half to cut the deficit to seven points. His trey came after his squad made 1 of their first 10 tries from outside. Ty Cockfield, who led everyone with 13 points in the opening 20 minutes, responded with his third long range shot to put ASU back up by ten.

ASU's lead hovered around 10 points, but near the midway point of the latter period, Dainius Chatkevicius hit an and-one to cut the Red Wolves lead back to eight points at 57-49. Just as fast as UE rallied, Arkansas State had one of their own when Grantham Gillard drained two consecutive 3-pointers to push their lead to 67-52, its largest advantage of the game.

Marty Hill connected from downtown 7:07 on the clock to cap off a 6-0 stretch that cut the ASU lead to nine points, but the game was put out of reach three minutes later when Tristin Walley hit his second triple to give Arkansas State a 77-63 lead. Feehan did not let the Aces go down without a fight, hitting back-to-back treys in the final 90 seconds, but the deficit was too much to overcome as Arkansas State took the win by a final of 87-77.

UE shot 39.3% for the night and 26.1% from outside. ASU finished at 45.2%. The Red Wolves outrebounded the Aces by a 41-30 final.

Sunday will see the Aces play host to Ball State inside the Ford Center. Game time is 2 p.m.
Contribute to AceNotes
To have content considered for inclusion in AceNotes, please submit a Marketing Request Form. Deadline for submission to AceNotes is 10:00 a.m. on the requested date of publication. Only articles concerning UE related/sponsored activities will be accepted. Articles submitted to AceNotes may be edited for length and clarity. Submitter contact information is at the end of each article.