| | |
| --- | --- |
| AceNotes Today | Tuesday, December 4, 2018 |
This Week in Music: Holiday Pops and Horn Choir
Holiday Pops
Tuesday, December 4, 7:30 p.m., Victory Theatre
The University of Evansville Department of Music invites you join them in ringing in the holiday season at the annual Holiday Pops Concert. For nearly four decades, students, faculty, and soloists have shared their talent and celebrated the spirit of the season with music. UE's Choirs, Wind Ensemble, Symphony Orchestra, and University Band are among the ensembles audiences can expect to enjoy.
Each of UE's student music ensembles will perform during the evening. Orchestra selections include Winter Wonderland, the University Choir will perform Tomorrow Shall Be My Dancing Day, and the Wind Ensemble will share their rendition of The Night Before Christmas and the Leroy Anderson's classic Sleigh Ride. The concert concludes with all of the department's ensembles joining on-stage for an audience sing-a-long, and likely a visit from a right jolly old elf!
The Department is pleased to partner with the Tri-State Food Bank and Christian Charities Food Bank. Tickets are free, but attendees are encouraged to bring a donation of canned food which the food banks will share with those in need.
This year's concert will be presented at the Victory Theatre in downtown Evansville. The concert at the Victory made possible through the generosity of Mesker Music Trust by Fifth Third Bank, trustee. UE's music programs are also pleased to have the support of the Friends of UE Music.
For more information about the UE Department of Music, please visit music.evansville.edu.
Evansville Horn Choir
Sunday, December 9, 7:30 p.m., Wheeler Concert Hall
The Evansville Horn Choir, an ensemble comprised of community members and University of Evansville students, will be presenting a concert on December 9, at 7:30 p.m. in Wheeler Concert Hall. This free event will include Holst's perennial favorite, The Planets, several student soloists, and holiday classics – with a twist!
Submitted by James Sullivan js820@evansville.edu
UE Plans Annual Holiday Pops Concert for December 4
The Department of Music at the University of Evansville will present its annual Holiday Pops concert on Tuesday, December 4, at 7:30 p.m. at the Victory Theatre in Evansville, Indiana. The event, which will feature performances by UE students, faculty, soloists, and ensembles, is free and open to the public.
This year's concert includes performances by the University Orchestra, Choirs, Wind Ensemble, and University Band, as well as some special guests and surprises. Holiday favorites will be performed, including Winter Wonderland, Tomorrow Shall Be My Dancing Day, The Night Before Christmas, and Sleigh Ride, and the audience will be invited to join in on the traditional sing-a-long.
For more information, contact the UE Department of Music at 812-488-2754
UE Clay Cub Art Sale
UE Clay Club will be hosting an art sale on December 6, 10:00 a.m.-5:00 p.m., and December 7, 10:00 a.m.-4:00 p.m., on the first floor of Ridgway University Center. A vast array of ceramic work will be for sale including ornaments, serving trays, business card holders, cups, and bowls. They will also be selling recycled, slumped glass bottles they have transformed into spoon rests and serving trays (cheese, limes, olives, crackers, etc.). Other artwork such as prints and paintings may be available too. Please come support the Clay Club and find that one-of-a-kind gift for the important people in your life, or ... for yourself! Cash or check only.
Submitted by Todd Matteson tm8@evansville.edu
Workshop presentation of Q2: A New Musical in Shanklin Theatre
The New Harmony Project is proud to feature University of Evansville Theatre students in a workshop reading of Q2: A New Musical, with book and lyrics by James Lecesne and Ryan Amador and music by Ryan Amador. Q2 tells the story of LGBTQ youth coming-of-age and finding their community in a digital world. The event is set for Wednesday, December 5, from 7:30-10:30 p.m.
Lecesne wrote the short film Trevor, which won the 1995 Academy Award for Best Live Action Short and inspired the founding of The Trevor Project, the only nationwide 24-hour suicide prevention and crisis intervention lifeline for LGBT and questioning youth.
Amador is a singer, songwriter, and theater director who has released two full-length albums and five EP's of original music to date. He is best known for his queer-related music videos Define Me and Spectrum, as well as his song Instead, which has over 3 million listens on Spotify.
The New Harmony Project continues its commitment to this project following support at its 32nd annual spring conference in May. For ten days, Lecesne, Amador and students from the University of Evansville Department of Theatre will collaborate and workshop this piece, strengthening the book and music as it continues on its path to eventual production. The New Harmony Project will again workshop Q2 in Indianapolis in April of 2019.
Free ticket link: www.newharmonyproject.org/tickets.
Submitted by Sharla Cowden sc75@evansville.edu
Hesburgh Lecture is set for Thursday, December 6
Michael Desch will give the sixth annual Hesburgh Lecture at 7:00 p.m. on Thursday, December 6 in Room 170 in the Schroeder School of Business Building. Desch's talk is entitled "America and the World in the Age of Trump: The Donald vs. the System."
Desch is the Packey J. Dee Professor of Political Science at the University of Notre Dame and director of the Notre Dame International Security Center (NDISC).
The event is cosponsored by the Notre Dame Alumni Club of the Tri-State and the University of Evansville's William L. Ridgway College of Arts and Sciences.
Any questions about the talk should be directed to associate professor of history Daniel Byrne at db89@evansville.edu or ext. 2798.
Submitted by Daniel Byrne db89@evansville.edu
Soccer Club callout meeting
The newly formed Soccer Club will be holding a callout meeting on Friday, December 7 at 4:00 p.m. in Carson Center, Room 113. Please email us if you have any questions.
Submitted by Sama Matkari sm456@evansville.edu
Counterpoint Recital
This Wednesday, December 5, the students of Professor James Sullivan's Counterpoint class will give an informal recital in Wheeler from 1:00-2:00 p.m. The recital will feature several model compositions that students wrote over the course of the semester, with students of the class performing each other's pieces.
Submitted by James Sullivan js820@evansville.edu
Newman Christmas Party!
Join the Newman Club this Wednesday, December 5, from 5:00-7:00 p.m. at the Newman house for our Christmas Party! We will be decorating and eating winter treats! If you have an ugly Christmas sweater, feel free to wear it. All are welcome!
Submitted by Michaela Kunkler mk305@evansville.edu
I-House: American Cultural Christmas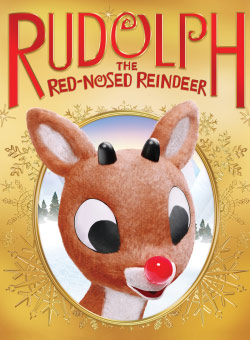 As this semester is almost over, I-House has decided to have an I-House: American Cultural Christmas to wind up the year on a happy, throwback note.
We will be playing the American classic clay animation movie Rudolph the Red-Nosed Reindeer from 1964 on Wednesday (December 5), on the second floor of Ridgway University Center at 7:00 p.m.
Before finals, we will relax in traditional American Christmas style with a holiday movie and Christmas snacks.
We hope to see you there!
Submitted by Megan Sicard ms331@evansville.edu
Lunch Charlas
Wanting to practice your Spanish? Join assistant professor of Spanish Edward Curran and associate professor of Spanish Diana Rodríguez Quevedo for lunch, and chat about different topics in Spanish on Wednesdays from noon-1:00 p.m. in the Starbuck's café area in Ridgway University Center. All levels of Spanish welcome. The last Lunch Charlas of the semester is this Wednesday, December 5.
Please contact Professor Rodríguez Quevedo at dr130@evansville.edu if you have any questions. ¡Ahí nos vemos!
Submitted by Diana Rodriguez Quevedo dr130@evansville.edu
Pancakes are coming!
Take a break from studying for finals to join some of your favorite Aces at this fall's Pancake Study Break! This event is free of charge for UE students. A UE ID is required. Pancakes and more will be available on Thursday, December 6 from 9:00-11:00 p.m. in the Cafe Court. Door prizes will be given out throughout the event.
Submitted by Emily Wilderman ew159@evansville.edu
December TIAA individual counseling sessions
The TIAA-CREF representative will be on the UE campus for individual counseling sessions on Wednesday, December 12 and Thursday, December 13. To schedule an appointment, call TIAA-CREF at 1-800-732-8353.
Please note that the meeting location has been changed to Room 153 (Eades Music Room) in the Schroeder School of Business Building.
Submitted by Lori LeDuc LL138@evansville.edu
Distribution services mail/parcel reminder
Just a friendly reminder that, as the Christmas season arrives, UE distribution services only receives and processes mail and packages that are UE business related. Distribution services does not accept personal packages and mail for UE employees from carriers. For liability reasons and UE policy, employees should have personal mail and packages delivered to their home address.
Submitted by Kim Winsett kw83@evansville.edu
Free paper shredding
Free off-site paper shredding by Piranha Mobile Shredding will return to campus once again on Thursday, December 6 (Reading Study Day) from 10:00 a.m.-1:00 p.m. All UE students, faculty, staff, and alumni can take advantage of this free service by bringing paper to the Piranha truck in Koch Center for Engineering and Science parking lot. Paper will be shredded off-site.
So, if mounds of paper are taking over your office, home, or room, this is the time to gather those old files, receipts, cancelled checks, tax forms, etc. No need to take out the staples or paper clips. Avoid identity theft by having confidential information permanently destroyed.
Please - no telephone books, magazines, or newspapers. Also, please note that there is a 100-pound paper limit per visit (number of visits is not limited).
Submitted by Amber Elkins ae152@evansville.edu
Flu vaccines
Prevent getting the flu this year by stopping by the Student Health Clinic to receive your flu vaccination! Flu vaccines are available at the Student Health Center for $20. Cash or card is accepted. No appointment needed!
Submitted by Tara Ulrich tu19@evansville.edu
Last call for official transcripts!
Any current student needing their official transcript must submit an order no later than 5:00 p.m. on Thursday, December 6. Orders placed after 5:00 p.m. will not be processed until after grades are "official."
Orders must be placed through www.evansville.edu/transcripts.
If you have questions, please contact the registrar's office for assistance.
Submitted by Teresa Haller th227@evansville.edu
Winter housing
Residence hall students - do you need a place to stay this winter? The residence life office has limited winter housing available. Only students participating in official University functions or with approved reasons will be considered for winter housing.
Winter housing is located on the fourth floor of Morton Residence Hall. Students will not have access to their permanent rooms during winter break. Approvals are subject to room availability. Students are charged a flat fee of $400 for winter housing.
Students seeking winter housing must submit a Winter Housing Request Form by noon on Reading and Study Day, available through this link - www.surveymonkey.com/r/WinterHousing.
Students who live in Village housing can stay in their apartment or house at no additional cost but we do ask that you let us know when you will be on campus by filling out this form - www.surveymonkey.com/r/villagewinterhousing.
Submitted by Brian Conner bc32@evansville.edu
Schroeder seniors place at the 92nd percentile on Major Field Test
Schroeder seniors recently placed at the 92nd percentile on the Business Major Field Test (MFT). This year's performance was headlined by management (97th percentile) and marketing (96th percentile), however international business, accounting, and economics were also above the 90th percentile. Additionally, accounting majors placed at the 99th percentile on the accounting portion of the exam.

The MFT is taken by over 500 business schools.
The Schroeder School is ranked #3 nationally among small private universities by 2019 US News and World Report, with specialty rankings among all business schools of #37 (#1 among small private schools) in accounting and #36 (#2 among small private schools) in finance.
Sarah O'Leary is the December 2018 Employee of the Month!
Sarah does an incredible job as senior administrative assistant in counseling and disability services. She does an outstanding job managing the duties of both Counseling and Disability Services, with five very busy administrators. Sarah also schedules and proctors over 1,000 exams each year for students with disability. Her office credits her with keeping the office running like a well-oiled machine and maintaining a calm, professional manner in what can be a very chaotic environment. Sarah is a valued member of the counseling services team and completes any task handed to her with excellence and a positive attitude. If you are in the area of Student Life, please stop by and offer Sarah well-deserved congratulations!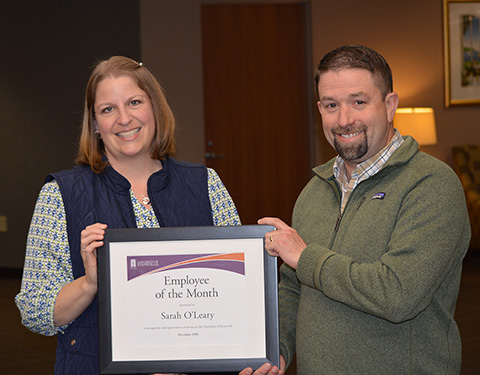 Men's basketball travels to Arkansas State
With a pair of home victories under their belts in the last five days, the University of Evansville men's basketball team travels to Arkansas State for a 7:00 p.m. game tonight in Jonesboro.
Last Time Out
- On Saturday, the Aces earned a 65-49 win over Albion at the Ford Center; four players notched 11 points apiece to lead the squad; Marty Hill, K.J. Riley, Dainius Chatkevicius and Noah Frederking each posted 11 tallies
- John Hall led the team with 12 rebounds as the Aces outrebounded the Britons by a 50-34 final; it was the first time UE had 50 rebounds since 12/12/15 against Mississippi Valley State
- The Aces defense held Albion to just 27.1% shooting
Takeaways from Albion
- Evansville improved to 4-0 at the Ford Center with the win; it is the fourth year in a row UE has won its first four home games and the fifth time in the last six years
- With 12 caroms, John Hall has now led the team in rebounding in each of the last four games
- After missing its first 14 shots of the game, UE was 22-of-44 (50%) for the remainder of the contest
- The Aces outscored Albion by a 32-4 final in the paint, 17-7 off turnovers and 10-0 on the fast break
- UE's bench has outscored that of its opponent in five-straight games
- Since missing the first three games, Dainius Chatkevicius has increased his scoring in all four games
Third Time is the Charm
- With 12 rebounds against the Britons, John Hall improved his season average to 8.1 per game, 4th in the MVC
- Hall has recorded 10.5 rebounds per game in the last four contest
- Resetting his career scoring mark has become a habit for Hall, who did so for the third time this season against Wyoming
- Hall finished with a career-high 21 points while adding 11 rebounds against the Cowboys en route to his first double-double
- As a redshirt freshman last season, Hall scored 7 or more points just four times; so far this year - he is 6-for-7
King of the Hill
- Sophomore Noah Frederking has quietly improved his season average to 11.9 points per game, ranking third on the team
- After going scoreless in the opener at Illinois, Frederking has posted 13.8 points per game in his last six contests
- He is also shooting 54.9% from the floor and 46.7% from long range.
- Over his last five games, Frederking is averaging 14.6 points per game
Scouting the Opponent
- Arkansas State enters Tuesday's contest with a record of 2-5 with its wins this season coming against Missouri Baptist and Gardner-Webb
- Ty Cockfield is their leading scorer, checking in with 21.1 points per game; he is a 53.6% shooter and has drained 48.6% of his 3-point tries
- Last time out against Lehigh, Cockfield posted 30 points as the Red Wolves fell by a final of 82-70
- Gillard Grantham leads ASU with 6.1 rebounds
Contribute to AceNotes
To have content considered for inclusion in AceNotes, please submit a Marketing Request Form. Deadline for submission to AceNotes is 10:00 a.m. on the requested date of publication. Only articles concerning UE related/sponsored activities will be accepted. Articles submitted to AceNotes may be edited for length and clarity. Submitter contact information is at the end of each article.