| | |
| --- | --- |
| AceNotes Today | Monday, December 3, 2018 |
UE Winter Commencement set for Thursday, December 13
The University of Evansville's Winter Commencement ceremony is set for Thursday, December 13. The event begins at 3:00 p.m. in Meeks Family Fieldhouse, Carson Center, on UE's campus. The ceremony will include the announcement of the recipient of the 2018 Exemplary Teacher Award, given by the University to an exceptional member of the faculty in acknowledgment of his or her teaching excellence.
Dave Dwyer, chair of UE's Department of Mathematics, will be this year's Winter Commencement speaker. Dwyer was given the Eykamp Prize during UE's May 2018 commencement ceremony. This annual award, made possible by the generosity the Eykamp Family, recognizes UE faculty who have displayed extraordinary service to the University.
Dwyer has received the Dean's Teaching Award, the Alumni Association's Outstanding Teacher Award, and the Berger Award for Scholarship. He has been a member, chair, and co-chair of numerous campus committees. Most recently he was a faculty representative on the Presidential Search Committee. Notably, Dwyer spearheaded the Moonshot group of arts and sciences faculty who have put additional effort into assisting the Office of Admission. He secured two NSF grants totaling over $700,000, which funded the development of a textbook that is currently used in the University's calculus sequence. Dwyer was instrumental in the decision to create a statistics and data science program, and sought grants to fund its development.
For those who cannot attend Winter Commencement in person, a video of the ceremony will stream live at www.evansville.edu/live.
This Week in Music: Holiday Pops and Horn Choir
Holiday Pops
Tuesday, December 4, 7:30 p.m., Victory Theatre
The University of Evansville Department of Music invites you join them in ringing in the holiday season at the annual Holiday Pops Concert. For nearly four decades, students, faculty, and soloists have shared their talent and celebrated the spirit of the season with music. UE's Choirs, Wind Ensemble, Symphony Orchestra, and University Band are among the ensembles audiences can expect to enjoy.
Each of UE's student music ensembles will perform during the evening. Orchestra selections include Winter Wonderland, the University Choir will perform Tomorrow Shall Be My Dancing Day, and the Wind Ensemble will share their rendition of The Night Before Christmas and the Leroy Anderson's classic Sleigh Ride. The concert concludes with all of the department's ensembles joining on-stage for an audience sing-a-long, and likely a visit from a right jolly old elf!
The Department is pleased to partner with the Tri-State Food Bank and Christian Charities Food Bank. Tickets are free, but attendees are encouraged to bring a donation of canned food which the food banks will share with those in need.
This year's concert will be presented at the Victory Theatre in downtown Evansville. The concert at the Victory made possible through the generosity of Mesker Music Trust by Fifth Third Bank, trustee. UE's music programs are also pleased to have the support of the Friends of UE Music.
For more information about the UE Department of Music, please visit music.evansville.edu.
Evansville Horn Choir
Sunday, December 9, 7:30 p.m., Wheeler Concert Hall
The Evansville Horn Choir, an ensemble comprised of community members and University of Evansville students, will be presenting a concert on December 9, at 7:30 p.m. in Wheeler Concert Hall. This free event will include Holst's perennial favorite, The Planets, several student soloists, and holiday classics – with a twist!
Submitted by James Sullivan js820@evansville.edu
Counterpoint Recital
This Wednesday, December 5, the students of Professor James Sullivan's Counterpoint class will give an informal recital in Wheeler from 1:00-2:00 p.m. The recital will feature several model compositions that students wrote over the course of the semester, with students of the class performing each other's pieces.
Submitted by James Sullivan js820@evansville.edu
Newman Christmas Party!
Join the Newman Club this Wednesday, December 5, from 5:00-7:00 p.m. at the Newman house for our Christmas Party! We will be decorating and eating winter treats! If you have an ugly Christmas sweater, feel free to wear it. All are welcome!
Submitted by Michaela Kunkler mk305@evansville.edu
I-House: American Cultural Christmas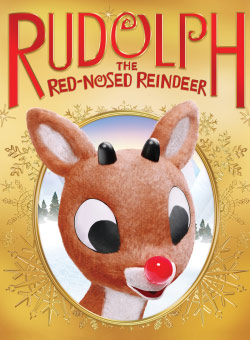 As this semester is almost over, I-House has decided to have an I-House: American Cultural Christmas to wind up the year on a happy, throwback note.
We will be playing the American classic clay animation movie Rudolph the Red-Nosed Reindeer from 1964 on Wednesday (December 5), on the second floor of Ridgway University Center at 7:00 p.m.
Before finals, we will relax in traditional American Christmas style with a holiday movie and Christmas snacks.
We hope to see you there!
Submitted by Megan Sicard ms331@evansville.edu
Lunch Charlas
Wanting to practice your Spanish? Join assistant professor of Spanish Edward Curran and associate professor of Spanish Diana Rodríguez Quevedo for lunch, and chat about different topics in Spanish on Wednesdays from noon-1:00 p.m. in the Starbuck's café area in Ridgway University Center. All levels of Spanish welcome. The last Lunch Charlas of the semester is this Wednesday, December 5.
Please contact Professor Rodríguez Quevedo at dr130@evansville.edu if you have any questions. ¡Ahí nos vemos!
Submitted by Diana Rodriguez Quevedo dr130@evansville.edu
UE Plans Annual Holiday Pops Concert for December 4
The Department of Music at the University of Evansville will present its annual Holiday Pops concert on Tuesday, December 4, at 7:30 p.m. at the Victory Theatre in Evansville, Indiana. The event, which will feature performances by UE students, faculty, soloists, and ensembles, is free and open to the public.
This year's concert includes performances by the University Orchestra, Choirs, Wind Ensemble, and University Band, as well as some special guests and surprises. Holiday favorites will be performed, including Winter Wonderland, Tomorrow Shall Be My Dancing Day, The Night Before Christmas, and Sleigh Ride, and the audience will be invited to join in on the traditional sing-a-long.
For more information, contact the UE Department of Music at 812-488-2754
Pancakes are coming!
Take a break from studying for finals to join some of your favorite Aces at this fall's Pancake Study Break! This event is free of charge for UE students. A UE ID is required. Pancakes and more will be available on Thursday, December 6 from 9:00-11:00 p.m. in the Cafe Court. Door prizes will be given out throughout the event.
Submitted by Emily Wilderman ew159@evansville.edu
Reading Study Day Relaxation Event
Finals got you stressed? Counseling services, with the help of SAB, is having our bi-annual relaxation event before finals! The event is held on Reading Study Day where we'll have chair massage from Bodyworks Massage, aromatherapy, yoga, coloring, puzzles, and other relaxing activities. Come and go as you like and move at your own pace. We always have a great time and hope you'll join us!
The event is set for Thursday, December 6 from 1:00-4:00 p.m. in Eykamp Hall, Rooms 253-255, Ridgway University Center.
Submitted by Jennifer Hargus jh693@evansville.edu
Anti-bias and race and religion presentation display
Presentations by the students in CHNG 310-8Y2 Anti-Bias Training and REL 275 Race & Religion will be on display for the campus community Monday, December 3, from 11:00 a.m.-5:00 p.m. in Eykamp Hall, Room 253, Ridgway University Center. Posters by students in anti-bias training will present historical protests, marches, and movements that impacted the lives people; race and religion students have designed museum exhibits exploring the intersection of race and religion in America.
Submitted by Valerie Stein vs9@evansville.edu
Excused absences during finals
Please note that the Dean of Students' office will not grant official excused absences during finals except for extreme circumstances (i.e.: death of an immediate family member, emergency surgery, etc.). Students who feel they are unable to take a scheduled final exam should work directly with their professors to discuss other possible options.
Submitted by Carleen Barnes cb131@evansville.edu
Intersession books now available
Textbooks for Intersession 2018 classes are available in the UE Bookstore for those students taking classes. Be sure to get your book BEFORE you leave for the holidays. The textbook area is currently blocked off for preparation for Buyback so just ask store staff and they will retrieve the book for you OR you can order them online at the UE Bookstore website at bookstore.evansville.edu.
Submitted by Doug Gustwiller dg57@evansville.edu
Free paper shredding
Free off-site paper shredding by Piranha Mobile Shredding will return to campus once again on Thursday, December 6 (Reading Study Day) from 10:00 a.m.-1:00 p.m. All UE students, faculty, staff, and alumni can take advantage of this free service by bringing paper to the Piranha truck in Koch Center for Engineering and Science parking lot. Paper will be shredded off-site.
So, if mounds of paper are taking over your office, home, or room, this is the time to gather those old files, receipts, cancelled checks, tax forms, etc. No need to take out the staples or paper clips. Avoid identity theft by having confidential information permanently destroyed.
Please - no telephone books, magazines, or newspapers. Also, please note that there is a 100-pound paper limit per visit (number of visits is not limited).
Submitted by Amber Elkins ae152@evansville.edu
Flu vaccines
Prevent getting the flu this year by stopping by the Student Health Clinic to receive your flu vaccination! Flu vaccines are available at the Student Health Center for $20. Cash or card is accepted. No appointment needed!
Submitted by Tara Ulrich tu19@evansville.edu
Last call for official transcripts!
Any current student needing their official transcript must submit an order no later than 5:00 p.m. on Thursday, December 6. Orders placed after 5:00 p.m. will not be processed until after grades are "official."
Orders must be placed through www.evansville.edu/transcripts.
If you have questions, please contact the registrar's office for assistance.
Submitted by Teresa Haller th227@evansville.edu
Winter housing
Residence hall students - do you need a place to stay this winter? The residence life office has limited winter housing available. Only students participating in official University functions or with approved reasons will be considered for winter housing.
Winter housing is located on the fourth floor of Morton Residence Hall. Students will not have access to their permanent rooms during winter break. Approvals are subject to room availability. Students are charged a flat fee of $400 for winter housing.
Students seeking winter housing must submit a Winter Housing Request Form by noon on Reading and Study Day, available through this link - www.surveymonkey.com/r/WinterHousing.
Students who live in Village housing can stay in their apartment or house at no additional cost but we do ask that you let us know when you will be on campus by filling out this form - www.surveymonkey.com/r/villagewinterhousing.
Submitted by Brian Conner bc32@evansville.edu
Sarah O'Leary is the December 2018 Employee of the Month!
Sarah does an incredible job as senior administrative assistant in counseling and disability services. She does an outstanding job managing the duties of both Counseling and Disability Services, with five very busy administrators. Sarah also schedules and proctors over 1,000 exams each year for students with disability. Her office credits her with keeping the office running like a well-oiled machine and maintaining a calm, professional manner in what can be a very chaotic environment. Sarah is a valued member of the counseling services team and completes any task handed to her with excellence and a positive attitude. If you are in the area of Student Life, please stop by and offer Sarah well-deserved congratulations!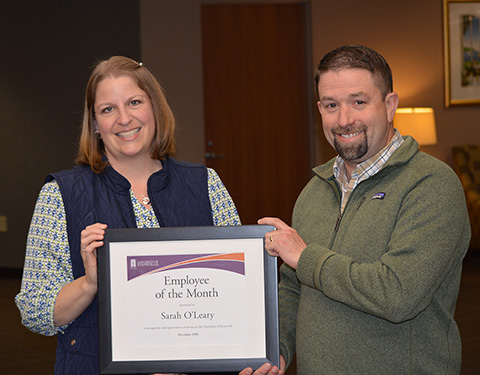 Sigma Alpha Epsilon raises $5,000 for Chemo Buddies!
During the 2018 Westside Nut Club Fall Festival, the Indiana Epsilon Chapter of Sigma Alpha Epsilon at the University of Evansville raised $2,500 for Chemo Buddies. However, the money was donated to Chemo Buddies through PayPal and Facebook's #GivingTuesday where PayPal and Facebook match donations to organizations dollar for dollar, making the fraternity's donation $5,000.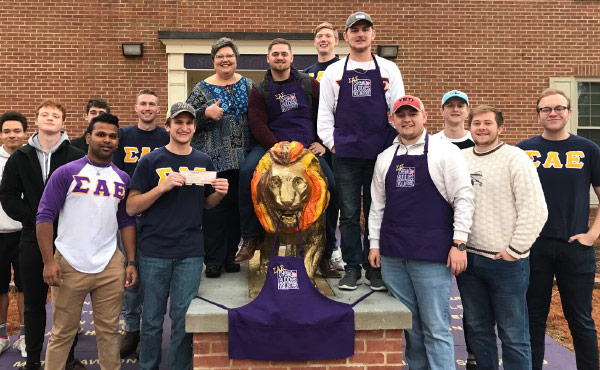 A Chemo Buddy is a volunteer who works in the chemotherapy treatment room directly with patients. The goal of the Chemo Buddies program is to make the treatment day a more comfortable experience physically, mentally and spiritually.
UE Indoor Track and Field - UIndy Opener
The University of Evansville track and field team opened their second indoor season with a solid showing in the UIndy Opener Saturday in Indianapolis, with several competitors finishing tops in their events.
"I'm impressed", said University of Evansville track and field head coach Don Walters. "I look back at last year's inaugural team, remembering how we competed, we've come a long way in a short period of time. I went around talking to parents and coaches and we were all just impressed with the progress."
On the track, junior Stanley Chepchieng took the top spot in the 800 meters, with a time of 2:00:11. The freshman trio of Carson Kline, Kyle Thieme and Kaleb Slagel finished ninth, 13th and 15th, respectively. In the men's 400 meters, senior Everett Plocek took second place with a time of 55.79, with freshman Joey Rucinski finishing just behind Plocek in third, with a time of 57.19. Junior Enrique Hendrix was the top Evansville finisher in the men's mile, with a time of 4:43: 26, good enough for a fourth place finish. Sophomore Tyler Fields-Reitstech finished fifth, while freshman Kaleb Slagle and junior Dawson Tucker finished ninth and 12th respectively.
On the women's side, sophomore runner Anna Lowry delivered an impressive performance in the mile event, taking top honors with a time of 5:36:05. Freshman teammate Savanna Mills took third place, with a time of 6:05:97. Freshman Emma Boebringer was sixth. In the women's 200 meters, sophomore Monica Watkins had the top time for UE at 28.30. Freshman Sierra Kelly finished with a solid time of 28.96. Freshman Hayley Hormeyer was the top Evansville finisher in the 400 meters, with a time of 1:03:77, good enough for sixth place. Freshman Hayley Dean also finished in the top ten, with a time of 1:04:63. Sophomore Lauren Meyer had the best time for the Aces in the 800 meters, with a time of 2:36:52.
In the field for the men, freshman Nick Ryan delivered in his first collegiate competition, won the long jump competition with a jump of 6.45 meters, edging out teammate and fellow freshman, Alan Kersteins, who finished second with a jump of 6.42 meters. Two other Aces newcomers, Cody Line and Khalid Moran finished tenth and eleventh, respectively. Chepchieng just missed out on another first place finish in the triple jump, finishing second with an attempt of 13.40 meters. In the throwing competition, senior Ryan Freeman took a pair of eleventh place finishes, going 12.76 meters in the shot put and and 12.23 meters in the weight throw.
On the women's side, freshman Taiza Alexander was the top finisher for the Aces in the long jump, with a distance of 4.87 meters. Fellow freshman Skyler McKenna finished fifth overall. Freshman McKenna Sapp finished tied for fifth in the pole vault with a successful attempt of 3.21 meters. Freshman Erin Nixon was the top UE finisher in the high jump, with a leap of 1.42 meters, good enough for seventh place.Fellow freshman Ah'tahja Hooper finished just behind Nixon in eighth, with a jump of 1.37 meters.
The Aces indoor track and field team will be back in action Saturday January 19, when they compete in the Mastadon Invitational in Fort Wayne, Ind.
Evansville men defeat Albion, 65-49
Four Purple Aces tallied 11 points apiece on Saturday as the University of Evansville men's basketball team earned a 65-49 victory over Albion inside the Ford Center.

Marty Hill, K.J. Riley, Noah Frederking and Dainius Chatkevicius recorded 11 points apiece to lead the Aces (4-3). For Chatkevicius, it was his second double figure game in a row and his season-high in points. He added nine rebounds. Evan Kuhlman was just behind with 9 tallies. John Hall tied his career mark with 12 caroms. With the win, UE moved over .500 for the season while improving its home record to a perfect 4-0.

"I thought we got off to a better start in the second half and played with more pace. We did not play with any fire or purpose in the first half. I knew if we played with more energy, we could get it going," UE head coach Walter McCarty said. "Our guys like playing basketball together and look for each other. We're getting there, it is a slow process. We are grateful that we were able to win the basketball game and just need to keep working at it to get better."

Albion (4-2) saw Jamezell Davis record 15 points. They attempted 34 3-pointers, the highest total an Evansville opponent has taken at the Ford Center.

The lid was on the basket for both teams in the opening minutes as the squads combined to miss their first 14 shots. Albion missed its first six shots before hitting one to take a 2-0 lead. After going 0-for-14 in the opening seven minutes, Evansville got on the board when Noah Frederking drilled a three.

On the next possession, Dainius Chatkevicius hit a layup to tie the game at 5-5 before a free throw by Jawaun Newton gave UE its first lead at 6-5. Evansville continued to hold the lead for the remainder of the period, pushing its advantage to as many as eight points as a pair of Frederking free throws gave the team a 23-15 lead. Over the final 2:14 of the period, the Britons hit two treys, going on a 7-1 run to cut the UE lead to just one at the break - 24-23. Frederking had six points in the half while John Hall grabbed seven boards.

UE's offense came out better in the second half, knocking down its first two shots to push its lead back to five. Just over seven minutes in, Shamar Givance found K.J. Riley for his third bucket of the game to push the lead to double figures for the first time at 39-29. Albion continued to fight back, getting with seven points before the Aces took control. Up 41-34, UE scored 11 in a row to extend its lead to 52-34 with eight minutes remaining. A triple by Milton Barnes ended the streak.

Evansville's double figure lead held strong in the final minutes with the Aces taking the win by a final of 65-49.

After starting the game 0-for-14, UE improved to finish the game at 37.9%. In the second half, Evansville hit 51.9% of its tries. Albion finished the game at 27.1%. Points in the paint made a huge difference as UE finished with a 32-4 advantage. Evansville also finished with a 10-0 final in fast break points and 17-7 in points off turnovers.

Next up for the Aces is a road game at Arkansas State on Tuesday evening at 7:00 p.m.
Contribute to AceNotes
To have content considered for inclusion in AceNotes, please submit a Marketing Request Form. Deadline for submission to AceNotes is 10:00 a.m. on the requested date of publication. Only articles concerning UE related/sponsored activities will be accepted. Articles submitted to AceNotes may be edited for length and clarity. Submitter contact information is at the end of each article.