| | |
| --- | --- |
| AceNotes Today | Thursday, November 29, 2018 |
Davidson Scholar Day this Saturday!
The Office of Admission is excited to welcome approximately 280 families to campus this Saturday for Davidson Scholar Day and PA Direct Entry Day. There will be over 700 people on campus for this event. Please note, all visitors will be dining in Café Court between 11:45 a.m.-2:00 p.m. We would like to thank everyone in advance for their help in making this event a success. Please say hi to the families on campus!
Neu Chapel Forum: "Why Christmas Anyway?"
The final Neu Chapel Forum of the fall semester will discuss the question, "Why Christmas anyway?" We will revisit the biblical Christmas story and the core Christian teaching of "Incarnation" (God becoming human in Jesus). We will discuss why these questions are important and their meaning for our lives today. All are welcome to attend and to participate. The Neu Chapel Forum meets at 7:00 p.m. Thursday in the Class of '59 Gallery in Ridgway University Center.
Submitted by Keith Turner kt160@evansville.edu
Ice skating with International Club!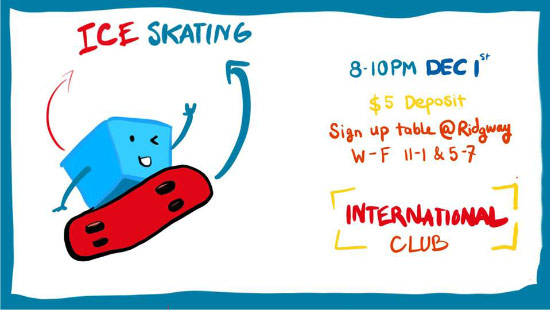 Start the winter season the right way - go ice skating with International Club on December 1, 8:00-10:00 p.m. at Swonder Ice Arena!
Sign-ups in Ridgway University Center on November 28-30, 11:00 a.m.-1:00 p.m. and 5:00-7:00 p.m. A $5 deposit will be required!
Submitted by Emile Moura em238@evansville.edu
UE Bookstore Christmas on Campus Sale
Stop by the UE Bookstore during the Christmas on Campus festivities on Friday, November 30 and receive 20% OFF all your clothing and gift purchases. Sale starts at noon and runs until 8:00 p.m. This is open to the public as well as faculty, staff and UE students. Items already marked down are exempt from additional discount. Bring a friend and save!
Submitted by Doug Gustwiller dg57@evansville.edu
Celebrating the Investiture of Chuck Meacham
Please join us in celebrating the investiture of Professor of Theatre Chuck Meacham as the recipient of the John David Lutz Distinguished Professorship, 11 a.m., Saturday, December 1, in Shanklin Theatre. A reception in the Melvin Peterson Gallery will follow the ceremony. If you are interested in attending this event, please RSVP to theatre@evansville.edu.
Submitted by Sharla Cowden sc75@evansville.edu
University Worship Services in Neu Chapel: Sunday at 9:00 a.m. and 9:00 p.m.
University Worship in Neu Chapel will take place at 9:00 a.m. and 9:00 p.m. this Sunday in Neu Chapel. We will sing beautiful Christmas music and complete our current sermon series, "Be Born in Us Today," with a focus on "Love." Together we will consider how Divine love is not mushy or sentimental but revolutionary and calls us to revolutionary mission. Sunday night, we will also have a time of guided meditation and candle lighting. All are welcome! These services will be the final University Worship services of the fall semester.
Submitted by Keith Turner kt160@evansville.edu
Pancakes are coming!
Take a break from studying for finals to join some of your favorite Aces at this fall's Pancake Study Break! This event is free of charge for UE students. A UE ID is required. Pancakes and more will be available on Thursday, December 6 from 9:00-11:00 p.m. in the Cafe Court. Door prizes will be given out throughout the event.
Submitted by Emily Wilderman ew159@evansville.edu
Catholic Mass on campus
There will be a Catholic Mass this Sunday, December 2, at 1:00 p.m. in Neu Chapel. Father Christian Raab will be the celebrant. All are welcome!
Submitted by Sam Wallisch sw265@evansville.edu
Intersession books now available
Textbooks for Intersession 2018 classes are available in the UE Bookstore for those students taking classes. Be sure to get your book BEFORE you leave for the holidays. The textbook area is currently blocked off for preparation for Buyback so just ask store staff and they will retrieve the book for you OR you can order them online at the UE Bookstore website at bookstore.evansville.edu.
Submitted by Doug Gustwiller dg57@evansville.edu
Free paper shredding
Free off-site paper shredding by Piranha Mobile Shredding will return to campus once again on Thursday, December 6 (Reading Study Day) from 10:00 a.m.-1:00 p.m. All UE students, faculty, staff, and alumni can take advantage of this free service by bringing paper to the Piranha truck in Koch Center for Engineering and Science parking lot. Paper will be shredded off-site.
So, if mounds of paper are taking over your office, home, or room, this is the time to gather those old files, receipts, cancelled checks, tax forms, etc. No need to take out the staples or paper clips. Avoid identity theft by having confidential information permanently destroyed.
Please - no telephone books, magazines, or newspapers. Also, please note that there is a 100-pound paper limit per visit (number of visits is not limited).
Submitted by Amber Elkins ae152@evansville.edu
Hall's double-double lifts Aces to 86-78 win over Wyoming
Redshirt sophomore John Hall posted the first double-double of his career, scoring a career-high 21 points while hauling in 11 rebounds to key an 86-78 win for the University of Evansville men's basketball team against Wyoming on Wednesday night at the Ford Center.

Hall was 8-of-15 from the field in the win while adding two steals in 33 minutes. He was one of five players to post double figures with Noah Frederking not too far behind with 17 points. He connected on 6 of his 9 shots while hitting a pair of 3-pointers. Shamar Givance hit two 3-pointers on his way to a career mark of 12 points while Dainius Chatkevicius and K.J. Riley had 10 points apiece for the Aces (3-3).

"We responded great to the adversity after Saturday's game at Ball State. I told our guys Wyoming was going to come back and would not stop," UE head coach Walter McCarty said after the win. "I think we actually played better after we got tired because we were able to play at our pace. I thought we improved on a bunch of things like being connected and playing tougher. We did a better job of going after the rebounds; we're getting there. It is a process; it will be fun to see us 6 or 7 games from now and watching our pace."

For Hall, his focus was on leading by example and bringing energy to the floor. He did just that and wore off on his teammates.

"I saw that we needed a spark, I really wanted to give us some energy. They (Wyoming) started talking a little bit and that just fueled me to go out and play that much harder," Hall explained. "It was exciting to see all of our teammates play hard, that brings us all to another level, there is no other option."

Defense was the name of the game early on as the Aces took an 8-2 lead. UE forced Wyoming to miss its first seven shots before going 1-of-12 to start the game. Evansville was one for its first seven from the field. An and-one by the Cowboys saw them cut the lead to three at 8-5 at the 11:18 mark. Over the next five minutes UE was able to push its lead to 15 points as a 16-4 run gave Evansville a 24-9 advantage.

Noah Frederking had a key shot in the rally, drilling a 3-pointer while Shamar Givance capped off the run with a trey of his own. Wyoming kept fighting back in the final minutes and cut its halftime deficit to nine points at 33-24. John Hall paced the team with 8 points and 4 rebounds in the opening 20 minutes.

Out of the break, the Cowboys continued to claw their way back into the game. An and-one by Nyaires Redding helped UW make it a 34-30 game in the opening two minutes. Dainius Chatkevicius had a pair of buckets down low to push the lead back out to three possessions, but the Cowboys once again pushed the UE lead back to four points at 42-38.

A K.J. Riley old-fashioned 3-point play gave UE a 45-38 lead, but a turning point quickly took place on the ensuing UW possession. A double technical helped the Cowboys score six points in one possession to cut the lead to one, but Shea Feehan made one of the biggest shots of the night, knocking down a triple to make it a 4-point game. Noah Frederking explained the mindset of the team at that point.

"We came together better as a team, we huddled up and had time together after the technical and we really played well after that," he said.

Evansville was able to pull back out to a 60-51 lead, but another technical foul on the Aces was the difference. Already on a 6-0 run, UW forced the technical and turned the run into a 10-0 rally as they took a 61-60 lead.

McCarty was proud of the way his team responded after the Cowboys took the lead.

"If you linger bad plays, it affects everything on the floor. We had to stay together and we showed great character tonight."

Noah Frederking was true from downtown for the second time as his triple gave Evansville a 67-63 with seven minutes left. Down the stretch, the teams would swap the lead eight times, but the difference came with two minutes left. A Marty Hill basket gave UE a 74-73 lead before Hall keyed the next defensive possession with a block. Feehan grabbed the rebound and found Frederking for a layup.

Following a missed Wyoming free throw, UE got the ball back and Shamar Givance nailed his second triple to push the lead to six points at 79-73. From there, the Aces cruised to the 86-78 victory.

Justin James was the top performer for Wyoming (2-5) as he tallied 32 points and 20 rebounds. Hunter Thompson added 15 points.

Evansville shot 44.4% in the game and finished the second half at 53.1%. Wyoming checked in shooting 44.1% overall and increased that to 59.4% (19/32) in the final 20 minutes. The Cowboys also finished with a 42-36 rebounding edge. One of the big advantages for UE came from its bench, who outscored its Wyoming counterparts by a 44-16 margin.

UE is right back at home on Saturday, welcoming Albion to the Ford Center for a 1:00 p.m. contest.
Contribute to AceNotes
To have content considered for inclusion in AceNotes, please submit a Marketing Request Form. Deadline for submission to AceNotes is 10:00 a.m. on the requested date of publication. Only articles concerning UE related/sponsored activities will be accepted. Articles submitted to AceNotes may be edited for length and clarity. Submitter contact information is at the end of each article.