| | |
| --- | --- |
| AceNotes Today | Wednesday, November 28, 2018 |
UE's Christmas on Campus set for Friday, November 30
The University of Evansville will celebrate the holidays with Christmas on Campus on Friday, November 30. The celebration will include photos with Purple Santa, reindeer games, carriage rides, trackless train rides, cookies and hot chocolate, Candlelight Advent Vespers, and the ceremonial lighting of the University's Christmas tree.
Candlelight Advent Vespers is free and open to the public. The public is welcome to any and all of the other events for only $5 per family. Visit UE's Christmas on Campus webpage at www.evansville.edu/aceschristmas/ to fill out the online registration form and save time during the event.
The complete schedule for Christmas on Campus is as follows:
5:00 p.m.
Check-in
Lobby, Olmsted Administration Hall
5:00 - 6:45 p.m.
Photos with Purple Santa
Ridgway University Center
Christmas Crafts
Ridgway University Center
5:00 - 10:00 p.m.
Reindeer Games and Trackless Train Rides
East Terrace Lawn
Christmas Shopping at UE Bookstore
Stop in for giveaways and 20 percent off the original price of all clothing and gift items to all shoppers during the night!
7:00 p.m.
Candlelight Advent Vespers
Neu Chapel
8:00 - 10:00 p.m.
Carriage Rides
Sesquicentennial Oval
Cookies and Hot Chocolate
Lobby, Olmsted Administration Hall
Roasted Nuts and Kettle Corn
East Terrace Lawn
8:05 p.m.
Lighting of the Christmas Tree and Caroling
Outside Graves Hall
Newman Dinner and Discussion: Our Lady for Our Times
Join the Newman Club this Wednesday, November 26 at 5:00 p.m. for our weekly dinner and discussion. This week's topic is "Our Lady of Our Times" hosted by Fr. Christian Raab. He will talk about Our Lady of Guadalupe, patron saint of the Americas. All are welcome!
Submitted by Michaela Kunkler mk305@evansville.edu
Lunch Charlas today
Wanting to practice your Spanish? Join assistant professor of Spanish Edward Curran and associate professor of Spanish Diana Rodríguez Quevedo for lunch, and chat about different topics in Spanish on Wednesdays from noon-1:00 p.m. in the Starbuck's café area in Ridgway University Center. All levels of Spanish welcome. The next Lunch Charlas is today - Wednesday, November 28.
Please contact Professor Rodríguez Quevedo at dr130@evansville.edu if you have any questions. ¡Ahí nos vemos!
Submitted by Diana Rodríguez Quevedo dr130@evansville.edu
Obaze to speak at today's Andiron Lecture
Yolanda Obaze, University of Evansville assistant professor of supply chain management, will be the speaker for today's Andiron Lecture. The lecture will begin at 4:00 p.m. in Eykamp Hall, Room 252, Ridgway University Center. There will be a social gathering with beverages at 3:45 p.m. This event is free and open to the public.
Obaze will be discussing "Co-creation of Value Using Logistics and Supply Chain Relationships." A maturing stream of logistics and supply chain literature has focused on supply chain relationships to understand how these relationships can impede or create a sustainable competitive advantage. Concurrently, researchers seek to understand how traditional supply chain management practices can be adopted into complex networks of various organizations that have a plethora of motives, missions and values. Obaze's current research looks into complex supply chain relationship management and practices – in particular, how supply chain relationships that enable economic and social networks can be complex and yet achieve sustainable goals.
Obaze earned her BA from Ahmadu Bello University Zaria, Kaduna Nigeria, and her MBA (strategic management and marketing) and PhD degrees from the University of North Texas, Denton, Texas. Her research interests include service systems, complexities and marketing theories, operations and supply chain management, logistics systems, and humanitarian logistics and supply chain management. She is an active member of the Institute for Operations Research and the Management Sciences, Production and Operations Management, South West Decision Sciences Institute, Decision Sciences Institute, and Association of Collegiate Marketing Educators.
For further information, call the series coordinator Annette Parks at 812-488-1070 or the William L. Ridgway College of Arts and Sciences at 812-488-2589.
Medical Spanish Group meeting today
The Medical Spanish Group meets twice a month to practice communication skills in Spanish. These sessions are open to anyone wanting to practice Spanish for medical settings. The next practice session is today - Wednesday, November 28 -from 5:30-7:00 p.m. in Room 315 in Graves Hall. Please contact associate professor of Spanish Diana Rodríguez Quevedo at dr130@evansville.edu if you have any questions. ¡Nos vemos el miércoles!
Submitted by Diana Rodríguez Quevedo dr130@evansville.edu
Tristan De Leon presents I-House Philippines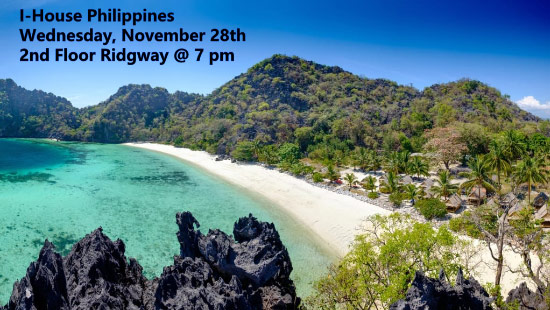 Tristan De Leon is a junior accounting major from the Philippines. He is a resident assistant at Hale Hall and he likes to play piano as a hobby. His favorite part of UE is meeting new people. He will be sharing more about himself and his culture at I-House Philippines on Wednesday, November 28 on the second Floor of Ridgway University Center at 7:00 p.m. He will be bringing food and doing a brief stand-up comedy show.
Submitted by Megan Sicard ms331@evansville.edu
This Week in Music: Vespers
Advent Candlelight Vespers
Friday, November 30, 7:00 p.m., Neu Chapel
Join the University of Evansville community for a time of beautiful music and readings at our annual Advent Candlelight Vespers service. This meaningful service will fill your heart with warmth and joy as we prepare for the upcoming holiday season. All are welcome!
Submitted by James Sullivan js820@evansville.edu
Celebrating the Investiture of Chuck Meacham
Please join us in celebrating the investiture of Professor of Theatre Chuck Meacham as the recipient of the John David Lutz Distinguished Professorship, 11 a.m., Saturday, December 1, in Shanklin Theatre. A reception in the Melvin Peterson Gallery will follow the ceremony. If you are interested in attending this event, please RSVP to theatre@evansville.edu.
Submitted by Sharla Cowden sc75@evansville.edu
Neu Chapel Forum: "Why Christmas Anyway?"
The final Neu Chapel Forum of the fall semester will discuss the question, "Why Christmas anyway?" We will revisit the biblical Christmas story and the core Christian teaching of "Incarnation" (God becoming human in Jesus). We will discuss why these questions are important and their meaning for our lives today. All are welcome to attend and to participate. The Neu Chapel Forum meets at 7:00 p.m. Thursday in the Class of '59 Gallery in Ridgway University Center.
Submitted by Keith Turner kt160@evansville.edu
Pancakes are coming!
Take a break from studying for finals to join some of your favorite Aces at this fall's Pancake Study Break! This event is free of charge for UE students. A UE ID is required. Pancakes and more will be available on Thursday, December 6 from 9:00-11:00 p.m. in the Cafe Court. Door prizes will be given out throughout the event.
Submitted by Emily Wilderman ew159@evansville.edu
Debbie Kassenbrock Retirement Party
Please join us in celebrating Debbie Kassenbrock's 25 years of service to UE and our students! The event is planned for November 30 from 3:00-5:00 p.m. in the Melvin Peterson Gallery.
For questions, contact Stacey Shanks at ext. 2606.
Submitted by Stacey Shanks ss581@evansville.edu
Holiday Arts and Craft Sale!
The University of Evansville Department of Art and the University of Evansville Friends of Art are pleased to announce their Holiday Art and Craft Sale. The sale will be held in the Melvin Peterson Gallery on Thursday, November 29 from 9:00 a.m.-7:00 p.m. This a perfect opportunity to find unusual holiday gifts made by local artists, crafts people and our very own UE Family! Friends of Art volunteers and gallery staff will be on site to handle the sales.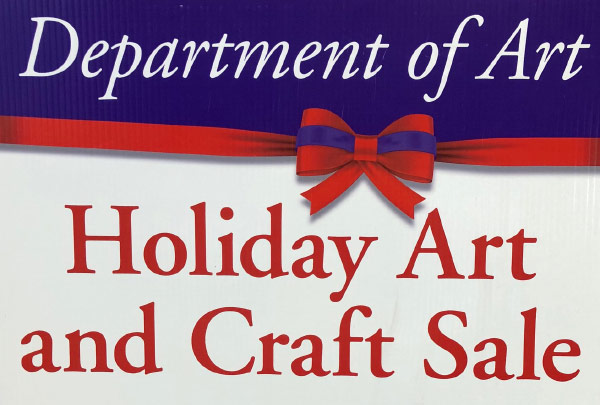 Submitted by Brooksie Smith bs267@evansville.edu
Pray the Rosary this Thursday!
Austin Hopf and Sister Catherine will be leading a Rosary Prayer Group this Thursday at 12:15 p.m. in Room 264 in the Center for Academic Success in Clifford Memorial Library. All are welcome to join!
Submitted by Sam Wallisch sw265@evansville.edu
Catholic Mass on campus
There will be a Catholic Mass this Sunday, December 2, at 1:00 p.m. in Neu Chapel. Father Christian Raab will be the celebrant. All are welcome!
Submitted by Sam Wallisch sw265@evansville.edu
Intersession books now available
Textbooks for Intersession 2018 classes are available in the UE Bookstore for those students taking classes. Be sure to get your book BEFORE you leave for the holidays. The textbook area is currently blocked off for preparation for Buyback so just ask store staff and they will retrieve the book for you OR you can order them online at the UE Bookstore website at bookstore.evansville.edu.
Submitted by Doug Gustwiller dg57@evansville.edu
Free paper shredding
Free off-site paper shredding by Piranha Mobile Shredding will return to campus once again on Thursday, December 6 (Reading Study Day) from 10:00 a.m.-1:00 p.m. All UE students, faculty, staff, and alumni can take advantage of this free service by bringing paper to the Piranha truck in Koch Center for Engineering and Science parking lot. Paper will be shredded off-site.
So, if mounds of paper are taking over your office, home, or room, this is the time to gather those old files, receipts, cancelled checks, tax forms, etc. No need to take out the staples or paper clips. Avoid identity theft by having confidential information permanently destroyed.
Please - no telephone books, magazines, or newspapers. Also, please note that there is a 100-pound paper limit per visit (number of visits is not limited).
Submitted by Amber Elkins ae152@evansville.edu
2019 Evansville's Regional Business Hall of Fame Laureates announced
Junior Achievement of Southwestern Indiana and the Courier & Press announced the 2019 Junior Achievement Evansville Regional Business Hall of Fame Laureates at a press conference Thursday, November 27, at the University of Evansville. The 2019 laureates are Linda L.M. Bennett, William C. Stone, and the late Robert Z. Morris (1914-2001). Laureates will be inducted into the Junior Achievement Evansville Regional Business Hall of Fame at a celebration breakfast at 7:00 a.m. (CT) on March 14, 2019, at the Old National Events Plaza.
The announcement was made by University of Evansville President Christopher M. Pietruszkiewicz, who served as co-chair of this year's Laureate Selection Committee. "These are inspiring people who serve our community with distinction and unparalleled leadership. As our city and business community continue to grow, we can look to these role models as a foundation on which we can build for the future."
Individuals are nominated for their outstanding civic and business contributions to the southwestern Indiana area and recognized for their business excellence, vision, innovations, inspiring leadership, courageous thinking and actions, and local community service. A crystal eagle symbolizing the spirit of free enterprise is presented to each laureate.
Linda L.M. Bennett: University of Southern Indiana (Retired)
As University of Southern Indiana's third President, Dr. Linda L. M. Bennett's fifteen years of leadership ensured a brighter tomorrow for education, culture, economic development, and our young people. During her tenure, the University continued to see monumental growth with the addition of over $100 million in building projects and its first doctoral program. In 2007, USI and Crane established a continuing partnership that established an innovation culture, bringing Crane scientists together with students, faculty, and business people to develop patents, create start-up businesses, and elevate USI and Crane. In 2012, the University, in collaboration with EVSC, implemented nurse-led community health centers located at three EVSC Community Schools. The centers, in association with Deaconess and St. Vincent, provide primary health care services to the neighborhood and community, as well as provide valuable opportunities for USI students to participate in patient service delivery. Her community involvement has been recognized by the Evansville Rotary Club, Leadership Evansville, the Optimists Club, and the Buffalo Trace Boy Scouts Club.
William C. Stone: CEO SS&C Technologies Holdings, Inc. (Active)
Bill Stone was born and raised in Evansville and is the son of the late Patricia Browning and the late Norbert Stone. Stone started SS&C in 1986 working in the basement of his home in Connecticut and funded by the $20,000 he saved from his days as a KPMG executive. In 2001, Stone refocused and added services such as data centers, then took the company private in 2005. In 2011, a resurgent SS&C went public again growing to $1.5 billion in revenue, 8,000 employees worldwide, and 73 offices around the world. Currently, SS&C is traded on Nasdaq (SSNC) with 20,000 employees including 200 in Evansville. In 2006, he funded the NJ Stone Baseball Field, named after his father, for Memorial High School, his alma mater. Most recently Stone, along with his wife Mary, donated $15 million in support of the mission and collaboration between UE, USI, & IU along with hospital partners in the construction of the Stone Family Center for Health Sciences, an impetus to economic growth for our city and region.
Robert Z. Morris (1914-2001): Morris Grain, Imperial Plastics, and The River House Hotel
Robert Z. Morris was raised in Browns, IL, and delivered ice for his uncle's business until he purchased the company at age 16. While working with his father in a small grain, feed, and seed business, he continued to expand. In 1947 he built a small river facility near Dogtown and became the first to ship grain on the Ohio River. He sold Morris Grain, renamed his company Morris Trading Corp and purchased approximately 5,000 acres of land east of Sarasota, FL, as a real estate investment. In Evansville, he was instrumental in starting Imperial Plastics and ultimately selling it to Mr. Jack Berry who changed the name to Berry Plastics. Morris then purchased the old Jackson House Motel on the Evansville riverfront and upgraded the facility to the River House Hotel and the Sunset Dining Room to become one of the finest in downtown Evansville. Morris and wife Alice were always proud to call Evansville home and worked for many years to do all they could to improve the community.
Flu vaccines
Prevent getting the flu this year by stopping by the Student Health Clinic to receive your flu vaccination! Flu vaccines are available at the Student Health Center for $20. Cash or card is accepted. No appointment needed!
Submitted by Tara Ulrich tu19@evansville.edu
Winter Intersession Courses
The University of Evansville offers online Winter Intersession Courses between the fall and spring semester from December 14 to January 4. Registration begins October 29. Students may register for one Winter Intersession course.
For more information, visit: www.evansville.edu/registrar
These accelerated courses offer student the opportunity to:
Take a course online to earn credits toward graduation
Lighten your spring course schedule
Complete missing requirements
Class offerings:
ART 105 Introduction to Visual Arts (Larmann)
CHEM 103 The Chemistry of Adult Beverages (Miller)
COMM 130 Introduction to Communication (Wandel)
COMM 380 Intercultural Communication (Thomlison)
EDUC 201 Introduction to Special Education (Lombardo-Graves)
ES 103 Fundamentals of Environmental Science (Thananatthanachon)
EXSS 320 Nutrition for Performance and Health (Rodd)
FIN 280 Introduction to Personal Finance (Alhenawi)
HIST 112 World History Since 1500 (Gahan)
NUTR 304 Nutrition Concepts and Controversies (Price)
PH 190 Introduction to Public Health (Patel-Dovlatabadi)
PSCI 100 World Politics (Kim)
PSYC 121 Introduction to Psychology (Hennon)
PSYC 229 Social Psychology (Stevenson)
PSYC 416 Human Sexuality (Becker)
SOC 105 Introduction to Sociology (Plikuhn)
Last call for official transcripts!
Any current student needing their official transcript must submit an order no later than 5:00 p.m. on Thursday, December 6. Orders placed after 5:00 p.m. will not be processed until after grades are "official."
Orders must be placed through www.evansville.edu/transcripts.
If you have questions, please contact the registrar's office for assistance.
Submitted by Teresa Haller th227@evansville.edu
Winter housing
Residence hall students - do you need a place to stay this winter? The residence life office has limited winter housing available. Only students participating in official University functions or with approved reasons will be considered for winter housing.
Winter housing is located on the fourth floor of Morton Residence Hall. Students will not have access to their permanent rooms during winter break. Approvals are subject to room availability. Students are charged a flat fee of $400 for winter housing.
Students seeking winter housing must submit a Winter Housing Request Form by noon on Reading and Study Day, available through this link - www.surveymonkey.com/r/WinterHousing.
Students who live in Village housing can stay in their apartment or house at no additional cost but we do ask that you let us know when you will be on campus by filling out this form - www.surveymonkey.com/r/villagewinterhousing.
Submitted by Brian Conner bc32@evansville.edu
Looking Out for A Friend
Phi Mu will be hosting a speaker from Albion Fellows Bacon Center to discuss signs of sexual and domestic assault in friends on November 28 at 6:30 p.m. in Eykamp Hall. Room 264, Ridgway University Center. Attendees will also learn about how to support those affected and report these crimes.
Phi Mu will be hosting a donation table on November 26, 27, and 28 from 10:00 a.m.-3:00 p.m. and will be collecting these items:
Walmart/Target Gift Cards
Hair brushes
Lotion
Baby wash and wipes
Conditioner
Canned fruit
Coffee cups
Albion Fellows Bacon Center said it would be fine if these items came from someplace like the dollar store - they don't need to be expensive!
Phi Mu would love to see a bunch of people at this event to support a wonderful organization.
Submitted by Jessica Morris jm679@evansville.edu
Study abroad application deadlines are coming up!
Are you interested in studying abroad in a location other than Harlaxton? Did you know that UE offers study abroad programs at over 200 different Universities in more than 50 countries around the world? Programs are available for both semester and summer terms and have a wide variety of course offerings. Have you always wanted to study Spanish in Latin America? Or learn about Morocco's history while actually in Morocco? Or maybe even take a traditional Italian cooking course in Italy? The possibilities are endless with our study abroad program options! UE students have recently studied in a wide variety of locations, including Finland, Japan, Argentina, Hong Kong, Cameroon, Bulgaria, and many more.
If you're interested in studying abroad at a non-Harlaxton location, just e-mail studyabroad@evansville.edu or stop by Room 261 in the Schroeder School of Business Building.
Application deadlines are quickly approaching, so the sooner you reach out the better! Study abroad application deadlines are:
Fall 2019: December 14
Summer 2019: February 15
Spring 2020: April 1
Submitted by Greta Becker gb91@evansville.edu
Women's Golf signs Allison Enchelmayer
University of Evansville head women's golf coach Jim Hamilton has announced the signing of Allison Enchelmayer to a National Letter of Intent to begin playing for the Purple Aces in the fall of 2019.
She is a native of Bloomington, Ill. where she played at Normal Community High School.
"I feel in Allison that we got one of the best players in the class of 2019 from the state of Illinois," Hamilton said. "She has a great upside and I think she will be an outstanding player for the University of Evansville. We look forward to her being part of the team next fall."
Enchelmayer was the individual medalist in 21 tournaments throughout her high school career. She was the medalist in the Big Twelve Conference Tournament as a junior and has finished in the top three each season.
The 4-time Illinois High School State Tournament qualifier had the lowest stroke average on her team for all four seasons, including a 74.9 average as a senior.
Men's basketball takes on Wyoming in MVC/Mountain West game
In its seventh appearance in the MVC/Mountain West Challenge, the University of Evansville men's basketball team will square off against the Wyoming inside the Ford Center at 6:00 p.m. tonight. Purple Aces head coach Walter McCarty will take on his former teammate at the University of Kentucky - Allen Edwards; Edwards is in his third season as the head coach of the Cowboys.
"Wyoming is a really good team, they play freely and have a guy who could be a first round NBA draft pick," UE head coach Walter McCarty said. "They shoot the ball really well and have guys who can play many positions. They can score the basketball and also show a lot of fight; they get down but fight right back."
McCarty also gave some insight as to the mindset of his team following Saturday's game at Ball State.
"We have some bounce back, our guys enjoy competing. We were able to put some possessions together where we were able to score the basketball, so looking at it from that perspective, I am encouraged because we were able to put some points on the board," he added.
Last Time Out
- Ball State used a 14-0 run in the first half to propel themselves to an 82-72 win over the Aces on Saturday
- Trailing by as many as 22 points with 5:38 remaining, UE rallied to get within ten in the final moments
- Shea Feehan scored 19 points to lead UE; he drained four triples in the game
- John Hall and Marty Hill had 10 points each
- The Aces out shot the Cardinals, 49.1%-47.6%, but BSU turned 16 offensive rebounds into ten more shot attempts
- Dainius Chatkevicius had 9 points and 6 rebounds in his second game of the season
- UE led the BSU by a 7-2 margin in the first three minutes of the game; the Cardinals took the lead for good with 10:44 remaining in the first half
Takeaways from Ball State
- Feehan's 19-point effort marked the third time in five games he has hit that mark
- John Hall had 10 points and 7 rebounds; his 6.8 boards leads the team
- Ball State finished with a 16-7 advantage on the offensive glass, for the season, UE has been outrebounded by a 67-36 margin on the offensive side
- The Aces bench had a 20-11 edge on the Cardinals bench, but BSU had the edge in second chance points by a 22-6 margin
MVC/Mountain West Challenge
- Wednesday will mark the seventh appearance for the Aces in the MVC/Mountain West Challenge
- Evansville is 2-4 in its six games in the event, but has won two of the last three games
- UE's results include:
11/29/17 - at New Mexico - L, 58-79
12/3/16 - vs. Boise State - W, 72-67
12/20/15 - at Fresno State - W, 85-77
12/1/12 - at Colorado State - L, 72-79
12/3/11 - vs. TCU - L, 68-70 OT
12/5/10 - at Air Force - L, 56-57
No Adjustment Needed
- Shea Feehan added 19 points in the road game at Ball State on Saturday and has now scored 19 or more in three out of five games
- For the season, he is averaging a team-high 15.8 points per game; that tally ranks seventh in the MVC
- Feehan has been depended on for his on-court leadership, pacing the team with 32.2 minutes per game; he has played at least 28 minutes in all five contests.
- He had a solid opener against the Fighting Illini, recording 12 points, 3 rebounds and 2 steals while going 4-8 from the floor
- He upped his game at Xavier, setting his career mark with 20 points while shooting 6-of-15, 4-for-9 from outside and 4-5 from the line; he posted three assists and three rebounds
- At least one 3-pointer has been tallied by Feehan in each game
- Feehan is the first graduate transfer in program history
Scouting the Opponent
- Wyoming comes into Wednesday's match-up with a 2-4 record, earning a 68-66 win over Richmond last week in the Fort Myers Tip-Off
- The Cowboys are led by Justin James, who is averaging 23.3 points per game and 8.3 rebounds per contest; he also leads the squad with a total of 24 assists
- Hunter Maldonado and Jake Hendricks check in with 14.2 and 13.7 PPG, respectively, while Hunter Thompson stands at 10.0
- Hendricks has connected on 20 triples in 2018
Contribute to AceNotes
To have content considered for inclusion in AceNotes, please submit a Marketing Request Form. Deadline for submission to AceNotes is 10:00 a.m. on the requested date of publication. Only articles concerning UE related/sponsored activities will be accepted. Articles submitted to AceNotes may be edited for length and clarity. Submitter contact information is at the end of each article.