| | |
| --- | --- |
| AceNotes Today | Friday, November 16, 2018 |
TODAY: UE's 32nd International Bazaar - start shopping for the holidays!
The University of Evansville's 32nd annual International Bazaar is TODAY - Friday, November 16 - from 5:00- 8:00 p.m., in Ridgway University Center. The event is open to the public, and there will be no charge for admission. Those attending can browse an international marketplace and enjoy interactive booths and performances representative of countries from around the world.
Visitors can purchase an international meal for $10.25 (UE students can use a meal swipe) from 4:30-7:00 p.m. in the Café Court. The menu features several international dishes that were popular at past bazaars including shepherd's pie, Guinness stew, chicken curry, bulgogi, kabsa, and feijoada.
Handmade items, desserts, and snacks will be for sale at the marketplace on the second floor. At the interactive booths, guests can chat with UE international students, see items from the students' home countries, and participate in such activities as learning how to write one's name in another language. There will also be a kids' booth and a photo booth.
Proceeds will be donated to various globally focused charities including Scholars for Syria, Catholic Relief Services, and the Antares Foundation for Kazakhstan orphans.
The bazaar is sponsored by the UE International Club.
To learn more about the bazaar, visit UE's International Club's web page at www.evansville.edu/ceis/club.cfm or contact the Office of Cultural Engagement and International Services at 812-488-2279.
Happy Purple Friday! Free Hot Chocolate with Student Alumni Ambassadors
Happy Purple Friday from Student Alumni Ambassadors!
On Friday, we wear purple at UE! Wear your favorite purple on Friday, November 16, and stop by Ridgway University Center from 11:00 a.m. - 1:00 p.m.
Student Alumni Ambassadors will be handing out free hot chocolate to anyone wearing purple (while supplies last). UE gifts will also be given away to those with extra school spirit!
ECTE Mid-Semester Thoughts on FYS & Reacting to the Past Friday!
Join us today - Friday, November 16 - at 3:00 p.m. in Room 162 in the Schroeder School of Business Building for our November ECTE Lecture on Teaching and Learning. This month's topic is: "Mid-Semester Thoughts on FYS and 'Reacting to the Past'" presented by Paul Bone, associate professor of creative writing and director of First Year Seminar. As we near the end of the first semester using the "Reacting to the Past" pedagogy, Paul will share the progress experienced using it in FYS courses to date, and include student perspectives on the course. There also will be discussion of the future of FYS and/or innovative, successful pedagogies moving forward. If you're tired of hearing how you should be a guide on the side, come and learn how to be an impresario with a scenario.
We look forward to seeing you there for good conversations about good teaching!
Submitted by Mari Plikuhn mp168@evansville.edu
Last day for the University of Evansville ISEA Book Fair
Our Scholastic Book Fair is a reading event that brings kids the books they want to read. This book fair is being hosted by the Indiana Student Education Association which is a group of future educators. We'll receive a wonderful selection of engaging and affordable books for every reading level, and all purchases benefit our school!
Reading for pleasure inside and outside of school has real and long-lasting benefits. Please come to our book fair and help shape your child's reading habits. The Book Fair will be at Ridgway University Center Monday, November 12 through Friday, November 16.
Hours:
Monday: Noon-6:00 p.m.
Tuesday: Noon-6:00 p.m.
Wednesday: Noon-6:00 p.m.
Thursday: 4:00-8:00 p.m.
Friday: 4:00-8:00 p.m.
See you at the book fair!
Submitted by Abbey Duncan ad259@evansville.edu
UE International Education Week - November 12-16
Please join the Department of Foreign Languages and Cultures and celebrate International Education with students, faculty, and staff on November 12-16!
Listen to students talk about their study abroad experiences around the world and to professors from across campus share their research. Learn some Portuguese, Thai, Persian, Russian, and German during the language and culture sessions. Join I-House for the Poetry and Music event. Attend the International Bazaar. Come listen to activist Mary Olson discuss a global nuclear treaty and Christoph Schwegmann, senior defense advisor in the policy planning staff of the German Federal Foreign Office, discuss the roles of the US and Germany in a changing world order.
You can learn more about the events of the week on the International Education Week web page.
Questions? Please email lp84@evansville.edu.
Submitted by Lesley Pleasant lp84@evansville.edu
University of Evansville Theatre presents Year of the Rooster
The University of Evansville Theatre presents Olivia Dufault's Year of the Rooster. This exciting new script, an amazingly entertaining romp of a tale about cockfighting, opened Monday, November 12 in the May Studio Theatre. Additional performances are at 7:30 p.m. on November 16 and 17, and at 2:00 p.m. on November 18.
Meredith Ham, a senior from Castle Rock, Colo., directs Year of the Rooster; Cassy Spaduzzi, a senior from San Antonio, Texas, serves as the scenic designer; Morgan Severeid, a senior from Westfield, Ind., is the costume designer; Maggie Ste.Marie, a senior from Littleton, Colo., is the lighting designer; Austin Kuhn, a junior from Evansville, Ind., serves as the sound designer; Julia Toney, a senior from San Antonio, Texas, is the dramaturg; Micah Ammons, a senior from McKinney, Texas, is the stage manager, and UE professor Chuck Meacham serves as the technical director.
The cast features junior Luke Lowrance from Fort Worth, Texas, as Gil Pepper; senior Matthew McDonald from Carmel, Ind., as Dickie Thimble; senior Kathleen Finch from College Station, Texas, as Lou Pepper; senior Daniel Stewart from Fort Worth, Texas, as Odysseus Rex, and first-year student Delanie Kitzman from Tomball, Texas, as Philipa Long.
Ticket prices are $11 for adults and $9 for senior adults, students, and UE faculty and staff. UE students may obtain one free student rush ticket beginning at noon on the day of the performance they wish to attend.
The UE Theatre Society will host a pre-play chat 30 minutes prior to the show on Saturday, November 17. All are welcome to attend the presentation and discussion with a student designer about their process on the production.
Tickets are available by calling 812-488-2031.
Chipotle Giveback: Scholars for Syria
Join us on Sunday, November 18, from 5:00-9:00 p.m. at the Chipotle on North Green River Road to help raise money for Scholars for Syria. Be sure to bring in this flyer, show it on your phone, or tell the cashier at checkout! We hope to see you there!
Submitted by Kendall Turner kt131@evansville.edu
Debbie Kassenbrock Retirement Party
Please join us in celebrating Debbie Kassenbrock's 25 years of service to UE and our students! The event is planned for November 30 from 3:00-5:00 p.m. in the Melvin Peterson Gallery.
For questions, contact Stacey Shanks at ext. 2606.
Submitted by Stacey Shanks ss581@evansville.edu
Holiday Arts and Craft Sale!
The University of Evansville Department of Art and the University of Evansville Friends of Art are pleased to announce their Holiday Art and Craft Sale. The sale will be held in the Melvin Peterson Gallery on Thursday, November 29 from 9:00 a.m.-7:00 p.m. This a perfect opportunity to find unusual holiday gifts made by local artists, crafts people and our very own UE Family! Friends of Art volunteers and gallery staff will be on site to handle the sales.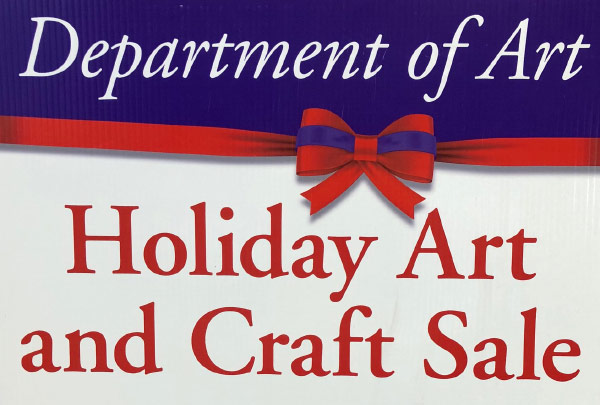 Submitted by Brooksie Smith bs267@evansville.edu
Catholic Mass on campus
There will be a Catholic Mass this Sunday, November 18, at 1:00 p.m. in Neu Chapel. Father Alex Zenthoefer will be the celebrant. All are welcome!
Submitted by Sam Wallisch sw265@evansville.edu
Graves Hall Tree Decorations for Children
Please consider donating new gloves, mittens, socks, hats, or scarves for community children grades K-12 this season. These items can be placed on the tree in the Graves Hall lobby from now until December 14. The Center for Family, School and Community Partnerships will then distribute them to EVSC schools. Thank you.
Submitted by Karen Doss kd56@evansville.edu
Attention employees: Payroll for Thanksgiving Holiday - pay date is Nov. 30
With the Thanksgiving holiday just around the corner, it is important to enter your work hours into Web Advisor by Saturday night at midnight, November 24. Supervisors will have until noon on Monday, November 26 to approve all time cards. If you have any questions, please contact Gloria Spencer at ext. 2159 or email gs55@evansville.edu.
Participate in Adopt-a-Family!
UE has partnered with Aurora to give back to families in need with the Adopt-a-Family event. You can sign up as a group or as an individual. There are individuals and families still left to be sponsored. Families consist anywhere between 2-5 people. Each individual asks for 3 items with prices generally ranging from $20-$60 dollars total. Some items may cost over $60 and others may be well under $20. The deadline to sign up is November 26. There are only a small number of families who still need to be adopted, so if you want to participate you need to sign up fast! To sign up or for more information, you can email Karyssa Vasquez at kv54@evansville.edu. This is a great cause and a good way to help give back to the community!
Armistice Day T-Shirts: $5 while supplies last!
A limited number of dark gray T-shirts from the Armistice Day Centenary 5K are available for $5, with all proceeds benefitting UE VETS! Available in sizes small, medium, large, and XL. Help support a great student organization!
Stop by the Department of Law, Politics, and Society (Room 50 in the Schroeder School of Business Building) to pick up your shirts while supplies last.
Submitted by Mari Plikuhn mp168@evansville.edu
Honorary Degree Committee welcomes your suggestions
The Honorary Degree Committee looks forward to receiving your recommendations for honorary degrees to be conferred at the May 2019 Commencement. We need your help in selecting accomplished individuals to receive one of our university's highest honors. Nominations may be made on the basis of individual service to the University or individual achievement that exemplifies the University's mission. Recently selected persons have excelled in a variety of areas - law, medicine, education, business, literature, politics, and entertainment. The committee will forward nominations to President Pietruszkiewicz so he can make his recommendations to the faculty for their approval. Please email the following information to Robert Dion, committee chairperson, at rd35@evansville.edu, by Monday, November 26: Your name, the name of your nominee, the rationale for your nomination, biographical information on the nominee, and contact information for the nominee. Thank you in advance for your ideas.
Submitted by Robert Dion rd35@evansville.edu
Coat Drive for United Caring Shelter
Public Health Student Associations is hosting a coat drive for United Caring Shelter, located in downtown Evansville! We will have a table set up by the dining court in Ridgway University Center on November 15 from 11:00 a.m.-1:00 p.m. There will also be big donation box outside of Graves 219 where you can drop off your coats starting Monday, November 12! Coats of any size and condition would be greatly appreciated. Show some support in helping us better the community around us.
Submitted by Sarah Harness sh287@evansville.edu
Volunteers needed for the Turkey Day 5K
Evansville Goodwill Industries, Inc. is looking for volunteers to help with their 5K on November 22, Thanksgiving Day. Volunteers are needed to do jobs such as:
Set-up
Registration Help/Line Control
Water Table Attendants on the race course
Corner Watchers during the race
Food and Drink Set-up at the conclusion of the race
Awards after the race
As many people as possible are needed to help out. The more the merrier! Bring your family and friends.
If interested, you can register online by November 21 at http://evvgoodwill.org/events/turkey-day-5k/ and any questions can be sent to Robyn Oglesby at: roglesby@evvgoodwill.org.
Submitted by Karyssa Vasquez kv54@evansville.edu
UE distribution services - Thanksgiving week
Please note the following distribution services (mail services, central receiving and copy services) adjustments and plan accordingly. These adjustments will help to ensure there is sufficient time to transport mail for processing, complete campus deliveries and copy service requests before campus is closed for Thanksgiving at noon on Wednesday, November 21.
Departments have been sent a Campus Distribution Services Delivery Reminder/Notification via campus mail. Please complete and return it to distribution services, if someone will be available at the routine department mail/receiving delivery locations to receive mail or shipments on Wednesday morning, November 21. Departments accepting deliveries on Wednesday morning, November 21 are asked to respond no later than Friday, November 16.
Mail services adjustments:
Mail will be delivered to offices that have responded to the Campus Distribution Services Delivery Reminder/Notification stating they will have someone available at the designated dept. mail delivery location to receive mail on Wednesday morning, November 21. The daily mail run will begin at 8:30 a.m.
All outgoing USPS mail/parcels must be in UE mail services ready for transport to Data Mail on November 21, no later than 10:30 a.m.
USPS will be closed on Thursday, November 22, Thanksgiving Day.
Those needing to mail a letter, etc. later in the day may do so by taking their mail to the Post Office and paying for the postage via a UE Pcard.
United Parcel Services (UPS) Information:
UPS is closed on Thanksgiving Day for pickup and deliveries.
UPS provides delivery and pickup services of air and international packages only on Friday, November 23.
Pickups are available, if you have made pre-arrangements with UPS by Wednesday, November 21, or via UPS On-Call Pickup service and at all UPS Drop Boxes. Please note that guaranteed delivery confirmation times will be extended 90 minutes on Friday.
For urgent shipments, UPS Express Critical is available 365 days a year. For more information on this services go to www.expresscritical.com.
Copy services adjustments:
Please plan your copy job requirements ahead of time to provide sufficient turn-around time as copy services will be closed over the Thanksgiving break.
Central receiving adjustments:
Receiving will deliver to offices that have responded to the "Campus Distribution Services Delivery Reminder/Notification" stating they will have someone available at the designated dept. mail delivery location to receive deliveries on Wednesday morning, November 21. The receiving run will begin at 10:00 a.m. on Wednesday, November 21,
UE central receiving will close at noon on Wednesday, November 21, and will resume afternoon deliveries on Monday, November 26.
For distribution services questions, contact the following:
Mail services at mailservices@evansville.edu
Copy services at copyservices@evansville.edu
Central receiving at centralreceiving@evansville.edu
Submitted by Kim Winsett kw83@evansville.edu
Zifer guest conducts All Region Honor Band
Professor of music Timothy J. Zifer guest conducted the Indiana Band Masters Association All Region Honor Band in Spencer, Indiana, this past weekend. The band was made up of 100 students from 12 different school districts. The students had rehearsals and sectionals all day Saturday. A Sunday rehearsal followed by a concert. Zifer had the opportunity to interact with students, parents, and regional music educators during the event.
Frederking's career night leads Aces to win in home opener
Sophomore Noah Frederking scored a career-high 26 points to lead the University of Evansville men's basketball team to a 92-72 win over Kentucky Wesleyan in the home opener at the Ford Center on Thursday evening.

Frederking was 9-of-14 from the field and 3-6 from outside. Of his 26 points, 19 came in the first half. The outing comes after a 10-point effort on Saturday at Xavier.

"I just tried to come off the bench and give a little spark to our team. I made one and felt like I could keep shooting until I missed one, I was really feeling it," Frederking said after the win. "Coach just wants me to go in there and be aggressive."

K.J. Riley had a nice game, finishing with 16 points while John Hall recorded 13. Hall's final tally set his career mark for the second game in a row; he registered 12 against the Musketeers. Riley has finished with at least 14 points in all three games so far.

For UE head coach Walter McCarty, it marked the first of what will be many wins with the Purple Aces. He was excited after the game, but as always, he gave all of the credit to his players.

"Noah came and played with a good pace. He is always looking to shoot, I am excited because he was very aggressive tonight," McCarty said. "Jawaun (Newton), Shamar (Givance) and Noah were able to come in and make an impact and help turn the game. When they were on the bench to start, they were able to view the game and see what they could do to help us."

The Aces did not get the start to the night that they hoped for when Kentucky Wesleyan jumped out to a 15-10 lead in the opening five minutes. The Panthers hit three triples to take the early advantage.

"At the beginning, we were shooting without a purpose, I wanted us to get in the paint a little more. We have to start the games better, dictate a pace and get stops," McCarty explained. "We cannot let teams get comfortable, because when they do, their shots go in. Defensively, we were much better, but still have a way to go."

John Hall echoed those comments.

"We have to start the games better and be ready to play," he said. "We know what we have to do and we will be ready going forward."

A layup by Marty Hill cut into the deficit before the Aces were able to get in front at the 11:05 mark as Frederking connected on his second field goal of the night. The Aces never gave up the lead from there. UE pushed its advantage to four points, but the Panthers cut it to one as late as a 34-33 score with 7:29 remaining in the half.

It was Frederking being true from outside once again. His third trey of the game sent the Aces on an 8-0 stretch that pushed the lead to 42-33. Following a KWC basket, the Aces completed the half on a 15-4 run to go into the half with a 57-39 lead. Shea Feehan capped off the first-half scoring with the team's 10th triple of the half with 21 seconds on the clock.

Kentucky Wesleyan hung tough in the second half, cutting the UE lead to 13 at the midway point of the period, but Evansville was able to fend off the challenge to finish with the 92-72 win. The Panthers saw Mohamed Abu Arisha lead the way with 16 points and 10 boards while Zavon Goodwin and Adam Goetz scored 14 and 13 points, respectively.

Both squads finished with 37 rebounds. Feehan was the top rebounder for the Aces, hauling in nine caroms. He had one in each of the first two games. Riley grabbed seven. Freshman Shamar Givance led the team with five assists while Frederking and Hall posted four apiece. Hall has dished out nine helpers over the last two games.

UE shot 49.3% for the night, including 58.1% (18/13) in the first 20 minutes of action. The Panthers were just below that mark for the game, finishing at 46.7%. Both teams had 17 assists while the Aces forced 21 turnovers while committing just seven as a team. Since turning it over 24 times in the opener at Illinois, UE has done extremely well in that department, committing just 16 over the last 80 minutes on the court.

Next up for the Aces is a visit by Texas Southern to the Ford Center. Tip is set for noon on Sunday.
Faculty tickets available for Nov. 15 and 18 men's basketball games
Faculty tickets are now available for the men's basketball game on Thursday, November 15 against Kentucky Wesleyan at 6:05 p.m. as well as Sunday, November 18 at noon. Come to the Carson Center ticket office to pick up your tickets. University ID is required! The ticket office will be open during normal business hours: 8:30 a.m.-5:00 p.m.
Submitted by Jake Hill jh690@evansville.edu
Contribute to AceNotes
To have content considered for inclusion in AceNotes, please submit a Marketing Request Form. Deadline for submission to AceNotes is 10:00 a.m. on the requested date of publication. Only articles concerning UE related/sponsored activities will be accepted. Articles submitted to AceNotes may be edited for length and clarity. Submitter contact information is at the end of each article.