| | |
| --- | --- |
| AceNotes Today | Friday, November 9, 2018 |
Michael Roscoe speaks at UE's Annual Veterans Day service
Colonel Michael Roscoe, U.S. Army National Guard, was the speaker at today's annual Veterans Day service at the University of Evansville. Roscoe is the chair and founding director of the Physician Assistant Science program at UE.
Roscoe began his military career in 2000 by commissioning to the Indiana National Guard. Currently, he is a senior PA for the state of Indiana working with the Surgeon General. He deployed to Afghanistan for his first combat tour in 2004-05 where he served as a physician assistant at a forward operating base in Kabul and on several medical "jump teams" all across Afghanistan. He had a second combat tour in Balad, Iraq in 2008-09 where he was the officer-in-charge of the busiest troop medical clinic (TMC) in Iraq at the time.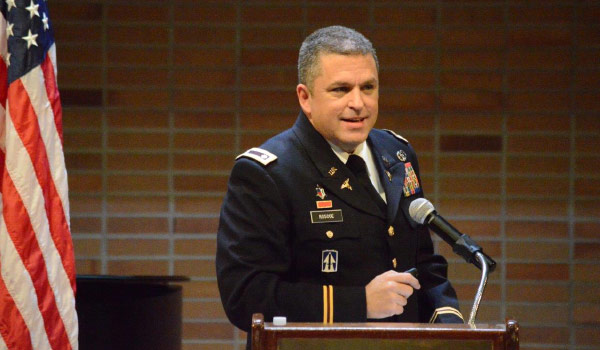 Roscoe earned a PhD in international health science in 2009 from Touro University International (military sponsored) with his specialization in risk mapping of Leishmaniosis in Afghanistan. He has a Master of Science from Purdue University, a second Master in Physician Assistant Studies from University of Nebraska specializing in emergency medicine. Finally, he has two bachelor's degrees from Butler University.
Roscoe has received many military awards and achievements, but most notable was a Bronze Star for his work with the international medical community, leishmaniosis research, and assisting with getting four Afghan children back to the United States for life saving surgeries. Roscoe also received the Combat Medical Badge for his time with the medical jump teams and a Combat Patch for War-time Service (3).
Cherie Leonhardt was recognized during the ceremony for her years of service as the coordinator of the Office of Veterans Affairs at the University of Evansville.
UE Celebrated First Generation Students on November 8
The University of Evansville participated in the second annual First Generation College Student Celebration on Thursday, November 8 by sharing stories of first generation students on social media.
Visit UE's Instagram page for photos and stories from first generation college students who are part of the UE family.
President Pietruszkiewicz was the first in his family to go to college. He talked with 14 News about his experience and the services offered at UE to ensure success among first gen students who are part of the UE family.
This event, hosted by the Council for Opportunity for Education (COE) in partnership with the Center for First-generation Student Success, is celebrated by institutions nation-wide.
UE welcomes first generation college students to its campus and strives to create an atmosphere where they can succeed and develop their talents. This fall, approximately 25% of the school's full-time undergraduates are first-generation college students.
All UE first generation college students are invited to participate in a special course that covers such topics as exploration of careers and majors, time management, study skills, stress management, internships and study abroad, and financial aid opportunities.
The University has also established a Student Success Lab designed to help students achieve academic success. While open to all students, the lab's resources are particularly useful to those who are the first in their family to attend a university. Students who utilize the lab have access to supplemental instruction, academic coaches, library services, career development, and assistance in discovering the right academic path.
November 8 marks the 53rd anniversary of the signing of the 1965 Higher Education Act, which has helped millions of poor students become the first members of their families to earn college degrees.
In addition to the services above, UE students have the support of the following faculty and administrators who serve as examples of individuals who were once in their shoes as first generation college students:
Severine Bates, assistant professor of French
James Berry, associate professor of anthropology
Paul Bone, associate professor of creative writing
Jeffrey Braun, professor of physics
Vincent Campese, assistant professor of neuroscience
Katherine Chandler, visiting assistant professor of electrical engineering
Dana Clayton, dean of students/vice president of student affairs
Troy Coppus, clinical education coordinator of athletic training
Shane Davidson, vice president of enrollment and marketing
Barbara Engels, instructor in Intensive English Center
Jared Fulcher, assistant professor of mechanical engineering
Lisa Hale, visiting assistant professor of education
Elizabeth Hennon, associate professor of psychology
Cris Hochwender, professor of biology
Su Jin Jeong, assistant professor of public health
Lisa Kretz, associate professor of philosophy
Ralph Larmann, professor of art
John Layer, associate professor of mechanical engineering
Mary Lombardo-Graves, assistant professor of special education
Todd Matteson, associate professor of art
Eric McCluskey, assistant professor of music
John Meredig, assistant professor of German and Russian
Leanne Nayden, Lecturer in School of Education
Lisa Nikolidakis, assistant professor of creative writing
Annette Parks, professor of history
Christopher M. Pietruszkiewicz, President of the University of Evansville
Mari Plikuhn, associate professor of sociology
Elizabeth Powell. associate professor of biology
Anthony Richardson, associate professor of electrical engineering
Diana Rodriguez Quevedo, associate professor of Spanish
Peter Schmidt, associate professor of mechanical engineering
Rob Shelby, assistant professor of sociology
Mark Spencer, director of athletics
David Unger, professor of mechanical and civil engineering
James Ware, professor of religion
Katie Whetstone, clinical assistant professor of physical therapy
LaNeeça Williams, chief diversity officer
Sarah Wilson, assistant professor of chemistry
UE's Christmas on Campus set for Friday, November 30
The University of Evansville will celebrate the holidays with Christmas on Campus on Friday, November 30. The celebration will include photos with Purple Santa, reindeer games, carriage rides, trackless train rides, cookies and hot chocolate, Candlelight Advent Vespers, and the ceremonial lighting of the University's Christmas tree.
Candlelight Advent Vespers is free and open to the public. The public is welcome to any and all of the other events for only $5 per family. Visit UE's Christmas on Campus webpage at www.evansville.edu/aceschristmas/ to fill out the online registration form and save time during the event.
The complete schedule for Christmas on Campus is as follows:
5:00 p.m.
Check-in
Lobby, Olmsted Administration Hall
5:00 - 6:45 p.m.
Photos with Purple Santa
Ridgway University Center
Christmas Crafts
Ridgway University Center
5:00 - 10:00 p.m.
Reindeer Games and Trackless Train Rides
East Terrace Lawn
Christmas Shopping at UE Bookstore
Stop in for giveaways and 20 percent off the original price of all clothing and gift items to all shoppers during the night!
7:00 p.m.
Candlelight Advent Vespers
Neu Chapel
8:00 - 10:00 p.m.
Carriage Rides
Sesquicentennial Oval
Cookies and Hot Chocolate
Lobby, Olmsted Administration Hall
Roasted Nuts and Kettle Corn
East Terrace Lawn
8:05 p.m.
Lighting of the Christmas Tree and Caroling
Outside Graves Hall
Environmental Awareness Week: November 5-11
The University of Evansville's ECO Club presents Environmental Awareness Week November 5-11.
Stainless steel reusable straws will be sold at the information tables in Ridgway University Center at the times listed below for $1 each or 5 straws for $4.
The full schedule of events is as follows:
Monday, November 5:
5:00-6:00 p.m.: Glass Recycling Awareness, Ridgway University Center Tables
5:00 p.m.: SAB Trivia Night: Environmental Theme, Cafe Court
Tuesday, November 6:
7:00 p.m.: Levy Schroeder speaks about Wesselman Nature Preserve, Room 100, Koch Center for Engineering and Science
Wednesday, November 7:
5:00-6:00 p.m.: Food Waste Awareness, Ridgway University Center Tables
Thursday, November 8:
Noon-1:00 p.m.: Energy Waste Awareness Day, Ridgway University Center Tables
Wear GREEN to support environmental awareness!
Friday, November 9:
Noon-1:00 p.m.: Air Pollution Awareness, Ridgway University Center Tables
Sunday, November 11:
1:00-3:00 p.m.: Make your own FREE reusable, no-sew T-shirt bag, Room 162, Schroeder School of Business Building
Nikolidakis to give talk on applying to MFA programs
On Monday, November 12, assistant professor of creative writing Lisa Nikolidakis will give a talk on applying to MFA programs in creative writing. The talk will be held in Room 172 in the Schroeder School of Business Building at 4:00 p.m. and will leave time for student questions.
Submitted by Lisa Nikolidakis ln43@evansville.edu
Guest lecture on "The African Geographies of Angelo Soliman"
On Monday, November 12, Michael Yonan, professor of art history at the University of Missouri-Columbia, will give a lecture titled "The African Geographies of Angelo Soliman," which details the fascinating life of this former African slave (c. 1721–1796) from the Kanuri ethnic group. The lecture will last approximately one hour and will begin at 7:00 p.m. in Room e 162 in the Schroeder School of Business Building.
As a child, Soliman was kidnapped, sold into slavery, and transported through Tunisia and Sicily before being purchased by the Liechtenstein family and transferred to Vienna. There he became a scholar and freemason, eventually rising to become Grand Master of his lodge. Yonan will address questions of identity, slavery, and colonialism by analyzing a portrait print of Soliman by the Austrian printmaker Johann Gottfried Haid (1710–1776).
The event, organized by the archaeology and art history department, is being held in cooperation with International Education Week with thanks to the Office of Study Abroad and the William L. Ridgway College of Arts and Sciences.
Submitted by Heidi Strobel hs40@evansville.edu
Mindfulness Service in Neu Chapel: Sunday at 9:00 p.m.
As the semester winds down, stress often ramps up as final projects and exams loom on the horizon. Take a 25-minute break for prayer, meditation, and reflection at Neu Chapel's 9:00 p.m. service. This beautiful service features candle lighting, guided meditation, and meditative music. All are welcome to join us in this intentional time of peace and mindfulness!
Submitted by Keith Turner kt160@evansville.edu
University Worship in Neu Chapel: Sunday at 9:00 a.m.
This week's University Worship service will be held at 9:00 a.m. in Neu Chapel. We will be continuing our current series "Be Born in Us Today" and consider what it means to be a people of peace. Is peace even possible in the world? What is peace? And what is our role to play? All are welcome to join us for this meaningful service of worship!
Submitted by Keith Turner kt160@evansville.edu
UE International Education Week - November 12-16
Please join the Department of Foreign Languages and Cultures and celebrate International Education with students, faculty, and staff on November 12-16!
Listen to students talk about their study abroad experiences around the world and to professors from across campus share their research. Learn some Portuguese, Thai, Persian, Russian, and German during the language and culture sessions. Join I-House for the Poetry and Music event. Attend the International Bazaar. Come listen to activist Mary Olson discuss a global nuclear treaty and Christoph Schwegmann, senior defense advisor in the policy planning staff of the German Federal Foreign Office, discuss the roles of the US and Germany in a changing world order.
You can learn more about the events of the week on the International Education Week web page.
Questions? Please email lp84@evansville.edu.
Submitted by Lesley Pleasant lp84@evansville.edu
5K Armistice Day Walk and Run with Mission BBQ
The Armistice Day Centenary 5K is planned for November 11. Win a free Mission BBQ prize box with a $25 gift card if you come in first place and a free Mission BBQ sandwich card if you place in the top 6! All Participants will receive a free T-shirt while supplies last!
The Armistice Day Centenary 5K is a philanthropy 5K event held by the Historical Honors Society, Social Science Honors Society, and the History Club on the University of Evansville's campus to commemorate the 100th anniversary of the symbolic end of World War One. All proceeds will benefit UE student Veteran's.
You can pre-register on the UE Alumni and Friends Community's Armistice Day Centenary 5K web page.
Check-in and at-event registration begins at 9:30 on November 11.
At 11:00, we will ring the Peace Bell and have a moment of silence. There will be a 15-minute intermission for participants to walk over to the track around the baseball fields to compete in the race. Food and water will be provided and free T-shirts to participants while supplies last.
Pre-registration is $15 for students and $20 for general registration.
Submitted by Sylvia McFadden sm394@evansville.edu
Promoting health care autonomy panel set for November 13
A panel discussion, "Promoting Autonomy in Healthcare through Interdisciplinary Collaboration: Bridging the Theory Practice Gap," is planned for November 13 at 6:00 p.m. in Room 100 in the Koch Center for Engineering and Science.
This panel discussion will address the challenges of recognizing and respecting patient choice in modern day healthcare. Please join us for this discussion about the factors that contribute to this theory-practice gap, and how that gap can be bridged by promoting interdisciplinary collaboration. Our distinguished panelists represent a cross section of professionals from both healthcare and academic backgrounds, both inpatient and outpatient settings.
Recognizing an individual's right to make healthcare decisions based on their own worldview, free from coercion, and have those decisions respected is a generally recognized ethical obligation that is acknowledged in both secular and sectarian traditions. Yet, despite this general commitment to help promote patient autonomy, it is often the case that patient's wishes go unrecognized in the healthcare decision making process, reflecting a gap between what healthcare providers know we should do, and what they actually do.
Submitted by Lisa Kretz lk102@evansville.edu
University of Evansville Theatre presents Year of the Rooster
The University of Evansville Theatre presents Olivia Dufault's Year of the Rooster. This exciting new script, an amazingly entertaining romp of a tale about cockfighting, opened Monday, November 12 in the May Studio Theatre. Additional performances are at 7:30 p.m. on November 16 and 17, and at 2:00 p.m. on November 18.
Meredith Ham, a senior from Castle Rock, Colo., directs Year of the Rooster; Cassy Spaduzzi, a senior from San Antonio, Texas, serves as the scenic designer; Morgan Severeid, a senior from Westfield, Ind., is the costume designer; Maggie Ste.Marie, a senior from Littleton, Colo., is the lighting designer; Austin Kuhn, a junior from Evansville, Ind., serves as the sound designer; Julia Toney, a senior from San Antonio, Texas, is the dramaturg; Micah Ammons, a senior from McKinney, Texas, is the stage manager, and UE professor Chuck Meacham serves as the technical director.
The cast features junior Luke Lowrance from Fort Worth, Texas, as Gil Pepper; senior Matthew McDonald from Carmel, Ind., as Dickie Thimble; senior Kathleen Finch from College Station, Texas, as Lou Pepper; senior Daniel Stewart from Fort Worth, Texas, as Odysseus Rex, and first-year student Delanie Kitzman from Tomball, Texas, as Philipa Long.
Ticket prices are $11 for adults and $9 for senior adults, students, and UE faculty and staff. UE students may obtain one free student rush ticket beginning at noon on the day of the performance they wish to attend.
The UE Theatre Society will host a pre-play chat 30 minutes prior to the show on Saturday, November 17. All are welcome to attend the presentation and discussion with a student designer about their process on the production.
Tickets are available by calling 812-488-2031.
UE's 32nd International Bazaar on Friday: Performances from 8 different countries!
The University of Evansville's 32nd annual International Bazaar is set for Friday, November 16, from 5:00- 8:00 p.m., in Ridgway University Center. The event is open to the public, and there will be no charge for admission. Those attending can browse an international marketplace and enjoy interactive booths and performances representative of countries from around the world.
Visitors can purchase an international meal for $10.25 (UE students can use a meal swipe) from 4:30-7:00 p.m. in the Café Court. The menu features several international dishes that were popular at past bazaars including shepherd's pie, Guinness stew, chicken curry, bulgogi, kabsa, and feijoada.
Handmade items, desserts, and snacks will be for sale at the marketplace on the second floor. At the interactive booths, guests can chat with UE international students, see items from the students' home countries, and participate in such activities as learning how to write one's name in another language. There will also be a kids' booth and a photo booth.
Proceeds will be donated to various globally focused charities including Scholars for Syria, Catholic Relief Services, and the Antares Foundation for Kazakhstan orphans.
The bazaar is sponsored by the UE International Club.
To learn more about the bazaar, visit UE's International Club's web page at www.evansville.edu/ceis/club.cfm or contact the Office of Cultural Engagement and International Services at 812-488-2279.
Roundtable on Climate Change
Interested in joining the discussion during International Education Week on most recent report from the Intergovernmental Panel on Climate Change? You can read the report on the organization's website. Please email associate professor of German Lesley Pleasant at lp84@evansville.edu. This event is free and open to the public. It will take place on November 12 in Room 203 in the library.
Submitted by Lesley Pleasant lp84@evansville.edu
Activist Mary Olson to speak at UE
Activist Mary Olson will be speaking at UE on November 12 at 6:00 p.m. in Room 203 in the library. Her topic will be "A New Global Treaty for Nuclear-Free Nations: How One Woman Made a Difference."
Olson is acting director of gender and radiation, director of Southeast office, NIRS. She holds an undergraduate degree in evolutionary biology and history of science and has worked for 27 years on radioactive waste policy with the non-government organization, Nuclear Information and Resource Service (NIRS, www.nirs.org) based in the Washington DC area; Olson herself is based in a satellite office in Asheville, North Carolina, where she founded the new Gender and Radiation Impact Project in 2017.
She has written and organized on radioactive waste and from 2004-1999, she was a registered lobbyist in the US Congress, working to stop bad legislative proposals for changes in radioactive waste law. Olson leads the successful Stop Mobile Chernobyl Campaign which prevented legislation that would have mandated the shipment of highly radioactive waste to the disputed Yucca Mountain site when it was under study (not yet approved). For many years Olson worked with the No Dumps on Native Lands project to keep nuclear waste off the lands of Indigenous Peoples, including Yucca Mountain which is on traditional lands of the Shoshone Nation.
Olson has been a student of radiation's impact on living cells and organisms since her own contamination while working in a research lab. She has been privileged to know Dr. Steve Wing and to be mentored by Dr. Rosalie Bertell. Bertell encouraged Olson to do her own analysis of A-Bomb survivor data published by the US National Academy of Sciences (BEIR VII, 2006) in order to answer questions from the public about gender differences in radiation harm. Olson's paper "Atomic Radiation is More Harmful to Women," published in the wake of the Fukushima Daiichi meltdowns helped the diplomats working at the UN to bring nuclear weapons under humanitarian law, embodied by the new Convention on the Prohibition of Nuclear Weapons.
Submitted by Lesley Pleasant p84@evansville.edu
Online Master of Public Health Program
UE now offers its Master of Public Health (MPH) in a fully online format. It is one of the few MPH programs in Indiana to be offered fully online.
Distance learning provides location and day-to-day flexibility in scheduling "class" for students who have work, family, and/or other responsibilities. The master's degree requires 42 credit hours and is divided into three categories: public health core courses; health policy core courses; and a capstone course and internship. If interested in applying or have any questions, contact Payal Patel-Dovlatabadi at pp42@evansville.edu.
Submitted by Payal Patel-Dovlatabadi pp42@evansville.edu
Study abroad application deadlines are coming up!
Are you interested in studying abroad in a location other than Harlaxton? Did you know that UE offers study abroad programs at over 200 different Universities in more than 50 countries around the world? Programs are available for both semester and summer terms and have a wide variety of course offerings. Have you always wanted to study Spanish in Latin America? Or learn about Morocco's history while actually in Morocco? Or maybe even take a traditional Italian cooking course in Italy? The possibilities are endless with our study abroad program options! UE students have recently studied in a wide variety of locations, including Finland, Japan, Argentina, Hong Kong, Cameroon, Bulgaria, and many more.
If you're interested in studying abroad at a non-Harlaxton location, just e-mail studyabroad@evansville.edu or stop by Room 261 in the Schroeder School of Business Building.
Application deadlines are quickly approaching, so the sooner you reach out the better! Study abroad application deadlines are:
Fall 2019: December 14
Summer 2019: February 15
Spring 2020: April 1
Submitted by Greta Becker gb91@evansville.edu
USPS closed Monday, November 12 for Veteran's Day
The United States Postal Service (USPS) will be closed on Veteran's Day, Monday, November 11, 2018. Please note UE mail services will not be picking up mail from USPS on Monday, since the post office will be completely closed. Any mail picked up from UE areas by mail services on Monday, November 12, will be transported to Data Mail for metering the afternoon of Tuesday, November 13. For mail related questions, please contact mail services at ext. 1067 or mailservices@evansville.edu.
Submitted by Kim Winsett kw83@evansville.edu
Environmental sustainability achievement: 660 pounds of paper saved!
Following the recommendation of Professor Mark Cirino, the Environmental Sustainability Committee communicated with United Way Campaign organizers Lori Leduc and Keith Gehlhausen to encourage a paperless campaign. Due to everyone's efforts the 660 pounds of paper used for previous United Way campaigns will be saved over the next 20 years. Thanks to all who were involved!
Submitted by Lisa Kretz lk102@evansville.edu
Summer sessions payment options
Payment plans for summer session courses including Early Summer, Harlaxton Summer, Summer I, and Summer II are available now. Contact the Office of Student Accounts to set-up a payment plan. Payments can be arranged from the point of set-up to the due date of the session. There is no fee for the payment plan.
Students should complete a summer financial aid application and return to the Office of Financial Aid (Olmsted 116) no later than Reading-Study Day, May 2, to determine if financial aid is available for their summer courses.
Nominate a co-worker for December Employee of the Month
The University of Evansville, in pursuit of excellence in service, wishes to recognize monthly a non-faculty employee displaying records of achievement as a leader. Leadership may be demonstrated in any of the following categories:
• Service to the University community
• Service to students
• Job performance and attitude to fellow employees
One award is presented each month. To be eligible, an employee must be a full-time member of the administration or staff. Nominations are due before the 15th of each month. Nominations are now being accepted for the month of December!
To nominate someone, or to find out more information about the Employee Excellence Award, go to http://acelink.evansville.edu/Tools/Employee Award/.
Alternative Energy ChangeLab needs your help!
Help support the Rosa Bell project by donating to install solar panels on a school in Puerto Rico! Your donation will help purchase a solar panel LED lights to encourage change!
Follow us on Social media to figure out how to donate!
#PoweringRosaBell
@PoweringRosaBell
Submitted by Johnathan Miller jm604@evansville.edu
It's National Distance Learning Week - November 5-9
Did you know that the University of Evansville is a member of the Online Learning Consortium (OLC)? Many opportunities are available through the consortium such as webinars, mini-workshops, certificate programs, conferences and short-courses.
One highlighted webinar, Teaching Science Online: Learn from the Experts, is on November 7 from noon-1:00 p.m.
If you have interest in any opportunities through the consortium, please contact Lindsay Roberts at lr155@evansville.edu for special pricing and registration information.
Submitted by Lindsay Roberts lr155@evansville.edu
Help us thank donors during the UE Thank-a-thon!
During the week of November 5-9, students can take part in the UE Thank-a-thon and write a note of thanks to a generous UE donor. Student recipients of donor-funded scholarships should have received emails from the Offices of Financial Aid and Development asking them to write thank you notes online. ANY student can visit the Thank-a-thon table in Ridgway University Center during lunch November 5-9 and write a thank you to receive a prize.
Submitted by Molli Duckworth md105@evansville.edu
Free HIV testing at SHC
Matthew 25 will be hosting HIV testing at the Student Health Center FREE of charge on Tuesday, November 13 from 9:00-11:00 a.m. No appointment necessary!
Submitted by Tara Ulrich tu19@evansville.edu
Sing in 500-person choir at UE men's basketball game
In celebration of Habitat for Humanity Evansville's 500th home, there will be a 500-person choir performing at the Ace's men's basketball game on December 9. We would love to have all voices from UE join in with members of the Evansville community to sign in celebration and fill the Ford Center with music!
If you would like to sing, please go to etfcu.formstack.com/forms/habitatchoir and register to be a part of the event. If you have a group or choir that would like to join, please call/ text Emily Baxter at 812-760-0564.
Submitted by Holly Carter hc110@evansville.edu
UE professor of physician assistant science Sean Harper trains combat medics
University of Evansville assistant professor of physician assistant science Sean Harper spent 21 days in Hawaii this summer, training combat medics. Harper is a battalion physician assistant for 1st battalion, 151st INF Regiment in the Indiana National Guard. His unit is attached to the 25th Infantry Division in Hawaii through an associated unit program.
Harper has clinical experience in occupational medicine, emergency medicine, and neurology. Prior to becoming a physician assistant and before he came to UE, he spent 13 years as a firefighter and paramedic. Harper earned both his bachelor's degree in health science and his master's from Butler University in Indianapolis. He continues to practice in the occupational and urgent care setting.
Murphy speaks at Economic Outlook Luncheon presented by Fifth Third Bank
David Murphy, assistant professor of economics, spoke at the annual Economic Outlook Luncheon presented by Fifth Third Bank at the Tropicana Convention Center on Wednesday, November 7. His remarks focused on the divergent trends in growth between the United States and China, and implications for the global economy. Along with Murphy, speakers included Tom Jalics (Fifth Third Bank and lead event sponsor), Jerry Conover (Indiana University), and Sudesh Mujumdar (USI).
Wilson has article published in Journal of Chemical Education
Sarah Wilson, assistant professor of chemistry, has had a paper published in the Journal of Chemical Education. Her paper, "Characterization of First-Semester Organic Chemistry Peer-Led Team Learning and Cyber Peer-Led Team Learning Students Use and Explanation of Electron-Pushing Formalism" (10.1021/acs.jchemed.8b00387), examines how organic chemistry students' utilized electron-pushing mechanisms to solve problems, depending on whether they participated in face-to-face peer-led team learning (PLTL) workshops or a synchronous online version of peer-led team learning workshops. Implications for instructors are suggested, including encouraging students to verbally explain their rationale while drawing mechanisms as well as optimizing graphical collaborative learning activities for online learners.
Azarian publishes unsolved problems
Mohammad K. Azarian, professor of mathematics, published six problems in the Russian series, The Kourovka Notebook: Unsolved Problems in Group Theory. These six problems consist of 13 questions and two conjectures. All are related to the topic of generalized free products of groups with amalgamations, his earliest area of research. Currently they are published electronically in arXive.org at Cornell University. The final paper version will appear both in the Russian language as well as in English.
EECS students participate in ICPC Mid-Central Region Programming Contest
Two teams of EECS students participated at the University of Louisville site of the ICPC Mid-Central Region Programming Contest held Saturday, November 3.
The Evansville Purple team of Asher Trockman, Nhan Cao, and Abdullah Aljandali got off to a fast start solving four problems in 37 minutes. Unfortunately, they failed to solve any more problems during the five-hour contest, finishing 35th out of 120 teams.
The Evansville Orange team of Dalton Meny and Kunal Mukherjee also solved four problems but at a slower pace and finished 69th.
The top three placing teams in the region, two from University of Illinois-Urbana/Champaign and one from the University of Chicago, each solved 10 of the 11 problems posed.
Article Published
Clark Kimberling, professor of mathematics, and co-authors Takao Komatsu (Wuhan University, China), Kálmán Liptai (Eszterházy Károly University, Hungary), and László Szalay (West Hungary University) have published an article entitled "A Connection between Hyper-Fibonacci Numbers and Fissions of Polynomial Sequences." The article appears in the current issue of The Fibonacci Quarterly.
Liz Wannemuehler and Family
Heartfelt condolences to Liz Wannemuehler, administrative assistant in the College of Engineering and Computer Science, on the death of her grandson, Spc. Drew Watters, on Sunday, November 4, during training maneuvers at Joint Base Lewis-McChord. Drew was a specialist in the U.S. Army and a graduate of North High School in Evansville. Funeral arrangements are pending.
Riley, Hill and Feehan post strong performances in opener
K.J. Riley, Marty Hill and Shea Feeahn each recorded double figures as the University of Evansville men's basketball team fell by a final of 99-60 in the season opener against the University of Illinois.

"I thought our guys put up a good fight and played better in the second half. Illinois was very physical and did not allow us to get into anything," UE head coach Walter McCarty said. "You cannot win when you have 25 turnovers and nine assists. I thought we did some stuff better in the second half that will help us moving forward."

UE's top scorer was Riley. The junior knocked down four field goals and six free throws on his way to 14 points. Marty Hill set his career mark with 13 points. It eclipsed his top total of 12 from a season ago. In his Evansville debut, Peoria, Ill. native Shea Feehan scored 12 points as he hit 4 of his 8 attempts. Hill was the Aces' top rebounder, finishing with six while freshman Shamar Givance did a nice job with the offense, dishing out four assists.

Pacing the Fighting Illini was Aaron Jordan with 19 points. Ayo Dosunmu notched 18 while three others recorded double figures.

An and-one by K.J. Riley gave UE a 3-2 lead in the opening minute of play. After Illinois rebounded, Evan Kuhlman put the Aces on top at 8-7 with a 3-pointer at the 17:03 mark. From there, the Fighting Illini were able to take control.

A 10-0 run gave them a 17-8 lead before they extended it to a 53-22 advantage at the break. K.J. Riley paced the team with nine points while going 5-7 from the line. Evan Kuhlman finished the half with five points. Illinois was 20-of-42 from the field in the opening stanza, showing 47.6% while holding UE to 36.4%. They also had a 24-13 rebounding edge in the first 20 minutes.

Illinois shot 69% in the second half as they cruised to the 99-60 victory. Evansville performed better in the latter stanza, knocking down five triples, but the deficit was too much to overcome.

Evan Kuhlman played a game-high 32 minutes while John Hall added 31. It was the top career total for both players.

Next up for the Aces is a trip to Cincinnati to face Xavier. The game will take place at 3:00 p.m. CT on Saturday. Fox Sports Ohio will have the broadcast.

"We are going to watch film and practice to clean up some things. We need to be ready to play and have to bring a different physicality to the next game," McCarty added.
UE volleyball set for final road trip
In its final road contest of the season, the University of Evansville volleyball team head to Terre Haute to face Indiana State in a 5 p.m. CT game today.

UE played a competitive match at Missouri State, staying within six points in all three sets. Tam hit .294 on her way to a match-high 15 kills while Alondra Vazquez notched 11 kills and a team-best 11 digs. On Saturday, Evansville had 51 kills in a 3-0 triumph at Southern Illinois. Tam and Mildrelis Rodriguez led the way with 15 kills apiece while Allana McInnis added 44 assists.

Over the course of Evansville's two matches over the weekend, Rachel Tam registered 4.83 kills and 2.67 digs per set while leading the Purple Aces to a 1-1 mark. In Friday's match at Missouri State, Tam tallied 14 kills and seven digs. She hit an accurate .294. Tam added 15 more kills at Southern Illinois on Saturday, recording nine digs and four service aces. She remains second in the MVC with 4.28 kills per set; her tally is 27th in the nation.

Senior Mildrelis Rodriguez continues to impact her team on the offensive and defensive sides of the net. For the season, she is second on the team in kills (3.12/set) and third in digs (2.78/set). Last weekend, she added to those numbers with 4.17 kills and 2.67 digs per game. Her top outing came at SIU as she notched 15 kills and 8 digs.

Indiana State comes into Friday's match with a 9-18 overall record and stand at 2-13 in league play. Laura Gross has a team-high 3.12 kills per set while Makayla Knoblauch has notched 9.47 assists per game. Jade York and Gross anchor the defense with 4.32 and 3.94 digs per set, respectively.
Contribute to AceNotes
To have content considered for inclusion in AceNotes, please submit a Marketing Request Form. Deadline for submission to AceNotes is 10:00 a.m. on the requested date of publication. Only articles concerning UE related/sponsored activities will be accepted. Articles submitted to AceNotes may be edited for length and clarity. Submitter contact information is at the end of each article.