| | |
| --- | --- |
| AceNotes Today | Thursday, November 8, 2018 |
UE participating in Annual First Generation College Student Celebration TODAY!
The University of Evansville is participating in the second annual First Generation College Student Celebration today - Thursday, November 8. This event, hosted by the Council for Opportunity for Education (COE) in partnership with the Center for First-generation Student Success, is celebrated by institutions nation-wide and on social media using #CelebrateFirstGen.
UE welcomes first generation college students to its campus and strives to create an atmosphere where they can succeed and develop their talents. This fall, approximately 25% of the school's full-time undergraduates are first-generation college students.
All UE first generation college students are invited to participate in a special course that covers such topics as exploration of careers and majors, time management, study skills, stress management, internships and study abroad, and financial aid opportunities.
The University has also established a Student Success Lab designed to help students achieve academic success. While open to all students, the lab's resources are particularly useful to those who are the first in their family to attend a university. Students who utilize the lab have access to supplemental instruction, academic coaches, library services, career development, and assistance in discovering the right academic path.
UE students also have the support of many faculty, administrators, and staff members who were the first in their families to go to college, including UE's president, Christopher M. Pietruszkiewicz.
November 8 marks the 53rd anniversary of the signing of the 1965 Higher Education Act, which has helped millions of poor students become the first members of their families to earn college degrees.
First Generation Students: Submit Your First Gen Story Today!
Are you the first in your family to go to college? If so, submit a paragraph and about what college means to you as a first generation student to uerelations@evansville.edu along with a selfie and we'll feature your story on UE social media today!
The University of Evansville will participate in the second annual First Generation College Student Celebration today, November 8. This event, hosted by the Council for Opportunity for Education (COE) in partnership with the Center for First-generation Student Success, is celebrated by institutions nation-wide.
November 8 marks the 53rd anniversary of the signing of the 1965 Higher Education Act, which has helped millions of poor students become the first members of their families to earn college degrees.
Annual Veterans Day service
The University of Evansville's annual Veterans Day service is set for Friday, November 9 from 11:00-noon in Wheeler Concert Hall in the Krannert Hall of Art and Music. The campus community, alumni, and friends are invited to this celebration.
This year's speaker will be Colonel Michael Roscoe, U.S. Army National Guard. Roscoe is the chair and founding director of the Physician Assistant Science program at the University of Evansville.
Roscoe began his military career in 2000 by commissioning to the Indiana National Guard. Currently, he is a senior PA for the state of Indiana working with the Surgeon General. He deployed to Afghanistan for his first combat tour in 2004-05 where he served as a physician assistant at a forward operating base in Kabul and on several medical "jump teams" all across Afghanistan. He had a second combat tour in Balad, Iraq in 2008-09 where he was the officer-in-charge of the busiest troop medical clinic (TMC) in Iraq at the time.
Roscoe earned a PhD in international health science in 2009 from Touro University International (military sponsored) with his specialization in risk mapping of Leishmaniosis in Afghanistan. He has a Master of Science from Purdue University, a second Master in Physician Assistant Studies from University of Nebraska specializing in emergency medicine. Finally, he has two bachelor's degrees from Butler University.
Roscoe has received many military awards and achievements, but most notable was a Bronze Star for his work with the international medical community, leishmaniosis research, and assisting with getting four Afghan children back to the United States for life saving surgeries. Roscoe also received the Combat Medical Badge for his time with the medical jump teams and a Combat Patch for War-time Service (3).
Workshop, reception, and lecture with Efroymson Artist in Residence Jonathan Hittner
The work of Efroymson Artist in Residence Jonathan Hittner will be on display from October 29-December 8 in the Melvin Peterson Gallery. The exhibit is titled "History Lessons from the Future."
There will also be a student workshop with the artist at 9:30 a.m., an artist's reception at 6:30 p.m., and a public gallery lecture at 7:00 p.m. TODAY - Thursday, November 8.
A student gallery lecture is planned for Friday, November 9 at 10:00 a.m.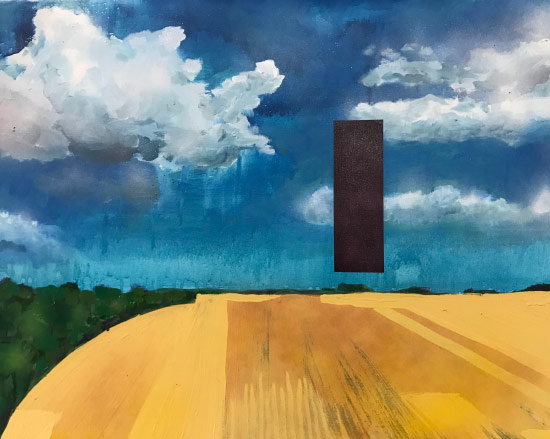 These events are free and open to the public. They are part of the Efroymson Family Fund Emerging Contemporary Artist Lecture Series, which is sponsored by the Efroymson Family Fund and the UE Department of Art.
Submitted by Corliss Chastain cc270@evansville.edu
Neu Chapel Forum discusses "How is the World Going to End?"
This week's Neu Chapel Forum will discuss the question, "How is the world going to end?" Christians have offered various theories and ideas over the years, but which one is right? Are any of them right? All views are welcome for a time of great conversation! The Neu Chapel Forum meets at 8:00 p.m. on Thursday nights in the Class of '59 Gallery in the Ridgway University Center.
Submitted by Keith Turner kt160@evansville.edu
Physical therapist assistant information sessions are today
The Physical Therapist Assistant Program invites you to informational sessions today - Thursday, November 8 - in Eykamp Hall, Rooms 253-254, Ridgway University Center from noon-1:00 p.m. and 6:00 -7:00 p.m. Students are welcome to brown bag their lunch or dinner. Light refreshments will be served.
Connect with PTA faculty and students to learn more about the rewarding and dynamic career of a PTA and the application process. Reserve your seat at one of the sessions by emailing js698@evansville.edu.
Submitted by Jennifer Simon js698@evansville.edu
Environmental Awareness Week: November 5-11
The University of Evansville's ECO Club presents Environmental Awareness Week November 5-11.
Stainless steel reusable straws will be sold at the information tables in Ridgway University Center at the times listed below for $1 each or 5 straws for $4.
The full schedule of events is as follows:
Monday, November 5:
5:00-6:00 p.m.: Glass Recycling Awareness, Ridgway University Center Tables
5:00 p.m.: SAB Trivia Night: Environmental Theme, Cafe Court
Tuesday, November 6:
7:00 p.m.: Levy Schroeder speaks about Wesselman Nature Preserve, Room 100, Koch Center for Engineering and Science
Wednesday, November 7:
5:00-6:00 p.m.: Food Waste Awareness, Ridgway University Center Tables
Thursday, November 8:
Noon-1:00 p.m.: Energy Waste Awareness Day, Ridgway University Center Tables
Wear GREEN to support environmental awareness!
Friday, November 9:
Noon-1:00 p.m.: Air Pollution Awareness, Ridgway University Center Tables
Sunday, November 11:
1:00-3:00 p.m.: Make your own FREE reusable, no-sew T-shirt bag, Room 162, Schroeder School of Business Building
Coffee & Careers - November is today
The next Free Coffee & Careers event is today - Thursday, November 8 - from 4:00-5:00 p.m. in the Phillips Study Alcove, across from WUEV, in Ridgway University Center.
Come for free coffee and an informal career chat with alumni and friends of the University. Learn about their journey to their current job and the skills needed for career success.
This month's focus is on careers in communication, marketing, and public relations.
Submitted by Alison Morris-McDonald am268@evansville.edu
Express Yourself
The Lilly Scholars Network Chapter is hosting Express Yourself today - Thursday, November 8 - from 6:45-8:30 p.m. in Eykamp Hall, Room 251, Ridgway University Center. Express Yourself is open to any student at UE to learn more about professional communication and presence in a variety of fields. Local employers will be present to participate in a panel. Unlike previous panel events that may only apply to a specific major, our event is open to all students on UE's campus. We feel that it is necessary for students to have professional communication skills and know how to effectively market themselves to potential employers. Following the panel, the employers will stay for a 30-minute networking session to talk to students one-on-one.
Submitted by Megan Hawkins mh445@evansville.edu
Pray the Rosary this Thursday!
Austin Hopf and Sister Catherine will be leading a Rosary Prayer Group this Thursday at 12:15 p.m. in Room 264 in the Center for Academic Success in Clifford Memorial Library. All are welcome to join!
Submitted by Sam Wallisch sw265@evansville.edu
Guest lecture on "The African Geographies of Angelo Soliman"
On Monday, November 12, Michael Yonan, professor of art history at the University of Missouri-Columbia, will give a lecture titled "The African Geographies of Angelo Soliman," which details the fascinating life of this former African slave (c. 1721–1796) from the Kanuri ethnic group. The lecture will last approximately one hour and will begin at 7:00 p.m. in Room e 162 in the Schroeder School of Business Building.
As a child, Soliman was kidnapped, sold into slavery, and transported through Tunisia and Sicily before being purchased by the Liechtenstein family and transferred to Vienna. There he became a scholar and freemason, eventually rising to become Grand Master of his lodge. Yonan will address questions of identity, slavery, and colonialism by analyzing a portrait print of Soliman by the Austrian printmaker Johann Gottfried Haid (1710–1776).
The event, organized by the archaeology and art history department, is being held in cooperation with International Education Week with thanks to the Office of Study Abroad and the William L. Ridgway College of Arts and Sciences.
Submitted by Heidi Strobel hs40@evansville.edu
Mindfulness Service in Neu Chapel: Sunday at 9:00 p.m.
As the semester winds down, stress often ramps up as final projects and exams loom on the horizon. Take a 25-minute break for prayer, meditation, and reflection at Neu Chapel's 9:00 p.m. service. This beautiful service features candle lighting, guided meditation, and meditative music. All are welcome to join us in this intentional time of peace and mindfulness!
Submitted by Keith Turner kt160@evansville.edu
University Worship in Neu Chapel: Sunday at 9:00 a.m.
This week's University Worship service will be held at 9:00 a.m. in Neu Chapel. We will be continuing our current series "Be Born in Us Today" and consider what it means to be a people of peace. Is peace even possible in the world? What is peace? And what is our role to play? All are welcome to join us for this meaningful service of worship!
Submitted by Keith Turner kt160@evansville.edu
UE International Education Week - November 12-16
Please join the Department of Foreign Languages and Cultures and celebrate International Education with students, faculty, and staff on November 12-16!
Listen to students talk about their study abroad experiences around the world and to professors from across campus share their research. Learn some Portuguese, Thai, Persian, Russian, and German during the language and culture sessions. Join I-House for the Poetry and Music event. Attend the International Bazaar. Come listen to activist Mary Olson discuss a global nuclear treaty and Christoph Schwegmann, senior defense advisor in the policy planning staff of the German Federal Foreign Office, discuss the roles of the US and Germany in a changing world order.
You can learn more about the events of the week on the International Education Week web page.
Questions? Please email lp84@evansville.edu.
Submitted by Lesley Pleasant lp84@evansville.edu
Fired-Up with the Newman Club!
Join the Newman Club on Friday, November 9 to paint ornaments for the Newman Christmas tree! We will be at Fired-Up from 6:30-9:30 p.m. Meet at the Newman house at 6:30 p.m. to carpool. RSVP on UEngage before November 8. All are welcome!
Submitted by Michaela Kunkler mk305@evansville.edu
Online Master of Public Health Program
UE now offers its Master of Public Health (MPH) in a fully online format. It is one of the few MPH programs in Indiana to be offered fully online.
Distance learning provides location and day-to-day flexibility in scheduling "class" for students who have work, family, and/or other responsibilities. The master's degree requires 42 credit hours and is divided into three categories: public health core courses; health policy core courses; and a capstone course and internship. If interested in applying or have any questions, contact Payal Patel-Dovlatabadi at pp42@evansville.edu.
Submitted by Payal Patel-Dovlatabadi pp42@evansville.edu
Study abroad application deadlines are coming up!
Are you interested in studying abroad in a location other than Harlaxton? Did you know that UE offers study abroad programs at over 200 different Universities in more than 50 countries around the world? Programs are available for both semester and summer terms and have a wide variety of course offerings. Have you always wanted to study Spanish in Latin America? Or learn about Morocco's history while actually in Morocco? Or maybe even take a traditional Italian cooking course in Italy? The possibilities are endless with our study abroad program options! UE students have recently studied in a wide variety of locations, including Finland, Japan, Argentina, Hong Kong, Cameroon, Bulgaria, and many more.
If you're interested in studying abroad at a non-Harlaxton location, just e-mail studyabroad@evansville.edu or stop by Room 261 in the Schroeder School of Business Building.
Application deadlines are quickly approaching, so the sooner you reach out the better! Study abroad application deadlines are:
Fall 2019: December 14
Summer 2019: February 15
Spring 2020: April 1
Submitted by Greta Becker gb91@evansville.edu
USPS closed Monday, November 12 for Veteran's Day
The United States Postal Service (USPS) will be closed on Veteran's Day, Monday, November 11, 2018. Please note UE mail services will not be picking up mail from USPS on Monday, since the post office will be completely closed. Any mail picked up from UE areas by mail services on Monday, November 12, will be transported to Data Mail for metering the afternoon of Tuesday, November 13. For mail related questions, please contact mail services at ext. 1067 or mailservices@evansville.edu.
Submitted by Kim Winsett kw83@evansville.edu
Environmental sustainability achievement: 660 pounds of paper saved!
Following the recommendation of Professor Mark Cirino, the Environmental Sustainability Committee communicated with United Way Campaign organizers Lori Leduc and Keith Gehlhausen to encourage a paperless campaign. Due to everyone's efforts the 660 pounds of paper used for previous United Way campaigns will be saved over the next 20 years. Thanks to all who were involved!
Submitted by Lisa Kretz lk102@evansville.edu
Summer sessions payment options
Payment plans for summer session courses including Early Summer, Harlaxton Summer, Summer I, and Summer II are available now. Contact the Office of Student Accounts to set-up a payment plan. Payments can be arranged from the point of set-up to the due date of the session. There is no fee for the payment plan.
Students should complete a summer financial aid application and return to the Office of Financial Aid (Olmsted 116) no later than Reading-Study Day, May 2, to determine if financial aid is available for their summer courses.
Nominate a co-worker for December Employee of the Month
The University of Evansville, in pursuit of excellence in service, wishes to recognize monthly a non-faculty employee displaying records of achievement as a leader. Leadership may be demonstrated in any of the following categories:
• Service to the University community
• Service to students
• Job performance and attitude to fellow employees
One award is presented each month. To be eligible, an employee must be a full-time member of the administration or staff. Nominations are due before the 15th of each month. Nominations are now being accepted for the month of December!
To nominate someone, or to find out more information about the Employee Excellence Award, go to http://acelink.evansville.edu/Tools/Employee Award/.
Alternative Energy ChangeLab needs your help!
Help support the Rosa Bell project by donating to install solar panels on a school in Puerto Rico! Your donation will help purchase a solar panel LED lights to encourage change!
Follow us on Social media to figure out how to donate!
#PoweringRosaBell
@PoweringRosaBell
Submitted by Johnathan Miller jm604@evansville.edu
Volunteers needed for International Bazaar!
The International Club needs volunteers for the 32nd International Bazaar on Friday, November 16! Sign up at www.signupgenius.com/go/4090A4FACAB2BABFD0-international.
You can choose the day, volunteer position, and time. There will be a mandatory meeting for volunteers on Wednesday, November 14 at 7:00 p.m. in Room 162, Schroeder School of Business Building. For people who will be at I-House at this time but still want to volunteer, there will be a short meeting following I-House at 8:00 p.m., upstairs in Ridgway University Center, with Chelsea Gaddis and Fahad Alsaid. Thank you for volunteering and making this event a success!
Submitted by Megan Sicard ms331@evansville.edu
FYS students meet a peregrine at Wesselman Woods
On November 3, assistant professor of English Sara Petrosillo led FYS students on a field trip to learn about nature conservation and birds of prey at Wesselman Woods. To bring to life the birds and woods of J.A. Baker's book, "The Peregrine," students met a peregrine falcon and an American kestrel before a guided hike of the nature preserve.
It's National Distance Learning Week - November 5-9
Did you know that the University of Evansville is a member of the Online Learning Consortium (OLC)? Many opportunities are available through the consortium such as webinars, mini-workshops, certificate programs, conferences and short-courses.
One highlighted webinar, Teaching Science Online: Learn from the Experts, is on November 7 from noon-1:00 p.m.
If you have interest in any opportunities through the consortium, please contact Lindsay Roberts at lr155@evansville.edu for special pricing and registration information.
Submitted by Lindsay Roberts lr155@evansville.edu
Volunteers needed for the Turkey Day 5K
Evansville Goodwill Industries, Inc. is looking for volunteers to help with their 5K on November 22, Thanksgiving Day. Volunteers are needed to do jobs such as:
Set-up
Registration Help/Line Control
Water Table Attendants on the race course
Corner Watchers during the race
Food and Drink Set-up at the conclusion of the race
Awards after the race
As many people as possible are needed to help out. The more the merrier! Bring your family and friends.
If interested, you can register online by November 21 at http://evvgoodwill.org/events/turkey-day-5k/ and any questions can be sent to Robyn Oglesby at: roglesby@evvgoodwill.org.
Submitted by Karyssa Vasquez kv54@evansville.edu
Wilson has article published in Journal of Chemical Education
Sarah Wilson, assistant professor of chemistry, has had a paper published in the Journal of Chemical Education. Her paper, "Characterization of First-Semester Organic Chemistry Peer-Led Team Learning and Cyber Peer-Led Team Learning Students Use and Explanation of Electron-Pushing Formalism" (10.1021/acs.jchemed.8b00387), examines how organic chemistry students' utilized electron-pushing mechanisms to solve problems, depending on whether they participated in face-to-face peer-led team learning (PLTL) workshops or a synchronous online version of peer-led team learning workshops. Implications for instructors are suggested, including encouraging students to verbally explain their rationale while drawing mechanisms as well as optimizing graphical collaborative learning activities for online learners.
Azarian publishes unsolved problems
Mohammad K. Azarian, professor of mathematics, published six problems in the Russian series, The Kourovka Notebook: Unsolved Problems in Group Theory. These six problems consist of 13 questions and two conjectures. All are related to the topic of generalized free products of groups with amalgamations, his earliest area of research. Currently they are published electronically in arXive.org at Cornell University. The final paper version will appear both in the Russian language as well as in English.
EECS students participate in ICPC Mid-Central Region Programming Contest
Two teams of EECS students participated at the University of Louisville site of the ICPC Mid-Central Region Programming Contest held Saturday, November 3.
The Evansville Purple team of Asher Trockman, Nhan Cao, and Abdullah Aljandali got off to a fast start solving four problems in 37 minutes. Unfortunately, they failed to solve any more problems during the five-hour contest, finishing 35th out of 120 teams.
The Evansville Orange team of Dalton Meny and Kunal Mukherjee also solved four problems but at a slower pace and finished 69th.
The top three placing teams in the region, two from University of Illinois-Urbana/Champaign and one from the University of Chicago, each solved 10 of the 11 problems posed.
Article Published
Clark Kimberling, professor of mathematics, and co-authors Takao Komatsu (Wuhan University, China), Kálmán Liptai (Eszterházy Károly University, Hungary), and László Szalay (West Hungary University) have published an article entitled "A Connection between Hyper-Fibonacci Numbers and Fissions of Polynomial Sequences." The article appears in the current issue of The Fibonacci Quarterly.
Liz Wannemuehler and Family
Heartfelt condolences to Liz Wannemuehler, administrative assistant in the College of Engineering and Computer Science, on the death of her grandson, Spc. Drew Watters, on Sunday, November 4, during training maneuvers at Joint Base Lewis-McChord. Drew was a specialist in the U.S. Army and a graduate of North High School in Evansville. Funeral arrangements are pending.
UE men's basketball opens regular season today
The 100th season of basketball commences for the University of Evansville as the Purple Aces travel to the University of Illinois for a 7:00 p.m. game tonight.
Fans can watch a live stream of the game BTN Plus, which is a live stream. It is a subscription based service. The link is below.
Head coach Walter McCarty begins his tenure as the 6th head coach in the Aces' Division I history; the 10-year NBA star joins the program after working as an assistant coach for the Boston Celtics on the staff of Brad Stevens. Evansville returns six letterwinners, including two starters; UE brings in three newcomers and two walk-ons.
"It will be a great test for us with the way they play, they try to take you out of what you are trying to accomplish," McCarty said. "I am interested to see how we respond being on the road, opening up and finding out how tough it will be."
In its lone exhibition game, the Purple Aces picked up an 83-61 victory over New Mexico Highlands. Dainius Chatkevicius paced the team with 17 points and 8 rebounds while K.J. Riley finished with 16 points and 7 boards. Riley, UE's leading free throw shooter from a year ago, was 7-10 from the line.
"There were a lot of positives. We keep a checklist of six things that we really want to do to be successful and we were able to accomplish five of those six things, which was really encouraging, McCarty added. "There are things we have to work on before we play at Illinois, but we did a good job of having a balanced attack and getting everybody involved."
Takeaways from the exhibition:
- UE outscored NMHU by a 15-2 margin to open the second half
- The Aces hit nine 3-pointers in the win; the team hit that many triples just twice last season
- Shea Feehan was on the floor for 32 minutes and had 8 points and 5 rebounds
- Freshmen Jawaun Newton and Shamar Givance played 12 and 11 minutes, respectively, in their first on-court action at UE
- Evansville turned 19 Cowboy turnovers into 28 points
- The five bench players for the Aces outscored the NMHU bench, 32-7
Despite the schools being roughly three hours from each other, the programs have never met on the hard wood. Illinois is one of just two current Big Ten members that the Aces have never faced; the other is Wisconsin. Thursday's game will be the 51st game the Aces have played against a current Big Ten school; UE is 15-35 in its 50 contests. Evansville's last game against a league member came at Indiana in 2013 while the last victory was a 75-69 win over Purdue on December 3, 2005.
Through its first 99 season openers, the Purple Aces are 66-33. Last season, Evansville picked up a 77-63 win over Arkansas State in the opener at the Ford Center.
Illinois is coming off of a 14-18 campaign that saw them go 4-14 in Big Ten play in their first season under head coach Brad Underwood. The Fighting Illini defeated Illinois Wesleyan by a final of 83-67 in their exhibition game. Andres Feliz led the way for Illinois, posting 20 points on 8-of-12 shooting. Trent Frazier added 19 points while freshman Ayo Dosunmu recorded 13 points. Following their game against UE, Illinois welcomes Georgetown on Tuesday, Nov. 13.
Contribute to AceNotes
To have content considered for inclusion in AceNotes, please submit a Marketing Request Form. Deadline for submission to AceNotes is 10:00 a.m. on the requested date of publication. Only articles concerning UE related/sponsored activities will be accepted. Articles submitted to AceNotes may be edited for length and clarity. Submitter contact information is at the end of each article.