| | |
| --- | --- |
| AceNotes Today | Wednesday, November 7, 2018 |
UE Celebrates First Generation Students on November 8: Submit Your First Gen Story!
Are you the first in your family to go to college? If so, submit a paragraph and about what college means to you as a first generation student to uerelations@evansville.edu along with a selfie and we'll feature your story on UE social media tomorrow!
The University of Evansville will participate in the second annual First Generation College Student Celebration on Thursday, November 8. This event, hosted by the Council for Opportunity for Education (COE) in partnership with the Center for First-generation Student Success, is celebrated by institutions nation-wide.
November 8 marks the 53rd anniversary of the signing of the 1965 Higher Education Act, which has helped millions of poor students become the first members of their families to earn college degrees.
UE's Christmas on Campus set for Friday, November 30
The University of Evansville will celebrate the holidays with Christmas on Campus on Friday, November 30. The celebration will include photos with Purple Santa, reindeer games, carriage rides, trackless train rides, cookies and hot chocolate, Candlelight Advent Vespers, and the ceremonial lighting of the University's Christmas tree.
Candlelight Advent Vespers is free and open to the public. The public is welcome to any and all of the other events for only $5 per family. Visit UE's Christmas on Campus webpage at www.evansville.edu/aceschristmas/ to fill out the online registration form and save time during the event.
The complete schedule for Christmas on Campus is as follows:
5:00 p.m.
Check-in
Lobby, Olmsted Administration Hall
5:00 - 6:45 p.m.
Photos with Purple Santa
Ridgway University Center
Christmas Crafts
Ridgway University Center
5:00 - 10:00 p.m.
Reindeer Games and Trackless Train Rides
East Terrace Lawn
Christmas Shopping at UE Bookstore
Stop in for giveaways and 20 percent off the original price of all clothing and gift items to all shoppers during the night!
7:00 p.m.
Candlelight Advent Vespers
Neu Chapel
8:00 - 10:00 p.m.
Carriage Rides
Sesquicentennial Oval
Cookies and Hot Chocolate
Lobby, Olmsted Administration Hall
Roasted Nuts and Kettle Corn
East Terrace Lawn
8:05 p.m.
Lighting of the Christmas Tree and Caroling
Outside Graves Hall
Active Shooter Drill – Practice "Run" Only!
In response to the Active Shooter Drill, all campus community members are asked to focus solely on the RUN aspect of "Run, Hide, Fight." regardless of whether the fictitious event affects your specific location.
This means that everyone should vacate their building (simulating the RUN aspect).
Members of the Evansville Police Department will be stationed throughout the campus to gauge individual responses to the drill, as well as determine how quickly individuals were able to make a decision as to which door to exit based on the information given about the fictional shooter. Once individuals leave a building, they should move away from the building and toward the outer perimeter of the campus but should not leave the campus, move vehicles or travel beyond the Weinbach/Lincoln/Rotherwood/Walnut square.
Once the drill is over, another AceAlert will be sent with the announcement to resume normal duties.
The drill will take place sometime between 8:00 a.m.-5:00 p.m., between November 5-9. The drill will be announced to the campus via Ace Alerts and the new active shooter audio siren will sound through all computers and video monitors signaling there is a threatening event.

In the spring, we will conduct another active shooter drill - focusing on the HIDE aspect of "Run, Hide, Fight."
Any questions, please contact the Office of Safety and Security at 812-488-2051.
Annual Veterans Day service
The University of Evansville's annual Veterans Day service is set for Friday, November 9 from 11:00-noon in Wheeler Concert Hall in the Krannert Hall of Art and Music. The campus community, alumni, and friends are invited to this celebration.
This year's speaker will be Colonel Michael Roscoe, U.S. Army National Guard. Roscoe is the chair and founding director of the Physician Assistant Science program at the University of Evansville.
Roscoe began his military career in 2000 by commissioning to the Indiana National Guard. Currently, he is a senior PA for the state of Indiana working with the Surgeon General. He deployed to Afghanistan for his first combat tour in 2004-05 where he served as a physician assistant at a forward operating base in Kabul and on several medical "jump teams" all across Afghanistan. He had a second combat tour in Balad, Iraq in 2008-09 where he was the officer-in-charge of the busiest troop medical clinic (TMC) in Iraq at the time.
Roscoe earned a PhD in international health science in 2009 from Touro University International (military sponsored) with his specialization in risk mapping of Leishmaniosis in Afghanistan. He has a Master of Science from Purdue University, a second Master in Physician Assistant Studies from University of Nebraska specializing in emergency medicine. Finally, he has two bachelor's degrees from Butler University.
Roscoe has received many military awards and achievements, but most notable was a Bronze Star for his work with the international medical community, leishmaniosis research, and assisting with getting four Afghan children back to the United States for life saving surgeries. Roscoe also received the Combat Medical Badge for his time with the medical jump teams and a Combat Patch for War-time Service (3).
I-House Japan
John Fujisawa, Ayumi Hayashi, Kasumi Hori, Tetsuya Sunagawa, and Hitomi Yodo will be presenting I-House Japan today - Wednesday, November 7 - on the second floor of Ridgway University Center at 7:00 pm.
John Fujisawa is a Japanese American student at the University of Evansville. He is a senior theater technology and design major. His hobbies include beat boxing and he loves the cultural diversity. He believes that the people in the University of Evansville community are amazing. He will be assisting the new Japanese students in presenting the great culture and traditions of Japan. We hope to see you there.
Submitted by Megan Sicard ms331@evansville.edu
Environmental Awareness Week: November 5-11
The University of Evansville's ECO Club presents Environmental Awareness Week November 5-11.
Stainless steel reusable straws will be sold at the information tables in Ridgway University Center at the times listed below for $1 each or 5 straws for $4.
The full schedule of events is as follows:
Monday, November 5:
5:00-6:00 p.m.: Glass Recycling Awareness, Ridgway University Center Tables
5:00 p.m.: SAB Trivia Night: Environmental Theme, Cafe Court
Tuesday, November 6:
7:00 p.m.: Levy Schroeder speaks about Wesselman Nature Preserve, Room 100, Koch Center for Engineering and Science
Wednesday, November 7:
5:00-6:00 p.m.: Food Waste Awareness, Ridgway University Center Tables
Thursday, November 8:
Noon-1:00 p.m.: Energy Waste Awareness Day, Ridgway University Center Tables
Wear GREEN to support environmental awareness!
Friday, November 9:
Noon-1:00 p.m.: Air Pollution Awareness, Ridgway University Center Tables
Sunday, November 11:
1:00-3:00 p.m.: Make your own FREE reusable, no-sew T-shirt bag, Room 162, Schroeder School of Business Building
Lunch Charlas today
Wanting to practice your Spanish? Join assistant professor of Spanish Edward Curran and associate professor of Spanish Diana Rodríguez Quevedo for lunch, and chat about different topics in Spanish on Wednesdays from noon-1:00 p.m. in the Starbuck's café area in Ridgway University Center. All levels of Spanish welcome. The next Lunch Charlas is today - Wednesday, November 7.
Please contact Professor Rodríguez Quevedo at dr130@evansville.edu if you have any questions. ¡Ahí nos vemos!
Submitted by Diana Rodríguez Quevedo dr130@evansville.edu
UELA Magnifying Mental Health is November 7
UELA alumni are hosting a Magnifying Mental Health event. This event provides students with the opportunity to discuss their mental health through stories, poetry, and music. UELA wants to create a safe, welcoming environment where students can share their experiences. We ask that students that attend or are participating to be respectful of their peers. Food will be provided at this event. It is November 7 in Eykamp Hall, Room 251, Ridgway University Center from 6:00-8:00 p.m.
Submitted by Megan Hawkins mh445@evansville.edu
Mindfulness Service in Neu Chapel: Sunday at 9:00 p.m.
As the semester winds down, stress often ramps up as final projects and exams loom on the horizon. Take a 25-minute break for prayer, meditation, and reflection at Neu Chapel's 9:00 p.m. service. This beautiful service features candle lighting, guided meditation, and meditative music. All are welcome to join us in this intentional time of peace and mindfulness!
Submitted by Keith Turner kt160@evansville.edu
University Worship in Neu Chapel: Sunday at 9:00 a.m.
This week's University Worship service will be held at 9:00 a.m. in Neu Chapel. We will be continuing our current series "Be Born in Us Today" and consider what it means to be a people of peace. Is peace even possible in the world? What is peace? And what is our role to play? All are welcome to join us for this meaningful service of worship!
Submitted by Keith Turner kt160@evansville.edu
Neu Chapel Forum discusses "How is the World Going to End?"
This week's Neu Chapel Forum will discuss the question, "How is the world going to end?" Christians have offered various theories and ideas over the years, but which one is right? Are any of them right? All views are welcome for a time of great conversation! The Neu Chapel Forum meets at 8:00 p.m. on Thursday nights in the Class of '59 Gallery in the Ridgway University Center.
Submitted by Keith Turner kt160@evansville.edu
Physical therapist assistant information sessions are today
The Physical Therapist Assistant Program invites you to informational sessions today - Thursday, November 8 - in Eykamp Hall, Rooms 253-254, Ridgway University Center from noon-1:00 p.m. and 6:00 -7:00 p.m. Students are welcome to brown bag their lunch or dinner. Light refreshments will be served.
Connect with PTA faculty and students to learn more about the rewarding and dynamic career of a PTA and the application process. Reserve your seat at one of the sessions by emailing js698@evansville.edu.
Submitted by Jennifer Simon js698@evansville.edu
5K Armistice Day Walk and Run with Mission BBQ
The Armistice Day Centenary 5K is planned for November 11. Win a free Mission BBQ prize box with a $25 gift card if you come in first place and a free Mission BBQ sandwich card if you place in the top 6! All Participants will receive a free T-shirt while supplies last!
The Armistice Day Centenary 5K is a philanthropy 5K event held by the Historical Honors Society, Social Science Honors Society, and the History Club on the University of Evansville's campus to commemorate the 100th anniversary of the symbolic end of World War One. All proceeds will benefit UE student Veteran's.
You can pre-register on the UE Alumni and Friends Community's Armistice Day Centenary 5K web page.
Check-in and at-event registration begins at 9:30 on November 11.
At 11:00, we will ring the Peace Bell and have a moment of silence. There will be a 15-minute intermission for participants to walk over to the track around the baseball fields to compete in the race. Food and water will be provided and free T-shirts to participants while supplies last.
Pre-registration is $15 for students and $20 for general registration.
Submitted by Sylvia McFadden sm394@evansville.edu
University of Evansville Theatre presents Year of the Rooster
The University of Evansville Theatre presents Olivia Dufault's Year of the Rooster. This exciting new script, an amazingly entertaining romp of a tale about cockfighting, opened Monday, November 12 in the May Studio Theatre. Additional performances are at 7:30 p.m. on November 16 and 17, and at 2:00 p.m. on November 18.
Meredith Ham, a senior from Castle Rock, Colo., directs Year of the Rooster; Cassy Spaduzzi, a senior from San Antonio, Texas, serves as the scenic designer; Morgan Severeid, a senior from Westfield, Ind., is the costume designer; Maggie Ste.Marie, a senior from Littleton, Colo., is the lighting designer; Austin Kuhn, a junior from Evansville, Ind., serves as the sound designer; Julia Toney, a senior from San Antonio, Texas, is the dramaturg; Micah Ammons, a senior from McKinney, Texas, is the stage manager, and UE professor Chuck Meacham serves as the technical director.
The cast features junior Luke Lowrance from Fort Worth, Texas, as Gil Pepper; senior Matthew McDonald from Carmel, Ind., as Dickie Thimble; senior Kathleen Finch from College Station, Texas, as Lou Pepper; senior Daniel Stewart from Fort Worth, Texas, as Odysseus Rex, and first-year student Delanie Kitzman from Tomball, Texas, as Philipa Long.
Ticket prices are $11 for adults and $9 for senior adults, students, and UE faculty and staff. UE students may obtain one free student rush ticket beginning at noon on the day of the performance they wish to attend.
The UE Theatre Society will host a pre-play chat 30 minutes prior to the show on Saturday, November 17. All are welcome to attend the presentation and discussion with a student designer about their process on the production.
Tickets are available by calling 812-488-2031.
Fired-Up with the Newman Club!
Join the Newman Club on Friday, November 9 to paint ornaments for the Newman Christmas tree! We will be at Fired-Up from 6:30-9:30 p.m. Meet at the Newman house at 6:30 p.m. to carpool. RSVP on UEngage before November 8. All are welcome!
Submitted by Michaela Kunkler mk305@evansville.edu
Coffee & Careers - November
The next Free Coffee & Careers event is Thursday, November 8 from 4:00-5:00 p.m. in the Phillips Study Alcove, across from WUEV, in Ridgway University Center.
Join us today for free coffee and an informal career chat with alumni and friends of the University. Learn about their journey to their current job and the skills needed for career success.
This month's focus is on careers in communication, marketing, and public relations.
Submitted by Alison Morris-McDonald am268@evansville.edu
UE's 32nd International Bazaar on Friday: Performances from 8 different countries!
The University of Evansville's 32nd annual International Bazaar is set for Friday, November 16, from 5:00- 8:00 p.m., in Ridgway University Center. The event is open to the public, and there will be no charge for admission. Those attending can browse an international marketplace and enjoy interactive booths and performances representative of countries from around the world.
Visitors can purchase an international meal for $10.25 (UE students can use a meal swipe) from 4:30-7:00 p.m. in the Café Court. The menu features several international dishes that were popular at past bazaars including shepherd's pie, Guinness stew, chicken curry, bulgogi, kabsa, and feijoada.
Handmade items, desserts, and snacks will be for sale at the marketplace on the second floor. At the interactive booths, guests can chat with UE international students, see items from the students' home countries, and participate in such activities as learning how to write one's name in another language. There will also be a kids' booth and a photo booth.
Proceeds will be donated to various globally focused charities including Scholars for Syria, Catholic Relief Services, and the Antares Foundation for Kazakhstan orphans.
The bazaar is sponsored by the UE International Club.
To learn more about the bazaar, visit UE's International Club's web page at www.evansville.edu/ceis/club.cfm or contact the Office of Cultural Engagement and International Services at 812-488-2279.
Rock climbing at Vertical eXcape!
It's time for Venturing Crew's annual trip to Vertical eXcape! Join us for a fun-filled night at Evansville's best indoor rock climbing gym! Climb to dizzying heights and share pizza with your friends on Friday, November 9 from 8:00 p.m. to 12:00 a.m.! This is a FREE EVENT and is open to ALL UE STUDENTS!
Crew members can sign up beginning Thursday, November 1 and all UE students can sign up from November 5-7. To sign up, bring your $10 deposit (this will be returned to you) to tables in Ridgway University Center.
Submitted by Maggie Wolf mw346@evansville.edu
Express Yourself
The Lilly Scholars Network Chapter is hosting Express Yourself today - Thursday, November 8 - from 6:45-8:30 p.m. in Eykamp Hall, Room 251, Ridgway University Center. Express Yourself is open to any student at UE to learn more about professional communication and presence in a variety of fields. Local employers will be present to participate in a panel. Unlike previous panel events that may only apply to a specific major, our event is open to all students on UE's campus. We feel that it is necessary for students to have professional communication skills and know how to effectively market themselves to potential employers. Following the panel, the employers will stay for a 30-minute networking session to talk to students one-on-one.
Submitted by Megan Hawkins mh445@evansville.edu
Pray the Rosary this Thursday!
Austin Hopf and Sister Catherine will be leading a Rosary Prayer Group this Thursday at 12:15 p.m. in Room 264 in the Center for Academic Success in Clifford Memorial Library. All are welcome to join!
Submitted by Sam Wallisch sw265@evansville.edu
Register this week for the Indiana Means Business! Career Fair
Students majoring in business and business related areas - register this week for the Indiana Means Business! Career Fair set for Thursday, November 15 from 10:00 a.m.-3:00 p.m. (Eastern Time) at the Indianapolis Downtown Marriott.
Fair registration is required through Handshake. Click Jobs Tab -> Enter #1890642 in the search bar (this is the posting number). Students must register by Thursday, November 8.
This event is for business students/alumni in Indiana! If you are seeking a career in business or a business-related industry, this event will provide you with access to recruiters from top companies from Indiana and beyond. Attendees can meet a variety of employers. Internship and co-op positions will also be available, so students in all class years are encouraged to attend this event. Don't miss your chance to find a great internship or professional position!
The University of Evansville will provide transportation. There is a required $10 deposit that will be refundable upon attendance. Reserve your seat now.
View registered employers at http://cccc-in.org/ under "Upcoming Events."
Submitted by Alison Morris-McDonald am268@evansville.edu
Activist Mary Olson to speak at UE
Activist Mary Olson will be speaking at UE on November 12 at 6:00 p.m. in Room 203 in the library. Her topic will be "A New Global Treaty for Nuclear-Free Nations: How One Woman Made a Difference."
Olson is acting director of gender and radiation, director of Southeast office, NIRS. She holds an undergraduate degree in evolutionary biology and history of science and has worked for 27 years on radioactive waste policy with the non-government organization, Nuclear Information and Resource Service (NIRS, www.nirs.org) based in the Washington DC area; Olson herself is based in a satellite office in Asheville, North Carolina, where she founded the new Gender and Radiation Impact Project in 2017.
She has written and organized on radioactive waste and from 2004-1999, she was a registered lobbyist in the US Congress, working to stop bad legislative proposals for changes in radioactive waste law. Olson leads the successful Stop Mobile Chernobyl Campaign which prevented legislation that would have mandated the shipment of highly radioactive waste to the disputed Yucca Mountain site when it was under study (not yet approved). For many years Olson worked with the No Dumps on Native Lands project to keep nuclear waste off the lands of Indigenous Peoples, including Yucca Mountain which is on traditional lands of the Shoshone Nation.
Olson has been a student of radiation's impact on living cells and organisms since her own contamination while working in a research lab. She has been privileged to know Dr. Steve Wing and to be mentored by Dr. Rosalie Bertell. Bertell encouraged Olson to do her own analysis of A-Bomb survivor data published by the US National Academy of Sciences (BEIR VII, 2006) in order to answer questions from the public about gender differences in radiation harm. Olson's paper "Atomic Radiation is More Harmful to Women," published in the wake of the Fukushima Daiichi meltdowns helped the diplomats working at the UN to bring nuclear weapons under humanitarian law, embodied by the new Convention on the Prohibition of Nuclear Weapons.
Submitted by Lesley Pleasant p84@evansville.edu
Catholic Mass on campus
There will be a Catholic Mass this Sunday, November 11, at 1:00 p.m. in Neu Chapel. Father Godfrey Mullen will be the celebrant. All are welcome!
Submitted by Sam Wallisch sw265@evansville.edu
USPS closed Monday, November 12 for Veteran's Day
The United States Postal Service (USPS) will be closed on Veteran's Day, Monday, November 11, 2018. Please note UE mail services will not be picking up mail from USPS on Monday, since the post office will be completely closed. Any mail picked up from UE areas by mail services on Monday, November 12, will be transported to Data Mail for metering the afternoon of Tuesday, November 13. For mail related questions, please contact mail services at ext. 1067 or mailservices@evansville.edu.
Submitted by Kim Winsett kw83@evansville.edu
Environmental sustainability achievement: 660 pounds of paper saved!
Following the recommendation of Professor Mark Cirino, the Environmental Sustainability Committee communicated with United Way Campaign organizers Lori Leduc and Keith Gehlhausen to encourage a paperless campaign. Due to everyone's efforts the 660 pounds of paper used for previous United Way campaigns will be saved over the next 20 years. Thanks to all who were involved!
Submitted by Lisa Kretz lk102@evansville.edu
Summer sessions payment options
Payment plans for summer session courses including Early Summer, Harlaxton Summer, Summer I, and Summer II are available now. Contact the Office of Student Accounts to set-up a payment plan. Payments can be arranged from the point of set-up to the due date of the session. There is no fee for the payment plan.
Students should complete a summer financial aid application and return to the Office of Financial Aid (Olmsted 116) no later than Reading-Study Day, May 2, to determine if financial aid is available for their summer courses.
Nominate a co-worker for December Employee of the Month
The University of Evansville, in pursuit of excellence in service, wishes to recognize monthly a non-faculty employee displaying records of achievement as a leader. Leadership may be demonstrated in any of the following categories:
• Service to the University community
• Service to students
• Job performance and attitude to fellow employees
One award is presented each month. To be eligible, an employee must be a full-time member of the administration or staff. Nominations are due before the 15th of each month. Nominations are now being accepted for the month of December!
To nominate someone, or to find out more information about the Employee Excellence Award, go to http://acelink.evansville.edu/Tools/Employee Award/.
Alternative Energy ChangeLab needs your help!
Help support the Rosa Bell project by donating to install solar panels on a school in Puerto Rico! Your donation will help purchase a solar panel LED lights to encourage change!
Follow us on Social media to figure out how to donate!
#PoweringRosaBell
@PoweringRosaBell
Submitted by Johnathan Miller jm604@evansville.edu
Volunteers needed for International Bazaar!
The International Club needs volunteers for the 32nd International Bazaar on Friday, November 16! Sign up at www.signupgenius.com/go/4090A4FACAB2BABFD0-international.
You can choose the day, volunteer position, and time. There will be a mandatory meeting for volunteers on Wednesday, November 14 at 7:00 p.m. in Room 162, Schroeder School of Business Building. For people who will be at I-House at this time but still want to volunteer, there will be a short meeting following I-House at 8:00 p.m., upstairs in Ridgway University Center, with Chelsea Gaddis and Fahad Alsaid. Thank you for volunteering and making this event a success!
Submitted by Megan Sicard ms331@evansville.edu
FYS students meet a peregrine at Wesselman Woods
On November 3, assistant professor of English Sara Petrosillo led FYS students on a field trip to learn about nature conservation and birds of prey at Wesselman Woods. To bring to life the birds and woods of J.A. Baker's book, "The Peregrine," students met a peregrine falcon and an American kestrel before a guided hike of the nature preserve.
It's National Distance Learning Week - November 5-9
Did you know that the University of Evansville is a member of the Online Learning Consortium (OLC)? Many opportunities are available through the consortium such as webinars, mini-workshops, certificate programs, conferences and short-courses.
One highlighted webinar, Teaching Science Online: Learn from the Experts, is on November 7 from noon-1:00 p.m.
If you have interest in any opportunities through the consortium, please contact Lindsay Roberts at lr155@evansville.edu for special pricing and registration information.
Submitted by Lindsay Roberts lr155@evansville.edu
November TIAA individual counseling sessions
The TIAA-CREF representative will be on the UE campus for individual counseling sessions on Tuesday, November 27. To schedule an appointment, call TIAA-CREF at 1-800-732-8353.
Please note that the meeting location has been changed to Room 153 (Eades Music Room) in the Schroeder School of Business Building.
Volunteers needed for the Turkey Day 5K
Evansville Goodwill Industries, Inc. is looking for volunteers to help with their 5K on November 22, Thanksgiving Day. Volunteers are needed to do jobs such as:
Set-up
Registration Help/Line Control
Water Table Attendants on the race course
Corner Watchers during the race
Food and Drink Set-up at the conclusion of the race
Awards after the race
As many people as possible are needed to help out. The more the merrier! Bring your family and friends.
If interested, you can register online by November 21 at http://evvgoodwill.org/events/turkey-day-5k/ and any questions can be sent to Robyn Oglesby at: roglesby@evvgoodwill.org.
Submitted by Karyssa Vasquez kv54@evansville.edu
New: My UE Checklist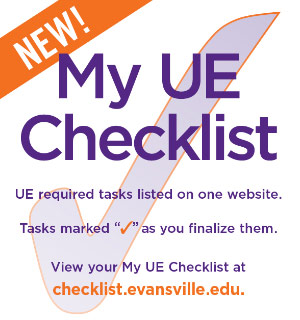 The Office of Technology Services and the UE Student Success Team are pleased to announce the launch of My UE Checklist for students.
This web-based "dashboard" allows students to know where they stand on all of their University tasks, in preparation for each new semester. My UE Checklist will display both undone and completed tasks including registration, returning crucial documents, finalizing financial aid, and settlement of student account. Links will lead directly to the site, office, or instructions for task completion.
We hope this new tool helps students better navigate the tasks and functions associated with being successful UE student.
Students will be prompted to view their Checklist starting this week.
View your My UE Checklist at checklist.evansville.edu.
Submitted by Angie Dawson ad5@evansville.edu
Looking for small boxes for shipping
If have any small boxes that you will be discarding, please let the UE Bookstore know before you toss them. We're looking for boxes suitable for sending out merchandise like sweatshirts and tee shirts as the holidays approach. Just call or contact the UE Bookstore and we'll be happy to pick them up.
Submitted by Doug Gustwiller dg57@evansville.edu
Help us thank donors during the UE Thank-a-thon!
During the week of November 5-9, students can take part in the UE Thank-a-thon and write a note of thanks to a generous UE donor. Student recipients of donor-funded scholarships should have received emails from the Offices of Financial Aid and Development asking them to write thank you notes online. ANY student can visit the Thank-a-thon table in Ridgway University Center during lunch November 5-9 and write a thank you to receive a prize.
Submitted by Molli Duckworth md105@evansville.edu
Sing in 500-person choir at UE men's basketball game
In celebration of Habitat for Humanity Evansville's 500th home, there will be a 500-person choir performing at the Ace's men's basketball game on December 9. We would love to have all voices from UE join in with members of the Evansville community to sign in celebration and fill the Ford Center with music!
If you would like to sing, please go to etfcu.formstack.com/forms/habitatchoir and register to be a part of the event. If you have a group or choir that would like to join, please call/ text Emily Baxter at 812-760-0564.
Submitted by Holly Carter hc110@evansville.edu
Wilson has article published in Journal of Chemical Education
Sarah Wilson, assistant professor of chemistry, has had a paper published in the Journal of Chemical Education. Her paper, "Characterization of First-Semester Organic Chemistry Peer-Led Team Learning and Cyber Peer-Led Team Learning Students Use and Explanation of Electron-Pushing Formalism" (10.1021/acs.jchemed.8b00387), examines how organic chemistry students' utilized electron-pushing mechanisms to solve problems, depending on whether they participated in face-to-face peer-led team learning (PLTL) workshops or a synchronous online version of peer-led team learning workshops. Implications for instructors are suggested, including encouraging students to verbally explain their rationale while drawing mechanisms as well as optimizing graphical collaborative learning activities for online learners.
Azarian publishes unsolved problems
Mohammad K. Azarian, professor of mathematics, published six problems in the Russian series, The Kourovka Notebook: Unsolved Problems in Group Theory. These six problems consist of 13 questions and two conjectures. All are related to the topic of generalized free products of groups with amalgamations, his earliest area of research. Currently they are published electronically in arXive.org at Cornell University. The final paper version will appear both in the Russian language as well as in English.
Steinsultz serves as guest conductor
UE music professor Kenneth Steinsultz served as guest conductor for the Middle Level Band Festival at St. Norbert College this past weekend, including talented musicians in grades 7-9 from Wisconsin and Michigan.
Strandberg presents at conference
Kristen Strandberg, assistant professor of music history, presented at the Nineteenth-Century French Studies conference in Los Angeles on October 26. Her presentation, "'Pour le plaisir des yeux': Musical Celebrity as a Visual Phenomenon in Nineteenth-Century France," discussed how critics and audiences often focused more on the visual aspects of musical performance than the aural.
UE receives Pride of CASE Award
The University of Evansville has been awarded a Pride of CASE Award at the Silver Level for Best Collaborative Program for UE's Christmas on Campus event. Congratulations to the Offices of Alumni and Parent Relations, Student Engagement, and Religious Life for their collaboration on this award winning event.
The Pride of CASE awards are bestowed in recognition of the best work in communications, alumni relations and development of CASE member schools.
The award will be presented at the CASE District V Conference which is December 9-11. The presentation of awards will take place at the Pride of CASE V Awards Luncheon at the event.
Contribute to AceNotes
To have content considered for inclusion in AceNotes, please submit a Marketing Request Form. Deadline for submission to AceNotes is 10:00 a.m. on the requested date of publication. Only articles concerning UE related/sponsored activities will be accepted. Articles submitted to AceNotes may be edited for length and clarity. Submitter contact information is at the end of each article.