| | |
| --- | --- |
| AceNotes Today | Tuesday, November 6, 2018 |
Active Shooter Drill – Practice "Run" Only!
In response to the Active Shooter Drill, all campus community members are asked to focus solely on the RUN aspect of "Run, Hide, Fight." regardless of whether the fictitious event affects your specific location.
This means that everyone should vacate their building (simulating the RUN aspect).
Members of the Evansville Police Department will be stationed throughout the campus to gauge individual responses to the drill, as well as determine how quickly individuals were able to make a decision as to which door to exit based on the information given about the fictional shooter. Once individuals leave a building, they should move away from the building and toward the outer perimeter of the campus but should not leave the campus, move vehicles or travel beyond the Weinbach/Lincoln/Rotherwood/Walnut square.
Once the drill is over, another AceAlert will be sent with the announcement to resume normal duties.
The drill will take place sometime between 8:00 a.m.-5:00 p.m., between November 5-9. The drill will be announced to the campus via Ace Alerts and the new active shooter audio siren will sound through all computers and video monitors signaling there is a threatening event.

In the spring, we will conduct another active shooter drill - focusing on the HIDE aspect of "Run, Hide, Fight."
Any questions, please contact the Office of Safety and Security at 812-488-2051.
Environmental Awareness Week: November 5-11
The University of Evansville's ECO Club presents Environmental Awareness Week November 5-11.
Stainless steel reusable straws will be sold at the information tables in Ridgway University Center at the times listed below for $1 each or 5 straws for $4.
The full schedule of events is as follows:
Monday, November 5:
5:00-6:00 p.m.: Glass Recycling Awareness, Ridgway University Center Tables
5:00 p.m.: SAB Trivia Night: Environmental Theme, Cafe Court
Tuesday, November 6:
7:00 p.m.: Levy Schroeder speaks about Wesselman Nature Preserve, Room 100, Koch Center for Engineering and Science
Wednesday, November 7:
5:00-6:00 p.m.: Food Waste Awareness, Ridgway University Center Tables
Thursday, November 8:
Noon-1:00 p.m.: Energy Waste Awareness Day, Ridgway University Center Tables
Wear GREEN to support environmental awareness!
Friday, November 9:
Noon-1:00 p.m.: Air Pollution Awareness, Ridgway University Center Tables
Sunday, November 11:
1:00-3:00 p.m.: Make your own FREE reusable, no-sew T-shirt bag, Room 162, Schroeder School of Business Building
Arts & Sciences Internship Showcase today
The Arts & Sciences Internship Showcase is TODAY - Tuesday, November 6 - from 3:30-5:30 p.m. in Eykamp Hall, Ridgway University Center.
Join fellow students for the internship showcase, where selected arts and sciences students will present their internship experiences to classmates, faculty, staff, and a panel of judges. Food will be available and prizes will be awarded.
Submitted by Alison Morris-McDonald am268@evansville.edu
Tuesday Night Recharge Mass
Join the Newman Club this Tuesday, November 6, at 8:00 p.m. in Neu Chapel to celebrate a Catholic Mass! Fr. Christian Raab will be the celebrant. All are welcome!
Submitted by Michaela Kunkler mk305@evansville.edu
UE International Education Week - November 12-16
Please join the Department of Foreign Languages and Cultures and celebrate International Education with students, faculty, and staff on November 12-16!
Listen to students talk about their study abroad experiences around the world and to professors from across campus share their research. Learn some Portuguese, Thai, Persian, Russian, and German during the language and culture sessions. Join I-House for the Poetry and Music event. Attend the International Bazaar. Come listen to activist Mary Olson discuss a global nuclear treaty and Christoph Schwegmann, senior defense advisor in the policy planning staff of the German Federal Foreign Office, discuss the roles of the US and Germany in a changing world order.
You can learn more about the events of the week on the International Education Week web page.
Questions? Please email lp84@evansville.edu.
Submitted by Lesley Pleasant lp84@evansville.edu
Physical therapist assistant information sessions are today
The Physical Therapist Assistant Program invites you to informational sessions today - Thursday, November 8 - in Eykamp Hall, Rooms 253-254, Ridgway University Center from noon-1:00 p.m. and 6:00 -7:00 p.m. Students are welcome to brown bag their lunch or dinner. Light refreshments will be served.
Connect with PTA faculty and students to learn more about the rewarding and dynamic career of a PTA and the application process. Reserve your seat at one of the sessions by emailing js698@evansville.edu.
Submitted by Jennifer Simon js698@evansville.edu
I-House Japan
John Fujisawa, Ayumi Hayashi, Kasumi Hori, Tetsuya Sunagawa, and Hitomi Yodo will be presenting I-House Japan today - Wednesday, November 7 - on the second floor of Ridgway University Center at 7:00 pm.
John Fujisawa is a Japanese American student at the University of Evansville. He is a senior theater technology and design major. His hobbies include beat boxing and he loves the cultural diversity. He believes that the people in the University of Evansville community are amazing. He will be assisting the new Japanese students in presenting the great culture and traditions of Japan. We hope to see you there.
Submitted by Megan Sicard ms331@evansville.edu
Lunch Charlas
Wanting to practice your Spanish? Join assistant professor of Spanish Edward Curran and associate professor of Spanish Diana Rodríguez Quevedo for lunch, and chat about different topics in Spanish on Wednesdays from noon-1:00 p.m. in the Starbuck's café area in Ridgway University Center. All levels of Spanish welcome. The next Lunch Charlas is this Wednesday, November 7.
Please contact Professor Rodríguez Quevedo at dr130@evansville.edu if you have any questions. ¡Ahí nos vemos!
Submitted by Diana Rodríguez Quevedo dr130@evansville.edu
Coffee & Careers - November
The next Free Coffee & Careers event is Thursday, November 8 from 4:00-5:00 p.m. in the Phillips Study Alcove, across from WUEV, in Ridgway University Center.
Join us today for free coffee and an informal career chat with alumni and friends of the University. Learn about their journey to their current job and the skills needed for career success.
This month's focus is on careers in communication, marketing, and public relations.
Submitted by Alison Morris-McDonald am268@evansville.edu
Rock climbing at Vertical eXcape!
It's time for Venturing Crew's annual trip to Vertical eXcape! Join us for a fun-filled night at Evansville's best indoor rock climbing gym! Climb to dizzying heights and share pizza with your friends on Friday, November 9 from 8:00 p.m. to 12:00 a.m.! This is a FREE EVENT and is open to ALL UE STUDENTS!
Crew members can sign up beginning Thursday, November 1 and all UE students can sign up from November 5-7. To sign up, bring your $10 deposit (this will be returned to you) to tables in Ridgway University Center.
Submitted by Maggie Wolf mw346@evansville.edu
UELA Magnifying Mental Health is November 7
UELA alumni are hosting a Magnifying Mental Health event. This event provides students with the opportunity to discuss their mental health through stories, poetry, and music. UELA wants to create a safe, welcoming environment where students can share their experiences. We ask that students that attend or are participating to be respectful of their peers. Food will be provided at this event. It is November 7 in Eykamp Hall, Room 251, Ridgway University Center from 6:00-8:00 p.m.
Submitted by Megan Hawkins mh445@evansville.edu
Roundtable on Climate Change
Interested in joining the discussion during International Education Week on most recent report from the Intergovernmental Panel on Climate Change? You can read the report on the organization's website. Please email associate professor of German Lesley Pleasant at lp84@evansville.edu. This event is free and open to the public. It will take place on November 12 in Room 203 in the library.
Submitted by Lesley Pleasant lp84@evansville.edu
Register this week for the Indiana Means Business! Career Fair
Students majoring in business and business related areas - register this week for the Indiana Means Business! Career Fair set for Thursday, November 15 from 10:00 a.m.-3:00 p.m. (Eastern Time) at the Indianapolis Downtown Marriott.
Fair registration is required through Handshake. Click Jobs Tab -> Enter #1890642 in the search bar (this is the posting number). Students must register by Thursday, November 8.
This event is for business students/alumni in Indiana! If you are seeking a career in business or a business-related industry, this event will provide you with access to recruiters from top companies from Indiana and beyond. Attendees can meet a variety of employers. Internship and co-op positions will also be available, so students in all class years are encouraged to attend this event. Don't miss your chance to find a great internship or professional position!
The University of Evansville will provide transportation. There is a required $10 deposit that will be refundable upon attendance. Reserve your seat now.
View registered employers at http://cccc-in.org/ under "Upcoming Events."
Submitted by Alison Morris-McDonald am268@evansville.edu
Volunteers needed for International Bazaar!
The International Club needs volunteers for the 32nd International Bazaar on Friday, November 16! Sign up at www.signupgenius.com/go/4090A4FACAB2BABFD0-international.
You can choose the day, volunteer position, and time. There will be a mandatory meeting for volunteers on Wednesday, November 14 at 7:00 p.m. in Room 162, Schroeder School of Business Building. For people who will be at I-House at this time but still want to volunteer, there will be a short meeting following I-House at 8:00 p.m., upstairs in Ridgway University Center, with Chelsea Gaddis and Fahad Alsaid. Thank you for volunteering and making this event a success!
Submitted by Megan Sicard ms331@evansville.edu
FYS students meet a peregrine at Wesselman Woods
On November 3, assistant professor of English Sara Petrosillo led FYS students on a field trip to learn about nature conservation and birds of prey at Wesselman Woods. To bring to life the birds and woods of J.A. Baker's book, "The Peregrine," students met a peregrine falcon and an American kestrel before a guided hike of the nature preserve.
November TIAA individual counseling sessions
The TIAA-CREF representative will be on the UE campus for individual counseling sessions on Tuesday, November 27. To schedule an appointment, call TIAA-CREF at 1-800-732-8353.
Please note that the meeting location has been changed to Room 153 (Eades Music Room) in the Schroeder School of Business Building.
New: My UE Checklist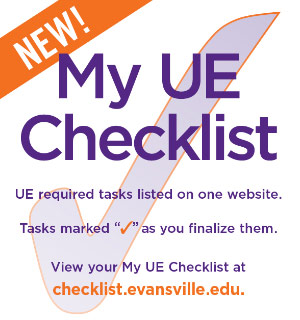 The Office of Technology Services and the UE Student Success Team are pleased to announce the launch of My UE Checklist for students.
This web-based "dashboard" allows students to know where they stand on all of their University tasks, in preparation for each new semester. My UE Checklist will display both undone and completed tasks including registration, returning crucial documents, finalizing financial aid, and settlement of student account. Links will lead directly to the site, office, or instructions for task completion.
We hope this new tool helps students better navigate the tasks and functions associated with being successful UE student.
Students will be prompted to view their Checklist starting this week.
View your My UE Checklist at checklist.evansville.edu.
Submitted by Angie Dawson ad5@evansville.edu
Looking for small boxes for shipping
If have any small boxes that you will be discarding, please let the UE Bookstore know before you toss them. We're looking for boxes suitable for sending out merchandise like sweatshirts and tee shirts as the holidays approach. Just call or contact the UE Bookstore and we'll be happy to pick them up.
Submitted by Doug Gustwiller dg57@evansville.edu
Free HIV testing at SHC
Matthew 25 will be hosting HIV testing at the Student Health Center FREE of charge on Tuesday, November 13 from 9:00-11:00 a.m. No appointment necessary!
Submitted by Tara Ulrich tu19@evansville.edu
EECS students participate in ICPC Mid-Central Region Programming Contest
Two teams of EECS students participated at the University of Louisville site of the ICPC Mid-Central Region Programming Contest held Saturday, November 3.
The Evansville Purple team of Asher Trockman, Nhan Cao, and Abdullah Aljandali got off to a fast start solving four problems in 37 minutes. Unfortunately, they failed to solve any more problems during the five-hour contest, finishing 35th out of 120 teams.
The Evansville Orange team of Dalton Meny and Kunal Mukherjee also solved four problems but at a slower pace and finished 69th.
The top three placing teams in the region, two from University of Illinois-Urbana/Champaign and one from the University of Chicago, each solved 10 of the 11 problems posed.
Steinsultz serves as guest conductor
UE music professor Kenneth Steinsultz served as guest conductor for the Middle Level Band Festival at St. Norbert College this past weekend, including talented musicians in grades 7-9 from Wisconsin and Michigan.
Strandberg presents at conference
Kristen Strandberg, assistant professor of music history, presented at the Nineteenth-Century French Studies conference in Los Angeles on October 26. Her presentation, "'Pour le plaisir des yeux': Musical Celebrity as a Visual Phenomenon in Nineteenth-Century France," discussed how critics and audiences often focused more on the visual aspects of musical performance than the aural.
UE receives Pride of CASE Award
The University of Evansville has been awarded a Pride of CASE Award at the Silver Level for Best Collaborative Program for UE's Christmas on Campus event. Congratulations to the Offices of Alumni and Parent Relations, Student Engagement, and Religious Life for their collaboration on this award winning event.
The Pride of CASE awards are bestowed in recognition of the best work in communications, alumni relations and development of CASE member schools.
The award will be presented at the CASE District V Conference which is December 9-11. The presentation of awards will take place at the Pride of CASE V Awards Luncheon at the event.
Contribute to AceNotes
To have content considered for inclusion in AceNotes, please submit a Marketing Request Form. Deadline for submission to AceNotes is 10:00 a.m. on the requested date of publication. Only articles concerning UE related/sponsored activities will be accepted. Articles submitted to AceNotes may be edited for length and clarity. Submitter contact information is at the end of each article.