| | |
| --- | --- |
| AceNotes Today | Wednesday, October 31, 2018 |
Active Shooter Drill – Postponed to Next Week
Due to predicted inclement weather for the remainder of this week, EPD has advised us to postpone the active shooter drill so we may sufficiently practice the RUN aspect of "Run, Hide, Fight" which requires us to vacate all buildings.
Therefore, the drill will now take place sometime between 8:00 a.m. and 5:00 p.m. during the week of November 5-9. The drill will be announced to the campus via Ace Alerts and the new active shooter audio siren will sound through all computers and video monitors signaling there is a threatening event.
In response to the Active Shooter Drill, all campus community members are asked to focus solely on the RUN aspect of "Run, Hide, Fight." regardless of whether the fictitious event affects your specific location.
This means that everyone should vacate their building (simulating the RUN aspect).
Members of the Evansville Police Department will be stationed throughout the campus to gauge individual responses to the drill, as well as determine how quickly individuals were able to make a decision as to which door to exit based on the information given about the fictional shooter. Once individuals leave a building, they should move away from the building and toward the outer perimeter of the campus but should not leave the campus, move vehicles or travel beyond the Weinbach/Lincoln/Rotherwood/Walnut square.
Once the drill is over, another AceAlert will be sent with the announcement to resume normal duties.
The drill will take place sometime between 8:00 a.m.-5:00 p.m., between November 5-9. The drill will be announced to the campus via Ace Alerts and the new active shooter audio siren will sound through all computers and video monitors signaling there is a threatening event.
In the spring, we will conduct another active shooter drill - focusing on the HIDE aspect of "Run, Hide, Fight."
Any questions, please contact the Office of Safety and Security at 812-488-2051.
Photographer on Campus October 31 - November 2
The Office of Marketing and Communications will have a photographer on campus for a photo shoot Wednesday, October 31, through Friday, November 2. UE students and faculty have always been very cooperative and accommodating during previous shoots. As a result, many great photos have been taken for the University's website and publications. Kim McDonald will try to notify faculty in advance if photos will be taken in a particular class; however, weather may force the shoot inside, and it is possible that last minute requests will be made. If faculty members know that they will be giving a test or do not wish to have their class photographed any of these days, please inform Kim McDonald at ext. 2683 or km117@evansville.edu and the classroom will be avoided.
Annual Veterans Day service
The University of Evansville's annual Veterans Day service is set for Friday, November 9 from 11:00-noon in Wheeler Concert Hall in the Krannert Hall of Art and Music. The campus community, alumni, and friends are invited to this celebration.
This year's speaker will be Colonel Michael Roscoe, U.S. Army National Guard. Roscoe is the chair and founding director of the Physician Assistant Science program at the University of Evansville.
Roscoe began his military career in 2000 by commissioning to the Indiana National Guard. Currently, he is a senior PA for the state of Indiana working with the Surgeon General. He deployed to Afghanistan for his first combat tour in 2004-05 where he served as a physician assistant at a forward operating base in Kabul and on several medical "jump teams" all across Afghanistan. He had a second combat tour in Balad, Iraq in 2008-09 where he was the officer-in-charge of the busiest troop medical clinic (TMC) in Iraq at the time.
Roscoe earned a PhD in international health science in 2009 from Touro University International (military sponsored) with his specialization in risk mapping of Leishmaniosis in Afghanistan. He has a Master of Science from Purdue University, a second Master in Physician Assistant Studies from University of Nebraska specializing in emergency medicine. Finally, he has two bachelor's degrees from Butler University.
Roscoe has received many military awards and achievements, but most notable was a Bronze Star for his work with the international medical community, leishmaniosis research, and assisting with getting four Afghan children back to the United States for life saving surgeries. Roscoe also received the Combat Medical Badge for his time with the medical jump teams and a Combat Patch for War-time Service (3).
UE Religious Life and I-House present special Halloween event
UE religious life and I-House have collaborated to host a special event on Halloween day, October 31, 7:00 p.m. on the second floor of Ridgway University Center! The event will focus on how beliefs and practices surrounding death and the afterlife differ with cultural and religious background. Come find out what students from Pakistan (Islam), China (Buddhism), USA (Judaism and Christianity), and Zimbabwe have to share about this topic! You will also have the opportunity to ask the students any questions and share your thoughts with the audience. Refreshments will be provided.
Submitted by Megan Sicard ms331@evansville.edu
Medical Spanish Group
The Medical Spanish Group meets twice a month to practice communication skills in Spanish. These sessions are open to anyone wanting to practice Spanish for medical settings. The next practice session is today - Wednesday, October 31 - from 5:30-7:00 p.m. in Room 315 in Graves Hall. Please contact associate professor of Spanish Diana Rodríguez Quevedo at dr130@evansville.edu if you have any questions. ¡Nos vemos el miércoles!
Submitted by Diana Rodríguez Quevedo dr130@evansville.edu
Lunch Charlas
Wanting to practice your Spanish? Join assistant professor of Spanish Edward Curran and associate professor of Spanish Diana Rodríguez Quevedo for lunch, and chat about different topics in Spanish on Wednesdays from noon-1:00 p.m. in the Starbuck's café area in Ridgway University Center. All levels of Spanish welcome. The next Lunch Charlas is today - Wednesday, October 31.
Please contact Professor Rodríguez Quevedo at dr130@evansville.edu if you have any questions. ¡Ahí nos vemos!
Submitted by Diana Rodríguez Quevedo dr130@evansville.edu
Jonathan Hittner: Efroymson Artist in Residence & Exhibition: "History Lessons from the Future"
The work of Efroymson Artist in Residence Jonathan Hittner will be on display from October 29-December 8 in the Melvin Peterson Gallery. The exhibit is titled "History Lessons from the Future."
There will also be a student workshop with the artist at 9:30 a.m., an artist's reception at 6:30 p.m., and a public gallery lecture at 7:00 p.m. on Thursday, November 8. A student gallery lecture is planned for Friday, November 9 at 10:00 a.m.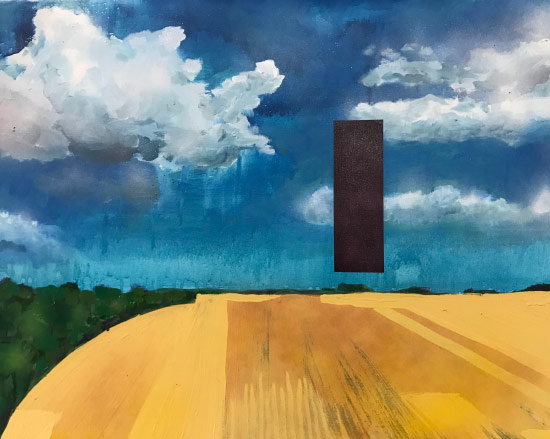 These events are free and open to the public. They are part of the Efroymson Family Fund Emerging Contemporary Artist Lecture Series, which is sponsored by the Efroymson Family Fund and the UE Department of Art.
Submitted by Corliss Chastain cc270@evansville.edu
Neu Chapel Forum discusses "Should People of Faith Engage in Violence?"
For people of faith, engaging in physical violence and warfare has been a topic of contention and debate. This week's Neu Chapel Forum will consider if people of faith should engage in violence. Is there moral justification for it? Why or why not? All perspectives are welcome for a time of great conversation! The Neu Chapel Forum meets tonight at 8:00 p.m. in the Class of '59 Gallery in Ridgway University Center.
Submitted by Keith Turner kt160@evansville.edu
LSCM Club meeting
Join us for our Logistics and Supply Chain Club meeting at 8:00 p.m. today - November 1 - in Room 209 in the library.
Submitted by Quincy Stone qs13@evansville.edu
Pray the Rosary this Thursday!
Austin Hopf and Sister Catherine will be leading a Rosary Prayer Group this Thursday at 12:15 p.m. in Room 264 in the Center for Academic Success in Clifford Memorial Library. All are welcome to join!
Submitted by Sam Wallisch sw265@evansville.edu
Call out for I-House: Song & Poetry
I-House and the Department of Foreign Languages and Cultures will be hosting a special session of I-House to celebrate International Education Week. This event will be held on Wednesday, November 14 with a sing-along and poetry reading in languages from around the world. This event is open to students, faculty, and staff campus-wide. If you want to share/lead a song or a poem in your native tongue or learn one in another language, or if you want join in with an instrument, please contact assistant professor of French Séverine Bates at sb413@evansville.edu and associate professor of Spanish Diana Rodríguez Quevedo at dr130@evansville.edu.
Submitted by Diana Rodríguez Quevedo dr130@evansville.edu
Roundtable on Climate Change
Interested in joining the discussion during International Education Week on most recent report from the Intergovernmental Panel on Climate Change? You can read the report on the organization's website. Please email associate professor of German Lesley Pleasant at lp84@evansville.edu. This event is free and open to the public. It will take place on November 12 in Room 203 in the library.
Submitted by Lesley Pleasant lp84@evansville.edu
Rock for Riley: British Invasion
You are invited to join Phi Mu Delta Lambda on November 3 from 7:00-10:00 p.m. in Eykamp Hall, Ridgway University Center as we "Hop the Pond to Help the Kids" by raising money for Riley Hospital for Children! Come out to Rock for Riley 2018: British Invasion for a night of amazing lip-synching and dance performances!
Submitted by Kelly Nixon kn94@evansville.edu
Sign-up soon for Indiana Means Business! Career Fair
Students who are majoring in business and business related areas are invited to sign-up for the Indiana Means Business! Career Fair set for Thursday, November 15 from 10:00 a.m.-3:00 p.m. (Eastern Time) at the Indianapolis Downtown Marriott. This event is specifically for business students/alumni in Indiana! If you are seeking a career in business or a business-related industry, this event will provide you with access to recruiters from top companies from Indiana and beyond. Attendees can meet a variety of employers. Internship and co-op positions will also be available, so students in all class years are encouraged to attend this event. Don't miss your chance to find a great internship or professional position!
Fair registration is required through Handshake. Click Jobs Tab -> Enter #1890642 in the search bar (this is the posting number). Students must register by Thursday, November 8.
The University of Evansville will provide transportation. There is a required $10 deposit that will be refundable upon attendance. Reserve your seat now.
View registered employers at http://cccc-in.org/ under "Upcoming Events."
Submitted by Alison Morris-McDonald am268@evansville.edu
UE to host State of Indiana Appeals on Wheels on November 1
The University of Evansville will play host to a traveling oral argument before the Indiana Court of Appeals on Thursday, November 1. This program, known as Appeals on Wheels, will begin at 11:00 a.m. in Eykamp Hall, Room 251, Ridgway University Center on UE's campus. It is free and open to the public.
At this event, an oral argument will be presented for the Case of Ashley D. Reid versus the State of Indiana (18A-CR-00493). The procedure will unfold just as it would for an argument held in the Court's Statehouse courtroom. A bailiff will call the court into session, robed judges will enter, and lawyers for each party will present arguments to the judges and respond to the judges' questions.
Following the argument, the audience will be invited to participate in a question and answer session with the judges and attorneys.
Please note the following important courtroom etiquette and procedure for Appeals on Wheels
This Oral Argument is a formal process with legal and procedural protocols, which includes the behavior and conduct of the audience.
Attendees should observe the following rules during the event:
NO cell phones, cameras, talking, eating or drinking.
This location will be serving as a courtroom and the audience should dress appropriately; this includes no hats and business casual attire would be the minimum standard.
The bailiff will call the Court to order by banging the gavel and asking everyone in the room to rise or stand.
Any questions about audience protocol should be directed to the Center for Career Development at career@evansville.edu.
"This event is just another example of the high-level educational opportunities we provide to students at UE," said Robert Dion, chair of UE's Department of Law, Politics, and Society. "They don't just read about the legal process in a book, instead they get to witness a real legal proceeding firsthand and have the opportunity to interact with those involved - all on the UE campus."
The goal of Appeals on Wheels is to help Hoosiers learn more about the judiciary's role in Indiana government. They also provide opportunities for Court of Appeals judges to meet and talk with the public in relatively informal settings.
The Court has conducted more than 400 Appeals on Wheels between its 2001 centennial and June 2013, although the program predates the centennial.
The event at UE is sponsored by the Department of Law, Politics and Society with support from the Office of Alumni and Parent Relations and the Center for Career Development.
Pray the Rosary this Thursday!
Austin Hopf and Sister Catherine will be leading a Rosary Prayer Group this Thursday at 10:00 a.m. in Room 264 in the Center for Academic Success in Clifford Memorial Library. All are welcome to join!
Submitted by Sam Wallisch sw265@evansville.edu
Textbook adoptions past due
Textbook adoptions for Spring 2019 are now past due. If you have not submitted your adoptions, please do so to the UE Bookstore as soon as possible. This will ensure better buyback prices for students and also more used/rental options for the Spring term. The later we receive adoptions in the bookstore this less likely we can get these cheaper editions. Contact the UE Bookstore at ext. 2679 if needed.
Submitted by Doug Gustwiller dg57@evansville.edu
Sing in 500-person choir at UE men's basketball game
In celebration of Habitat for Humanity Evansville's 500th home, there will be a 500-person choir performing at the Ace's men's basketball game on December 9. We would love to have all voices from UE join in with members of the Evansville community to sign in celebration and fill the Ford Center with music!
If you would like to sing, please go to etfcu.formstack.com/forms/habitatchoir and register to be a part of the event. If you have a group or choir that would like to join, please call/ text Emily Baxter at 812-760-0564.
Submitted by Holly Carter hc110@evansville.edu
Now accepting faculty-led study abroad proposal applications
Calling all faculty! Did you know that you have the opportunity here at UE to create and lead your own short term program abroad? If you are interested in taking your class global, make sure to fill out a proposal to set up a faculty-led program! Proposal forms can be found on the faculty-led programs page of the study abroad website or in the Study Abroad area on AceLink. We are currently accepting proposals for the 2019-20 academic year.
Proposal are required whether you've run a program multiple times or are hoping to set up something brand new. Applications are due by November 1 and decisions on proposals will be given by the beginning of December. Completed proposals can be e-mailed to studyabroad@evansville.edu. If you have any questions about the proposal application, please contact Greta Becker at gb91@evansville.edu.
Submitted by Greta Becker gb91@evansville.edu
Who is Gregory Gregory? Did he send you a letter?
Did you recently receive a letter from Gregory Gregory? You may be wondering who he is and why he is reaching out. Gregory Gregory is best known for building our beloved Harlaxton Manor. He was born in 1786, went to Rugby School (a prestigious, private institution) at age 11 and then to Oxford University at age 19. In 1831, Gregory returned from living in France and Italy and started the building that we now know as Harlaxton Manor. Gregory moved into the manor sometime around the year 1851. He lived there until 1854, when he passed away from "gout exhaustion".
Gregory Gregory is a key figure in the life of Harlaxton Manor and his legacy live at the University of Evansville today. We hope that the letter you received from him is of interest and you will find your way to his event on Thursday evening.
Submitted by Holly Carter hc110@evansville.edu
Body Image
Body Image, an event hosted by the Change Lab/ GAP Course Mental Health Awareness Team, is planned for Thursday November 1 from 5:00-6;00 p.m. in Room 162 in the Schroeder School of Business Building. The speaker will be Annette Parks, chair of the history department.
The goal of the event is to create awareness about mental health through education about body image on the UE campus.
Submitted by Aisha Tijjani at166@evansville.edu
December graduates - please read!
ALL December graduates need to pick up their graduation packets in the UE Bookstore as soon as possible starting October 29. The packet will have your name and degree on it (you will need to verify this information is correct.) Also in the packet is information from the alumni office, career planning office and the bookstore in regard to graduation announcements and diploma frames. When you pick up your packet you can also pick up your cap and gown.
Masters graduates need to come to the UE Bookstore as soon as possible to ORDER their cap, gown and hood as your garments are custom made and require additional time. Bachelor cap and gowns are in stock in the store but don't wait until the last minute to get one to make sure you have the correct color and size.
If you have any questions, please contact the UE Bookstore. Congratulation, grads!
Submitted by Doug Gustwiller dg57@evansville.edu
Voice to Vision survey
Chartwells dining services is looking for your feedback. Take their Voice to Vision survey and tell them how you feel. To take the survey, text YGHG to 99299. Survey participants will be entered in a drawing to win $100 Ace Bucks!
Submitted by Brian Conner bc32@evansville.edu
Carter appointed dean of NAFSA CEP
Holly Carter, director of education abroad and director of Harlaxton College Programs, has been appointed as dean of the CEP workshop risk assessment and crisis management by NAFSA (Association of International Educators). This workshop is described by NAFSA as exploring ways to assess risk, reduce risk potential, and respond to crises more effectively. Carter will be dean until 2021 and will work to trainers from around the nation to deliver the curriculum for international education professionals.
Murphy presents research at NEUDC conference at Cornell University
David Murphy, assistant professor of economics, presented his research entitled "Chatting at Church: Information Diffusion through Religious Networks" at the highly selective annual North East Universities Development Consortium conference, this year held at Cornell University on October 27-28. The research shows a causal relationship between mutual religious association and the formation of social ties, which increases the probability of sharing information with and trusting a peer. Data for this research were collected in villages of Kenya in 2016 as part of Murphy's dissertation research.
David Green publishes article
David Green, senior lecturer in British studies and history at Harlaxton College, has published an article on the memorial brass of Sir Nicholas Dagworth (d. 1402). The essay is part of a collection on military commemoration designed to coincide with the anniversary of the end of the First World War. It can be found in 'Monumental Brass Society Transactions', 19 (2018), pp. 416-24.
Men's Basketball faculty/staff tickets now available
UE faculty and staff tickets for the November 3 men's basketball game against New Mexico Highlands at 1:00 p.m. at the Ford Center are available for pickup from the Carson Center ticket office NOW! The ticket office is open Monday-Friday from 8:30 a.m.-5:00 p.m. Tickets are also available day of game at the Ford Center interior ticket office window.
Be sure to join us for FanFest from 10:30 a.m.-12:30 p.m., across Main Street from the Ford Center, for live music, food vendors, a beer garden, and a special message from Coach Walter McCarty!
Due to the high demand of tickets, faculty/staff seat locations are at the sole discretion of the UE ticket office. Two tickets per valid UE ID. Season tickets are still on sale - ask us about the faculty/staff discount!
Submitted by Scott Peace sp166@evansville.edu
Contribute to AceNotes
To have content considered for inclusion in AceNotes, please submit a Marketing Request Form. Deadline for submission to AceNotes is 10:00 a.m. on the requested date of publication. Only articles concerning UE related/sponsored activities will be accepted. Articles submitted to AceNotes may be edited for length and clarity. Submitter contact information is at the end of each article.