| | |
| --- | --- |
| AceNotes Today | Friday, October 26, 2018 |
North end of Lot H closed until Sunday evening
The north end of Lot H has been temporarily closed. All spaces north of the central gate entrance are reserved for Homecoming events. The lot is scheduled to be reopened on Sunday evening, October 28.
University of Evansville's United Way Campaign begins Monday
The University of Evansville's United Way campaign begins Monday, October 26 and ends on Friday, November 2. This year, we have arranged to make our personal donations through ePledge, an easy and convenient online pledge system. Please watch your inbox for an email from Keith Gehlhausen that will contain the link and detailed instructions on how you can make your pledge online. Thanks again for your support of United Way's fight for the health, education, and financial stability of every person in our community. United we fight, and United we win!
Active Shooter Drill – Practice "Run" Only!
In response to the Active Shooter Drill, all campus community members are asked to focus solely on the RUN aspect of "Run, Hide, Fight." regardless of whether the fictitious event affects your specific location.
This means that everyone should vacate their building (simulating the RUN aspect).
Members of the Evansville Police Department will be stationed throughout the campus to gauge individual responses to the drill, as well as determine how quickly individuals were able to make a decision as to which door to exit based on the information given about the fictional shooter. Once individuals leave a building, they should move away from the building and toward the outer perimeter of the campus but should not leave the campus, move vehicles or travel beyond the Weinbach/Lincoln/Rotherwood/Walnut square.
Once the drill is over, another AceAlert will be sent with the announcement to resume normal duties.
The drill will take place sometime between 8:00 a.m.-5:00 p.m., between October 29-November 2. The drill will be announced to the campus via Ace Alerts and the new active shooter audio siren will sound through all computers and video monitors signaling there is a threatening event.

In the spring, we will conduct another active shooter drill - focusing on the HIDE aspect of "Run, Hide, Fight."
Any questions, please contact the Office of Safety and Security at 812-488-2051.
Annual Veterans Day service
The University of Evansville's annual Veterans Day service is set for Friday, November 9 from 11:00-noon in Wheeler Concert Hall in the Krannert Hall of Art and Music. The campus community, alumni, and friends are invited to this celebration.
This year's speaker will be Colonel Michael Roscoe, U.S. Army National Guard. Roscoe is the chair and founding director of the Physician Assistant Science program at the University of Evansville.
Roscoe began his military career in 2000 by commissioning to the Indiana National Guard. Currently, he is a senior PA for the state of Indiana working with the Surgeon General. He deployed to Afghanistan for his first combat tour in 2004-05 where he served as a physician assistant at a forward operating base in Kabul and on several medical "jump teams" all across Afghanistan. He had a second combat tour in Balad, Iraq in 2008-09 where he was the officer-in-charge of the busiest troop medical clinic (TMC) in Iraq at the time.
Roscoe earned a PhD in international health science in 2009 from Touro University International (military sponsored) with his specialization in risk mapping of Leishmaniosis in Afghanistan. He has a Master of Science from Purdue University, a second Master in Physician Assistant Studies from University of Nebraska specializing in emergency medicine. Finally, he has two bachelor's degrees from Butler University.
Roscoe has received many military awards and achievements, but most notable was a Bronze Star for his work with the international medical community, leishmaniosis research, and assisting with getting four Afghan children back to the United States for life saving surgeries. Roscoe also received the Combat Medical Badge for his time with the medical jump teams and a Combat Patch for War-time Service (3).
Yale University historian to deliver Fiddick Lecture on Second Great War, 1917-1923
Jay Winter, the Charles J. Stille Professor of History Emeritus at Yale University, will be the speaker for the University of Evansville's 17th annual Thomas C. Fiddick Memorial Lecture today - Friday, October 26. The lecture begins at 7:00 p.m. in Eykamp Hall in Ridgway University Center. The event, hosted by UE's Department of History, is free and open to the public.
Winter's lecture marks the 100th anniversary of the First World War. His topic will be "The Second Great War, 1917-1923."
The Fiddick Memorial Lecture is named for Thomas C. Fiddick, a professor of history at UE from 1963 to 2002. A dedicated teacher, productive scholar, and a tireless fighter in the cause of justice, his untimely death on the day of his retirement stunned the UE community. It was his former students' efforts, with support of Fiddick's friends and the University, that led to the establishment of the annual Thomas C. Fiddick Memorial Lecture.
"The Fiddick Lecture is one of the best events of the year, as we celebrate the career of a truly outstanding University of Evansville faculty member," said James MacLeod, UE professor of history and director of the Fiddick Memorial Lecture Series. "Tom Fiddick was a brilliant scholar and an incredible teacher who made a life-transforming impact on generations of students."
During Winter's lecture, he will argue that a crisis in 1917 separates the first three years of the war from the years that followed, largely the result of powerful economic and demographic pressures which destabilized all the combatants, but more so the Central powers than the Allies. The critical event of this rupture was the 1917 Russian revolution. Hatred, hunger, and class conflict were radicalizing elements in the post-Imperial world. Winter suggests that the passage from wartime crisis to post-war and post-imperial violence was seamless, and part of one complex, distinctive phase of European history, starting in 1917 and ending more or less in 1923.
Fiddick's book, Russia's Retreat from Poland, 1920: From Permanent Revolution to Peaceful Coexistence, deals with one of the conflicts to be discussed during Winter's lecture.
Winter is one of the world's leading scholars of World War I and its impact on the 20th century. He was educated at Columbia University and the University of Cambridge. In 2001 he joined the faculty of Yale. Winter is the author or co-author of 25 books, including Sites of Memory, Sites of Mourning: The Great War in European Cultural History; The Great War and the Shaping of the 20th Century; Rene Cassin and the Rights of Man, and most recently, War beyond Words: Languages of Remembrance from the Great War to the Present. In addition, he has edited or co-edited 30 books and contributed 130 book chapters to edited volumes.
Winter was also co-producer, co-writer, and chief historian for the PBS/BBC series The Great War and the Shaping of the 20th Century, which won an Emmy Award, a Peabody Award and a Producers Guild of America Award for best television documentary in 1997.
MacLeod noted that Winter "is as distinguished a scholar on World War I as there is anywhere in the world. It is an enormous privilege to bring him to the University of Evansville to deliver the 2018 Fiddick Lecture and interact with students in class,"
MacLeod added that on the 100th anniversary of "what we think of as the end of the First World War, it is important to reflect on the significant ways in which that war did not really end in 1918. Some conflicts that emerged between 1917 and 1923 we are still dealing with today. It is especially appropriate given Tom Fiddick's lifelong passion for many of the issues discussed by Jay Winter, and the fact that one of Tom's most important scholarly legacies is a book that deals with this very subject."
For more information, please contact the Department of History at 812-488-2963.
Final performances of UE Theatre's musical production of Spring Awakening
Don't miss UE Theatre's production of the controversial rock musical that swept the Tony Awards. Spring Awakening, this weekend. Remaining performances are at 7:30 p.m., tonight and tomorrow, and at 2:00 p.m. on Sunday. Tickets are $20 adult, $18 senior adult, student, and UE faculty/staff. UE students can pick up FREE tickets after 12 p.m. from the Shanklin Theatre ticket office each day of the show. The Shanklin Theatre Ticket Office can be reached by calling 812-488-2031.
UE Homecoming 2018 Reunion Weekend set for October 26-28
The University of Evansville Homecoming 2018 Reunion Weekend is October 26-28. Special events and activities are planned for parents and alumni, many of which will be open to the public.
Dr. Guy Banta Distinguished Lecture Series – Speaker: Randy Scherer '04, chief scientific officer and managing member for KSCV, LLC. Established
Friday, October 26, 3:00 p.m., Vectren Lecture Hall (Room 100) Koch Center for Engineering and Science
17th Annual Fiddick Memorial Lecture – Speaker Jay Winter, professor at Yale University, to discuss the legacy of World War One
Friday, October 26, 7:00 p.m., Eykamp 251, Ridgway University Center
Free and open to public.
Homecoming Tailgate
Saturday, October 27, 2:00-5:00 p.m., H-Lot, South Frederick Street
Food, games, live music, and fun. Open to public.
The Ace Race
Saturday, October 27, 9:00 a.m., UE campus
This 5K run benefits Ace CARE, UE's pro bono physical therapy clinic. The event is open to the public. The participation fee for the general public is $30. To register, go to www.uealumnionline.com/acerace2018.
UE Men's Soccer versus Valpo (followed by fireworks display)
Saturday, October 27, 5:00 p.m., Arad McCutchan Stadium.
Open to public.
Celebration events this year include: Class of 1968 50th Reunion, Hughes Hall reception and tour, chemistry alumni reception, Phi Kappa Tau 50th Anniversary Reception and Dinner, 100 years of the Crescent, and annual Homecoming Brunch.
For the full schedule of events or more information, visit www.evansville.edu/alumni or contact alumni@evansville.edu or 812-488-2586.
Homecoming Pep Rally today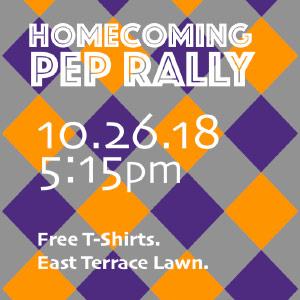 Join SAB today - Friday, October 26 - at 5:15 p.m. on the East Terrace Lawn for our Homecoming Pep Rally as we kick off Homecoming Weekend 2018! The pep rally will include appearances form our Cheer, Dance, Volleyball, and Men's Soccer teams; Homecoming Court finalists will be announced; and free T shirts will be handed out to UE students!
Submitted by Megan King mk225@evansville.edu
Scherer to speak at Dr. Guy Banta Distinguished Lecture Series
The University of Evansville's annual Dr. Guy Banta Distinguished Lecture Series is set for today - Friday, October 26 - at 3:00 p.m. in Room 100 (Vectren Lecture Hall) in the Koch Center for Engineering and Science. This event is free and open to the public.
This year's speaker will be Randy Scherer, chief scientific officer and managing member for Kirkwood Scherer Capital Ventures, LLC. His topic will be "When Opportunity Knocks."
Scherer earned his undergraduate degree in biology/chemistry from UE in 2004 and his PhD from Vanderbilt Medical University in 2010.
Established in 2018, KSCV is a boutique biotech fund focused in emerging technologies. KSCV's unique expertise across the total product lifecycle resides in evidence identification and data interpretation to mitigate risk and arbitrage catalytic events in the biotechnology sector. KSCV turns science into investing.
Professor Robert Morse to speak at next SIAM talk
UE professor of computer science Robert Morse will be the speaker for the next SIAM talk on October 30 from noon-1:00 p.m. in Room 101 in the Koch Center for Engineering and Science.
The abstract of his talk is as follows:
"The Groups, Algorithms, and Programming (GAP) open source project is a computational system for discrete mathematics with an emphasis on group theory. For the last thirty years I have been involved with this system both as a user and as a developer.
In this talk we will consider two general problems that occur when using such computational systems: turning conjectures found computationally into general proofs and translating computational representations into mathematical representations.
I will illustrate these problems from my research in group theory supported by computations using GAP. These examples include results on groups of prime power order and the free nilpotent groups of finite rank."
It's sure to be an interesting discussion and there will be free pizza! So come on out for a great speaker and food!
Submitted by Stephanie Scholz ss619@evansville.edu
PT Alumni and Friends Homecoming Open House
Join us in celebrating 38 years of UE physical therapy on Saturday, October 27 from 2:00-4:00 p.m. at the Stone Family Center for Health Sciences. Tour our new PT lab and state of the art facility. Meet current faculty and students and attend sessions on Ace CARE, residencies, and new curriculum.
For more information, email js698@evansville.edu.
Submitted by Jennifer Simon js698@evansville.edu
Family of Henrietta Lacks to Speak at UE
The Lacks family will be guests of the University of Evansville's Honors Program on Monday, October 29 for a presentation and question and answer session in connection with The Immortal Life of Henrietta Lacks, the bestseller written by Rebecca Skloot about their matriarch, Henrietta Lacks. The event is from 6:00-7:00 p.m. in Eykamp Hall, Ridgway University Center and is free and open to the public.
The book is the winner of several awards, including the 2010 Chicago Tribune Heartland Prize for Nonfiction, the 2010 Wellcome Trust Book Prize, and the American Association for the Advancement of Science's Award for Excellence in Science Writing. It was featured on over 60 critics' best of the year lists. The book was also made into an HBO movie starring Oprah Winfrey.
The Immortal Life of Henrietta Lacks tells the story of Henrietta Lacks, a poor, black, tobacco farmer who had cells taken from her in 1951 without her knowledge. The cells became the first immortal human cells grown in the laboratory. Dubbed HeLa, they became one of the most important tools in modern medicine, vital for developing the polio vaccine, cloning, gene mapping, in vitro fertilization, and more. Henrietta died in 1951 but her cells are still the most widely used in the world. Henrietta's cells have helped biotech companies make millions, yet her family never benefited from their commercialization. Special guests at the UE event will include David Lacks, Jr. and Alfred Carter, Jr., grandsons of Henrietta Lacks.
The Lacks family's presentation will put a personal face on such issues as the history of medical experimentation on African Americans, bioethics, legal battles over informed consent, and who controls what we are made of and who should profit from it.
The Lacks family is being brought to the UE campus by UE's Honors Program, along with support from UE Student Government, Office of Academic Affairs, School of Public Health, and the Patricia H. Snyder Concert and Lecture Series.
Rock for Riley: British Invasion
You are invited to join Phi Mu Delta Lambda on November 3 from 7:00-10:00 p.m. in Eykamp Hall, Ridgway University Center as we "Hop the Pond to Help the Kids" by raising money for Riley Hospital for Children! Come out to Rock for Riley 2018: British Invasion for a night of amazing lip-synching and dance performances!
Submitted by Kelly Nixon kn94@evansville.edu
Habitat for Humanity: Mexico interest meeting
Students now have the chance to spend a part of summer in Mexico helping Habitat for Humanity build homes for families living in poverty. This program offers a unique opportunity for UE students to take the skills and techniques learned in the classroom to better the lives of those in need in Mexico. As you help build a home with a partner family, you will become part of the community you are serving. You will be invited to eat traditional Mexican foods, interact with families within the community you're helping to improve, explore local sites, and learn about the innovative Habitat model of home ownership that helps us create a world where everyone has a decent place to live.
No previous building experience is required for this trip. All you need is an open mind, a good attitude, and a heart for service!
If you are interested in this program, make sure to stop by one of our information meetings to learn more! There will be a meeting on Monday, October 29 at 4:00 p.m. in Room 173 in the Schroeder School of Business Building and one on Tuesday, October 30 at 12:30 in Room 250 in the Schroeder School of Business Building
Submitted by Greta Becker gb91@evansville.edu
UE to host State of Indiana Appeals on Wheels on November 1
The University of Evansville will play host to a traveling oral argument before the Indiana Court of Appeals on Thursday, November 1. This program, known as Appeals on Wheels, will begin at 11:00 a.m. in Eykamp Hall, Room 251, Ridgway University Center on UE's campus. It is free and open to the public.
At this event, an oral argument will be presented for the Case of Ashley D. Reid versus the State of Indiana (18A-CR-00493). The procedure will unfold just as it would for an argument held in the Court's Statehouse courtroom. A bailiff will call the court into session, robed judges will enter, and lawyers for each party will present arguments to the judges and respond to the judges' questions.
Following the argument, the audience will be invited to participate in a question and answer session with the judges and attorneys.
Please note the following important courtroom etiquette and procedure for Appeals on Wheels
This Oral Argument is a formal process with legal and procedural protocols, which includes the behavior and conduct of the audience.
Attendees should observe the following rules during the event:
NO cell phones, cameras, talking, eating or drinking.
This location will be serving as a courtroom and the audience should dress appropriately; this includes no hats and business casual attire would be the minimum standard.
The bailiff will call the Court to order by banging the gavel and asking everyone in the room to rise or stand.
Any questions about audience protocol should be directed to the Center for Career Development at career@evansville.edu.
"This event is just another example of the high-level educational opportunities we provide to students at UE," said Robert Dion, chair of UE's Department of Law, Politics, and Society. "They don't just read about the legal process in a book, instead they get to witness a real legal proceeding firsthand and have the opportunity to interact with those involved - all on the UE campus."
The goal of Appeals on Wheels is to help Hoosiers learn more about the judiciary's role in Indiana government. They also provide opportunities for Court of Appeals judges to meet and talk with the public in relatively informal settings.
The Court has conducted more than 400 Appeals on Wheels between its 2001 centennial and June 2013, although the program predates the centennial.
The event at UE is sponsored by the Department of Law, Politics and Society with support from the Office of Alumni and Parent Relations and the Center for Career Development.
This Week in Music: Jazz Society Concert
Jazz Society Concert: Danny Schembre Quintet
Sunday, October 28
4:00 p.m., Wheeler Concert Hall
The Jazz Guest Artist Concert Series continues with a performance by local saxophonist Danny Schembre and his Quintet, featuring vocalist Julie Schembre. The concert will take place in Wheeler Concert Hall on Sunday, October 28 at 4:00 p.m. The series is co-sponsored by the Evansville Jazz Society and the University of Evansville.
Originally from Crystal City, Missouri, Danny "Saxman" Schembre became a regular performer at a variety of venues in the St. Louis area. He attended North Texas State University, performing with the renowned North Texas State 4 O'clock Lab Band. For ten years he was a performer and arranger music for various Air Force Bands across the United States, throughout Europe, Africa and Asia. He has performed with the Glenn Miller Band, Count Basie, Stan Kenton, Bob Hope, Clark Terry, Joe Morello, Dizzy Gillespie, Lou Rawls and many more.
Numerous television, military and studio recordings feature his arrangements and solo work including recent Nashville sessions. He and his family moved to Evansville, Indiana in 1998 where he stays in high demand locally as a solo artist, in duos, combos and performing with traveling acts throughout the mid-west.
Featured vocalist with the Quintet will be Julie Schembre. Julie and Danny Schembre married in 1978 while working with the United States Air Force Glenn Miller Band in Kaiserslautern, Germany. Additional performers will include bassist Jon Hyneman and drummer Pat Moore.
This promises to be an outstanding concert featuring local performers who have become favorites of area jazz fans.
Tickets to the concert are $15 for adults, $10 for Evansville Jazz Society members, and $5 for students. Tickets may be reserved by calling 812-488-2754, or may be purchased at the door.
Submitted by James Sullivan js820@evansville.edu
Activist Mary Olson to speak at UE
Activist Mary Olson will be speaking at UE on November 12 at 6:00 p.m. in Room 203 in the library. Her topic will be "A New Global Treaty for Nuclear-Free Nations: How One Woman Made a Difference."
Olson is acting director of gender and radiation, director of Southeast office, NIRS. She holds an undergraduate degree in evolutionary biology and history of science and has worked for 27 years on radioactive waste policy with the non-government organization, Nuclear Information and Resource Service (NIRS, www.nirs.org) based in the Washington DC area; Olson herself is based in a satellite office in Asheville, North Carolina, where she founded the new Gender and Radiation Impact Project in 2017.
She has written and organized on radioactive waste and from 2004-1999, she was a registered lobbyist in the US Congress, working to stop bad legislative proposals for changes in radioactive waste law. Olson leads the successful Stop Mobile Chernobyl Campaign which prevented legislation that would have mandated the shipment of highly radioactive waste to the disputed Yucca Mountain site when it was under study (not yet approved). For many years Olson worked with the No Dumps on Native Lands project to keep nuclear waste off the lands of Indigenous Peoples, including Yucca Mountain which is on traditional lands of the Shoshone Nation.
Olson has been a student of radiation's impact on living cells and organisms since her own contamination while working in a research lab. She has been privileged to know Dr. Steve Wing and to be mentored by Dr. Rosalie Bertell. Bertell encouraged Olson to do her own analysis of A-Bomb survivor data published by the US National Academy of Sciences (BEIR VII, 2006) in order to answer questions from the public about gender differences in radiation harm. Olson's paper "Atomic Radiation is More Harmful to Women," published in the wake of the Fukushima Daiichi meltdowns helped the diplomats working at the UN to bring nuclear weapons under humanitarian law, embodied by the new Convention on the Prohibition of Nuclear Weapons.
Submitted by Lesley Pleasant p84@evansville.edu
SAB Homecoming Tailgate on Saturday
Come enjoy live music, food trucks, inflatables, and games at the Homecoming Tailgate hosted by SAB. The tailgate will be on Saturday, October 27 from 2:00-5:00 p.m. Everything is free to UE students including FREE food truck food. It will be a great time to show some spirit before the UE men's soccer game at 5:00 p.m. against Valparaiso. Homecoming Royalty will be announced at halftime. Fireworks to follow the game at 7:00 p.m.
Submitted by Allie Winstead aw362@evansville.edu
School of Education welcomes the Indiana Teacher of the Year
The School of Education welcomed the Indiana Teacher of the Year, Jerome "Flew" Flewelling, to the University of Evansville on October 17 and 18.
Flewelling teaches AP physics, mechanics and chemistry at Crown Point High School and has been teaching for more than 20 years. He also serves as their science department chair and as assistant theatre director.
While at UE, his presentations to both student and faculty as well as high school students interested in education or STEM fields included: Courage, Creativity, and Innovation: Crafting the Profession, Finding Your True North, and Stepping into Your Courage.
His messages inspired participants to engage P-12 students in meaningful ways in the classroom and to positively impact the lives of the children in our classrooms.
Submitted by Sharon Gieselmann sg78@evansville.edu
UE Bookstore Homecoming hours and sale
The UE Bookstore will have special hours during Homecoming (October 26-28) and a 15% OFF sale on all clothing and gift purchases during the weekend.
Hours are:
Today, 8:00 a.m.-6:00 p.m.
Saturday, 10:00 a.m.-4:00 p.m.
Sunday, Noon-2:00 p.m.
Sale is open to all customers. Clearance items are exempt from additional discounts.
Submitted by Doug Gustwiller dg57@evansville.edu
UE Schroeder School of Business places third in Conexus Logistics Case Competition
A student team from the University of Evansville Schroeder School of Business won third place in the Third Annual Conexus Logistics Case Competition held recently in the Rolls Royce board room in Indianapolis. The event is sponsored by Conexus Indiana.
This year's team was made up of both business and engineering majors. Students participating from UE included Mohammed AlAamri, McKenna Lewis, Jessica Rollins, and Austyn Stierwalt. The team was mentored by assistant professor of management Yolanda Obaze, Sethlyn Morgan, and Terry Stumpf.
At the competition, four-member teams from 19 Indiana universities vied to develop the best solution to a global logistics-related issue. The teams were given a real industry case problem with roughly 36 hours to prepare and present recommendations. The top three winning teams were awarded a cash prize and the UE team took home $1,000. UE placed ahead of teams from Indiana University, three teams from Purdue University (business, engineering, and technology), Valparaiso, University of Southern Indiana, among others.
"This is a strong competition and continues our momentum in our new Logistics and Supply Chain Management major" said Greg Rawski, Schroeder Family Dean.
UE's team took 3rd place (2016) and 4th place in (2017). The Schroeder School is ranked as the number 3 small private business school in the nation in the 2019 US News & World Report best undergraduate business programs ranking. UE's Logistics and Supply Chain Management program was also recognized as one of the top programs in the country by study.com for 2018.
Alumni attitude survey - findings and results
In June 2018 the University of Evansville Alumni Association partnered with the Performance Enhancement Group (PEG) and conducted an alumni attitude survey. On Friday, October 26, Rob Shoss, managing consultant for PEG, will be on campus and holding an open session for the campus community to hear about the survey findings. Come and hear Rob share the results in the J. Henry Schroeder Boardroom (Room 203) in the library from 2:00-3:00 p.m.
The alumni attitude process touches on engagement strategies and tactics:
1. Alumni attitude study process
2. Alumni affinity and giving
3. Alumni messaging
4. Targeting communications
5. Alumni programming
Submitted by Liz Riffert el37@evansville.edu
Study abroad application deadlines are coming up!
Are you interested in studying abroad in a location other than Harlaxton? Did you know that UE offers study abroad programs at over 200 different universities in more than 50 countries around the world? Programs are available for both semester and summer terms and have a wide variety of course offerings. Have you always wanted to study Spanish in Latin America? Or learn about Morocco's history while actually in Morocco? Or maybe even take a traditional Italian cooking course in Italy? The possibilities are endless with our study abroad program options! UE students have recently studied in a wide variety of locations, including Finland, Japan, Argentina, Hong Kong, Cameroon, Bulgaria, and many more.
If you're interested in studying abroad at a non-Harlaxton location, just e-mail studyabroad@evansville.edu or stop by Room 261 in the Schroeder School of Business Building.
Application deadlines are quickly approaching, so the sooner you reach out the better!
Study abroad application deadlines are:
Fall 2019: December 14
Summer 2019: February 15
Spring 2020: April 1
Submitted by Greta Becker gb91@evansville.edu
Winter Intersession Courses
The University of Evansville offers online Winter Intersession Courses between the fall and spring semester from December 14 to January 4. Registration begins October 29. Students may register for one Winter Intersession course.
For more information, visit: www.evansville.edu/registrar
These accelerated courses offer student the opportunity to:
Take a course online to earn credits toward graduation
Lighten your spring course schedule
Complete missing requirements
Class offerings:
ART 105 Introduction to Visual Arts (Larmann)
CHEM 103 The Chemistry of Adult Beverages (Miller)
COMM 130 Introduction to Communication (Wandel)
COMM 380 Intercultural Communication (Thomlison)
EDUC 201 Introduction to Special Education (Lombardo-Graves)
ES 103 Fundamentals of Environmental Science (Thananatthanachon)
EXSS 320 Nutrition for Performance and Health (Rodd)
FIN 280 Introduction to Personal Finance (Alhenawi)
HIST 112 World History Since 1500 (Gahan)
NUTR 304 Nutrition Concepts and Controversies (Price)
PH 190 Introduction to Public Health (Patel-Dovlatabadi)
PSCI 100 World Politics (Kim)
PSYC 121 Introduction to Psychology (Hennon)
PSYC 229 Social Psychology (Stevenson)
PSYC 416 Human Sexuality (Becker)
SOC 105 Introduction to Sociology (Plikuhn)
Need a passport?
Representatives from the US Postal Service will be on campus processing passports on Tuesday, October 30 from 10:00 a.m.-2:00 p.m. in the Harlaxton Room in the Schroeder School of Business Building! If you bring all the required documents, you can get your passport photos taken and your passport processed at this event right here on campus.
Here is what you will need to bring to the event in order to get your passport processed:
Photo identification: US driver's license, and if not from Indiana, a credit or debit card.
Proof of citizenship: Original or copy of long form birth or citizenship certificate.
Passport application: Available online, at the study abroad office, or at this event.
Payments: Two checks, money orders, or cashier's checks: $110 to the US Department of State and $30 to the USPS.
Photos on site: Passport photos can be taken during the event for an additional $15 to the USPS.
Feel free to contact Kaylynn Carver in the study abroad office at kc205@evansville.edu or 812-488-2039 for more information about the event or requirements.
Submitted by Kaylynn Carver kc205@evansville.edu
COMM 380 Intercultural Communication offered ONLINE in Winter Intersession
Would one class that fulfills several general education requirements and teaches you valuable life skills interest you? Do you want to reduce your course load during the regular fall or spring semesters? How would you like to take such a course NO MATTER WHERE you plan to be during winter break?
If you answered yes to any of these questions, you should consider enrolling in COMM 380 ONLINE (Intercultural Communication) in the Winter Intersession.
COMM 380 meets criteria for General Education Outcome 9 (Understanding of Core Concepts of Society, Human Behavior, and Civic Knowledge) and Overlay Component A (Global Diversity: International Component).
For more information, contact professor emeritus of communication Dean Thomlison at dt4@evansville.edu.
Submitted by Dean Thomlison dt4@evansville.edu
Your Mental Health Matters
October is Depression Awareness Month. Depression can include feelings of hopelessness and leave someone feeling sad or empty. If you or someone you know is depressed, speak up. Your mental health matters.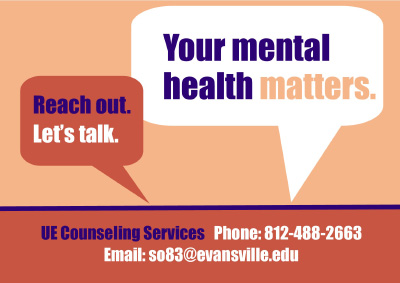 The University of Evansville Counseling Services are available for students to receive free mental health counseling on campus. Their office is located on the second floor of Ridgeway University Center. Appointments can be made by calling 812-488-2663.
Submitted by Carissa Prince cp221@evansville.edu
Hampton wins 3rd place in flute competition
Leanne Hampton, UE instructor of flute, was awarded third prize in the Colorado Flute Association's 2018 Young Artist Competition. Her program included works by C.P.E. Bach, Sigfrid Karg-Elert, Paul Taffanel, and Valerie Coleman.
Plikuhn presents at International Society for Scholarship of Teaching and Learning in Norway
Mari Plikuhn, associate professor of sociology, presented a paper co-authored with Kevin Gray, associate professor of criminal justice and sociology, entitled, "Principles and Principals: Using Reflective Narratives to Inform Curriculum and Recruit Majors" at the annual meeting of the International Society for the Scholarship of Teaching and Learning, in Bergen, Norway, on October 25.
Conference travel assistance was supported through an Eykamp Center for Teaching Excellence Teaching Conference grant.
Kerr's paper accepted for publication in Journal of Human Capital
Amanda Kerr, assistant professor of economics in the Schroeder School of Business, has had a paper accepted for publication in the Journal of Human Capital.
Her paper examines how the introduction of female inheritance rights implemented in four Indian states between 1986 and 1994 impacts the educational achievement and labor force participation of children. She investigates time varying state amendments to the Hindu Succession Act of 1956, which provided equal inheritance rights to both male and female children. Using data from the Integrated Public Use Microdata Series for India (IPUMS India), she finds that children living in states that implemented reforms experience an increase in the probability of completing primary school and a decrease in the probability of participating in the labor force. Performing a triple difference analysis, she finds that these results are larger for Hindu children, specifically Hindu females and Hindu children living in rural areas.
Harlaxton College and President Pietruszkiewicz Dedicate Benton Jones Garden
On Thursday, October 18, the Benton Jones Garden at Harlaxton College and Manor was officially dedicated by President Christopher M. Pietruszkiewicz of the University of Evansville.
Named in honour of Margaret, Lady Benton Jones, OBE and her late husband Sir Simon Benton Jones, the garden recognizes their exemplary and extensive service on the Harlaxton Advisory Council.
The ceremony was led by Mrs. Henrietta Chubb, Chairman of the Advisory Council, and it included a talk by Andrew Potter, Harlaxton's Head Gardener, tributes from Evansville trustees Rita Eykamp, John C. Schroeder, Sharon McCarthy, and Mel Peterson (read by Dr. Gerald Seaman, Principal, and Dr. Patricia Vilches, Scholar in Residence) and remarks by Lady Benton Jones.
The lovely garden is an attractive place for contemplation, reflection, and relaxation and is sure to be valued by faculty, staff, students and visitors for many years to come.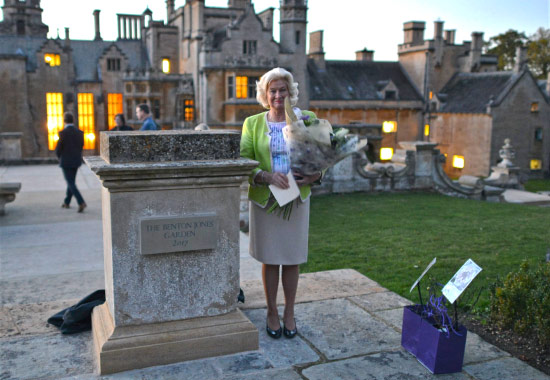 Submitted by Housam Antoury santoury@harlaxton.ac.uk
Volleyball plays host to Bradley and Illinois State this weekend
Just four home matches remain for the University of Evansville volleyball team with a pair on tap this weekend as the Purple Aces welcome Bradley and Illinois State to Meeks Family Fieldhouse.

UE takes on the Brave today before squaring off against the Redbirds on Saturday evening; both matches begin at 7:00 p.m.

Mildrelis Rodriguez continues to be a steady force for the Aces, ranking second on the team with 2.89 kills/set and second with 2.70 digs per game. She is one of three current Valley players to have 1,000 kills and 1,000 digs in her career and as of Oct. 15, one of just 13 in the nation. Rodriguez has finished with at least seven digs in 10 of the 11 MVC matches.

Rachel Tam's torrid pace continued last time out at Loyola as the junior notched 18 kills in 43 tries. Her season total of 402 kills ranks third in the nation while her 431.0 points is seventh in the NCAA. Tam checks in with 4.47 kills per set, a total that remains second in the MVC and 16th in the country.

Allana McInnis has posted 22 or more assists in each of the last seven matches while improving her season average to 7.07 per set. In her first 26 sets this season, she had 3.77 assists/game, but has upped that significantly in the last 39 sets, finishing at 8.5 assists per frame over that span.

Bradley will be the first opponent of the weekend; the Braves come to Evansville with an 18-5 mark while going 8-3 in league action. Erica Haslag leads the Braves with 3.82 kills per set, which is third in the MVC while Yavianliz Rosado heads the Braves defense with 5.69 digs per game, second in the conference.

Illinois State starts the weekend with an 18-5 overall record and are 10-1 through their first 11 league outings. Marissa Stockman is the most accurate hitter in the Valley, checking in at .351 while Stef Jankiewicz leads the league with 11.70 assists per frame.
Contribute to AceNotes
To have content considered for inclusion in AceNotes, please submit a Marketing Request Form. Deadline for submission to AceNotes is 10:00 a.m. on the requested date of publication. Only articles concerning UE related/sponsored activities will be accepted. Articles submitted to AceNotes may be edited for length and clarity. Submitter contact information is at the end of each article.