| | |
| --- | --- |
| AceNotes Today | Tuesday, October 23, 2018 |
French Conversation Table today
Francophones and Francophiles! Please join us today - Tuesday, October 23 - from 6:00-7:00 p.m. for the first French Conversation Table of the semester. The first session will take place at the Diversity House. These informal sessions are open to everyone (from beginner to more advanced) and are led by students. The only requirement to attend is some knowledge of French and a love or curiosity for all things French and Francophone. For more information, please contact assistant professor of French Severine Bates at sb413@evansville.edu. A mardi!
Submitted by Severine Bates sb413@evansville.edu
The Last Picture Show: The John Streetman Collection Exhibition/Sale

The University of Evansville Department of Art and the University of Evansville Friends of Art Board of Directors cordially invite you to The Last Picture Show: The John Streetman Collection Exhibition/Sale. This event is planned for today - Tuesday, October 23 - from 6:30-8:30 p.m. in the Melvin Peterson Gallery. John Streetman will give a Gallery Talk at 7:00 p.m. The exhibition and sale continues through Friday, October 26.
Gallery hours are Monday, Tuesday, Friday and Saturday from noon-3:00 p.m. and Wednesday and Thursday from noon-6:00 p.m.
For 38 years, John Streetman served as executive director of the Evansville Museum of Art, History, and Science, leading the institution to international recognition. A 2012 article in PleinAir Magazine noted that his commitment to living realist painters "changed the status of contemporary Realism in America."
He is offering for sale the bulk of his collection with a generous portion of the proceeds benefiting the UE Art Galleries Student Assistantship.
Submitted by Brooksie Smith bs267@evansville.edu
Tuesday Night Recharge Mass
Join the Newman Club this Tuesday, October 23, at 8:00 p.m. in Neu Chapel to celebrate a Catholic Mass! Fr. Christian Raab will be the celebrant. All are welcome
Submitted by Michaela Kunkler mk305@evansville.edu
Art Exhibit "History Lessons from the Future" on Display at UE
"History Lessons from the Future," an exhibit by Johnathan Hittner, Efroymson Foundation Artist in Residence, will be on display at the University of Evansville's Melvin Peterson Gallery from October 29-December 8. On Thursday, November 8, there will be a reception at 6:30 p.m. and a lecture by the artist at 7:00 p.m. at the gallery. These events are free and open to the public,
A student workshop is scheduled at 9:30 a.m. on Thursday, November 8 in the Painting House, located at 651 Weinbach Avenue. A student gallery lecture is planned for Friday, November 9 at 10:00 a.m. in the Peterson Gallery.
All of these events are part of the Efroymson Family Fund Emerging Contemporary Artist Lecture Series.
Hittner has called his work "a world of colors and shapes, mathematics, and theater swirling with delight and trepidation, certainty, and emptiness."
The Melvin Peterson Gallery is located at 1935 Lincoln Avenue on the corner of Lincoln and Weinbach Avenues in Evansville. Gallery hours are Monday, Tuesday, Friday and Saturday from noon-3:00 p.m., and Wednesday and Thursday from noon-6:00 p.m.
For more information, contact the UE Art Department of Art at 812-488-2043, email art@evansville.edu or visit the gallery's Facebook page.
Charlas: Dinner at La Campirana
Students of all levels of Spanish are invited to go for dinner at La Campirana restaurant today - Wednesday, October 24 - at 5:30 p.m. Please meet in front of the main entrance to Olmsted Administration Hall at 5:30 p.m. It's a wonderful opportunity to speak Spanish while enjoying Mexican food. Please contact associate professor of Spanish Diana Rodríguez Quevedo at dr130@evansville.edu to confirm your attendance, to arrange carpooling, and if you have any questions. ¡Nos vemos!
Submitted by Diana Rodríguez Quevedo dr130@evansville.edu
Free Coffee & Careers event Thursday
Come for free coffee and an informal career chat with alumni and friends of the University on Thursday, October 25 from 4:00- 5:00 p.m. in the Phillips Study Alcove (across from WUEV) in Ridgway University Center. Learn about their journey to their current job and the skills needed for career success.
This month's focus is on careers in parks, museums, and historical preservation.
Professionals attending:
Levy Schroeder, Wesselman Nature Society
Amber Gowen, Vanderburgh County Clerk's Office
Kaman Hillenburg, Evansville Museum of Arts, History, and Science
Mike Linderman, Angel Mounds State Historic Site
Ashley Jordan, Evansville African American Museum
Andrew Schade, USS LST Ship Memorial
Submitted by Alison Morris-McDonald am268@evansville.edu
UE Homecoming 2018 Reunion Weekend set for October 26-28
The University of Evansville Homecoming 2018 Reunion Weekend is October 26-28. Special events and activities are planned for parents and alumni, many of which will be open to the public.
Dr. Guy Banta Distinguished Lecture Series – Speaker: Randy Scherer '04, chief scientific officer and managing member for KSCV, LLC. Established
Friday, October 26, 3:00 p.m., Vectren Lecture Hall (Room 100) Koch Center for Engineering and Science
17th Annual Fiddick Memorial Lecture – Speaker Jay Winter, professor at Yale University, to discuss the legacy of World War One
Friday, October 26, 7:00 p.m., Eykamp 251, Ridgway University Center
Free and open to public.
Homecoming Tailgate
Saturday, October 27, 2:00-5:00 p.m., H-Lot, South Frederick Street
Food, games, live music, and fun. Open to public.
The Ace Race
Saturday, October 27, 9:00 a.m., UE campus
This 5K run benefits Ace CARE, UE's pro bono physical therapy clinic. The event is open to the public. The participation fee for the general public is $30. To register, go to www.uealumnionline.com/acerace2018.
UE Men's Soccer versus Valpo (followed by fireworks display)
Saturday, October 27, 5:00 p.m., Arad McCutchan Stadium.
Open to public.
Celebration events this year include: Class of 1968 50th Reunion, Hughes Hall reception and tour, chemistry alumni reception, Phi Kappa Tau 50th Anniversary Reception and Dinner, 100 years of the Crescent, and annual Homecoming Brunch.
For the full schedule of events or more information, visit www.evansville.edu/alumni or contact alumni@evansville.edu or 812-488-2586.
Ayman Elaraby and Ahmed Othman present I-House Egypt
Ayman Elaraby and Ahmed Othman are international students from Egypt who will be presenting I-House this week. Ayman is a sophomore electrical engineering major and Ahmed is a junior mechanical engineering major. They both love to play soccer and read in their free time. Their favorite part about UE is that it is a small school and a close community. They will be sharing more about themselves and their culture at I-House Egypt happening on the second floor of Ridgway University Center today - Wednesday, October 24 - at 7:00 p.m.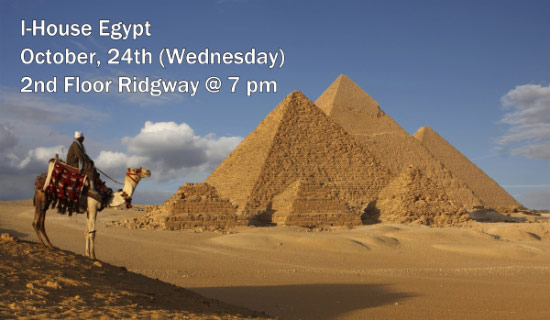 Submitted by Megan Sicard ms331@evansville.edu
Film Viewing and Discussion: "For the Bible Tells Me So"
First there was Justice and Inclusion Sunday and now the conversation continues! All are invited and welcome to join the Neu Chapel community for a special viewing of the documentary "For the Bible Tells Me So," which reconciles the longtime strained relationship between religious faith and the LGBTQ+ community. This powerful film challenges traditional conventions and invites us to think about the Bible, church, faith, and inclusion in new ways. The viewing and following discussion will take place this evening - Wednesday, October 24 - at 7:00 p.m. in Grabill Lounge (downstairs of Neu Chapel). And snacks will be provided!
Submitted by Keith Turner kt160@evansville.edu
Lunch Charlas today
Wanting to practice your Spanish? Join assistant professor of Spanish Edward Curran and associate professor of Spanish Diana Rodríguez Quevedo for lunch, and chat about different topics in Spanish on Wednesdays from noon-1:00 p.m. in the Starbuck's café area in Ridgway University Center. All levels of Spanish welcome. The next Lunch Charlas is today - Wednesday, October 24.
Please contact Professor Rodríguez Quevedo at dr130@evansville.edu if you have any questions. ¡Ahí nos vemos!
Submitted by Diana Rodríguez Quevedo dr130@evansville.edu
SAB Homecoming Pep Rally
Kick off Homecoming weekend with a Homecoming Pep Rally hosted by SAB. The pep rally will be on the East Terrace Lawn, outside of Ridgway University Center at 5:15 p.m. on Friday, October 26. Come show your support and spirit for UE men's soccer team and women's volleyball team at the pep rally. The first 200 students will receive a FREE Homecoming T-shirt! The finalists for the Homecoming Royalty Court will also be announced.
Submitted by Allie Winstead aw362@evansville.edu
Pray the Rosary this Thursday!
Austin Hopf and Sister Catherine will be leading a Rosary Prayer Group this Thursday at 10:00 a.m. in Room 264 in the Center for Academic Success in Clifford Memorial Library. All are welcome to join!
Submitted by Sam Wallisch sw265@evansville.edu
Alumni attitude survey - findings and results
In June 2018 the University of Evansville Alumni Association partnered with the Performance Enhancement Group (PEG) and conducted an alumni attitude survey. On Friday, October 26, Rob Shoss, managing consultant for PEG, will be on campus and holding an open session for the campus community to hear about the survey findings. Come and hear Rob share the results in the J. Henry Schroeder Boardroom (Room 203) in the library from 2:00-3:00 p.m.
The alumni attitude process touches on engagement strategies and tactics:
1. Alumni attitude study process
2. Alumni affinity and giving
3. Alumni messaging
4. Targeting communications
5. Alumni programming
Submitted by Liz Riffert el37@evansville.edu
Winter Intersession Courses
The University of Evansville offers online Winter Intersession Courses between the fall and spring semester from December 14 to January 4. Registration begins October 29. Students may register for one Winter Intersession course.
For more information, visit: www.evansville.edu/registrar
These accelerated courses offer student the opportunity to:
Take a course online to earn credits toward graduation
Lighten your spring course schedule
Complete missing requirements
Class offerings:
ART 105 Introduction to Visual Arts (Larmann)
CHEM 103 The Chemistry of Adult Beverages (Miller)
COMM 130 Introduction to Communication (Wandel)
COMM 380 Intercultural Communication (Thomlison)
EDUC 201 Introduction to Special Education (Lombardo-Graves)
ES 103 Fundamentals of Environmental Science (Thananatthanachon)
EXSS 320 Nutrition for Performance and Health (Rodd)
FIN 280 Introduction to Personal Finance (Alhenawi)
HIST 112 World History Since 1500 (Gahan)
NUTR 304 Nutrition Concepts and Controversies (Price)
PH 190 Introduction to Public Health (Patel-Dovlatabadi)
PSCI 100 World Politics (Kim)
PSYC 121 Introduction to Psychology (Hennon)
PSYC 229 Social Psychology (Stevenson)
PSYC 416 Human Sexuality (Becker)
SOC 105 Introduction to Sociology (Plikuhn)
Vote for UE Homecoming Royalty 2018
Log onto UEngage today to submit your ballot for the two individuals you think best represent what it means to be a Purple Ace!
UE Homecoming Royalty finalists will be announced at the Pep Rally on Friday, October 26 at 5:15 p.m. on the East Terrace Lawn. The top eight individuals with the most votes will be asked to join us at the Men's Soccer game on Saturday, October 27 at 5:00 p.m. at Arad McCutchan Stadium. At halftime, the finalists will be announced to the crowd and the two individuals with the most votes will be named our UE Homecoming Royalty 2018. Following the game, Homecoming Royalty will then lead the countdown to the Homecoming Firework Show.
Here are our 2018 Homecoming Royalty nominees:
Allie Winstead
Bailey Brandvold
Becca Humphrey
Chace Avery
Chris Rogers
Emma Lundquist
Jon Mitchell
Lindsay Langstaff
Megan Gemmel
Miranda Pepe
Reed Leonhardt
Remi Hoerr
Ryan Freeman
Sienna Crews
Stacy Rohan
Summer Purcell
Taylor Howard
Taylor Williams
Victoria Bosze
Voting will close on Thursday, October 25 at 5pm. You must be a full time student in order to be eligible to vote. Cast your vote today on UEngage!
Submitted by Megan King mk225@evansville.edu
2018 Holiday Schedule
The University of Evansville will be closed during the holidays to allow our employees to enjoy this special time with their families.
The following November – December – January holiday schedule will be observed:
Thanksgiving
Close at noon on Wednesday, November 21
Closed Thursday, November 22
Closed Friday, November 23
Christmas
Last day to work before break – Friday, December 21
Closed Monday, December 24 through Tuesday, January 1
Reopen Wednesday, January 2
COMM 380 Intercultural Communication offered ONLINE in Winter Intersession
Would one class that fulfills several general education requirements and teaches you valuable life skills interest you? Do you want to reduce your course load during the regular fall or spring semesters? How would you like to take such a course NO MATTER WHERE you plan to be during winter break?
If you answered yes to any of these questions, you should consider enrolling in COMM 380 ONLINE (Intercultural Communication) in the Winter Intersession.
COMM 380 meets criteria for General Education Outcome 9 (Understanding of Core Concepts of Society, Human Behavior, and Civic Knowledge) and Overlay Component A (Global Diversity: International Component).
For more information, contact professor emeritus of communication Dean Thomlison at dt4@evansville.edu.
Submitted by Dean Thomlison dt4@evansville.edu
Voice to Vision survey
Chartwells dining services is looking for your feedback. Take their Voice to Vision survey and tell them how you feel. To take the survey, text YGHG to 99299. Survey participants will be entered in a drawing to win $100 Ace Bucks!
Submitted by Brian Conner bc32@evansville.edu
Apply to be an RA!
The Office of Residence Life is currently accepting applications for resident assistants for the Spring 2019 semester. You can find RA applications on UEngage under Forms or by using this link. Applications are due by October 23 at 11:59 p.m. and applicant interviews will take place October 29-November 1.
Please contact Megan King at mk225@evansville.edu, Karyssa Vasquez at kv54@evansville.edu, or Darrion Culler at dc199@evansville.edu with any questions you may have.
Submitted by Megan King mk225@evansville.edu
Carter presents at the Forum on Education Abroad Conference in Prague
Holly Carter, director of Harlaxton programs and education abroad, presented "Moving Beyond a Diversity of Views on Risk" with Kerry Geffert (Terra Dotta) and Loren Ringer (Parsons Paris) at the Forum on Education Abroad's European Conference. The outcomes of the session will be used in the creation of the updated standards in study abroad for study abroad.
Yazdanparast presents research at Association for Consumer Research Conference
Atefeh Yazdanparast, associate professor of marketing, presented her research titled "A Phenomenological Examination of Internet Addiction: Insights from Entanglement Theory" at the Association for Consumer Research Annual Conference in Dallas. The research employs a qualitative approached based on phenomenological interpretations of consumer narratives to provide a better understanding of human-digital technology relationships at the level of lived experiences and examine how Internet addiction and its various forms are shaped.
Chaney leads Aces in round one of Braun Intercollegiate
With the opening round of the Charles Braun Intercollegiate in the books, the University of Evansville women's golf team ranks in 9th place at Oak Meadow Country Club.

Madison Chaney led the way for UE on Monday, carding an 80 to sit in a tie for 17th position. She was followed by the duo of Sydney Anderson and Sophia Rohleder. Both completed the day with rounds of 82 and are tied for 27th place.

Next up was Lexie Sollman. Her score of 87 on Monday has her tied for 55th while Alyssa McMinn recorded a 93 in the first round. Caitlin O'Donnell was the Aces individual and posted a 97.

It is a crowded leaderboard as the top 11 teams are separated by just 16 strokes. Southern Illinois leads the standings with a 317 while Northern Kentucky is second with a 318 while IUPUI is two back with a 319.

The Jaguars' Marion DeBove leads the individuals with a 70. Her 2-under round leads the pack by seven strokes. Behind her, six players are tied for second place with scores of 77.

Evansville is in 9th place with a 331. They are four behind Green Bay while sitting two shots ahead of 10th spot. Today, the final round of the tournament begins at 10:00 a.m.
Contribute to AceNotes
To have content considered for inclusion in AceNotes, please submit a Marketing Request Form. Deadline for submission to AceNotes is 10:00 a.m. on the requested date of publication. Only articles concerning UE related/sponsored activities will be accepted. Articles submitted to AceNotes may be edited for length and clarity. Submitter contact information is at the end of each article.