| | |
| --- | --- |
| AceNotes Today | Monday, October 22, 2018 |
Annual Veterans Day service
The University of Evansville's annual Veterans Day service is set for Friday, November 9 from 11:00-noon in Wheeler Concert Hall in the Krannert Hall of Art and Music. The campus community, alumni, and friends are invited to this celebration.
This year's speaker will be Colonel Michael Roscoe, U.S. Army National Guard. Roscoe is the chair and founding director of the Physician Assistant Science program at the University of Evansville.
Roscoe began his military career in 2000 by commissioning to the Indiana National Guard. Currently, he is a senior PA for the state of Indiana working with the Surgeon General. He deployed to Afghanistan for his first combat tour in 2004-05 where he served as a physician assistant at a forward operating base in Kabul and on several medical "jump teams" all across Afghanistan. He had a second combat tour in Balad, Iraq in 2008-09 where he was the officer-in-charge of the busiest troop medical clinic (TMC) in Iraq at the time.
Roscoe earned a PhD in international health science in 2009 from Touro University International (military sponsored) with his specialization in risk mapping of Leishmaniosis in Afghanistan. He has a Master of Science from Purdue University, a second Master in Physician Assistant Studies from University of Nebraska specializing in emergency medicine. Finally, he has two bachelor's degrees from Butler University.
Roscoe has received many military awards and achievements, but most notable was a Bronze Star for his work with the international medical community, leishmaniosis research, and assisting with getting four Afghan children back to the United States for life saving surgeries. Roscoe also received the Combat Medical Badge for his time with the medical jump teams and a Combat Patch for War-time Service (3).
Location of Ian Manuel lecture changed to Eykamp 251
The Psychology Club will present a guest speaker - Ian Manuel - on October 22 at 7:00 p.m. in Eykamp Hall, Room 251 in Ridgway University Center. (Due to increased interest in this lecture, the location was changed to Eykamp 251 to accommodate a larger crowd.)
Manuel was just 13-years-old when he was sentenced to life for shooting Debbie Baigre, a young, white woman. After serving 26 years in prison (much in solitary confinement), he was released after Baigre recognized the complex burden both Ian and society bore for the crime, and became his supporter. Ian's case paved the way for other groundbreaking legislation prohibiting life sentences for juveniles convicted of non-homicide offenses (Graham v. Florida, 2010). All juveniles sentenced to life in prison at that time in the U.S. for non-homicide cases were children of color.
Submitted by Aaron M Cochran ac372@evansville.edu
Free Coffee & Careers event Thursday
Come for free coffee and an informal career chat with alumni and friends of the University on Thursday, October 25 from 4:00- 5:00 p.m. in the Phillips Study Alcove (across from WUEV) in Ridgway University Center. Learn about their journey to their current job and the skills needed for career success.
This month's focus is on careers in parks, museums, and historical preservation.
Professionals attending:
Levy Schroeder, Wesselman Nature Society
Amber Gowen, Vanderburgh County Clerk's Office
Kaman Hillenburg, Evansville Museum of Arts, History, and Science
Mike Linderman, Angel Mounds State Historic Site
Ashley Jordan, Evansville African American Museum
Andrew Schade, USS LST Ship Memorial
Submitted by Alison Morris-McDonald am268@evansville.edu
UE Homecoming 2018 Reunion Weekend set for October 26-28
The University of Evansville Homecoming 2018 Reunion Weekend is October 26-28. Special events and activities are planned for parents and alumni, many of which will be open to the public.
Dr. Guy Banta Distinguished Lecture Series – Speaker: Randy Scherer '04, chief scientific officer and managing member for KSCV, LLC. Established
Friday, October 26, 3:00 p.m., Vectren Lecture Hall (Room 100) Koch Center for Engineering and Science
17th Annual Fiddick Memorial Lecture – Speaker Jay Winter, professor at Yale University, to discuss the legacy of World War One
Friday, October 26, 7:00 p.m., Eykamp 251, Ridgway University Center
Free and open to public.
Homecoming Tailgate
Saturday, October 27, 2:00-5:00 p.m., H-Lot, South Frederick Street
Food, games, live music, and fun. Open to public.
The Ace Race
Saturday, October 27, 9:00 a.m., UE campus
This 5K run benefits Ace CARE, UE's pro bono physical therapy clinic. The event is open to the public. The participation fee for the general public is $30. To register, go to www.uealumnionline.com/acerace2018.
UE Men's Soccer versus Valpo (followed by fireworks display)
Saturday, October 27, 5:00 p.m., Arad McCutchan Stadium.
Open to public.
Celebration events this year include: Class of 1968 50th Reunion, Hughes Hall reception and tour, chemistry alumni reception, Phi Kappa Tau 50th Anniversary Reception and Dinner, 100 years of the Crescent, and annual Homecoming Brunch.
For the full schedule of events or more information, visit www.evansville.edu/alumni or contact alumni@evansville.edu or 812-488-2586.
Ayman Elaraby and Ahmed Othman present I-House Egypt
Ayman Elaraby and Ahmed Othman are international students from Egypt who will be presenting I-House this week. Ayman is a sophomore electrical engineering major and Ahmed is a junior mechanical engineering major. They both love to play soccer and read in their free time. Their favorite part about UE is that it is a small school and a close community. They will be sharing more about themselves and their culture at I-House Egypt happening on the second floor of Ridgway University Center today - Wednesday, October 24 - at 7:00 p.m.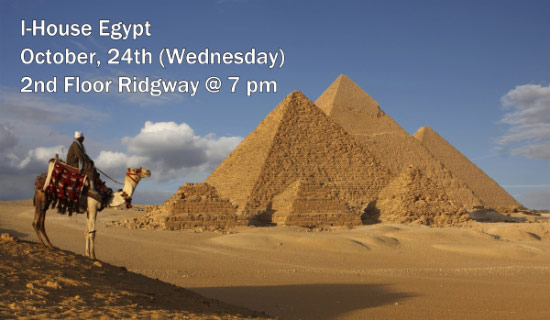 Submitted by Megan Sicard ms331@evansville.edu
Film Viewing and Discussion: "For the Bible Tells Me So"
First there was Justice and Inclusion Sunday and now the conversation continues! All are invited and welcome to join the Neu Chapel community for a special viewing of the documentary "For the Bible Tells Me So," which reconciles the longtime strained relationship between religious faith and the LGBTQ+ community. This powerful film challenges traditional conventions and invites us to think about the Bible, church, faith, and inclusion in new ways. The viewing and following discussion will take place this evening - Wednesday, October 24 - at 7:00 p.m. in Grabill Lounge (downstairs of Neu Chapel). And snacks will be provided!
Submitted by Keith Turner kt160@evansville.edu
This Week in Music: Jazz Society Concert
Jazz Society Concert: Danny Schembre Quintet
Sunday, October 28
4:00 p.m., Wheeler Concert Hall
The Jazz Guest Artist Concert Series continues with a performance by local saxophonist Danny Schembre and his Quintet, featuring vocalist Julie Schembre. The concert will take place in Wheeler Concert Hall on Sunday, October 28 at 4:00 p.m. The series is co-sponsored by the Evansville Jazz Society and the University of Evansville.
Originally from Crystal City, Missouri, Danny "Saxman" Schembre became a regular performer at a variety of venues in the St. Louis area. He attended North Texas State University, performing with the renowned North Texas State 4 O'clock Lab Band. For ten years he was a performer and arranger music for various Air Force Bands across the United States, throughout Europe, Africa and Asia. He has performed with the Glenn Miller Band, Count Basie, Stan Kenton, Bob Hope, Clark Terry, Joe Morello, Dizzy Gillespie, Lou Rawls and many more.
Numerous television, military and studio recordings feature his arrangements and solo work including recent Nashville sessions. He and his family moved to Evansville, Indiana in 1998 where he stays in high demand locally as a solo artist, in duos, combos and performing with traveling acts throughout the mid-west.
Featured vocalist with the Quintet will be Julie Schembre. Julie and Danny Schembre married in 1978 while working with the United States Air Force Glenn Miller Band in Kaiserslautern, Germany. Additional performers will include bassist Jon Hyneman and drummer Pat Moore.
This promises to be an outstanding concert featuring local performers who have become favorites of area jazz fans.
Tickets to the concert are $15 for adults, $10 for Evansville Jazz Society members, and $5 for students. Tickets may be reserved by calling 812-488-2754, or may be purchased at the door.
Submitted by James Sullivan js820@evansville.edu
Lunch Charlas today
Wanting to practice your Spanish? Join assistant professor of Spanish Edward Curran and associate professor of Spanish Diana Rodríguez Quevedo for lunch, and chat about different topics in Spanish on Wednesdays from noon-1:00 p.m. in the Starbuck's café area in Ridgway University Center. All levels of Spanish welcome. The next Lunch Charlas is today - Wednesday, October 24.
Please contact Professor Rodríguez Quevedo at dr130@evansville.edu if you have any questions. ¡Ahí nos vemos!
Submitted by Diana Rodríguez Quevedo dr130@evansville.edu
Activist Mary Olson to speak at UE
Activist Mary Olson will be speaking at UE on November 12 at 6:00 p.m. in Room 203 in the library. Her topic will be "A New Global Treaty for Nuclear-Free Nations: How One Woman Made a Difference."
Olson is acting director of gender and radiation, director of Southeast office, NIRS. She holds an undergraduate degree in evolutionary biology and history of science and has worked for 27 years on radioactive waste policy with the non-government organization, Nuclear Information and Resource Service (NIRS, www.nirs.org) based in the Washington DC area; Olson herself is based in a satellite office in Asheville, North Carolina, where she founded the new Gender and Radiation Impact Project in 2017.
She has written and organized on radioactive waste and from 2004-1999, she was a registered lobbyist in the US Congress, working to stop bad legislative proposals for changes in radioactive waste law. Olson leads the successful Stop Mobile Chernobyl Campaign which prevented legislation that would have mandated the shipment of highly radioactive waste to the disputed Yucca Mountain site when it was under study (not yet approved). For many years Olson worked with the No Dumps on Native Lands project to keep nuclear waste off the lands of Indigenous Peoples, including Yucca Mountain which is on traditional lands of the Shoshone Nation.
Olson has been a student of radiation's impact on living cells and organisms since her own contamination while working in a research lab. She has been privileged to know Dr. Steve Wing and to be mentored by Dr. Rosalie Bertell. Bertell encouraged Olson to do her own analysis of A-Bomb survivor data published by the US National Academy of Sciences (BEIR VII, 2006) in order to answer questions from the public about gender differences in radiation harm. Olson's paper "Atomic Radiation is More Harmful to Women," published in the wake of the Fukushima Daiichi meltdowns helped the diplomats working at the UN to bring nuclear weapons under humanitarian law, embodied by the new Convention on the Prohibition of Nuclear Weapons.
Submitted by Lesley Pleasant p84@evansville.edu
French Conversation Table today
Francophones and Francophiles! Please join us today - Tuesday, October 23 - from 6:00-7:00 p.m. for the first French Conversation Table of the semester. The first session will take place at the Diversity House. These informal sessions are open to everyone (from beginner to more advanced) and are led by students. The only requirement to attend is some knowledge of French and a love or curiosity for all things French and Francophone. For more information, please contact assistant professor of French Severine Bates at sb413@evansville.edu. A mardi!
Submitted by Severine Bates sb413@evansville.edu
Homecoming Pep Rally today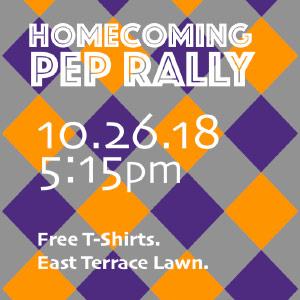 Join SAB today - Friday, October 26 - at 5:15 p.m. on the East Terrace Lawn for our Homecoming Pep Rally as we kick off Homecoming Weekend 2018! The pep rally will include appearances form our Cheer, Dance, Volleyball, and Men's Soccer teams; Homecoming Court finalists will be announced; and free T shirts will be handed out to UE students!
Submitted by Megan King mk225@evansville.edu
SAB Homecoming Tailgate on Saturday
Come enjoy live music, food trucks, inflatables, and games at the Homecoming Tailgate hosted by SAB. The tailgate will be on Saturday, October 27 from 2:00-5:00 p.m. Everything is free to UE students including FREE food truck food. It will be a great time to show some spirit before the UE men's soccer game at 5:00 p.m. against Valparaiso. Homecoming Royalty will be announced at halftime. Fireworks to follow the game at 7:00 p.m.
Submitted by Allie Winstead aw362@evansville.edu
"Paris in Shock" - French sociologist Gerome Truc discusses terrorism
The Department of Foreign Languages and Cultures is proud to invite you to the lecture: "Paris in Shock: The Social Response to the 2015 terrorist attacks" by French sociologist Gérôme Truc. This lecture will take place today - October 25 - at 7:00 p.m. in Eykamp Hall (Room 251) in Ridgway University Center. A social gathering ("meet and greet") with the guest speaker will take place from 5:00-6:00 p.m. in Dunigan Lounge in the Schroeder School of Business Building prior to the talk. This event is free and open to the public.
This lecture is made possible with the generous support of and contribution by the University's Department of Foreign Languages and Cultures; the French Embassy in the United States; and UE's Department of Law, Politics and Society, Department of History; and Office of Diversity Initiatives.
Truc is a French sociologist, a tenured research fellow at the CNRS and member of the Institut des Sciences sociales du Politique (ISP) in Paris. His work focuses primarily on social reactions to terrorist attacks (9/11, Madrid in 2004, Paris in 2015) and pays particular attention to moral and political sociology. More generally, Truc is interested in "what a society goes through when it is subjected to the ordeal of terrorist attacks" (Truc). His most recent book on that topic is titled Shell Shocked: The Social Response to Terrorist Attacks (Polity, 2018)
For more information, please email assistant professor of French Séverine Bates at sb413@evansville.edu.
Submitted by Séverine Bates sb413@evansville.edu
UE Theatre opens Shanklin Theatre Season with rock musical "Spring Awakening"
The University of Evansville Theatre presents Spring Awakening, book and lyrics by Steven Sater and music by Duncan Sheik. This 2007 Tony Award-winning Best Musical, book and lyrics by Evansville native Steven Sater, is based on Frank Wedekind's play by the same name.
Featuring a soaring rock musical score, all generations will identify with the age-old tale about young people and the misguided adults who lend a deaf ear to what they are feeling in their hearts. This production opened Friday, October 19 in Shanklin Theatre. Additional performances are at 7:30 p.m. on October 25, 26, and 27 and at 2:00 p.m. on October 28.
UET alumnus Wes Grantom directs Spring Awakening, and theatre department chair Eric Renschler serves as scenic designer. UE student Becca Updyke is the costume designer; UE associate professor Stephen Boulmetis is the lighting designer; guest artist Richard Ingraham serves as sound designer; UE student Bailey Brandvold is the dramaturg; UE student Blake Elliot is the stage manager; and UE professor Chuck Meacham serves as technical director. The cast features UE students Claire Tumey as Wendla; Ethan Davenport as Melchior; Alexandra Curren as Ilse; and Justin Pappas as Moritz. Chorus members include UE students Gina DeLise, Alexi Lewis, Marshall Hopkins, Isaac Baker, Shannon White, Hannah Mattingly, Brock McCullough, Amanda Cowan, Cole Lannert, Theodore Esten, Kyla Clift, and Obi Roberts.
Ticket prices are $20 for adults and $18 for senior adults, students, and UE faculty and staff. UE students may obtain one free student rush ticket beginning at noon on the day of the performance they wish to attend. The UE Theatre Society hosts a pre-play chat 30 minutes prior to the show on Thursday, October 25 and Saturday, October 22. All are welcome to attend the presentation and discussion with a student designer about their process on the production.
Season subscriptions are on sale now and include the three Shanklin Theatre productions: Spring Awakening by Steven Sater and Duncan Sheik, Colony Collapse by Stefanie Zadravec, and Twelfth Night by William Shakespeare, as well as one of the remaining May Studio Theatre productions: Year of the Rooster by Olivia Dufault or The Wolves by Sarah DeLappe. Subscriptions for the four-play package are $50 for adults and $45 for senior adults, students, and UE faculty/staff.
Tickets may be purchased by calling 812-488–2031, Monday through Friday, noon-5:00 p.m.
Scherer to speak at Dr. Guy Banta Distinguished Lecture Series
The University of Evansville's annual Dr. Guy Banta Distinguished Lecture Series is set for today - Friday, October 26 - at 3:00 p.m. in Room 100 (Vectren Lecture Hall) in the Koch Center for Engineering and Science. This event is free and open to the public.
This year's speaker will be Randy Scherer, chief scientific officer and managing member for Kirkwood Scherer Capital Ventures, LLC. His topic will be "When Opportunity Knocks."
Scherer earned his undergraduate degree in biology/chemistry from UE in 2004 and his PhD from Vanderbilt Medical University in 2010.
Established in 2018, KSCV is a boutique biotech fund focused in emerging technologies. KSCV's unique expertise across the total product lifecycle resides in evidence identification and data interpretation to mitigate risk and arbitrage catalytic events in the biotechnology sector. KSCV turns science into investing.
The Last Picture Show: The John Streetman Collection Exhibition/Sale

The University of Evansville Department of Art and the University of Evansville Friends of Art Board of Directors cordially invite you to The Last Picture Show: The John Streetman Collection Exhibition/Sale. This event is planned for today - Tuesday, October 23 - from 6:30-8:30 p.m. in the Melvin Peterson Gallery. John Streetman will give a Gallery Talk at 7:00 p.m. The exhibition and sale continues through Friday, October 26.
Gallery hours are Monday, Tuesday, Friday and Saturday from noon-3:00 p.m. and Wednesday and Thursday from noon-6:00 p.m.
For 38 years, John Streetman served as executive director of the Evansville Museum of Art, History, and Science, leading the institution to international recognition. A 2012 article in PleinAir Magazine noted that his commitment to living realist painters "changed the status of contemporary Realism in America."
He is offering for sale the bulk of his collection with a generous portion of the proceeds benefiting the UE Art Galleries Student Assistantship.
Submitted by Brooksie Smith bs267@evansville.edu
Federal loan repayment counseling session for students graduating or transferring
Students who have received federal direct (sub/unsub) loans and plan to graduate in the fall (or transfer after the fall semester) are required to attend a loan repayment counseling session. The Office of Financial Aid will hold the first session of the semester on Thursday, October 25 at 4:00 p.m. in Eykamp Hall, Room 252, Ridgway University Center. The last session will be held on December 6 at 2:00 p.m.
Submitted by Amy Sowders as560@evansville.edu
UE's Annual Chili Bowl Sale Planned for today
The University of Evansville's Clay Club will present its annual Chili Bowl Sale TODAY - Thursday, October 25 - from 11:30 a.m.-1:30 p.m. The event will be outside Hughes Hall, near the East Terrace Lawn across from Ridgway University Center. The rain location is Eykamp Hall, Room 253, and the Class of 1959 Gallery and Lounge in Ridgway University Center.
Chartwells, the food service provider at UE, is co-sponsoring the event and providing chili made by chef Don Brown under the direction of Chris Clay.
For $10, customers can buy a one-of-a-kind ceramic bowl and fill it with chili. Paper containers will be available for those who prefer not to put chili in their newly purchased bowls. Larger bowls from $15-$50 will also be for sale. Some more artistic larger bowls will be sold at a silent auction as well, ranging in price from $60-$100.
The bowls are being made by members of the Clay Club and other UE students, faculty members, staff, alumni, and members of the community.
Half of the proceeds will be donated to the Potter's Wheel, Inner City Mission. The Clay Club officers chose this organization for their work with educating and feeding the less fortunate in the Evansville Community. The rest of the proceeds will be used by the Clay Club to attend conferences, visit museums and galleries, and host visiting artists.
Todd A. Matteson, Clay Club advisor and UE associate professor of art, noted that "a lot of hard work and long hours go into making the bowls. They are all hand crafted on the potter's wheel from a ball of clay. The artist has to center, form, alter, trim, dry, and then fire them, not once, but twice. The entire process is lengthy, but the outcome is a tremendous success. Most of the bowls have been glazed different from one another, but some of the bowls are glazed similarly, so patrons can have matching sets. Each bowl has its own uniqueness."
Yale University historian to deliver Fiddick Lecture on Second Great War, 1917-1923
Jay Winter, the Charles J. Stille Professor of History Emeritus at Yale University, will be the speaker for the University of Evansville's 17th annual Thomas C. Fiddick Memorial Lecture today - Friday, October 26. The lecture begins at 7:00 p.m. in Eykamp Hall in Ridgway University Center. The event, hosted by UE's Department of History, is free and open to the public.
Winter's lecture marks the 100th anniversary of the First World War. His topic will be "The Second Great War, 1917-1923."
The Fiddick Memorial Lecture is named for Thomas C. Fiddick, a professor of history at UE from 1963 to 2002. A dedicated teacher, productive scholar, and a tireless fighter in the cause of justice, his untimely death on the day of his retirement stunned the UE community. It was his former students' efforts, with support of Fiddick's friends and the University, that led to the establishment of the annual Thomas C. Fiddick Memorial Lecture.
"The Fiddick Lecture is one of the best events of the year, as we celebrate the career of a truly outstanding University of Evansville faculty member," said James MacLeod, UE professor of history and director of the Fiddick Memorial Lecture Series. "Tom Fiddick was a brilliant scholar and an incredible teacher who made a life-transforming impact on generations of students."
During Winter's lecture, he will argue that a crisis in 1917 separates the first three years of the war from the years that followed, largely the result of powerful economic and demographic pressures which destabilized all the combatants, but more so the Central powers than the Allies. The critical event of this rupture was the 1917 Russian revolution. Hatred, hunger, and class conflict were radicalizing elements in the post-Imperial world. Winter suggests that the passage from wartime crisis to post-war and post-imperial violence was seamless, and part of one complex, distinctive phase of European history, starting in 1917 and ending more or less in 1923.
Fiddick's book, Russia's Retreat from Poland, 1920: From Permanent Revolution to Peaceful Coexistence, deals with one of the conflicts to be discussed during Winter's lecture.
Winter is one of the world's leading scholars of World War I and its impact on the 20th century. He was educated at Columbia University and the University of Cambridge. In 2001 he joined the faculty of Yale. Winter is the author or co-author of 25 books, including Sites of Memory, Sites of Mourning: The Great War in European Cultural History; The Great War and the Shaping of the 20th Century; Rene Cassin and the Rights of Man, and most recently, War beyond Words: Languages of Remembrance from the Great War to the Present. In addition, he has edited or co-edited 30 books and contributed 130 book chapters to edited volumes.
Winter was also co-producer, co-writer, and chief historian for the PBS/BBC series The Great War and the Shaping of the 20th Century, which won an Emmy Award, a Peabody Award and a Producers Guild of America Award for best television documentary in 1997.
MacLeod noted that Winter "is as distinguished a scholar on World War I as there is anywhere in the world. It is an enormous privilege to bring him to the University of Evansville to deliver the 2018 Fiddick Lecture and interact with students in class,"
MacLeod added that on the 100th anniversary of "what we think of as the end of the First World War, it is important to reflect on the significant ways in which that war did not really end in 1918. Some conflicts that emerged between 1917 and 1923 we are still dealing with today. It is especially appropriate given Tom Fiddick's lifelong passion for many of the issues discussed by Jay Winter, and the fact that one of Tom's most important scholarly legacies is a book that deals with this very subject."
For more information, please contact the Department of History at 812-488-2963.
Tuesday Night Recharge Mass
Join the Newman Club this Tuesday, October 23, at 8:00 p.m. in Neu Chapel to celebrate a Catholic Mass! Fr. Christian Raab will be the celebrant. All are welcome
Submitted by Michaela Kunkler mk305@evansville.edu
Study abroad application deadlines are coming up!
Are you interested in studying abroad in a location other than Harlaxton? Did you know that UE offers study abroad programs at over 200 different universities in more than 50 countries around the world? Programs are available for both semester and summer terms and have a wide variety of course offerings. Have you always wanted to study Spanish in Latin America? Or learn about Morocco's history while actually in Morocco? Or maybe even take a traditional Italian cooking course in Italy? The possibilities are endless with our study abroad program options! UE students have recently studied in a wide variety of locations, including Finland, Japan, Argentina, Hong Kong, Cameroon, Bulgaria, and many more.
If you're interested in studying abroad at a non-Harlaxton location, just e-mail studyabroad@evansville.edu or stop by Room 261 in the Schroeder School of Business Building.
Application deadlines are quickly approaching, so the sooner you reach out the better!
Study abroad application deadlines are:
Fall 2019: December 14
Summer 2019: February 15
Spring 2020: April 1
Submitted by Greta Becker gb91@evansville.edu
Winter Intersession Courses
The University of Evansville offers online Winter Intersession Courses between the fall and spring semester from December 14 to January 4. Registration begins October 29. Students may register for one Winter Intersession course.
For more information, visit: www.evansville.edu/registrar
These accelerated courses offer student the opportunity to:
Take a course online to earn credits toward graduation
Lighten your spring course schedule
Complete missing requirements
Class offerings:
ART 105 Introduction to Visual Arts (Larmann)
CHEM 103 The Chemistry of Adult Beverages (Miller)
COMM 130 Introduction to Communication (Wandel)
COMM 380 Intercultural Communication (Thomlison)
EDUC 201 Introduction to Special Education (Lombardo-Graves)
ES 103 Fundamentals of Environmental Science (Thananatthanachon)
EXSS 320 Nutrition for Performance and Health (Rodd)
FIN 280 Introduction to Personal Finance (Alhenawi)
HIST 112 World History Since 1500 (Gahan)
NUTR 304 Nutrition Concepts and Controversies (Price)
PH 190 Introduction to Public Health (Patel-Dovlatabadi)
PSCI 100 World Politics (Kim)
PSYC 121 Introduction to Psychology (Hennon)
PSYC 229 Social Psychology (Stevenson)
PSYC 416 Human Sexuality (Becker)
SOC 105 Introduction to Sociology (Plikuhn)
Vote for UE Homecoming Royalty 2018
Log onto UEngage today to submit your ballot for the two individuals you think best represent what it means to be a Purple Ace!
UE Homecoming Royalty finalists will be announced at the Pep Rally on Friday, October 26 at 5:15 p.m. on the East Terrace Lawn. The top eight individuals with the most votes will be asked to join us at the Men's Soccer game on Saturday, October 27 at 5:00 p.m. at Arad McCutchan Stadium. At halftime, the finalists will be announced to the crowd and the two individuals with the most votes will be named our UE Homecoming Royalty 2018. Following the game, Homecoming Royalty will then lead the countdown to the Homecoming Firework Show.
Here are our 2018 Homecoming Royalty nominees:
Allie Winstead
Bailey Brandvold
Becca Humphrey
Chace Avery
Chris Rogers
Emma Lundquist
Jon Mitchell
Lindsay Langstaff
Megan Gemmel
Miranda Pepe
Reed Leonhardt
Remi Hoerr
Ryan Freeman
Sienna Crews
Stacy Rohan
Summer Purcell
Taylor Howard
Taylor Williams
Victoria Bosze
Voting will close on Thursday, October 25 at 5pm. You must be a full time student in order to be eligible to vote. Cast your vote today on UEngage!
Submitted by Megan King mk225@evansville.edu
Need a passport?
Representatives from the US Postal Service will be on campus processing passports on Tuesday, October 30 from 10:00 a.m.-2:00 p.m. in the Harlaxton Room in the Schroeder School of Business Building! If you bring all the required documents, you can get your passport photos taken and your passport processed at this event right here on campus.
Here is what you will need to bring to the event in order to get your passport processed:
Photo identification: US driver's license, and if not from Indiana, a credit or debit card.
Proof of citizenship: Original or copy of long form birth or citizenship certificate.
Passport application: Available online, at the study abroad office, or at this event.
Payments: Two checks, money orders, or cashier's checks: $110 to the US Department of State and $30 to the USPS.
Photos on site: Passport photos can be taken during the event for an additional $15 to the USPS.
Feel free to contact Kaylynn Carver in the study abroad office at kc205@evansville.edu or 812-488-2039 for more information about the event or requirements.
Submitted by Kaylynn Carver kc205@evansville.edu
2018 Holiday Schedule
The University of Evansville will be closed during the holidays to allow our employees to enjoy this special time with their families.
The following November – December – January holiday schedule will be observed:
Thanksgiving
Close at noon on Wednesday, November 21
Closed Thursday, November 22
Closed Friday, November 23
Christmas
Last day to work before break – Friday, December 21
Closed Monday, December 24 through Tuesday, January 1
Reopen Wednesday, January 2
COMM 380 Intercultural Communication offered ONLINE in Winter Intersession
Would one class that fulfills several general education requirements and teaches you valuable life skills interest you? Do you want to reduce your course load during the regular fall or spring semesters? How would you like to take such a course NO MATTER WHERE you plan to be during winter break?
If you answered yes to any of these questions, you should consider enrolling in COMM 380 ONLINE (Intercultural Communication) in the Winter Intersession.
COMM 380 meets criteria for General Education Outcome 9 (Understanding of Core Concepts of Society, Human Behavior, and Civic Knowledge) and Overlay Component A (Global Diversity: International Component).
For more information, contact professor emeritus of communication Dean Thomlison at dt4@evansville.edu.
Submitted by Dean Thomlison dt4@evansville.edu
Apply to be an RA!
The Office of Residence Life is currently accepting applications for resident assistants for the Spring 2019 semester. You can find RA applications on UEngage under Forms or by using this link. Applications are due by October 23 at 11:59 p.m. and applicant interviews will take place October 29-November 1.
Please contact Megan King at mk225@evansville.edu, Karyssa Vasquez at kv54@evansville.edu, or Darrion Culler at dc199@evansville.edu with any questions you may have.
Submitted by Megan King mk225@evansville.edu
Your Mental Health Matters
October is Depression Awareness Month. Depression can include feelings of hopelessness and leave someone feeling sad or empty. If you or someone you know is depressed, speak up. Your mental health matters.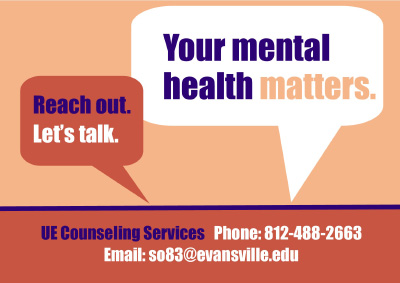 The University of Evansville Counseling Services are available for students to receive free mental health counseling on campus. Their office is located on the second floor of Ridgeway University Center. Appointments can be made by calling 812-488-2663.
Submitted by Carissa Prince cp221@evansville.edu
Carter presents at the Forum on Education Abroad Conference in Prague
Holly Carter, director of Harlaxton programs and education abroad, presented "Moving Beyond a Diversity of Views on Risk" with Kerry Geffert (Terra Dotta) and Loren Ringer (Parsons Paris) at the Forum on Education Abroad's European Conference. The outcomes of the session will be used in the creation of the updated standards in study abroad for study abroad.
Yazdanparast presents research at Association for Consumer Research Conference
Atefeh Yazdanparast, associate professor of marketing, presented her research titled "A Phenomenological Examination of Internet Addiction: Insights from Entanglement Theory" at the Association for Consumer Research Annual Conference in Dallas. The research employs a qualitative approached based on phenomenological interpretations of consumer narratives to provide a better understanding of human-digital technology relationships at the level of lived experiences and examine how Internet addiction and its various forms are shaped.
Tam records 18 kills in loss to Ramblers
Junior Rachel Tam registered a game-high 18 kills, but Loyola hit an efficient .291 on its way to a 3-0 win over the University of Evansville volleyball team on Saturday night.

Tam was the only player in the match to reach double figures in kills. Behind her was Alondra Vazquez with 8 and Kerra Cornist with 7. Allana McInnis totaled 31 assists on the night while Olivia Goldstein and Vazquez led UE (8-16, 2-9 MVC) with 8 digs apiece. Loyola (13-9, 5-5 MVC) was led by Morgan Gresham and Gabi Maciagowski, who posted 9 kills each.

Loyola set the early tone for the evening, scoring the first three points of the match before going up by a score of 11-5. A Tam kill and a Mildrelis Rodriguez ace cut the deficit to a pair at 13-11, but the Ramblers never gave up the lead, taking a 25-19 win.

After four early ties, it was Evansville who took the first multi-point lead, going up 6-4 on a Cornist kill. Loyola made its way back, taking a 12-10 edge on a kill from Gresham. UE got within one on another kill by Cornist, but the Ramblers came back with a 9-3 run before finishing the set with a 25-18 decision.

Game three saw the Ramblers reel off the first three tallies before jumping out to a 14-6 advantage. From there, they clinched the match on the strength of a 25-17 win.

UE returns home next weekend for matches against Bradley and Illinois State.
Women's golf to host Braun Intercollegiate
The annual Charles Braun Jr. Intercollegiate will take place today and Tuesday at Oak Meadow Country Club as the University of Evansville women's golf team welcomes 12 other squads to town.
This year's tournament will consist of one round on Monday, Oct. 22 and the final 18 holes on Tuesday, Oct. 23. A shotgun start commences play on each day at 10 a.m. Par will be 72 and the yardage is 6,032. Supporters and fans are welcome to come and cheer on the Aces throughout the event.
Participating teams include: Butler, Central Michigan, Eastern Illinois, Evansville, Green Bay, UIC, Illinois State, Indiana State, IUPUI, Northern Kentucky, Southern Illinois, Tennessee State, and Valparaiso.
UE is coming off of a huge outing at the Chi-Town/Ted Rhodes Fall Invite as the Purple Aces took the team championship while senior Sydney Anderson was the medalist.
All five of the Purple Aces team golfers finished in the top 12 as UE won the championship by eight strokes over Green Bay. Evansville tallied a 620 while the Phoenix finished with a 628. CSU Bakersfield finished in third place with a 643.
Anderson shot an even 72 in the last round, the lowest round of the tournament, on her way to the individual championship. Following her 79 on day one, Anderson finished the two rounds with a 151, defeating Green Bay's Katie Warpinski by one shot.
Madison Chaney came home in fifth place. The senior carded a 79 in the final 18 and finished the event with a 156. Alyssa McMinn tied for 7th place. She posted an 80 in the opening round improved by two shots in the final round, registering a 78.
Sophia Rohleder came home in a tie for 9th place with a 2-round tally of 160 while Lexie Sollman took 12th place with a 162. Sollman made a huge leap for UE; she finished the first day with an 85 before firing off a 77 in the final 18 holes. Caitlin O'Donnell notched a 180 playing as an individual. After shooting a 93 in round one, she lowered her score by six, notching an 87 in the last round.

Contribute to AceNotes
To have content considered for inclusion in AceNotes, please submit a Marketing Request Form. Deadline for submission to AceNotes is 10:00 a.m. on the requested date of publication. Only articles concerning UE related/sponsored activities will be accepted. Articles submitted to AceNotes may be edited for length and clarity. Submitter contact information is at the end of each article.