| | |
| --- | --- |
| AceNotes Today | Friday, October 19, 2018 |
A Message to the Campus Community Regarding WUEV
While there is still no official agreement in place to sell UE's radio station, WUEV, we want to address the conversation about WUEV and what our students can expect to prepare them for a future in communications.
The idea to consider a sale of the radio station based on the future of communications is not a new one. In 2005, a sale was explored and after much consideration, we decided to retain the radio station. Now, 13 years later, we are once again examining the relevancy of the medium and exploring opportunities to enhance our curriculum through providing additional experience in 21st century communications methods.
A variety of academic departments have academic plans about how the station's space and its equipment could be utilized to provide a student-centered multimedia and multidisciplinary experience. Those plans complement and support the already existing ESPN3 and ONB Radio Network and include podcasting, online television and video production, streaming opportunities in both audio and video capacities, and potentially more. These methods do not require maintaining a broadcast frequency, therefore, the possibility considered 13 years ago to sell the FCC license is being explored.
Details about unsettled business decisions require a commitment to confidentiality that we must maintain for all parties involved. We understand that this precludes a full disclosure of public information. We will provide updates as we are able.
We can assure our alumni that we have spent a great deal of time studying this decision and considering its impact on our curriculum and our student experiences. We are happy to listen to your voices and your experiences as we fulfill our responsibility to align the resources of the institution with its mission in order to provide the best possible education for our students. We have consulted, and will continue to consult, with our students and faculty to determine what they need in order to prepare students now, and in the future, for careers in broadcasting, journalism, and audio production.
The future might not look exactly like the past. This is because our past experiences spark innovation that broaden the opportunities of students to learn and express themselves using the technologies that will be most useful in our current environment and our expectations for the future.
It is our responsibility to deliver the highest quality education possible in a constantly changing and challenging marketplace to create transformative experiences for our students. This does require us to constantly evaluate our educational programs.
Lots K and N closed beginning Sunday, October 21 at 5:00 p.m.
All vehicles must be removed from Lots K, the parking lot in front of the General Services Building and Lot N, the commuter lot at Rotherwood and Walnut, by 5:00 p.m., Sunday, October 21. Lot N is scheduled to be reopened on Thursday, October 25. Lot K is scheduled to be reopened on Friday, October 26. The removal of vehicles is necessary so that a contractor can crack seal, coat, and restripe these lots. Entry into the general services building will still be available through the front entrance. A pathway will be created from Frederick Street to the sidewalk in the front of the building. Vehicles must be moved to "legal" parking places for the permit category held by the driver. The use of Lot H, Lot O (Armory lot), Lot Q (across from general services building), and city side streets (obey parking regulations) are recommended.
Men's and Women's Basketball Season Kick-Off Media Event
A press conference will be held on Tuesday, October 23 at 10:00 a.m. at the Evansville Regional Airport to announce some exciting news to kick off the 2018-19 basketball season. Evansville Mayor Lloyd Winnecke, UE President Christopher Pietruszkiewicz, UE basketball coaches Walter McCarty and Matt Ruffing along with officials from UE and the Evansville Regional Airport will be speaking at the press conference. Light breakfast refreshments will be available.
We encourage media on the news side and sports departments to attend if interested.
Parking will be available in the short term lot. You will receive a pass at the event itself to give you free parking upon exiting the lot. If your organization is interested in attending, please RSVP by clicking here: https://mailchi.mp/a53bd13fe5f8/ue-evv-take-off-weekend-media-event-458351.
French Conversation Table today
Francophones and Francophiles! Please join us today - Tuesday, October 23 - from 6:00-7:00 p.m. for the first French Conversation Table of the semester. The first session will take place at the Diversity House. These informal sessions are open to everyone (from beginner to more advanced) and are led by students. The only requirement to attend is some knowledge of French and a love or curiosity for all things French and Francophone. For more information, please contact assistant professor of French Severine Bates at sb413@evansville.edu. A mardi!
Submitted by Severine Bates sb413@evansville.edu
Neu Chapel celebrates "Justice and Inclusion Sunday" at 9:00 a.m., Sunday
The campus community is invited to Neu Chapel this Sunday as we celebrate our commitment to being a just and inclusive community of faith where ALL (and we mean it!) are welcome! We will be continuing our #MixedMessages sermon series by taking a closer look at an ancient text often used to exclude people and see how it is used as an invitation to show hospitality and welcome to all. This will be one of the most exciting Sundays in Neu Chapel of the semester! The worship service begins on Sunday morning at 9:00 a.m.
Submitted by Keith Turner kt160@evansville.edu
Meditation in Neu Chapel: Sunday at 9:00 p.m.
Neu Chapel's 9:00 p.m. #StillWokeUE service has been described as "the most beautiful 25 minutes on campus!" Filled with rich poetry, guided meditation, beautiful music led by a string orchestra, and candle lighting, this prayer and mindfulness service is not your average church service. But it is an ideal way to prepare yourself for a new week. All are invited and welcome to attend and participate in this meaningful experience.
Submitted by Keith Turner kt160@evansville.edu
Phi Kappa Tau Holiday Festival
Join us this Saturday from 1:00-5:00 p.m. on the grassy knoll for Phi Kappa Tau's Holiday Festival. It will include games, activities, and concessions that incorporate the three main fall holidays: Halloween, Thanksgiving, and Christmas. Tickets for games can be purchased at the event, as well as separate ticket sheets for concessions and activities. Rain location will be in the small gym of Carson Center. All proceeds will benefit SeriousFun Children's Network.
Submitted by Chris Rogers cr173@evansville.edu
Come to Goebel Farms with Newman on Saturday!
Join the Newman Club in going to Goebel Farms on Saturday, October 20! There will be pumpkins, hay rides, corn mazes, a petting zoo, and an indoor barn park. Each participant gets a small pumpkin that we will carve at the Newman house after our visit to Goebel Farms.
We will meet at the Newman house to carpool at 2:45 p.m.!
Submitted by Sam Wallisch sw265@evansville.edu
"Paris in Shock" - French sociologist Gerome Truc discusses terrorism
The Department of Foreign Languages and Cultures is proud to invite you to the lecture: "Paris in Shock: The Social Response to the 2015 terrorist attacks" by French sociologist Gérôme Truc. This lecture will take place today - October 25 - at 7:00 p.m. in Eykamp Hall (Room 251) in Ridgway University Center. A social gathering ("meet and greet") with the guest speaker will take place from 5:00-6:00 p.m. in Dunigan Lounge in the Schroeder School of Business Building prior to the talk. This event is free and open to the public.
This lecture is made possible with the generous support of and contribution by the University's Department of Foreign Languages and Cultures; the French Embassy in the United States; and UE's Department of Law, Politics and Society, Department of History; and Office of Diversity Initiatives.
Truc is a French sociologist, a tenured research fellow at the CNRS and member of the Institut des Sciences sociales du Politique (ISP) in Paris. His work focuses primarily on social reactions to terrorist attacks (9/11, Madrid in 2004, Paris in 2015) and pays particular attention to moral and political sociology. More generally, Truc is interested in "what a society goes through when it is subjected to the ordeal of terrorist attacks" (Truc). His most recent book on that topic is titled Shell Shocked: The Social Response to Terrorist Attacks (Polity, 2018)
For more information, please email assistant professor of French Séverine Bates at sb413@evansville.edu.
Submitted by Séverine Bates sb413@evansville.edu
ECTE October Lecture- "Strategies for Strengthening Your Academic Advising Toolkit"
Join the Eykamp Center for Teaching Excellence this Friday, October 19 at 3:00 p.m. in Room 162 in the Schroeder School of Business Building for our October Lecture on Teaching and Learning. This month's topic is: "Strategies for Strengthening Your Academic Advising Toolkit" presented by Stacey Shanks, director of student success services. Just in time for advising, she will be sharing their expertise in academic advising, providing us with tips on avoiding common advising mistakes, and leading a discussion on how to integrate these techniques into our academic advising toolkits to help us better help our students.
We look forward to seeing you there for good conversations about good teaching!
Submitted by Mari Plikuhn mp168@evansville.edu
Health Sciences Preview Day
Thinking about graduate school or a career in health care? Join us for Health Sciences Preview Day for prospective undergraduate and graduate students. Saturday, October 20 from 1:00 - 3:00 p.m. in Graves Hall.
This special event is your chance to meet current students and faculty in your programs of interest; attend an interactive session on diagnosing, treating, and managing concussions; tour our learning and research labs; and enjoy refreshments with the department chairs, faculty, staff, and current students.
We hope you will join us to learn about our health sciences programs and explore careers in the areas of: physician assistant, physical therapy, pre-med, nursing, public health, health services administration, athletic training, neuroscience, and exercise science.
A tour of the newly opened Stone Family Center for Health Sciences will also be available.
Please register at www.evansville.edu/previewday. We look forward to seeing you on October 20!
Submitted by Jennifer Simon js698@evansville.edu
UE Theatre opens Shanklin Theatre Season with rock musical "Spring Awakening"
The University of Evansville Theatre presents Spring Awakening, book and lyrics by Steven Sater and music by Duncan Sheik. This 2007 Tony Award-winning Best Musical, book and lyrics by Evansville native Steven Sater, is based on Frank Wedekind's play by the same name.
Featuring a soaring rock musical score, all generations will identify with the age-old tale about young people and the misguided adults who lend a deaf ear to what they are feeling in their hearts. This production opened Friday, October 19 in Shanklin Theatre. Additional performances are at 7:30 p.m. on October 25, 26, and 27 and at 2:00 p.m. on October 28.
UET alumnus Wes Grantom directs Spring Awakening, and theatre department chair Eric Renschler serves as scenic designer. UE student Becca Updyke is the costume designer; UE associate professor Stephen Boulmetis is the lighting designer; guest artist Richard Ingraham serves as sound designer; UE student Bailey Brandvold is the dramaturg; UE student Blake Elliot is the stage manager; and UE professor Chuck Meacham serves as technical director. The cast features UE students Claire Tumey as Wendla; Ethan Davenport as Melchior; Alexandra Curren as Ilse; and Justin Pappas as Moritz. Chorus members include UE students Gina DeLise, Alexi Lewis, Marshall Hopkins, Isaac Baker, Shannon White, Hannah Mattingly, Brock McCullough, Amanda Cowan, Cole Lannert, Theodore Esten, Kyla Clift, and Obi Roberts.
Ticket prices are $20 for adults and $18 for senior adults, students, and UE faculty and staff. UE students may obtain one free student rush ticket beginning at noon on the day of the performance they wish to attend. The UE Theatre Society hosts a pre-play chat 30 minutes prior to the show on Thursday, October 25 and Saturday, October 22. All are welcome to attend the presentation and discussion with a student designer about their process on the production.
Season subscriptions are on sale now and include the three Shanklin Theatre productions: Spring Awakening by Steven Sater and Duncan Sheik, Colony Collapse by Stefanie Zadravec, and Twelfth Night by William Shakespeare, as well as one of the remaining May Studio Theatre productions: Year of the Rooster by Olivia Dufault or The Wolves by Sarah DeLappe. Subscriptions for the four-play package are $50 for adults and $45 for senior adults, students, and UE faculty/staff.
Tickets may be purchased by calling 812-488–2031, Monday through Friday, noon-5:00 p.m.
Scherer to speak at Dr. Guy Banta Distinguished Lecture Series
The University of Evansville's annual Dr. Guy Banta Distinguished Lecture Series is set for today - Friday, October 26 - at 3:00 p.m. in Room 100 (Vectren Lecture Hall) in the Koch Center for Engineering and Science. This event is free and open to the public.
This year's speaker will be Randy Scherer, chief scientific officer and managing member for Kirkwood Scherer Capital Ventures, LLC. His topic will be "When Opportunity Knocks."
Scherer earned his undergraduate degree in biology/chemistry from UE in 2004 and his PhD from Vanderbilt Medical University in 2010.
Established in 2018, KSCV is a boutique biotech fund focused in emerging technologies. KSCV's unique expertise across the total product lifecycle resides in evidence identification and data interpretation to mitigate risk and arbitrage catalytic events in the biotechnology sector. KSCV turns science into investing.
The Last Picture Show: The John Streetman Collection Exhibition/Sale

The University of Evansville Department of Art and the University of Evansville Friends of Art Board of Directors cordially invite you to The Last Picture Show: The John Streetman Collection Exhibition/Sale. This event is planned for today - Tuesday, October 23 - from 6:30-8:30 p.m. in the Melvin Peterson Gallery. John Streetman will give a Gallery Talk at 7:00 p.m. The exhibition and sale continues through Friday, October 26.
Gallery hours are Monday, Tuesday, Friday and Saturday from noon-3:00 p.m. and Wednesday and Thursday from noon-6:00 p.m.
For 38 years, John Streetman served as executive director of the Evansville Museum of Art, History, and Science, leading the institution to international recognition. A 2012 article in PleinAir Magazine noted that his commitment to living realist painters "changed the status of contemporary Realism in America."
He is offering for sale the bulk of his collection with a generous portion of the proceeds benefiting the UE Art Galleries Student Assistantship.
Submitted by Brooksie Smith bs267@evansville.edu
Location of Ian Manuel lecture changed to Eykamp 251
The Psychology Club will present a guest speaker - Ian Manuel - on October 22 at 7:00 p.m. in Eykamp Hall, Room 251 in Ridgway University Center. (Due to increased interest in this lecture, the location was changed to Eykamp 251 to accommodate a larger crowd.)
Manuel was just 13-years-old when he was sentenced to life for shooting Debbie Baigre, a young, white woman. After serving 26 years in prison (much in solitary confinement), he was released after Baigre recognized the complex burden both Ian and society bore for the crime, and became his supporter. Ian's case paved the way for other groundbreaking legislation prohibiting life sentences for juveniles convicted of non-homicide offenses (Graham v. Florida, 2010). All juveniles sentenced to life in prison at that time in the U.S. for non-homicide cases were children of color.
Submitted by Aaron M Cochran ac372@evansville.edu
UE's Annual Chili Bowl Sale Planned for today
The University of Evansville's Clay Club will present its annual Chili Bowl Sale TODAY - Thursday, October 25 - from 11:30 a.m.-1:30 p.m. The event will be outside Hughes Hall, near the East Terrace Lawn across from Ridgway University Center. The rain location is Eykamp Hall, Room 253, and the Class of 1959 Gallery and Lounge in Ridgway University Center.
Chartwells, the food service provider at UE, is co-sponsoring the event and providing chili made by chef Don Brown under the direction of Chris Clay.
For $10, customers can buy a one-of-a-kind ceramic bowl and fill it with chili. Paper containers will be available for those who prefer not to put chili in their newly purchased bowls. Larger bowls from $15-$50 will also be for sale. Some more artistic larger bowls will be sold at a silent auction as well, ranging in price from $60-$100.
The bowls are being made by members of the Clay Club and other UE students, faculty members, staff, alumni, and members of the community.
Half of the proceeds will be donated to the Potter's Wheel, Inner City Mission. The Clay Club officers chose this organization for their work with educating and feeding the less fortunate in the Evansville Community. The rest of the proceeds will be used by the Clay Club to attend conferences, visit museums and galleries, and host visiting artists.
Todd A. Matteson, Clay Club advisor and UE associate professor of art, noted that "a lot of hard work and long hours go into making the bowls. They are all hand crafted on the potter's wheel from a ball of clay. The artist has to center, form, alter, trim, dry, and then fire them, not once, but twice. The entire process is lengthy, but the outcome is a tremendous success. Most of the bowls have been glazed different from one another, but some of the bowls are glazed similarly, so patrons can have matching sets. Each bowl has its own uniqueness."
Yale University historian to deliver Fiddick Lecture on Second Great War, 1917-1923
Jay Winter, the Charles J. Stille Professor of History Emeritus at Yale University, will be the speaker for the University of Evansville's 17th annual Thomas C. Fiddick Memorial Lecture today - Friday, October 26. The lecture begins at 7:00 p.m. in Eykamp Hall in Ridgway University Center. The event, hosted by UE's Department of History, is free and open to the public.
Winter's lecture marks the 100th anniversary of the First World War. His topic will be "The Second Great War, 1917-1923."
The Fiddick Memorial Lecture is named for Thomas C. Fiddick, a professor of history at UE from 1963 to 2002. A dedicated teacher, productive scholar, and a tireless fighter in the cause of justice, his untimely death on the day of his retirement stunned the UE community. It was his former students' efforts, with support of Fiddick's friends and the University, that led to the establishment of the annual Thomas C. Fiddick Memorial Lecture.
"The Fiddick Lecture is one of the best events of the year, as we celebrate the career of a truly outstanding University of Evansville faculty member," said James MacLeod, UE professor of history and director of the Fiddick Memorial Lecture Series. "Tom Fiddick was a brilliant scholar and an incredible teacher who made a life-transforming impact on generations of students."
During Winter's lecture, he will argue that a crisis in 1917 separates the first three years of the war from the years that followed, largely the result of powerful economic and demographic pressures which destabilized all the combatants, but more so the Central powers than the Allies. The critical event of this rupture was the 1917 Russian revolution. Hatred, hunger, and class conflict were radicalizing elements in the post-Imperial world. Winter suggests that the passage from wartime crisis to post-war and post-imperial violence was seamless, and part of one complex, distinctive phase of European history, starting in 1917 and ending more or less in 1923.
Fiddick's book, Russia's Retreat from Poland, 1920: From Permanent Revolution to Peaceful Coexistence, deals with one of the conflicts to be discussed during Winter's lecture.
Winter is one of the world's leading scholars of World War I and its impact on the 20th century. He was educated at Columbia University and the University of Cambridge. In 2001 he joined the faculty of Yale. Winter is the author or co-author of 25 books, including Sites of Memory, Sites of Mourning: The Great War in European Cultural History; The Great War and the Shaping of the 20th Century; Rene Cassin and the Rights of Man, and most recently, War beyond Words: Languages of Remembrance from the Great War to the Present. In addition, he has edited or co-edited 30 books and contributed 130 book chapters to edited volumes.
Winter was also co-producer, co-writer, and chief historian for the PBS/BBC series The Great War and the Shaping of the 20th Century, which won an Emmy Award, a Peabody Award and a Producers Guild of America Award for best television documentary in 1997.
MacLeod noted that Winter "is as distinguished a scholar on World War I as there is anywhere in the world. It is an enormous privilege to bring him to the University of Evansville to deliver the 2018 Fiddick Lecture and interact with students in class,"
MacLeod added that on the 100th anniversary of "what we think of as the end of the First World War, it is important to reflect on the significant ways in which that war did not really end in 1918. Some conflicts that emerged between 1917 and 1923 we are still dealing with today. It is especially appropriate given Tom Fiddick's lifelong passion for many of the issues discussed by Jay Winter, and the fact that one of Tom's most important scholarly legacies is a book that deals with this very subject."
For more information, please contact the Department of History at 812-488-2963.
Catholic Mass on campus
There will be a Catholic Mass this Sunday, October 21, at 1:00 p.m. in Neu Chapel. Father Tyler Tenbarge will be the celebrant. All are welcome!
Submitted by Sam Wallisch sw265@evansville.edu
Winter Intersession Courses
The University of Evansville offers online Winter Intersession Courses between the fall and spring semester from December 14 to January 4. Registration begins October 29. Students may register for one Winter Intersession course.
For more information, visit: www.evansville.edu/registrar
These accelerated courses offer student the opportunity to:
Take a course online to earn credits toward graduation
Lighten your spring course schedule
Complete missing requirements
Class offerings:
ART 105 Introduction to Visual Arts (Larmann)
CHEM 103 The Chemistry of Adult Beverages (Miller)
COMM 130 Introduction to Communication (Wandel)
COMM 380 Intercultural Communication (Thomlison)
EDUC 201 Introduction to Special Education (Lombardo-Graves)
ES 103 Fundamentals of Environmental Science (Thananatthanachon)
EXSS 320 Nutrition for Performance and Health (Rodd)
FIN 280 Introduction to Personal Finance (Alhenawi)
HIST 112 World History Since 1500 (Gahan)
NUTR 304 Nutrition Concepts and Controversies (Price)
PH 190 Introduction to Public Health (Patel-Dovlatabadi)
PSCI 100 World Politics (Kim)
PSYC 121 Introduction to Psychology (Hennon)
PSYC 229 Social Psychology (Stevenson)
PSYC 416 Human Sexuality (Becker)
SOC 105 Introduction to Sociology (Plikuhn)
2018 Holiday Schedule
The University of Evansville will be closed during the holidays to allow our employees to enjoy this special time with their families.
The following November – December – January holiday schedule will be observed:
Thanksgiving
Close at noon on Wednesday, November 21
Closed Thursday, November 22
Closed Friday, November 23
Christmas
Last day to work before break – Friday, December 21
Closed Monday, December 24 through Tuesday, January 1
Reopen Wednesday, January 2
Monitors for $15
The UE Bookstore has a few computer monitors still available for $15. These were provided by OTS when new monitors were installed in the computer labs on campus. The monitors are 15 inches wide and are adjustable. View this photo or stop in the UE Bookstore to view them in person.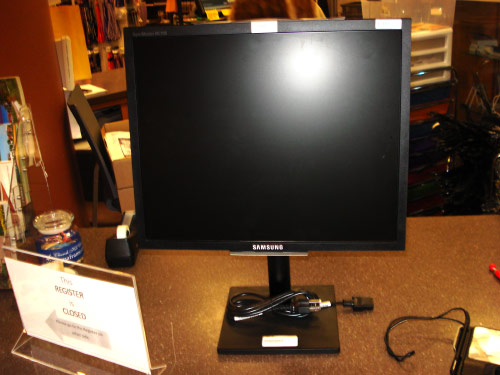 Submitted by Doug Gustwiller dg57@evansville.edu
Volunteer for Value Every Child at Lutheran church across the street on Saturday!
The Lutheran church across the street needs help with its Value Every Child project, which fills backpacks for foster children when they receive placements. These placements are often made at short notice or in the middle of the night when children are suddenly relocated for their safety. Value Every Child puts a backpack filled with essentials into their hands so they can feel more at home in their new placements!
Volunteer from 10:00 a.m.-2:00 p.m. on Saturday, October 20. Lunch will be provided.
E-mail Victoria Martin at vm39@evansville.edu with questions.
Submitted by Sam Wallisch sw265@evansville.edu
COMM 380 Intercultural Communication offered ONLINE in Winter Intersession
Would one class that fulfills several general education requirements and teaches you valuable life skills interest you? Do you want to reduce your course load during the regular fall or spring semesters? How would you like to take such a course NO MATTER WHERE you plan to be during winter break?
If you answered yes to any of these questions, you should consider enrolling in COMM 380 ONLINE (Intercultural Communication) in the Winter Intersession.
COMM 380 meets criteria for General Education Outcome 9 (Understanding of Core Concepts of Society, Human Behavior, and Civic Knowledge) and Overlay Component A (Global Diversity: International Component).
For more information, contact professor emeritus of communication Dean Thomlison at dt4@evansville.edu.
Submitted by Dean Thomlison dt4@evansville.edu
Proposal Deadline OCTOBER 20 for UE's Environmental Sustainability Challenge
Want to make an impact on environmental sustainability, but need funds to get your ideas off the ground? Submit a proposal for UE's Environmental Sustainability Challenge to have your projects considered for funding from the Green Fund.
Submission Deadline: October 20.
The Green Fund began with a $25,000 environmental sustainability grant from Siemens, and additional funds may be generated through fundraising or savings gained through successful Environmental Sustainability Challenge projects.
Learn more about the challenge and submit a proposal online here.
Inaugural Challenge Winner:
The battery operated golf cart proposed as the winning submission to the inaugural Environmental Sustainability Challenge in Spring 2018 is now on campus and in use by UE Recycling. Learn more and see photos on the UE website.
Submitted by: UE's Environmental Sustainability Committee
Join Venturing Crew for UE Gives Back!
Join Venturing Crew for UE Gives Back!
The group will be spending that day outdoors in Howell Wetlands hiking and picking up trash to help keep this area beautiful.
This is a free event, and transportation will be provided! Sign up at Ridgway tables on Tuesday, October 16, Wednesday, October 17, and Thursday, October 18 OR RSVP to ef111@evansville.edu.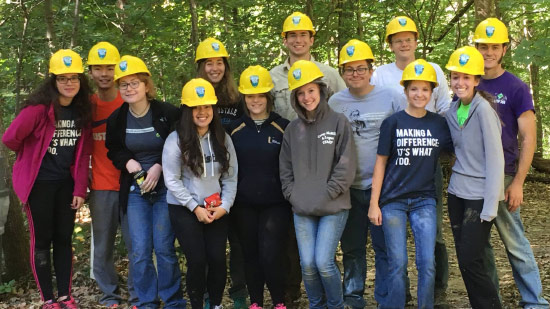 Submitted by Margaret Wolf mw346@evansville.edu
Sign up for Corn Maze, Hayride and Extreme S'mores!
Join Venturing Crew for day of fun-filled fall activities at Cate's Farm!
We will be navigating a corn maze, going for a hayride, and sitting around the campfire to construct some EXTREME s'mores. You will also get to pick out and bring home your own pumpkin if you join us on this trip!
This trip is ONLY $10!
Sign up at Ridgway tables on Wednesday, October 17 and Thursday, October 18.
Submitted by Margaret Wolf mw346@evansville.edu
Are you an LGBT+ ally?
A UE grassroots organization called Rainbow Connection is hosting a table in Ridgway University Center today, Thursday, and Friday to hand out stickers. If you want to pledge yourself as an ally to the LGBTQ+ community, please stop by the table to receive your free sticker and sign the pledge.
Submitted by Katie Brown kb362@evansville.edu
Apply to be an RA!
The Office of Residence Life is currently accepting applications for resident assistants for the Spring 2019 semester. You can find RA applications on UEngage under Forms or by using this link. Applications are due by October 23 at 11:59 p.m. and applicant interviews will take place October 29-November 1.
Please contact Megan King at mk225@evansville.edu, Karyssa Vasquez at kv54@evansville.edu, or Darrion Culler at dc199@evansville.edu with any questions you may have.
Submitted by Megan King mk225@evansville.edu
Alcohol Awareness Week
This week, October 15-19, is National Collegiate Alcohol Awareness Week
The facts:
•Did you know that a "standard drink" varies depending on the type of alcohol you're drinking? 12 oz. beer = 5 oz. wine = 1.5 oz. liquor
•Each one of these "standard drinks" will raise the blood alcohol concentration (BAC) of a 160lb person by approximately .02 percent. A lighter person's BAC will rise even higher.
•Things that influence BAC include weight, gender, body mass, how much and how fast you drink, and the amount of food in the stomach.
•Binge drinking is common among 18-24 year olds and happens when men consume 5 or more drinks and women 4 or more drinks in 2 hours.
•Alcohol leaves your body at a rate of .015 percent per hour (less than one drink per hour) regardless of gender, body type, and size. The only thing that will sober you up is time.
Click here to take a quick 10 question alcohol screening assessment:
Another great tool is E-CHUG, right on the UE Counseling Services webpage. It will provide you with accurate and personalized feedback about your individual drinking pattern, your risk patterns, your aspirations and goals, and helpful resources at UE and in the community.
If you are a student and think you may have a problem with alcohol, counseling services can be a resource for you and can assist you in getting the best help. Call 812-488-2663 for an appointment or come to the office on the second floor of Ridgway University Center, inside the student life suite.
Submitted by Jennifer Hargus jh693@evansville.edu
Dean Rawski serving on AACSB peer review team at Dominican University
Greg Rawski, Schroeder Family Dean will be serving on a Continuous Improvement Review (CIR) peer review team at Dominican University this Sunday Oct 21 to Oct 23. Dominican University is located about 10 miles west of Downtown Chicago. He will join deans Jim Brodzinski (Valparaiso) and Ross Dickens, (Tennessee Martin) in the review process. Rawski will also serve on Bellarmine University's AACSB CIR peer review team in Fall 2019.
Ralph Larmann Co-Authors for Thames & Hudson
Ralph M. Larmann, professor of art, has coauthored the third edition of a text for art and archeology publisher Thames & Hudson. Gateways to Art 3rdedition, by Debra J. DeWitte, Ralph M. Larmann, and M. Kathryn Shields, is a general art text that introduces the topic from a variety of different perspectives. Since the first edition, published in 2011, the text has grown into the best-selling art textbook in the world with over 250,000 copies sold. Besides the three main college editions, the text is available for high school AP courses, a British version for distribution outside the U.S., and Mandarin and Korean translations.
Wooton's article featured on cover of "The Nurse Practitioner"
Angie Wooton's recently published article, Diabetic Autonomic Neuropathy Resulting in Sexual Dysfunction, was featured on the cover of The Nurse Practitioner, Vol. 43, No. 11, November 2018. Wooton is an assistant professor in the Dunigan Family School of Nursing.
Aces volleyball travels to Valparaiso and Loyola
Fresh off of a 3-0 home win against Indiana State, the University of Evansville volleyball team takes to the road this weekend to play Valparaiso and Loyola.
UE begins the weekend against the Crusaders this evening before traveling to Chicago to face the Ramblers on Saturday; both matches start at 7 p.m. Evansville spread the ball around in a 3-0 win on Saturday against Indiana State. Rachel Tam led the way with 16 kills while Kerra Cornist and Mildrelis Rodriguez had 10 apiece. Defensively, Rodriguez, Alondra Vazquez and Olivia Goldstein had 10 digs apiece while Allana McInnis finished with 41 assists.
Alondra Vazquez continued her latest stretch with two more solid outings last week. Vazauez averaged 3.33 kills and 3.17 digs per set in games against UNI and Indiana State. She finished with 11 kills, 9 digs and a pair of service aces in the road contest against the Panthers. She hit .310 in the contest; she followed that up with 9 kills, 10 digs and three more service aces in the 3-0 victory over the Sycamores.
Evansville's most accurate hitter in 2018 has been Kerra Cornist. Currently hitting .218 on the season, Cornist excelled over the last week, finishing at .550. Included in that tally was a .643 effort against Indiana State that saw her post 10 kills in 14 attempts with just one error.
Sixteen more kills against Indiana State gives Rachel Tam 375 on the season, third in the country. Her average checks in at 4.52 per game, which is 15th in the NCAA and second in the MVC. She also ranks fourth in points with 404.0 and 17th in the country with a total of 918 attempts.
Valparaiso enters the weekend with an 18-5 mark and stand at 5-3 in Valley play after losses at Illinois State and Bradley last weekend. Setter Brittany Anderson ranks third in the MVC with 10.68 assists per set while Peyton McCarthy paces the league with 1.25 blocks per game.
Loyola is 11-9 on the season and are 3-5 in the league; after starting the conference slate with three wins, the Ramblers have dropped five in a row. Quinn Spieker leads the way with 3.03 kills per set while Delilah Wolf stands with 10.49 assists per game.
Contribute to AceNotes
To have content considered for inclusion in AceNotes, please submit a Marketing Request Form. Deadline for submission to AceNotes is 10:00 a.m. on the requested date of publication. Only articles concerning UE related/sponsored activities will be accepted. Articles submitted to AceNotes may be edited for length and clarity. Submitter contact information is at the end of each article.