| | |
| --- | --- |
| AceNotes Today | Thursday, October 18, 2018 |
Lots K and N closed beginning Sunday, October 21 at 5:00 p.m.
All vehicles must be removed from Lots K, the parking lot in front of the General Services Building and Lot N, the commuter lot at Rotherwood and Walnut, by 5:00 p.m., Sunday, October 21. Lot N is scheduled to be reopened on Thursday, October 25. Lot K is scheduled to be reopened on Friday, October 26. The removal of vehicles is necessary so that a contractor can crack seal, coat, and restripe these lots. Entry into the general services building will still be available through the front entrance. A pathway will be created from Frederick Street to the sidewalk in the front of the building. Vehicles must be moved to "legal" parking places for the permit category held by the driver. The use of Lot H, Lot O (Armory lot), Lot Q (across from general services building), and city side streets (obey parking regulations) are recommended.
Refer a Student to UE!
As the Office of Admission continues our recruitment efforts for the Fall 2019 class, we would like to ask you to get involved in the excitement! If you know a high school student or potential transfer student who may be a good fit at UE (this can include your son or daughter!), please fill out this referral form. Your input matters because students referred to UE commit at 3x the rate of students who are not referred to us. The UE community is a great one, and we want to thank you for your support of our recruitment efforts!
Kenton Hargis
Director of Admission
Learn videography with AMG today!
Today, October 18, Aces Media Group will host its third of four hands-on, informational workshops in media production. This week's topic: Videography!
The workshop will meet at 5:00 p.m. in Room 72 (the Mac Lab) in the Schroeder School of Business Building. The group will cover basic principles of videography and camera operation, then send participants out around campus to get hands-on experience with the cameras. Feel free to bring your own camera if you own one, but equipment will be provided.
Questions? Contact Emily Schuster at es260@evansville.edu.
Submitted by Emily Schuster es260@evansville.edu
PA Club meeting today
Interested in being a PA? Want a PA mentor? Come check out the PA Club at a meeting today - Thursday, October 18 - at 6:00 p.m. in Room 100 I Graves Hall! We will be discussing the mentorship program and answering questions! 6PM in 100 Graves
Submitted by Haley Vos hv25@evansville.edu
Neu Chapel Forum discusses "Taking the Bible Seriously"
This week's Neu Chapel Forum will discuss how Christians are supposed to take the Bible seriously but not literally. This exciting conversation is for anyone who is interested in how the Bible should be read and interpreted in our day and context. All are welcome! The Neu Chapel Forum will meet in the Class of '59 Gallery in Ridgway University Center tonight at 8:00 p.m.
Submitted by Keith Turner kt160@evansville.edu
Today - IPF organizational meeting
The first organization meeting of the year of the Independent Political Forum (IPF) is set for today - October 18 - from 4:15-5:15 p.m. in Room 162 in the Schroeder School of Business Building.
IPF is a way for students to find interest in elections and politics. Students do not have to choose a political party or focus on particular candidates. We want students to have the ability to discuss politics freely with facts to support them. This is a platform to seek new perspectives, understand values and ideas, and gain more interests surrounding politics. During this event, students can discuss what they will be interested in learning and talking about this semester. The group is an open discussion without any repercussions. We hope to see many students from many different majors. Also, we will be conducting elections on executive board positions. Feel free to bring someone with you!
Submitted by KeYanla Cleckley kc285@evansville.edu
Neu Chapel celebrates "Justice and Inclusion Sunday" at 9:00 a.m., Sunday
The campus community is invited to Neu Chapel this Sunday as we celebrate our commitment to being a just and inclusive community of faith where ALL (and we mean it!) are welcome! We will be continuing our #MixedMessages sermon series by taking a closer look at an ancient text often used to exclude people and see how it is used as an invitation to show hospitality and welcome to all. This will be one of the most exciting Sundays in Neu Chapel of the semester! The worship service begins on Sunday morning at 9:00 a.m.
Submitted by Keith Turner kt160@evansville.edu
Meditation in Neu Chapel: Sunday at 9:00 p.m.
Neu Chapel's 9:00 p.m. #StillWokeUE service has been described as "the most beautiful 25 minutes on campus!" Filled with rich poetry, guided meditation, beautiful music led by a string orchestra, and candle lighting, this prayer and mindfulness service is not your average church service. But it is an ideal way to prepare yourself for a new week. All are invited and welcome to attend and participate in this meaningful experience.
Submitted by Keith Turner kt160@evansville.edu
Phi Kappa Tau Holiday Festival
Join us this Saturday from 1:00-5:00 p.m. on the grassy knoll for Phi Kappa Tau's Holiday Festival. It will include games, activities, and concessions that incorporate the three main fall holidays: Halloween, Thanksgiving, and Christmas. Tickets for games can be purchased at the event, as well as separate ticket sheets for concessions and activities. Rain location will be in the small gym of Carson Center. All proceeds will benefit SeriousFun Children's Network.
Submitted by Chris Rogers cr173@evansville.edu
Come to Goebel Farms with Newman on Saturday!
Join the Newman Club in going to Goebel Farms on Saturday, October 20! There will be pumpkins, hay rides, corn mazes, a petting zoo, and an indoor barn park. Each participant gets a small pumpkin that we will carve at the Newman house after our visit to Goebel Farms.
We will meet at the Newman house to carpool at 2:45 p.m.!
Submitted by Sam Wallisch sw265@evansville.edu
Oak Hill Cemetery Twilight Tour
Join the History Club at Evansville's Oak Hill Cemetery for the annual Twilight Tour on Saturday, October 20 at 5:00 p.m. and walk through the cemetery at night and listen to live re-enactors. These re-enactors will feature real people who were buried in the same cemetery! Please RSVP on UEngage by Friday morning!
Submitted by Alex Russo ar281@evansville.edu
"Paris in Shock" - French sociologist Gerome Truc discusses terrorism
The Department of Foreign Languages and Cultures is proud to invite you to the lecture: "Paris in Shock: The Social Response to the 2015 terrorist attacks" by French sociologist Gérôme Truc. This lecture will take place today - October 25 - at 7:00 p.m. in Eykamp Hall (Room 251) in Ridgway University Center. A social gathering ("meet and greet") with the guest speaker will take place from 5:00-6:00 p.m. in Dunigan Lounge in the Schroeder School of Business Building prior to the talk. This event is free and open to the public.
This lecture is made possible with the generous support of and contribution by the University's Department of Foreign Languages and Cultures; the French Embassy in the United States; and UE's Department of Law, Politics and Society, Department of History; and Office of Diversity Initiatives.
Truc is a French sociologist, a tenured research fellow at the CNRS and member of the Institut des Sciences sociales du Politique (ISP) in Paris. His work focuses primarily on social reactions to terrorist attacks (9/11, Madrid in 2004, Paris in 2015) and pays particular attention to moral and political sociology. More generally, Truc is interested in "what a society goes through when it is subjected to the ordeal of terrorist attacks" (Truc). His most recent book on that topic is titled Shell Shocked: The Social Response to Terrorist Attacks (Polity, 2018)
For more information, please email assistant professor of French Séverine Bates at sb413@evansville.edu.
Submitted by Séverine Bates sb413@evansville.edu
ECTE October Lecture- "Strategies for Strengthening Your Academic Advising Toolkit"
Join the Eykamp Center for Teaching Excellence this Friday, October 19 at 3:00 p.m. in Room 162 in the Schroeder School of Business Building for our October Lecture on Teaching and Learning. This month's topic is: "Strategies for Strengthening Your Academic Advising Toolkit" presented by Stacey Shanks, director of student success services. Just in time for advising, she will be sharing their expertise in academic advising, providing us with tips on avoiding common advising mistakes, and leading a discussion on how to integrate these techniques into our academic advising toolkits to help us better help our students.
We look forward to seeing you there for good conversations about good teaching!
Submitted by Mari Plikuhn mp168@evansville.edu
UE Theatre opens Shanklin Theatre Season with rock musical "Spring Awakening"
The University of Evansville Theatre presents Spring Awakening, book and lyrics by Steven Sater and music by Duncan Sheik. This 2007 Tony Award-winning Best Musical, book and lyrics by Evansville native Steven Sater, is based on Frank Wedekind's play by the same name.
Featuring a soaring rock musical score, all generations will identify with the age-old tale about young people and the misguided adults who lend a deaf ear to what they are feeling in their hearts. This production opened Friday, October 19 in Shanklin Theatre. Additional performances are at 7:30 p.m. on October 25, 26, and 27 and at 2:00 p.m. on October 28.
UET alumnus Wes Grantom directs Spring Awakening, and theatre department chair Eric Renschler serves as scenic designer. UE student Becca Updyke is the costume designer; UE associate professor Stephen Boulmetis is the lighting designer; guest artist Richard Ingraham serves as sound designer; UE student Bailey Brandvold is the dramaturg; UE student Blake Elliot is the stage manager; and UE professor Chuck Meacham serves as technical director. The cast features UE students Claire Tumey as Wendla; Ethan Davenport as Melchior; Alexandra Curren as Ilse; and Justin Pappas as Moritz. Chorus members include UE students Gina DeLise, Alexi Lewis, Marshall Hopkins, Isaac Baker, Shannon White, Hannah Mattingly, Brock McCullough, Amanda Cowan, Cole Lannert, Theodore Esten, Kyla Clift, and Obi Roberts.
Ticket prices are $20 for adults and $18 for senior adults, students, and UE faculty and staff. UE students may obtain one free student rush ticket beginning at noon on the day of the performance they wish to attend. The UE Theatre Society hosts a pre-play chat 30 minutes prior to the show on Thursday, October 25 and Saturday, October 22. All are welcome to attend the presentation and discussion with a student designer about their process on the production.
Season subscriptions are on sale now and include the three Shanklin Theatre productions: Spring Awakening by Steven Sater and Duncan Sheik, Colony Collapse by Stefanie Zadravec, and Twelfth Night by William Shakespeare, as well as one of the remaining May Studio Theatre productions: Year of the Rooster by Olivia Dufault or The Wolves by Sarah DeLappe. Subscriptions for the four-play package are $50 for adults and $45 for senior adults, students, and UE faculty/staff.
Tickets may be purchased by calling 812-488–2031, Monday through Friday, noon-5:00 p.m.
The Last Picture Show: The John Streetman Collection Exhibition/Sale

The University of Evansville Department of Art and the University of Evansville Friends of Art Board of Directors cordially invite you to The Last Picture Show: The John Streetman Collection Exhibition/Sale. This event is planned for today - Tuesday, October 23 - from 6:30-8:30 p.m. in the Melvin Peterson Gallery. John Streetman will give a Gallery Talk at 7:00 p.m. The exhibition and sale continues through Friday, October 26.
Gallery hours are Monday, Tuesday, Friday and Saturday from noon-3:00 p.m. and Wednesday and Thursday from noon-6:00 p.m.
For 38 years, John Streetman served as executive director of the Evansville Museum of Art, History, and Science, leading the institution to international recognition. A 2012 article in PleinAir Magazine noted that his commitment to living realist painters "changed the status of contemporary Realism in America."
He is offering for sale the bulk of his collection with a generous portion of the proceeds benefiting the UE Art Galleries Student Assistantship.
Submitted by Brooksie Smith bs267@evansville.edu
Yale University historian to deliver Fiddick Lecture on Second Great War, 1917-1923
Jay Winter, the Charles J. Stille Professor of History Emeritus at Yale University, will be the speaker for the University of Evansville's 17th annual Thomas C. Fiddick Memorial Lecture today - Friday, October 26. The lecture begins at 7:00 p.m. in Eykamp Hall in Ridgway University Center. The event, hosted by UE's Department of History, is free and open to the public.
Winter's lecture marks the 100th anniversary of the First World War. His topic will be "The Second Great War, 1917-1923."
The Fiddick Memorial Lecture is named for Thomas C. Fiddick, a professor of history at UE from 1963 to 2002. A dedicated teacher, productive scholar, and a tireless fighter in the cause of justice, his untimely death on the day of his retirement stunned the UE community. It was his former students' efforts, with support of Fiddick's friends and the University, that led to the establishment of the annual Thomas C. Fiddick Memorial Lecture.
"The Fiddick Lecture is one of the best events of the year, as we celebrate the career of a truly outstanding University of Evansville faculty member," said James MacLeod, UE professor of history and director of the Fiddick Memorial Lecture Series. "Tom Fiddick was a brilliant scholar and an incredible teacher who made a life-transforming impact on generations of students."
During Winter's lecture, he will argue that a crisis in 1917 separates the first three years of the war from the years that followed, largely the result of powerful economic and demographic pressures which destabilized all the combatants, but more so the Central powers than the Allies. The critical event of this rupture was the 1917 Russian revolution. Hatred, hunger, and class conflict were radicalizing elements in the post-Imperial world. Winter suggests that the passage from wartime crisis to post-war and post-imperial violence was seamless, and part of one complex, distinctive phase of European history, starting in 1917 and ending more or less in 1923.
Fiddick's book, Russia's Retreat from Poland, 1920: From Permanent Revolution to Peaceful Coexistence, deals with one of the conflicts to be discussed during Winter's lecture.
Winter is one of the world's leading scholars of World War I and its impact on the 20th century. He was educated at Columbia University and the University of Cambridge. In 2001 he joined the faculty of Yale. Winter is the author or co-author of 25 books, including Sites of Memory, Sites of Mourning: The Great War in European Cultural History; The Great War and the Shaping of the 20th Century; Rene Cassin and the Rights of Man, and most recently, War beyond Words: Languages of Remembrance from the Great War to the Present. In addition, he has edited or co-edited 30 books and contributed 130 book chapters to edited volumes.
Winter was also co-producer, co-writer, and chief historian for the PBS/BBC series The Great War and the Shaping of the 20th Century, which won an Emmy Award, a Peabody Award and a Producers Guild of America Award for best television documentary in 1997.
MacLeod noted that Winter "is as distinguished a scholar on World War I as there is anywhere in the world. It is an enormous privilege to bring him to the University of Evansville to deliver the 2018 Fiddick Lecture and interact with students in class,"
MacLeod added that on the 100th anniversary of "what we think of as the end of the First World War, it is important to reflect on the significant ways in which that war did not really end in 1918. Some conflicts that emerged between 1917 and 1923 we are still dealing with today. It is especially appropriate given Tom Fiddick's lifelong passion for many of the issues discussed by Jay Winter, and the fact that one of Tom's most important scholarly legacies is a book that deals with this very subject."
For more information, please contact the Department of History at 812-488-2963.
Catholic Mass on campus
There will be a Catholic Mass this Sunday, October 21, at 1:00 p.m. in Neu Chapel. Father Tyler Tenbarge will be the celebrant. All are welcome!
Submitted by Sam Wallisch sw265@evansville.edu
2018 Holiday Schedule
The University of Evansville will be closed during the holidays to allow our employees to enjoy this special time with their families.
The following November – December – January holiday schedule will be observed:
Thanksgiving
Close at noon on Wednesday, November 21
Closed Thursday, November 22
Closed Friday, November 23
Christmas
Last day to work before break – Friday, December 21
Closed Monday, December 24 through Tuesday, January 1
Reopen Wednesday, January 2
Monitors for $15
The UE Bookstore has a few computer monitors still available for $15. These were provided by OTS when new monitors were installed in the computer labs on campus. The monitors are 15 inches wide and are adjustable. View this photo or stop in the UE Bookstore to view them in person.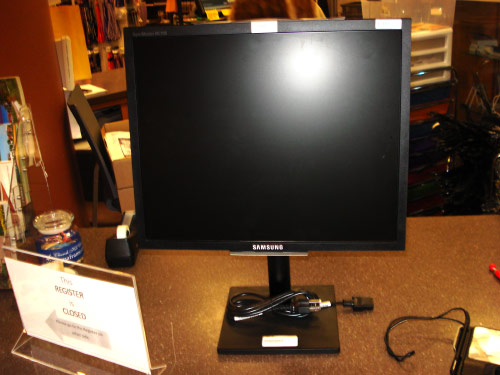 Submitted by Doug Gustwiller dg57@evansville.edu
Volunteer for Value Every Child at Lutheran church across the street on Saturday!
The Lutheran church across the street needs help with its Value Every Child project, which fills backpacks for foster children when they receive placements. These placements are often made at short notice or in the middle of the night when children are suddenly relocated for their safety. Value Every Child puts a backpack filled with essentials into their hands so they can feel more at home in their new placements!
Volunteer from 10:00 a.m.-2:00 p.m. on Saturday, October 20. Lunch will be provided.
E-mail Victoria Martin at vm39@evansville.edu with questions.
Submitted by Sam Wallisch sw265@evansville.edu
Intersession and Spring 2019 textbook adoptions due in UE Bookstore
This is a reminder to all departments and faculty that textbook adoptions for Intersession and Spring 2019 are due in the UE Bookstore. The early return of adoptions helps keep the cost of textbooks down by allowing the UE Bookstore to search for cheaper used editions. Please submit your adoptions through the bookstore website.
Submitted by Doug Gustwiller dg57@evansville.edu
COMM 380 Intercultural Communication offered ONLINE in Winter Intersession
Would one class that fulfills several general education requirements and teaches you valuable life skills interest you? Do you want to reduce your course load during the regular fall or spring semesters? How would you like to take such a course NO MATTER WHERE you plan to be during winter break?
If you answered yes to any of these questions, you should consider enrolling in COMM 380 ONLINE (Intercultural Communication) in the Winter Intersession.
COMM 380 meets criteria for General Education Outcome 9 (Understanding of Core Concepts of Society, Human Behavior, and Civic Knowledge) and Overlay Component A (Global Diversity: International Component).
For more information, contact professor emeritus of communication Dean Thomlison at dt4@evansville.edu.
Submitted by Dean Thomlison dt4@evansville.edu
The Habitat House that UE Built! - Week 5 Update
Unfortunately, due to weather, this weekend's build at the Habitat house that UE is building was canceled. However, plenty of Aces are still working hard to help Habitat reach their local goals! Seven members of the baseball team went to the Habitat headquarters over fall break to help build a bunch of needed backyard barns (can you believe that Habitat is already needing more after last semester's successful barn blitz, where we built 30?). They completed all of the backs, sides, and floors for the seven barns. All that is missing is the seven fronts, which should be completed by the end of the month!
Building for House 499 is still going strong! If you would like to volunteer, or if you have any questions, please contact Holly Carter at hc110@evansville.edu.
Submitted by Greta Becker gb91@evansville.edu
Office of Marketing: Team and Services
The Office of Marketing and Communications is available to assist your department with University marketing projects both on campus and off. Whether you need help promoting an event, want a change to the website, or have social media needs, UE's marketing and communications department has you covered.
Meet our team and submit a marketing request to get started!
Needed: Volunteer to be Ace Purple
I am in need of an Ace Purple volunteer for October 23 to help out a great cause. There's a kickoff event for a fundraiser from 9:00-10:00 a.m. I would love to go into more detail about it with anyone interested!
Submitted by Jessica O'Shaughnessy Jo94@evansville.edu
Proposal Deadline OCTOBER 20 for UE's Environmental Sustainability Challenge
Want to make an impact on environmental sustainability, but need funds to get your ideas off the ground? Submit a proposal for UE's Environmental Sustainability Challenge to have your projects considered for funding from the Green Fund.
Submission Deadline: October 20.
The Green Fund began with a $25,000 environmental sustainability grant from Siemens, and additional funds may be generated through fundraising or savings gained through successful Environmental Sustainability Challenge projects.
Learn more about the challenge and submit a proposal online here.
Inaugural Challenge Winner:
The battery operated golf cart proposed as the winning submission to the inaugural Environmental Sustainability Challenge in Spring 2018 is now on campus and in use by UE Recycling. Learn more and see photos on the UE website.
Submitted by: UE's Environmental Sustainability Committee
Are you an LGBT+ ally?
A UE grassroots organization called Rainbow Connection is hosting a table in Ridgway University Center today, Thursday, and Friday to hand out stickers. If you want to pledge yourself as an ally to the LGBTQ+ community, please stop by the table to receive your free sticker and sign the pledge.
Submitted by Katie Brown kb362@evansville.edu
Wooton's article featured on cover of "The Nurse Practitioner"
Angie Wooton's recently published article, Diabetic Autonomic Neuropathy Resulting in Sexual Dysfunction, was featured on the cover of The Nurse Practitioner, Vol. 43, No. 11, November 2018. Wooton is an assistant professor in the Dunigan Family School of Nursing.
Wehr presents at Indiana Academy of Social Sciences
Hannah Wehr, a junior majoring in sociology, presented a research paper co-authored with associate professor of sociology Mari Plikuhn titled: "Attractive Traits in Potential Mates: Similarity and Gendered Preferences in Social, Physical, and Personality Characteristics" at the recent Annual Meeting of the Indiana Academy of Social Sciences.
Collaborators for research design and data collection were: Bre Engle (CJ/SOC '18), Mackenzie Kochell (CJ/SOC), Oli Ross-Musick (creative writing '18), Melia Schnefke (theatre management '18), and Katherine Williams (business '18).
Research construction and data collection for this project were completed as a course project in SOC 371: Love and Attraction during Fall 2017.
Petrosillo publishes journal article
Sara Petrosillo, assistant professor of English, recently published the article, "Flying, Hunting, Reading: Rethinking Falcon-Woman Comparisons" in a special issue on "Species and Gender" in the peer-reviewed journal Medieval Feminist Forum, vol. 54, no. 1, 2018, pp. 9-33.
UE head volleyball coach Manolo Concepcion receives contract extension
University of Evansville Director of Athletics Mark Spencer has announced the signing of head volleyball coach Manolo Concepcion to a contract extension.
"I have been impressed with the job Manolo has done and the core group that he has brought in," Spencer said. "The opening of Meeks Family Fieldhouse last year has been a great benefit to Evansville volleyball and we look forward to a bright future."
Concepcion has been making great strides with the Evansville program. The opening of Meeks Family Fieldhouse in 2017 gave the Purple Aces the best facility in the Missouri Valley Conference. Concepcion's team responded, doubling its win total from the previous season.
"I am proud to call the city of Evansville my home. I am grateful for the trust and commitment that Mark Spencer and Sarah Solinsky have put in our vision for this program. They understand that in order to build something stable and consistent, it takes time, so we can create true change from within while building a solid foundation for the future to come," Concepcion said. "I love my job because I get to work together with my amazing staff who bring so much to the table, as well as our players who have bought in 100% to the our mission and objectives."
Under his direction, the UE program has continue to build upon the tradition of academic excellence that our program have had for a long time, with most of the student-athletes making the Dean's List and/or Honor Roll while garnering MVC recognition.
With a worldwide recruiting philosophy, Concepcion has added student-athletes from all parts of the world, which has had a great benefit on his program and the university as a whole. His staff brings a similar pedigree to Concepcion as they bring national and international playing and coaching experience.
In the community, Concepcion has built a nice base in the sport of volleyball and in the Evansville community as a whole. In the summer of 2018, he brought a record-breaking number of campers, which has resulted in an increased young fan base. One of his biggest priorities has been to grow the game in the Evansville area by founding one of the most successful clubs in the area while bringing Olympic level coaches to town and leading coaching clinics. He has gained valuable experience coaching with USA Volleyball High Performance over the last two seasons.
A bright future has the Purple Aces brining in what is shaping up to be the best-ever recruiting class in program history. UE has been making strides in the MVC – which is the top mid-major volleyball conference in the nation.
Koth earns top 20 at Austin Peay
Dallas Koth was the top performer for the University of Evansville men's golf team as the Purple Aces wrapped up the fall season at the F&M Bank APSU Intercollegiate in Dickson, Tenn.
Koth completed his two rounds of play with an even 144. After posting a 73 in round one, Koth lowered that to a 1-under 71 to tie for 17th place. Second for UE was Noah Reese. His scores of 75 and 76 put him at 7-over par with a 151. He tied for 44th.
Next up was Jessie Brumley, who finished one behind Reese with a 152. After notching a 79 in round one, Brumley made a nice jump, improving by six strokes to a 73 in the second round. He tied for 46th.
The duo of Tyler Roat and Gabe Rohleder tied for 55th with scores of 156. Roat carded a 79 and 77 while Rohleder finished his rounds with an 82 and 74. UE's individual was Robert Waggoner, who tied for 53rd with a 155. He notched a 76 and 79.
Belmont took the team championship, finishing at 9-under par as a team with a 567. SIU Edwardsville was two behind with a 569. The Cougars' Kyle Slattery was the medalist. His 8-under 136 was two ahead of the competition. Evansville came in 10th place with a 600, they were two behind 9th place Eastern Illinois.
Fall play is complete for the Purple Aces. They open up the spring on February 25 in Montgomery, Ala.
Contribute to AceNotes
To have content considered for inclusion in AceNotes, please submit a Marketing Request Form. Deadline for submission to AceNotes is 10:00 a.m. on the requested date of publication. Only articles concerning UE related/sponsored activities will be accepted. Articles submitted to AceNotes may be edited for length and clarity. Submitter contact information is at the end of each article.