| | |
| --- | --- |
| AceNotes Today | Tuesday, October 16, 2018 |
Refer a Student to UE!
As the Office of Admission continues our recruitment efforts for the Fall 2019 class, we would like to ask you to get involved in the excitement! If you know a high school student or potential transfer student who may be a good fit at UE (this can include your son or daughter!), please fill out this referral form. Your input matters because students referred to UE commit at 3x the rate of students who are not referred to us. The UE community is a great one, and we want to thank you for your support of our recruitment efforts!
Kenton Hargis
Director of Admission
Health Careers Fair today!
The Health Careers Fair is happening NOW! The event is from 11:00 a.m.-2:00 p.m. Come to the Student Fitness Center to meet over 50 employers interested in UE students! Anyone considering a health-related career should attend.
Submitted by Alison Morris-McDonald am268@evansville.edu
Know the signs, save a life!
As part of National Collegiate Alcohol Awareness Week (October 15-19), counseling services is hosting speakers on the topic from the Rachael's First Week Program. The first speaker is scheduled for today - Tuesday, October 16 - from 7:00-8:00 p.m. in Eykamp Hall, Rooms 251-255, Ridgway University Center. Bring your UE ID or use your UEngage Event Pass on your phone.
Rachael Fiege was a freshman at IU who died after a night of drinking when she fell down the stairs and hit her head. Her friends thought she was fine and just had her lie down, but when they woke the next morning she was unresponsive.
This program will assist you in feeling like you have the tools to make the best decisions in a risky situation involving alcohol where you could possibly save a life. Always look out for each other, even when that may mean making an unpopular decision.
Submitted by Jennifer Hargus jh693@evansville.edu
Tuesday Night Recharge Mass
Join the Newman Club this Tuesday, October 16, at 8:00 p.m. in Neu Chapel to celebrate a Catholic Mass! Fr. Christian Raab will be the celebrant. All are welcome!
Submitted by Michaela Kunkler mk305@evansville.edu
Neu Chapel Forum discusses "Taking the Bible Seriously"
This week's Neu Chapel Forum will discuss how Christians are supposed to take the Bible seriously but not literally. This exciting conversation is for anyone who is interested in how the Bible should be read and interpreted in our day and context. All are welcome! The Neu Chapel Forum will meet in the Class of '59 Gallery in Ridgway University Center tonight at 8:00 p.m.
Submitted by Keith Turner kt160@evansville.edu
I-House Peru
Ariana Paredes, Alysson Cerne, and Brandon Sanchez are freshmen from Peru. They will be presenting about their country, culture, and their life back home at I-House Peru happening tonight - October 17 - on the second floor of Ridgway University Center at 7:00 p.m. We hope to see you there. Let's explore Peru this week.
Submitted by Megan Sicard ms331@evansville.edu
Oak Hill Cemetery Twilight Tour
Join the History Club at Evansville's Oak Hill Cemetery for the annual Twilight Tour on Saturday, October 20 at 5:00 p.m. and walk through the cemetery at night and listen to live re-enactors. These re-enactors will feature real people who were buried in the same cemetery! Please RSVP on UEngage by Friday morning!
Submitted by Alex Russo ar281@evansville.edu
"Paris in Shock" - French sociologist Gerome Truc discusses terrorism
The Department of Foreign Languages and Cultures is proud to invite you to the lecture: "Paris in Shock: The Social Response to the 2015 terrorist attacks" by French sociologist Gérôme Truc. This lecture will take place today - October 25 - at 7:00 p.m. in Eykamp Hall (Room 251) in Ridgway University Center. A social gathering ("meet and greet") with the guest speaker will take place from 5:00-6:00 p.m. in Dunigan Lounge in the Schroeder School of Business Building prior to the talk. This event is free and open to the public.
This lecture is made possible with the generous support of and contribution by the University's Department of Foreign Languages and Cultures; the French Embassy in the United States; and UE's Department of Law, Politics and Society, Department of History; and Office of Diversity Initiatives.
Truc is a French sociologist, a tenured research fellow at the CNRS and member of the Institut des Sciences sociales du Politique (ISP) in Paris. His work focuses primarily on social reactions to terrorist attacks (9/11, Madrid in 2004, Paris in 2015) and pays particular attention to moral and political sociology. More generally, Truc is interested in "what a society goes through when it is subjected to the ordeal of terrorist attacks" (Truc). His most recent book on that topic is titled Shell Shocked: The Social Response to Terrorist Attacks (Polity, 2018)
For more information, please email assistant professor of French Séverine Bates at sb413@evansville.edu.
Submitted by Séverine Bates sb413@evansville.edu
Puppy therapy today!
Come relieve the stress of school by playing with puppies on the Grassy Knoll from 3:30-5:30 p.m. today - October 17!! Donations will be accepted to help with Physical Therapy Club funds.
Submitted by McKenzie Hayes mh481@evansville.edu
Lunch Charlas on Wednesday
Wanting to practice your Spanish? Join assistant professor of Spanish Edward Curran and associate professor of Spanish Diana Rodríguez Quevedo for lunch, and chat about different topics in Spanish on Wednesdays from noon-1:00 p.m. in the Starbuck's café area in Ridgway University Center. All levels of Spanish welcome. The next Lunch Charlas is on Wednesday, October 17.
Please contact Professor Rodríguez Quevedo at dr130@evansville.edu if you have any questions. ¡Ahí nos vemos!
Submitted by Diana Rodríguez Quevedo dr130@evansville.edu
Medical Spanish Group
The Medical Spanish Group meets twice a month to practice communication skills in Spanish. These sessions are open to anyone wanting to practice Spanish for medical settings. The next practice session is today - Wednesday, October 17 - from 5:30-7:00 p.m. in Room 315 in Graves Hall. Please contact associate professor of Spanish Diana Rodríguez Quevedo at dr130@evansville.edu if you have any questions. ¡Nos vemos el miércoles!
Submitted by Diana Rodríguez Quevedo dr130@evansville.edu
Guest speaker: Tax managers from H&R Block
Rania Mousa, associate professor of accounting, has invited Tamara Tarnow and Celeste Newman to speak on campus today - Wednesday, October 17 - from 4:00-6:00 p.m. in Smythe Lecture Hall (Room 170) in the Schroeder School of Business Building. Tarnow and Newman are tax managers with H&R Block, a global consumer tax services provider. They will talk about tax fraud and Earned Income Due Diligence by discussing real-life tax cases. They will also talk about available job opportunities and internships. All accounting and business students are encouraged to attend.
This is the first time this company is invited by UE's accounting program to establish career connections with students. H&R Block has approximately 12,000 locations in all 50 states, and has prepared 720 million tax returns on behalf of its clients since 1955.
Submitted by Rania Mousa rm190@evansville.edu
Allen Vizzutti - trumpet soloist
Come out to hear the greatest trumpet player in world on Tuesday, October 16 at 7:30 p.m. in the Victory Theatre, located in downtown Evansville. The concert is FREE and open to the public. Vizzutti will be soloing with the UE Wind Ensemble and UE Jazz Ensemble I. Support our UE ensembles and hear a great concert.
Submitted by Tim Zifer tz3@evansville.edu
Pray the Rosary this Thursday!
Austin Hopf and Sister Catherine will be leading a Rosary Prayer Group this Thursday at 10:00 a.m. in Room 264 in the Center for Academic Success in Clifford Memorial Library. All are welcome to join!
Submitted by Sam Wallisch sw265@evansville.edu
Trailblazing Astronaut Eileen Collins to Speak at UE's Snyder Lecture TOMORROW
Trailblazing astronaut Eileen Collins, the first woman to pilot and command an American spacecraft, will be the guest speaker for the University of Evansville's Patricia H. Snyder Lecture TOMORROW at 7:00 p.m., in Eykamp Hall, Ridgway University Center. The event is free and open to the public thanks to the generosity of the Snyder family.
One of America's most admired women, Col. Collins became the first female to pilot a US spacecraft with the Discovery shuttle flight in 1995, and the first female commander on the 1999 Columbia shuttle flight. In 2005, NASA tapped her to command the space shuttle Discovery's historic "Return to Flight" mission, NASA's first manned flight following the loss of space shuttle Columbia in 2003. While logging 872 hours in space, Collins earned a reputation for coolness under pressure.
Collins will discuss how her career as an astronaut took shape, from her early years in the US Air Force to her ground-breaking experience with NASA. Drawing from her career experiences, she will share valuable insights learned from both her successes and her failures. She will also provide insight into the future of space travel as the world turns to exciting new space frontiers.
The Patricia H. Snyder Concert and Lecture Series was made possible in 1997 through an endowment from the late Patricia H. Snyder, trustee and longtime friend of the University, to bring speakers or performers of renown to Evansville at no cost to the public.
Reservations are encouraged, but a ticket is not required to enter. Save your seat online here.
Intersession and Spring 2019 textbook adoptions due in UE Bookstore
This is a reminder to all departments and faculty that textbook adoptions for Intersession and Spring 2019 are due in the UE Bookstore. The early return of adoptions helps keep the cost of textbooks down by allowing the UE Bookstore to search for cheaper used editions. Please submit your adoptions through the bookstore website.
Submitted by Doug Gustwiller dg57@evansville.edu
The Habitat House that UE Built! - Week 5 Update
Unfortunately, due to weather, this weekend's build at the Habitat house that UE is building was canceled. However, plenty of Aces are still working hard to help Habitat reach their local goals! Seven members of the baseball team went to the Habitat headquarters over fall break to help build a bunch of needed backyard barns (can you believe that Habitat is already needing more after last semester's successful barn blitz, where we built 30?). They completed all of the backs, sides, and floors for the seven barns. All that is missing is the seven fronts, which should be completed by the end of the month!
Building for House 499 is still going strong! If you would like to volunteer, or if you have any questions, please contact Holly Carter at hc110@evansville.edu.
Submitted by Greta Becker gb91@evansville.edu
Office of Marketing: Team and Services
The Office of Marketing and Communications is available to assist your department with University marketing projects both on campus and off. Whether you need help promoting an event, want a change to the website, or have social media needs, UE's marketing and communications department has you covered.
Meet our team and submit a marketing request to get started!
Senior nursing class collecting donations at Ridgway tables
UE senior nursing students will be at tables in Ridgway University Center lobby on October 15, 16, and 17 to collect donations for the Boys and girls Club. Items needed include: toothpaste, soap, deodorant, socks, children's underwear (boys and girls), hats, gloves, scarves, gently used toys, and monetary donations.
These items can also be dropped off at donation boxes in the Dunigan Family School of Nursing office, located on the second floor of Graves, until October 24.
The seniors will be hosting a project called Holding Your Hand Today, Leading you to a Better Tomorrow at the Boys and Girls Club to promote healthy behaviors of at risk school age children on November 7.
Submitted by Traci Burch tb207@evansville.edu
Needed: Volunteer to be Ace Purple
I am in need of an Ace Purple volunteer for October 23 to help out a great cause. There's a kickoff event for a fundraiser from 9:00-10:00 a.m. I would love to go into more detail about it with anyone interested!
Submitted by Jessica O'Shaughnessy Jo94@evansville.edu
Proposal Deadline OCTOBER 20 for UE's Environmental Sustainability Challenge
Want to make an impact on environmental sustainability, but need funds to get your ideas off the ground? Submit a proposal for UE's Environmental Sustainability Challenge to have your projects considered for funding from the Green Fund.
Submission Deadline: October 20.
The Green Fund began with a $25,000 environmental sustainability grant from Siemens, and additional funds may be generated through fundraising or savings gained through successful Environmental Sustainability Challenge projects.
Learn more about the challenge and submit a proposal online here.
Inaugural Challenge Winner:
The battery operated golf cart proposed as the winning submission to the inaugural Environmental Sustainability Challenge in Spring 2018 is now on campus and in use by UE Recycling. Learn more and see photos on the UE website.
Submitted by: UE's Environmental Sustainability Committee
This Week from the Harlaxton Office …
This is a continuation of the new weekly AceNotes updates from the Harlaxton office to keep the UE community informed about what we are up to, where we are traveling to promote Harlaxton, and what is going on with our favorite British manor house, so continue to check with us here each week to see what the US Harlaxton team is up to!
Study abroad fair travel season is starting to wrap up; this week we will just be at one fair! Kaylynn Carver will travel to Texas Woman's University in Denton, Texas, for their study abroad fair this week on Tuesday, October 16.
Conference season is just beginning for international education and Harlaxton, however! Holly Carter, director of Harlaxton College programs, will be in Prague this week presenting at the Forum on Education Abroad's 4th European Conference. She will present with Kerry Geffert from Terra Dotta (a study abroad CRM used by the UE study abroad office) and Loren Ringer from Parsons Paris (an art and design school in Paris that is a branch of Parsons School of Design, part of The New School in NYC). The presentation title is "Moving beyond a diversity of views on risk," and they will discuss American and European views on managing risk for American students abroad.
Other Harlaxton events happening this week include the Advisory Council meeting at Harlaxton and another week of orientation class on campus for the Harlaxton Spring 2019 class!
Submitted by Kaylynn Carver kc205@evansville.edu
Join us for Ace Race 5 K to Benefit UE's Pro Bono Physical Therapy Clinic
Ace Race, a 5K run benefiting Ace CARE, the University of Evansville's pro bono physical therapy clinic, is planned for Saturday, October 27, at 9:00 a.m. on UE's campus. This year's Ace Race is Halloween themed, so wear your costumes! The event includes a dog station with treats, music, food, and prizes. The event is open to the public and is part of the University's homecoming celebration.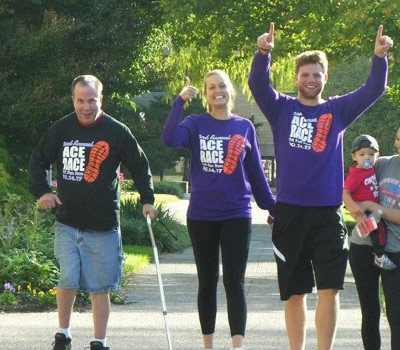 The participation fee for the general public is $25 before October 12 or $30 after October 12. Those registering before October 12 will receive a dri-fit long sleeve T-shirt. To register, go to www.uealumnionline.com/acerace2018.
Submitted by Jennifer Simon js698@evansville.edu
UE Gives Back Fall is right around the corner!
Our fall campus wide day of student volunteering, UE Gives Back Fall, will take place on Saturday October 20. If you want to give something back to the Evansville community, you can sign up for a volunteer activity on Get Connected. You can sign up as a team or as an individual, and the deadline to sign up is October 18. And, you get a free T-shirt!
Any questions can be directed to Karyssa Vasquez at kv54@evansville.edu or 812.488.2214.
Submitted by Karyssa Vasquez kv54@evansville.edu
Apply to be an RA!
The Office of Residence Life is currently accepting applications for resident assistants for the Spring 2019 semester. You can find RA applications on UEngage under Forms or by using this link. Applications are due by October 23 at 11:59 p.m. and applicant interviews will take place October 29-November 1.
Please contact Megan King at mk225@evansville.edu, Karyssa Vasquez at kv54@evansville.edu, or Darrion Culler at dc199@evansville.edu with any questions you may have.
Submitted by Megan King mk225@evansville.edu
Wehr presents at Indiana Academy of Social Sciences
Hannah Wehr, a junior majoring in sociology, presented a research paper co-authored with associate professor of sociology Mari Plikuhn titled: "Attractive Traits in Potential Mates: Similarity and Gendered Preferences in Social, Physical, and Personality Characteristics" at the recent Annual Meeting of the Indiana Academy of Social Sciences.
Collaborators for research design and data collection were: Bre Engle (CJ/SOC '18), Mackenzie Kochell (CJ/SOC), Oli Ross-Musick (creative writing '18), Melia Schnefke (theatre management '18), and Katherine Williams (business '18).
Research construction and data collection for this project were completed as a course project in SOC 371: Love and Attraction during Fall 2017.
Petrosillo publishes journal article
Sara Petrosillo, assistant professor of English, recently published the article, "Flying, Hunting, Reading: Rethinking Falcon-Woman Comparisons" in a special issue on "Species and Gender" in the peer-reviewed journal Medieval Feminist Forum, vol. 54, no. 1, 2018, pp. 9-33.
Senior computer engineering students present at MIT Conference
Senior computer engineering students Braden Elliot and Kunal Mukherjee recently presented lightning talks about their senior projects at the 2018 IEEE MIT Undergraduate Research Technology Conference (URTC) held October 5-7, at the Massachusetts Institute of Technology in Cambridge, MA.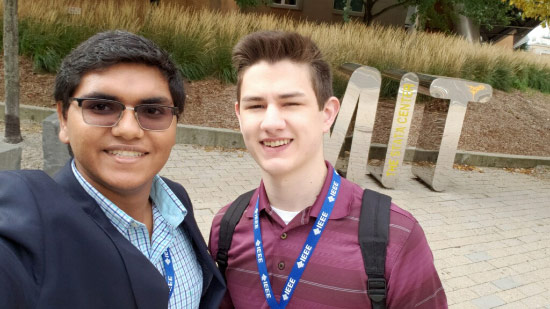 Elliot presented "Player 1 Human, Player 2 Machine," a project about training a recurrent neural network through reinforced learning to optimize the output of a positional derivative controller. The network observes nonlinearity in the system which the controller is unable to account for, resulting in a smoother output.
Mukherjee's project "Location Dependent Cryptography" is an investigation into connecting the location of a receiver as part of a packet encryption method by computing a transmission specific key using the time difference of the intended packet reception time. The goal is to provide greater protection and security of intellectual property.
URTC brings together undergraduates around the world to present, discuss, and develop solutions to advance technology for humanity. Elliot and Mukherjee "had the opportunity to interact with undergraduate students and learn about the cutting edge as well as innovative research."
2018 HoopFest presented by Heritage Federal Credit Union
Don't miss HoopFest presented by Heritage Federal Credit Union tomorrow - Wednesday, October 17 - at the Ford Center. Doors open at 5:00 p.m. and the event begins at 6:00 p.m.
This your first chance to check out the 2018-19 men's and women's basketball teams as they compete in special contests, challenges and intrasquad scrimmages.
The first 350 fans will receive a FREE HoopFest T-shirt and this is the first opportunity for season ticket holders to pick up their season tickets.
Please call or text 812-488-2237 with any questions. Go Aces!
Contribute to AceNotes
To have content considered for inclusion in AceNotes, please submit a Marketing Request Form. Deadline for submission to AceNotes is 10:00 a.m. on the requested date of publication. Only articles concerning UE related/sponsored activities will be accepted. Articles submitted to AceNotes may be edited for length and clarity. Submitter contact information is at the end of each article.