| | |
| --- | --- |
| AceNotes Today | Monday, October 15, 2018 |
New UE Marketing Request Form: Request Multiple Projects with One Submission!
The NEW marketing request form provides a streamlined way to request marketing services for both individual projects and several projects at once.
Need an invitation, a flyer, and an AceNotes article to promote your event? Simply choose your first item from the drop down menu, fill out the information, and select "Add Another Project to this Request" which appears at the bottom of the form.
Accessing the form:
The marketing request form is available on AceLink. Log in, choose the "Areas" link from the top navigation bar, select "Marketing and Communications" from the list of options, and choose "Marketing Request" from the list to get started.
Newman Movie TONIGHT: Sexual Revolution
Join us tonight, Monday, October 15, from 7:00-8:30 p.m. in Eykamp Hall, Room 251, Ridgway University Center for a movie night! We will be watching the documentary Sexual Revolution: Fifty Years Since Humane Vitae. Come learn about the stunning fulfillment of a Pope's prophecy of the disastrous personal and social costs of the sexual revolution, the origins of the birth control pill in the eugenics movement, and the truly revolutionary teaching of Jesus Christ through his Church concerning love, marriage, and family. All are welcome!
Submitted by Michaela Kunkler mk305@evansville.edu
Tonight! Faith in Public Life: Interfaith goes to the Voting Booth panel discussion
This timely interfaith panel discussion is this evening -Monday, October 15 - at 7:00 p.m. in Neu Chapel. Learn more about how the interfaith community understands its role at the voting booth and how people of different religious traditions will decide who gets their vote this November. Representatives from many of the world's religious traditions and world views will be present to share their beliefs and values. Moderator for the evening is Robert Dion, PhD, department chair, Law, Politics, and Society. The public is invited.
Submitted by Tammy Gieselman tg85@evansville.edu
Puppy therapy today!
Come relieve the stress of school by playing with puppies on the Grassy Knoll from 3:30-5:30 p.m. today - October 17!! Donations will be accepted to help with Physical Therapy Club funds.
Submitted by McKenzie Hayes mh481@evansville.edu
Health Sciences Preview Day
Thinking about graduate school or a career in health care? Join us for Health Sciences Preview Day for prospective undergraduate and graduate students. Saturday, October 20 from 1:00 - 3:00 p.m. in Graves Hall.
This special event is your chance to meet current students and faculty in your programs of interest; attend an interactive session on diagnosing, treating, and managing concussions; tour our learning and research labs; and enjoy refreshments with the department chairs, faculty, staff, and current students.
We hope you will join us to learn about our health sciences programs and explore careers in the areas of: physician assistant, physical therapy, pre-med, nursing, public health, health services administration, athletic training, neuroscience, and exercise science.
A tour of the newly opened Stone Family Center for Health Sciences will also be available.
Please register at www.evansville.edu/previewday. We look forward to seeing you on October 20!
Submitted by Jennifer Simon js698@evansville.edu
Lunch Charlas on Wednesday
Wanting to practice your Spanish? Join assistant professor of Spanish Edward Curran and associate professor of Spanish Diana Rodríguez Quevedo for lunch, and chat about different topics in Spanish on Wednesdays from noon-1:00 p.m. in the Starbuck's café area in Ridgway University Center. All levels of Spanish welcome. The next Lunch Charlas is on Wednesday, October 17.
Please contact Professor Rodríguez Quevedo at dr130@evansville.edu if you have any questions. ¡Ahí nos vemos!
Submitted by Diana Rodríguez Quevedo dr130@evansville.edu
Medical Spanish Group
The Medical Spanish Group meets twice a month to practice communication skills in Spanish. These sessions are open to anyone wanting to practice Spanish for medical settings. The next practice session is today - Wednesday, October 17 - from 5:30-7:00 p.m. in Room 315 in Graves Hall. Please contact associate professor of Spanish Diana Rodríguez Quevedo at dr130@evansville.edu if you have any questions. ¡Nos vemos el miércoles!
Submitted by Diana Rodríguez Quevedo dr130@evansville.edu
This Week in Music: Vizzutti to Perform with UE Ensembles, Holcomb to Perform in Recital
Allen Vizzutti with UE Ensembles
Tuesday, October 16, 7:30 p.m., Victory Theatre
The Department of Music from the University of Evansville is pleased to welcome legendary trumpet soloist, Allen Vizzutti who will join the UE Jazz Ensemble and Wind Ensemble for a concert on Tuesday, October 16 at 7:30 p.m. in the Victory Theater.
Vizzutti is recognized as one of the leading trumpet soloists in the world today. He is equally at home with classical and jazz music.
His guest artist performances and television broadcasts span the globe, including: Germany, Poland, England, Sweden, Brazil, Canada, Japan, Australia and the United States. He has shared the stage with Chick Corea, 'Doc' Severinsen, the NBC Tonight Show Band, the Airmen Of Note, the Army Blues and Army Symphony Orchestra, Chuck Mangione, Woody Herman, Japan's NHK Orchestra and the New Tokyo Philharmonic, the Budapest Radio Orchestra, the Saint Paul Chamber Orchestra, the Leipzig Wind Symphony and the Kosie Wind Orchestra, to name a few.
In addition to the Tuesday night concert, Vizzutti will be giving a Master Class on Monday, October 15 in the main rehearsal room in the Krannert Hall of Art and Music from 4:00 to 5:30 p.m. The Master Class is a free event.
For additional information about Vizzutti please consult: vizzutti.com .
For more information about this event and the Department of Music, please contact the music office at 812-488-2754 or by e-mailing music@evansville.edu.
Guest Guitarist Alec Holcomb in Recital
Friday, October 19, 7:30 p.m., Wheeler Concert Hall
Guest artist Alec Holcomb (guitar) will give a solo recital on Friday, October 19 at 7:30 p.m. in Wheeler Concert Hall. The program features a variety of works by Legnani, Albeniz, Gerhard, and Jose. The recital is free and open to the public.
For more information, visit the music department concert calendar.
Submitted by James Sullivan js820@evansville.edu
Guest speaker: Tax managers from H&R Block
Rania Mousa, associate professor of accounting, has invited Tamara Tarnow and Celeste Newman to speak on campus today - Wednesday, October 17 - from 4:00-6:00 p.m. in Smythe Lecture Hall (Room 170) in the Schroeder School of Business Building. Tarnow and Newman are tax managers with H&R Block, a global consumer tax services provider. They will talk about tax fraud and Earned Income Due Diligence by discussing real-life tax cases. They will also talk about available job opportunities and internships. All accounting and business students are encouraged to attend.
This is the first time this company is invited by UE's accounting program to establish career connections with students. H&R Block has approximately 12,000 locations in all 50 states, and has prepared 720 million tax returns on behalf of its clients since 1955.
Submitted by Rania Mousa rm190@evansville.edu
Health Careers Fair tomorrow
The Health Careers Fair is tomorrow, Tuesday, October 16! The event is from 11:00 a.m.-2:00 p.m. in the Student Fitness Center. All students - freshmen through seniors - who are considering a health-related career should attend. View employers in Handshake! Don't forget to download the app, Career Fair Plus, to view employer details and event layout. Search for Career Fair Plus on the App Store and Google Play Store.
Submitted by Alison Morris-McDonald am268@evansville.edu
UE Theatre opens Shanklin Theatre Season with rock musical "Spring Awakening"
The University of Evansville Theatre presents Spring Awakening, book and lyrics by Steven Sater and music by Duncan Sheik. This 2007 Tony Award-winning Best Musical, book and lyrics by Evansville native Steven Sater, is based on Frank Wedekind's play by the same name.
Featuring a soaring rock musical score, all generations will identify with the age-old tale about young people and the misguided adults who lend a deaf ear to what they are feeling in their hearts. This production opened Friday, October 19 in Shanklin Theatre. Additional performances are at 7:30 p.m. on October 25, 26, and 27 and at 2:00 p.m. on October 28.
UET alumnus Wes Grantom directs Spring Awakening, and theatre department chair Eric Renschler serves as scenic designer. UE student Becca Updyke is the costume designer; UE associate professor Stephen Boulmetis is the lighting designer; guest artist Richard Ingraham serves as sound designer; UE student Bailey Brandvold is the dramaturg; UE student Blake Elliot is the stage manager; and UE professor Chuck Meacham serves as technical director. The cast features UE students Claire Tumey as Wendla; Ethan Davenport as Melchior; Alexandra Curren as Ilse; and Justin Pappas as Moritz. Chorus members include UE students Gina DeLise, Alexi Lewis, Marshall Hopkins, Isaac Baker, Shannon White, Hannah Mattingly, Brock McCullough, Amanda Cowan, Cole Lannert, Theodore Esten, Kyla Clift, and Obi Roberts.
Ticket prices are $20 for adults and $18 for senior adults, students, and UE faculty and staff. UE students may obtain one free student rush ticket beginning at noon on the day of the performance they wish to attend. The UE Theatre Society hosts a pre-play chat 30 minutes prior to the show on Thursday, October 25 and Saturday, October 22. All are welcome to attend the presentation and discussion with a student designer about their process on the production.
Season subscriptions are on sale now and include the three Shanklin Theatre productions: Spring Awakening by Steven Sater and Duncan Sheik, Colony Collapse by Stefanie Zadravec, and Twelfth Night by William Shakespeare, as well as one of the remaining May Studio Theatre productions: Year of the Rooster by Olivia Dufault or The Wolves by Sarah DeLappe. Subscriptions for the four-play package are $50 for adults and $45 for senior adults, students, and UE faculty/staff.
Tickets may be purchased by calling 812-488–2031, Monday through Friday, noon-5:00 p.m.
Scherer to speak at Dr. Guy Banta Distinguished Lecture Series
The University of Evansville's annual Dr. Guy Banta Distinguished Lecture Series is set for today - Friday, October 26 - at 3:00 p.m. in Room 100 (Vectren Lecture Hall) in the Koch Center for Engineering and Science. This event is free and open to the public.
This year's speaker will be Randy Scherer, chief scientific officer and managing member for Kirkwood Scherer Capital Ventures, LLC. His topic will be "When Opportunity Knocks."
Scherer earned his undergraduate degree in biology/chemistry from UE in 2004 and his PhD from Vanderbilt Medical University in 2010.
Established in 2018, KSCV is a boutique biotech fund focused in emerging technologies. KSCV's unique expertise across the total product lifecycle resides in evidence identification and data interpretation to mitigate risk and arbitrage catalytic events in the biotechnology sector. KSCV turns science into investing.
Allen Vizzutti - trumpet soloist
Come out to hear the greatest trumpet player in world on Tuesday, October 16 at 7:30 p.m. in the Victory Theatre, located in downtown Evansville. The concert is FREE and open to the public. Vizzutti will be soloing with the UE Wind Ensemble and UE Jazz Ensemble I. Support our UE ensembles and hear a great concert.
Submitted by Tim Zifer tz3@evansville.edu
Location of Ian Manuel lecture changed to Eykamp 251
The Psychology Club will present a guest speaker - Ian Manuel - on October 22 at 7:00 p.m. in Eykamp Hall, Room 251 in Ridgway University Center. (Due to increased interest in this lecture, the location was changed to Eykamp 251 to accommodate a larger crowd.)
Manuel was just 13-years-old when he was sentenced to life for shooting Debbie Baigre, a young, white woman. After serving 26 years in prison (much in solitary confinement), he was released after Baigre recognized the complex burden both Ian and society bore for the crime, and became his supporter. Ian's case paved the way for other groundbreaking legislation prohibiting life sentences for juveniles convicted of non-homicide offenses (Graham v. Florida, 2010). All juveniles sentenced to life in prison at that time in the U.S. for non-homicide cases were children of color.
Submitted by Aaron M Cochran ac372@evansville.edu
Federal loan repayment counseling session for students graduating or transferring
Students who have received federal direct (sub/unsub) loans and plan to graduate in the fall (or transfer after the fall semester) are required to attend a loan repayment counseling session. The Office of Financial Aid will hold the first session of the semester on Thursday, October 25 at 4:00 p.m. in Eykamp Hall, Room 252, Ridgway University Center. The last session will be held on December 6 at 2:00 p.m.
Submitted by Amy Sowders as560@evansville.edu
UE's Annual Chili Bowl Sale Planned for today
The University of Evansville's Clay Club will present its annual Chili Bowl Sale TODAY - Thursday, October 25 - from 11:30 a.m.-1:30 p.m. The event will be outside Hughes Hall, near the East Terrace Lawn across from Ridgway University Center. The rain location is Eykamp Hall, Room 253, and the Class of 1959 Gallery and Lounge in Ridgway University Center.
Chartwells, the food service provider at UE, is co-sponsoring the event and providing chili made by chef Don Brown under the direction of Chris Clay.
For $10, customers can buy a one-of-a-kind ceramic bowl and fill it with chili. Paper containers will be available for those who prefer not to put chili in their newly purchased bowls. Larger bowls from $15-$50 will also be for sale. Some more artistic larger bowls will be sold at a silent auction as well, ranging in price from $60-$100.
The bowls are being made by members of the Clay Club and other UE students, faculty members, staff, alumni, and members of the community.
Half of the proceeds will be donated to the Potter's Wheel, Inner City Mission. The Clay Club officers chose this organization for their work with educating and feeding the less fortunate in the Evansville Community. The rest of the proceeds will be used by the Clay Club to attend conferences, visit museums and galleries, and host visiting artists.
Todd A. Matteson, Clay Club advisor and UE associate professor of art, noted that "a lot of hard work and long hours go into making the bowls. They are all hand crafted on the potter's wheel from a ball of clay. The artist has to center, form, alter, trim, dry, and then fire them, not once, but twice. The entire process is lengthy, but the outcome is a tremendous success. Most of the bowls have been glazed different from one another, but some of the bowls are glazed similarly, so patrons can have matching sets. Each bowl has its own uniqueness."
Yale University historian to deliver Fiddick Lecture on Second Great War, 1917-1923
Jay Winter, the Charles J. Stille Professor of History Emeritus at Yale University, will be the speaker for the University of Evansville's 17th annual Thomas C. Fiddick Memorial Lecture today - Friday, October 26. The lecture begins at 7:00 p.m. in Eykamp Hall in Ridgway University Center. The event, hosted by UE's Department of History, is free and open to the public.
Winter's lecture marks the 100th anniversary of the First World War. His topic will be "The Second Great War, 1917-1923."
The Fiddick Memorial Lecture is named for Thomas C. Fiddick, a professor of history at UE from 1963 to 2002. A dedicated teacher, productive scholar, and a tireless fighter in the cause of justice, his untimely death on the day of his retirement stunned the UE community. It was his former students' efforts, with support of Fiddick's friends and the University, that led to the establishment of the annual Thomas C. Fiddick Memorial Lecture.
"The Fiddick Lecture is one of the best events of the year, as we celebrate the career of a truly outstanding University of Evansville faculty member," said James MacLeod, UE professor of history and director of the Fiddick Memorial Lecture Series. "Tom Fiddick was a brilliant scholar and an incredible teacher who made a life-transforming impact on generations of students."
During Winter's lecture, he will argue that a crisis in 1917 separates the first three years of the war from the years that followed, largely the result of powerful economic and demographic pressures which destabilized all the combatants, but more so the Central powers than the Allies. The critical event of this rupture was the 1917 Russian revolution. Hatred, hunger, and class conflict were radicalizing elements in the post-Imperial world. Winter suggests that the passage from wartime crisis to post-war and post-imperial violence was seamless, and part of one complex, distinctive phase of European history, starting in 1917 and ending more or less in 1923.
Fiddick's book, Russia's Retreat from Poland, 1920: From Permanent Revolution to Peaceful Coexistence, deals with one of the conflicts to be discussed during Winter's lecture.
Winter is one of the world's leading scholars of World War I and its impact on the 20th century. He was educated at Columbia University and the University of Cambridge. In 2001 he joined the faculty of Yale. Winter is the author or co-author of 25 books, including Sites of Memory, Sites of Mourning: The Great War in European Cultural History; The Great War and the Shaping of the 20th Century; Rene Cassin and the Rights of Man, and most recently, War beyond Words: Languages of Remembrance from the Great War to the Present. In addition, he has edited or co-edited 30 books and contributed 130 book chapters to edited volumes.
Winter was also co-producer, co-writer, and chief historian for the PBS/BBC series The Great War and the Shaping of the 20th Century, which won an Emmy Award, a Peabody Award and a Producers Guild of America Award for best television documentary in 1997.
MacLeod noted that Winter "is as distinguished a scholar on World War I as there is anywhere in the world. It is an enormous privilege to bring him to the University of Evansville to deliver the 2018 Fiddick Lecture and interact with students in class,"
MacLeod added that on the 100th anniversary of "what we think of as the end of the First World War, it is important to reflect on the significant ways in which that war did not really end in 1918. Some conflicts that emerged between 1917 and 1923 we are still dealing with today. It is especially appropriate given Tom Fiddick's lifelong passion for many of the issues discussed by Jay Winter, and the fact that one of Tom's most important scholarly legacies is a book that deals with this very subject."
For more information, please contact the Department of History at 812-488-2963.
Donate blood!
Donate blood with the American Red Cross on Tuesday, October 16 from 11:30 a.m.-4:30 pm. It will be on campus in Eykamp Hall, Ridgway University Center.
You can sign up now - look for the red and white posters around campus and use the QR code to get to the sign up website. You can check out Newman's instagram @ue_newman for the QR code as well.
If you can't donate, keep an eye out for opportunities to help with organization and advertising as well!
Submitted by Sam Wallisch sw265@evansville.edu
Trailblazing Astronaut Eileen Collins to Speak at UE's Snyder Lecture on October 17
Trailblazing astronaut Eileen Collins, the first woman to pilot and command an American spacecraft, will be the guest speaker for the University of Evansville's Patricia H. Snyder Lecture in October. The lecture is planned for Wednesday, October 17, at 7:00 p.m., in Eykamp Hall, Ridgway University Center, on UE's campus. The event is free and open to the public thanks to the generosity of the Snyder family.
One of America's most admired women, Col. Collins became the first female to pilot a US spacecraft with the Discovery shuttle flight in 1995, and the first female commander on the 1999 Columbia shuttle flight. In 2005, NASA tapped her to command the space shuttle Discovery's historic "Return to Flight" mission, NASA's first manned flight following the loss of space shuttle Columbia in 2003. While logging 872 hours in space, Collins earned a reputation for coolness under pressure.
Collins will discuss how her career as an astronaut took shape, from her early years in the US Air Force to her ground-breaking experience with NASA. Drawing from her career experiences, she will share valuable insights learned from both her successes and her failures. She will also provide insight into the future of space travel as the world turns to exciting new space frontiers.
The Patricia H. Snyder Concert and Lecture Series was made possible in 1997 through an endowment from the late Patricia H. Snyder, trustee and longtime friend of the University, to bring speakers or performers of renown to Evansville at no cost to the public.
Reservations are encouraged, but a ticket is not required to enter. Save your seat online here.
Know the signs, save a life!
As part of National Collegiate Alcohol Awareness Week (October 15-19), counseling services is hosting speakers on the topic from the Rachael's First Week Program. The first speaker is scheduled for today - Tuesday, October 16 - from 7:00-8:00 p.m. in Eykamp Hall, Rooms 251-255, Ridgway University Center. Bring your UE ID or use your UEngage Event Pass on your phone.
Rachael Fiege was a freshman at IU who died after a night of drinking when she fell down the stairs and hit her head. Her friends thought she was fine and just had her lie down, but when they woke the next morning she was unresponsive.
This program will assist you in feeling like you have the tools to make the best decisions in a risky situation involving alcohol where you could possibly save a life. Always look out for each other, even when that may mean making an unpopular decision.
Submitted by Jennifer Hargus jh693@evansville.edu
Tuesday Night Recharge Mass
Join the Newman Club this Tuesday, October 16, at 8:00 p.m. in Neu Chapel to celebrate a Catholic Mass! Fr. Christian Raab will be the celebrant. All are welcome!
Submitted by Michaela Kunkler mk305@evansville.edu
Senior nursing class collecting donations at Ridgway tables
UE senior nursing students will be at tables in Ridgway University Center lobby on October 15, 16, and 17 to collect donations for the Boys and girls Club. Items needed include: toothpaste, soap, deodorant, socks, children's underwear (boys and girls), hats, gloves, scarves, gently used toys, and monetary donations.
These items can also be dropped off at donation boxes in the Dunigan Family School of Nursing office, located on the second floor of Graves, until October 24.
The seniors will be hosting a project called Holding Your Hand Today, Leading you to a Better Tomorrow at the Boys and Girls Club to promote healthy behaviors of at risk school age children on November 7.
Submitted by Traci Burch tb207@evansville.edu
Proposal Deadline OCTOBER 20 for UE's Environmental Sustainability Challenge
Want to make an impact on environmental sustainability, but need funds to get your ideas off the ground? Submit a proposal for UE's Environmental Sustainability Challenge to have your projects considered for funding from the Green Fund.
Submission Deadline: October 20.
The Green Fund began with a $25,000 environmental sustainability grant from Siemens, and additional funds may be generated through fundraising or savings gained through successful Environmental Sustainability Challenge projects.
Learn more about the challenge and submit a proposal online here.
Inaugural Challenge Winner:
The battery operated golf cart proposed as the winning submission to the inaugural Environmental Sustainability Challenge in Spring 2018 is now on campus and in use by UE Recycling. Learn more and see photos on the UE website.
Submitted by: UE's Environmental Sustainability Committee
This Week from the Harlaxton Office …
This is a continuation of the new weekly AceNotes updates from the Harlaxton office to keep the UE community informed about what we are up to, where we are traveling to promote Harlaxton, and what is going on with our favorite British manor house, so continue to check with us here each week to see what the US Harlaxton team is up to!
Study abroad fair travel season is starting to wrap up; this week we will just be at one fair! Kaylynn Carver will travel to Texas Woman's University in Denton, Texas, for their study abroad fair this week on Tuesday, October 16.
Conference season is just beginning for international education and Harlaxton, however! Holly Carter, director of Harlaxton College programs, will be in Prague this week presenting at the Forum on Education Abroad's 4th European Conference. She will present with Kerry Geffert from Terra Dotta (a study abroad CRM used by the UE study abroad office) and Loren Ringer from Parsons Paris (an art and design school in Paris that is a branch of Parsons School of Design, part of The New School in NYC). The presentation title is "Moving beyond a diversity of views on risk," and they will discuss American and European views on managing risk for American students abroad.
Other Harlaxton events happening this week include the Advisory Council meeting at Harlaxton and another week of orientation class on campus for the Harlaxton Spring 2019 class!
Submitted by Kaylynn Carver kc205@evansville.edu
Join us for Ace Race 5 K to Benefit UE's Pro Bono Physical Therapy Clinic
Ace Race, a 5K run benefiting Ace CARE, the University of Evansville's pro bono physical therapy clinic, is planned for Saturday, October 27, at 9:00 a.m. on UE's campus. This year's Ace Race is Halloween themed, so wear your costumes! The event includes a dog station with treats, music, food, and prizes. The event is open to the public and is part of the University's homecoming celebration.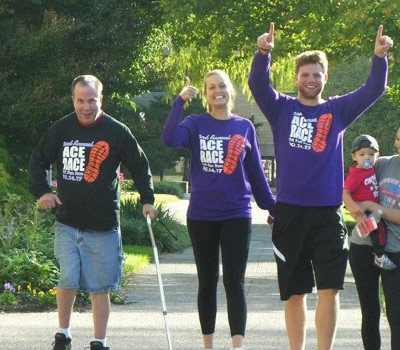 The participation fee for the general public is $25 before October 12 or $30 after October 12. Those registering before October 12 will receive a dri-fit long sleeve T-shirt. To register, go to www.uealumnionline.com/acerace2018.
Submitted by Jennifer Simon js698@evansville.edu
Join Venturing Crew for UE Gives Back!
Join Venturing Crew for UE Gives Back!
The group will be spending that day outdoors in Howell Wetlands hiking and picking up trash to help keep this area beautiful.
This is a free event, and transportation will be provided! Sign up at Ridgway tables on Tuesday, October 16, Wednesday, October 17, and Thursday, October 18 OR RSVP to ef111@evansville.edu.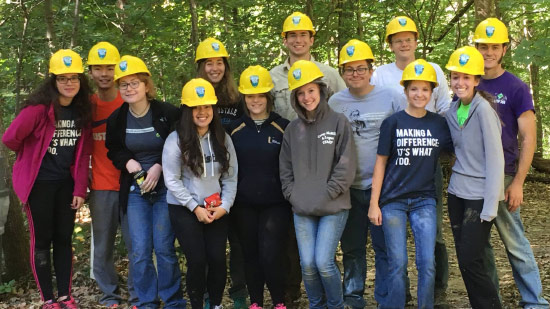 Submitted by Margaret Wolf mw346@evansville.edu
Sign up for Corn Maze, Hayride and Extreme S'mores!
Join Venturing Crew for day of fun-filled fall activities at Cate's Farm!
We will be navigating a corn maze, going for a hayride, and sitting around the campfire to construct some EXTREME s'mores. You will also get to pick out and bring home your own pumpkin if you join us on this trip!
This trip is ONLY $10!
Sign up at Ridgway tables on Wednesday, October 17 and Thursday, October 18.
Submitted by Margaret Wolf mw346@evansville.edu
Looking for ways to reduce stress and improve well-being?
The Awakened Life Program is a 7-week course for students who would like to improve well-being with a focus on mindfulness, connection and relationships. The sessions are October 15-November 26 from 3:30-5:00 p.m. in Grabill Lounge in Neu Chapel.
It's designed to support students who feel the life/academic pressures by providing tools for improved wholeness using meditation, journaling and conversations.
The course is limited to 20 students!
This is FREE to UE students, but you MUST register.
Contact Stacey Shanks at ss581@evansville.edu or 812-488-2606.
Submitted by Stacey Shanks ss581@evansville.edu
UE Gives Back Fall is right around the corner!
Our fall campus wide day of student volunteering, UE Gives Back Fall, will take place on Saturday October 20. If you want to give something back to the Evansville community, you can sign up for a volunteer activity on Get Connected. You can sign up as a team or as an individual, and the deadline to sign up is October 18. And, you get a free T-shirt!
Any questions can be directed to Karyssa Vasquez at kv54@evansville.edu or 812.488.2214.
Submitted by Karyssa Vasquez kv54@evansville.edu
Voice to Vision survey
Chartwells dining services is looking for your feedback. Take their Voice to Vision survey and tell them how you feel. To take the survey, text YGHG to 99299. Survey participants will be entered in a drawing to win $100 Ace Bucks!
Submitted by Brian Conner bc32@evansville.edu
Apply to be an RA!
The Office of Residence Life is currently accepting applications for resident assistants for the Spring 2019 semester. You can find RA applications on UEngage under Forms or by using this link. Applications are due by October 23 at 11:59 p.m. and applicant interviews will take place October 29-November 1.
Please contact Megan King at mk225@evansville.edu, Karyssa Vasquez at kv54@evansville.edu, or Darrion Culler at dc199@evansville.edu with any questions you may have.
Submitted by Megan King mk225@evansville.edu
Alcohol Awareness Week
This week, October 15-19, is National Collegiate Alcohol Awareness Week
The facts:
•Did you know that a "standard drink" varies depending on the type of alcohol you're drinking? 12 oz. beer = 5 oz. wine = 1.5 oz. liquor
•Each one of these "standard drinks" will raise the blood alcohol concentration (BAC) of a 160lb person by approximately .02 percent. A lighter person's BAC will rise even higher.
•Things that influence BAC include weight, gender, body mass, how much and how fast you drink, and the amount of food in the stomach.
•Binge drinking is common among 18-24 year olds and happens when men consume 5 or more drinks and women 4 or more drinks in 2 hours.
•Alcohol leaves your body at a rate of .015 percent per hour (less than one drink per hour) regardless of gender, body type, and size. The only thing that will sober you up is time.
Click here to take a quick 10 question alcohol screening assessment:
Another great tool is E-CHUG, right on the UE Counseling Services webpage. It will provide you with accurate and personalized feedback about your individual drinking pattern, your risk patterns, your aspirations and goals, and helpful resources at UE and in the community.
If you are a student and think you may have a problem with alcohol, counseling services can be a resource for you and can assist you in getting the best help. Call 812-488-2663 for an appointment or come to the office on the second floor of Ridgway University Center, inside the student life suite.
Submitted by Jennifer Hargus jh693@evansville.edu
Your Mental Health Matters
October is Depression Awareness Month. Depression can include feelings of hopelessness and leave someone feeling sad or empty. If you or someone you know is depressed, speak up. Your mental health matters.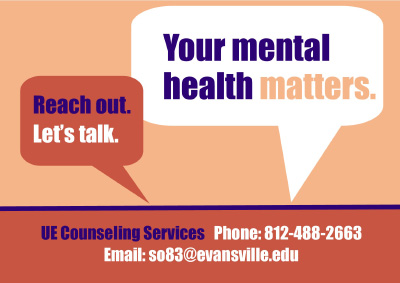 The University of Evansville Counseling Services are available for students to receive free mental health counseling on campus. Their office is located on the second floor of Ridgeway University Center. Appointments can be made by calling 812-488-2663.
Submitted by Carissa Prince cp221@evansville.edu
Senior computer engineering students present at MIT Conference
Senior computer engineering students Braden Elliot and Kunal Mukherjee recently presented lightning talks about their senior projects at the 2018 IEEE MIT Undergraduate Research Technology Conference (URTC) held October 5-7, at the Massachusetts Institute of Technology in Cambridge, MA.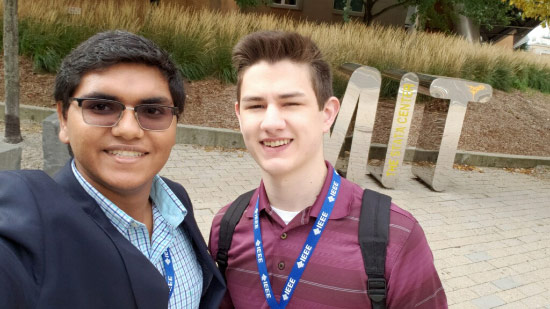 Elliot presented "Player 1 Human, Player 2 Machine," a project about training a recurrent neural network through reinforced learning to optimize the output of a positional derivative controller. The network observes nonlinearity in the system which the controller is unable to account for, resulting in a smoother output.
Mukherjee's project "Location Dependent Cryptography" is an investigation into connecting the location of a receiver as part of a packet encryption method by computing a transmission specific key using the time difference of the intended packet reception time. The goal is to provide greater protection and security of intellectual property.
URTC brings together undergraduates around the world to present, discuss, and develop solutions to advance technology for humanity. Elliot and Mukherjee "had the opportunity to interact with undergraduate students and learn about the cutting edge as well as innovative research."
Petrosillo gives paper at Medieval Studies conference
Sara Petrosillo, assistant professor of English, presented research on manuscripts at the 2018 Medieval Association of the Midwest Conference "Exploring Space in the Middle Ages." The conference took place from October 4-6 Purdue University. Petrosillo's paper was titled, "Manuscript Space: Narrative Diminishment in Yonec and the Harley 978 Hawking Treatise."
Aces earn dominant 3-0 win over Indiana State
A dominant effort by the University of Evansville volleyball team saw four players finish with nine kills or more to lead the Purple Aces to a 3-0 victory over Indiana State on Saturday evening inside Meeks Family Fieldhouse.
Leading the way for UE (8-14, 2-7 MVC) was junior Rachel Tam. She had 16 kills and hit .324 on the night. Kerra Cornist and Mildrelis Rodriguez recorded 10 apiece while Alondra Vazquez finished with nine. Cornist hit a strong .643, with her 10 kills coming in 14 tries. She also had four block assists and one solo block. Allana McInnis continued to play well, finishing with 41 assists while Rodriguez, Vazquez and Olivia Goldstein registered 10 digs each. Madeline Williams notched 10 kills for Indiana State (8-13, 1-8 MVC)
After Indiana State scored the first point of the night, Rachel Tam got UE on track posting three kills as part of a 5-0 run to give UE a 5-1 lead. She helped the team continue its pace as the Aces went up by a score of 11-6. The Sycamores fought back within a pair at 13-11 before Alondra Vazquez had a kill to end the run. From there, it was all aces. Olivia Goldstein notched a service ace to help UE pull away for a 25-16 win.
The Sycamores took a 3-1 lead to open up game two and extended it to 6-3 after the Aces tied it up at 3-3. Evansville chipped away as a Rachel Tam ace tied it up at 7-7 before Kerra Cornist notched a kill to give UE its first lead of the set at 8-7. ISU tied it right back up, but another Cornist kill helped the Aces retake the lead, pushing their advantage out to 13-8. Evansville finished well once again as an ace from Vazquez capped off another 25-16 victory.
Game three saw ISU jump out to a 5-2 edge before Cornist got UE right back in it. Her third kill of the frame gave the Aces their first lead of the set at 7-6. Evansville would pull out to a 10-7 lead, but the Sycamores roared back to tie it up at 10-10. Tam's 12th and 13th kills of the night gave UE a 12-10 lead, but Indiana State rallied with four in a row to open up a 2-point lead.
Cornist was the star of the set once again, hitting double figures in kills as UE tied it up at 15-15. The turning point on the night came with the score tied at 18-18. The third service ace of the evening for Alondra Vazquez sent her team on a 4-0 run to go up 22-18. The Aces held on from there, clinching the match with a 25-21 win.
Road play continues next weekend as UE heads to Valparaiso and Loyola.
Contribute to AceNotes
To have content considered for inclusion in AceNotes, please submit a Marketing Request Form. Deadline for submission to AceNotes is 10:00 a.m. on the requested date of publication. Only articles concerning UE related/sponsored activities will be accepted. Articles submitted to AceNotes may be edited for length and clarity. Submitter contact information is at the end of each article.