| | |
| --- | --- |
| AceNotes Today | Wednesday, October 10, 2018 |
UE Gives Back on Campus
This year's UE Gives Back on Campus is planned for October 22, 8:30 a.m. - 3:30 p.m. Lunch provided
Register online by Wednesday, October 17. (Rain date: Monday, October 29)
As in the past, the 3rd Annual UE Gives Back on Campus is an opportunity for the UE family to "roll up their collective sleeves" and volunteer a day of service to one of several significant University projects while working shoulder-to-shoulder with others in the UE family. Our hope is that not only will the fruits of our collective labors will be visible across campus, but that our volunteer efforts will embody a spirit of collaborative generosity and a sense of strengthened community.
Take a look and register for a project that fit your skill set and interests! (Tools will be provided, but volunteers are encouraged to bring gloves and your favorite things!)
Sign-up online by Sunday, October 21. Questions? Contact Patti Lippert, executive assistant to the president, at 812-488-2152 or PL23@evansville.edu.
Lunch Charlas today
Wanting to practice your Spanish? Join assistant professor of Spanish Edward Curran and associate professor of Spanish Diana Rodríguez Quevedo for lunch, and chat about different topics in Spanish on Wednesdays from noon-1:00 p.m. in the Starbuck's café area in Ridgway University Center. All levels of Spanish welcome. The next Lunch Charlas is today - Wednesday, October 10. Please contact Professor Rodríguez Quevedo at dr130@evansville.edu if you have any questions. ¡Ahí nos vemos!
Submitted by Diana Rodríguez Quevedo dr130@evansville.edu
Guest speaker: FBI special agent and forensic accountant Chris Knight
Associate professor of accounting Rania Mousa has invited FBI special agent and forensic accountant Chris Knight to be a guest speaker at Mousa's forensic accounting class TODAY - Wednesday, October 10 - from 4:00-6:00 p.m. in Room 170 (Smythe Hall) in the Schroeder School of Business Building. He will talk about his experiences in conducting criminal and national security investigations. This event is open to all students interested in exploring the newest area in the accounting discipline.
Knight has been working with the FBI since 2004 in its Indianapolis field office's white-collar crime squad. He is a certified public accountant and certified fraud examiner. Knight earned his bachelor's degree in accounting and legal studies from IU's Kelly School of Business, Bloomington, and a master's degree in criminal justice from the University of Cincinnati.
Submitted by Rania Mousa rm190@evansville.edu
Mindfulness Service in Neu Chapel: Sunday at 9:00 p.m.
As the semester marches on, taking time for our own well-being is crucial. This Sunday's #StillWokeUE service (9:00 p.m. in Neu Chapel) will feature meditative music and time for initial, guided meditation. The service lasts about 25 minutes. All are welcome for this beautiful time of preparation for the busy week ahead.
Submitted by Keith Turner kt160@evansville.edu
University Worship asks, "Is the Bible the Word of God?"
There is no doubt that our culture gives special to the prominence, and our churches often claim that the Bible is the Word of God. But what is meant by that claim? Join the Neu Chapel community this Sunday at 9:00 a.m. as we continue our #MixedMessages sermon series and take a closer look at "The Bible is the Word of God." Join us for this exciting series and for a time of meaningful worship.
Submitted by Keith Turner kt160@evansville.edu
Neu Chapel Forum Discussing "Teaching the Mind to Worship"
Here at UE, we use our minds a lot. But we often think of worship in terms of the heart. However, our minds can be catalysts for worship too. All are welcome to join the Neu Chapel community as we discuss teaching our minds to worship today - Thursday, October 11 - at 7:00 p.m. in Ridgway's Class of 59 Gallery.
Submitted by Keith Turner kt160@evansville.edu
Newman Movie Night: Sexual Revolution
Join us on Monday, October 15, from 7:00-8:30 p.m. in Eykamp Hall, Room 251, Ridgway University Center for a movie night! We will be watching the documentary Sexual Revolution: Fifty Years Since Humane Vitae. Come learn about the stunning fulfillment of a Pope's prophecy of the disastrous personal and social costs of the sexual revolution, the origins of the birth control pill in the eugenics movement, and the truly revolutionary teaching of Jesus Christ through his Church concerning love, marriage, and family. All are welcome!
Submitted by Michaela Kunkler mk305@evansville.edu
Tonight! Faith in Public Life: Interfaith goes to the Voting Booth panel discussion
This timely interfaith panel discussion is this evening -Monday, October 15 - at 7:00 p.m. in Neu Chapel. Learn more about how the interfaith community understands its role at the voting booth and how people of different religious traditions will decide who gets their vote this November. Representatives from many of the world's religious traditions and world views will be present to share their beliefs and values. Moderator for the evening is Robert Dion, PhD, department chair, Law, Politics, and Society. The public is invited.
Submitted by Tammy Gieselman tg85@evansville.edu
Join us for Stammtisch today
Wollen Sie auf Deutsch plaudern? Join us for Stammtisch today at 12:15- 1:15 p.m. at the big table by the window on the first floor of the library. Jeder ist herzlich willkommen!
Submitted by Lesley Pleasant lp84@evansville.edu
The Last Picture Show: The John Streetman Collection Exhibition/Sale

The University of Evansville Department of Art and the University of Evansville Friends of Art Board of Directors cordially invite you to The Last Picture Show: The John Streetman Collection Exhibition/Sale. This event is planned for today - Tuesday, October 23 - from 6:30-8:30 p.m. in the Melvin Peterson Gallery. John Streetman will give a Gallery Talk at 7:00 p.m. The exhibition and sale continues through Friday, October 26.
Gallery hours are Monday, Tuesday, Friday and Saturday from noon-3:00 p.m. and Wednesday and Thursday from noon-6:00 p.m.
For 38 years, John Streetman served as executive director of the Evansville Museum of Art, History, and Science, leading the institution to international recognition. A 2012 article in PleinAir Magazine noted that his commitment to living realist painters "changed the status of contemporary Realism in America."
He is offering for sale the bulk of his collection with a generous portion of the proceeds benefiting the UE Art Galleries Student Assistantship.
Submitted by Brooksie Smith bs267@evansville.edu
Movie discussion: "The Immortal Life of Henrietta Lacks"
The campus community is invited to attend a showing of the movie, The Immortal Life of Henrietta Lacks, today - Thursday, October 11 - at 6:30 p.m. in Room 170 in the Schroeder School of Business Building. Following the showing, professors Robert Shelby, Daniel Byrne, John Stamm, and Maggie Stevenson and chief diversity officer LaNeeca Williams will lead a discussion of the movie and its themes.
The movie, starring Oprah Winfrey, is an adaptation of the best-selling book of the same title by Rebecca Skloot. It tells the true story of Henrietta Lacks, whose cells were taken without her knowledge in 1951 and became integral in some of the most important medical breakthroughs in history. It is also the story of Henrietta's children and their path to discovering the truth about their mother and the use of her cells.
This event is sponsored by the Honors Program in conjunction with the 2018 honors freshman common read of The Immortal Life of Henrietta Lacks. On Monday, October 29, two descendants of Henrietta Lacks will be visiting UE to share their story. Please join us for this movie discussion and in reading the book (copies are available in the library) in advance of the Lacks family visit.
Submitted by Jayme Williams jw504@evansville.edu
This Week in Music: UE Opera presents Coffee Cantata and Riders to the Sea
Schmidt Opera Series
Friday, October 12 and Saturday, October 13
7:30 p.m., Wheeler Concert Hall
The Schmidt Opera Series returns with a double bill of Bach and Vaughan Williams. In Bach's Coffee Cantata, we have a comic telling of a father struggling to get his daughter to give up her coffee habit. The mood shifts drastically with the second opera, Vaughan Williams' Riders to the Sea. This tragic opera, based on the play by J.M. Synge, tells of an Irish mother whose last remaining son is determined to go to sea despite her pleadings for him to stay at home. The show runs both Friday, October 12 and Saturday, October 13 at 7:30 pm. Tickets for the opera are $10.
Submitted by James Sullivan js820@evansville.edu
Engineering Speed Networking
Attention - all students from the College of Engineering and Computer Science - RSVP in Handshake by October 15 to attend Engineering Speed Networking. The event will be held Thursday, October 18 from 6:00– 8:30 p.m. in Eykamp Hall, Ridgway University Center. Get face-to-face with employers interested in you! Space is limited, so RSVP today under Handshake's events tab.
Submitted by Alison Morris-McDonald am268@evansville.edu
CMNH MOD Pizza Giveback Night Oct. 11
Go out for dinner at MOD Pizza on October 11 from 4:00-9:00 p.m. and give back to miracles! Just present this flyer and mention the giveback night at the register and a portion of your bill will go towards the daily miracles found at Children's Miracle Hospitals all across the country.
Submitted by Kelly Nixon kn94@evansville.edu
Medicine and Surgery as a Career
Come join the BiSci Club as we welcome back alum Josh Manghelli, DO, to talk about his career as a surgeon. His lecture is planned for today at 6:00 p.m. in Room 124, Koch Center for Engineering and Science.
Submitted by Kelly Nixon kn94@evansville.edu
Federal loan repayment counseling session for students graduating or transferring
Students who have received federal direct (sub/unsub) loans and plan to graduate in the fall (or transfer after the fall semester) are required to attend a loan repayment counseling session. The Office of Financial Aid will hold the first session of the semester on Thursday, October 25 at 4:00 p.m. in Eykamp Hall, Room 252, Ridgway University Center. The last session will be held on December 6 at 2:00 p.m.
Submitted by Amy Sowders as560@evansville.edu
UE's Annual Chili Bowl Sale Planned for today
The University of Evansville's Clay Club will present its annual Chili Bowl Sale TODAY - Thursday, October 25 - from 11:30 a.m.-1:30 p.m. The event will be outside Hughes Hall, near the East Terrace Lawn across from Ridgway University Center. The rain location is Eykamp Hall, Room 253, and the Class of 1959 Gallery and Lounge in Ridgway University Center.
Chartwells, the food service provider at UE, is co-sponsoring the event and providing chili made by chef Don Brown under the direction of Chris Clay.
For $10, customers can buy a one-of-a-kind ceramic bowl and fill it with chili. Paper containers will be available for those who prefer not to put chili in their newly purchased bowls. Larger bowls from $15-$50 will also be for sale. Some more artistic larger bowls will be sold at a silent auction as well, ranging in price from $60-$100.
The bowls are being made by members of the Clay Club and other UE students, faculty members, staff, alumni, and members of the community.
Half of the proceeds will be donated to the Potter's Wheel, Inner City Mission. The Clay Club officers chose this organization for their work with educating and feeding the less fortunate in the Evansville Community. The rest of the proceeds will be used by the Clay Club to attend conferences, visit museums and galleries, and host visiting artists.
Todd A. Matteson, Clay Club advisor and UE associate professor of art, noted that "a lot of hard work and long hours go into making the bowls. They are all hand crafted on the potter's wheel from a ball of clay. The artist has to center, form, alter, trim, dry, and then fire them, not once, but twice. The entire process is lengthy, but the outcome is a tremendous success. Most of the bowls have been glazed different from one another, but some of the bowls are glazed similarly, so patrons can have matching sets. Each bowl has its own uniqueness."
Pray the Rosary this Thursday!
Austin Hopf and Sister Catherine will be leading a Rosary Prayer Group this Thursday at 10:00 a.m. in Room 264 in the Center for Academic Success in Clifford Memorial Library. All are welcome to join!
Submitted by Sam Wallisch sw265@evansville.edu
Donate blood!
Donate blood with the American Red Cross on Tuesday, October 16 from 11:30 a.m.-4:30 pm. It will be on campus in Eykamp Hall, Ridgway University Center.
You can sign up now - look for the red and white posters around campus and use the QR code to get to the sign up website. You can check out Newman's instagram @ue_newman for the QR code as well.
If you can't donate, keep an eye out for opportunities to help with organization and advertising as well!
Submitted by Sam Wallisch sw265@evansville.edu
Trailblazing Astronaut Eileen Collins to Speak at UE's Snyder Lecture on October 17
Trailblazing astronaut Eileen Collins, the first woman to pilot and command an American spacecraft, will be the guest speaker for the University of Evansville's Patricia H. Snyder Lecture in October. The lecture is planned for Wednesday, October 17, at 7:00 p.m., in Eykamp Hall, Ridgway University Center, on UE's campus. The event is free and open to the public thanks to the generosity of the Snyder family.
One of America's most admired women, Col. Collins became the first female to pilot a US spacecraft with the Discovery shuttle flight in 1995, and the first female commander on the 1999 Columbia shuttle flight. In 2005, NASA tapped her to command the space shuttle Discovery's historic "Return to Flight" mission, NASA's first manned flight following the loss of space shuttle Columbia in 2003. While logging 872 hours in space, Collins earned a reputation for coolness under pressure.
Collins will discuss how her career as an astronaut took shape, from her early years in the US Air Force to her ground-breaking experience with NASA. Drawing from her career experiences, she will share valuable insights learned from both her successes and her failures. She will also provide insight into the future of space travel as the world turns to exciting new space frontiers.
The Patricia H. Snyder Concert and Lecture Series was made possible in 1997 through an endowment from the late Patricia H. Snyder, trustee and longtime friend of the University, to bring speakers or performers of renown to Evansville at no cost to the public.
Reservations are encouraged, but a ticket is not required to enter. Save your seat online here.
Graduate School Summit at Purdue
The Midwest Graduate School Summit at Purdue University is October 27. The group attending the event from UE will leave Evansville on October 26 at 3:00 p.m. Free transportation/registration fee and overnight stay. A refundable deposit of $20 is required. Restrictions apply - see Center for Career Development website.
Sixty programs are expected to be at this year's event: i.e. Purdue, Notre Dame, The Ohio State, University of Illinois, and Yale.
For more information about the fair and mandatory registration: www.purdue.edu/gradschool/midwestgradsummit/..
To sign up for van, hotel and register with CCD: www.evansville.edu/careercenter/students/eventDetails.cfm?eventId=14809.
UE registration deadline is: October 20.
Please contact the Center for Career Development with any questions. The office is located in the student life area in Ridgway University Center or you can reach them by calling 812 488 1083 or e-emailing career@evansville.edu.
Submitted by Alison Morris-McDonald am268@evansville.edu
Catholic Mass on campus
There will be a Catholic Mass this Sunday, November 11, at 1:00 p.m. in Neu Chapel. Father Godfrey Mullen will be the celebrant. All are welcome!
Submitted by Sam Wallisch sw265@evansville.edu
UE's first Changee Awards ceremony
Join us for UE's first ever Changee Awards! (Think the Emmys, but for Changemaking!) On Sunday, October 28, come watch your fellow students, staff, and faculty be recognized for their changemaking efforts at the first ever Changees!
RSVP is required, and seating is extremely limited: only the first 30 students to RSVP get to attend! (RSVP to LR155@evansville.edu by October 14). Dinner is included and attire is semi-formal to formal. Doors open and red carpet will be ready at 5:30 p.m., dinner starts at 6:00 p.m.
So get dressed up, rent that tux or suit, and come celebrate how UE makes an impact!
Submitted by Erin Lewis EL131@evansville.edu
In need of Ace Purple volunteer
I am in need of an Ace Purple volunteer for October 23! You will only be needed from 9:00-10:00 a.m. at a nearby elementary school. I am organizing a kick-off event for a fundraiser and I would love for all the nearby mascots to be there to get the children excited!
Submitted by Jessica O'Shaughnessy Jo94@evansville.edu
Now accepting faculty-led study abroad proposal applications
Calling all faculty! Did you know that you have the opportunity here at UE to create and lead your own short term program abroad? If you are interested in taking your class global, make sure to fill out a proposal to set up a faculty-led program! Proposal forms can be found on the faculty-led programs page of the study abroad website or in the Study Abroad area on AceLink. We are currently accepting proposals for the 2019-20 academic year.
Proposal are required whether you've run a program multiple times or are hoping to set up something brand new. Applications are due by November 1 and decisions on proposals will be given by the beginning of December. Completed proposals can be e-mailed to studyabroad@evansville.edu. If you have any questions about the proposal application, please contact Greta Becker at gb91@evansville.edu.
Submitted by Greta Becker gb91@evansville.edu
Heads up - UE Gives Back Fall is coming!
UE Gives Back Fall, a student campus wide day of volunteering, will take place on Saturday, October 20. If you are a UE student and want to give back to the Evansville community, you can sign up for a volunteer activity on Get Connected. The deadline to sign up is October 18 and a free T-shirt is provided!
Any questions can be directed to Karyssa Vasquez at kv54@evansville.edu or 812-488-2214.
Submitted by Karyssa Vasquez kv54@evansville.edu
Honors Program students helping our community
On Saturday, September 29, a group of students from HACER, the Honors Program's community service initiative, volunteered their time at Ronald McDonald House and United Caring Services. The students helped with cleaning and preparing food for these organizations. In addition, they presented each organization with a $100 donation made possible through proceeds from Nerd Wars, the annual Honors Program philanthropic trivia competition.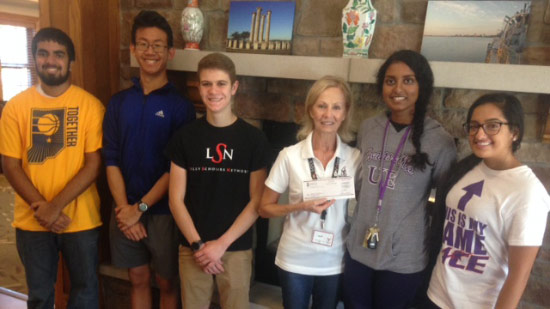 Voice to Vision survey
Chartwells dining services is looking for your feedback. Take their Voice to Vision survey and tell them how you feel. To take the survey, text YGHG to 99299. Survey participants will be entered in a drawing to win $100 Ace Bucks!
Submitted by Brian Conner bc32@evansville.edu
Flu shots are available!
Flu shots will be given on October 10 and 11 from 2:00-6:00 p.m. in the Employee Health Clinic. All covered on the UE Medical Plan can receive the shot free of charge. Those not covered under the plan can still receive the shot for $20; cash only please. Schedule under AceLink.
Submitted by Ashley Chipps ac375@evansville.edu
DoD STEM scholarship opportunity
The Department of Defense (DoD) SMART Scholarship Program is an opportunity for students pursuing an undergraduate degree in STEM disciplines to receive a full scholarship and be gainfully employed by the Department of Defense upon degree completion.
SMART Scholars will receive:
• A full tuition scholarship while in school
• An annual stipend
• Summer research internships
• A job after graduating in their STEM field at a cutting edge Department of Defense Facility
Applicants must:
• Be a citizen of the United States and 18 years of age or older
• Have a minimum cumulative GPA of 3.0 on a 4.0 scale
• Be pursuing a technical undergraduate in one of the 21 specified STEM disciplines
Tell your STEM students to visit smartscholarship.org to learn more and apply today!
Deadline to apply is December 1, 2018.
Submitted by Cathleen Wright cw259@evansville.edu
Apply for graduation
Attention juniors and seniors! Please make sure that you apply for graduation on MyUE Self-Service. Contact the Office of the Registrar at registrar@evansville.edu with any questions.
Submitted by Ashley Nels an89@evansville.edu
Women's golf wins team and individual championship
The University of Evansville women's golf team won the team championship at the Chi-Town/Ted Rhodes Fall Invite while senior Sydney Anderson was the medalist on Tuesday at Harborside International Golf Center.
All five of the Purple Aces team golfers finished in the top 12 as UE won the championship by eight strokes over Green Bay. Evansville tallied a 620 while the Phoenix finished with a 628. CSU Bakersfield finished in third place with a 643.
Sydney Anderson shot an even 72, the lowest round of the tournament, on her way to the individual championship. Following her 79 on Monday, Anderson finished the two rounds with a 151, defeating Green Bay's Katie Warpinski by one shot.
Madison Chaney came home in fifth place. The senior carded a 79 on Tuesday and finished the event with a 156. Alyssa McMinn tied for 7th place. She posted an 80 on Monday and improved by two shots in the final round, registering a 78.
Sophia Rohleder came home in a tie for 9th place with a 2-round tally of 160 while Lexie Sollman took 12th place with a 162. Sollman made a huge leap for UE; she finished Monday's play with an 85 before firing off a 77 in the final 18 holes. Caitlin O'Donnell notched a 180 playing as an individual. After shooting a 93 in round one, she lowered her score by six, notching an 87 in the last round.
In two weeks, the Purple Aces will wrap up the fall season as they host the Charles Braun Intercollegiate. Set for October 22-23, the tournament will be held at Oak Meadow Country Club on the north side of Evansville
UE men's golf finishes sixth in Tom Tontimonia Invitational
Dallas Koth tied for 13th place to lead the University of Evansville men's golf team to a 6th place finish at the Tom Tontimonia Invitational at Lakewood Country Club.
Koth's final round tally came in at a 79 as he tied for 13th with a 220. He was seven over par to lead the Purple Aces contingent. Noah Reese tied for 21st as his final round 77 game him a 3-round total of 222 for the tournament.
UE's low round of the day belonged to Spencer Wagner. His 1-over 72 saw him tie for 30th with 223 strokes. Jessie Brumley was fourth for the Aces, carding a 77 on Tuesday to finish with a 227. He tied for 42nd. Matthew Ladd matches Brumley's effort of 77 and completed his three rounds with a 235.
Individual Gabe Rohleder matched Wagner's final round total of 72 shots and finished the tournament with a 236.
Kent State's Will Kurtz, playing as an individual, was the medalist. He posted the low round of the tournament in the final 18, completing the day with a 6-under 65 to post a 206 in his three rounds of play. He was four strokes in front of the field.
The team championship went to Dayton as the Flyers finished with an 869, two in front of Oakland. Evansville took sixth place with an 890 and were six shots out of the top five.
Next week, the fall season will come to a close for the men as they travel to Dickson, Tenn. where they will take part in the F&M Austin Peay Intercollegiate. It will take place from Oct. 15-16 at Greystone Country Club.
Robert Dion interviewed by Radio Canada about Brett Kavanaugh
Last week's Senate vote to confirm Brett Kavanaugh as the next associate justice of the Supreme Court attracted loads of national and international media attention, including from our neighbors to the north. Robert Dion, chair of the Department of Law, Politics, and Society, was the subject of a lengthy live interview in French on a national radio broadcast Sunday morning. The reporting looked at the likely political repercussions of Kavanaugh's accession to the court.
The Radio Canada public affairs program, Desautels le dimanche, can be accessed here:
Since the school year began, Professor Dion has been interviewed repeatedly by the Indianapolis Star and the Associated Press, among others, about the upcoming midterm elections, and he has appeared on the news broadcasts of all three local television stations
Contribute to AceNotes
To have content considered for inclusion in AceNotes, please submit a Marketing Request Form. Deadline for submission to AceNotes is 10:00 a.m. on the requested date of publication. Only articles concerning UE related/sponsored activities will be accepted. Articles submitted to AceNotes may be edited for length and clarity. Submitter contact information is at the end of each article.